According to China's Global Times, a man in the province of Jiangsu didn't want to admit that the anti-constipation 'folk remedy' he'd employed wasn't working as intended: it produced abdominal pain that persisted for a day before he decided that he wasn't 'too shy to see the doctor' after all. Medics determined that the 20 cm eel he'd inserted in his rectum had bitten through his colon. The surgeon who removed the animal from its new home in his abdomen reported that it was still alive and that the patient had been in great danger of the opposite.
Investigating an online video of a tattoo session in Lauren, South Carolina, police officers determined the setting to be the dining area of the local McDonald's. They also ascertained the identity of the needle-wielder, former convict 28-year-old Brandon Presha. Presha, whom several customers at the 24-hour fast-food joint had assumed to be an employee, has been arrested and faces charges of operating without a licence and tattooing a child.
While spending the afternoon with friends at a flat in Kenosha, Wisconsin, 19-year-old Jashanti Pleasant decided to entertain the residence's cat with a laser pointer, courtesy of the sight of a fellow guest's handgun. Several shots of alcohol over the space of an hour may have led to the next shot, fired by mistake. In the cartridge's path was the thigh of 21-year-old James Daniels, who'd brought the gun. He headed to another flat but was found by responding medics nonetheless, treated in hospital, and arrested for violating the 'no weapons' conditions of his parole.
Pleasant, who later explained that she'd thought there was no magazine in the handgun, faces a charge of injury by negligent use of a weapon.
A bombardier assigned to the canteen of New Brunswick's CFB Gagetown Combat Training Centre provided fellow soldiers with a treat before a firearms exercise. Accordingly, Canadian military judge Sandra Sukstorf found Chelsea Cogswell guilty of administering 'a noxious thing' to her fellow soldiers, in the form of cannabis cupcakes that prompted several soldiers to report having felt confused, paranoid, and sluggish while handling the drill's live ammunition. The incident, which took place three months before cannabis was generally legalised throughout Canada, could net Cogswell five years in prison.
A flight instructor and student pilot on their final approach to Toronto's Buttonville airport suffered an impact that left sizeable dents in their single-engine Cessna aircraft, pointing to a perplexingly large bird. A few hours later, Ontario's York Regional Police identified the cause as one of their drones. They had not advised air-traffic control staff that they were using a remote autonomous vehicle for an investigation near the airport.
Canadian Flyers owner Dario Matrundola reports that the months of repairs required will have a large impact on his flight school and that both occupants of the aircraft were inches away from a likely demise.
Noticing that the necklace, earrings, and ring had been stripped from their relative's body at a Liévin, France, funeral parlour, a grieving family recalled a 60-something woman they'd assumed was a friend of the deceased. They had left her to pay her respects in peace, but she turned out to be a stranger. At her home near the mortuary, the police found the jewellery and a pile of death notices accompanied by access codes intended for family members attending wakes at various facilities. When arrested, the woman was carrying a wallet that had been stolen from another dead person earlier in the day.
R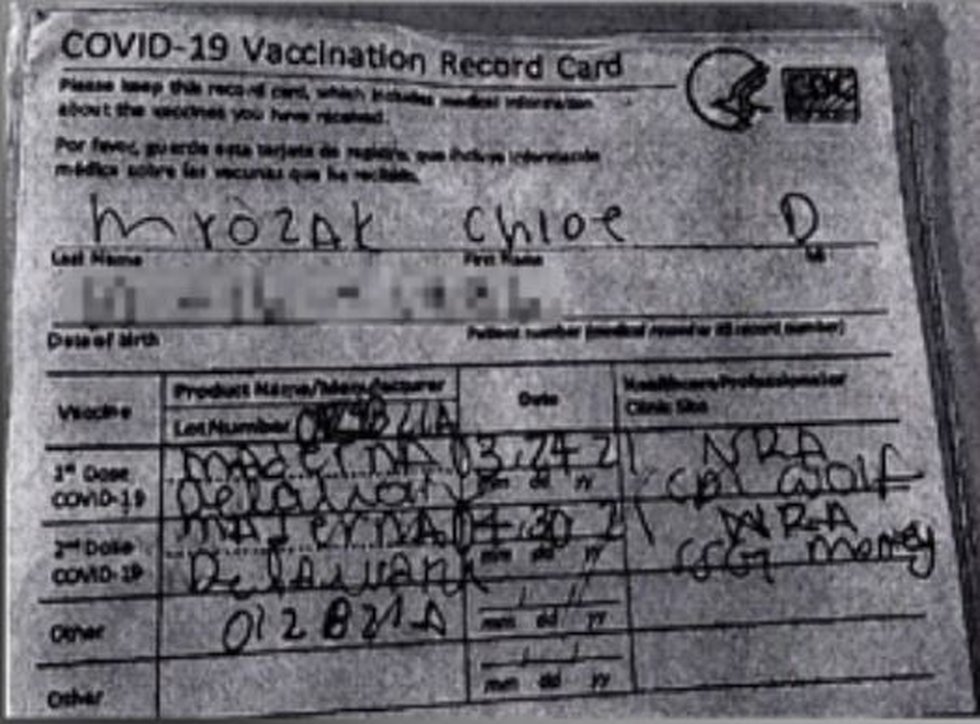 esponding to a tip-off that a visitor may have forged her coronavirus documentation, investigators with the State of Hawaii had a closer look at the records of Illinois native Chloe Mrozak's vaccine card. The 24-year-old Mrozak apparently had received 'Maderna' rather than 'Moderna' vaccine doses, from National Guard members in Delaware. They had no record of her shots. Likewise, the hotel she had listed as her place of residence on Oahu found no record of a relevant booking. Confronted upon her arrival at the airport for her return flight, she claimed that she had been vaccinated by her family doctor, a claim that likewise failed to pass muster. She was arrested.
A 33-year-old man suffering stomach pains sought medical help at a Priština, Kosovo, hospital, where the medical team took plenty of photos from the endoscopy that followed. Four days earlier, the patient had swallowed a mobile phone (modelled on the Nokia 3310). A two-hour surgery ensued. Taking special care not to breach the battery compartment of the device, Dr Skender Teljaku's medical team were able to cut the unit into three pieces via endoscopy and remove each separately.
Finally, we have Marina Verbitsky, a Chicago woman whose family arrived at the airport gate too late to be allowed aboard their flight from Fort Lauderdale. When she started cursing at JetBlue employees, Verbitsky was told that she, her husband, and her child couldn't board anyway: the aircraft was already on its way to the runway. Therefore, she responded that her checked bags on the flight contained a bomb.
While the required investigation and evacuation of passengers did delay the departure as she'd hoped, she was still not allowed aboard, for some reason. She was arrested instead and has been charged with felonious false reporting related to planting a bomb, explosive, or weapon of mass destruction.