A driver who was pulled over in Ohio stepped out of his car in a state of apparent distress. The highway patrol officer's question 'Can you breathe?' yielded a prompt to perform the Heimlich manoeuvre, which proved successful on the second attempt as a baggie of marijuana was dislodged from the man's airway and landed on the ground. 'That's a minor misdemeanor. Do you want to die over a minor misdemeanor?' asked the trooper, pointing to it. The chagrined driver was checked by paramedics and sent on his way.
C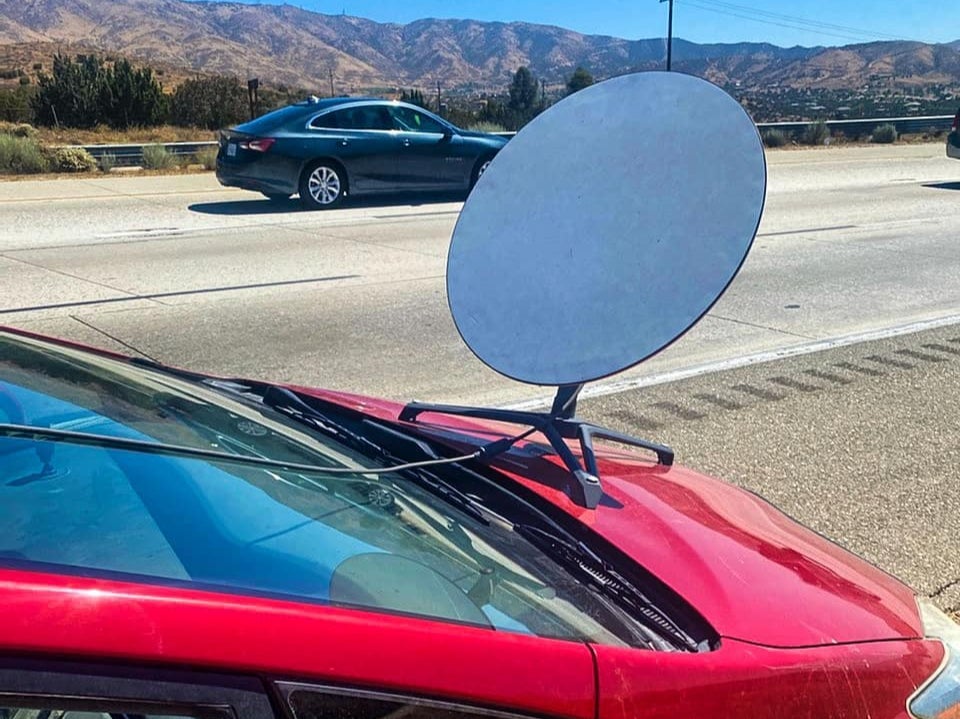 ourtesy of California, we have another piece of traffic-stop news. In this one, the state trooper's question had to do with 'that visual obstruction' on a Toyota Prius's bonnet: a Starlink dish. The motorist's response to 'Does it not block your view while driving?' was 'Only when I make right turns'.
The driver received a ticket despite explaining that the antenna provides wireless connectivity for the business managed from the vehicle and despite Elon Musk having said that '[t]echnically, you could buy one and just stick it on the car'. Musk has now clarified: 'Not connecting Tesla cars to Starlink, as our terminal is much too big. This is for aircraft, ships, large trucks & RVs.'
Our third problematic motorist was spotted not by the authorities but by a member of the public. After reporting her Mercedes-Benz stolen, Detroit boutique-owner Bianca Chambers kept spotting it and reporting its whereabouts, with the police repeatedly arriving too late. Two days of this wore out her patience. The next time she saw her car, which was parked outside a barbershop, she slashed its tyres. Then, she entered the establishment, dragged the suspect across the floor by his dreadlocks, and performed a citizen's arrest, according to local news station FOX 2.
The vehicle at issue in our next item is a lawnmower. When Fort Worth, Texas, city-code enforcement officers received no response to repeated knocking on a seven-time offender's door, a mowing company began to address his grass-length transgression. Only then did the homeowner respond, with gunshots at the mowers in his front yard. No-one was injured, though bullets ricocheted off several landscaping vehicles.
Everyone present took cover, and the ensuing stand-off, which included police and SWAT team involvement, used up four further hours and two more volleys of ammunition. Tear gas ultimately enabled the detention of the homeowner, who was bedecked in a hazmat suit and carrying weapons. His grass is now below 12 inches in height.
For the next leg of our tour, we head by air to Indonesia, where a stewardess for an internal Citilink flight from Jakarta noticed someone enter the plane's toilet in a niqab but exit in men's clothes. Upon touchdown in Ternate, the individual in question was arrested for masquerading as his wife, which included carrying her ID card and her negative coronavirus PCR test result rather than his own positive one. Ternate police chief Aditya Laksimada reports that, after his arrest, he tested positive again. An ambulance provided taxi service to his home in Ternate for supervised self-isolation. He will not be prosecuted.
A slightly different sort of disruption was created by a teenager who decided to use an iPhone application to send a photo to the Apple devices carried by other passengers aboard a United Airlines plane about to leave San Francisco for Orlando. The image was of an Airsoft gun that looked worrying enough to prompt a second security screening for everyone aboard, 'out of an abundance of caution'. The flight was kept on hiatus until staff had determined that the weapon shown was not aboard the flight, that the photo had been taken well in advance of boarding, and the culprit's identity. All other passengers were allowed back on the aircraft, and the authorities are conducting a 'review' of the incident.
The main character in our next story did not display an abundance of caution. The scene is a bungee-jumping facility in Amagá, northern Colombia, where 25-year-old Yecenia Morales Gómez was waiting behind her boyfriend in the queue to take a flying leap. After being kitted out in the harness, she heard the signal for her boyfriend to jump from the bridge and 'she got confused', in the words of the city's mayor, Gustav Guzmán. He had a bungee cord around his ankles, while she did not.
She reportedly died of a massive heart attack during her cordless 50-metre fall, with her boyfriend's subsequent CPR attempts proving fruitless.
In May, a Connecticut woman filed a complaint about occasions on which her landlord, Jorge Orellana-Arias, had entered the bedroom she shares with her daughter and rummaged through their clothing. On one occasion, she reported, he'd fled upon startling her daughter, who was in the flat on her own.
After this, she erected barriers but suspected that Orellana-Arias, 38, merely switched to a side door after this. Her next recourse was hidden cameras. This is why the police now have footage of him bringing female undergarments to his nose. The tenant turned the tape over to the police, who have turned Orellana-Orias over to the court system.
'Nothing beats rock' may not always serve as a perfect roshambo tactic, but it proved to be a good enough decision during a party in Fort Worth, Texas, recently. After leaving said small backyard gathering in a huff, attendee Miguel Chavez, 42, returned and ended up embroiled in an argument that he punctuated with a gunshot wound before fleeing. As several partygoers gave chase, Chavez turned on several occasions to fire at them. His pursuers retaliated by lobbing landscaping bricks at him, eventually taking him to the ground. As he continued to fire, killing one person and injuring two others, he soon found himself being beaten by hand-held bricks and died at the scene.
Elsewhere in Texas, Bethany Martin, 17, and a 16-year-old friend happened upon a corpse in a Bexar County ditch. They rang a friend, who summoned the authorities upon arrival, but before that they recorded two Snapchat videos: one with them posing next to the body and the other of Martin removing the dead man's medallion and chain. Reportedly, she threw the latter on the ground and gave the medallion to her friend to attach to her necklace. After all, as the friend is quoted as telling investigators, it 'matched her fashion style'. Both jewellery items were given to the 25-year-old suicide victim's next of kin, and the two teenagers have been charged with 'theft to a human corpse or grave'.
When a 12-year-old girl experiencing labour pains arrived at a Tulsa, Oklahoma, hospital, questioning led them to the identity of the father, 24-year-old Juan Miranda-Jara. They also determined his current whereabouts: since impregnating the girl, he had been sent to prison for an unrelated rape. Further investigation revealed that the girl's mother had 'permitted' what is classed as first-degree rape of a minor and thrown a baby shower to celebrate the upcoming birth. She faces charges of enabling child sex abuse and of child neglect.
Reuters reports on two beachgoers who, as New South Wales police commissioner Mick Fuller tells it, 'were startled by a deer, ran into the national park, and got lost' in the forest there. The two nude men eventually rang the emergency services for help. Upon their rescue, which was enabled by a police helicopter, they were fined for breaching the area's COVID-19 lockdown.