Investigating a disturbance, Aiken County, South Carolina, sheriff's deputies found local woman Rosemary Pressley with 5-6 knife holes in her back. Also at the scene was William C. Berry, 29, who explained - after a failed attempt to flee - that he had stabbed Pressley in self-defence: he told arresting officers that Pressley and her friends had been 'trying to feed him to zombies and being mean to him'. He is still being charged with attempted murder, and Pressley is being treated in hospital.
Thomas Alexander went hunting in Yelleville, Arkansas, where he felled a buck with a muzzle-loader. It wasn't long before the 66-year-old man rang his wife, reporting that the animal had won.
Arkansas Game and Fish Commission spokesman Keith Stephens later explained that Alexander 'went up to check it to make sure it was dead, and evidently it wasn't'. First responders directed to the site by Alexander's wife were unable to treat him for the multiple puncture wounds inflicted by the deer, and he died before a medical helicopter could reach him. Dogs were unable to locate the wounded buck.
T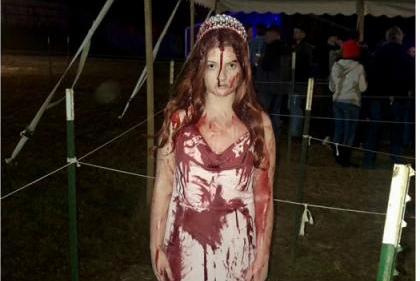 he human fared better in another deer story, from Ohio. After a deer interrupted 20-year old Sidney Wolfe's drive home from a photo shoot for Marshall University, ambulance crews were 'taken aback' by the amount of blood and kept offering various types of medical assistance. The 911 dispatcher apparently had not passed on Wolfe's warning about all the blood covering her prom dress - fake blood liberally applied for the day's publicity shots for the university musical. She later said: 'After I got the chance to explain that it was Carrie makeup, they thought it was hilarious.'
A 48-year-old Australian man visited Sydney's Westmead Hospital, reporting a history of sinus infections, headaches, and trouble breathing through his nose. The cause turned out to be a calcified balloon filled with plant matter. When informed of this, the man recalled some cannabis that his girlfriend had smuggled to him during his prison term 18 years earlier. In a medical paper titled 'A Nose Out of Joint', the physicians explain: 'Despite effectively smuggling the package past the prison guards, [he] then accidentally pushed the package deeper into his nostril and mistakenly believed he had swallowed it.'
A Knoxville, Iowa, expectant mother and her family wanted a memorable way of revealing the baby's sex at an upcoming party. They decided that a burst of pink or blue powder would be ideal, and experiments with 'different types of explosives' led them to place their powder in an enclosed stand with a fuse attached, with gunpowder weighed down by a piece of food intended to provide the oomph. The local sheriff's office later reported that tape over the end of the device's metal tubing ended up turning the 'gender reveal' contraption into a pipe bomb.
Not long after the family lit the fuse and set the cameras rolling, shrapnel went flying. One piece struck the head of 56-year-old Pamela Kreimeyer, who was standing with friends 15 metres away. Having instantly killed her, it came to a rest in a field about 130 metres away.
The baby's gender was not reported.
India Today reports on an incident in which a motorist attempted to avoid colliding with a speeding motor-driven rickshaw on a single-lane bridge in Orchha, Madhya Pradesh, but ended up hitting the rickshaw, a bridge post, and then the water below, while the auto-rickshaw sped off. One of the four adults in the sinking car climbed out and threw his child toward the arms of onlookers above. The small child ended up hitting the side of the bridge instead. While the father swam off to rectify matters, the other adults crawled on top of the car to await rescue. All five wet individuals were rescued and taken to a local hospital.
According to Nebraska's Lincoln Journal Star, the police are hunting for a man who visited a local Pinnacle Bank branch in hopes of opening an account with a $1 million banknote. Tellers repeatedly told him that the US Mint have never placed denominations larger than $100,000 in circulation, but he remained adamant. Ultimately, he left the bank.
Officers report that they are combing through security-camera footage and want to find out whether he is a crime victim and in need of help.
Elsewhere in Nebraska, we have Blel Htoo, a 19-year-old man who might now know that being naked isn't the best way of avoiding attention when one is driving a stolen vehicle. When police officers noticed him and checked the car, they attempted to pull him over. He responded by ploughing into three cop cars and then pressing the accelerator pedal. When the police caught up with him, after more than one near-capture, he fled on foot and was ultimately subdued with a Taser. The list of charges against Htoo is rather long.
Russian historian and Légion d'Honneur recipient Oleg Sokolov, 63, fell into St Petersburg's Moyka River while drunk. Rescuers managed to salvage him and his rucksack, which contained a woman's arms. Investigators working nearby took things from there. The arms turned out to belong to Anastasia Yeshchenko, a 24-year-old woman who had studied the Napoleonic era under Prof. Sokolov in more ways than one, and a matching armless corpse was found at his home. He then admitted to having killed Yeshchenko during an argument.
Sokolov reportedly planned to ditch the body parts and then commit suicide in a public location while dressed as Napoleon. Sokolov's lawyer, Alexander Pochuyev, says that the remorseful historian may have been suffering stress at the time of the argument.
On the eve of a judicial conference, in Indianapolis, three alcohol-lubricated Indiana county judges - Andrew Adams, Bradley Jacobs, and Sabrina Bell - headed for a gentlemen's club but found it closed. So they opted instead for a White Castle food establishment (few people would deem these restaurants). In the car park there, the three drunken judges entered a disagreement with two people in an SUV. Adams engaged in what was later deemed to be battery, and Bell allegedly brandished her middle finger in anger. This left the non-judge pair unhappy, so they shot Adams and Jacobs. The suspects fled the scene but were later arrested, and the wounded judges received emergency surgery.
Adams has been suspended without pay for 60 days and the other two judges for a month, on account of actions that the Indiana Supreme Court described as having 'discredited the entire Indiana judiciary'.
Angry that bosses had ignored his requests for additional baggage-handling personnel to take some of the load off his shoulders, a luggage handler in Singapore took out his frustration by switching the tags on bags for 2-3 months. Tay Boon Keh, 66, has been sentenced to 20 days' jail time after pleading guilty to swapping roughly 300 luggage tags, such that the attached suitcases arrived at incorrect destinations around the world.
While Tay was determined to have been suffering serious depression at the time, prosecutors successfully argued that he still had control over his actions.
A 12-year-old boy was rushed to China's Wuhan Children's Hospital with severe abdominal pain. No gastrointestinal problem was evident, so urologist Wang Jun and colleagues took the boy aside 'and asked him, [and] he admitted that, about 70 days earlier, he inserted Buckyballs into his urethra' while exploring his anatomy. Doctors pumped air into the boy's bladder in order to grab the tricky magnetic balls more easily. They captured all 31, obviating the need for invasive surgery, and the boy is expected to make a full recovery.
Louisiana's Brice Kendell Williams liberated a motorised shopping trolley from a Walmart near a bar. Later that night, the Terrebonne Parish Sheriff's Office received a complaint from a different bar, about a kilometre from the first, that someone had arrived in a shopping trolley. After finding the electric trolley neatly parked between two cars outside the bar, a sheriff's officer questioned Williams, 32, who explained that he'd not wanted to arrive by car and risk drink-driving charges. He has instead been charged with felonious unauthorised use of a moveable.