D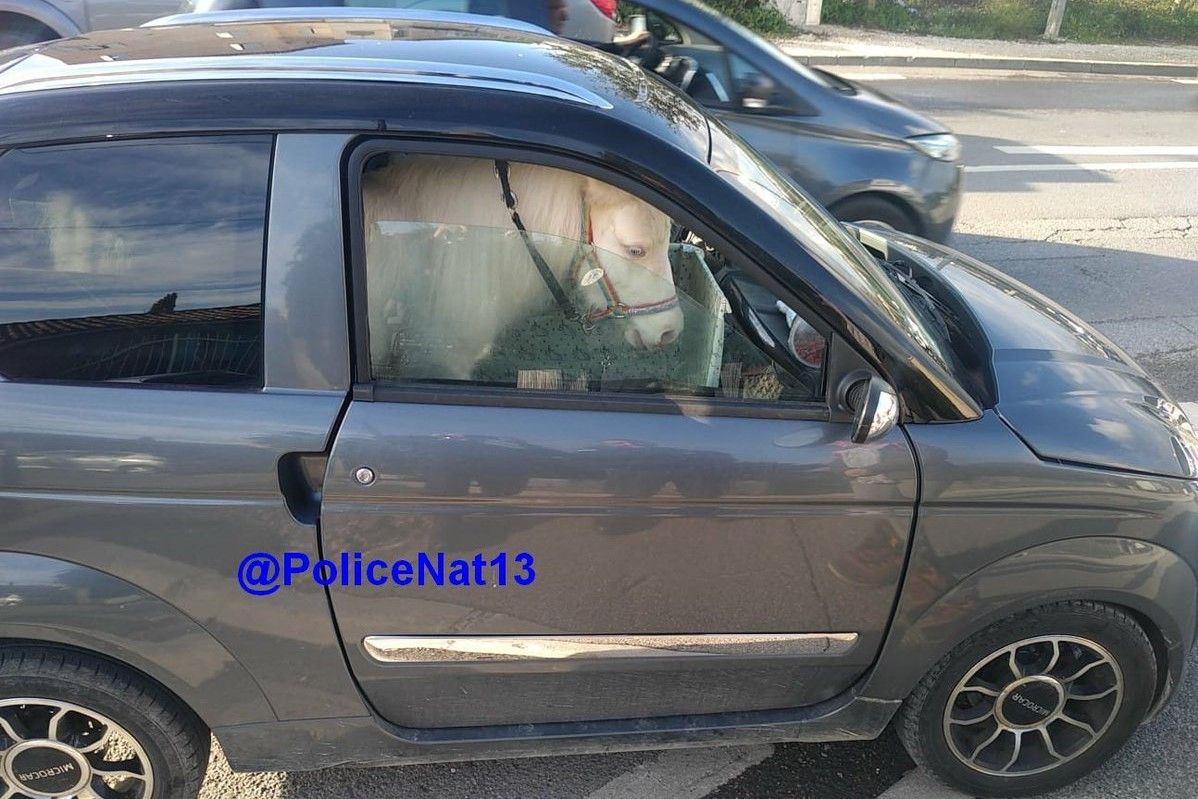 uring a distracted-driving sweep near Marseille, French police officers pulled over a micro-car that had a pony as a passenger. While this arrangement does not maximise equine safety, the officers recognised that the woman driving had at least made efforts to ensure the comfort of the animal, which she uses in her work as a psychomotor therapist.
Upon arrest, she explained why she'd chosen the micro-car: a driving licence is not required for these low-top-speed vehicles when driven on France's smaller roads. After verifying that she was indeed awaiting the issue of her licence to drive a heftier vehicle, the officers opted not to fine her.
Halfway through a China Southern Airlines flight to New York, medical doctors Zhang Hong and Xiao Zhanxiang were called upon to diagnose the cause of a distressed passenger's painful, swollen stomach. The problem was a litre of urine trapped in his bladder. The doctors' solution involved drinking straws, a syringe needle, and oxygen-mask tubing. They sucked the urine from the elderly passenger's body through the tubing and spat it into a glass held by a member of the flight crew. Zhang later said: 'It was an emergency situation. I couldn't figure out another way.'
South Africa's Times reports on the death of senior state prosecutor Addelaid Ann Ferreira Watt, who was fatally wounded by an exhibit in the courtroom. Reportedly, a handgun taken into evidence for a house-robbery case at the Ixopo regional court fell to the floor and discharged at point-blank range, leaving a large hole in the 51-year-old barrister's hip area. Courtroom staff were unable to staunch the bleeding, and she died in hospital. According to police spokesperson Brigadier Jay Naicker, the incident is being investigated as culpable homicide, with a colleague of Watt adding: 'The weapon and the ammunition [...] should have been submitted in separate evidence bags, so someone is in big trouble.'
Also in South Africa, Thandaza Mtshali and aunt Ntombenhle Mhlongo, from the province of KawZulu-Natal, were displeased with the unexplained delay in processing of their insurance claim for a relative's death by natural causes on 7 November. To expedite the process and the burial, they lugged the body bag into the office of insurance company Old Mutual. This had the desired effect, with company spokesman Clarence Nethengwe reporting via Twitter on 15 November that the claim, which he described as having required 'further assessments', had finally been paid and calling the incident regrettable.
A Lincoln, Nebraska, woman told a mother by text message that she would no longer look after her children. Police officers were soon recording the child-minder's statement about the aftermath: the 23-year-old mother had paid her a personal visit to kick in the door, deliver some punches to the face, and steal a few items. In a farewell gesture, a bowl of chilli was dumped on the victim's front porch. The mother has received a ticket for vandalism and disturbing the peace.
The man who broke through the front door of a Rochester, New York, home could have chosen an easier target. For one thing, the 82-year-old resident was home, having just returned from a workout at the local YMCA. Another factor is that she was Willie Murphy. This 47-kilo senior citizen can deadlift 105 kg and holds various power-lifting records.
The Rochester Democrat and Chronicle describes the robbery attempt as unfolding thus: Murphy smashed a small table over the intruder, sending him to the ground. She then poured shampoo in his eyes and began hitting him with the broom she uses to remove snow from her car. As she put it, 'I was whaling on that man'. He was removed from the home not by police officers but by an ambulance crew.
A man in Van Buren, Maine, was rather less good at defending his home. That man, 65-year-old Ronald Cyr, rang the emergency services on Thanksgiving to report that he had been shot. More specifically, he had fallen foul of a booby trap on his own front door, which was designed to fire a handgun at anyone attempting to enter. First responders conveyed Cyr to a local hospital, where he died of his injuries. Meanwhile, the Maine State Police Bomb Squad were called in to deal with Cyr's remaining homemade devices.
According to The Australian, an asylum-seeker awaiting processing on Papua New Guinea's Manus Island decided to enlarge his penis by injecting palm oil into it. This caused the Iranian man to fall ill, whereupon he was granted entry into Australia for reconstructive surgery that cost taxpayers the equivalent of 6,000 euros. Home Affairs Minister Peter Dutton reports that medical-evacuation laws left him unable to block the transfer. Furthermore, the laws do not address what will happen to the man next. He is reportedly involved in processes for resettlement in the US but has skipped many of the relevant meetings.
Critics of his transfer point out also that the 30-something man racked up about 50 'behavioural incidents' in his five years at the processing centre. These range from drenching a security guard with boiling water to punching an officer who confiscated his porn videos.
Our next story comes from Japan, where an upscale department store in Osaka adopted 'period badges', for female employees to wear when menstruating. The Daimaru outlet explained that the idea is to inform colleagues that the worker in question might need longer breaks or less strenuous physical tasks. In the wake of customer confusion and outrage from local media, the programme is reportedly being scrapped. However, in the 'fine print' a company spokesman states that it is only the badges that are being done away with. An equivalent will be used in their place.
Meanwhile, in the Netherlands, the country's largest supermarket chain asked staff to use an 'innovative mobile app' to aid in sizing for new uniforms at its 1,000 shops. Albert Heijn workers in Nijmegen expressed concern after they were asked to upload photos of themselves in their underwear, with 17-year-old employee Jochem de Haes telling newspaper reporters: 'My mother thought it was a joke, but the manager told us that if we don't do it, we can't be in the store anymore because we don't have the right corporate clothing.'
In response, the Dutch Data Protection Authority deemed the plan 'bizarre', and the retailer's national managers issued a statement that they 'cancelled the pilot yesterday and we apologise to all involved'.
A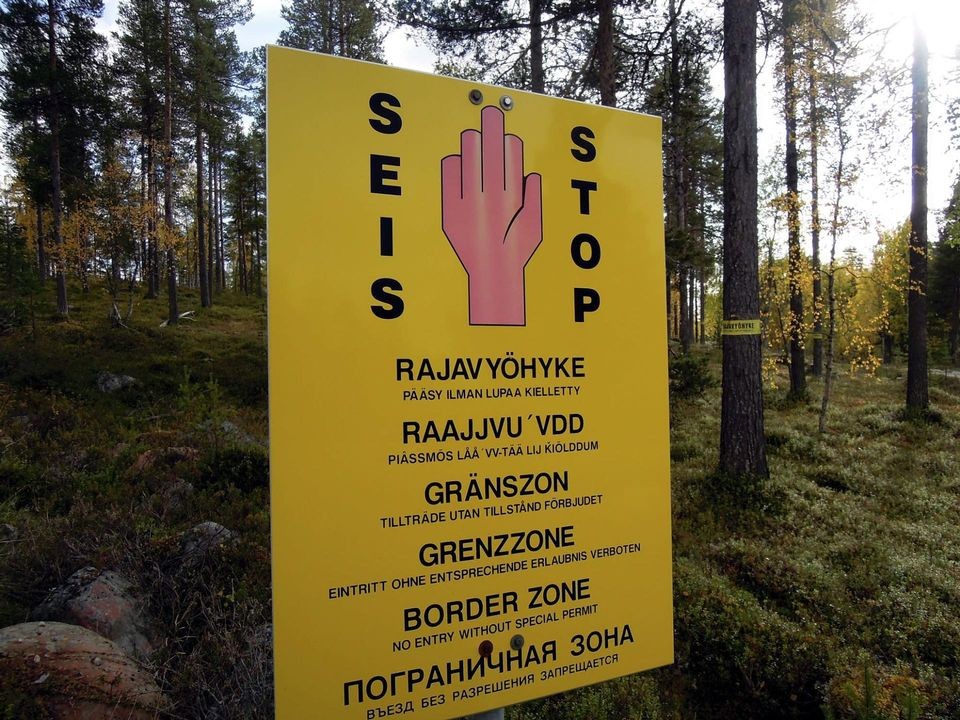 man in the St Petersburg area agreed to smuggle four central Asian migrants into Finland from the Vyborg area, at a cost equivalent to 10,000 euros each. Accordingly, the five men travelled through forests by car and walked around a lake in the darkness with an inflatable boat in tow, finally reaching a post marking an entry point to Finland. Some time later, the four smugglees were rather surprised: Russian border guards apprehended them and revealed that they were still in Russia - their guide had erected a mock border post. According to an FSB statement, a fraud case may be opened against him, while the four migrants have been fined and will be deported from Russia.
Using his mobile phone to check the security camera feed from his Stanford-Le-Hope home, a man noticed smoke and contacted the Essex County Fire & Rescue Service. The fire crew who extinguished the blaze determined that its origins lay in the kitchen, and it later emerged that the homeowner's husky had mounted a worktop and turned on the microwave oven, where a package of bread rolls was stored. Geoff Wheal, watch manager at Corringham Fire Station, said that, while the dog was unharmed and the fire in this 'very strange incident' was fairly small, it's still best not to leave anything in an unattended microwave oven.
Northern Brazil's Neitor Schiave tried to help 60-year-old mother Maria with her driving test, which she had failed thrice. Driving examiner Aline Mendonça recounts that Schiave, 43, took a hands-on approach to the test in Nova Mutum Paraná: putting his own hands, with neatly painted fingernails, on the steering wheel. Though sporting plenty of facial make-up, a floral-print blouse, a wig, and jewellery, Schiave didn't look convincingly similar to the woman on the relevant ID document. Therefore, the police were called in, and Schiave was arrested for fraud and misuse of someone's identity. He has confessed but maintains that his mother had no knowledge of his scheme.
On the way to a friend's baby shower and lacking a gift, Veronica Alvarez-Rodriguez and her husband visited a Goodwill charity shop in Valparaiso, Florida, where the pair were delighted to find a baby bouncer in an unopened package for $9.99. Upon opening the gift at the party, the father-to-be appeared delighted himself, exclaiming 'You guys got me a gun!' Alvarez-Rodriguez reported that some guests seemed amused, while she and her husband were worried and summoned the police.
Officers checked that the purchasers weren't convicted felons, told the father-to-be that he could keep the weapon, and later requested it as evidence for investigation of how it could have entered the box.
Animal rescuers in Las Vegas were appalled by what many online have deemed cute - local pigeons wearing cowboy hats. Mariah Hillman, co-founder of pigeon-focused group Lofty Hopes, stated: 'At first, I was like "Oh, my God - that's cute!" Then, I was like "Wait a minute - how did they get those hats on there?"' When one of the pigeons was captured, it emerged that the hats were attached with glue. Reports have come in of at least three pigeons wearing cowboy hats, but none of the other birds have been corralled thus far.
Upstate New York's Lisa R. Snyder rang the emergency services to report finding four-year-old daughter Brinley and eight-year-old son Connor hanging by a dog lead attached to a beam in her basement, with upturned chairs on the floor below. After the children died in hospital, Snyder described a heavily bullied and suicidal Connor asking to take her hours-old dog lead and heavy dining-room chairs into the basement to build a fort with Brinley.
Evidence soon emerged that Connor, while not having displayed the physical difficulties described by Snyder, would have had a hard time hanging his sister at the same time as himself. Also, he had seemed happy, while Snyder, 36, was the one with a troubled history, which included two of her children having been removed from her care and later returned. Then, examination of her electronic devices revealed her Web searches less than a week earlier for 'carbon monoxide in a car how long to die' and 'does a hybrid car produce carbon monoxide while idling', then 'hanging yourself'. Authorities also found a search for 'almost got away with it'. And they found at least three sexually explicit photos she had sent of herself engaged in sex acts with the family dog.
When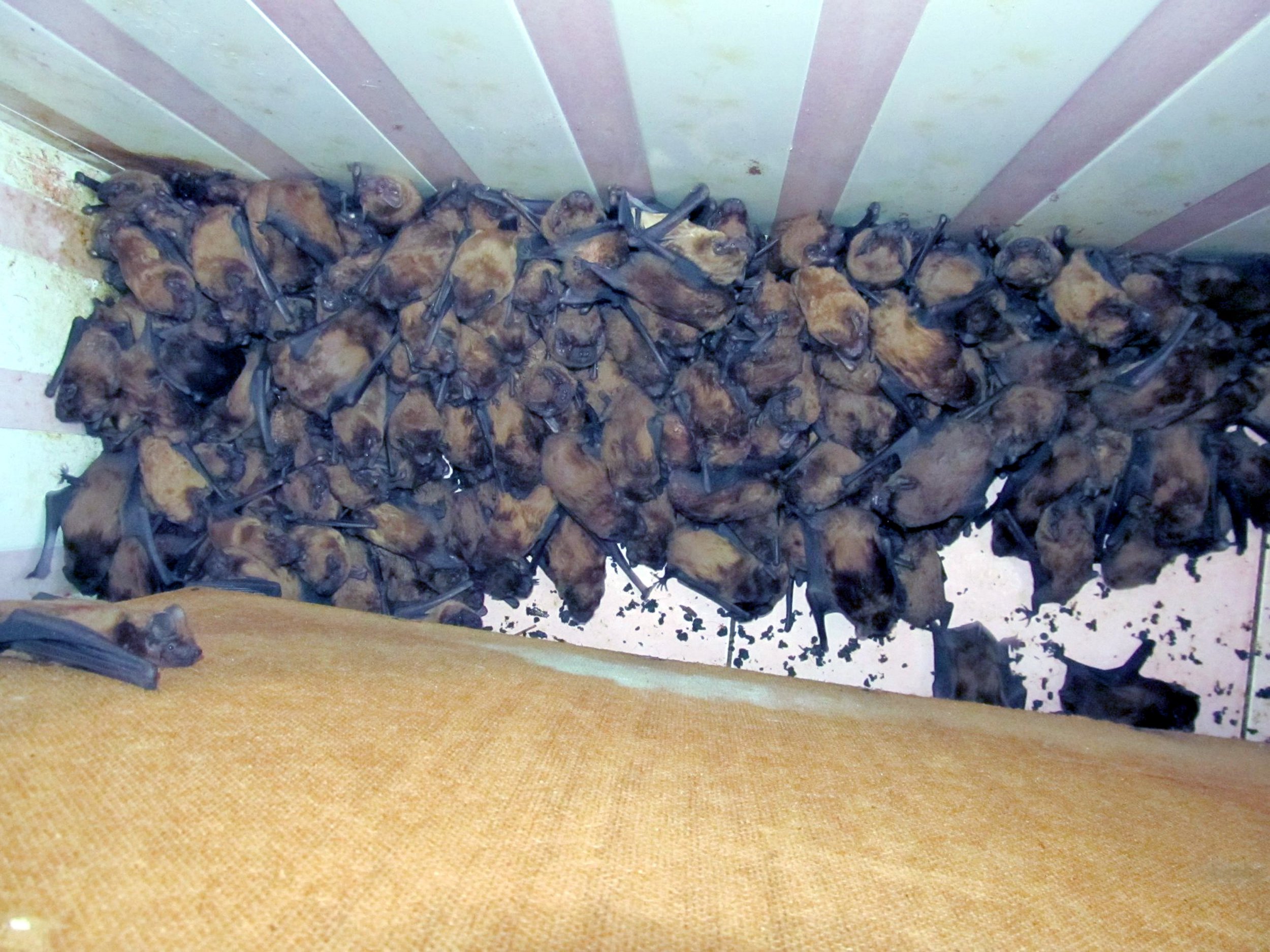 a pair of bats made their way to the enclosed balcony of a Lviv, Ukraine, flat, the owners 'were afraid to go out to the balcony and hoped that the bats would fly away', according to bat expert Dr Andriy-Taras Bashta. He was called in a week later, once it had become clear that the bats had attracted others and were preparing for winter. He found bats overflowing cupboards and drawers, in a cavity in the wall, and in two sacks of vegetables stored for winter - 200 bats per sack. Meanwhile, there were no bats elsewhere in the tower block.
In all, Bashta removed and released roughly 1,700 bats, 80% of them newborns, in an operation that he summarised thus: 'It was such fun!'
Our next story is from the UK, where a driver in Halifax caused an explosion in his vehicle that broke the windscreen, left the vehicle's doors buckled, blew its windows out, and damaged windows of nearby businesses. The motorist, who suffered only minor injuries in the incident, explained that he had sprayed the interior liberally with air freshener while waiting in traffic. Indeed, West Yorkshire Fire and Rescue Service characterised the 'dramatic' incident as caused by use of 'excessive' amounts of the aerosol spray. The ignition source was the driver promptly lighting a cigarette.
Responding to reports of an explosion, firefighters in Bozeman, Montana, discovered that an aerosol can left in a home's oven had exploded when the three young men living there set the oven to pre-heat. The residents soon recognised what had been in the can - bear spray. Battalion Chief Grover Johnson reports that the trio, who offered no explanation for this choice of location for their bear spray, were allowed back inside the building after the three fire crews had used large fans to ventilate it sufficiently.
Arlando M. Henderson faces various charges for financial crimes that he might not have committed in the subtlest possible way. This 29-year-old man worked at a Charlotte, North Carolina, bank, where he had access to the cash vault, from which 80,000 euros' worth of deposited money vanished in the course of 2019. Several of the 18 or more thefts were on the same dates as cash deposits by Henderson at a nearby ATM and coincide with dodgy edits to the bank's books that implicate him. He also made a $20,000 down payment on a luxury car in cash.
In addition, he faces charges for covering the rest of the cost of that 2019 Mercedes-Benz with a loan obtained under false pretexts from another financial institution. Prosecutor Daniel Ryan's job has been made even easier by Henderson's decision to post photos of him posing with stacks of cash on several occasions this autumn.
Florida's Matthew Noffsinger, Jr, arrived at a local hospital with a gunshot wound to the leg. Although he explained that someone had shot him while he was out in the woods, he could not account for the entrance and exit wound marking a path straight down his leg. The 36-year-old Noffsinger ultimately admitted to the police officers in attendance that he'd been 'playing cowboy' when the weapon discharged. He also admitted that, as a convicted felon, he shouldn't have been in possession of a firearm anyway, let alone twirling it on his finger.
Adding to Noffsinger's troubles, a search of his rucksack revealed five items that did not belong to him: an identity document and four credit cards, all of which he described as things he'd 'found'.
Last year, I reported on the arrest of one Sherman Hopkins for trying to purloin a domain name at gunpoint - http://theanna.org/clip/july2018.html#domain provides an outline. It turns out that this was at the insistence of his cousin, Iowa's Rossi Lorathio Adams II, who is known for posting videos of drunken Iowa State University students at doit4state.com URLs. He wanted to use doitforstate.com also. This 26-year-old Cedar Rapids man's prior attempts by telephone to get doitforstate.com owner Ethan Deyo to part with the latter name had actually proved successful, but Adams declined to pay Deyo's $20,000 asking price.
The price Adams is now paying is 14 years in prison. He still maintains that Hopkins, who had been staying in a homeless shelter when things came to a head, had been acting alone in attempting to procure the domain name for Adams. This is despite Deyo's testimony about the voice of the person Hopkins had asked to supply directions by phone during the transfer attempt.
Appeals are expected, with the lawyer for Adams stating that the claimed scenario is 'inconsistent with what any thief would do - steal something unique, and then place the stolen property into the thief's account, knowing that the property can be easily traced' and that the personal details on the instructions carried by Hopkins are actually evidence that Adams (whose palm print was found on the paper) was not involved.
Southport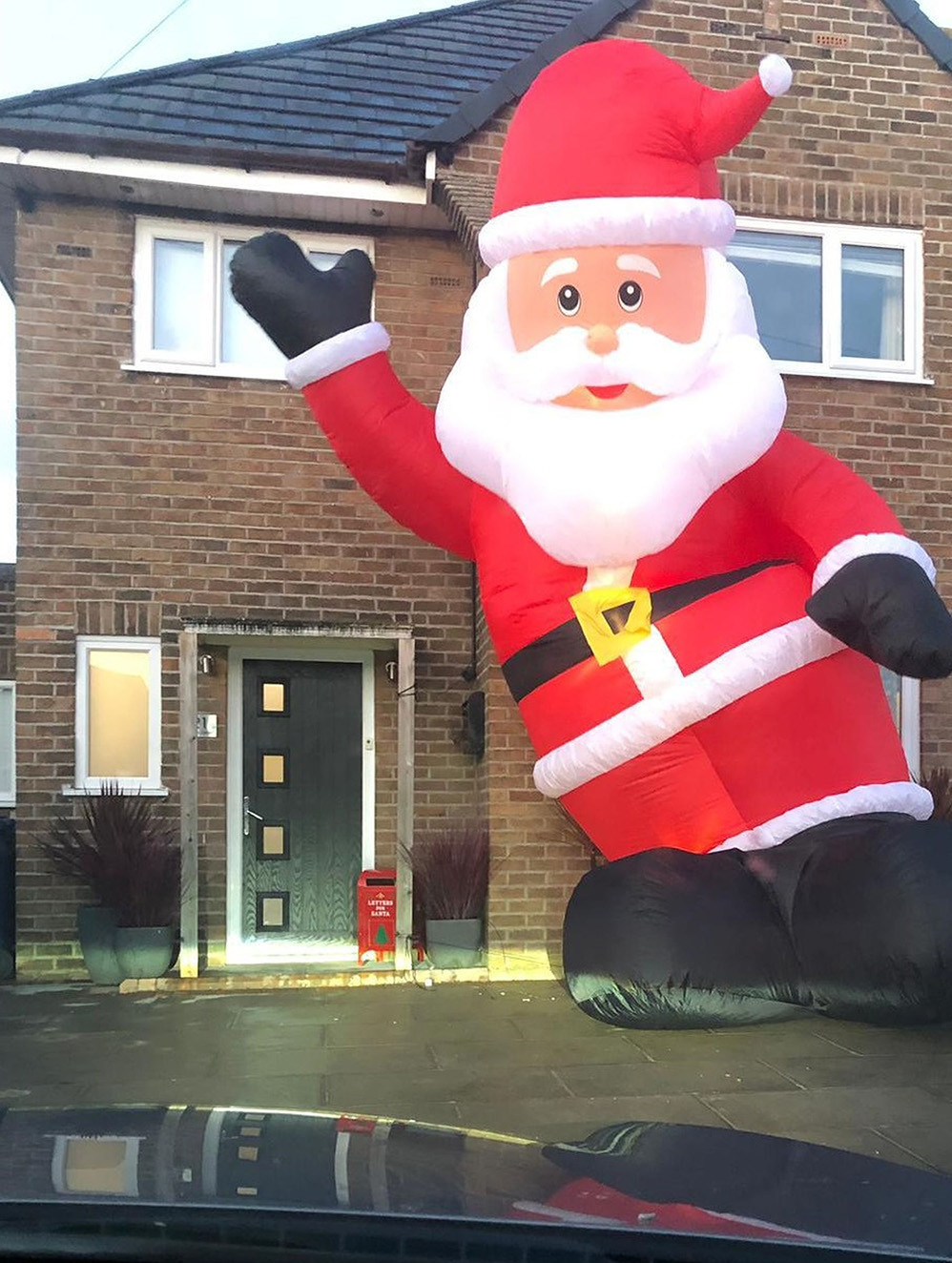 nightclub-owner Matty Jones bought an inflatable Santa Claus on eBay to display on the outside of his house. He found the item a bit strange-looking when it arrived, but the issue became clear only once he'd started adding the air: 'It kept growing and growing. I did wonder if it was ever going to stop.' To strap down the blow-up Santa, which had cost Jones the equivalent of 150 euros on the auction site, he had to enlist four assistants. Santa ended up taller than his house, and the neighbours ended up in stitches. Jones, 32, blames himself for confusing eight metres for eight feet.
During a supervised visit with her 12-year-old son in Goleta, California, 55-year-old orthopaedic surgeon Theresa Colosi began whacking the court-appointed chaperone in the head with a metal object. At the social worker's behest, the boy ran to fetch help at the nearby bowling alley, with Colosi hot on his heels until he was safely indoors. She then opted to drive off, and witnesses summoned help for the seriously wounded social worker.
Authorities then learned that Colosi had given away all of her belongings, withdrawn nearly a million dollars from her bank account, and chartered a flight to Montana for herself and her dog (under assumed names) - along with a 12-year-old boy. She was apprehended after entering a taxi in Montana and now faces a host of charges, including attempted murder and attempted kidnapping of a child.
In our final bit of news, from Canada, a drunken man attempted to spread Christmas cheer by leaving fully decorated Christmas trees in the gardens of Brandon, Manitoba, homes. The trees came from the shopping trolley he was pushing in the area of a grocery store - whose outdoor holiday display turned out to be missing a dozen Christmas trees. The ornaments dropping from the trolley documented the man's festive route for the police, whose Sergeant Kirby Sararas reports that officers were able to retrieve all the trees and locate the 33-year-old culprit. He was described as still 'highly intoxicated' at the time of his arrest for theft.