Our first story is from that Clippings mainstay Florida. Michael Blevins, of Deltona, told medics that he had been cleaning his .22-calibre pistol when he pulled it to his chest to keep his dog from jumping near it. Blevins, 37, said that he then stood up, his back gave out, and he heard a gunshot. He thought no more about this until three days later, when he decided to put on a clean shirt and discovered an entry and exit wound in his arm. He explained that the medicine he takes for back pain may have prevented him from feeling any pain and recognising earlier that he'd shot himself.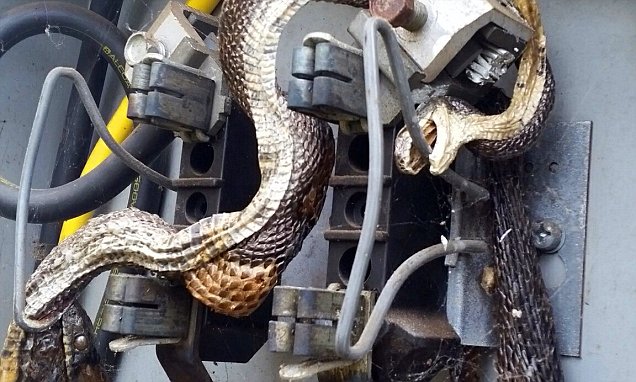 City workers in Morgantown, North Carolina, visited a condemned home to turn off the electricity shortly before its demolition. Across two live terminals was roughly a metre of dead snake. That's not unusual: according to Electric Services Director Brooks Kirby, workers find an electrocuted snake every two or three years. This time, however, there was a second dead snake. This one, about twice the length, had died while in the process of biting the first.
Belfast's Robert Darragh decided to take an active role in a riot sparked by a loyalist flute band marching in a nationalist area. Before he began 1.5 hours of throwing things at the police, he covered his face. However, he later decided to identify himself in an image someone posted on Facebook from before he'd covered his face. Making the connection clearer, he then also tagged himself in a photo taken of him lobbing a 'missile' from a wheelie bin at police officers. He has now been assigned jail time.
A 28-year-old woman identified by the German media as Emanuela R. has told a Nuremberg District Court jury that, when she was a few weeks into a relationship with a 23-year-old area man, a condom burst and the two couldn't agree about whether to keep the baby. In the end, Emanuela decided 'yes' after seeing ultrasound images. 'Josef V.' opted for 'no', and he enforced that decision by stirring an abortifacient into a mocha cream pudding that he'd made for her. Beset with violent abdominal cramps, Emanuela had to be taken to hospital by ambulance, where medics operated on her to stop her heavy bleeding and reported that she'd taken a morning-after pill. Josef faces up to three years in prison.
Detectives in Seattle checked a man out of jail and interviewed him. After that, the man, wearing belly chains, ran off. He was able to evade the detectives until they heard cries for help: according to King County Sheriff's Office spokeswoman Cindi West, the inmate had managed to impale his thigh on a fence. He was taken to hospital and is due to be thrown back into jail shortly.
Michael Banks, a 27-year-old man from Morro Bay, California, decided to climb a cliff to record himself proposing marriage to his girlfriend. Afterward, he 'took a different trail down, much steeper', according to Captain Todd Gailey. A helicopter was called in, and a rescuer climbed down a cable to rescue Banks from the sheer ledge. He began acting erratically a short while later, was ascertained to be high on methamphetamine, and was thrown in jail for possession of said substance. Neither he nor his girlfriend was available for comment.
Late on a rainy night, witnesses rang the Los Angeles Sheriff's Department to report two people fleeing the scene of a home burglary in a convertible. Their attempts to put the convertible's top up while in motion were unsubtle and unsuccessful, and officers soon had the relevant stolen Ford Mustang in their sights. In the ensuing chase, the suspects wedged their way past a tour bus while throwing a burger at its driver. One spike strip and some sparks later, the convertible came to a halt. The two men, 20-year-old Herschel Reynolds and 19-year-old Isaiah Young, stepped out and began taking selfies with bystanders.
Dennis Zine, who has been with the Los Angeles police force for 47 years, later said: 'I have been involved in a lot of pursuits, but I haven't seen anything quite like that. The high-fives at the end were ridiculous.'
In Ohio, Izaha Akins has been sentenced to three months in jail for posing as a state senator. A few weeks after the 18-year-old Akins spoke to a civics and government class at Mohawk High School in that guise, school officials recognised that they'd been duped. Akins is reported as feeling bad about bringing negative attention to the school but happy that his actions have led some schools to beef up their security procedures.
In South Brunswick, New Jersey, Ajinka Kelkar wanted to get back at the man who is now dating his ex-girlfriend. He did this by vandalising the vehicle belonging to the other man when he saw it in a driveway. Kelkar also damaged several other vehicles parked there, to the tune of $10,000 in mischief, slashing the tyres and carving obscenities into the paintwork. There were two problems: he had the wrong house, and he'd been caught in the act by surveillance cameras.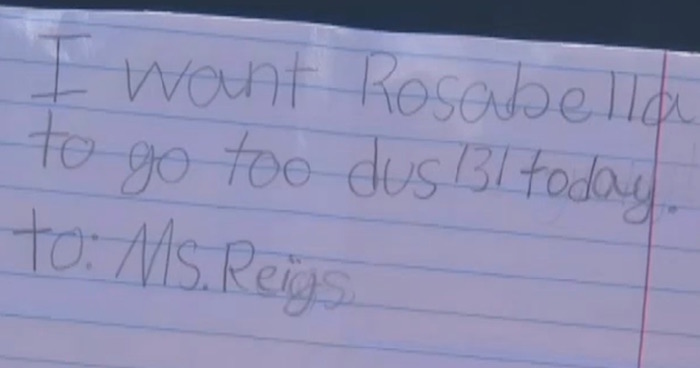 A Houston girl, age seven, didn't want to take part in an after-school activity, so she wrote an excuse note purportedly from her parents. The note, in large writing, read 'I want Rosabella to go too dus 131 today.' School officials allowed her to take the 131 bus home.
Once there, she wasn't able to get into the house. After a while, she asked a neighbour to let her use the toilet, and the neighbour looked after her until her father was located. Rosabella's father, Charlie Dahu, said that she'd been wrong to write the note but that it was rather obvious that the note was written by a child.
School officials report that they are investigating.
In Bangor, Maine, John St. Germain saw a school bus being driven by someone who looked rather young, so he alerted the police and then stopped his car alongside the bus at a junction and hopped aboard it. He took control from the 12-year-old driver, who was taken into custody.
The St. Louis Post-Dispatch tells us of a bank robber who made things easy for the authorities on his tail. Cameron Boddie, 41, kept dropping money after holding up a bank in University City, Missouri. Banknotes on the pavement led to banknotes on several streets, and a stairwell too was festooned with money. When officers found Boddie, near a car park, he had dropped several thousand dollars and had only about 100 notes left. Those were all worth $1 each.
He has now pleaded guilty of the robbery and been sentenced to 15 years in prison.
California's Los Osos High School had distributed 300 of its 3,000+ yearbooks when Bayan Zehlif noticed that she'd been incorrectly identified as another student. The photo of Zehlif wearing her hijab is labelled 'Isis Phillips'. Corrections will be made with stickers.
Zehlif remains unconvinced by school officials' claim that the caption was a 'misprint', and, according to the Los Angeles chapter of the Council on American-Islamic Relations, her family fear for her safety because she has been falsely labelled as a member of ISIS.
Luke Watts is a 32-year-old man who, on a flight from Sacramento to Seattle, asked for a beer and didn't receive one. He clarified that he would become violent if he didn't get his drink, and he proceeded to lock himself in the lavatory and pound on its door. Watts also demanded hugs from stewardesses. The pilot decided to divert the flight to Portland, Oregon. which happens to be where Watts lives. He has pleaded not guilty to interfering with a flight crew.
Oregon's Shannon Egeland was given a 10-year prison sentence for orchestrating large-scale mortgage fraud as vice-president of Desert Sun Development. The day before he was due to report to federal prison, he was wounded in a 'random' roadside shooting that required his leg to be amputated. It later emerged that he'd ordered his teenaged son to shoot him, in order to delay the sentence and benefit from a disability insurance policy. Shannon, 41, has since pleaded guilty to federal charges of willful failure to pay child support and conspiracy to commit wire fraud. The latter included lying to the insurance company about his arrest record, which runs the gamut from the mortgage fraud, at tens of millions of dollars, to $9 in shoplifting.
Howard Cook, Jr, 73, was annoyed that Verizon worker Michael Hathaway chose to park on the grass at Cook's Westborough, Massachusetts, business. So, when Hathaway was working in an underground vault, Cook pulled the ladder out and closed the hatch, thereby causing the ventilation to cease. He then locked the hatch and placed a few big rocks on top of it for good measure. Hathaway was able to use his mobile phone to summon the police.
Cook recently pleaded guilty of kidnapping and has been sentenced to a year of probation and completion of an anger management programme.