In Coon Rapids, Minnesota, the police responded to a disturbance at a Burger King restaurant: several people were breaking the windows. They were surprised to find that the damage was being caused by the manager and employees. According to police sergeant Rick Boone, the manager had received a phone call from someone claiming to be from the local fire department and warning of a gas leak. The caller had explained that, to prevent their workplace from exploding, they had to relieve the pressure by breaking through all the windows. The caller has not yet been identified.
In a similar call in February, targeting a Burger King in Morro Bay, California, the manager even rammed his car into the building in order to be extra-safe.
There weren't enough crab legs to go around at Royal Buffet, in Manchester, Connecticut. This led to a confrontation between customers in the buffet queue, which escalated quickly into a fight in which someone punched a 21-year-old man in the face and knocked one of his teeth out. His mother, who responded with pepper spray, is deemed to have acted in self-defence. The same cannot be said of his assailants, husband-and-wife attack team Clifford and Latoya Knight - ages 45 and 38, respectively - who between them have racked up two charges of disorderly conduct and one each of assault and threatening.
James Meyers, Jr, was driving his daughter to school in Concord, North Carolina, when he was pulled over for having a broken brake light. Making the checks that are usual during a traffic stop, the cops found that Meyers was wanted on misdemeanour charges for failing to return the rental video Freddy Got Fingered in 2002. After being taken downtown and cuffed for booking, the 37-year-old Meyers said that he had no idea he was a wanted man. He didn't recall having even seen the film and added: 'Really, everything from more than 10 years ago is a blur.'
Tom Green, who starred in the film and was the first person to accept a Razzie Award in person, has offered to help Meyers with legal fees. Meyers's lawyer said that prosecutors would have a hard time proving that he deliberately kept the videotape for 14 years, and he pointed out that J&J's Video is no longer in business.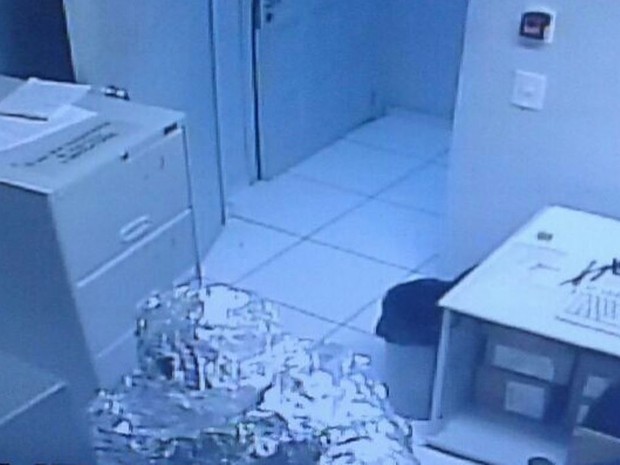 In Praia Grande, Brazil, two aspiring burglars foiled alarm sensors at a Banco do Brasil branch by wrapping themselves from head to toe in aluminium foil. They didn't take the security cameras into account, however. As police officers converged on the scene, the two men fled, leaving behind blowtorches and other tools. According to Globo, one was found wet and dirty in the bushes later in the day. When arrested, he explained that they'd simply wanted to break into a safe.
Back in the US, David Pressley thought it would be a good idea to empty a rifle at a lawnmower stuffed with three pounds of explosives. The 32-year-old Georgia man gradually approached his target while shooting. At 25 metres, it exploded and sent a piece of shrapnel into his leg. Pressley, who now has only the upper part of the leg, was surprised by this outcome. In a video of the incident, he helpfully exclaims: 'I blew my leg off!'
His friends created a tourniquet for him and summoned medics. He is expected to recover.
Neighbour Lydiah Mays, who wasn't concerned by the gunshots but was fazed by the explosion and scream, said: 'You would've had to be on drugs or something to think it was a good idea to play with that and try to blow up a lawnmower.' Her 'that' refers to the target-practice mixture Tannerite, whose safety instructions advise, among other things, not to 'shoot targets larger than 1 pound unless it is required due to extreme long-range competition.'
After a pet-store manager reported the theft of an exotic monkey and cash, police in Eugene, Oregon, found the missing bush baby with a woman at a hotel. The woman, a prostitute, explained that a customer had given her the animal as a tip, and she was happy to be rid of it. She also turned over the cash he had given her, which came from the pet store's till and Girl Scouts donation jar. When officers tracked down the culprit, Nathan Allen McClain, they found him apparently high on methamphetamine as he was leaving a porn shop.
He faces charges of soliciting a prostitute. There would have been more charges, but he is the co-owner of the pet store. The other owner, his wife, reports that he is no longer welcome there.
In Los Angeles, a school bus was in the process of crossing four sets of railroad tracks when the warning lights started flashing and the crossing arm came down. In doing so, it took out passenger windows on both sides of the bus and ended up on a child's lap. Firefighters used a rotary saw to cut through the crossing arm and remove it from the bus. None of the eight special-needs students aboard were injured. Dion Conley, with the California Highway Patrol, said: 'We're going to investigate the way the arm is [...] and the decision the driver made regarding the position of the arm when he was actually making his turn.'
After church, 90-year-old Anna Kish noticed a drywall-like substance on the basement steps of her Easton, Pennsylvania, home. She quickly determined the cause: a hole in the basement wall, covered by a t-shirt. With permission from Susan Buskirk, who owns the other half of the building, the police discovered a corresponding hole there, covered up with plywood, and a jigsaw. Buskirk told the police that her 22-year-old son, a heroin addict, had been staying with her and 'if anyone cut a hole in the wall, it would be him'.
Indeed, Sammy Buskirk pleaded guilty to the break-in, which had netted him $200 in quarters. As punishment for what public defender Anthony Rybak termed 'a crime of stupidity', he was sentenced to a three-month jail term, to be followed by inpatient drug treatment and supervision within the community.
A girl who wanted to fly on an aeroplane went to Moscow's Vnukovo airport after school to get her wish. According to Alexander Rzhanenkov, of St Petersburg's social policy committee, security camera footage shows her waiting at the gate until a large family arrived, then mingling with the children in order to board a flight to St Petersburg without ID or a ticket. Police found the girl, age 10 or 11, wandering around the destination airport.
Children's rights ombudsman Pavel Astakhov described the girl's trip, which involved passing through three control systems undetected, as sending a 'serious alert sign' about airport security.
The girl's mother plans to sue the Moscow airport and Rossiya Airlines. Meanwhile, the child is in an orphanage, waiting to be collected. The mother cited fatigue from media attention as the reason for the delay.
Frank Moracco, the mayor of Frankfurt, New York, recently implemented a plan to save taxpayer money. Moracco, who works as a sign shop foreman, donated 111 road signs (yield signs, stop signs, and others) to the village's roads department. The problem is that Moracco works for the New York Department of Transportation and stole the signs. He has been charged with official misconduct and petit larceny, though he will continue to serve as mayor. The 60-year-old Moracco could not be reached for comment.