Brandishing a gun, relatively seasoned robber Joseph Rosado successfully demanded cash from two tellers at a Wilmington, Delaware, bank. Reaching the car in which he'd hoped to make his escape, he realised that he'd locked the vehicle's keys inside. Attempting to flee with the money on foot, the 27-year-old Rosado was spotted with ease by a county police officer and booked on six counts of first-degree robbery, among other charges.
In the climax of an argument, Florida construction worker Erick 'Pork Chop' Cox decided to dump a front-loader's load of dirt on the site supervisor, 57-year-old Perry A. Byrd. Because Byrd therefore couldn't move, Cox was able to collect another load to deposit on Byrd, leaving more than half of the boss's body buried. While a co-worker was ringing the emergency services, Cox started beating Byrd in the head with a two-metre-long aluminium level.
The 32-year-old Cox later told authorities that he'd accidentally buried Byrd's leg in dirt upon bumping the bucket-control lever when reaching for his keys.
The owner of a nightclub in Szubin, Poland, decided to hold a military-themed party, getting things started by driving a 2S1 Gvozdika howitzer through the field outside Club Mono. The intent was to stop just outside the venue. Instead, the 30-year-old owner and a friend ended up crashing the howitzer into the front of the club. Apparently, alcohol was not involved.
After the howitzer was carried away on a trailer, he stressed that, unlike the club, his enthusiasm for all things military was unshaken. He was unable to get the party going and ended up going home.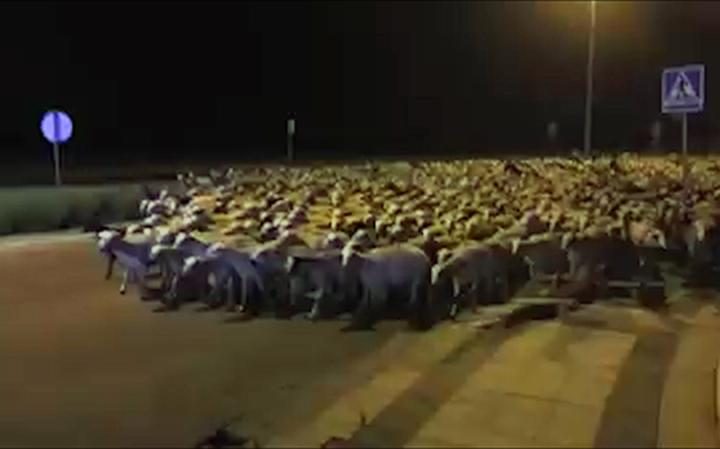 A resident of Huesca, Spain, rang the emergency services at about 4:30am to report a large number of sheep wandering around the city centre. The sheep weren't easy to miss: there were 1,300 of them to be rounded up. It turned out that the shepherd who was supposed to be guiding them to pasture areas in the Pyrenees had nodded off. He was still asleep when the police found him to deliver his wayward flock. They were able to round up all of the animals by 7am.
A man recently visited a dock in Jersey City, New Jersey, to watch the sun rise. He sat on a three-metre-long piece of plywood and began to wait. As the piece of wood drifted into the Hudson River, he chose not to jump off and swim to shore - apparently so as not to risk losing or waterlogging his mobile phone. When finally spotted, he was in commercial shipping lanes near Governors Island, about two nautical miles from his original starting point, and being blown about by choppy winds. Fire department captain Louis Guzzo said: 'At first, we just thought it was debris.' Guzzo said that the man, whose name hasn't been released was generous with hugs when the rescue team reached him.
Orange County, California, Superior Court judge Scott Steiner has been taken to task by the Commission on Judicial Performance for various ethics violations, including presiding over a case involving an old friend and repeatedly having sex with two of his former law students, one a practising attorney and the other an intern, in his court chambers.
Prosecutor Karen Schatzle failed in her bid to unseat him and now agrees with the conventional wisdom that running against a sitting judge is 'career suicide'. The latest step in her 24-year career at the District Attorney's office involves filing papers.
A man stole sweets, energy drinks, and razors from the CVS pharmacy in Stoughton, Massachusetts. Some might say he didn't make the best choices. He had entered the pharmacy about half an hour before closing time, and nobody made him leave before closing for the night. Some might say that the staff or their trainers didn't make the best choices. Nobody noticed him when opening the doors at 7:00 the next morning either, and he just walked out.
All of this was discovered only in a review of CCTV footage after the theft was noticed, in the afternoon.