When packing for a trip to Sydney, Australia, New York's Kingsley Burnett, 62, did not expect snow. But that's what awaited him before the final leg of the trip - from Billings, Montana, to Sidney, Montana. Once he'd learnt why the air tickets had been surprisingly inexpensive, he characterised the problem as 'the S-Y-D as opposed to S-D-Y - somebody has to fix that'. Burnett has now rescheduled his Australia trip for June.
The manager of the Boothill Inn, where he was staying while awaiting a return flight, told local television station KTVQ: 'This is the second time we've had a guest that was trying to get to Sydney, Australia.'
Singapore's Straits Times reports on a Mr K. Kawshigan, who threatened to sue object of his affections Nora Tan after she told him that she viewed him as a friend only. Detecting no progress after 1.5 years of a compromise in which she attended his counselling sessions, she severed contact. Therefore, he filed a $3 million High Court claim for causing trauma and damaging his 'stellar reputation', and her receipt of an expedited protection order was met with a $22,000 magistrate's court claim: by breaching an agreement to improve the relationship, she had reduced his earning capacity as an 'active high-capital trader by night and a busy CEO by day'.
State Courts deputy registrar Lewis Tan dismissed the latter suit, expressing refusal to abet Kawshigan's 'calculated attempt to compel engagement from the defendant who [...] has finally decided to stand up to his threats'.
Back in 2015, New Jersey IT worker John Michael Musbach exchanged sexually explicit pictures with a minor, thereby earning himself child-pornography charges. In an effort to derail the criminal case, Musbach visited a rather dodgy Web site, where an administrator's response to his note beginning 'Alternatively to a gun order, I could place a hit order' reassured him that '14 years old is acceptable'. Later, however, he was informed that he'd need to send the murder-for-hire site more than the budgeted $20,000 in Bitcoin, to prevent the administrator from snitching to the authorities.
The response to his note 'Is this a joke?' came from prosecutors, who also found that he had searched Google for 'death by chloroform', details of child-grooming laws, and how to clear his browsing history.
In the 'daylight-harvesting' lighting system installed a decade ago to save money at Massachusetts's Minnechaug Regional High School, brightness levels get adjusted on the basis of data sent between all 7,000 lights and a server. After a blackout in August 2021, the green dream became a glaring nightmare: all the lights stayed on, burning taxpayer money in the thousands of dollars each month 'but not in the tens of thousands', according to the school district's assistant finance superintendent, Aaron Osborne.
According to student journalists, software supplier 5th Light had denied access requests amid earlier, transient corruption because the information is proprietary, and now 5th Light no longer has the data. Once the district tracked down the latest owner of system installer Reflex Lighting, attempts at system patches or adding timers failed. Multiple back orders followed. Reflex chief Paul Mustone now reports that, while 'we made a deal with the devil by moving the factories to China', the parts have finally arrived. He added: 'Yes, there will be a remote override switch.' For now, teachers continue to unscrew light bulbs for the night and before showing films.
In her review of In the Dutch Mountains, journalist Wiebke Hüster described attending said ballet as akin to being 'alternately driven mad and killed by boredom'. Its director, auteur Marco Goecke, found this a bit harsh and is alleged to have approached her during another show's interval, in order to accuse her of reducing subscriptions for the Hannover Opera House's season and to press a paper bag of dog faeces into her face. The opera house responded by suspending him for an 'impulsive reaction' that contravened its code of conduct and left the audience unsettled, Hüster stressed that he clearly had planned this response, and her employer Frankfurter Allgemeine Zeitung reported that the police are investigating accordingly.
What can one do as an encore to violently murdering and dismembering someone? We could ask Wisconsin's Taylor Schabusiness, familiar from last April's Clippings - a 25-year-old woman accused of strangling her sex partner to death and strewing the body parts around his mother's home. When a judge granted her attorney two weeks for her to undergo a psychiatric evaluation, she seemed unhappy with the delay and assaulted her attorney, Quinn Jolly. Once an officer of the peace had wrestled her to the floor, the hearing could resume - this time with a delay caused by Jolly's motion to be taken off the case.
Brazilian attorney Leandro Mathias de Novaes, 40, felt safest with a handgun tucked into his waistband at all times. This preference influenced his preparations for his mother's MRI scan at Laboratorio Cura. CNN Brazil reports that magnetic forces pulled the weapon free from its hiding place and caused a round to be fired into his belly. Swift medical care did not prevent the Order of Attorneys of Brazil in Cotia from informing his gun-advocacy TikTok followers of his death two weeks later.
The Los Angeles Sheriff's Department reported on what began as a typical late-afternoon catalytic-converter theft: a saw-wielding man emerged from a vehicle idling in a Palmdale car park and crawled beneath a nearby SUV. His sawing noise awakened the SUV's driver, who placed the vehicle in reverse gear and then 'felt a bump', at which point she stopped immediately and discovered a need to summon emergency responders. While medics were providing ultimately futile ministrations, the remaining 3/4 of his gang were plucked from their vehicle and arrested.
Freezing to death isn't a common way of dying in police custody, but Alabama's Anthony Don Mitchell, 33, managed it. According to a federal charge sheet, he was locked inside the Walker County jail's walk-in kitchen freezer for punishment and was next spotted - thanks to security cameras - being carried out in a stiff state for 'evaluation' at the local hospital, where he was pronounced dead.
His death indirectly resulted from a concerned family member's request that officers check on his welfare - he landed in jail for attempted murder after firing a handgun at the responding cops.
Francisco Barajah expired in rather different circumstances. The 39-year-old Mozambican pastor had decided to emulate Jesus's 40-day fast as described in the Bible. He lasted 25 days without food or water before, unable to stand, he was whisked off to hospital by relatives and Santa Trindade Evangelical Church parishioners to receive rehydration and liquid food.
After he died, his brother contested the medical diagnosis, stating that, while Barajah had been fasting, he simply 'suffered from low blood pressure'.
Shortly after receiving a US social security card, in 2018, Illinois's Jieun Kim was unable to open a Chase Bank account, as someone else had already used her social security number to do so. She filed a report and forgot about the matter until Robinhood suddenly closed her trading account in 2021 and the IRS said she'd already claimed her stimulus payments. When Chase cancelled her credit cards shortly after that, she left a message for the person using her SSN to contact her. The other party, California's Jieun Kim, did so, once her own card was cancelled. Though 'our first text message didn't go well', the two 31-year-olds 'figured out that we weren't weird people or thieves and that we happened to share one Social Security number'.
Chicago-area Kim's application for a new SSN yielded comments blaming both Asian people's 'very similar names' and computer error, along with the same old number. Meanwhile, Los Angeles Kim claims, an officer warned her that 'talking about this [...] could result in delaying the green-card process [from] six months to 2-3 years'.
The two women suspect that it may take longer than that just to de-merge their income records and personal data. For instance, LA Kim reports that she is listed as having two mothers and two fathers.
Thanks, Osku, for the tale of Connecticut lunch lady Andie Paige Rosafort, who sent a 14-year-old pupil a nudie picture of herself. Asked whether she'd sent said selfie by mistake, she followed up with another. Her persistence, which included videos of her masturbating and various requests over a span of six months, paid off: the boy left a party early to 'have sex with a woman', though ending that encounter early because he felt uncomfortable. Two days later, he told his parents about what had left him feeling 'very weird and guilty', and Rosafort has been arrested and warned not to use social media while awaiting trial.
Lucio Catarino Diaz provided several companies in Houston, Texas, with more than simple office-cleaning services, if legal filings by more than a dozen recipients of herpes simplex services are to be believed. After a worker noticed that the water she kept on her desk had an odd taste and aroma, she provided the building-management company with CCTV footage revealing Diaz's habit of urinating into female employees' water bottles. No changes were forthcoming, so victims contacted the police themselves as the STD outbreak spread.
Upon his arrest, Diaz confessed. He has been charged with felonious aggravated assault, and various managers too are under legal fire.
Our penultimate story too involves water. Two ice machines on a Boston hospital's surgery floor were equipped with water-purification systems that removed the nasty chlorination aroma and taste from the municipal tap water. The chlorine's removal also encouraged a bacterial rampage in the machines, thereby removing three post-operative patients over the space of 18 months. A fourth vulnerable cardiac patient at Brigham and Women's Hospital survived the Mycobacterium abscessus infection.
Doctors combing the patients' records for commonalities turned up little until nurses mentioned that the relevant patients seemed to consume more ice than others had. It was not long before staff found the biofilm within the machines, which had survived all the manufacturer-recommended cleaning and maintenance.
How many people's input does a cheese toastie require? If you are the residents of a student flat in Avery Hill, London, the answer is 'roughly 25 firefighters'. After students placed a toaster on its side, inserted bread and cheese, and left the room, the predictable outcome left the kitchen 'gutted' and other portions of the ground floor damaged, according to a London Fire Brigade spokesperson.
Their search for fugitive Tina Hicks led sheriff's officers to a Williamsburg, Kentucky, home. They encountered a snag there, though: nobody in the home would answer their questions - until a toddler visiting at the time stood up and, placing his hands on his hips, stated that 'it is good to be honest' and 'we shouldn't lie'. He then announced that Hicks, 45, was hiding in a room adjacent to the home's bathroom. She was arrested on six warrants, old and new.
Outrage spread alongside a video in which a man licks a communal bottle of soy sauce at a Kura Sushi 'sushi train' restaurant in Nagoya, Japan, then smears saliva on food items passing along the conveyor. While the man, 21-year-old Ryoga Yoshino, has been arrested and at least one of the minors squashing sushi items alongside him has apologised, copycat incidents have led Kura Sushi to install sensors and cameras to catch plates being returned (for instance, with wasabi added).
Other restaurants have opted to discontinue sushi trains entirely. For instance, the Choushimaru chain brought its conveyors to a halt after someone left a cigarette butt in a pot of pickled ginger.
Six days after Tory Hart filed for custody of son Eli from the six-year-old's mother, Minnesota's Julissa Thaler, she purchased a shotgun and arranged a shooting-range visit. It wasn't long before cops pulled over a bloody-haired Thaler, warning her that she was driving on a tyre rim. They learned later that Eli was in the boot, alongside the gun, which had sent an estimated nine rounds into him.
Thaler, 28, was tracked down and arrested for intentional but 'not premeditated' killing. Her father, who had backed Hart's custody claim, reported having told the judge that 'I feared for Eli's safety' and for her ability to care for herself, let alone a child, given her mental-health history. A Thaler relative who had fostered Eli for nearly a year had repeatedly warned the authorities of worries that Thaler 'would kill Eli to prevent his father from getting custody'. Even Eli had weighed in on the matter, by locking Thaler outside.
Tennessee's Lisa Edwards, 60, told police officers that she was having difficulty navigating her wheelchair back up to Fort Sanders Regional Medical Center, from which she'd been discharged. Replying that her refusal to leave constituted criminal trespass, they asked her to 'help us help you' and began an hour-long struggle to bundle her into a cruiser. Amid her protestations that she felt about to faint, their point that 'you weren't having any breathing problems when you were out here smoking' didn't prevent Edwards from going grey and passing out in the cop car. After a traffic stop en route to a detention centre, the officers found her dead of a stroke.
The Knoxville police assert 'no department policies or procedures were violated', and the district attorney's office stress that the police action did not contribute to her death of natural causes.
In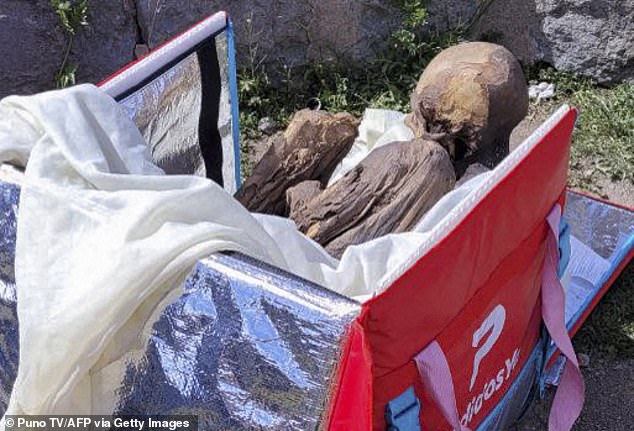 our next item, the cause of death is less relevant. The Peruvian police detained apparently drunken food-delivery worker Julio Cesar Bermejo at an archaeological site in Puno and decided to look in his big red cooler bag. Within it was the mummy that he'd brought from his room at home to show his teenaged friends. Bermejo told officers that his bandaged 'spiritual girlfriend' had been in his father's family for 30 years. Said girlfriend, 'Juanita', is a pre-Hispanic-era male who is now in the Ministry of Culture's care.
In nearly two decades of work along the Texas border, Raul Rodriguez proudly helped deport thousands of people from the US. Then, in 2018, federal investigators shared a photo with him, of a Mexican birth certificate... Next came an awkward conversation in which he severed communication with his father.
While his case for 'cancellation of removal' remains pending, he relies on disability benefits from a head injury suffered in his years with the Navy. His wife Anita says that 'we had never heard of a veteran getting deported', but today, from a new perspective emerging after his deportation flight, 'now I'm trying to bring them back'.
About halfway through their fourth competitive-league season, a pre-teen girls' basketball team representing a school in Hoover, Alabama, were informed that they would lose access to their practice facilities unless paying to play in the City of Hoover boys' recreational league. They advanced to the title match, then received another surprise: were they to win, they would not receive the trophy. And that's why the second-place team were handed the championship trophy.
City Administrator Allan Rice later claimed that, while 'elite' teams, who request to join the league, are a special case, officials would work to 'provide proper recognition to all the teams that were successful in that tournament'. The girls ultimately received a commemorative coin and trophy at a private ceremony that they attended in lieu of a city council meeting.
Roughly 15 minutes after leaving a restaurant to collect his children from school, Vancouver's Rajesh Randev received a text message asking 'Do you drive a Tesla?', and the origin of the crack in his windscreen became less mysterious. The sender was now-carless Uber driver Mahmoud Esaeyh, whose key card had enabled accessing medical documents in Randev's car and, thereby, Randev's phone number.
Tesla's non-response to the men's video demonstration of the issue left an unsettled Randev musing: 'More than $70,000 to get this car, and my family is not feeling safe right now.'
As soon as his county-issued SUV barrelled into the back of another vehicle at nearly twice the speed limit, St. Joseph County, Michigan, sheriff Mark Lillywhite wriggled into the passenger seat and prepared his answers - 'nope' to state troopers' request for a breath test, 'I'm not sure what happened and it is what it is' as his account of events', and an unsolicited 'No, I wasn't driving'. The vehicle's logs did not back up his account, only first responder Shawn Westfall's suspicions that the 47-year-old Lillywhite's seat belts and brakes had gone unused.
Kaylie Hursthouse wanted to help lift alcoholic Jamie Boultbee from his depression via a romantic Valentine's night away, according to her legal counsel. Lawyer Mike Kimberley said that both were 'totally inebriated, angry, and whatever' at Derbyshire's Moorlands Izaak Walton, where noises from their 'rough sex' in the wee hours prompted a police visit and led three roomfuls of guests to request refunds.
When officers arrived, Hursthouse clarified that her visible injuries were from 'head-butting someone a few days earlier out of anger due to her losing a child', and Hursthouse and Boultbee were ordered to share the costs for the refunds and for damaging the bathroom door.