Responding to an early-morning report of a car mostly submerged in lake water at the edge of town, rescue workers in Joutsa, Finland, found nobody within. There was, however, a confused man up a nearby tree. Said 30-year-old was unable to explain how the car had ended up in the lake, and its online systems indicate only that the vehicle had moved erratically on the highway before being driven or pushed into the water.
Per Detective Inspector Veli-Pekka Välisaari, cops are looking into charging the probable driver with aggravated drink-driving, reckless acts in traffic, and other safety- and drugs-related offences.
A Los Angeles County homeowner explained to emergency-response workers that the plumber working at his home had entered the crawlspace three hours earlier and not emerged. According to fire-department representative Nicholas Prange, the lack of response to shouts and banging on the floor indicated that it would be wise to call in urban search-and-rescue specialists, whose plan of attack was to cut through the floor with chainsaws, aimed on the basis of a visible part of the 50-year-old man's body. Before all the planned holes were completed, however, the plumber crawled out on his own. He had merely fallen asleep.
Using tools fashioned from a toothbrush and an unspecified metal object, Virginia inmates John Garza and Arley Nemo liberated rebar from the Newport News jail's structure. This, in turn, enabled them to break through a wall and, after scaling another, achieve freedom. A few hours later, the authorities issued a call for help in tracking them down, a call swiftly answered by customers at a pancake restaurant in the nearby town of Hampton; the men were celebrating their freedom there with a hearty brunch.
Tilahun Teginge was driving along the Las Vegas Strip when he heard 'pop pop' noises and felt the impact from something hurtling through his open taxi window. His passengers' prompt 911 calls were not enough to save his eye, which was removed at a local hospital. Now, his 22-year-old daughter ferries him from place to place.
Teginge's injury is the result of another family's co-operation: Enrique Duarte Hidalgo explained that he'd wanted to help his young son cope with emotional fallout from the family fracturing. The mechanism chosen for this was slingshots, with which the pair had propelled rocks at buildings and cars while cruising the Strip.
Wilson Garcia made the mistake of asking neighbour Francisco Oropeza to practice his shooting a bit further away so as not to keep waking Garcia's baby. Oropeza's response that he can do as he pleases on his own property led Garcia to seek and receive reassurance from the Cleveland, Texas, police that they would send help. Help arrived only after his fifth phone call - once Oropeza's indiscriminate gunfire had killed five of the 15 people in the Garcia home (both family members and guests present for a religious retreat).
The 38-year-old Oropeza eluded authorities for four days while preparing to flee to Mexico. This made a change from his usual pattern - he had returned to the US at least four times since first being deported in 2009.
North Carolina's Robert Louis Singletary yelled at the children who retrieved their wayward basketball from his garden. Concerned about this angry reaction, one of the parents visited Singletary's home. This precipitated another angry reaction: Singletary, 24, opened fire on neighbours who happened to be preparing food outside at the time. Six-year-old Kinsley White later said: 'I couldn't get inside in time, so he shot my daddy in the back.' Kinsley's mother too was injured. The girl, who needed stitches to her cheek, stressed: 'We don't even know the man.'
Singletary turned himself in after a manhunt.
Meanwhile, Missouri brings us Andrew Lester, 84, who opened fire - through his door - on a teenager who'd arrived to collect his younger brothers. For two doorbell presses at 115th Street instead of 115th Terrace at 10pm, 16-year-old Ralph Yarl took a bullet to the head and one to the arm, alongside a 'don't come back around here'. The youth received medical care only after seeking help at three nearby homes.
Though the police originally released Lester after questioning, they changed their minds in the wake of protests and a prosecutor's contention that the shooting had a 'racial component'. The charges on the table are first-degree assault and armed criminal action.
Meanwhile in Hebron, New York, 20-year-old Kaylin Gillis and two friends mistakenly pulled into the driveway of Kevin Monahan's rural home while looking for a friend's house. Once the car's occupants had recognised their error and were turning the vehicle around, Monahan, 65, apparently stepped out onto his deck with a 12-gauge shotgun and fired at Gillis. Medics in a nearby town were unable to save her.
Monahan, meanwhile, 'has not shown any remorse in this case', per Washington County Sheriff Jeffrey Murphy.
When David Redfern returned to his home in Gwynedd, Wales, he found an elderly woman in his bed, drinking gin and tonic while her dentures sat on his bedside table. So he hauled her downstairs by the ankles, stamped on her, and threw her out the door with several broken ribs. As he mocked her, she complained about chest pains, then passed out, forever.
It later emerged that the woman, Birmingham's Margaret Barnes, had mistaken the 46-year-old Redfern's home for the bed and breakfast she'd booked. A Caernarfon Crown Court jury, agreeing with his fiancee's CCTV-recorded statement that 'you could have just escorted her out - it's an old lady', has found Redfern guilty of murder.
Texas's Peter Brennan claims that, while sleeping at a Hilton hotel in Tennessee, he was roused at about 5am by someone sucking on his toes. Brennan recognised his uninvited guest as the employee who had fixed the room's television set a day earlier, and a name tag identified him as night manager David Neal. Neal, 52, made excuses about having smelt smoke, then fled, discarding the cloned key card he'd used to enter.
Lack of response by the hotel's security staff prompted Brennan to ring the police, and Neal - whose criminal record includes fatally shooting a roommate, for example - was arrested. Brennan plans to sue both Neal and the hotel.
Other hotel news comes to us from Abbots Langley, Hertfordshire, where Mason Sanders was staying at the Hunton Park Hotel during home renovations. When 'I reached out my arm thinking my partner was next to me' during the night, he found that the naked man alongside him was 'some random drunk guy - the receptionist just handed a complete stranger the key to my room'. Mason's shouting caused the other man to streak out of the building, with a slight pause to vomit 'everywhere' in the room's en-suite loo.
Though staff offered the 24-year-old Sanders a refund for two nights of his stay, he plans to sue them, partly to emphasise the importance of security and drive home the point that this 'was a horrific experience and something that will stick with me forever'.
FBI agents assisting the US Department of Defense with a training exercise stormed into a Boston hotel room as planned and handcuffed the guest inside for mock interrogation. After nearly an hour of questioning the man they'd awakened, they realised he was not a role-player but a confused Delta Airlines pilot who knew nothing of the drill. The FBI said in a statement that agents had been directed to the wrong room at the Revere Hotel and that 'thankfully, nobody was injured'.
T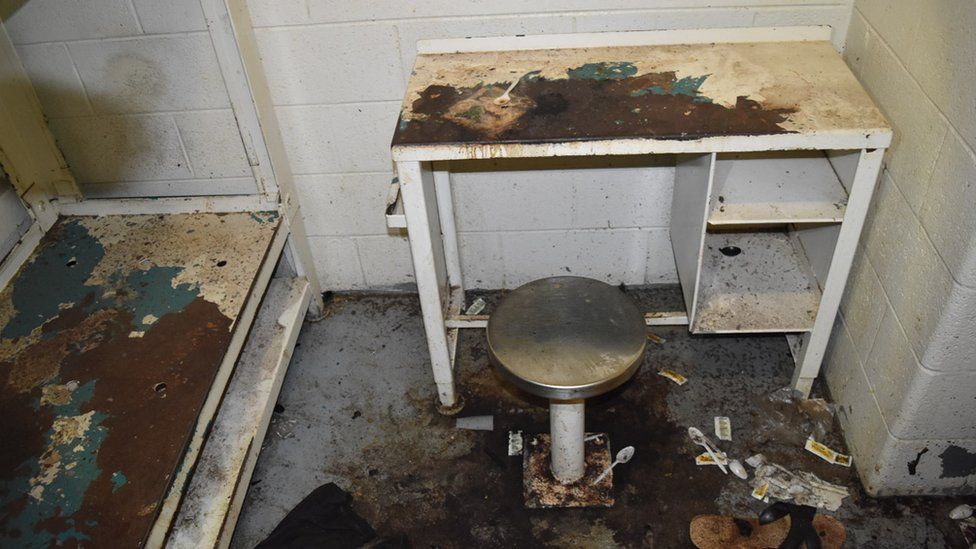 here are far worse possible outcomes of detention, as Lashawn Thompson might have discovered in the three months between his arrest on misdemeanour charges and being found unresponsive in his cell in the Fulton County, Georgia, jail's psychiatric wing. A medical examiner's report issued after his death noted the 'severe bed bug infestation' that had plagued his body. Thompson's attorney has called for an investigation, citing records in which jailers and medics refer in passing to his deteriorating condition.
In response, the county sheriff's office has pledged to invest $500,000 'to address the infestation of bed bugs, lice, and other vermin' and update its procedures for security rounds. This comes a year after a Southern Center for Human Rights press release titled 'Uncontained Outbreaks of Lice, Scabies Leave People at Fulton Jail Dangerously Malnourished'.
Obliviousness thrives elsewhere in the South too, where a drunken Joseph Moulton, 36, ambled around Florida's Naples Police Department at roughly midnight and, clad only in a towel, wandered back out without being noticed. In his 40 minutes there, he stole at least a bullet-proof vest and a hat, showered, dumped a police radio into a toilet, and shat on the floor of the ladies' lavatory. It wasn't long before a convenience-store clerk next door rang the cops to report a man in law-enforcement clothing 'acting suspiciously'.
Police Lieutenant Bryan McGinn explained that the areas roamed by Moulton are not normally staffed in the evening. We know the miscreant's identity solely because he left his wallet in a patrol car, where he'd hidden while waiting to sneak into the building.
Worried that an Oregon man's late-night actions could pose a danger along the interstate highway, state police officers asked him to stop flinging handfuls of $100 notes from his car. The motorist, 38-year-old Colin Davis McCarthy, agreed but stressed that he was merely 'doing well and wanted to bless others with gifts of money'. His family, whose bank accounts had been emptied, were less happy and begged anyone who had grabbed some of the $200,000 to return it.
Police Lieutenant Jim Andrews stressed that the authorities cannot assist with the latter effort, since McCarthy is a signatory to the accounts.
In the Netherlands, the Den Bosch district court has sentenced a man identified as Leroy S. to 450 days in jail for posing as a nurse amid the first wave of SARS-CoV-2. Concluding that this 27-year-old had wanted to help out and meant well when responding to a public call for volunteers who hold a health-care diploma, the court found that 'this is a [case of] gross self-overestimation'.
Leroy S. has been ordered to undergo treatment for his psychological problems in the coming months or years, and he is now forbidden from performing any medical work.
CCTV images show David Lee capturing a seagull on a back street in Sunderland, masturbating while kneeling over it and staring at his phone screen, and finally re-fastening his trousers and kicking the bird away. When confronted at a nearby take-away, he spun arresting officers a quickly refuted yarn - worried that he'd found an injured gull, he'd been searching online for a veterinarian's contact details, not visiting porn sites.
Chairman of the Bench Fay Gilbert stated that, while 'as experienced magistrates it is one of the most unusual cases we have come across', the area court was able to conclude that Lee, 40, had engaged in 'a deliberate or gratuitous attempt to cause suffering to an animal or, shall we say, a bird'.
Riverside County, California, sheriff's deputies mounted a sting operation in which their suspect bought 27 kilos of meth off them, for about $35,000, then managed to get back into his or her vehicle and simply 'drove away', according to a press release. The ensuing high-speed chase, which the officers mentioned had created a risk to public safety, was called off from the authorities' side after 'deputies lost sight of the vehicle'.