A Belgian couple travelling from Tel Aviv to Brussels on 31 January were unaware that Ryanair wouldn't let their infant onto the aeroplane without a ticket, whether for a 'lap baby' or involving a separate seat. When informed of this shortly after check-in closed, they made a dash for the security queue and gate, leaving the child on the check-in counter. A Ryanair representative later reported that the airport's security staff 'retrieved the passengers, and this is now a matter for local police', and the Israeli Airport Authority indicated that the parents have been reunited with their child.
When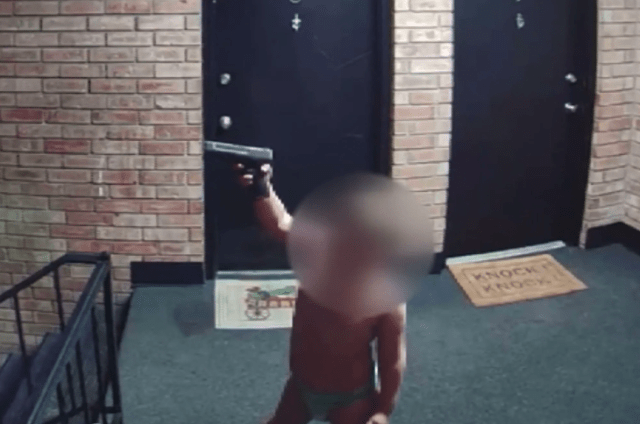 the Beech Grove, Indiana, police responded to reports of a young person roaming a block of flats with a handgun, one resident explained: 'My son opened the door, and the little boy upstairs is standing there with a firearm.' Asked whether the gun may have had an orange tip, denoting a replica or toy, the neighbour expanded 'no, no [...] looked like a large .45', adding 'I sell guns'. The child's father, 45-year-old Shane E. Osborne, reassured them, however, that there were no weapons on the premises and that he'd been sleeping off a cold all day. Then, someone next door produced CCTV footage of the nappy-clad four-year-old waving a firearm around at a landing and even pulling its trigger, whereupon Osborne clarified that he didn't know the boy had left the flat and that the weapon must be his cousin's. Officers recovered the firearm, which was loaded but had an empty chamber, and Osborne is charged with neglect of a dependant.
According to Finland's Helsingin Sanomat, a pizza restaurant in Turku agreed to grant a customer a three-euro discount, bringing the cost of his phone-in order to 23 euros. That wouldn't have been a problem had the customer not argued with the courier about the price, paid only 15 euros, threatened to kill the courier, and deliberately revealed the handgun at his waist. A search of his home didn't uncover the weapon but did find 22 cartridges, which the customer ostensibly had found in the flat when moving in and kept for making jewellery.
Although he was ordered to pay a 5,000-euro fine at district-court level, this was reduced to 50 euros upon appeal. Also, while he'd been ordered to pay the outstanding balance for the pizza order, the court granted him a further discount by calculating that amount as seven euros rather than eight.
The HMS Vanguard, one of the four submarines that the UK uses to carry Trident missiles, has been undergoing maintenance - thus far, for four years longer than planned. When contractors at the dry dock in Plymouth discovered that over-tightening had sheared off the heads of several bolts that hold insulation to the nuclear reactor's coolant pipes, they tried to avoid further delays by gluing the bolt heads back in place and omitting mention of this from maintenance logs.
Royal Navy engineers uncovered the nature of the repairs when preparing to bring the 15-metre vessel's reactor to full power, and an urgent investigation has been ordered. Presumably, Babcock's engineers will know to use duct tape next time.
The food-service director of an Illinois school has been accused of continuing to order food while the pandemic precluded in-person learning. Over 19 months, 66-year-old Vera Liddell, an 11-year veteran with the school district, placed hundreds of unauthorised orders for food items, among them more than 11,000 cases of chicken wings, which she collected in one of the district's vans.
Her actions came to light when a mid-year audit revealed the school to be more than $300,000 over its annual budget. Another discrepancy discovered is that the district does not serve chicken wings to its students, 'as they contain bones'.
Liddell faces charges of felonious continuing enterprise-level financial crimes and theft exceeding $1,000,000.
Our next story takes us to the Sheung Shui Slaughterhouse, which handles most of Hong Kong's pork processing. A pig that had been shot with a stun gun in preparations for butchering woke up, and it was then the butcher's turn to lose consciousness - after the pig knocked him to the ground. When a co-worker found the 61-year-old man, who had suffered injuries from the 40 cm meat cleaver he'd been holding, it was too late to save him.
The city's labour department have commenced an investigation to ascertain liability and identify any work-safety violations.
After being lowered by a helicopter from a nearby US Coast Guard training site to a storm-wracked yacht on the Columbia River, rescue-swimming student Branch Walton saw a wave overturn the boat and knock 35-year-old Jericho Labonte overboard. The video of Walton then saving his first life later caught the attention of police officers in Oregon, who recognised Labonte as the man who had recently posted a video online of criminally leaving a dead fish on the porch of the Astoria home featured in the cult film The Goonies. He was wanted in his native British Columbia too.
Also, not long after the video's release, the owner of the yacht reported it stolen. The police located and arrested Labonte shortly after his release from hospital.
A Japanese man known as Mutekimaru, or Maurice, set up a YouTube channel showcasing video streams in which his betta fish plays Pokemon games by swimming between sections of its tank that each are connected to a particular button on his Nintendo Switch controller. When a mid-session malfunction recently sent the game back to its start screen, revealing a link to the Nintendo online shop, the fish managed to buy some game points. It also laid bare its owner's credit-card details to viewers of the stream.
Maurice requested and received a refund of the money. He also had to restore his account name to the original 'Mutekimaru' in place of the fish's preferred 'ROWAWAWAWA' (as transliterated from Japanese).