We begin in Texas, where a Walmart in Pasadena lost Marsy Flores's order for a cake to serve at her daughter's graduation party. To make up for this, the manager told her to choose any other cake on display and the bakery would quickly add the desired picture to the icing. Fast-forward to the party, where cutting the cake proved tricky. It turned out that Flores had been furnished with exactly the cake she had pointed out - a display model made from foam. She made another trip to the Walmart, which responded to the 'misunderstanding' by giving her a $60 gift card to cover the cost of the cake, another gift card, and a cake made from cake ingredients.
A foam cake might have been useful in the next story, also set at a Texas Walmart. A woman in Wichita Falls picked up a cake from the in-store bakery, then continued to shop while munching on it. By the time she reached the checkout stand, half had been consumed. She told the clerk that she had found it that way, and her insistence on paying half the indicated price led to the police being called in. According to their Sergeant Harold McClure, she was ordered to pay full price and told not to return.
She is not alone on the 'banned from Wichita Falls Walmart' list: she joins a woman who drove an electric shopping cart around the car park for several hours while drinking from a wine-filled Pringles can.
When police officers in Guthrie, Oklahoma, stopped a vehicle with an expired registration, its driver, Stephen Jennings, warned them that this would not be a simple traffic stop. The first issue was the handgun belonging to his passenger, a convicted felon. After learning that the car had been reported stolen, the officers found more noteworthy items, including an open bottle of Kentucky Deluxe whiskey and a rattlesnake (in a terrarium in the back seat). Then they discovered the cannister of uranium powder. Police Sergeant Anthony Gibbs reports that Jennings has been jailed on various charges, including driving with a suspended licence, but none are related to the radioactive material. That investigation might take a while.
Florida does not disappoint us this month as a fount of Clipdom. In a favour to a friend, a man in Crestville, near Pensacola, let Matthew Morrison live in a tent next to his house. This made it fairly easy for Morrison, 44, to enter the house without permission and throw lit firecrackers under the bed of a sleeping nine-year-old girl. The results include a crying, shaking girl; the homeowner chasing Morrison out the door with a stick; and a visit from Sheriff's Lieutenant Todd Watkins, who said that the reason for the 'prank' was unclear. It's possible, however, that the methamphetamine in his possession influenced his sense of humour. In any case, he must now find a new place to pitch his tent.
In a rash of thefts in Florida's Brevard County, someone broke into back yards or slashed patio screens and stole swimming-pool floats. Many homeowners didn't report this until the second or third incident, but 13 police reports still piled up before the police managed to stop a 'suspicious person' who was cycling along with a large white bin bag - full of deflated pool floats. The man, 35-year-old Christopher William Monnin, took officers to a vacant house to show them the other 75 pool floats in his collection, and he explained that 'he sexually gratifies himself with the pool floats instead of raping women', according to the arrest report.
The arrest report for Jesus Oscar Ferrer, Jr, describes physically assaulting his long-time girlfriend for buying 'the wrong food' at McDonald's to bring back to the pair's Zephyrhills, Florida, motel room. Allegedly, this assault involved Ferrer, 38, repeatedly striking her in the face with sachets of sweet-and-sour sauce before she grabbed him, was thrown to the ground, and responded by ripping out a portion of his beard. Arriving at the scene after Ferrer fled, the police noticed sauce marks 'consistent with her statements', and he faces charges of felonious battery.
Last time he got in trouble in connection with a motel-room altercation involving her, he pleaded guilty to only misdemeanour battery.
A Floridian was jailed for attempting to run over his soon-to-be-ex-wife, who had received several protection orders against him over the years. Upon hearing that Joseph Irby was about to be released until facing trial for this crime, Courtney Irby rushed to his flat to help fulfil the condition of him not owning, possessing, or carrying firearms. She brought her estranged husband's guns to the Lakeland Police Department, where she explained that he wouldn't have turned them in himself. Since she didn't have his permission for this, she was arrested for burglary - armed burglary, of course, on account of the weapons.
Not far away, in Louisiana, Franklin Welzbacher, Jr, obtained a surveillance camera and put it through its paces as his neighbour watched. That is, the newly installed device live-streamed footage of Welzbacher stealing it from his neighbour and taking it home. According to Bossier Parish sheriff's office spokesman Bill Davis, the 43-year-old Welzbacher protested to officers that he did have permission to be on the premises, to borrow a paintbrush from the victim.
A woman in Buckeye, Arizona, called in her friends to help move her belongings out of the home she shared with 21-year-old Jose Vega Meza. Noticing Vega's furtive attempts to assist by placing a small box in one of the vehicles, she asked him what was within. He didn't answer, so she opened the box, and she then knew why he'd only smiled in response - and why she shouldn't have let her dog out of her sight a short while earlier.
When taken into police custody, Meza confessed to having beheaded her dog and cut it open with a razor blade, with the explanation that the woman owed his mother rent money. He helpfully added that he has a history of torturing and killing neighbourhood animals.
Receiving a call about an emaciated 16-year-old dog, the Royal Canadian Mounted Police in north-eastern British Columbia sought a veterinarian's advice, and the animal was put down accordingly. Hearing about this, outraged locals smashed windows at the pet-owner's home in Fort St. John and spray-painted 'Dog Kill' on the tailgate of the pickup truck there. This turned out not to be the most direct way of catching the attention of the owner, who'd left the elderly pet in other people's care on short notice two months ago before being admitted to hospital.
Several residents of Ialomița County, Romania, contacted the emergency services to report loud bangs or the sight of nearby farmland set ablaze by advancing armoured vehicles. One of them was Liviu Mereuță, whose 600-hectare barley field was invaded by at least 30 tanks. When the police arrived, they explained that they weren't allowed to interfere with a NATO exercise. Defense Minister Gabriel Les later explained that bad weather conditions had confused those in charge of the US army vehicles and that the affected land-owners will be compensated for the damage.
California's Deziree Menagh, 18, brought her baby to a social gathering, where she attracted unwanted attention from one of the men present. Marcus Echartea, 23, grabbed her and ordered her to sit on his lap. She fled, with baby Fayth Percy and a friend. They eventually drove back to the party, where Echartea was outside. He walked toward the car and fired three gunshots through the driver's window, hitting Fayth in the head. Physicians removed bullet fragments from her head, and she may recover.
Echartea was arrested and will face charges also for an earlier shooting: he is alleged to have fired into the home of his former girlfriend's current flame. On that occasion, one of the bullets sliced past the head of a young child, according to Fresno Police Chief Jerry Dyer.
At the start of our next story, another 10-month-old child made a narrow escape. About 11 years ago, Sherri Renee Telnas reported having tried to drown young son Jackson in a river because 'thoughts or voices' told her to do so. Under a plea bargain, she was placed in a state psychiatric hospital, from which she was released after less than a year. She was granted custody of Jackson in 2010 and soon reunited with his father. Earlier this month, the police received a report that Telnas was acting strangely and had taken Jackson and his younger brother out into some fields in Porterville, California. The two boys were found in a drainage ditch. Jackson did drown this time, though his brother survived.
According to investigators in Chesterfield County, Virginia, the Lewis family's first night in their new home was rather eventful. The father of the family discovered that a naked intruder had broken into the basement, and he ordered her to leave. When she refused, even several warnings shots from his handgun did not change her mind - thirty-nine shots, to be precise. Awakened by the ruckus, his wife and children soon were tussling with the woman, with Melissa Lewis reporting that she had to 'just kept on punching her and punching her as hard as I possibly could'. The intruder was subdued only when 12-year-old Logan drove a wrench into her neck.
When the police were summoned to the blood-soaked and bullet-riddled home, the father's description of events quickly took on a supernatural tone: not only did the woman reportedly state 'please help me [...]. I'm the devil', but he characterised her as having 'super-human strength' and eyes that were 'completely black, like saucers'.
Jennifer Lynn Via, of Huntington, West Virginia, told the police how husband Thomas ended up with a 35 cm decorative dagger extending into his heart from his back: ninja-film-related rough sexual foreplay had simply gone a bit too far. In another of the explanations offered by the 49-year-old widow, he slipped in some water and fell onto a screwdriver. One version of events considered by authorities is that Thomas was impaled by the dagger because he'd stood up too suddenly after dumping water into a toilet.
None of these accounts of events prevented her from being sentenced to 15 years in prison for voluntary manslaughter. A recent increase in his life-insurance cover may have been another factor taken into consideration.
After a low-key wedding, Germany's Ralph and Christel Jankus opted for a 48-hour BDSM session instead of a honeymoon. After the session, Christel, 49, complained of intestinal discomfort, but a colonoscopy revealed nothing out of the ordinary. That discomfort may have been related to her husband intimately introducing her to a 20 cm spiked sex toy. North Rhine-Westphalia judge Johannes Hochgürtel has ruled that Christel's death of a perforated intestine less than a week later was accidental. He handed Ralph, 52, an 18-month jail term, largely for not summoning assistance in a timely fashion. The judge stated that the sentence was fairly short because the accused is unlikely to repeat the act.
In court, Christel's family added a darker tone to the story, in which she had, at various points in the eight-year relationship, fled to a women's shelter and sought psychiatric treatment, been beaten by 30-year BDSM veteran Ralph for visiting a hairdresser without permission, and withdrawn abuse complaints under suspicious circumstances.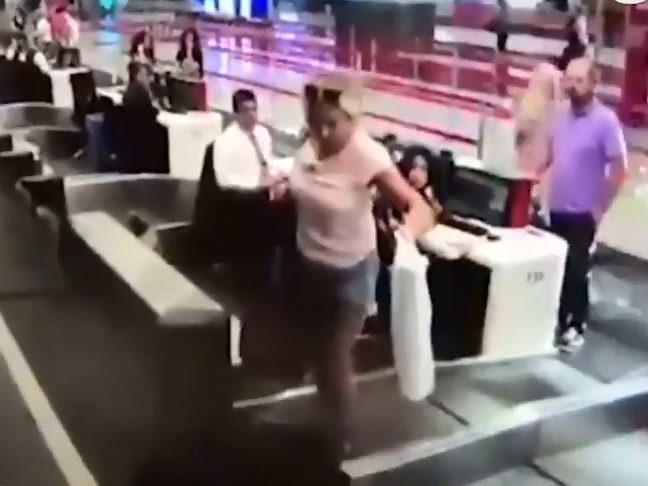 At Istanbul Airport, a woman who had never flown before placed her luggage on the baggage conveyor at the check-in desk and then boarded it herself. While climbing onto the moving platform might have provided a more direct way of reaching the aeroplane, it proved tricky for her: she stepped onto another belt and promptly fell backward. Staff intervened before she could try again.
In 2016, a 71-year-old Seguin, Texas, woman fell in her bedroom, where she lay for a few days in agony before dying. The twist to this story is that she did not live alone. Her decaying remains were recently discovered during a Child Protective Services investigation at the home, which she shared with her 47-year-old daughter, Delissa Navonne Crayton. Crayton has been arrested, with one of the charges being injury to her own daughter, a disabled teenager who had to live in the home while her grandmother died and decomposed there. The girl has been placed in the care of other relatives.
Our final story is about a Colombian man who was detained for choosing a suspicious-looking way of transporting drugs to Barcelona's international airport. A statement from Spanish police about the nervous-looking man's approach said: 'There is no limit to the inventiveness of drug traffickers trying to mock controls.' Not all inventions are good ones. The cocaine - a kilo of it - was packed under his over-sized toupee, all with a hat on top.