While waiting to be sentenced in connection with a traffic violation, Michigan's Damon Perryman noticed that someone had left a mobile phone on the courtroom bench in front of him. The police later reported that he proceeded to seat himself near the device and place his hat over it. Once the phone was in Perryman's pocket, its owner returned and summoned a court officer for help. That help came in the form of the courtroom video record. In a different courthouse, Perryman will face a charge of larceny in a building.
With his shift at the county jail complete, a Marion County, Indiana, sheriff's officer retrieved the McChicken sandwich he'd left in a break-room refrigerator. About to re-heat it, he noticed that a bite was missing, so he returned to the relevant McDonald's outlet to find out 'who the person was [who didn't like cops] and they deal with that person in an appropriate way'.
After an investigation by both McDonald's and the sheriff's office, the authorities issued a statement explaining that the officer 'returned [...] having forgotten that he had previously bitten the sandwich'. He has formally apologised to the McDonald's staff for the accusations of tampering.
Not long after deported illegal alien Larry Ely Murillo-Moncada made his way back to Council Bluffs, Iowa, from Honduras, his parents contacted the authorities. They explained that, perhaps because of a reaction to his medicine, he had walked out of their house mid-argument and vanished in a snowstorm. According to Police Sergeant Brandon Danielson, the 25-year-old man left with 'no shoes, no socks, no keys, no car' back in 2009. We now know where he went.
Though not scheduled for a shift, he headed for the No Frills Supermarket where he worked, apparently aiming for the unofficial break area on top of the cooling units. Officials believe that Murillo-Moncada fell into the 45 cm gap between the wall and a cooler, which was where renovation workers recently found his corpse. It is believed that compressor noise would have drowned out any cries for help.
In Almeria, Spain, a household-appliance distribution worker unloaded a refrigerator from a van and tipped it over a cliff. His colleague captured this on video, along with the van's number plate and comments from the tipper and filmer such as 'Let's recycle it!'. The Civil Guard report that the man shown in the video has been fined 45,000 euros, and they have released a follow-up video - of the fridge-dumper struggling to obey the authorities' order to haul the appliance back up the ravine.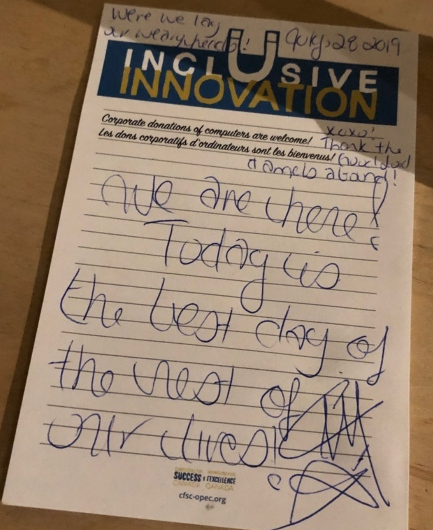 Canada's Rod and Kat Gordon were puzzled when they returned to the Airbnb loft where they'd dropped off their luggage a few hours earlier: the door was locked, but death-metal music was blaring from within. No strangers were present, but there were two more pairs of shoes. Also, the Gordons' bags had been unpacked, all their toiletries were on the shelf above the wash basin, someone else's laundry was in the washing machine, and someone had left a note: 'We are here! Today is the best day of the rest of our lives!'
Building security guards found a surveillance image of possible culprits, a male and female who, Kat reported, 'from head to toe were wearing our clothes'. The Gordons opted to stay with family for the remainder of the trip. Meanwhile, the two miscreants returned, and the security guard - who confronted them - allowed them to return to the suite for the night.
Airbnb host Erika Berney says that she is confused since she changes the door code after each stay. The Gordons received a refund but won't consider the 'incredibly frightening and violating situation' resolved until the police release the surveillance photo for catching the invaders.
Jamie Bisceglia was taking part in a fishing competition in Washington state when she encountered fellow competitors who had caught a small octopus. She placed the 'gorgeous, exotic creature' on her face and asked them to take a picture. She soon was bleeding - 'it had put its beak into my chin, not once but twice. It was like a barbed hook going into my skin', she reported. After two further days of fishing, unremitting pain led her to the emergency room. She was prescribed three antibiotics, told to expect swelling to come and go for months, and informed that the culprit was a venomous Pacific red octopus or a venomous giant Pacific octopus. Bisceglia identified the culprit differently: 'I probably made a big mistake.'
The British Medical Journal has published a report on the case of a 72-year-old man who had problems breathing and eating solid food in the week after an abdominal lumpectomy at James Paget Hospital. A prescription for mouthwash, antibiotics, and steroids proved insufficient, and he was re-admitted with suspected pneumonia two days later. This time, x-rays were taken. The result is a call for surgical teams to be sure that dentures are removed before operations.
This particular patient's false teeth, found lying across his vocal cords, were removed via a second surgery. He had assumed the staff mislaid them during his initial visit.
Dispatchers with the Los Angeles County sheriff's office received a panicked call from their own car park: a sniper in a nearby building had fired at least twice at the caller, sheriff's officer Angel Reinosa, grazing his shoulder. Soon, SWAT officers and numerous others converged on the location to comb the relevant building complex.
Initially, the bulletproof vest worn by 21-year-old Reinosa was credited with saving his life. After an overnight search for the sniper, it became clear that the only weapon involved had been a pair of scissors, which Reinosa had used to cut two 'bullet holes' in the shoulder of his shirt. He has admitted to filing a false report, though without explaining his thought processes. He has been relieved of duty, at least temporarily.
W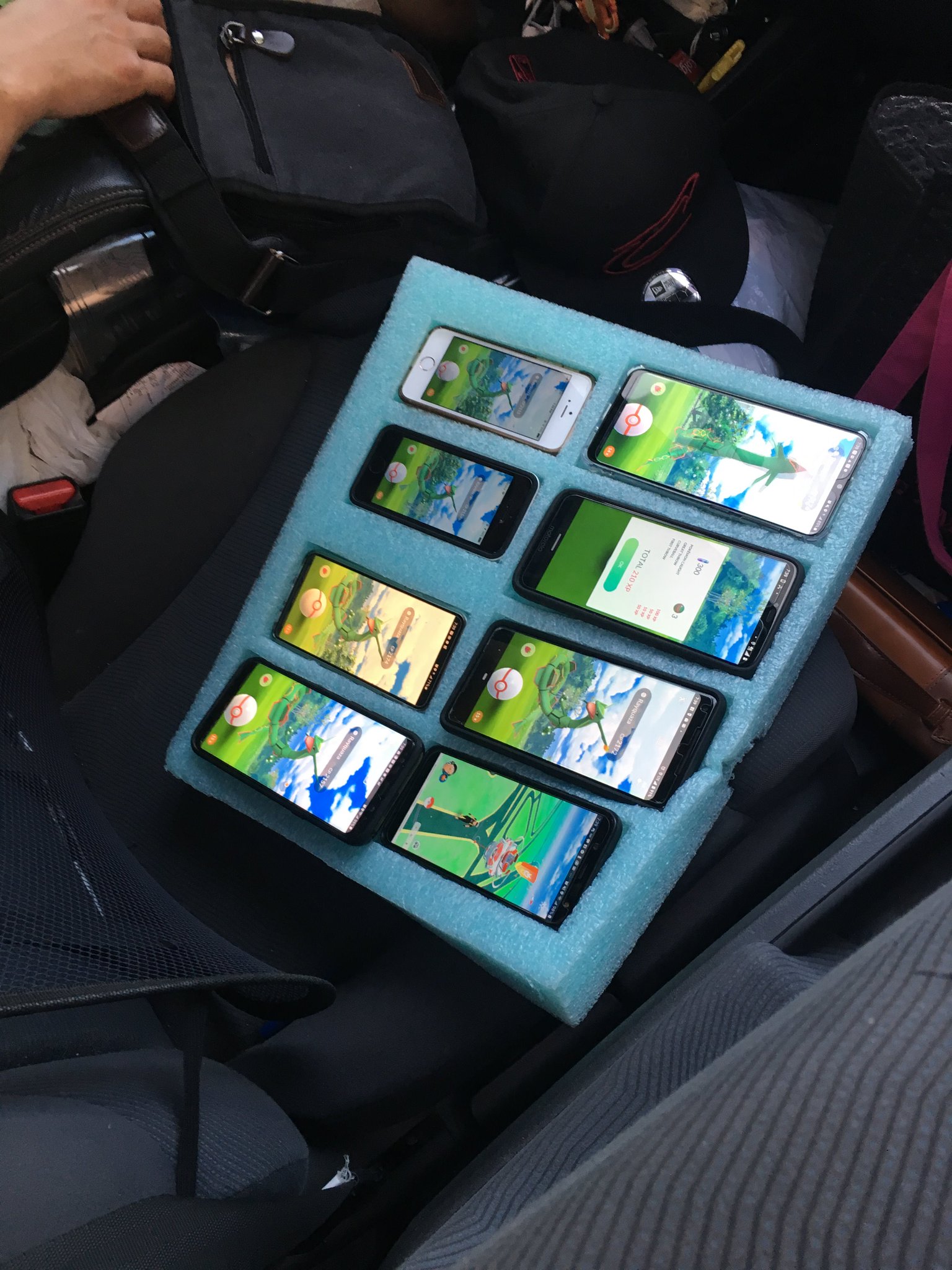 alking up to a vehicle at the side of a road near the Seattle-Tacoma airport, Washington state trooper Kyle Smith noticed that the man behind the wheel was doing something with a foam block. A closer look revealed that the foam housed eight smartphones, on which the motorist was busy with eight games of Pokemon Go. Smith warned the driver not to use the shoulder of the road for a non-emergency, and the man continued his journey home from work. He agreed to keep the phones in the back seat rather than the front of the car for the rest of the trip or, in Smith's words, to finish it 'with EIGHT (8) [...] less distractions'.
Responding to a '911 hang-up call' from Gary Van Ryswyk's home in Sebring, Florida, the police found a 'makeshift surgical room' and a 53-year-old man with a bloody towel over his groin. That man was whisked away for life-saving treatment, along with the jar containing his testicles. Highlands County Sherrif's Office public information officer Scott Dressel later said that he was uncertain whether they had been reattached or 'if he would even want that'. After all, the two men had met via a castration-themed Web site, and, according to some reports, this was actually their second attempt at such a surgery: a week earlier, the younger man became too aroused to remain under the knife.
When the authorities spoke with Van Ryswyk, he admitted to having botched an attempt at castration once before, at a motel several years ago. Then too, the other man landed in hospital. Van Ryswyk hastened to add that most of his experience was with animals, however. He is now gaining experience with jail.
New Jersey's Courier-Post reports on the recent evening when 29-year-old Taija Russell was invited over to a Woodbury home for late-night sex. When she arrived, the man who had summoned her had fallen asleep. He didn't hear her at the door, and he didn't hear her ring him eight times. He did, however, notice flames whipping through the building at about 4:30am, about half an hour after Russell's purchase of lighter fluid, matches, and a cigarette lighter from a nearby petrol station. He removed a window frame to escape the building, from which rescuers were able to salvage nothing but his dog.
The man soon discovered that he had received text messages from Russell such as 'You wasted my money to come out here' and 'I see you wanna die'. He explained to the police that they were from 'side chick' Russell, who has since been arrested for arson, attempted murder, and other offences.
Side note: The same petrol station provided arson materials in April. These were purchased by 33-year-old Tasia Young after a threesome in which her boyfriend sent her home while the other woman stayed.
AsiaWire reports on a child with stomach pains who was admitted to a hospital in China's Heilongjiang Province. Treating physician Dr Xu Bo reported: 'In scans, we found a cluster of high-density shadows. It looked like a necklace. I asked whether he had ever swallowed magnetic balls, and he said yes.' The boy had swallowed 61 of the 64 balls in a kit his mother had purchased for him to play with. The boy, a full six years of age, emerged unharmed after a full three hours of surgery, during which several portions of his small intestine were removed.
At California's St. John's Medical Center, new parents Andrea Torralba and David Villa summoned the staff to report that their hours-old infant was having medical problems. It was not hard to determine the nature of those medical problems: the pair had strangled him until he fell unconscious. The baby died, and both Torralba, 20, and Villa, 21, were arrested for felonious death-inducing assault on a child. They explained to the police that they hadn't wanted the baby.
According to AFP reports, a lorry that was transporting 205 pigs overturned at a roundabout in Étain, north-east France, over the weekend. The driver suffered minor injuries, while most of the porcine passengers died instantaneously. A veterinarian euthanised several more of the pigs, which had suffered severe injuries in the crash. The remaining 23 pigs were taken to their original destination: a slaughterhouse in Loiret.