Highway patrol officers noticed a Cadillac moving between lanes on a Florida motorway at speeds of up to 160 km/h. Also hard to miss was the posture of the man in charge of the car - sitting atop the sunroof. When arrested for the misdemeanour offence of reckless driving, 70-year-old Leonard Olsen said: 'My wife treats me like a servant [...]. I'd rather go to jail than go back home.' While he has his wish for the moment, Olsen explained that his actions weren't that reckless - the vehicle was on cruise control, and 'the car drives itself and has a gigantic computer in it'.
Gail Gianpalo is a Connecticut woman who visited a spa to get her eyebrows waxed. While applying hot wax to her brows, the spa's manager entered into an argument with another customer. Distracted, he let wax drip into Gianpalo's right eye. She incurred about 4,000 euros' worth of medical expenses and filed a lawsuit in which she described suffering permanent eye injuries. A settlement equivalent to 350,000 euros was reached, and the salon has gone out of business.
During a pilgrimage to Kentucky's Creation Museum, James MacDonald allegedly asked Harvest Bible Chapel deacon Emmanuel Bucor to hire a hit man to dispose of his ex-son-in-law, Tony Groves. According to a police report, MacDonald, who is the founder of HBC, offered to help dispose of the body while he was searching the Internet for possible 'revenge porn' of his daughter. A similar report was filed by Chicago radio personality Mancow Muller.
After MacDonald decided to take a break from his 30-year position as head of HBC, the 13,000-member seven-church institution fired him.
Free on bond while awaiting charges for shooting into a carful of people at a petrol station, South Carolina's Donald Harmon was noticed driving his moped the wrong way through a drugs checkpoint. The ensuing low-speed chase ended shortly after Harmon, 32, crashed the moped and fled on foot. He remembered to toss away the bag of drugs he was carrying but not his gun.
Bond has been set for him as he awaits charges for possessing a weapon with an obliterated serial number, being near a school with marijuana he planned to distribute, and driving under suspension.
Someone might have watched too many action films. Near Louisiana's Lake Charles, someone saw Alejandro Cazares, 23, stop his car at the 50-metre gap in a bridge that had opened to allow a boat to pass. Rather than wait for the pontoon section of the bridge to return to position, passenger Roberto Alejandro Moreno, 32, pushed the bridge's gate arm out of the way and Cazares accelerated up the ramp to jump the opening. It wasn't long before the state police were raising the car and the two Texas men's corpses from the water.
It says something that the events in the next story may not seem particularly unusual. After a traffic stop, 21-year-old Morgan Doran, of Netcong, New Jersey, was arrested for driving while intoxicated. At the police station, she rang friend Sebastian Rehm and asked him to collect her. Sure enough, aromas of alcohol filled the air upon his arrival at the station, and Rehm, 24, was arrested for drink-driving. The driver who ultimately arrived to take them both home was either sober or better at appearing sober.
Thirteen-time convicted felon Cameron Jeffrey Wilson was walking around his Cashmere, Washington, flat with a pistol in his jeans pocket. Readers may not be surprised that the firearm discharged and left him with unhappy testicles, but the story doesn't end there. While Wilson, 27, was undergoing surgery, a balloon of marijuana emerged from his anus. In addition, the bloody jeans he'd left in his car contained a bag of meth, found by police officers visiting the hospital in a routine response to reports of a gun-related injury.
Later, in a strip search during his processing at the Chelan County jail, marijuana balloon 2 slipped past Wilson's sphincter.
Among the charges are four counts of tampering with a witness: before heading to the hospital, Wilson asked his girlfriend to dispose of the pistol, and he rang her several times from jail to ask her not to co-operate with investigators.
Human remains are believed to have sat on a hiking trail and in another location in Newfoundland for more than a year before being discovered. The skeletal remains themselves are far older, dating from the 1800s. Accused of stealing the remains from a mausoleum-style tomb in the town of Foxtrap, Lucas Dawe has admitted to grave robbery. He changed his plea from 'Not guilty' to 'Guilty' after reports surfaced that he had been witnessed boiling the bones and, after that, licking them and drinking some of the water.
Darren Leeds recently was assigned the task of taking photos of cars before resale. At Pennsylvania's Manheim Auto Auction facility, he opened the boot of a Dodge Challenger Hellcat and 'there was a guy in there'. Said guy was treated at a local hospital, where his fingerprints revealed him to be 25-year-old Leon Parks, a New York City man who was wanted on weapons charges and had violated parole.
A member of the graduating class at West Virginia's Parkersburg High School found the speech by Principal Kenny DeMoss oddly familiar, so she investigated. The student, Abby Smith, discovered that large sections of DeMoss's inspirational talk were lifted from teen heart-throb Ashton Kutcher's 2013 Teen Choice Awards speech. In one example, both Kutcher and DeMoss spoke of carrying shingles up to the roof while working for a construction company.
In his response to Smith's side-by-side video of the two speeches, DeMoss states that the comment he'd made about 'many great ideas and thoughts that have helped me be who I am today' was a disclaimer. He does add 'I wish I would have cited more'.
Seattle's Dan Smith was annoyed about a car-share vehicle appropriating a spot at the semi-detached home he rents out. His solution was to erect a fence around the parking place, preventing would-be passengers and drivers from accessing the interloping Mercedes. Smith then informed de facto taxi company car2go of his daily storage fee and his charge for the fence.
The company replied that, while its drivers who park in unapproved areas must pay for any towing and tickets, its vehicles should not be held for ransom.
In Spain, video creator Kanghua Ren responded to a fan's challenge to eat a toothpaste-filled biscuit by outsourcing the task: he gave an unsuspecting Romanian beggar an Oreo containing toothpaste filling and posted the video on his YouTube channel. The results included about 2,000 euros' worth of advertising revenue for Ren, some vomiting for the homeless man, and public outrage.
Ren offered the victim of his prank 20 euros and delisted the video. He later offered the man 300 euros in exchange for an agreement not to initiate legal proceedings. The courts have opted for something closer to 20,000 euros' compensation and, since this is not an isolated incident, have ordered Ren not to post any videos until 2024.
A Pakistan International Airlines flight was patiently waiting on the ground at Manchester Airport when an impatient passenger needed to use the toilet before take-off. Upon opening the door, she discovered that it belonged to an emergency exit. Pakistan's Express Tribune reports that most passengers experienced a seven-hour delay before leaving for Islamabad, and most of the luggage took longer. In addition, nearly 40 people had take a later flight because the maximum number of passengers permitted is lower when no inflatable emergency chute is available.
In Texas, Sherman Palmer Fricks, Jr, noticed his mobile phone stop working, so his father, 68-year-old Sherman Shirley Fricks, Sr, took him to a local electronics shop. On the journey, the younger man, age 27, began kicking the back of his father's girlfriend's seat. This was the last straw. The next day, the elder Fricks waited for the younger to return from lunch and then, upon the latter's first 'smart remark', 'started shooting at him until nothing else came out' of the .380 pistol he was carrying, in the prosecutor's words.
Since the shots were not fatal, a 20-minute father-to-son talk began, with the father clearing the air about a host of grievances. The senior Fricks is accused of ending the talk decisively with a kitchen knife shortly before emergency responders arrived to deal with the 'domestic disturbance'.
Romanian newspaper Adevărul reports on Călin Laurențiu, a 55-year-old man who was over-enthusiastic with home-grown vegetables while drunk. He later recounted that his partner, 59, changed her mind shortly after agreeing to let him ravage her with at least one carrot, shortly before falling unconscious, and some time before he stopped. He'd pierced her colon, and she later died of sepsis.
Laurențiu faces up to life in prison and is being held without bail by decision of the local court in Ploiești.
A bin man in rural Oregon was having trouble emptying a skip - his manoeuvres with the hydraulic arm failed to dislodge whatever was in the bottom. A closer look at the upside-down container revealed a kitten hanging from a layer of hardened spray foam. According to Washington County sheriff's officer Brian van Kleef, the worker and colleagues back at the sanitation company's office used razors to cut away as much of the foam as possible from around the animal's head and then visited a veterinarian. The kitten will be returned to its owners, who are not suspects in authorities' animal-cruelty investigation.
Cheshire's Paul Cohen listed the bulk of his collection of football memorabilia for sale online for the princely sum of five pounds sterling 'to get my life back on track'. At least that's what Cohen read online after someone snapped up the items, which he claims are worth 9,000 times that amount.
While he'd been 'travelling for work', wife Shelly was alerted to his presence in front of cameras at a Manchester City match. Paul later admitted to lying about his whereabouts but denied knowing the woman with whom he was shown interacting in what Shelly calls 'too cozy' a manner.
Paul says that he can't forgive his wife of 10 years. She does have regrets, explaining: 'Should have kept some more in case I ever catch him doing this again.'
At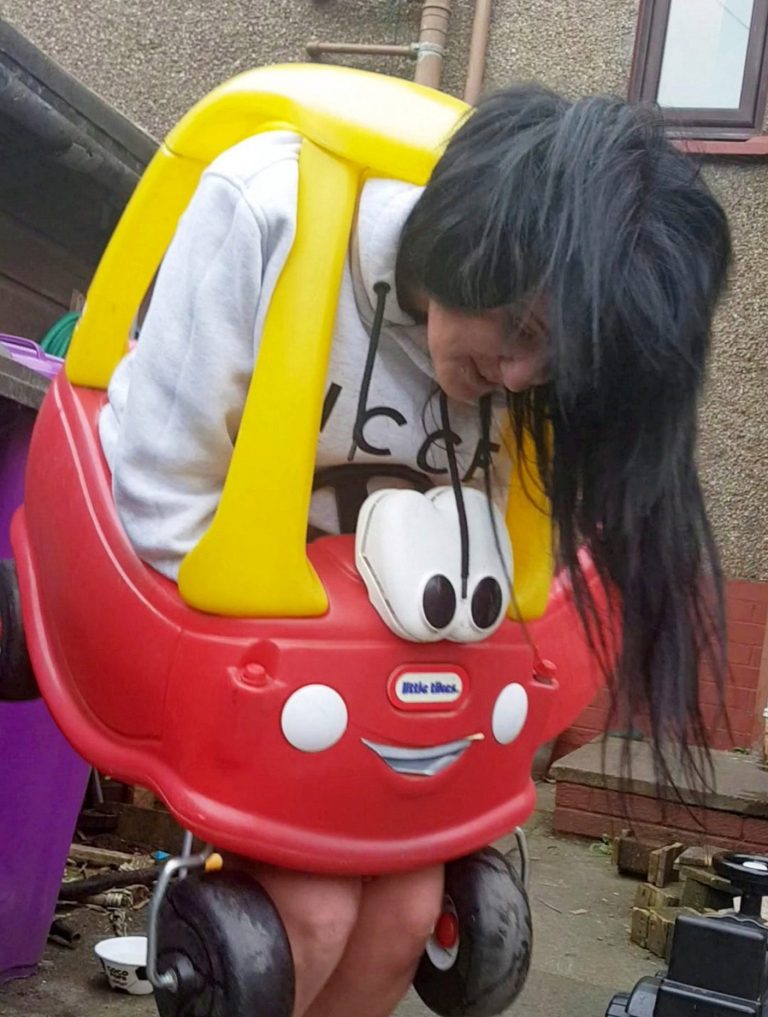 a family gathering in Scotland, a one-year-old child's Little Tikes plastic car proved too tempting to cousin Zoe Archibald, who thought it would be cute to climb inside the ride-on toy. Archibald, who is 33 years older than the contraption's owner, proved unable to extricate herself. After a little over an hour, her father elected to saw through the plastic back of the toy with a bread knife. Fifteen minutes later, she was free.
The foul odour detected last month at a Thai restaurant in Windsor, Connecticut, had nothing to do with the cooking. This became clear when reddish brown ooze started dripping from the ceiling. The experts were called in, whereupon the police climbed through the window of a flat upstairs and found the tenant's decomposing body in bed. No foul play is suspected, but that's cold comfort for the restauranteurs, who await word from the health department.
Last month, a social worker alerted Chicago's Rosie Brooks that her brother, Alfonso Bennett, was in intensive care after having been left badly beaten and naked. She and her sisters couldn't be sure the man on the ventilator was their estranged brother, but they were repeatedly reassured that he'd been identified via mug shots.
He never opened his eyes, and the sisters found themselves making various medical decisions on his behalf and then paying for his funeral. Not long after this, another sister told them that Alfonso had just paid her a visit.
While budget cuts precluded fingerprint checks, prints do get taken in cases of crime or death. Now that non-Alfonso has died, police are searching for his real relatives.
A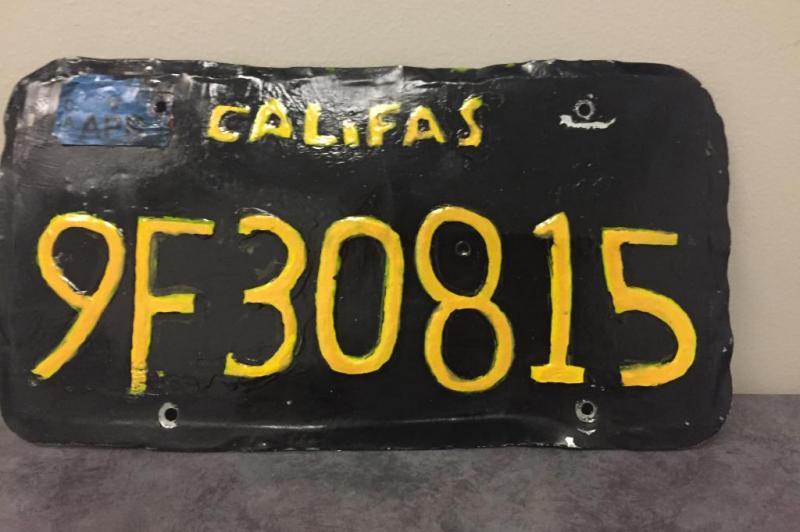 motorcycle officer with the Moorpark, California, police department noticed a lorry whose driver had tried hard to be inconspicuous but perhaps not hard enough. The vehicle's number plate was a hand-drawn affair bearing an alternate name for the state, the Spanish slang 'Califas'. The police officer pulled the vehicle over, and the driver was arrested not just for driving without a valid licence but also on drugs charges and on outstanding warrants. As for the lorry, it was towed away because the police deemed it 'unsafe to be driven'.