Fearing that a pancreatic-cancer patient might suffer an allergic reaction to the iodine typically used as a surgical antiseptic, physicians at Romania's Floreasca Hospital opted to use hand sanitiser instead. When this alcohol-based disinfectant and their electric scalpel came in contact, flames engulfed the operating table, leaving the 66-year-old patient with ultimately fatal burns.
An investigation has been opened, with Deputy Minister of Health Horațiu Moldovan stating that the surgeons should have been aware that using the two products together is prohibited for a reason.
Meanwhile, a cancer patient in Brewerton, New York, has survived and is seeking the return of the cat she gave up for adoption during treatment. Claiming that she'd sought a new home for Lacie primarily because the feline suffered distress at not being able to sleep alongside her, 73-year-old Carol Money claims that adopter Danette Romano both had no intention of sharing a bed with Lacie and withheld that fact. According to Money, Romano's husband has since revealed that the cat sleeps alone, prompting Money to initiate enough electronic contact and visits that a judge issued a cease-and-desist order.
Carl Johnston ordered sherry and a jigsaw puzzle for delivery to his mother, 92-year-old Louise Wilkinson, of Seaham. When the Amazon agent arrived at her door, he refused to hand over the bottle of Harvey's Bristol Cream, on account of Amazon's requirement that the recipient present proof of being at least 18 years old. She has no driving licence or passport. On his second delivery attempt, the next day, Wilkinson had found photo ID, but a bus pass isn't on Amazon's list of acceptable identification. Johnston plans to seek a refund and hand over the booze in person.
Amid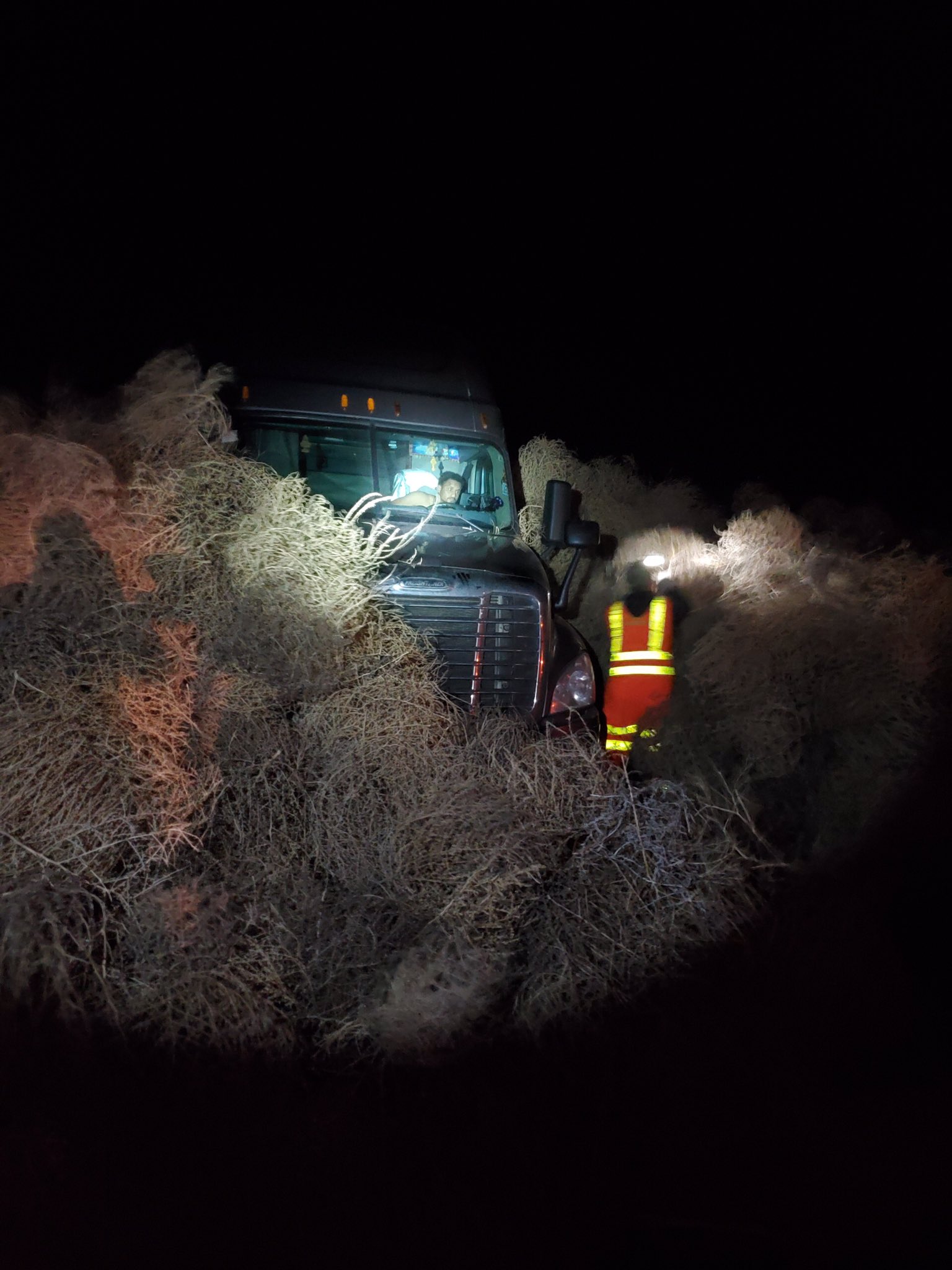 heavy winds affecting West Richland, Washington, on New Year's Eve, a highway became blocked by tumbleweeds, with 10 vehicles getting ensnared in their tangled tendrils. Late into the night, state Department of Transportation workers used snow ploughs to clear the blockage, which Trooper Chris Thomson reports was three metres high in some places.
A security camera on a bus in Tlajomulco de Zúñiga, in the Mexican state of Jalisco, captured a failful attempt to rob those aboard. As the would-be robber attempted to liberate a rifle from the front of his trousers, it snagged on his jumper. It eventually came free with a bang, which sent it toward the roof of the bus and sent him to the floor as bewildered passengers looked on. Witnesses report that an injured and dazed gunman exited the bus at the next stop, accompanied by the apparent accomplice who had boarded with him. Neither man has yet been identified.
When Joanne Mercader's landlord paid a late-night visit to her trailer in Volusia County, Florida, she attempted to address her fear of eviction via a bucket of poo. Mercader, 59, later told sheriff's officers that the landlord had broken into her trailer and attacked her with the excrement, although Mercader was not the one dripping with faeces. Back-tracking when asked to prepare a statement, she then claimed that she did lob the bucket's contents at the other woman but had intended to use a nearby bucket of water instead.
The landlord, who plans to press charges against Mercader, told officers that there'd been no threat of eviction in any case: this was a pre-announced visit to check on broken items.
Surveillance footage from a Riverside, California, supermarket shows a grey-haired man enter and secrete several bags of frozen shrimp in his jeans, then walk out. Within the next 10-15 minutes, the man conveyed trouser shrimp from this Vons supermarket three more times, shoplifting 30 bags in all (at an estimated worth of $550). This may not have been subtle, but he remains at large.
David Ostrom is a 40-year-old Kansas man who, embroiled in a custody dispute with ex-wife Bridgette, has filed a motion for trial by combat. This includes requesting the district court in Shelby County to allow him 12 weeks to obtain or manufacture suitable katanas and wakizashi swords. He wrote that the idea of meeting her and her attorney and/or champion, Matthew Hudson, 'on the field of battle where I will rend their souls from their corporal bodies' was inspired by trial by combat never having been explicitly banned or restricted 'as a right in these United States', and he concludes that he has 'met Mr. Hudson's absurdity with my own absurdity'.
Hudson's response took Ostrom to task for using the word 'corporal', rather than 'corporeal'; stated that, while he and his client 'do have souls to be rended [sic], they respectfully request that the court not order this done'; and stated that the possibility of death takes such a motion beyond the court's purview. While Ostrom apparently has no experience with sword-fighting, he was able to make a swipe in reply, pointing out that death has not always been required. Accordingly, he invited his opponents to 'cry craven' and yield.
A 30-year-old man visiting the city of Veracruz, Mexico, purchased a sexual stimulant there. Three days later, he checked in at IMSS specialist hospital 270 in Reynosa, along the US border, complaining of such complications as a painful unflagging erection. He explained to physicians that the substance he'd taken is used by farmers in preparation for collecting semen from bulls, with the quantity being a stab in the dark in preparation for a planned sexual encounter. An operation was undertaken to alleviate the symptoms, but local media remain unaware of its success level.
A man painting the exterior of a three-storey home in Lima, Peru, fell afoul of a wheelchair-using pensioner who encountered the ladder on which he was working. This elderly man shook the ladder until 46-year-old painter Fernández Sánchez came crashing to the ground. RPP Noticias reports that the wheelchair-user was still shaking his fist as Sánchez was taken away to be treated for non-serious injuries.
Police are investigating, in part because the home's owner, Adam Carranza, stressed that he and his grand-daughter had been standing to the other side of the ladder and could have been injured when it fell.
Scotland's Dunfermline Press reports on what George and Kathleen Nisbet witnessed when gazing down from their upstairs window: a man urinating against a wooden fence and then frotting against it. A short while later, the couple's attention was directed outdoors again, when Kathleen heard a man 'singing at the top of his voice'. It was the same drunken-appearing man, who proceeded to mount the bonnet of an eight-seat taxicab while making thrusting motions.
Its driver, Don Simpson, described our hero - one 36-year-old David Bruce - as then staggering about (at an intoxication level of '8 or 9' out of 10) with his trousers around his ankles, noticing a nearby woman, and masturbating for 2-3 minutes. Kathleen's courtroom account of the incident concluded with 'eventually, he fell on someone's path'. At his trial, due to resume in February, Bruce denied committing an offence against public decency.
Several teenagers entered an emergency ward at Naples's Loreto Mare hospital and demanded that medics provide urgent care to their friend. Surrounded, the doctors were forced into an ambulance and directed to the neighbourhood where their friend waited: a 16-year-old boy with a sprained knee. Angered at the suggestion that this injury did not merit treatment in hospital, the teens issued various threats of violence but were mollified by the doctors tending to the youth there and then.
Interior Minister Luciana Lamorgese has promised that ambulances in Naples will be equipped with cameras and other security measures in the wake of this and other cases of violence against medical personnel in Italy.
Finally, Florida's Bradenton Herald reports on a local man's Christmas Eve as chronicled by the Manatee County Sheriff's Office. The resident awoke to find that someone had broken into his home - and commenced sucking on his toes. Asked what he was doing, the burglar replied that he was there 'to suck toes'. In the ensuing fight, the toe-sucker made a grab for the resident's genitals and referred to carrying a firearm. Undeterred, the victim ushered the suspect outside, whereupon a ground-floor window and car windscreen were destroyed.
While a canine unit was unable to track the suspect, his DNA was obtained from the victim's toes. The investigation continues.