23 September 2008: Adventures in Oz
Some intrepid anagrammers travelled to Australia to meet up - or maybe they simply caused a bit of Australia to exist for a short while in London, coinciding with the visit of long-time anagrammer Larry Brash. As I was not there, I shall let Horrid Stretchy Pus take over the telling.
---
The plan...
It was announced a considerable time ago that Mr. Brash was due to come to England for the first time in 30 odd years, and given his advancing years (ahem - I'm sure I'll get some stick for that!) who knows whether the opportunity to meet up with him in London might present itself again?
So a plan was made and a date was set and the usual suspects made themselves available. What was slightly unusual about the preparations for this occasion was that DB had had the brainwave that we should make Larry feel at home by kitting us out in hats with corks and even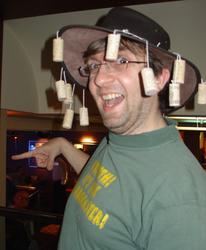 went one further by providing iron-on T-shirt transfers with 'witty' 'Australia-related' remarks. Forgive the liberal use of inverted commas in that last sentence - see the pictures [all photos courtesy of Outback cameraman Tony Crafter] for evidence that they were justified!
The day...
So the day came. William T-P had become available after the cancellation of a trip to the States, and I had persuaded [redacted in case she might mind] to come along and be a Sheila. David, Tony, Mick, and I all went to the usual place (The Metropolitan Bar above Baker Street tube station) for 7.30 (Larry was due at 8) and made ourselves comfortable, donned our silly hats (and in my case shorts), ordered a pint or two, and waited for William and the guest of honour.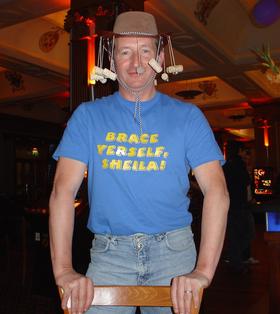 Remarkably, William managed not to spot the rabble wearing the silly hats straight away, though we were right in the middle of the pub. However, DB presented him with a very girly glittery hat with corks attached with pink string and he was soon just as conspicuous as we.
8pm came and went and it seemed Larry may have reconsidered. Or perhaps he had already been in, seen what was waiting for him, come to his senses, and done a bunk? But then he arrived.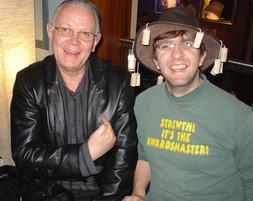 As luck would have it, William and I were at the bar ordering a beer in time to get him a lager (!) but he had seen TC and DB's hats as they sat at the table.
I think he was pleasantly surprised at the effort we had made to add the maximum amount of silliness to the occasion, and after a while we all migrated to a corner table where there was more space.
We retold ten years' worth of amusing stories about practical jokes and funny anagrams; about wind-ups and characters from the newsgroup and the forum; and about how the UK must have changed over the years (we learned that not only was Larry born in Scotland but he had spent some of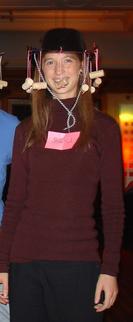 his formative years in North Wales - no wonder he fled to the relative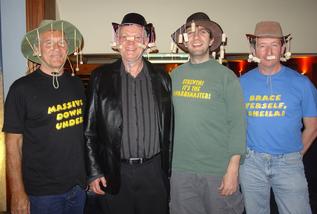 sanity of Australia!), and we ate some typical Wetherspoons just-about-acceptable cheap meal-with-a-beer-for-£7 stuff. By then, our token Sheila had arrived, and, true to form, while us fellas scoffed meat (give or take the long-term veggie) she had a chocolate dessert :-)
Unlike at the other meets I have been to, I didn't produce a pen and a pad at any stage, and in fact there was no anagrammatic output from the evening at all from me or anyone else (sorry if that disappoints or indeed appals anyone).
The day becomes night...
We sent people off at various times to make sure they got their transport home - William and then TC by train, Mick by bus, and Sheila by bicycle. And called it a day around 11.15, and we left Larry standing somewhat bewildered at Baker Street tube (it seems he had a bit of trouble getting back to South Kensington and had to end his journey by cab!) and then DB kindly took me back to Sheila's house, where I had blagged a mattress on the floor for the night.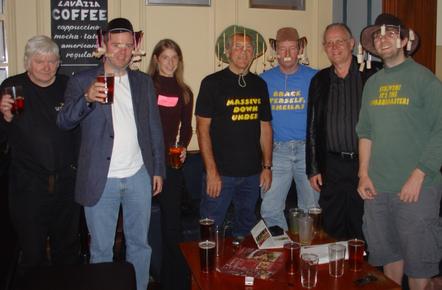 ---