The July 2005 alt.anagrams get-together in London
On 22 July 2005, the Metropolitan Bar in London allowed some folks from alt.anagrams back.

Present were, as shown in the photo, Larry Brash, Mike Keith (in his first appearance on these photo pages), Chris 'Horrid Stretchy Pus' Sturdy, David Bourke, Mick Tully, and William Tunstall-Pedoe.

As I wasn't present, I'll let Mick take over the narration. Before I do, I'll quickly note that the photos accompanying the descriptions can be seen in full size if you click on them, and that all photos with names beginning 'WTP' were taken by William Tunstall-Pedoe, with the rest coming from David Bourke and the Stretchy One.
---
Mick says:
More brain-power than I could shake a stick at, yet not an ego in sight.

Chris Sturdy's cousin, Louisa, brought more than a little glamour to the evening (If only I were 30 years younger!) and kept the anagram talk down to reasonable levels. [The lass in question is shown to the right. Chris, we expect you to be training her up well so that she'll feature regularly on these pages and in the newsgroup.]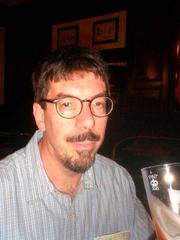 It was a pleasure to meet the legendary Mike Keith, who turned out to be a modest, unassuming, and just a very nice bloke. (Note the Harvard comma!)
After a pint, or five, Baker Street station was the subject of a bomb alert, so we were all turfed out of the Metropolitan bar, onto the street, but we found another watering-hole up the road at Marylebone Station which, happily, proved terrorism-free before we went our separate ways.
---
Quick comments on the evening included:
From Chris:
God, my head hurts. [...] Mick has described perfectly the evening's events.
From WTP:
It was fun. [...]
From an apparently jealous Maurice:
London's alt.anagrams get-together = Not all Net go-getters had an orgasm!
and
alt.anagrams get-together = Home gang taste tart lager!!!
---
---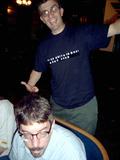 The presence of the legendary Mike Keith was appreciated by all. Among those celebrating his presesnce was Mr. Pus. His description of the evening follows.
Chris says:

We had a great evening (unfortunately punctuated just as I was buying a round by being evacuated from the pub due to a suspicious package being investigated in Baker Street tube station below us) and we met Mike Keith. If you look at my T-shirt, the adopted name for the gathering was MIKE KEITH IS GR8! MEET 2005
The quality of the company and the quantity of beer made it a memorable night, but don't ask me how much it cost to get home as it is a slightly sore subject having woken up in Haywards sodding Heath at 1.10 in the morning :(
I look forward to doing it again sometime soon.
Chris
Not that many actual anagrams to report on from the evening, though I did find the following on my pad:
Rowan Atkinson ~ or wankstain, no?
---
---
And finally, there is the obligatory fun with Photoshop. Anyone want to take credit for this morphing of Mick and Larry?
---