The August 2011 GBBF Meet-Up
On Thursday, 4 August, we gathered at Earl's Court mid-Great-British-Beer-Festival for some anagrams, chips, chats, and beers. While the meeting didn't feature any important resolutions being passed on anything - apart from the declaration of importance of 20-inch sausages and of writing down the anagrams on the pad of paper - we deemed it a success anyway.
---
Though various circumstances conspired to make our numbers small, we did see a new face after a fashion. In attendace were WTP, Horrid, Phil, and Anna, with Pedt appearing by text message conversation.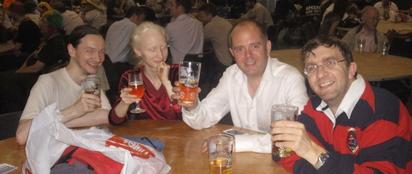 The photo above (click for a larger version) shows those who were physically present.
The minutes of the meeting put it another way, however:


Since the venue this time was the Campagin for Real Ale's Great British Beer Festival...
one of the first items on the agenda was to anagram this setting:
The pad of paper bore witness to several variations on these themes, and things carried on from there.


The Great British Beer Festival itself wasn't the only thing writ large. As the image above attests, we soon found ourselves with twenty-inch sausages to anagram, for example.
And then there were beer anagrams to wash down the sausage anagrams: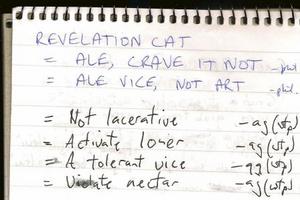 Things turned a bit introspective after a time (at least for the Man in White and Indiana Pus):


Other Business:
Random anagrams also emerged. Honestly, they were random:
No Newcastle Brown Ale was drunk in the making of these anagrams.



Finally, we began preliminary discussions concerning the next AGM. Two proposals were made, to be put to a vote by the alt.anagrams shareholders:

Someone will bring a copy of Zoran's book next time
---