Nordic alt.anagrams get-together, version 0.5
The newsgroup's firstish ever Nordic gathering took place on 28 January 2005 at the Gallows Bird (= 'Do grab swill') in Espoo, Finland.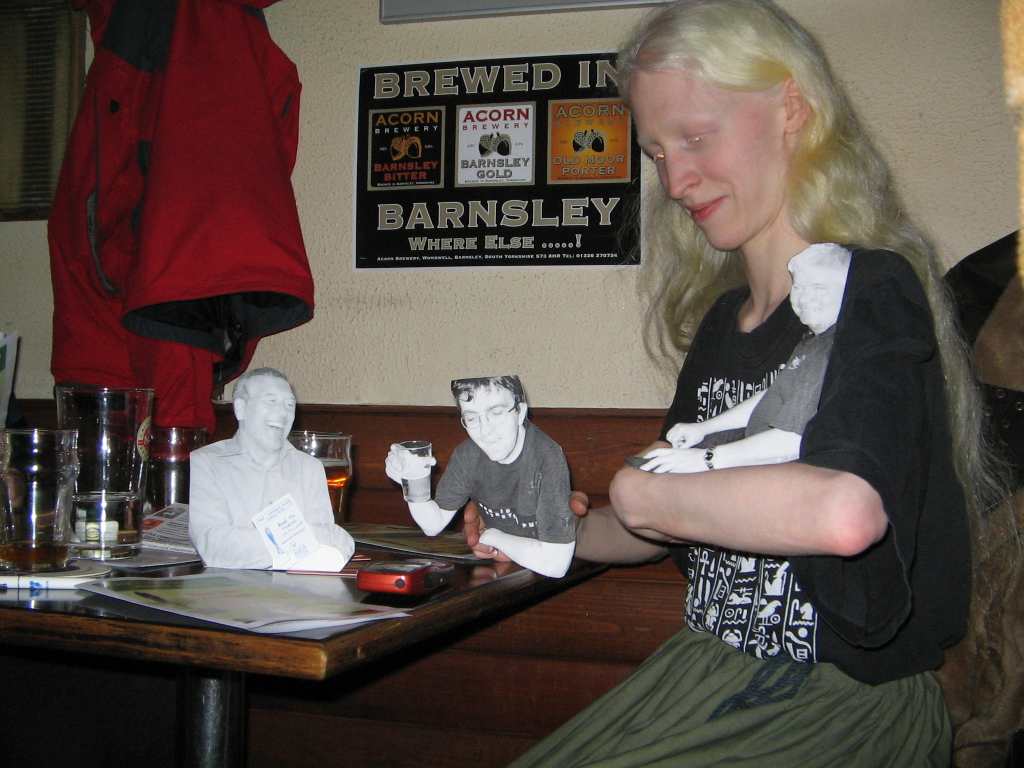 We were pleased that Tony Crafter, Chris Sturdy, and Mick Tully were able to join us for the occasion. While the journey from England took a lot out of them, all three appeared to enjoy the beers laid on as part of the pub's real ale festival.
Mick arrived first. A little frightened of the Robinson's Old Tom, which weighs in at 8.5% ABV - or maybe just trying to be sensible - he started with half a pint. However, it soon became obvious that he would be staying well into the evening.
Tony showed up next, and soon he too was drinking Old Tom. After consulting the beer list, he sampled various of publican Tom's other selections as well. At the end of the evening, he offered this endorsement: 'Send me to the Gallows any time!'
As expected, Chris started with a pint of Deuchars (Caledonian, 3.8%) and pronounced it tasty. As shown, he opted to avoid drinking full pints, let alone litre-sized servings. He probably wanted to get a chance to sample all of the different beers (the list can perhaps still be found at http://www.kolumbus.fi/gallows/RAF05_products.htm, for those of you who missed out).
Trying them all wasn't a bad idea. After Tony, Mick, and Chris were all packed, Phil and I stayed at the pub a while longer, tasting the various tipples and finally finishing off on Thomas Hardy Ale (O'Hanlons, 11.7% ABV) to fortify us for braving the snow.
It is rumoured that at least some who weren't in attendance are eagerly awaiting alt.anagrams Nordic gathering version 1.0.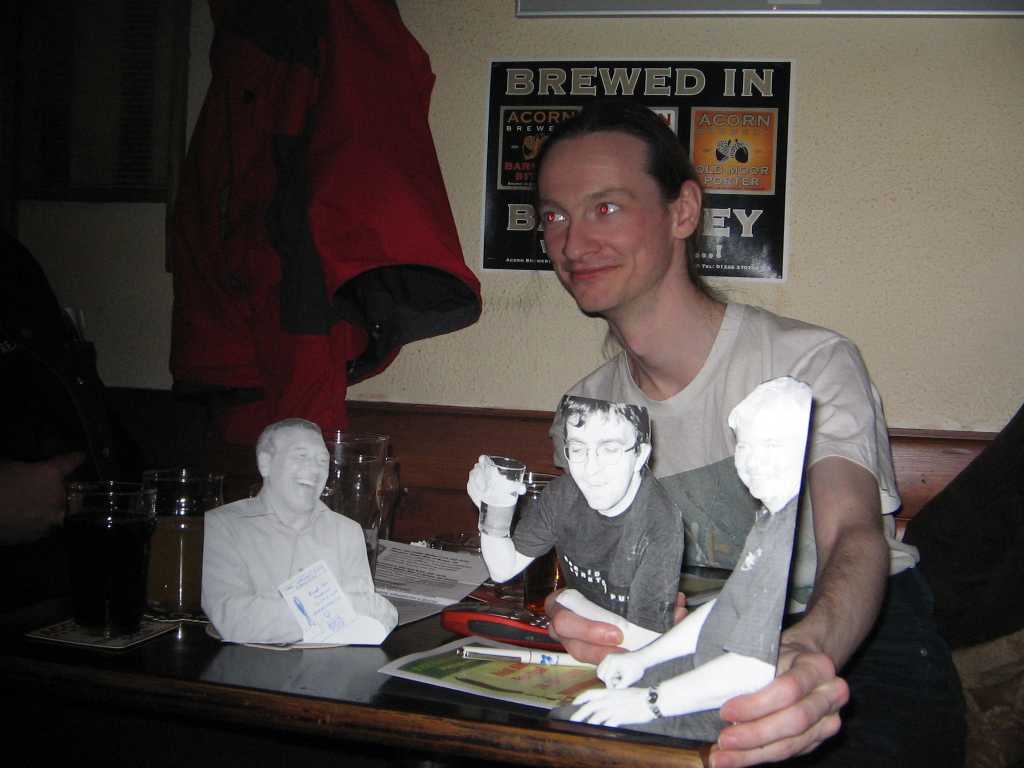 Robinson's Old Tom =
London's mobs riot!


Old Moor Porter =
Drool promoter.


I schedule Acorn and a ~
Deuchars (Caledonian)!


(Acorn featured prominently at the festival, as you might gather from the photos)

Got beer, son? =
Oregon Best!

Thomas Hardy's Ale =
Oh my. Trashed, alas.


Robin Bitter =
Briton tribe...
---
Testimonials:
Chris recalls the fun he had that night...
I laughed so much I think I bust something :)
Riggwelter - Black Sheep, England =
Necking gargleblaster? We'd help!
---
Mick says...
A brilliant night! (It must have been, I can't remember a thing!)
---
Tony says...
Looks like it was a really good night - so pleased I was able to be there, although the Old Toms must have stopped me remembering it!
---
Mey, who must have greatly enjoyed the meet vicariously ...
offers his thanks to the organising committee and, presumably, will try to be there next time:
The alt.anagrams Scandinavia meet
=
As a girl named Anna 'activates' them!
---