A concerned citizen in Corbin, Kentucky, rang the state police to report an attempt at human trafficking near the petrol pumps at the town's Speedy Mart: someone was trying to sell a child for $2,500. The alleged perpetrator's driving-licence number led officers to 29-year-old Harry Day, and the four-year-old black boy involved was at home with his mother, Gertrude Henson, 26.
Officers found methamphetamine and drug paraphernalia at her home, whereupon she admitted to having used drugs with Day earlier in the day. Both adults were taken into custody, and Day later pleaded guilty to promoting human trafficking of a child. He has been sentenced to 360 days in jail.
A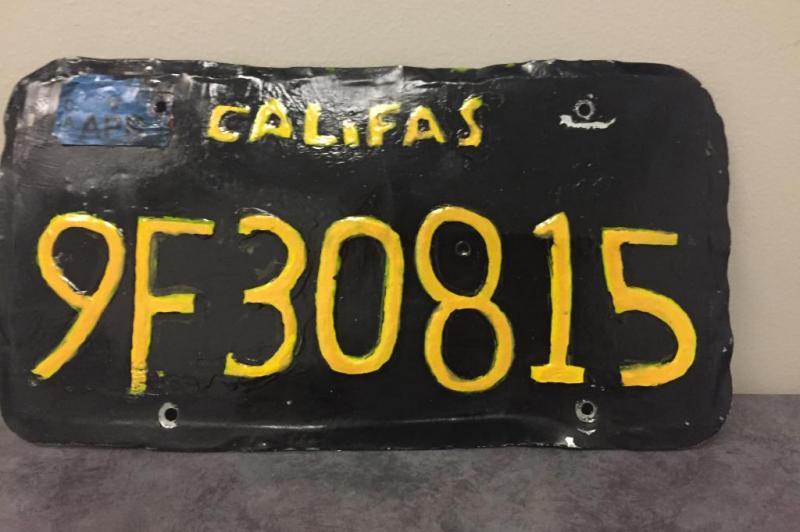 lso in Kentucky, officers with the Millersburg Police Department saw a vehicle on the road without a registration stamp on its number plate. Closer inspection revealed the plate to be unusual in another respect too: it was an artisanal one, hand-crafted by someone with access to a piece of paper and some marker pens. In the course of a traffic stop, the police determined also that the vehicle was not insured and that the person behind the wheel had a suspended licence. The department later posted this note online: 'Pro Tip: Don't forget to draw the registration sticker.'
Police officers in Oslo's St Hanshaugen area stumbled upon an illegal rave. More accurately, it stumbled upon them: several confused young people were wandering around, and then a few youths emerged from a nearby bunker, spotted the cops, and asked them to summon an ambulance. Medics found seven people unconscious in the bunker, and 25 people in total were taken to hospital with carbon monoxide poisoning, thought to be from portable generators at the 'Rave Cave'. Two of the victims are police officers who tended to the partygoers.
The police are investigating why no-one followed up on a tip-off about the event, from weeks earlier. Meanwhile, Vidar Haukeland, who runs the company that owns the bunker, denied responsibility for this 'serious break-in' to the boarded-up location.
Investigators in Tennessee report that Memphis's Huu Nguyen started ringing the emergency number repeatedly in mid-July, often simply hanging up but occasionally asking whether the dispatcher wanted to buy egg rolls. The 54-year-old man racked up 1,170 calls to 911 after that, leading to his recent arrest outside a Vietnamese restaurant and market, which he may or may not operate. Before he was released from the Shelby County jail on his own recognisance, his iPhone was seized.
The Wilkinsburg, Pennsylvania, police report that two men accosted a woman outside a local home and forced their way in, brandishing firearms. Two of the men inside responded by pulling out their own firearms. This prompted one of the intruders to run for the back door, while the other started shooting and backed out the front door.
Later, the police found a ski-mask-wearing male corpse outside the building. This appears to be a case of death by accomplice. Said accomplice was the only one who fired a weapon on the property.
After 12 years with the Orange County Sheriff's Department, deputy Steve Hortz probably knew that he could get away with stealing a few items from a home where he'd responded to reports of the elderly owner's death. He may have been correct, but he did not get away with returning to the unlocked property thrice for this purpose. Video footage shows him walking out with such items as two safes, a rifle case, and ceiling fans, once while in uniform.
After attorneys for the dead man's estate called this to the department's attention, Hortz was arrested and placed on administrative leave.
Another Orange County deputy is in the spotlight for thievery. In 2018, Angelina Cortez was summoned to a 7-Eleven where someone had been caught stealing batteries and wine. Apparently, she confiscated and pocketed his credit card, which she allegedly ended up giving to her son to use.
Cortez, 41, is due to be arraigned in November on charges of feloniously filing a false police report. She has been on administrative leave for about 15 months.
French newspaper Sud Ouest reports on an explosion caused by the beating of a fly's wings in Parcoul-Chenaud. Irritated by a fly in his home, a man tried to kill the pest with an electric racquet. This action combined with a gas leak to create an explosion that resulted in minor burns to his hand, which were treated at the Libourne hospital. It also caused the ceiling to collapse, rendering the home uninhabitable. The fate of the fly is, predictably enough, unknown.
A court in Slovenia recently heard that Julija Adlesic, 22, took out five insurance policies in the year leading up to an injury that left her without a hand, an injury that promised nearly a million euros' worth of insurance payouts. The court, in Ljubljana, found that she and her boyfriend intentionally left the severed limb behind when showing up at a hospital with the explanation that she'd suffered a mishap while cutting branches: she didn't want to risk reattachment after all the effort of sawing through her wrist.
She faces two years in prison. Her boyfriend, who had performed Web searches related to artificial hands in the days leading up to the 'accident', has received a three-year term, and his father has been handed a one-year suspended sentence.
The Hindustan Times reports that the police have arrested a man in Uttar Pradesh for what his wife's family describe as an attempt to check his unborn child's sex in the hope that he would have a son rather than a sixth daughter. Although the man's medical implement of choice was a sickle, which he may have thrown at his 30-something wife, he maintains that he did not intend to injure her. He was arrested anyway, according to the police's Pravin Singh Chauhan.
According to later reports, the seriously injured woman was moved from Nekpur to Delhi's Safdurjung hospital, where she was listed as in stable condition. And she ended up having a stillborn son.
Arizona's John Waddell asked good friend Terry Shraber to come looking for him if he were to disappear while hunting for gold on a piece of his desert land near Phoenix. Sure enough, Waddell, 60, didn't report back by the following day, so Shraber drove out in search of his friend after another night had passed. Pulling up near an abandoned 30-metre mine shaft, Shraber heard hollering. After dropping some water down the shaft, he began a second search, for a telephone signal. Five hours and one multi-service rescue operation later, Waddell was above ground again.
He explained that his caribiner clip had snapped, which left him with at least one of his artificial knees rather mangled. While awaiting rescue, he'd occupied himself by trying to tend to his broken legs and by killing several rattlesnakes that approached him.
Nebraska's Ander Christensen came before the Lincoln City Council to demand that the city's restaurants and shops not be allowed to sell 'boneless chicken wings'. He asked: 'We would be disgusted if a butcher was mislabelling their cuts of meats, but then we go around pretending as though the breast of a chicken is its wing?', and he pointed to such decisions as bad for children's development - young people are 'afraid of having bones attached to their meat' even though 'that's where meat comes from - it grows on bones'.
Christensen, 27, offered several alternative terms for the moulded chicken product, including 'Buffalo-style chicken tenders' and 'trash'. The council have taken the issue under advisement.
Mexico's El Universal tells us of a lawmaker who wanted others to know that she was paying attention to a Congressional Zoom meeting earlier this week. Video records of the session show Valentina Batres Guadarrama leaving her seat and then setting her Zoom background image to a photo of herself. Later, fellow legislator Jorge Gaviño posted on Twitter: 'and I thought that you were paying great attention to my speech when I realised that that attentive look was a photograph.'
Guadarrama responded: 'I put up a wallpaper that showed my frozen image [when] I stopped for a second to request technical help at home. By no means did I simulate my job.'
Responding to a tip-off, inspectors at Vietnam's Binh Duong provincial market descended on a factory engaged in a recycling operation near Ho Chi Minh City. The issue was that, while reuse is often laudable, condoms might not be the most suitable candidate. Pham Thi Thanh Ngoc, the woman who owns the factory, admitted to purchasing condoms each month from an 'unknown' individual and then washing them, reshaping them with a dildo, and packaging them for sale at the market. State newspaper Tuoi Tre put the number of prophylactics involved at roughly 320,000.
Finally, commuters in south-east London were treated to (ostensibly minor) train delays at evening rush hour after a woman left her child behind while getting off the train from Victoria at Peckham Rye station. When the mother detected the issue, she rang South Eastern Railways, and the train was held at the next stop so that staff could remove the pram and its occupant. One passenger summarised her feelings online thus: 'I mean how do you forget YOUR BABY.. A WHOLE BABY.'