After students at a Texas high school elected Ebony Smith as homecoming queen, Galena Park Independent School District shared a photo of her online. This might have been good PR if the image hadn't been, in Smith's words, poorly edited and embarrassing. The editing consisted of changing her hair colour from the purple she had used for the homecoming festivities to a shade of brown closer to the non-bright colours permitted in the classroom. School-district staff have apologised and published a new version of the photo, in black and white.
The Salt Lake City police were searching for Shane Paul Owen in connection with a string of burglaries. When they found his vehicle on the road, Owen fled on foot and ran into a church. A standoff soon began, with a SWAT team sent in to surround the church. Several hours later, 911 dispatchers received a call from the 46-year-old Owen, reporting that he had accidentally locked himself in the boiler room about six hours earlier. He didn't have to wait long to be rescued after his call, but he didn't stay released for long either.
While participating in drills at a Marine Corps Reserve facility, two 25-year-old reservists returned ammunition, C-4, and detonation cords after inventory was complete. The sergeant handling check-in told the two men, Kurt T. Byers and William K. Walker, to just get rid of the items. So, since they 'thought it would be cool to have some of the C-4 at home as a souvenir', they did, though Byers gave five blocks of the explosive to men at a local barbershop.
Both men have pleaded guilty of theft and are awaiting sentencing.
Celina Dally and a friend attended a wine tasting at Louisiana's McNeese State University. Dally passed out while her friend was driving her home, so the concerned friend rang paramedics. When Dally, who is pursuing a degree in criminal justice, awoke in a jail cell, she was informed that she had been arrested for public drunkenness and assaulting a police officer who had attempted to help her. She later presented the man, Officer Guillory, with a giant frosted biscuit reading 'Sorry I tried to bite you'.
It took 23 firefighters to contain a blaze that gutted a (theoretically) mobile home at a Tucson, Arizona. trailer park. It took only one person to start the fire - earlier in the evening, one of the residents had decided to use a propane torch to remove spiders and their webs from beneath the home.
The man who lived in the trailer was assisted by neighbours in carrying his elderly mother out to safety. She sustained minor injuries, not from the fire but from how she was carried. The Red Cross are providing assistance to her and her son until they have a new home.
Kelly Martin has a history of urinating on the war memorial in the centre of Grays, Essex, and of getting in trouble for doing so. The first known incident took place while it was festooned with Remembrance poppy wreaths. The second was while Martin was on bail. The homeless mother of five, now 43, has done it for a third time in the space of two years, this time urinating also on boyfriend John Hicks. Staff at shops near the monument report that Hicks has obliged her in various other ways in recent months, including by pushing a spread-legged Martin down the high street in a shopping trolley.
Prosecutor Ashley Petchey told Basildon Magistrates' Court of witnesses' account: 'She was very intoxicated and holding a can of extra-strength lager' while having the latest wee. She has been sentenced to seven months in jail.
Natalia Borodina was a Russian model who enjoyed life. Muscovite Komsomolets reports that she was doing just that in the Dominican Republic, 'having fun demonstrating her naked breasts' while hanging out of a car window, when tragedy struck. More precisely, a light pole struck. Borodina, 35, hit it with her head and died. Authorities decided that driver Ivanna Boiarchuk, 32, was not to blame (they had suspected her of drink-driving). She may inadvertently have driven too close to the kerb because she'd been concentrating on filming Borodina's antics.
Florida's Pensacola News Journal reports on 64-year-old Veronica Green Posey, who was summoned by two parents to help control their nine-year-old daughter, Dericka Lindsay. After corporal punishment proved unsuccessful, Posey, who is Lindsay's cousin, took another tack. She later explained to sheriff's officers that she had been sitting on Lindsay (for about 10 minutes) when the girl told the adults that she couldn't breathe. A couple minutes later, the 150-kilo Posey stood up and discovered that Lindsay wasn't breathing, so she rang 911. It was too late.
Posey was charged with homicide and cruelty toward a child, while parents Grace Joan Smith, 69, and James Edmund Smith, 62, face charges of child neglect.
In Iceland, Member of Parliament Eva Pandora Baldursdottir was scratched in the eye by her one-year-old daughter. Of the requirement that she wear an eye patch over the weekend, she stated that it 'wouldn't be an issue if it wasn't for the fact that I'm going to a TV debate tonight'. Baldursdottir, who represents the country's Pirate Party, has not reported any plans to sever one of her legs before the next such appearance.
From the 'How Could It Have Seemed Like a Good Idea at the Time?' desk comes an item about China's East Taihang District administration, who decided to 'prank' visitors to a viewing area near Taihang Mountain, in Hebei. As guests stood on a glass walkway 1,180 metres off the ground, sounds of breaking glass were played, while 'digital screens' were used to create the look of the walkway fracturing, with numerous cracks. Later, in the context of an official apology, the district explained that the trick was intended to enhance the experience.
Five students at Michigan's Clio High School decided to engage in a leisure activity they had heard about: dropping rocks from a bridge above a road. Some of the rocks they chose were rather large, and one three-kilogram rock crashed through the windscreen of a vehicle below. The commuter behind the wheel died of blunt force trauma to the head and chest. In all, officers found 20 rocks, the largest weighing about 10 kg. At least four damaged vehicles waited on the side of the road while the teens were eating together at McDonald's after their 'prank'. All five, ranging in age from 15 to 17, have been taken into custody.
Local, state, and federal authorities are investigating a music specialist who visited various California schools in connection with the Flutes Across the World programme. In the programme, children learn to play the flute, decorate a bamboo or PVC pipe flute to be given to a 'flute friend in another part of the world', and receive their own flute. Flutes are distributed with hand-written notes from the maker inside, but some were found to contain something else - several school districts have warned that children have received flutes contaminated with the teacher's semen.
Parents have been advised to 'place the flute in a paper bag, not a plastic one, and call the Santa Clarita Valley Sheriff's Station'. According to Sheriff's Sergeant Mike Konecny, there have been 'at least one or two calls' to pick up flutes.
The police in Auburn, Alabama, received a call about a child going missing at a local ice-cream shop. When they arrived, employees and the three-year-old girl's family were trying to revive the child. Their efforts failed, and Lee County Coroner Bill Harris determined that she had drowned, in sludge. According to Alabama's Opelika-Auburn News, video footage has emerged that shows the girl playing with siblings until falling through a lid covering a two-metre-deep grease pit.
Ohio's Columbus Dispatch reports on Lawrence Knox, who was sentenced to a fine and six years in prison by a Franklin County Court judge after pleading guilty to possession of cocaine and a gun offence. Claiming to be penniless, Knox swore that he was unable to pay the fine. However, officers leading him away for pre-prison processing discovered $4,060 on his person. The judge responded by increasing the 36-year-old Knox's fine to the maximum allowed and ordering that half of the money found in his clothes go toward the fine and the other half to Knox's attorney, who reported that Knox had neglected to pay most of the legal fees.
North Dakota's Bismarck Tribune reports that a police officer driving past a petrol station saw 29-year-old Skyler Whitebull trying to light a cigarette next to the pumps. The officer stopped and tried to persuade Whitebull that trying to light a cigarette with the nozzle of a petrol pump isn't a good idea. There was an argument, one thing led to another, and the incident ended with a handcuffed Whitebull flailing his legs while being searched. In his handbag were several bags containing methamphetamine residue.
Kevin Wilshaw told Britain's Channel 4 that he'd become interested in Nazism as an 11-year-old boy who looked up to his 'very right-wing' father. Considered to be a high-profile white supremacist, Wilshaw explained that he had rationalised a dividing line between his mother's Jewish heritage and Jews in general (who he'd deemed 'enemies of my race'), and that he was shaken out of his hypocrisy only after receiving abuse from fellow neo-Nazis who rightly suspected him of being gay. Wilshaw said: 'It's not until it's directed at you that you suddenly realise that it's wrong'.
While he desires peace with his family, hate may not be a thing of the past for him. Speaking of far-right extremists, he told interviewer Paraic O'Brien: 'I want to do some damage to the people who are propagating this kind of rubbish. [...] I want to actually hurt them.'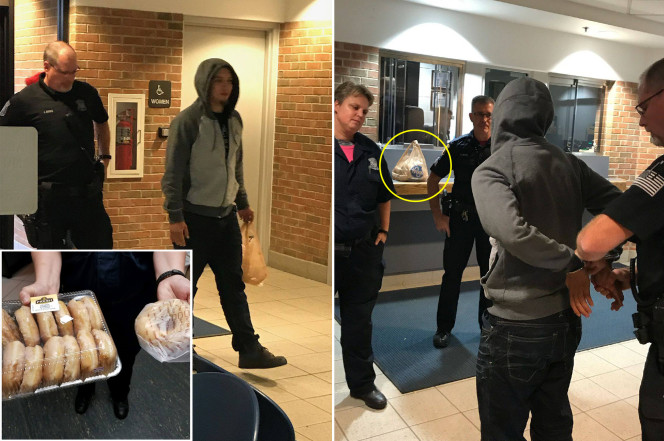 Matthew Zaydel replied to a Facebook post that the Redford Township, Michigan, police department, made about his outstanding warrants: he said that he would turn himself in if the cops could amass 1,000 Facebook 'shares'. Posting under the moniker Champagne Torino, the 21-year-old man also said that he would bring doughnuts and clean up school property if the cops proved able to meet his challenge.
That took a little more than an hour, and Zaydel was true to his word. He turned in himself, a box of doughnuts, and a bagel.
We can thank long-time Clippings reader Dave for the next two stories, both from Pennsylvania.
Mobile phones are not allowed at Pittsburgh King PreK-8 School. When a teacher had trouble confiscating one, colleague 46-year-old Janice Watkins, stepped in. Its user, probably age 10 or 11, responded by biting Watkins, so, per procedure, school officials called the girl's mother, 29-year-old Dai'Shonta Williams, who, believing the girl's claim that Watkins had choked her, promised consequences.
While Watkins was waiting in traffic later, a woman allegedly threw a brick through her open car window and dragged her onto the road for a beating. The woman and her companion left the scene, and Watkins was taken to hospital. Williams, who later admitted to beating Watkins, explained that the school police hadn't taken appropriate action on the choking claim. Various charges are pending.
After his daughter was born, Cody Hulse, of Latrobe, Pennsylvania, decided to make the most of his time at the maternity ward. In addition to receiving well-wishers welcoming the girl into the world, he sold some heroin there.
After motorists in a traffic stop explained where they'd bought the heroin they were carrying, the police decided to join the visitors to the maternity ward. According to the Greensburg Police Department's Facebook page, the 25-year-old Hulse was found with 34 bags of suspected heroin and some drug paraphernalia. He admitting to selling drugs from the maternity room and was taken into custody. Meanwhile, the baby's mother told the police that she'd been unaware of the various drug deals.
The San Antonio Express-News reports on Texas's Jose Trinidad Gonzalez, who sometimes let a seven-year-old girl and her siblings use his tablet computer, also using it to play games with them. When their mother decided to see what kind of games they were playing, she also looked in the 'deleted photos' folder. Within was an image of the girl's genitals and, in case that wasn't incriminating enough, a video of the 35-year-old Gonzalez raping her. The mother contacted the police immediately, and he has been charged with 'aggravated sexual assault of a child and possession of child pornography'.
In 2015, UK expat Paul Ferrell became upset about the burger he'd received at a corner shop in Taiwan - apparently taking issue with the lack of ketchup, though condiments for customers' use were available on the counter. So he threw a Molotov cocktail into the shop.
Although he skipped bail and fled to the UK, he recently returned to Taiwan, where police officers in Kaohsiung caught the 32-year-old Ferrell riding a scooter while intoxicated. They report that, though he was incoherent, they 'knew who he was' because of a previous alcohol-fuelled decision: several years ago, tattoo artist Wei Cheng reluctantly inked Ferrell's forehead with the characters for 'Taiwan'.