Joseph and Travis Dasilva are two US tourists in their thirties who face charges in Thailand for dropping their trousers in front of a Buddhist temple for a photo. The image they captured at Bangkok's Wat Arun netted them each an arrest at the airport and a fine worth about 150 euros for public indecency. District police chief Jaruphat Thongkomol said: 'The two American citizens have admitted taking the picture', which featured on their Instagram page titled 'traveling_butts'. The page disappeared from view shortly after Thai authorities reported a fine being due in connection with a bared-buttocks picture at another Bangkok temple.
A home-care nurse who worked in Kokkola, Finland, has been charged with stealing drugs and using them herself. Tasked with providing in-home care for a three-year-old child, she stole the morphine that was part of the child's end-of-life care on at least 10 occasions over the space of two months, replacing the drug with water. She has also admitted to pilfering the child's sleeping pills.
The crimes came to light after the child began suffering withdrawal symptoms. In addition, the nurse was caught driving while under the influence of the stolen drugs.
Facing charges of incest for marrying her daughter, Oklahoma's Patricia Spann, 44, claimed that she'd thought the marriage legal because she isn't listed on 26-year-old daughter Misty's birth certificate and lost custody of her two years ago, before the wedding. The marriage was recently annulled at Misty's request for reason of fraud and illegality.
Prosecutors point to a pattern here, referring to the elder Spann's earlier marriage to one of her sons. That union was dissolved in 2010.
The Vancouver police pulled over a motorist who was behind the wheel with both a tablet computer and an iPhone. These devices were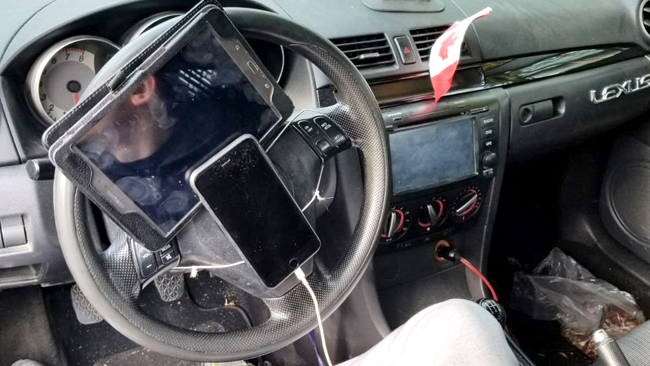 attached to his steering wheel with string, allowing the driver to operate the car's manual transmission more easily. The man, who was using headphones for one of the devices when pulled over, was not given a ticket for distracted driving, but he does face a fine for not being able to produce a driving licence. Not all of the Vancouver police let multitasking drivers off so lightly: in the same week, a man was fined hundreds of dollars after pulling alongside two police officers while playing Pokémon Go.
When 35-year-old homeless man Justin Rey rang the front desk of the Kansas City, Missouri, hotel where he had been staying with his wife and two-year-old child, he disguised his voice as a woman's. This is because his wife, Jessica Monteiro Rey, was no longer alive. It soon emerged that Rey had flushed parts of her body down hotel toilets, and surveillance video showed him lugging a bin liner and cooler from the hotel. The police caught up with him at a local storage unit, where they confirmed that these contained body parts.
Rey explained that his wife had killed herself once she'd given birth at the hotel. To have some family photos after this, he took pictures of the newborn and toddler with the body, then dismembered it in the room. He is being charged with abandonment of a corpse and, partly because the children seemed inadequately clothed, child endangerment.
Le Thi Xoan, a 14-year-old girl in Vietnam's Ha Tinh region, was sleeping with her iPhone charging by her side. The next morning, her parents found her unresponsive, with scorch marks on the mattress beneath her. According to VietBao, it is believed that she was electrocuted when rolling onto the phone along with its frayed cable. Her parents confirmed that the device's broken-open charging brick was fried. Hospital workers confirmed the same for the teenager, whom they were unable to revive.
Members of a Bible study group gathered at their Tellico Plains, Tennessee, church for a pre-Thanksgiving lunch, where conversation turned to gun violence and the recent massacre at a Texas church. When a parishioner posed the question of whether people who carry handguns should bring them to church, 81-year-old Wayne Reid volunteered that he carries his pistol everywhere. He removed the magazine, let the others inspect it, put the magazine back, and returned the pistol to his pocket. When another member of the group later asked to see the weapon, Reid produced it again. According to the police, this time Reid accidentally shot himself in the hand, with the bullet hitting his 80-year-old wife, Catherine, in the abdomen and exiting through her forearm. It ricocheted off the wall and landed next to her wheelchair.
A witness said that there was 'a big explosion. Wasn't sure what it was, and Miss Nicole looked at Miss Catherine, and Miss Catherine looked at her and she said "I've been shot".' She was taken for surgery, and the gun-owner may have lost his thumb and his interest in carrying a weapon.
Amid reports of an 'active shooter situation' at the church, local schools were placed on lockdown. After police officers descended on the location, police chief Russ Parks was relieved to report that 'it just slipped [Reid's] mind that he recharged the weapon'. Parks said that no charges will be filed.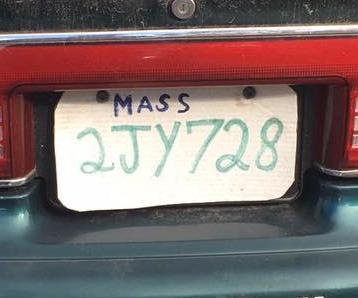 In Massachusetts, officers with the Hopkinton Police Department noticed a Buick Century on the road with a rather odd-looking licence plate. They pulled over the driver and determined that the motorist had fashioned a fake number plate from pizza-box cardboard, using magic marker. Ill intent too was soon established: the plate ID, 2JY728, already belonged to another vehicle. The police department reported that charges include operating an uninsured and unregistered vehicle and attaching 'fake home made' plates.
Berliner Morgenpost has reported on an incident witnessed by a child-minder who'd taken a young boy out for an afternoon visit to the children's zoo at Gürlitzer Park: a young man had begun sexually assaulting a pony. Realising that his photo had been taken, the assailant dismounted the animal and ran off. Police officers were summoned, and park runners in the meantime used the child-minder's photo to find the perpetrator. The police confirmed that this 23-year-old man faces charges of violating animal-welfare laws and 'causing a public nuisance through sexual acts'. Also, he has been banned from the petting-zoo area.
A 28-year-old man in Lianyungang, China, was frustrated with long delays during his commute within the province of Jiangsu and decided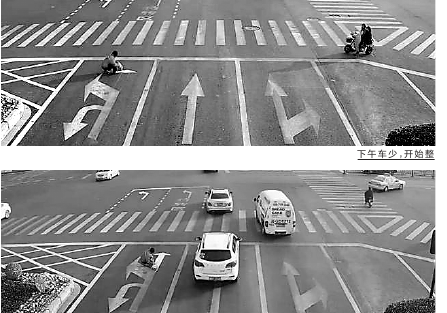 to streamline the daily bus journey - by redirecting other traffic. Surveillance camera footage shows the man, surnamed Cai, using a tin of white paint to add new arrows to the road.
When confronted by traffic police who deemed his behaviour 'very dangerous', Cai explained: 'I saw that the straight lane was always packed with cars, while the lane that turns left has a lot of space.'
Workers have repainted the road, and Cai has been fined.
Also in China, we have a 31-year-old man, unnamed by local media, who decided to insert a tiny padlock into his urethra and push it further into his penis while 'playing' for sexual pleasure. Things went wrong, and he ended up telling his family, who took him to a medical clinic for help. Soon, Fuzhou hospital staff were trying to figure out how best to remove a padlock from a bladder. After various tests, they cut a hole in his bladder to extricate the lock. They warned that the man may not recover full functioning of his internal plumbing.
Our next story too is about someone who noticed issues with use of the roads. In Clermont, Florida, 61-year-old Bruce John Homer decided to highlight law enforcement officers' lackadaisical attitude to people ignoring a stop sign at a local junction. He forced the issue by intentionally causing a car crash there.
A motorist later told the police that Homer had pulled out in front of his SUV as he was passing through the junction. According to the SUV-driver, Homer approached him after the accident and stated that authorities won't do anything [about people running the stop sign] until someone dies'.
Homer has been charged with aggravated battery and reckless driving.
Anthony Valle rang the police to report that he had shot a burglar dead in his Harris County, Texas, home. There, officers found the body of 14-year-old Layla Ann Ramos. Investigators on the scene 'identified numerous inconsistencies in Valle's statement', according to the Harris County Sheriff's Office, and, sure enough, they also had records of Ramos's mother warning them that the family have 'had trouble with him before'. They uncovered an 'inappropriate relationship' between the 43-year-old Valle and Ramos, which included drug use, and learned that Ramos had threatened to report Valle to the authorities for sexual misconduct. Valle is now being held on a murder charge.
Florida's Donna Byrne was arrested for driving while intoxicated after several drivers on a busy motorway rang the police to report dangerous driving by a woman on horseback. The 53-year-old Polk City woman had ridden down more than 25 kilometres of road before officers forced her to dismount. When she got off the horse, she staggered from side to side, and her blood alcohol level was twice the legal limit of .08%. Byrne, whose criminal record includes felonies and misdemeanours that range from cruelty to animals to possession of drugs, has been charged with driving under the influence of alcohol and with animal neglect for endangering and failing to properly protect the horse.
The DUI charge may not stick, however. While sheriff's office spokesman Brian Bruchey pointed out that 'the woman put a saddle and bridle on this horse and was riding it to get from point A to point B', Tampa-based DUI attorney Thomas Grajek pointed out that state law treats people riding animals on roadways or shoulders more as pedestrians than as akin to automobile drivers.
Canadian model Catt Gallinger's boyfriend is a tattoo artist who decided to give her a gift: a purple eyeball tattoo that she described as an expression of her personality and a way to 'feel more at home in my body'. Gallinger, 24, was soon expressing what looked like purple tears also. Residue was escaping from the sclera tattoo, and she was booked for surgery. After three hospital visits, she faces a lengthy recovery and the risk of corneal rupture. She has said that the end result of the 10-minute tattoo procedure, which involved undiluted ink, over-injection, and poor choice of injection sites, is a desire to have the eye permanently removed if that would put an end to the pain and blurred vision.
Officials at Philadelphia's Kintock Group halfway house for prisoners report on a man who escaped from their facility by hiding in a rubbish bin in the yard. He left the premises in a garbage truck but was still not a free man - he ended up desperate to be freed from the vehicle's compactor section. It took roughly two hours for firefighters to remove the bags of rubbish and place the man on a stretcher. He was taken to hospital in an unknown condition.