According to Ohio's Youngstown Vindicator, a 22-year-old man rang the police to complain that he was too high on marijuana. The Austintown police officer who responded to the call later wrote that he followed groaning noises until finding a young man 'on the floor in the fetal position', 'surrounded by a plethora of Doritos, Pepperidge Farm Goldfish and Chips Ahoy cookies'. The young man explained that he had smoked so much marijuana in his car that he couldn't feel his hands. He handed the officer his car keys and told him that he was free to take all the remaining weed for himself. The man, who declined medical treatment, does not face any charges as of Clippings press time.
The police in Sunrise, Florida, reported that 24-year-old Fidel Lopez rang the emergency services to report that his girlfriend was having a hard time breathing. Responding officers swiftly determined why 31-year-old Maria Nemeth couldn't breathe easily: she was dead. Lopez, who was crying next to Nemeth's naked corpse, later admitted that he had disembowelled her. He'd become upset by her calling out her ex-husband's name during sex.
Ello Ed Mundsel Bello is a Filipino nurse who was working in Singapore when a Facebook post from his account gathered some criticism. The post wished 'disastors' and death on Singaporeans and stated that Singapore will soon become a 'new Filipino state', after 'we take their jobs, their future, their women, and soon, we will evict all SG loosers out of their own country'. After the post received upward of 600 negative responses, the 28-year-old Bello filed a police report in which he claimed that someone had used his Facebook account without his permission.
Once authorities discovered that Bello made three similar posts online last year, he was relieved of his job. He has pleaded guilty to giving false information to the police and breaching Singapore's Sedition Act by promoting hostility and ill will.
Arash Aria turned himself in to the Manchester police, explaining that after a decade of living illegally in Britain he'd 'had enough of Manchester' and wanted to be sent back to Iran. Shortly thereafter, officers made the following statement: 'Checks with the immigration enforcement team revealed that the man had indefinite leave to stay in the country.'
Since all of his papers were, in fact, in order, it was decided that the 25-year-old Arias would not be deported, no matter how inconsiderate he finds people in Britain.
Walking home from a village fair in Sleemanabad, Madhya Pradesh, after a stop at a liquor store, Indian farm labourer Latori Barman stumbled upon a road-repair area. Katni district police chief Gourav Rajput said: 'It was pitch dark. He didn't see that crater' at the side of the road. Nor did repair workers notice him: they filled the pit with gravel and an asphalt mixture, then used a roller to create a smooth road surface. The following morning, villagers noticed that the surface wasn't smooth: part of an arm was visible in the road. Barman's remains were recovered, and two members of the road-repair crew have been charged with culpable homicide.
According to UPI reports, Vadim Rustam and his wife report that they heard cries from below the cobblestones outside a housing unit in Rostov, Russia, where workers had repaired a hole two days earlier. City officials declined the couple's request for workers to investigate the noises, so Rustam enlisted friends to help him pull up some of the stones. In the shallow space beneath the cobblestones he found a heavily pregnant dog.
Murder suspect Markelus Carter was awaiting trial when he received a new cellmate in the Allen County, Ohio, jail. The 46-year-old Carter promptly punched the new occupant of the holding cell, who was a witness slated to testify against him.
Surveillance video footage shows the other man the placing Carter in a headlock and Carter delivering a bite to the arm before guards responded to the sounds of a ruckus and intervened. Both men suffered minor injuries, according to Sheriff Sam Crish.
Free samples of Nutella waffles were on offer at a Costco store in Burbank, California, and Derrick Gharabighi decided to take full advantage of the opportunity. A 78-year-old customer was reaching for a sample when Gharabighi emptied the sample tray. The older man, Sahak Sahakian, told him that he should take just one sample, and Gharabighi responded with a punch in the face. Sahakian was sent to hospital with a cut and swelling above his eye, and Gharabighi has been charged with felonious elder abuse.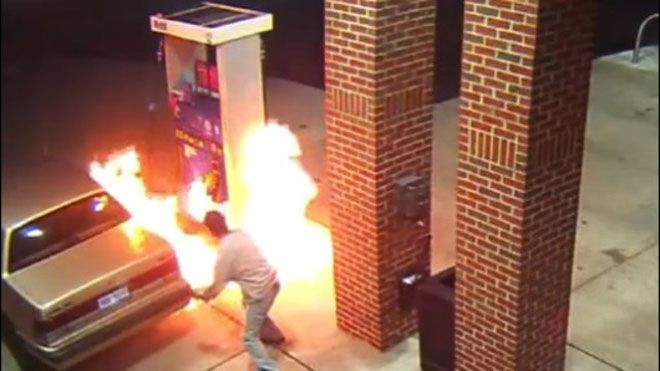 Surveillance footage at a Center Line, Michigan, petrol station shows a motorist asking himself 'is that a spider in there?' while refuelling his car. He decided that it was and that he should kill said arachnid with a cigarette lighter. Inside the station, clerk Susan Adams saw the resulting flames and turned off the pump, then contacted the fire department. The motorist did have the presence of mind to grab a fire extinguisher after running away, but the pump was destroyed before the flames were doused. He returned the next day to apologise and explain that he is deathly afraid of spiders.
Police officers giving a 'People Who Help Us' talk for students at Swindon's Haydonleigh Primary School decided to settle a question raised by staff and students, even if it meant creating some panic and confusion among neighbours. A Facebook post made the next morning by the North Swindon Police read: 'Apologies to anyone in the area who may have been disturbed by our sirens yesterday morning - the PCSOs were at the Primary School having a very important debate with the new Reception Year children about whether they go nee-nah or woo-woo.' The students voted that 'woo-woo' was the better rendering of the sound.
The next story comes to us from Brooklyn, New York, where the police caught 26-year-old Javier Thomas urinating in the street. Worried about the possibility of additional charges, Thomas decided that he should subtly ditch the 9 mm Glock pistol he was carrying. The safety wasn't on, and he managed to pull the trigger accidentally. After he was taken to hospital to be treated for a gunshot wound to the testicles, Thomas was arrested on weapons charges and for reckless endangerment.
Daniel Anglin, a 19-year-old man from San Bernardino, California, broke into a flat but ran off when a resident confronted him. His next attempted crime was a carjacking beside a nearby school-bus stop: naked, he tried to take a vehicle by force, but its driver fought him off. After that, he walked through a junction and tried with a second vehicle. This time too, he met with no success. The authorities soon arrived, and Anglin apparently attempted to stead a squad car. He was then subdued by Taser. A list of charges is being compiled.
Seattle's Sharnika Joy Armstead recently completed a 74-day jail term for using homemade nunchuks to attack a shop-owner and another man when she'd been caught trying to steal shampoo. She is now back in jail: She was sleeping on a bus when a man jostled her while taking a seat. Reportedly, Armstead slapped him in the face and then followed him off the bus, brandishing a sheathed sword.
The 26-year-old woman faces additional charges for repeatedly punching a resident at a women's shelter in the head. The other woman had a make-up bag that Armstead fancied.
When she agreed to work with the Altoona, Pennsylvania, police as an undercover informant, Pamela M. Laich was instructed to buy five bags of heroin. She returned with only three. Informed that she would have to return the drug task force's money if unable to make the full purchase, Laich replied that she must have dropped the other two bags. When escorted back to the purchase location, she palmed the 'missing' bags from her pocket.
Officers described the content of all five as looking 'flaky', but there was no need to wait for test results confirming this: her mobile phone contained text messages from the seller about Laich replacing the heroin with dry baby food during the 20-minute purchase encounter.
It was unclear what Laich had done with the heroin until an officer saw her 'digging at her vagina' in the holding cell and then proceeding to eat the drug. Accordingly, one of the many charges against her is tampering with evidence. No charges were filed against the seller.