Police in Gainesville, Florida, say that 22-year-old Marine Corps veteran Christopher Dabney became upset by someone's Halloween costume at a local restaurant. A tutu-wearing Dabney took issue with the idea of someone dressing up as a disabled veteran, so he hit the man, 35-year-old Daniel Priotti, twice, knocking him out of his wheelchair. Priotti, a former Marine himself, wasn't wearing a costume. Dabney has been arrested for abuse of the disabled.
No-one is to be charged in connection with a crash between a school bus and a truck in Beaver Falls, Pennsylvania. Police explain that the unoccupied bus, with parking brake engaged, began to roll down a hill. On the way to level ground, it hit the unoccupied truck, which joined the school bus on its downward roll. While the truck eventually landed on its side, the bus didn't come to a stop until it had eliminated one utility pole and hit another. The school bus was discovered next to the porch of a nearby home.
Also in Pennsylvania, Allen Black became angry when house-mate Ronald Lee Tanner changed the locks. The 76-year-old Black used a chainsaw and an axe to break through a door, then attacked Tanner, who owns the house, with the chainsaw. When Tanner's shirt caused the tool to jam, Tanner was able to pin Black down with an umbrella. Black is now in jail.
Someone told police in Chorley that a man was walking through town with a samurai sword. When officers saw Colin Farmer, he seemed to fit the bill, so they used a stun gun on him. Farmer, 61, who was actually carrying a white stick, says that he heard a commotion, felt a surge of electricity, and was knocked to the ground by parties unknown. He said: 'I was convinced I was being murdered in plain sight.'
Lancashire Police Chief Stuart Williams said that it became obvious that they had the wrong man once he was taken to hospital. In the end, the actual sword-wielder, who wasn't a blind stroke victim, was detained but then released without charge.
The BBC report on a child's birthday party in Wales. At a Frankie and Benny's restaurant in Swansea, two-year-old Sonny Rees began pulling funny faces, which prompted his mother to taste his drink. The restaurant said that the toddler receiving a glass of whiskey was a case of human error.
Upon his release from a New Mexico jail, Frank Rodriguez-Tapia was supposed to go straight to the electronic monitoring office. He instead stopped at Blake's Lotaburger. A bigger problem is what he'd done before that: he obtained the money for lunch by grabbing $80 that belonged to an inmate being booked into the jail. Yes, the jail had security cameras.
When Rodriguez-Tapia arrived at the electronic monitoring office, he admitted to the theft and surrendered the rest of the money. He now faces a charge of larceny.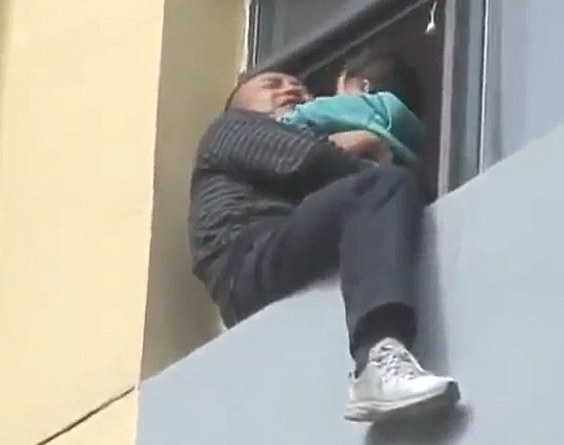 In Xining, China, firefighters responded to a call that, after a family dispute, a man was threatening to jump from his bedroom window while holding a two-year old child. As the situation unfolded and talk with the distraught man dragged on, two firefighters entered the room above and executed a move they had just rehearsed on the other side of the building. One of the two, an abseiler, jumped down with a flying kick that sent the man and child back into the bedroom.
In 1993, financially troubled bank manager Otto Neuman stole cash and gold bars from an Erste Bank in Vienna while two accomplices staged a fake robbery there. Neuman's lawyer has confirmed that court officials recently contacted him to report that the cash recovered at the time - which had been held by the Austrian Justice Ministry for the last 19 years - was to be given to Neuman.
The bank explained that it has no claim to the money, since the insurance company had provided full compensation. The insurance company reported that the recovered gold given to them after payment of the claim had been settled had increased enough in value to offset the full amount paid out.
The money, about 60,000 euros, has now been transferred to Neuman.
On occasion, someone is injured when celebratory gunfire in the Middle East goes wrong. In Ain Badr, Saudi Arabia, this recently happened on a somewhat larger than usual scale - post-wedding gunfire sent a high-voltage power line to the ground. This left 25 people dead and and 30 injured, though no-one was injured in the associated fire.
On Wednesday, David Norton didn't show up at a meeting at the University of Southern Maine, where he was working as a computer-network engineer. Campus police, who had left three tickets on his car for illegal parking over the weekend, found the 45-year-old computer-network engineer in his office. He had suffered a massive stroke there on the previous Friday and was barely alive. According to AP reports, he was taken to Maine Medical Center, where he died. His mother, Linda Norton, has asked the university to check all offices daily from now on.
Someone saw Darien A. Caruso and James Hardy, both 19, carrying items from a Manatee, Florida, house and contacted the police to report a burglary. The two young men had driven off by the time officers arrived at the scene. Fortunately for the authorities but less so for Caruso and Hardy, the car soon returned, with stolen items in plain view. The two men had become lost in the neighbourhood. Arrests soon followed.
A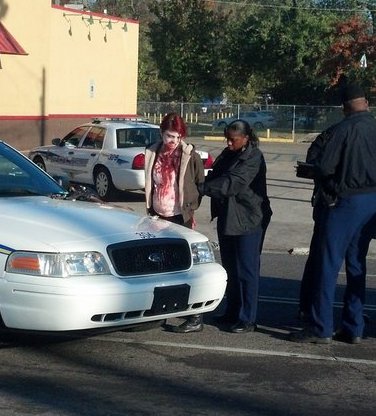 concerned citizen in Birmingham, Alabama, rang the emergency services when seeing a blood-covered woman slumped over her steering wheel at a traffic light. Officers expected to find a dead gunshot victim but instead arrested the woman and carted her off to jail. Intoxicated, she had passed out after a night of Halloween partying, dressed in a pregnant-zombie costume.
Reuters reports on Dale Porch, a 46-year-old Denver man who died on his front steps on 2 November. The postman saw Porch's corpse on the porch but thought the body was a Halloween display. A statement by the United States Postal Service reads, in part: 'When the carrier learned that was not the case, he was shocked and extremely upset.'
Robert McDonald ran for the Walton, Kentucky, City Council, with the result being a tie with Olivia Ballou, at 669 votes each. Upon learning that the winner would most likely be chosen via a coin toss, McDonald recalled that his wife, who works nights, had awakened about 10 minutes before the polls closed and asked whether she should hurry to cast her vote. McDonald said: 'I told her I didn't think one vote would matter.'
Holly Solomon is a 28-year-old Arizona woman who was angered by the re-election of US President Barack Obama. Several days after the election, she became especially angry that her husband, Daniel, hadn't voted. Although her state's electoral votes had gone to Mitt Romney anyway, she figured it was worth making an issue of this, so she chased him in the family car and ran over him. He was taken to a local hospital, where he was listed as in critical condition but expected to survive.
When his wife was diagnosed with cancer, 43-year-old David Jimenez spent many hours in prayer beside a crucifix outside New York's Hudson Valley church. His wife recovered, and he offered to show his gratitude by cleaning the crucifix. While he was washing Christ's face and holding the cross-beam for balance, the 275-kilo marble crucifix snapped off at the base, to which it had been attached by a single screw. Jimenez's leg was crushed and had to be amputated. He is suing the church for $1 million, partially to pay for hundreds of thousands of dollars in medical bills.
Miles Alura, 16, disguised himself as an old man with waist-length dreadlocks before robbing a jeweller's shop in Kent. With two accomplices and two handguns, he tied up staff members and stole 45,000 euros' worth of baubles. Detective Constable Vicky Bailey, described the heist as meticulously planned and Alura's disguise - using professional-style facial prosthetics and a hairpiece - as sophisticated. However, officers were still able to find him. It helped that he left some papers at the crime scene - a drawing of the shop's layout and some of his history coursework.
The Job Centre in Aberdare, Wales, decided to offer job-seekers spray tans and make-overs at the town's Well-being and Training Academy, to improve their motivation and confidence. The head of the academy explained that the scheme 'will recognise those who are doing their utmost to find unemployment [sic] by giving them a beauty treatment'. Councillor Pauline Jarman commented in response: 'I don't know any employer that would be impressed if you turned up tanned.'
Long-time mayor of Ankara, Turkey, Melih Gökçek has stated in a televised interview that he has taken legal action against followers on Twitter who have insulted him as he prepares for the March 2014 election. He stated: 'I sue those who insult me. There are about 600 people now that I've sued.' Gökçek said that about 80% of the people insulting him have been caught - 'When you give their names and accounts to police, they find themselves in front of prosecutors.'
The BBC reports that Australia's Michael Newman was ejected from a pub in the town of Broome for being too intoxicated. It was then that he came up with the idea of climbing into a crocodile enclosure and riding one of the reptiles. Newman, 36, did manage to board a five-metre-long specimen named Fatso before losing some chunks of flesh. He is recovering in hospital after surgery for serious wounds to his leg.
Responding to reports that a gunshot had been fired from a 37-year-old woman's flat in Gothenburg, Swedish police happened upon a full human skeleton, a box of human bones, and various CD-ROMs that attracted their interest. One of the latter was titled 'my necrophilia' and another 'my first experience', including photographs that prompted prosecutor Kristina Ehrenborg-Staffas to declare that the unemployed woman had handled the bones in a 'shameful' manner.
The accused claims that she'd bought bones online from all over the world for historical purposes and that she is not the woman in the photographs.
Reuters reports that Oldham's Donald Junior Green reached into his pockets for a bag of chewy sweets to give to the three children at his door on Halloween and sent the children on their way with treats. He then reached into his pockets for a treat for himself - the drugs he had bought earlier. Finding chewy sweets instead of a sack of eight bags of cocaine, he scoured the streets on foot and then by car, trying to find the children, aged five, six, and eight.
Green, 23, didn't find the children. Once their father found the drugs, however, his co-workers - other police officers - found Green, who has now been ordered to do 130 hours of community service.
In Reading, soldier Steve Chessell's job as Father Christmas at the Broad Street Mall involved rappelling from a skylight while waving to the crowds below. When his fake beard became caught in the rappelling device, he was left dangling in the air, unwilling to rip the beard away in front of hundreds of children. The event's announcer therefore explained that Santa wanted to stay aloft for a time to see 'who's been a good boy or a good girl'. About 40 minutes later, another military man rappelled alongside Chessell and freed the fake facial hair.
Louisiana's Times-Picayune reports that local man Edward Alan Lucas went to the St. Tammany Parish Sheriff's Office to request a copy of a police report. A short while later, clerks saw that three pens were missing from their metal chains, and they remembered Lucas walking back and forth in front of the service area. Fortunately, the office has surveillance cameras. When faced with the evidence against him, Lucas, 33, admitted to stealing the pens.
Jihad Shaheer is an estate agent who reported that his company's 'For sale' signs had been stolen from at least eight sites in Connecticut. On Wednesday, the owner of another agency, American Home Realty, was charged with trespassing and stealing them. The accused estate agent, 54-year-old Robert Toth, had worked for Shaheer before starting his own company.
In Gloucester City, New Jersey, nine-year-old Courtney Durr was waiting to be collected after school by her mother's friend. Arriving to pick up his friend's daughter, Art Deaner called out Courtney's name, and she entered the vehicle. The only problem was that Deaner was there to pick up Courtney Fetters, age six, and hadn't seen her for quite a while.
While Deaner was asking 'You weren't with Aunt Mary in Maine?', Durr's mother was fielding a 'Where's Courtney?' telephone call from her friend. Police apprehended Deaner as he was driving back to the school. The situation soon became clear, and no charges have been filed.
Police say that William Kise crashed his Ford Mustang into an Indianapolis house and immediately offered the homeowner pizza. Kise, 41, explained that it was, in fact, the pizza that had caused the 'stuck-accelerator' accident: while waiting for the pizza to arrive at a friend's house, he'd drunk five beers.
The six occupants of the home have had to move into temporary housing.
At the end of two residents' fisticuffs over a parking space outside a black of flats in Perth, one of the men indicated something on the ground. The other picked it up and placed it in his pocket, then returned to his flat. There, he discovered that the item was his own right ear, which had been bitten off in the fracas.
Father Thomas Joseph Cameron Smith, 81, soon underwent surgery to reattach his ear, and Father Thomas Henry Byrne, 80, has been charged with grievous bodily harm. Magistrate Greg Benn has ordered Father Byrne not to come within 10 metres of Father Smith.
Kurt Wagner of Mödling, Austria, drove the wrong way down the Südautobahn, the country's busiest motorway, for 65 kilometres, ignoring police sirens and flashing lights. Not everyone heard the radio announcements urging motorists to pull to the side of the road, and Wagner caused at least one accident in his search for a dentist's office or hospital.
Officers lost him in thick fog as he pulled off the motorway. He was found only later. Wagner, who police spokesman Willy Konrath said 'just didn't seem to notice anything', claimed not to remember the drive at all and that he had used both strong medicine and alcohol to cope with his toothache.
Serbian media report on the collapse of an old mill in the village of Zarožje, said to have been the lair of vampire Sava Savanović. The new owners of the land had been too scared to disturb Savanović by repairing the mill, but now, says Mayor Miodrag Vujetić, 'the thought that he is now homeless and looking for somewhere else and possibly other victims is terrifying people'. The local council has issued a public-health warning that advises all villagers to place garlic on their doors and windows and to place a holy cross in every room.
Vujetić added that, while others may laugh, those who live in the area all are quite certain that vampires exist.