Our first story is about Kazakhstani woman Olesia Suspitsina, a long-time tour guide in Turkey who celebrated the end to a local shelter-in-place order there by hiking near the Düden waterfalls with a photographer friend. Suspitsina, 31, climbed over a safety barrier to pose for a few shots along a picturesque cliff edge and then slipped on the grass. Responding to her friend's emergency calls, the authorities recovered Suspitsina's body from the water 35 metres below.
Jaz and Garry Mott recently posted photos to Facebook from a holiday destination about two hours from their home in Victoria, Australia. It wasn't long before police officers were on their doorstep, presenting them with roughly 2,000 euros' worth of fines for breaching the ban on non-essential travel.
It turned out that the couple's holiday spot was actually two hours and 10 months away - that is, the photos were taken last June. The police have a review procedure in place, so the Motts appear to be off the hook for the fines. However, Jaz reported that officers, after being informed of their error, still told her not to post any more photos on Facebook. They stressed that 'errors will be made'.
A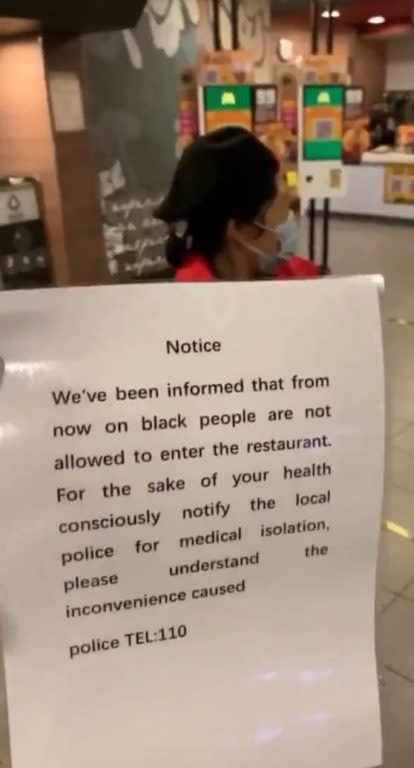 mid fear of foreigners bringing COVID-19 infections back to China, rumours are circulating in Guangzhou that Africans in particular are spreading the virus. Therefore, landlords and hoteliers have turfed out hundreds of black people, and employees of at least one McDonald's outlet posted notices such as this: 'We've been informed that from now on black people are not allowed to enter the restaurant.'
In response to videos showing this signage, the franchise's Chinese head office described it as unauthorised communication that is 'not representative of our inclusive values'.
Meanwhile, reports of health workers conducting door-to-door testing of all Africans for coronavirus have prompted the province's government to reiterate that it gives 'great importance to some African countries' concerns' and is working to improve its approach.
Sylvia Driskell is a 66-year-old Nebraska woman and self-professed ambassador of 'God, And His, Son Jesus Christ' who has chosen to represent herself in the court case she has filed against all gay people on Earth. With Driskell v. Homosexuals, she is calling upon U.S. District Judge John M. Gerrard to issue a ruling on whether homosexuality is a sin. In lieu of case law, she offers quotations from the Bible and a dictionary, along with such arguments as this: '[T]hey the homosexuals know it is a sin to live a life of homosexuality. Why else would they have been hiding in the closet.'
A 64-year-old manager at a defence-industry company in France received a surprise gift from colleagues: a demonstration flight aboard a twin-seater fighter aircraft. Shortly after take-off, loads fell from 4.5 g to -0.63 g as the pilot levelled off, and loose shoulder straps caused the executive to float up out of his seat. Attempting to steady himself as the jet's speed reached 500 km/h, he grabbed what he soon discovered to be the ejection lever. Thus, about 400 metres above Saint-Dizier-Robinson Air Base, he exited the Dassault Rafale B jet, losing his improperly secured helmet along the way. He was treated for minor injuries.
As for other fallout, the French military's air-accident investigation office has identified such issues as ignored medical warnings, the man's lack of military aviation experience, and a malfunction that prevented the pilot too from being automatically ejected when the canopy popped.
Daphne Taylor was sleeping under a dark-coloured blanket on the pavement along a poorly lit Portland, Oregon, street when she was run over by a maintenance vehicle operated by the homelessness-relief charity Central City Concern. She was left with a broken leg and has filed suit against the charity and the driver, Warren Schaupp, for $450,000.
Attorney Greg Kafoury stated that the not-for-profit entity had rejected a settlement that involved providing Taylor with a home. She is still sleeping on the streets, and the case is still in court.
In late March, 74-year-old Alba Maruri was listed among the many coronavirus fatalities in Guayaquil, Ecuador, and her family were provided with her ashes. In late April, one of the city's COVID-19 patients awoke from a three-week-long coma, identified herself as Maruri, and asked the staff to ring her sister.
According to local newspaper El Comercio, a team from the hospital visited the home to apologise for the case of mistaken identity. That doesn't resolve the matter of whose ashes are sitting in the Maruri home, however. The family hope for a resolution also with regard to costs: for the cremation and for replacing Maruri's mattress, which they threw away.
Dominica Dearing is a 41-year-old woman who went to a Haywood County, North Carolina, Walmart in breach of a requirement that people entering the county from out of town 'remain in quarantine' for 14 days. While there, she also broke laws against shoplifting. Loss-prevention officers failed to apprehend her, but they received another chance on the following day, when she returned for a bit more shoplifting.
According to a Waynesville Police Department report, as soon as she was arrested, Dearing hitched up her dress and began 'projectile defecating' in the loss-prevention office, prompting the arresting officer to back into a corner 'to avoid the flying feces'. She later 'kept saying that she had the coronavirus and wanted treatment'.
Dearing has pleaded guilty to larceny in the value of $238.79 and of breaching the county's stay-at-home order.
Meanwhile in Spain, the national police have their own miscreants to contend with. One of them is a man in the northern city of Logroño who knew that one may leave one's home during the state of emergency to walk one's pet. The police arrested him in the city's streets because this does not cover taking a goldfish for a walk.
Creativity was displayed also by a bar-owner in the Canary Islands, where only essential purchases are permitted at the moment. His bar, in Icod de Vinos, is next door to a supermarket. According to the head of Spain's Guardia Civil, 'the bar was apparently shut [but] had a door leading to the supermarket, which it was using to serve drinks'. When the police paid a visit, a shopper beside the connecting door insisted that he was merely buying fruit; however, several drinks sitting on the bar seemed to tell another story. The bar-owner was fined an unspecified amount for lockdown-related infractions.
A more combative response to restrictions was displayed by a man in Punjab, India, who was displeased with the police checking curfew passes at a roadblock near a vegetable market. He was in a pickup truck that ploughed through a barricade. When officers surrounded the vehicle and began hitting it with their sticks, he leapt out and swung a sword, detaching assistant sub-inspector Harjeet Singh's right hand.
Singh spent several hours in surgery, and the police have detained roughly 20 men in connection with the attack.
The Quebec Court of Appeal has ruled that the $500,000 debt accumulated by Edmund Mark Hooper from a 'best of three' game of 'rock, paper, scissors' is not legitimate. To keep his word, Hooper took out a mortgage on his home to pay off the debt, but that was cancelled in a 2017 court decision, appealed by the roshambo victor, Michel Primeau.
For a wager contract to be valid in Quebec, the relevant activities must involve 'only skill or bodily exertion' - there must not be an element of chance. The recent ruling stated that the game involves a significant element of luck. While the 2017 decision placed more stress on luck not necessarily dominating, in that the game can call upon skill, both instances produced a reminder that the amount of a wager must not be 'excessive'.
Our next item deals with the skill required for the game of hide-and-seek. Trying to keep children in the home occupied, Virginia's Amari Dancy, 18, climbed into the washing machine to prevent her young cousins from finding her. It didn't work. In addition, her family proved unable to extricate her from the washer, which ended up being partially dismantled by local firefighters.
Reader Dave has passed on the story of what happened after three unheeded written warnings from postal workers led to a 'hold order' under which mail for 21-year-old Indianapolis resident Tony Cushingberry would be available only at the local post office until his dogs were contained. After mail carrier Angela Summers bypassed the Cushingberry home on her rounds, he confronted her on a neighbour's property and demanded his stimulus cheque. He grew aggressive enough that Summers, 45, used the pepper spray she'd twice deployed against his 'nasty' dog.
Cushingberry responded by pulling a handgun from his waistband and shooting her. He fled and hid the weapon at his mother's house, while Summers died in hospital. Charged with second-degree murder, he later told the police that he 'did not mean to kill the letter carrier but wanted to scare her'.
The president of the local mail carriers' union, Paul Toms, said that two stimulus cheques were waiting among the mail at the post office, which 'wasn't even given to Angela' on what he referred to as the worst day in his career.
Utah state troopers spotted a sport utility vehicle weaving between lanes at about half the motorway speed limit, and they ordered the driver to pull over. The motorist, identified only as Adrian, obeyed and explained to the patrolman that he'd been on his way to purchase a Lamborghini in California because his mother had refused to buy one for him. According to the highway patrol, five-year-old Adrian was carrying only $3 when he escaped from a sibling's care and absconded with the family vehicle. Local prosecutors will decide whether to file any charges against the parents, who were both at work at the time.
After onlookers had waited several hours for officials to respond to alerts about a whale caught in shark nets off Australia's Gold Coast, one of them sprang into action himself. He drove his boat out to the struggling animal, he swam over to it, and 'basically I just tried to untangle him', he told the Australian Broadcasting Corporation later. With the cetacean freed, he was greeted back on land by a fine from officials - Queensland has penalties in place for moving too close to whales and for tampering with council property. The man stressed that, while he had a knife, he did no harm to the sea nets, which he'd merely unwrapped from around the whale's fin.
In Canada, police officers responded with gusto to 911 calls about a person in a Star Wars Stormtrooper costume carrying a firearm in Lethbridge, Alberta. The 19-year-old Stormtrooper in question was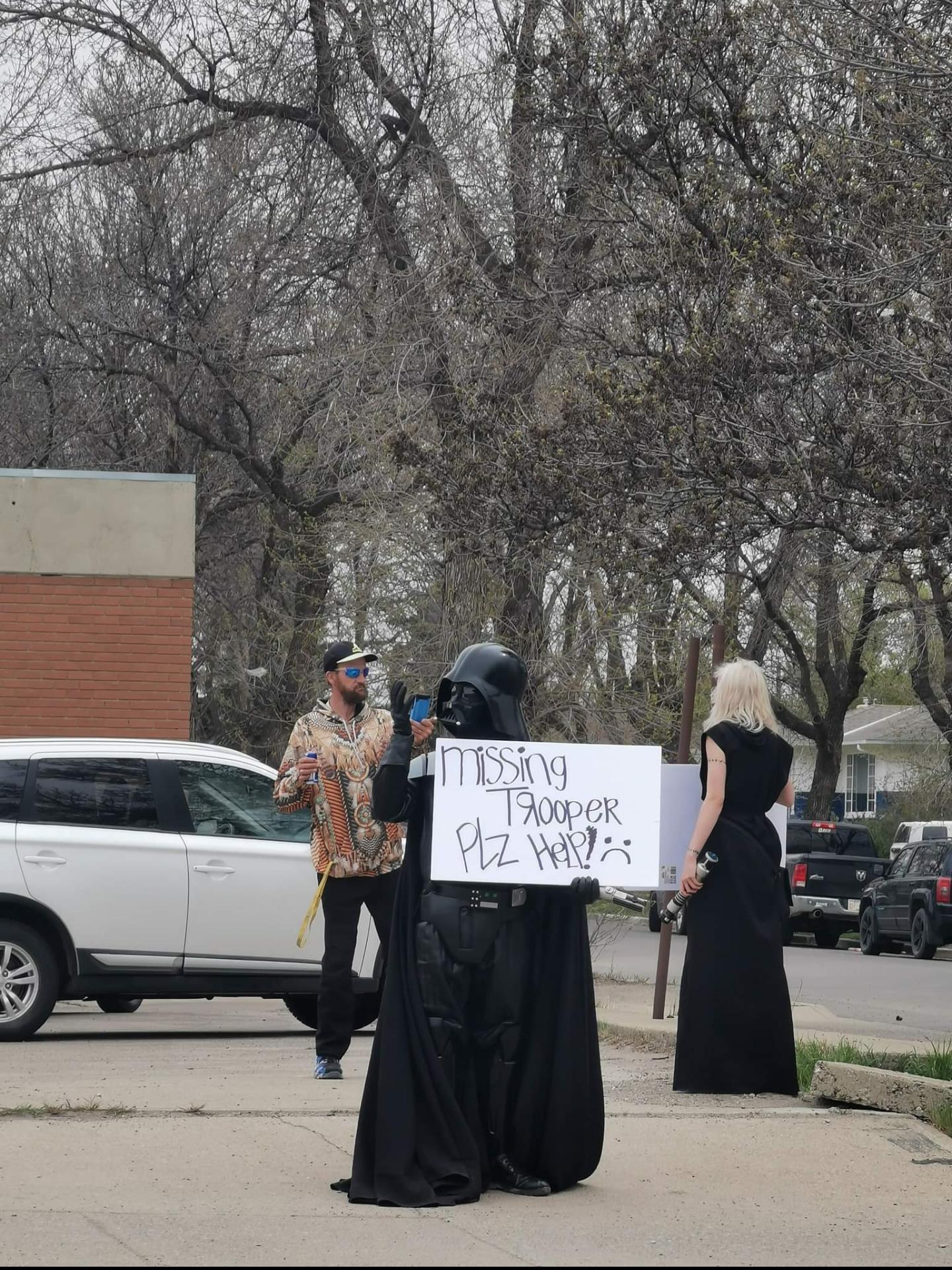 patrolling the car park of Coco Vanilla Galactic Cantina as part of the restaurant's promotion for Star Wars Day ('May the Fourth Be With You'). When officers arrived with their own rifles drawn, the employee dropped her plastic blaster rifle. According to cantina proprietor Bradley Whalen, 'police still continued to yell at her with the guns pointed, telling her to get down on her face, get down on her face, and then proceeded to handcuff her after they knew that it was a plastic prop toy'.
The Lethbridge police are conducting an internal investigation into whether the officers acted appropriately - for instance, in threatening to arrest someone who was videoing events. Among those weighing in was William Shatner, who pointed out that a previous internal investigation by the department found 'no issues' with a January 2019 incident in which an officer repeatedly ran over an injured deer to kill it.
When police officers broke into a flat in Louisville, Kentucky, on a drugs warrant, resident Kenneth Walker fired a warning shot at the apparent robbers, injuring one of the officers. In response, the police fired more than 20 rounds, eight of which hit his partner, 26-year-old emergency medical technician Breonna Taylor, killing her.
No drugs were found in the raid. That might be partly because the warrant was actually for a different property. Taylor's family have filed a lawsuit in which they allege wrongful death and excessive force. The filing highlights that the suspect didn't even live in the same block of flats as Taylor, was unrelated to her, and was already in custody.
Florida teenager Sebastian Norris was seeking buried treasure with a metal detector in a park about 10 metres from a St. Andrews beach when he found not gold or silver but titanium - a prosthetic leg. He set out to find the person who'd lost it.
It turned out to have been ripped from its owner, Carter Hess, by a powerful wave during a surfing trip about a month ago. After a fruitless two-day search, he'd given up on finding the $3,000 bespoke prosthetic. Hess, who lost his original leg in 2012 after an injury in Afghanistan, treated the Norrises to dinner and stressed that 'a lot of guys, especially treasure hunters, would have just put it in a trophy case, but he realised it could be important and someone could need it'.