Police report that Minnesota's Michael Schaeffer skipped out on an estimated $100,000 of medical bills at St. Cloud Hospital after explaining that he would pay the full amount later, and that he was Pink Floyd's Dave Gilmour. His story fell apart after he checked out of the facility. Four days later, he returned to the hospital for further treatment, again claiming to be the singer-guitarist, whereupon he was arrested.
A man broke the window of a Burlington, Wisconsin, office building, then entered and liberated three computers. He placed them just outside the front door and went back inside for more booty. The perpetrator, an intoxicated man named Christopher White, entered the basement, where, recognising how tired he was, he pulled a bear skin from the wall and curled up on it to sleep. Workers found him there the next morning after reporting the break-in. One of the workers in the building, Justin Mueller, said afterward: 'You can't fix stupid. You can just arrest it.'
The New York Post reports on a fight between a brother and sister who share a home. Howard Meltzer, 67, said that there had been a full roll of toilet paper in the morning but by later in the day Bernice Meltzer, 72, had 'unloaded a whole roll and left just a little, and when I looked up to the reserve, it wasn't there'.
Determining that she had taken the roll into her room, he began banging on the door. In the five hours that followed, he begged a grocery store to deliver two packs of Charmin and he warned his sister that he would call the police if the roll weren't back by 1:00am. She returned it at about midnight but rang the police herself, to complain about her brother haranguing her.
Both have been charged with violation of a protection order.
After her driving licence was suspended, Florida's Norma Joan Brennan, age 78, asked her pastor to accompany her to the driver's licence centre so that she could have her licence restored. The Rev. Kevin Holsapple indeed accompanied her, but he let her drive, and it was his car that ended up ploughing through the front doors of a department store when she got the pedals confused.
Both of them are in trouble for her driving without a licence.
According to the Detroit Free Press, a six-year-old local boy enjoyed the Chinese take-away meal he'd had the previous night, so he decided to visit the restaurant again, on his own. He successfully drove the family car there, only to discover that it was closed. He hit a traffic sign while driving away, so he set off for the repair shop. Other drivers reported the car swerving down the motorway, rang emergency services, and boxed in the vehicle.
Lapeer County sheriff's deputy Karl Sapp admitted being surprised by the case: 'I don't know how he was able to operate everything and see at the same time.' Also surprised was the boy's father, when awakened by the police and informed of his son's adventure.
Meanwhile, in Kerala, India, Muhammad Nizam gave his nine-year-old son a birthday present: letting the boy drive a Ferrari around the block. The proud family posted videos of this online and are now in trouble, exacerbated by the fact that the boy's six-year-old brother was in the car at the time.
In the US state of Georgia, young motorist Alexa Crisa saw something fly through the air from the top of another vehicle. She hit the brakes and hoped she'd avoided running over something. When she returned home, her father, Nick, noticed that an iPad was lodged in the car's bumper. After he freed the device with a hammer, the family were able to power it up and identify the owner, who then offered to pay for a replacement bumper.
Prosecutor Mats Eriksson has spoken of a case in which two men were found growing a small number of marijuana plants. Eriksson said: '[I]t's not exactly like they had an amphetamine lab. The serious thing is that this occurred at Swedish Customs and that it was during working hours.' The two men, who work in Helsingborg, said that they grew the plants purely for research, 'to find out how fast they grow'. The investigation continues.
After a 12-hour shift, 30-year-old Canadian nurse Mary Brown went straight to bed upon reaching her flat in Brockville, Ontario. She was unaware that her entry phone had become stuck in the 'on' position or that her parrot's screaming was alarming passers-by. Soon, hearing what sounded like a woman's screams, police officers had broken through the door.
An actual screaming female emerged from the bedroom. She recalls that 'the first thing they said was: "Oh, it's the bird' and sighed in relief. And I said: "Oh, it's the police."' Brown says that she doesn't blame the officers, since her parrot is quite a polyglot.
A 42-year-old Pennsylvania woman rang emergency services to ask that she be granted a divorce and that officers be sent to her Girard Township home to throw her husband out for her. The woman was told that they couldn't remove the man without evidence of a crime and that divorce is a civil matter. The Erie Times-News reports that the woman ended up being charged with disorderly conduct and misusing the Erie County 911 system.
A judge in Ionia, Michigan, has posted a policy in his courtroom that anyone whose electronic device disrupts proceedings will be cited with contempt of court. When Judge Raymond Voet's own phone interrupted a prosecutor's closing arguments in a jury trial - loudly saying, he recalls, 'I can't understand you. Say something like 'Mom' - Voet held himself in contempt and, during a break, issued himself a $25 fine.
Voet said that the unfamiliarity of the Windows-based touchscreen phone, which he assumes he must have jostled, wasn't an acceptable excuse: 'I don't take those excuses from anyone else.'
Referring to the double yellow lines painted in an alleyway in Swindon, a spokesman for the local council said: 'It seems that our contractors forgot just how big cars actually are when they painted this one. We will be taking it up with them.' The width of the alley leaves 33 cm between the two sets of lines.
Sailendra Nath Roy, holder of the Guinness world record for the longest trip by a zip wire attached to one's hair, tried for another record recently. The task he set himself was to cross India's Teesta River on a 180-metre-long zip wire attached to his ponytail.
Roy's progress halted at about the halfway point. As photographer Balai Sutradhar tells it: 'He was desperately trying to move forward. He was trying to scream out some instruction. But no-one could follow what he was saying.' After about 45 minutes of hanging at 20 metres above the river while hundreds of witnesses looked on, Roy stopped moving; a heart attack had claimed his life.
There were no physicians on hand for the record attempt, which was performed without permission.
Colin Darch, 75, is on the lecture circuit, talking about his 2008 kidnapping by Somali pirates. One of his recent talks was for a chapter of the Women's Institute in south-west England, whose members dressed up for the occasion: the retired sailor arrived to find the audience composed largely of women wearing eye patches and holding plastic swords. Of the misunderstanding about the topic of his talk, Darch said: 'I think they were worried I might be a bit upset that they were trivialising it, but I thought it was funny.'
Diminutive California woman Ette May Lopez, 31, slapped Sacramento County sheriff's deputy Matt Campoy in the face as he was ending his shift at the jail. She explained that he was in uniform and she wanted to make sure that she was hitting a law enforcement officer. Campoy explains: 'She waited all day for a deputy to come out because she knew if she assaulted a deputy she would go to jail and be inside long enough to quit her smoking habit.' Campoy indeed deposited her in the jail, and she has been sentenced to remain there for 60 days.
Energy West is one of the many US utility companies that sends scratch-and-sniff cards to residents so that they can recognise the smell of a natural-gas leak. The company's general manager, Nick Bohr, reports that they recently discarded several boxes of expired scratch-and-sniff cards in Great Falls, Montana. This is newsworthy because the sanitation truck compressing the load caused several people to call in reports of gas leaks as it continued on its route downtown, releasing the smell. The company has apologised.
Waking to find that her car was missing, Virginia Maiden nonetheless made it to the Kennewick, Washington, McDonald's restaurant where she works. At the drive-through window later in the day, she saw a familiar-looking 1995 Toyota pull up. Maiden rang the police, who arrested the driver, Katherine A. York, 22, at the exit to the drive-through lane. Besides a hungry York, the car contained what police termed a 'large amount' of clothing with security tags from several department stores.
Starting to remodel his newly purchased Minnesota home, David Gonzalez discovered that the wall insulation consisted of old newspapers. Among these he noticed a copy of the first ever Superman comic, from 1938. His copy of Action Comics No. 1 has received bids well in excess of $100,000 so far, more than 10 times the cost of the house. However, he is not entirely happy: shortly after the discovery, his wife's aunt had grabbed the comic book, whereupon he tore it from her hands, thus ripping the back cover. Stephen Fishler, co-owner of the auction house handling the sale, describes it as a $75,000 tear.
The CBC reports that a man took a ferry in British Columbia and, upon arrival, couldn't find his Porsche on the car deck. The man chose to take a bus back to his Vancouver home, leaving the luxury car on the ferry. Delta police constable Ciaran Feenan said that the car is still sitting in a police impound lot.
Elsewhere in Canada, a Quebec woman had a falling-out with her car. As she prepared to get out to deliver one of the newspapers on her late-night route, she accidentally put her transmission in reverse gear rather than 'park'. As the car backed up, the open door hit her, and she fell to the ground, at which point the car ran over one of her legs. Managing to grab the steering wheel, she was soon hit by the door again and run over a second time. When a third attempt produced a similar result, she limped to a nearby home for help. The car was left for the Trois-Rivieres police to handle as it continued in a spiral path.
A man in Jupiter, Florida, 'just stepped up to bowl; I think he hit his leg on his back-swing', fellow bowler Jim Miller recounts. Police believe that this action caused the revolver in the man's shorts pocket to discharge. Having shot himself in the leg, the man sheepishly limped back to his seat. He was later treated in hospital. According to the Jupiter police, he will not be charged with a crime.
Nathan Teklemariam and Carson Rinehart are two 20-year-olds who were just having a chat when they decided that they 'need[ed] weed'. Listening in on the chat was a police dispatcher, thanks to pocket-dialling. The dispatcher continued to listen as the two California men decided to break into a car. The recording of the call captured the glass breaking, one man's trouble counting out the pills that were within, the men's reaction to the police starting to follow their car, and a 'What'd I do, Officer?' before an officer took the telephone and ended the call.
After his arrest, one of the men mused: 'This phone really called 911? Damn.'
A man directing traffic at a New Jersey bus lot was regularly intoxicated while on the job. However, he can't exactly be fired, since - the New Jersey Transit vest notwithstanding - he doesn't actually have a job. The man, self-described homeless alcoholic Hector Santiago, explained that the New Jersey Transit worker at the lot, sometimes seen sleeping in a bus, was paying him to direct traffic. That other worker, Max Caramas, later said that he had only wanted to help Santiago.
New Jersey Transit officials report that they are investigating the case.
In Wiener Neustadt, Austria, Vivi Ziegler called the police on her acupuncturist. When treating her, the man had taken a telephone call and then been waylaid by an assistant. He ended up forgetting the 61-year-old pincushion and going home.
Ziegler recalls falling asleep and then waking up in a cold, dark room with pins stuck in her body. Once she'd found her mobile phone, it wasn't long before the police came in through a window.
She accepted an offer of free acupuncture treatments for life, saying that the doctor in question has delivered good results and 'I suppose everybody can have a forgetful moment'.
The Sunderland Echo reports that John Casey liberated a joint of beef from an Asda in October. Since then, this 13 euros' worth of meat has turned into a Crown Court trial, with the 51-year-old Casey explaining that the beef had triggered flashbacks of his long-dead grandmother's traumatic death from a blood clot. Prosecutor Michael Hodson summarised Casey's excuse: 'It was necessary to conceal the beef in order to control the effects of the flashback', with the chosen concealment location being his bag.
Barry Alan Swegle has long been angry at his neighbours in Port Angeles, Washington. The reason isn't clear. What we do know is that he recently attacked their homes with his bulldozer, knocking one home off its foundation and damaging three others. He also took out a pickup truck and a utility pole.
With power lines downed, thousands of homes were without power for several hours and the 54-year-old Swegle was unable to leave the scene. He is being charged with malicious mischief.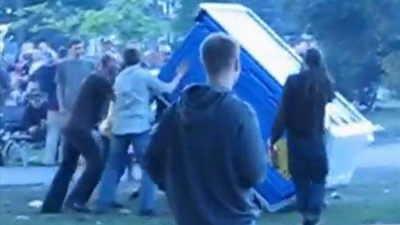 Kondrat Jaworski needed to use the toilet during post-exam celebrations in Krakow. Once inside with trousers down, the 23-year-old engineering student fell on his head. This wasn't because of the beer he'd been drinking but thanks to other students turning the portable loo upside down. Jaworski found himself covered in waste and chemicals, and 'even the toilet seat fell on my head', he said. He eventually managed to find the door lock and free himself.
The police are examining mobile-phone videos in order to identify the culprits, who face charges of vandalism and assault.
An Air India pilot, flying from Delhi to Bangalore, had a different issue with locks and toilets. After using the aircraft's WC, he found himself locked out of the cockpit. When several people's attempts to deal with the jammed door failed, the co-pilot obtained permission to divert the flight to Bhopal Airport, where maintenance engineers soon made short work of the barrier.
There's a reason it's normally the fire crew who rescue tree-climbing cats. Responding to 911 calls about a scared cat up a tree outside a school in Queens, New York police officer Dave Natto ended up only chasing the feline onto smaller branches. He soon found himself stuck three metres from the ground and suffering from vertigo.
When he placed an emergency call of his own. Natto's partner, dispatchers, and a crowd of schoolchildren all ended up laughing. Finally, a team of (laughing) firefighters used a ladder to rescue the cat, then the cop sitting in the tree.
In Chechło Drugie, Poland, 69-year-old Czesław Kamiński became upset that his wife and children had left for a picnic without him - she'd simply left him a note while he was sleeping. So he rang her mobile phone to declare that he would take revenge. He then proceeded to blow up the house, thanks to a fire in the basement and some gas cylinders. He was caught in the blast and landed himself in intensive care.
Jeremy Lovitt and Gabriel Gonzales held up a Burger King in Stockton, California. While they had two employees at gunpoint, another worker slipped out the back to call the police. Sitting there was an empty car with its engine running. Deducing that this was the getaway car, the employee pulled the vehicle around the corner.
Lovitt and Gonzales tried to leave the scene on foot, but the police were quicker.
A New Hampshire man visiting a carnival was determined to win an Xbox Kinect for his son. When 30-year-old Henry Gribbohm failed to win at the ball-throwing game Tubs of Fun, he simply threw more money at the problem. After losing $300 on the game, which costs $5 per throw, he went home to fetch all the money he had left, $2,300.
Broke, he returned the next day to complain, whereupon the game operator gave him $600 and a large stuffed banana with dreadlocks. This didn't satisfy Gribbohm, who has contacted the police. They report that they will investigate whether any fraud took place.