Over the last year and a half, vandals have keyed several cars on Stevie Davis's used-car lots in Warwick, Rhode Island, enough vehicles that the owner of Airport Auto Body Shop, which has handled most of the repair work, opined 'somebody don't like you'. The identity of 'somebody' became clear after a recent $7,500 repair bill prompted Davis to install security cameras. The miscreant was 72-year-old Anthony Lombardi, who owns the above-mentioned repair shop.
Ohio landlord Ron Konenberger decided to punish a tenant for racking up $2,800 in unpaid rent. Konenberger, 53, allegedly spanked the 29-year-old man four times on the bare buttocks with a belt and told him: 'If you're going to act like a child, I'll treat you like one.' Police Chief Gary Copeland said that the tenant, who reported the incident, reported that he had been scared and 'just wanted to get it over with'. Konenberger faces charges of assault.
About a year ago, I covered a story about a student who was forgotten about in a holding cell at a San Diego jail and ended up drinking his own urine and trying to commit suicide before his eventual rescue. Authorities pledged to do better. In a sense, they have:
Attorney Erubey Lopez tells San Diego media about his recent wait to see a jailed client in the evening. He says: 'I know it takes a while to get the people, so I'm patient.' Eventually, his patience in the waiting room wore thin, and - lacking a mobile phone, since these aren't allowed inside the facility - he tried to contact a guard via the intercom. No-one replied. He then began screaming and banging on the locked door. Only about four hours later, a guard heard him and unlocked the door. Later, Sheriff's Commander John Ingrassia said: 'It was an unfortunate incident on our part.'
Shamayne Rosario told her 10-year-old son Dan Davis that it was time for bed, but the boy replied: 'I'm gonna call the cops on you.' She says she called his bluff and he headed to bed. However, on his way there, he picked up the wall phone, dialled 911, became nervous, and hung up. When the dispatcher returned the call, Rosario asked: 'Dan, would you like to talk to the police? Because you can't be calling 911 when there is no emergency.' The child declined, so police visited the home. No charges have been filed, but Rosario has sentenced Davis to two weeks of being grounded.
All 911 calls must be investigated. An Ohio emergency-services operator traced an apparent case of pocket-dialling to a Shelby County home, where officers found a window forced open. After they entered the seemingly vacant home, the mobile phone turned informant again: a low-battery alert was heard from the bathroom, where officers found Douglas Wolaver hiding. He is charged with breaking and entering.
Another case of pocket-dialling the emergency services occurred in Molalla, Oregon. This was another of those cases in which the dispatcher heard the inadvertent caller discuss a drug deal. Officers quickly converged on the location, about a block from the police station. When cornered, the suspects told the officer that they didn't have a mobile phone. The officer responded loudly, and the dispatcher reported being able to hear him in the ongoing 911 call.
Drugs and the phone were found in short order. Raleigh Reynolds and Dana Lucht, both 25, will have their day in court.
In other 911 news, Linda White, 48, had had 'a few beers too many' in her back garden and knew that driving to town for cigarettes wouldn't be a good idea. So she rang the emergency services at about 1am and announced: 'I need some cigarettes.' She later explained that she had considered the police the safest ones to call but that what she did was 'not me'.
When officers arrived, White was arrested and recognised that the people at the other end of the 911 line 'don't deliver - they pick up'. She could face a $2,000 fine and 180 days in jail.
Last year, there was a crackdown on smuggling of mobile phones and other electronic items at Sri Lanka's maximum-security Welikada jail, in Colombo. According to AFP reports, a man arriving there to serve a 10-year sentence for theft was being searched when his mobile phone rang. 'The man had concealed the phone inside his person' but forgot to turn off the phone or the ringer, according to an anonymous official at the hospital where the handset was removed from the inmate's rectum.
In Canada, Alberta's Lucas Leyenhorst noticed a police vehicle on the road. Apparently, he decided that it wouldn't look good for him to be caught driving while talking on a mobile phone and with a suspended licence, so he slid over into the passenger's seat while lifting a small female into the driver's seat. The officer noticed this flurry of activity and the 24-year-old Leyenhorst's vehicle swerving toward the centre line. A traffic stop ensued, and Leyenhorst was charged with distracted driving and driving while disqualified.
Having cashed in a $75,000 winning lottery ticket, two brothers from Wichita, Kansas, decided to celebrate, by buying and using a bunch of marijuana and methamphetamine. In the kitchen, one of the men used two large cans of lighter fluid to refill the butane torches they planned to use to light their bongs, and the fumes reached the furnace's pilot light. A large amount of the house was destroyed in the explosion.
The butane-handling brother, age 27, suffered second-degree burns and harm to the lottery t-shirt he was wearing. His girlfriend dropped him off at a nearby hospital. When officers showed up at the remains of the home, the other brother admitted to having drugs.
In Kentucky, Bradley Scherzinger, 29, showed up at a domestic-violence hearing in the company of the victim. Because not having contact with the victim was one of the conditions of Scherzinger's bail, Judge Jerry Crosby ordered him taken into custody. Officers then discovered handcuffs already on one of Scherzinger's wrists.
According to Oldham County deputy Kelly O'Bryant, he had been 'earlier that night locked up by the Prospect Police Department for drunk driving and he escaped from them'. The charges against him now also include the felony of escaping from jail.
According to Austrian state broadcaster ORF, a woman in Salzburg province found an apparently drunken teenager asleep inside her car, which had been partially hot-wired. When awakened, he returned the wiring to its original state and walked off. The woman reported the incident to the police, and a 17-year-old suspect has been identified.
After reading an advertisement for silicone pregnancy bellies of the sort used in theatre, a Beijing woman identified as Miss Zhang decided to guarantee herself a seat on her daily commute to work. Wearing her clever idea, Zhang soon was embarrassed - the fake belly came loose amidst the jostling crowds on the metro and eventually plopped onto the floor.
Unable to find the online dealer from whom she had purchased the fake belly, she complained in person to the maker, at Tongzhou Liyuan Industrial and Commercial Center. She was told that the belly wasn't intended for 'the needs of daily living', and state media have highlighted her scheme as shameful.
Nathaniel Lee Smith, 29, rang authorities in Florida to report his skull cap and miniature crowbar stolen. Speaking for the Broward County Sheriff's Office, Mike Jachles says that investigators checked out the claim and expressed scepticism, at which point Smith is alleged to have admitted that he was lying: he had dropped the items during an attempted burglary, after resident Jacques Baillargeon, 66, sprayed him in the face with window-cleaner. He also allegedly admitted to using the crowbar in an earlier, more successful, burglary.
Also in Florida, 62-year-old Carolyn Dukeshire has pleaded guilty to the second-degree murder of her neighbour, 64-year-old Martin Mazur. Dukeshire approached Mazur outside the latter's home and asked him for a can of Busch Light beer. When Mazur replied: 'I have absolutely nothing for you', she shot him five times.
Dukeshire has been sentenced to 30 years in prison. She says she will pay for the rest of her life for losing her composure.
Jorge Perez, 23, didn't shoot himself in the genitals in the typical manner. After calling the emergency services, the Florida resident explained that he had been playing with an unloaded flare gun, then loaded it, then picked it up later and started playing with it before remembering that it was loaded. The reminder came in the form of a round that ricocheted off the floor and hit his genital area. Perez was hospitalised with multiple burn wounds and lacerations.
The BBC reports that Stephen Graham, who teaches at the architecture department at Newcastle University, has pleaded guilty to using a screwdriver to carve graffiti into the paint jobs of luxury cars. During these acts, he was wearing only a suit jacket and underpants. After these acts, a Mercedes, an Audi, and 25 other vehicles wore words such as 'very silly' and 'arbitrary'. Graham, who told Newcastle Crown Court that he had drunk alcohol while on medication and didn't remember doing any of this, has been ordered to pay a little under 30,000 pounds in compensation.
Finally, the Toronto Star reports that police in Lindsay, Ontario, were called to a home to handle the 16th in a string of domestic disputes reported there. This time, it is alleged, the 39-year-old man and 41-year-old woman had been fighting over the last beer. Officers found both people covered from head to toe in chips and dip. Both face charges of domestic assault in connection with the chips-and-dip attack.
Police in Bradford, Pennsylvania, report that a local man deliberately shot his finger off recently while intoxicated. Corrections officer Alfredo Fortunato Malespini III explained to emergency responders that he'd only wanted to 'get rid of his wedding ring'.
Malespini faces weapons-related charges. Adding to his woes, the wedding ring remained in place on the finger.
When police arrested Jonathan Kahl on drugs charges at a New Mexico hospital, his hands were swollen. Therefore, he wasn't handcuffed. Officers then left Kahl, 39, unattended, so he pulled on scrubs over his blue jeans and walked away, pushing a hospital cart. He got away, leaving the hospital before anyone noticed, but was re-arrested a few days later for shoplifting.
Misty VanHorn has children. However, she hoped that would be a temporary state of affairs. The 22-year-old Oklahoma woman is accused of trying to sell her children via Facebook, with an Arkansas woman taking her up on the offer: one two-year-old child and a 10-month-old for $4,000 or just the two-year-old for $1,000. The idea was to raise money to bail her boyfriend out of jail.
In Louisiana, Jefferson Parish Sheriff's Colonel John Fortunato reports on why it was so easy to catch a man who broke into a local pharmacy to steal drugs. The man had left his pickaxe at the crime scene after breaking in. Because he hadn't removed the price sticker, the place of purchase was evident, and from there video footage of the purchase was quickly retrieved. Sure enough, the images of pickaxe-purchaser Scott Rodrigue, 43, matched video captured near the pharmacy at around the time of the crime, and drugs from the pharmacy were found in Rodrigue's home.
The head teacher at a kindergarten in Sola, Norway, explains that a teacher has been fired for letting children of ages 3-6 touch and taste her own blood. Inger Lise Andersen says that, because the 12 children were interested in blood, the teacher had a blood sample drawn specifically to bring to class. She poured the contents of the phial onto a plate to allow the children to get a good look. When they asked whether they could touch it, she allowed this. Then, when they asked how to get the blood off their fingers, the teacher put her finger in her mouth by way of explanation. Andersen reported that 'the parents are mortified, shaken and shocked'.
Maryangela Tobin is a Massachusetts woman who received three kilos of marijuana by FedEx. She opened the package in the belief that it was a birthday gift for her daughter - a box containing pixie sticks, candles, peppermint, and what appeared at first glance to be potpourri. Further inspection revealed its true nature.
About an hour later, Tobin says, an unfamiliar man knocked on her door and enquired after his waylaid delivery while two other men waited in a vehicle in her driveway. She told him she didn't have a package. She is now suing FedEx for giving out her address in breach of state privacy laws and, by so doing, endangering her and her children.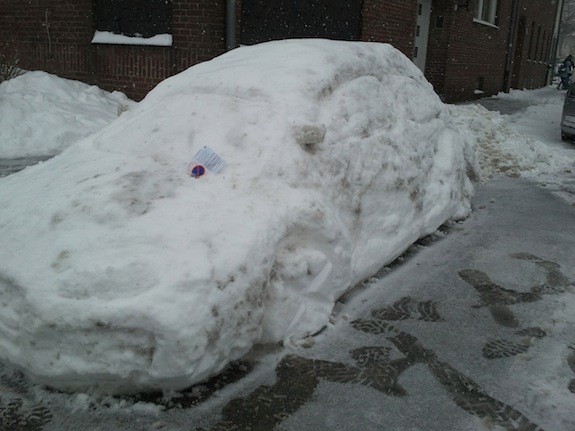 Traffic wardens in Aachen, Germany, slapped a parking ticket on a Volkswagen Beetle that had been left in a no-parking zone. Only when wardens returned to note the vehicle's licence number did they work out that something was amiss: according to one local, 'when they tried to scrape the snow off the number plate [they] found there was no plate, just snow'. Practical jokers had built the Beetle overnight. Authorities pointed out that, number plate or not, it was still parked illegally.
New York's Rahmell Pettway explained to the police that he was worried about how his girlfriend might react to him having disappeared for two weeks. To avoid trouble, he decided simply to fake being a victim of kidnapping. Officers found the 36-year-old Pettway tied up in the street. However, they also noticed that the person who'd tied him up had done so without removing the roll of duct tape afterward - it was hanging from Pettway's wrists, out of his reach.
He has been arrested for filing a false report. The New York Post cites an anonymous law enforcement source as calling Pettway 'a total moron'.
Cameras caught Brazilian doctor Thaune Nunes Ferreira clocking in for absent colleagues at work. The 29-year-old woman used silicone fingers to fool the biometric attendance-tracking and access-control system at her hospital in Ferraz de Vasconcelos into thinking her colleagues were working additional overnight shifts. When arrested, she was carrying six silicone fingers, but she later confessed to using fake fingers to sign in for 11 fellow doctors and 20 nurses. Allegedly, the head of the emergency room was in charge of the scam and ensured that his daughter, who has not worked for the last three years, kept drawing regular pay.
Mayor Acir Fillo said that a police investigation has shown that up to 300 of the town's public employees may work only on paper. He termed them 'an army of ghosts'.
When police in Lawrence, Indiana, pulled Eric Williams over for speeding, Officer Tim Christie detected the smell of marijuana. Williams, 25, assured Christie that there was no marijuana in the car. When cannabis was found, wrapped in brown cigar paper, in the car's centre console, Williams stated that he'd not known the drug was there. The arrest report continues: 'Williams stated that he would have smoked the marijuana if he knew it was in the vehicle.'
Williams was arrested for possession of marijuana and for speeding.
After being stabbed, Canada's Billy McNeely repeatedly complained to doctors about back pain. Also, he says, he always set off the metal-detector wands during his subsequent prison term. Recently, three years post-stabbing, the 32-year-old Northwest Territories man found a lump developing on his back, and it was discovered that the 7.5 cm knife blade was still embedded in his flesh. No x-rays had ever been taken.
McNeely said: 'My nail caught a piece of the tip of the blade that was underneath the skin and made a little sound, so that worried me.' He added that, since there could have been internal damage, 'I'm kind of upset with the health system'.
In other embedded-object news, a 25-year-old man in Poland ended up with about 5 cm of a screwdriver lodged above his right eye, apparently after falling and losing consciousness. He felt pain but didn't know why until he went to his car and looked in the mirror.
One of the doctors who operated on the man, Dr Jan Kochanowicz, reported that the patient calmed his nerves by smoking a cigarette, them summoned a neighbour to take him to hospital for what was to be a three-hour surgery. No eyes or brains were damaged.
According to police representative Monique Cotton, a mother in Spokane, Washington, had just stepped out of the shower when her toddler, jumping on a bed, tripped on a pillow and went flying out a half-open window. The mother was able to grab the two-year-old child's foot. When the boy's shoe came off, the boy's grandmother, who had been smoking on the porch below, caught him. The child was treated for scrapes and bruises.
In Bowie County, Texas, a flaming snake set a woman's home on fire. This was her own fault.
Sheriff's Deputy Randall Baggett said that 'while cleaning up [in her garden, the woman] saw a snake, threw petrol on the snake, lit the snake on fire'. The snake retreated into a brush pile beside the house, and the ensuing conflagration completely destroyed the woman's home, along with part of a neighbour's. She may face charges.
Police in Upper Darby, Pennsylvania, say that Delaina Garling, 27, had been banned from the Family Dollar Store for theft. When she returned, she pepper-sprayed the staff who attempted to usher her from the building. She was then tackled, and, losing the fight, handed the can to her seven-year-old daughter, saying: 'You know what to do, baby. Spray it!' The girl reportedly did not do so.
An 89-year-old Delaware woman, Margaret Smith, was carjacked by two teenaged girls who had asked her for a ride. After stealing her cash, they stuffed her in the boot. She remained there for the next two days of joy-riding, with the girls showing her off to friends before leaving her among the tombstones at a cemetery.
A chance number-plate look-up by troopers in a nearby town led to the arrest of at least five teens.
Andrew Steven Jung broke through the glass door of a St. Charles, Missouri, church kitchen in order to get some ice cream. A self-described 'ice cream junkie', he opened the freezer and proceeded to stuff his face. Perhaps if he hadn't been heavily intoxicated, he would have wiped some of the frozen dessert off his face and body and not been spotted by officers so readily three blocks away.
Jung, 24, has been charged with burglary, stealing, and property damage. Adding to the likelihood of his conviction is that he admitted to owning a ball cap of the type left at the crime scene but didn't know what had happened to it.
Austin Whaley, 18, entered a crowded bingo hall in Covington, Kentucky, and immediately shouted 'Bingo!', creating chaos and shouting among the elderly women playing the game. Whaley refused to apologise so was arrested, cuffed, and charged with disorderly conduct.
Instead of jail time, the judge told him that he must neither go near the bingo hall nor say the word 'bingo' for six months. He has already disobeyed the order, telling reporters that the lesson is 'don't say "Bingo" in the bingo hall'.
Alaska's Hostgator M. Dotcom, formerly Billy Gibby, has decided that his two dozen facial tattoos advertising various Web sites must go. To earn the money he needs for the required laser treatments, the 32-year-old Dotcom is offering space for sale on the rest of his body for tattoos. He said that he might also consider adding another company name to his legal name in order to raise the amount necessary.
Dotcom earned $1,500 each for some of the earliest tattoos, which he received when raising money to donate a kidney to a stranger. His lowest price, in more recent years, was $75.