Nebraska's Lincoln Journal Star reports on a 21-year-old driver from Lincoln who was stopped in traffic on suspicion of driving while drunk. When county sheriff's officers searched his vehicle, they found a sour-cream tub labelled 'Not Weed' under the front passenger's seat. The driver admitted that the container, which contained 11 grams of marijuana, belonged to him, and he was cited for possession of less than an ounce of the drug.
Fabian Åkesson had thrown a party for girlfriend Sarah Ericsson's 21st-birthday party in Karlskrona, Sweden. Two days later, he reports, the balloons in her window caused a problem, which was revealed when several police cars drove up to the building. Someone had reported having seen Islamic State propaganda on display. The offending material was '21'-shaped balloons, the backs of which were visible from outside her window. Åkesson said that 'they showed me a photo that they had taken where from their perspective, it did almost look like the letters "IS"'. He agreed to move the balloons.
When a six-year-old Troy, Missouri, boy returned home from school, 23-year-old Nathan Firoved lured him into a pickup truck and drove off. Firoved produced a handgun and told the boy that he would be 'nailed to the wall of a shed'. He then bound the boy, covered his face, and left him in a basement, where a woman later identified as Denise Kroutil pulled down his trousers and told him that he might end up sold into sex slavery, before leaving him alone again.
A few hours later, the boy learned that he was in the basement of his own home: his family untied him and lectured him about 'stranger danger'. They revealed that Firoved - a work colleague of the boy's 38-year-old aunt, Kroutil - had agreed to help teach the child a lesson, since he was 'too nice' to people.
The boy later told school authorities about the 'lesson', and his mother, grandmother, and aunt face various charges. They have told investigators that they don't believe they did anything wrong.
Connecticut's Lindsay Hoffmann, 26, and her male acquaintance Marquette Riggsbee, 54, weren't permitted to enter an adult novelty shop with Hoffmann's child. So the two soon returned sans baby. Staff at the 'VIP shop' found this suspicious, so they went outside, where they saw the baby alone in an unheated car in sub-freezing temperatures. About 20 minutes later, Hoffmann and Riggsbee found out that they were in trouble and the child was taken to a hospital for evaluation.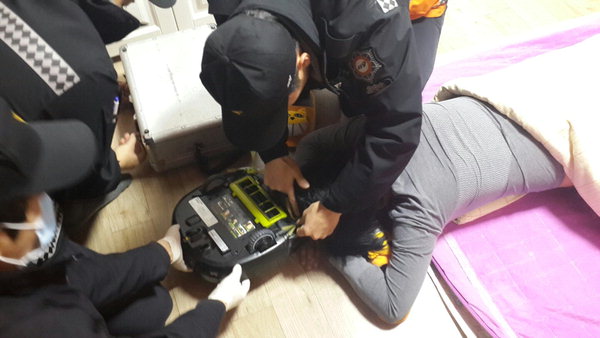 According to Korea Bizwire, a 52-year-old Changwon woman identified as Yoon encountered a problem after lying down on her floor for her customary nap. She had set her robot hoover running as usual, and her rest ended up interrupted by the machine attaching itself to her hair. Unable to pull it from her head, she rang the city's fire department. Four emergency workers opened the device and managed to free her with the loss of only about 10 strands of hair. The fire department reported: 'This case was quite special.'
Charged with breaking a 1986 Florida law requiring HIV-positive people to disclose that status before engaging in sexual intercourse, Gary Debaun argues that he is innocent on account of same-sex sex acts not being considered sexual intercourse under state law. A circuit judge agreed with Debaun's argument but was overruled by an appeals court on grounds that the state clearly intended to cover all sex acts in the relevant law, no matter what definitions other Florida laws might apply. The case has now reached the state's highest court for a ruling.
A 25-year-old man hung upside down on a stationary train for 18 hours before someone heard him screaming for help from the chute at the bottom of a tanker car. The Seattle Fire Department reported: 'The man's head was popping out through the bottom of the chute underneath the train. The man's feet were popping out of the top of the chute.' It took about two minutes to pull him out by the legs. Ascertaining why he decided to crawl through the chute is expected to take considerably longer.
When two women in black PVC dominatrix get-up showed up at Brazil's Nova Mutum prison, the three guards on duty thought that their lucky day had arrived. However, the encounter ended with the nearly naked guards wearing their own handcuffs after they'd knocked back drugged drinks.
Before the guards awakened, the women stole their keys and freed 28 inmates, including the boyfriend of one of the pair, before leaving with three rifles, two handguns, and some ammunition.
Chief of Police Angelina de Andrade Ferreira said: 'From the moment they drank the whisky, the agents don't remember a thing. One was found dizzy, trying to wake up [the next morning]. Another slept for the whole afternoon.' They face charges of facilitating both a jailbreak and culpable embezzlement. The women are still at large, and only four of the freed prisoners have been found.
In Wales, police officers in Gwent posted a photo of 19-year-old Logan Rhys James on their Facebook page. They wanted to find him because he apparently broke the terms of his parole. James posted a comment on the relevant Facebook page: 'Haha catch me if you can wont see me slipping.' He was found a day or two later, after providing the following hint: 'I have been walking around near home so they're not trying too hard to catch me.' Police Superintendent Marc Budden later wrote: 'We would like to thank the public, the media and Mr. James himself for drawing attention to our efforts to return him to prison.'
An employee at a Jet's Pizza outlet in Mansfield, Texas, reported to franchise-owner Robert Waple that a teenager was complaining about her upcoming job at the pizzeria on Twitter. The teenager had sent out a tweet consisting of 'Ew I start this fuck ass job tomorrow' followed by a crowd of thumbs-down emojis. She soon had a response to her post: 'No you don't start that FA job today! I just fired you! Good luck with your no money, no job life!' from Waple's seldom-used Twitter account. The teenager confirmed that she has indeed been fired by tweet.
In Canada, Alberta's William Virtue Millar has testified that he'd had no choice but to drive while intoxicated. After 20 hours of hard work, he told the court, he's had a few beers with his brother and gone to bed but soon was awakened by the sound of cattle in close proximity and realised that his livestock were loose. Without a telephone and unwilling to risk motorists on the nearby busy highway smashing into a cow, he fetched his trailer to corral the animals. Millar reports that he successfully herded most or all of the cattle into an adjacent field, closed the gate, and returned to his truck. It is there that a constable found him passed out over the wheel.
He is appealing his conviction of impaired driving, with the case hinging on whether the extenuating circumstance of imminent peril to the public ceases when that peril is mostly eliminated or, in this case, only when all of the cattle are secured.
A man from Portarlington, Australia, was charged the equivalent of 200 euros after police officers received reports of a car moving erratically. Senior Constable Adam West states that investigating officers soon found the reason for the weaving: the 27-year-old driver was playing a trumpet while driving. His fine was for careless driving.
Elsewhere in Australia we have Robin George Knight, a 45-year-old funeral-home director who has pleaded guilty to about a hundred counts of theft and deception. After getting customers to sign pre-paid funeral contracts with his company, he faked their deaths. More than 70 of them. The insurance money went toward his business costs, among other expenses. Knight is to spend three or more years in jail, and at least 38 of the not-really-dead customers are out of pocket, with the insurance company refusing to honour the contract when they really do die.
We have another accidental phone call in this batch of Clippings: Florida construction worker David Fanuelsen, 39, accidentally 'pocket-dialled' his boss just before talking to co-worker Dean Brown, 22, about selling several thousand dollars' worth of company equipment for extra cash. The call was directed to voice mail. The boss, Stace Valenzuela, later noticed that three saws had gone missing. It was not long before he checked his voice mail and heard the 'confession'. Of Fanuelsen and Brown, Valenzuela said: 'Talk about bumbling idiots.' The two men face charges of felonious grand theft.
Before hauling a load of sweets over the Hudson River, James Bond wannabe Pablo Ortega, 45, flipped a switch on the dashboard of his lorry in an attempt to save himself about 80 euros. In response, his bumper rose to a 90-degree angle, rendering the number plate unreadable to the EZ-Pass electronic toll-collection system. However, the gate officer noticed this, and Ortega has been charged with using burglary tools. It is unclear how many times he has successfully used the system, which, according to what he told officers, cost him the equivalent of 2,000 euros.
Matthew Pocci, 48, had stopped his car for the San Diego 'zombie walk' parade to pass, but when his children became scared of the hordes in ghoulish make-up, he began driving slowly through the crowd while honking his horn. People shouted for him to stop, but the deaf family's vehicle instead accelerated. According to police officers, various of the 'undead' mobbed the car and smashed its windscreen, at which point Pocci ploughed forward at high speed and knocked down a 64-year-old woman, who fell under the car and broke her arm. Several onlookers assumed that these events were all staged.
Others chased the car. After three or four blocks, Pocci stopped and was taken in for questioning. He faces charges of reckless driving and is, in turn, suing the city for not supervising the zombie walk adequately.
At his wedding ceremony, in Rampur, India, 25-year-old Jugal Kishore suffered an epileptic seizure. While he was being conveyed to medical care, would-be bride Indira, 23, expressed anger that information on his medical condition had been withheld from her family. She announced that she would marry a guest instead. The guest she had in mind was Harpal Singh, her sister's brother-in-law. The jeans- and leather-jacket-clad Singh thought for a moment and then agreed.
According to the Times of India, Kishore returned to the venue to find that a wedding had occurred without him. At the reception, he begged Indira to reconsider, to no avail. A fight involving eating utensils solved little. Later, a police spokesman said: 'Both families have amicably resolved the matter. The complaints have been withdrawn.'
Speaking for the Boulder, Colorado, police department, Kim Kobel reports that two men have been given tickets for climbing a 60-metre crane parked downtown and then parachuting to the street. Scott Murga, 24, and Richard Edward Servantes, 35, might have avoided a citation for their second-degree trespassing if dozens of people leaving local bars hadn't witnessed their night-time escapade and if Murga hadn't ended up inert and in need of medical attention.
Rosa Rios, 33, is accused of stealing from people's bags on the bus she was supervising in Millville, New Jersey. The bus in question was a school bus, the items stolen were lunch money and lunches, and the victims were ages 3-5. Rios, who committed the thefts in January and February was caught because of surveillance video footage viewed after the bus driver reported losing several hundred dollars. The Sheppard Bus Company says Rios is no longer an employee.
Outside his pub in Drogheda, Ireland, Gerry Brady found a man lying in a pool of blood. Brady said that he tried to help the man, whereupon 'he pulled himself up and said he wanted 50 euros for a taxi'. When Brady declined, the man threatened to burn Brady out of the pub or at least tell the police that Brady was the reason his face was torn up.
Brady summoned the Garda anyway, and the pub's CCTV footage quickly put the lie to the man's tale that Brady had attacked him: He had tried to get into Brady's car in various ways and finally lobbed a concrete block at the windscreen. The block bounced back and hit him in the face, leaving him flat on the ground.
'You should have heard the garda laughing when they saw the video,' said Brady.
According to Germany's Bild, a 31-year-old off-duty soldier had been drinking at a nightclub in Dortmund when he decided to follow another vehicle to the train station. The main problem is that the vehicle he followed was a U-Bahn commuter train, which he followed into an underground tunnel and tailed for about 2.5 kilometres. He later claimed not to remember anything between getting behind the wheel while drunk and two policeman approaching him on the metro station's platform. Service was suspended for several hours for removal of the car from the tracks - workers ended up pushing it out of the station manually.