More than 150 Chicago firefighters were summoned to put out a blaze at a fire-extinguisher factory. The fire was so intense that the building collapsed before the flames could be brought under control. The cause of the fire remained unknown at last report, according to First Deputy Fire Commissioner Charles Stewart III.
Meanwhile, when fire crews arrived at an Arvada, Colorado, home in response to reports of an explosion, it was not long before they worked out the nature of the extensive house fire they faced. There was a clue in the spray-painted message still visible in seven places on the exterior of the building: 'My wife is a cheater.' In case of doubt as to the painter's identity, he also included his wife's name. Thirty-one-year-old William Landauer, who lived in the building, was arrested on charges that include first-degree arson.
If you're going to rob a Tesco branch of the equivalent of 300 euros at knifepoint, it may not help your case to have made the Facebook post 'Doing. Tesco. Over' 15 minutes earlier. Both Andrew Hennells, 31, and his hefty knife were recognisable from his Facebook posts. Before Norwich Crown Court, he pleaded guilty to robbery and carrying a knife as an offensive weapon.
A Houston couple hired a photo booth and attendant for their wedding reception. The photos were supposed to bear the couple's first names and the date; however, the couple found out several months later from family members that the name portion for some photos bore the text 'Poor Nigger Party'. This news prompted the husband to ring James Evans, the owner of Premiere Photography, to ask how this could have happened. The response was allegedly 'Sue me'.
The resulting lawsuit alleges negligence, mental anguish, and breach of contract. An attorney for Evans responded by stating that Evans did offer the couple their money back, also suggested that the booth could have been tampered with by a third party and that too much time had passed to determine which employee had been working at the reception.
In ceremonies prior to the take-off of Virgin Atlantic's inaugural flight from Manchester to Atlanta, Georgia, airport firefighters sprayed a giant arch of water over the aircraft. At least that's what was supposed to happen. A switch somehow was flipped and the Airbus A330-300 received a hefty dose of fire-suppressant foam instead.
Someone then had to tell the 257 passengers waiting in the terminal why there would be a delay for cleaning the engines and turbine blades and performing various safety checks. After a five-hour delay, they were told that they'd be put up in a hotel. In the end, overnight winds prevented the work and another aircraft was used, with take-off about 25 hours behind the initial schedule.
According to Los Angeles Police Captain Brian Pratt, about a dozen beer cans were found near a tree outside an East Hollywood home. This is one reason officers believe the homeowner had been sitting in the tree and enjoying a few drinks when he fell, impaling himself on a spiked fence. It is unclear how long the man's body, with fence spikes through the face and neck, had been at the scene before it was discovered.
Police Sergeant Melvin Gamble said: 'Over the years, you see stuff like this. You still don't get used to it.'
When police showed up at Jose Espinoza's house in California to arrest him for stealing a car and violating probation, he ran off. Later in the day, he returned to his home but had taken measures to avoid being spotted: haphazardly spray-painting his face black. A police report noted: 'The camouflage was ineffective.' The 23-year-old Espinoza and a bottle of spray paint were soon taken into custody.
At an Applebee's restaurant in New Jersey, Hiram Jimenez ordered a 'sizzling fajita platter'. He and his brother then paused to pray before their meal. As Jimenez's head was bowed low, his fajitas popped. Feeling a burning in his left eye, he made a panicked attempt to push the fajitas away but somehow managed to pull the skillet into his lap instead.
Upset because he hadn't been warned that the fajitas were very hot and could harm him, Jimenez sued Applebee's. That was in 2010. Now, an appeals court has upheld a court ruling that the restaurant 'had no duty to warn against a danger that is open and obvious'.
The next story is from St. Petersburg, Florida, where 25-year-old Troy Earl Smith fell off his bicycle. Witnesses' statements and surveillance video footage from a business along his route indicate that this happened because he'd shot himself in the chest by accident. The shooting was actually performed by the handgun in his jacket pocket. Smith was later pronounced dead at a local hospital.
Whoever was in charge of setting up the mailing list that friends of the groom would use for several weeks to organise a Philadelphia bachelor party ended up confusing 31-year-old Joe DiJulio, a Seattle-area man whose name is similar to that of an intended recipient. When groom Jeff Minetti asked who would be able to attend, DiJulio finally spoke up: 'although for a moment I thought it might be funny to just show up and be that guy nobody knows but everyone wonders "who is that guy?", buying a plane ticket for a cross-country flight just to crash a bachelor's party might be a bit over the top.' Minetti responded by inviting DiJulio, whose online 'Random Bachelor Party' fund-raiser then paid for the air tickets within 24 hours.
A 39-year-old Oregon woman set herself on fire while driving. Her resultant erratic manoeuvres led another driver to call the police. When the burning woman's vehicle crashed near Portland, she exited her car and began stripping off her burning clothes, then jumped from the highway bridge before bystanders could stop her. The 12-metre drop to the park below did not prove fatal. While the woman's location is unknown, the police describe her as not suffering life-threatening injuries from her attempts to end her life.
Isn't it normally cats that have nine lives?
Responding to three calls about gunshots, Florida police found a dog that had been shot twice in the neck and then tied to railroad tracks. Officers were able to stop an oncoming train quickly enough to free the dog, which they rushed to Tampa Bay Veterinary Emergency Center, where she was reported as in good health apart from needing to have a leg amputated. Information is being sought on the identity of the dog's owner.
Guards at the Terespol border crossing from Belarus to Poland found that a 60-something French train passenger had been trying to smuggle something in his suitcase: his Russian wife. Dariusz Sienicki, speaking for the Polish Border Guard, said that the woman had been hiding in the luggage because she wasn't an EU citizen. Sienicki explained that her husband had been unaware that, since he had the necessary documentation of their marriage, she would have been allowed to cross the border normally if she'd been sitting next to him. Both are charged with attempting to evade border control and could face up to three years in prison.
A 26-year-old pregnant woman responded to a Craigslist advertisement posted by Dynel Lane, a Colorado woman offering baby clothes for sale. Upon entering Lane's home, the pregnant woman was beaten and stabbed in the belly. Lane removed the unborn child and claimed later, to her husband and at an area hospital, to have suffered a miscarriage.
At the hospital, the baby was pronounced dead and Lane, 34, was arrested, with the exact charges still under discussion. The formerly pregnant victim was found in Lane's home and responded well to surgery.
Police are on the lookout for any other women who may have responded to Lane's advert.
A man and woman were arrested for breaking into a holiday home south of Lahti, Finland, and making off with tools and hunting equipment, including a camera used for detecting wildlife. According to Antti Reijula of the Häme Police, the arrest occurred because the camera did its job, wirelessly sending its owner an image of the two miscreants. Said wildlife was arrested not long after leaving the crime scene on foot, and the stolen goods were recovered.
According to Argentina's Crónica, a shepherd in the Balcarce region who had not been seen for some time was found dead in bed. Both José Alberto, 58, and the wig-and-lipstick-wearing scarecrow that Rodolfo Moure found with him are being examined to determine whether a third party was involved or the 15-centimetre plastic tube attached to the scarecrow's groin may have had a part to play in the death. Moure said: 'We are working on the assumption that the man died during sex with the scarecrow.'
Texas state trooper Sergeant Billy L. Spears was wearing his uniform while performing private security duties at a music festival in Austin when rapper Snoop Dogg asked to pose in a photo with Spears. A supervisor saw the picture, taken by the rapper's publicist and posted online with the caption 'Me n my deputy dogg', and drove 130 kilometres to order Spears to receive counselling. The counselling order explains that a public figure 'who has a well-known criminal background including numerous drug charges [...] posted the photo on social media and it reflects poorly on the agency'.
Ty Clevenger, representing Spears, responded that the trooper's had no idea of the rapper's police record - 'believe it or not, some folks don't watch TMZ or read People Magazine' - and that the counselling order is actually payback for Spears having reported an officer's misconduct last year. Since counselling orders aren't regarded as disciplinary action, there is no right to appeal.
Neil Moore was serving time in Wandsworth prison for fraud and identity theft that involved convincingly impersonating a woman and conning banks out of millions of euros. Apparently, officials at the maximum-security facility didn't expect him to return to his old tricks, so when they received an order for his release from an e-mail address at hmcts-gsi-gov.org.uk, they didn't look closely enough to notice the difference from hmcts.gsi.gov.uk. Using a mobile phone smuggled into the prison, Moore had registered the hyphenated version, under the name of Chris Soole, the detective responsible for his arrest.
He was released but turned himself in a few days later. He now faces more charges of fraud and one count of escape from lawful custody.
When Victor Sena Blood-Dzraku refused to honour his promise to follow his 2009 civil wedding to Ellanora Baidoo with a traditional Ghanaian ceremony for the couple's families, the two went their separate ways without consummating the union. Baidoo, 26, wants a formal divorce, while her husband does not. He has not informed her of his address, and a private investigator proved unable to find him and serve him with divorce papers. Along with his pre-paid mobile phone number, Baidoo does have his Facebook details, so Manhattan Supreme Court Justice Matthew Cooper has granted permission to send the summons by Facebook private message, 'repeated by plaintiff's attorney to defendant once a week for three consecutive weeks or until acknowledged'.
According to UPI reports, a fire broke out in an Allendale, Michigan, student flat after a woman threw a lit banger at one of her three female flat-mates as part of an April Fool's Day prank. It landed in a hamper, setting light to the laundry within. The four young women began knocking on the doors of other flats in their search for a fire extinguisher. By the time they found one, the blaze was out of control. Firefighters report that some parts of the building may never be considered safe again but that the girl who threw the banger is unlikely to face charges.
A 16-year-old Woodbridge, New Jersey, girl who had just received a learner's permit for driving was receiving a lesson from her father when she stepped on the accelerator pedal instead of the brake. The car ended up ploughing through three gas meters and embedding them in the wall of the adjacent residential building, causing a gas leak and prompting evacuation. Police Lieutenant Gregory Conklin said that residents of six flats are living with relatives while the load-bearing wall is closed to the elements and the gas system is repaired.
Utah motorist Dan Kennedy came across a large orange bag on Interstate Highway 80 and decided to pull it to the roadside for the sake of drivers' safety. The bag, weighing about 35 kilos, proved difficult to shift: it was tightly packed with smaller sacks of stacks of $50 and $100 notes. Kennedy eventually managed to get the bag to his workplace car park and rang the police. The Utah Highway Patrol determined that a Brink's armoured truck had hit a bump, causing the latch on the back of the vehicle to open without the driver noticing. Trooper Brady Zaugg said that this is the sort of thing that happens only in movies.
Jorge Ramirez-Sierra takes his legal responsibilities seriously. When he was scheduled for a court hearing to face drug charges, he expressed concern to a friend about finding a way to attend the hearing. The next day, that friend's car went missing. While officers were speaking with the friend, Ramirez-Sierra rang to tell him that he'd finished with the vehicle and was now driving back.
The 21-year-old Ramirez-Sierra now faces non-drug-related charges, which include unlawful taking of a means of conveyance and driving while suspended.
A baggage-handler employed by Menzies Aviation rang the emergency services from the cargo hold of an Alaska Airlines plane to report that 'I'm inside a plane, and I feel like it's moving in the air'. His explanation 'Flight 448' and his request 'Can you please have somebody stop it?' only confused the dispatcher, so the man gave up and instead began banging on the top of the compartment. First-class passengers and the pilots heard him, and the flight turned around to return to Seattle. The airline reported that the worker, who had hidden in the hold to take a quick nap, 'has been permanently banned from ever working on any Alaska Airlines flights'.
In Canada, Heather Arlene Carr died in a pagan ritual. The 40-year-old British Columbia woman had lit a fire within an arrangement of rocks at a local park at night, then become caught in the resulting blaze. Summoned by a passer-by, Kamloops firefighters created an opening in the base of the rock structure in order to extract Carr and convey her to hospital. Three firefighters too were hospitalised, to be treated for smoke and dry-chemical inhalation.
The next day, Carr's husband posted to her Facebook page Being Pagan Out of the Broom Closet: 'Heather passed away yesterday from severe burns suffered in a ritual gone horrifically wrong.'
From Idaho, the Middleton Fire Department's Victor Islas reports on a case in which firefighters responded to cries for help from the midst of a house fire. Entering the residence, they discovered that the calls of 'Help, fire!' were being made by parrots. Islas said: 'So there was actually nobody besides the birds inside the house." The group of parrots, which fire crews said must have been trained to issue warnings, were rescued and given oxygen. The cause of the fire is not yet clear.
In other parrot news, 35-year-old Angel Holyfield crashed her car into a guardrail in Pennsylvania and later told the police why. She explained that her pet parrot, loose in the vehicle, had distracted her by pecking at the lid of her coffee cup in order to access the beverage. Police officers said that there was bird seed in the cup-holder next to the coffee cup, and they found feathers throughout Holyfield's car.
Holyfield was treated for a broken right arm and facial lacerations, and the parrot was safely removed from the car. Neither have been charged with an infraction.
The office manager at a New York dentist's office treated patients on the sly while boss Jeffrey Schoengold was out of the office. Over nearly a year, Valbona Yzeiraj, who referred to herself as 'Doctor Val', pocketed the cash from operations that included pulling teeth and performing root canals. When Schoengold, who had hired the 45-year-old Yzeiraj via Craigslist, found out about her actions, he fired her and contacted the police.
After her dismissal, Yzeiraj allegedly tried to steal tens of thousands of dollars from the practice's payroll system. In response to this claim, accusations that she'd preyed on the Albanian community, and reports of at least two patients suffering from her botching of dental procedures, she maintains her innocence.
Three police officers hired to do off-duty security work at a Chillfest music festival are in hot water because of a video showing their handling of the case of an under-age drinker. When encountering a violation at these events, officers have discretion to issue a ticket or instead give a warning. However, the manner in which these men made that decision was deemed unprofessional: one of them played a round of rock-paper-scissors with the relevant teenaged girl.
The girl won, and the officers lost the opportunity to do security work at future events.
TSA documents speak of an airport-security screener who wanted to increase his chances of getting to grope men whom he found attractive. To this end, he enlisted the aid of a female colleague, whose role was to specify the passenger's sex falsely in the system as female. The scanner then 'will indicate an anomaly in the genital area and this allows [the male screener] to conduct a pat-down search of that area'. A few months after this scheme was reported to TSA bosses, supervisor Chris Higgins observed it in action, also noticing that the screener used the palm rather than the back of his hands, in a further breach of protocol.
The female agent confessed to helping her co-worker grope at least 10 men. Both screeners have been released from their duties.
Police officers in Birmingham, Alabama, responded to a report of a burglary in progress and arrested the suspect. They handcuffed him and left him in the back of a squad car. Not long after that, the man managed to drive the police car away. A couple kilometres away, he abandoned the car. Later in the day, he was found and arrested, still wearing the handcuffs.
Pedro Ewing is charged with pulling a gun on a Pennsylvania off-licence clerk and demanding money, ostensibly to help his children. In addition to the equivalent of about 60 euros from the till, he swiped a bottle of Gentleman Jack whiskey, then returned it to the shelf in order to grab a larger bottle of the same drink labelled with twice the price. Yes, the 42-year-old Ewing's fingerprints were obtained from the abandoned bottle.
Scott Kemery is a Bridgehampton, New York, man who had heard that thoroughly saturating bedbugs with alcohol should kill them. He decided that the probable bedbugs in his rental car would be good candidates for this treatment. The 44-year-old Kemery chose to sit in the car while waiting for it to take effect, and he lit a cigarette to pass the time. The resulting fire left him burned and running from the car. The rental car and two other vehicles were damaged in the intense heat that Kemery unleashed.
Chris Hempel and her family drove to their log cabin in north-east Washington recently and didn't see it. This is because the three-by-six-metre building had disappeared from its foundation. Acting on a tip, officers found the log cabin a couple days later: it was at the end of a private road about 15 km from its original location. The building had been placed on stilts and apparently was being lived in. Stevens County Sheriff Kendle Allen says that officers are seeking a search warrant to visit the property and enter the cabin.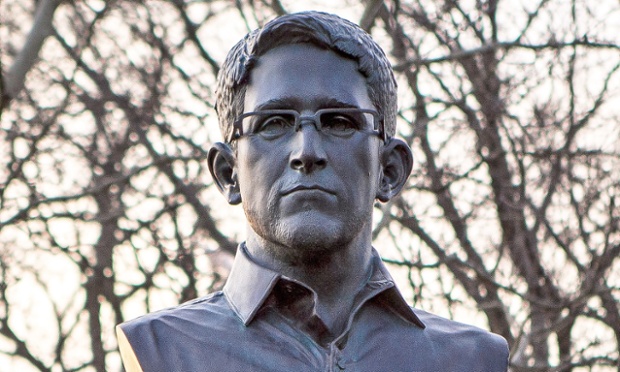 Three men dressed as construction workers carried a metre-high bust to Brooklyn's Fort Greene Park, where they erected scaffolding and used adhesive to attach it atop one of the columns of the Prison Ship Martyrs' Monument, which honours thousands of soldiers imprisoned during the US Revolutionary War. The bust, of NSA whistleblower Edward Snowden, was removed later by New York City workers.
The anonymous artists explain that they sculpted and installed the bust 'to highlight those who sacrifice their safety in the fight against modern-day tyrannies', adding: 'It would be a dishonor to those memorialized here to not laud those who protect the ideals they fought for as Edward Snowden has by bringing the 4th-Amendment-violating surveillance programs to light.' They hope that police will free their 'gift to the city' to become part of a temporary 'art in parks' programme.
About a year ago in Grand Rapids, Michigan, Shaneka Torres became angry when McDonald's drive-through staff omitted the bacon from her burger. Torres, 30, was offered a replacement meal, but that too was missing the bacon. Therefore, she fired a shot through the restaurant. No-one was injured.
Torres has now been sentenced to 1-5 years in prison for shooting at a building and two years for possessing a firearm during a felony.