In Illinois, truck-driver Brian Miner honked his horn to get a police officer to stop. Miner proceeded to tell the officer that he'd seen him talking on his mobile phone while driving on a wet road at a speed in excess of the posted speed limit. The officer's response was that he would ticket Miner for 'unlawful use of horn' and that 'police officers can actually use technology when we're driving'. Informed that the conversation was being recorded, the officer decided not to write Miner a ticket after all, explaining: 'I didn't want to hurt your record.'
Florida's Edward Holley got into an argument with Darryl Blacknell. The next day, looking out onto his porch, Holley saw Blacknell sitting there so attacked him. The weapon of choice was the pan of grits that Holley had been cooking. After the incident, Holley told police that they should arrest him since 'next time I am going to kill [Blacknell].' Holley is being charged with attempted murder, and Blacknell was hospitalised with second- and third-degree burns.
Larry Ragonese, speaking for the New Jersey Department of Environmental Protection, reported on a bear cub that, in search of a snack, ended up getting its head stuck in an oversized cookie jar. When DEP officers approached the nine-kilo animal to help, it climbed a tree, getting stuck about 12 metres up. One tranquiliser shot later, the cub, caught by protective netting, was being attended by local firefighters, who carefully cut the jar from the bear's head.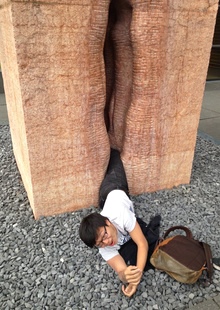 According to AP reports, an American exchange student in Germany decided that it would be fun to pose for a photo inside Fernando de la Jara's giant stone sculpture outside Tübingen University's institute for microbiology and virology. He slipped and became stuck in the vagina sculpture. Someone rang the fire service, who freed him. The vagina was not harmed.
The mayor of Tübingen had a hard time imagining how the student, who isn't being named, got himself into the tight spot, continuing: 'To reward such a masterly achievement with the use of 22 firefighters almost pains my soul.'
In Florida, Indian River County Sheriff's Office deputies pulled over Robert William King, 47, and Jennifer Crosby, 42, for their vehicle's technical violations. When they asked to see King's driving licence, he replied: 'I don't have a licence! I'm habitual.' He was arrested as a habitual traffic offender.
Crosby, for her part, seemed uncomfortable enough that a female officer was called in to search her for drugs. According to police reports, shortly after that officer arrived, Crosby confessed to having concealed drugs in her person. She explained the reason for her discomfort thus: 'Ouch. The foil is hurting the inside of my vagina.' She was arrested for possession of cocaine and drug paraphernalia.
When Darren Shelley showed up at Connecticut's Stamford Superior Court to face a charge of possession of drugs with intent to sell, his probation officer found that his 22-year-old charge 'reeked of marijuana'. The officer asked about this, whereupon Shelley said that he was 'not a fool' so 'did not bring drugs into the court'. A frisking revealed 19 bags of dope in the dope's left sock. His probation may be revoked.
In March, California's Marcella Bracamonte and her husband hired 64-year-old Diane Stretton as a live-in nanny after advertising on Craigslist. Stretton allegedly stopped working after about three weeks, explaining that she has a chronic pulmonary disease that leaves her unable to do what she'd been hired to do. Bracamonte recalls: 'She'd stay in her room 90% of the day. She was never there to help prepare a meal but was always there to eat the meal.'
When asked to leave, Stretton said that she could sue for age-based discrimination, breach of contract, false imprisonment, and other crimes. The family told her to leave anyway, and they attached a lock to their refrigerator. Seeking police assistance, they were told that they should initiate a formal eviction process.
Media coverage has since done the trick: Stretton, who is on California's list of vexatious litigants, has left the home, leaving her belongings behind.
In Plain City, Utah, a man tried to reserve some pew space for his family at an unusually packed Mormon service, but Wayne Dodge would have none of it. The ensuing argument soon headed into the car park, where Dodge is alleged to have punched the man a few times. When the man emerged after cleaning himself up, he ended up over the front of Dodge's car. Weber County Sheriff's Lieutenant Mark Lowther said that, while the two men's accounts differed, witnesses' comments revealed probable cause to arrest Dodge for aggravated assault.
Dodge, 51, who pleaded guilty to misdemeanour assault, was given a small fine and ordered to complete an anger-management class.
In South St. Paul, Minnesota, Nicholas Wig took credit cards, cash, and a watch from James Wood's home while it was raining. Then, before leaving, he quickly checked his Facebook profile on Wood's computer. Upon returning home and discovering the burglary, Wood posted his phone number on the Facebook page he found still open, asking any of 'Nick Dub''s friends who might have information to get in touch.
Wig himself called, agreeing by SMS to meet Wood - he wanted to get back some of the wet clothes he'd left at the crime scene, in exchange for an old mobile phone he'd stolen.
When Wig was arrested, he was wearing Wood's watch.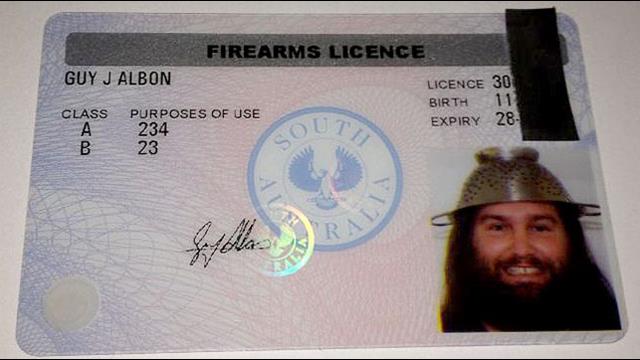 In Australia, 30-year-old Guy Albon said of the photo for his firearms licence: 'The law stipulates you can have something on your head [...] but you have to have your entire face uncovered and [...] it has to have some religious significance.' The woman who took the photo had no problem with the colander on his head, which he had explained as in keeping with his membership of the Church of the Flying Spaghetti Monster. When Albon submitted the paperwork, however, police officers confiscated his four firearms and ordered him to visit a psychiatrist.
Albon said the psychiatrist 'laughed it off' but that he has decided it would be best to have the gun-licence photo retaken sans colander. He may try to pose for another official photo in Pastafarian style, though. 'What are they gonna do, come and take my car off me?' is his challenge.
A 20-year-old woman is in trouble for passing notes in the Tewksbury, Massachusetts, library. The thing that had upset readers enough for them to contact the police was that the notes involved the woman - Brittany Macintyre of Nashua, New Hampshire - offering sex acts in exchange for money. After an undercover officer engaged in some on-site reading of his own, Macintyre was charged with 'sexual conduct for a fee' and on an outstanding warrant.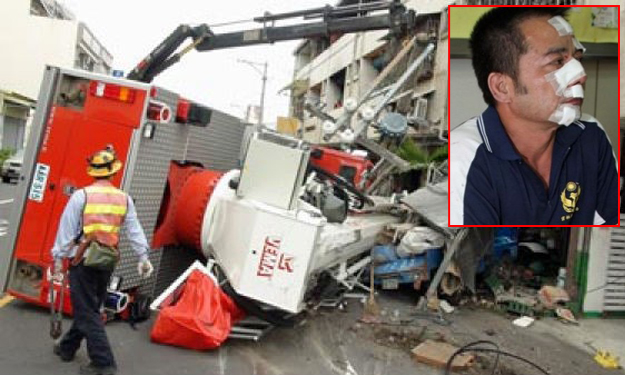 According to the International Business Times, Chen Huangxin, a 32-year-old fireman in China's Yunlin County, decided to go for a ride with the pride of the department's fleet, a 450,000-euro fire truck fresh from Finland. Chen, who came up with this idea while intoxicated, managed to hit a lorry, topple an electrical utility pole, crash into several parked cars, and finally overturn the fire truck.
After the pyjama-clad Chen had been pulled from the wreckage and sobered up, he said: 'Normally I would never want to go driving when I have had so much to drink, but the urge was upon me and I couldn't stop myself.' A spokesman for the fire service said: 'It is hard to think of anything worse he could have done [...]. He will never work again for us.'
Pamela Conchinsky was stopped on her way to work by Indianapolis police officers, who ordered her to remove her minivan's 'Unmarked police car' bumper sticker. They cited their concern that someone could think she was impersonating a cop. Conchinsky removed the sticker but, after speaking with co-workers and the ACLU, decided to file a civil lawsuit against the city. She explains that she had just wanted to express a bit of irony - 'It's like you or I wearing a t-shirt that says: "Undercover cop". It's a joke.' The City, busy preparing its defence, isn't laughing.
Allegedly, 71-year-old Marshall Harmon and his 32-year-old son got into an argument near their Florida, home. Whatever the reason, the younger man mounted a riding lawnmower and started to drive off, rather slowly, with his father following, rather slowly, in his pickup truck. Pulling alongside the mower, Marshall apparently fired two shots in his son's direction, The younger man was hit in the neck and hospitalised. Speaking for the Escambia County Sheriff's Office, Sergeant Andrew Hobbs said that Marshall had probably not really intended to shoot his son.
The Local reports that Cologne's Bogdan Ionescu had modified his bicycle in order to be able to ride it safely as a one-armed cyclist. Then a policeman stopped him and fined him for having only one hand brake, a condition that renders a bicycle not roadworthy under German law. When the circumstances were called to their attention, Cologne Police apologised to Ionescu, and the police chief, Wolfgang Albers, is prepared to apologise in person. For his part, Ionescu is simply relieved that he doesn't have to pay the 25-euro fine.
A Volusia County, Florida, sheriff's officer stopped a vehicle after noticing that the passenger was not wearing a seat belt. The man, 200-kilo Christopher Mitchell, explained that he is too big to use a seat belt. Both passenger and driver seemed rather nervous about having been stopped, and a drug-detecting dog soon sniffed out the reason: the 42-year-old Mitchell had marijuana and cocaine secreted under his 'stomach fat'. He faces multiple charges, several of them drugs-related.
Shane Landon Tyson claims that former girlfriend Stephanie Ann Workman still had his $6 Walmart card and he simply wanted to get it back. When he arrived at her home, the two began to argue. This awakened Workman's husband, who asked Tyson to leave. Tyson didn't like the sound of that so unsheathed his sword.
Chad Workman was worried, because the only thing to hand was a spatula for barbecues. Still, when Tyson hit him with the sword, wreaking 12 stitches' worth of damage, Workman retaliated, with the spatula. He says: 'Once across the head. That's all it took.' Tyson stumbled back to his car and was arrested.