Michael Harp and some friends shoplifted roughly 20 euros' worth of beer from a Corbin, Kentucky, off-licence, in multiple thefts, and were caught drinking it outside later in the day. When taken to the police station, the 29-year-old Harp asked to use his 'one phone call' to talk to a family member. In fact, he rang Domino's Pizza and used the name of arresting officer Captain Coy Wilson to request five pizzas. By so doing, he added theft by deception, identity theft, and impersonating an officer to the charges against him.
Harp denies placing the call, saying: 'I mean, pizzas. Come on, this is what high schoolers do.'
Reuters reports on a teenager from Klein Hesepe, Germany, who dropped his mobile phone into a pond. The 16-year-old youth wanted the data from the phone badly enough that he decided to move the water out of the way. He later explained: 'I thought two pumps would drain enough of the water' from the pond into a nearby toilet. He didn't realise that the toilet wasn't connected to the sewer system. When its waste tank overflowed, sewage was sent flooding across a fishing club.
The teenager is reported to have told Osnabrücker Zeitung: 'It almost worked.'
If you have something to hide, the grounds of a nuclear power plant may not be the best place to drive around in the evening hours - especially if you have no legitimate business being there and don't have a valid driving licence. Security staff at New Jersey's Oyster Creek Nuclear Power Plant helped Jacob Moore III and passenger Jonathon S. Lloyd learn this lesson.
Inside the car, in addition to the two men, the plant's security guards found 13 wax folds of heroin, marijuana, a glass pipe, a phial of anabolic steroids, and a hypodermic needle.
The Massachusetts State Police released a photo illustrating what can happen when someone drives with unsecured items in his or her dump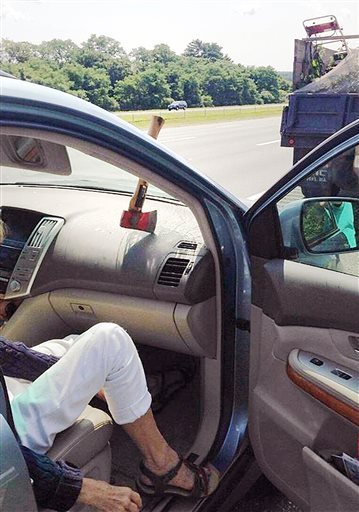 truck. A motorist, whose name was not revealed, was on Interstate Highway 95 when an axe from the landscaper's truck up ahead on the road broke through the windscreen, with the head ending up in the dashboard, directly in front of a 'shaken up' passenger.
The driver of the truck, from Peabody, Massachusetts, was fined $200 for failing to secure the axe.
An article recently published in the Journal of Sexual Medicine reports on a 38-year-old woman who visited Aberdeen Royal Infirmary with complaints of rapid weight loss, lethargy, and uncontrollable shaking. X-rays revealed a 13 cm sex toy protruding from her vagina into her bladder. The woman recalled that she had used the sex toy in question with her boyfriend more than 10 years ago, but, having been intoxicated at the time, did not specifically remember its removal.
Physicians were able to remove the wayward item and repair the damage surgically.
Danielle Saxton, 27, lives in Frankfurt, Illinois, a town of about 8,000 people. When she posted pictures of herself on Facebook to show off her pregnant body, local people checked out the images and soon worked out that the clothing in her new profile picture was the same 'very distinct leopard dress' that local boutique-owner Kert Williams described as having disappeared, among with other items, earlier in the day.
Police Chief Shawn Talluto added: 'And by looking at the background of the photograph, we were able to pinpoint where she was at.'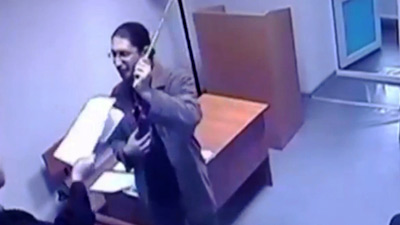 The next story comes from a courtroom in Kazakhstan. Solicitor Evgeniy Tankov, from Karaganda, approached the judge and attacked him with a fly swatter. After defending himself with a folder of papers, the judge was eventually hit and rose from his desk. He and Tankov's opposing council, Artem Ibragilov, wrestled the fly swatter from the 35-year-old solicitor's grasp. Tankov has been barred from practising and could be jailed for up to 10 years for assault.
Ohio's Sandra Thomas left a Walgreens shop with about 100 euros' worth of items and was promptly intercepted by the manager. Unable to produce a receipt, she walked with him back to the store to await the arrival of police officers. She then announced a need to use the toilet, promptly defecated in front of the store, and ran off. The police tracked her down, at which point she announced that she has health problems and pulled her trousers down again. She was hustled off to a toilet and then bundled into a police cruiser, where she reportedly told the officers that she has bedbugs.
Thomas, 51, has been charged with theft and disorderly conduct.
Herald Scotland and UPI reports describe the recent diversion of a Thomson Airways flight. A drunken Edinburgh woman returning home from Tunisia demanded that flight attendants give her 'cigarettes and a parachute'. Throwing food and cursing, the 48-year-old woman was told to settle down. Allegedly, she then slapped a child and removed her own prosthetic leg to use as a weapon, swinging it at the flight crew. Accounts differ as to whether the flight crew took the leg away from her or she threw it at them. Either way, she began kicking them with her remaining leg. The pilot decided to have her removed at Gatwick Airport, where she was taken away for questioning by police.
In Muskegon County, Michigan, 27-year-old Phillip Andrew Engle showed up at a Pizza Hut restaurant while wearing only a towel. Engle, who had three children with him, was upset, but no-one knew why. We do know that he began banging on the glass at the front of the restaurant and that his gun then went off. After this, he walked home, where officers found him sitting on his porch, gun in hand.
Engle explained the reason for the incident to the police: he had taken four hits of LSD before heading to Pizza Hut. He faces various charges.
Security-camera footage shows a pair of men getting out of an SUV at a Fuel Depot petrol station in Houston and accosting a worker outside who was returning from the bank with a sack of cash. His co-worker came to his aid from behind the till: Mayura Dissanyake, a semi-professional mixed martial arts fighter, kicked one of the men in the head and left the other reeling with a combination of punches. As the would-be robbers attempted to flee, Dissanyake sent one of them to the ground with a punch, keeping him there until the police arrived.
Lynette Rae Sampson was convinced that her methamphetamine was laced with something. Therefore, the 54-year-old woman rang the police. When officers arrived, she greeted them with an 'I'm glad you came' before showing them her various stashes of the drug, which may or may not have been pure. Sampson was taken to jail and is charged with felonious possession of methamphetamine and misdemeanour unlawful possession of drug paraphernalia.
John David Martinez, 68, went to a Wells Fargo bank branch in Denver and announced: 'This is a robbery. Give me the money.' He was given the money and left the scene, returning home and telling his wife that he had borrowed some money. Authorities worked out that the robber was Martinez because he was wearing a polo shirt with his name on it. And that name matched the registration for the car the robber had driven to the bank. And the robber's face matched the photo held by the Department of Motor Vehicles.
According to Florida's Gainesville Sun, Joseph Carl had been drinking when he drove his pickup truck into a vehicle stopped at a red light. He got out and began banging on the driver's window and shouting at her. What he did not do was put his vehicle into Park. When the frightened woman drove away, his truck lurched forward and rolled into him. Carl was treated for fractures to his hand and foot, and he is charged with driving under intoxication and with associated property damage.
Also in Florida, we have Julius Lupowitz, who was pulled over for speeding. Trying to avoid receiving a ticket, he rang the emergency services while the officer wasn't looking. Hoping the officer attending to him would be called away, he told the operator: 'I see there's a murder that's going to happen, I swear, on Wingate, on Wingate. No, Wingate and Wickham. No, on Wingate and Hollywood, Wingate and Hollywood.' He followed up with a second, similar call.
Determining that the calls had probably come from Lupowitz, a dispatcher sent out a radio call reporting this. The officer standing at Lupowitz's car door worked out what was going on, and the 52-year-old man faces jail time for felonious misuse of the 911 system. And a $209 fine for speeding.
Eating eight doughnuts in two minutes gave North Carolina's Bradley Hardison the top prize in a contest hosted by the Elizabeth City police department. The 24-year-old Hardison beat several police officers in the contest, but the authorities still came out on top: Camden County Sheriff's Lieutenant Max Robeson recognised Hardison from a local newspaper story covering the event, on account of some burglaries committed nine months earlier. Robeson congratulated him on his win before arresting him for breaking and entering.
A sport utility vehicle overturned in West Virginia at 3:30am, leaving its contents strewn over the interstate highway. In addition to 35-40 live chickens wandering around and the body of the dog whose excitement had allegedly led to the crash, emergency crews found an AK-47 rifle and 'a large load of ammunition', along with a jar of marijuana. Much of the ensuing seven-hour road closure was caused by the state police bomb squad's investigation of some devices found on the scene. They turned out to be altered fireworks of unspecified design.
The driver, 21-year-old Seth Grin, was thrown in jail for possession of a controlled substance with intent to deliver.
For the homework assignment of creating a Facebook-style status report that tells something interesting about oneself, 16-year-old Alex Stone, of Summerville, South Carolina, wrote: 'I killed my neighbor's pet dinosaur. I bought the gun to take care of the business.' Worried school officials rang the police, who questioned the teen and searched his belongings for weapons.
His mother, Karen Gray, responded: 'I could understand if they made him rewrite it, because he did have "gun" in it, [but] we don't have dinosaurs anymore. Second of all, he's not even old enough to buy a gun.'
According to the Los Angeles County Fire Department's Captain Jeffrey Sims, an 85-year-old Altadena man got his flip-flops tangled up in the pedals of his white sedan and lost control of the vehicle. The result was that the car shot through the back of his garage and into his backyard swimming pool. The man extricated himself from the car before emergency workers who had been summoned to free him arrived.
The 'fire challenge' social-media phenomenon involves people posting videos in which, doused with flammable liquid, they set themselves alight and, ideally, then extinguish the fire. In at least one case, it was family fun - North Carolina's Janie Lachelle Talley, 41, helped her 16-year-old son complete the challenge, by shooting the video. She watched as he poured nail varnish on himself, started the fire, and was de-fired by other witnesses.
The teenager suffered minor burns to his chest and neck, and Talley has been charged with contributing to the delinquency of a juvenile.
Bleeding, nine-year-old Michael Conner Verkerke collapsed on the porch of his Michigan home. While his mother rang an ambulance, the 12-year-old boy who had been playing with him borrowed a neighbour's telephone to ring the emergency services and turn himself in for having stabbed Verkerke. When police arrived on the scene and headed to the victim's side to tend to his ultimately fatal knife wounds, the older boy shouted: 'Hello. I'm right here. You're going the wrong way.'
The killer, Jamarion Lawhorn, had reportedly been suicidal and taken some pink pills he'd found at home before walking to the playground with a steak knife. The knife remained hidden in the sand while he made acquaintance with Verkerke and played.
His mother reported that her son had been in trouble only for 'normal kid things' previously, apart from when he'd set fire to her bed three years earlier to see what would happen.
Another knife comes to us from Guangyuan, China, where a 57-year-old pedestrian suddenly felt a 'very heavy weight' on his head while walking to a supermarket. Xiao Yunzhi said that, after he cried out 'My head! My head hurts!', a street vendor replied 'There's a knife in your head!'. Xiao sat down after walking another 100 metres, and passers-by summoned the police. Doctors removed the knife, which had not entered his skull.
The police told Xiao that the 12.5 cm kitchen knife had fallen from the ledge of an eighth-floor balcony garden, probably carried by the wind. The owner of the knife reportedly visited the hospital to apologise in person.
Maseratis aren't known for being typical law enforcement vehicles, so one painted as a police cruiser caught the attention of a cop in Braintree, Massachusetts. When he pulled it over, he picked out more details, such as that the shield decal said not 'Protect and Serve' but 'Decepticons punish and enslave'. The driver, who is being charged with impersonating a police officer, reportedly told the arresting officer that he was actually helping the police. According to Deputy Chief Wayne Foster, the main claimed that 'other drivers noticed him and slowed down'.
A woman from Albany, New York, lost control of her car, sailed across the median, struck another car, and came to a halt when hitting two fire trucks in the nearby firehouse. The woman, 22-year-old Sarah Espinosa, was given first aid by fire-department personnel, who also removed the small ball python that had wrapped itself around her neck. Officers determined that Espinosa had stolen the snake from a nearby pet store just before the accident.
Espinosa has been charged with reckless endangerment, petit larceny, reckless driving, driving while intoxicated, and unlawful possession of marijuana. The snake has been returned to Petco.
Two men had just stolen wallets, money, and mobile phones from an Edinburgh locker room and were heading for a getaway car when one of the victims spotted them. The culprits soon found themselves being chased by 40 angry rugby players. The Edinburgh Academicals soon had the car surrounded, and they grabbed the keys before the police arrived.
Team captain Greg Campbell summarised: 'They didn't get very far.' According to Police Scotland, inquiries are in progress.
Connecticut's New Haven Register reports on a local 88-year-old woman who opened her home's sliding glass door to let her cat in. The scratching sound she'd heard hadn't come from her cat, and her attempt to pet the animal resulted in bites on the elbow, hand, forearm, lip, and chin. She had let a raccoon into the home by mistake.
The raccoon charged the two police officers who were summoned to deal with it, and it was put down 'before it inflicted further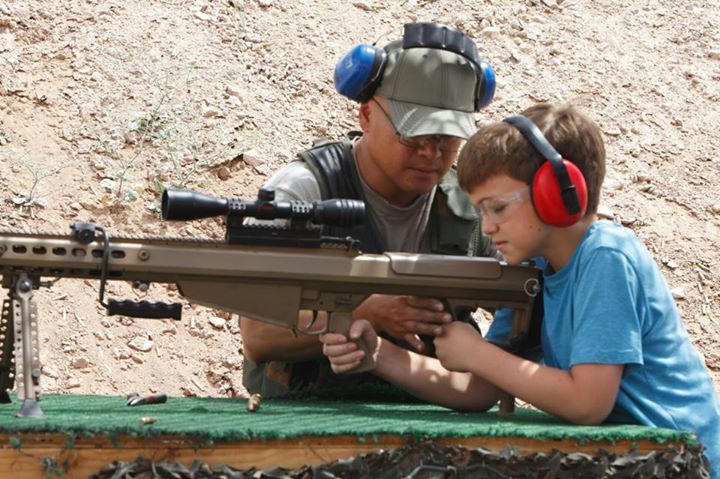 damage', according to Police Captain Ronald Smith. The woman was hospitalised for her injuries.
The Last Stop is an activity centre in White Hills, Arizona, whose visitors can fire fully automatic weapons without any fear of age restrictions. At its Bullets and Burgers shooting range, a nine-year-old girl proved unable to manage the recoil after instructor Charles Vacca, 39, switched the Uzi she was holding to automatic mode. As her parents watched, it ended up pointing over her head as four shots were fired. Vacca was struck in the head and later died.
No charges will be filed in connection with the incident.
In Corsicana, Texas, a 14-year-old boy who had run away from home headed to a 24/7 Walmart store, where he created a makeshift lair from the merchandise and ate food from the supermarket shelves for four days. The youth changed clothes every few hours to remain under the radar and wore nappies to avoid having to use the loo. Walmart employees eventually caught him by following the trail of rubbish from the packages he had opened.
His mother reports that the boy has a history of running away from home.
A 32-year-old man in Bolton rang his girlfriend to report having been kidnapped. The kidnapper came on the line to explain that the hostage situation would end only if the boyfriend repaid a 50-pound debt. After the call, she contacted the police, who began checking CCTV footage and mobile phone data. They found the kidnapper in a door-to-door search but released him after he explained that the story had been a 'ruse' to allow his friend to stay out later at a house party. Officers were soon at that party.
Detective Inspector Jo Clawson said: 'This is without doubt one of the most foolish and irresponsible incidents I have been involved in.' The man was fined for wasting police time - the operation occupied over a dozen officers on a Friday night - and now has a criminal conviction on his record.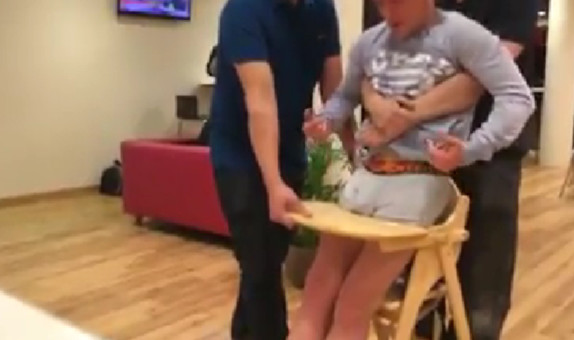 A British man visiting Cambridge decided it would be fun to get into a child's high chair in a Travelodge lobby. James Henshaw and other friends obliged, cramming him into the chair and leaving him stuck. In his efforts to extricate himself, he removed his trousers, which served only to increase his resemblance to a white-nappy-wearing child. After he begged for a saw, a group of several people used keys to dismantle the chair and free him.
According to a police report, Jessica Cerney, 33, was asleep on her sofa in Myrtle Beach, South Carolina, when Darrell McNight, who sleeps on her porch, entered the home and broke wind in her face. After the fart, Cerney went outside and the two began arguing. The details aren't clear, but she admits to punching the intoxicated McNight, 64, three times in the face. Both parties were given citations for fighting.
In Spokane, Washington, motorist Roman I. Ryakhovskaya was tailgating another vehicle when it stopped in traffic and he ran into the back of it. That vehicle was a patrol car. The injured driver got out of the vehicle and ensured that Ryakhovskaya, 24, was taken into custody. In addition to having been driving without a licence, he was wanted for driving while intoxicated and for domestic violence.
In New Mexico, 18-year-old Michael Johnson travelled to a scheduled meeting with his probation officer by electric shopping trolley. When the officer asked where the cart had come from, Johnson admitted to taking it from an Albuquerque Walmart store so that he could arrive on time. He has been charged with larceny and receiving stolen property, and he was found in violation of the terms of his probation.
Ohio's Donald Miller, Jr, vanished thirty years ago, and in 1994 he was declared dead. About a year ago, he reappeared after living in various other states and was told about the three-year time limit for changing a death ruling. The US government have since acknowledged him as alive nonetheless, so the Social Security Administration now want his two daughters to return about 30,000 euros' worth of benefits they received as teenagers after his apparent death.
His ex-wife, Robin Miller, said that the family had hired a private investigator on their own after he vanished, and 'honestly thought he was done, dead, gone, and out of our lives'.
A couple told the police that they were walking along a downtown Seattle street in the wee hours when they saw a tuxedo-wearing man receiving oral sex from a woman. The woman 'immediately left', according to a police report, and the man, 64-year-old Paul Hunter, became upset about the interruption. He fired the handgun from his waistband at the couple, who recall him saying 'I'm going to kill you' before walking off.
Officers received a call about a gunshot and arrested Hunter, who, according to a witness living nearby, had been particularly angry because he'd paid the prostitute in advance of the deed.
April's mishap-littered local election has left the town of Montezuma, Colorado, embroiled in a lawsuit. A judge has been asked to order all 61 registered voters to appear in court; the town is suing them as the town clerk attempts to work out which non-residents broke the rules by voting, why there are mismatched ballots, etc.
Some residents have responded by hiring an attorney to challenge the lawsuit. Voter Chris Baker summed up their sentiments: 'It's fairly disturbing that the town is using our tax money to sue us.'
A spokesman for the office of the Colorado Secretary of State's office, Andrew Cole, said: 'This is certainly an unusual step to take.' Only time will tell what steps follow.
A police officer in Manitowoc, Wisconsin, pulled over a vehicle because its headlamps weren't on. The officer determined that the driver was intoxicated. All five passengers were 14 years old or younger, and the driver herself was 13. The girl was arrested and released to her mother's care.
In Florida, Pedro Bravo is accused of strangling university room-mate Christian Aguilar and burying the body in a shallow grave in a forest. Examination of the 20-year-old Bravo's mobile phone revealed a discussion with Apple's digital assistant from shortly after the two had a row in 2012. Told 'I need to hide my room-mate' and asked 'where do I bury a body', Siri suggested 'Swamps. Reservoirs. Metal Foundries. Dumps.' Siri no longer gives this advice.
Forensic analysis of the phone also showed that its torch function had been used for 40 minutes on the night Aguilar vanished, after the device had headed in the general direction of the forest and been disconnected from the mobile network.