John C. Hughes decided to tailgate Butte, Montana, police for seven blocks and then drive his SUV away at high speed. The ensuing late-night chase, in which Hughes refused to pull over, ended when the police deflated his tyres with a spiked strip. When they took him into custody, they found that he wasn't under the effects of any known intoxicating substance. He explained: 'I just always wanted to do that', referring to being part of a police chase.
Hughes, 55, has pleaded guilty to reckless driving while eluding police.
A jury have convicted a New York prisoner of filing false tax returns from prison. In those returns, filed between 2006 and 2010, he asked the Internal Revenue Service for $890 million in refunds. It was only when prison officials returned an IRS cheque for $327,000 that the tax agency became suspicious. Before getting caught, the inmate in question showed at least one other inmate how to commit the same crime.
Originally serving a 2-4-year sentence for possession of stolen property, he faces five more years in prison and a fine of up to $250,000 for each of the 11 counts for which he was found guilty.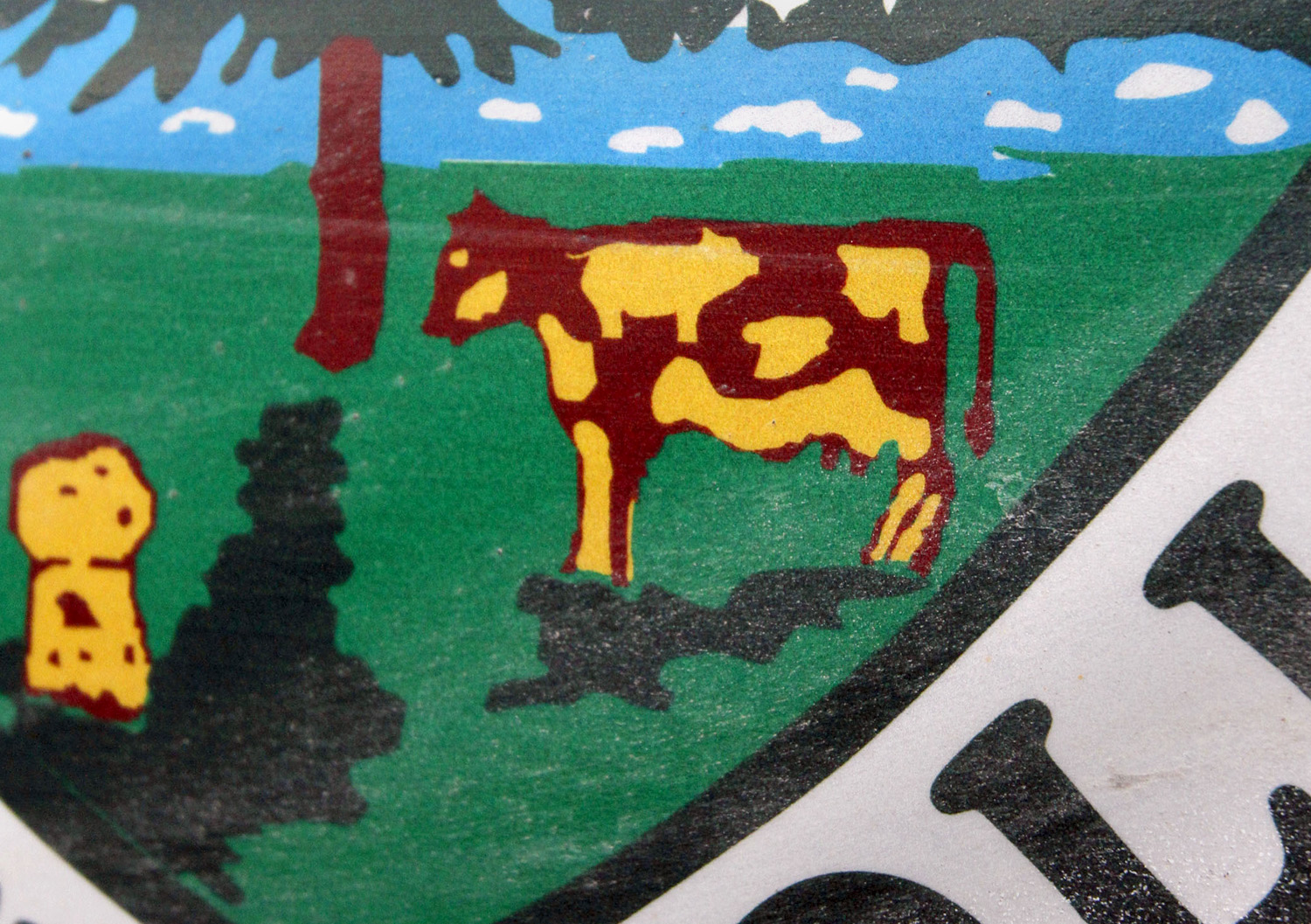 A Vermont police officer was washing his car when he noticed something wrong with the 40 cm decal on the side. On account of his discovery, the Vermont Department of Corrections has announced that new decals are to be produced for its squad cars. It was four years ago when an artist at the relevant print shop, run by inmates at the state prison in St Albans, altered the state seal to include a pig within the spots of the cow.
Public Safety Commissioner Keith Flynn said: 'We can see the humour' and that 'if the person had used some of that creativeness, he or she would not have ended up inside'.
When police checked inside a sport utility vehicle that was blocking Chicago traffic, they found a sleeping man surrounded by empty beer cans. Asked to submit to a breath test, Santa Ana Zuloaga-Campuzano, 30, offered: 'What's the point? I know I'm drunk.' He also explained that he had conscientiously fallen asleep so that he wouldn't hurt anyone.
After his arrest, he entertained himself by burping, complimenting himself on his musical abilities in banging his handcuffs against a police station bench, and urinating on the station floor. But most of the charges he faces have to do with his behaviour in traffic.
William Oller, Jr, enjoyed singing with his karaoke machine outside the Redding, California, home he shares with his father. William Oller, Sr, 70, did not enjoy the singing, or at least one particular country song. So, when his son refused to turn the machine off, the elder Oller said: 'I'm going to shut you up.' His chosen method - four bullets fired from a handgun - worked.
He has been arrested on charges of attempted murder, though his son has said that he doesn't want the prosecution to go forward.
Although his neighbours report that he was well-liked, David Carter might not have been missed. No-one had seen him for a while by the time bank officials noticed that he hadn't been paying the mortgage on his Wisconsin home. Also, the city had taken it upon themselves to mow his unkempt lawn and shovel snow for him, and their bills too, coming to $37,000, went unpaid. A worker with the Milwaukee Treasury Office recently entered his home to repossess it and found his 'nearly skeletonized' remains in the stairway and a handgun on the corpse's chest. It is believed that Carter killed himself in 2007.
Macomb County, Michigan, Sheriff Anthony Wickersham said that a mother sent her 11-year-old daughter into a grocery store to do some shoplifting for her while she waited with her other children in the car park. The 29-year-old woman had given the girl a list of what to pile into the trolley, but she'd still picked up two bottles of the wrong type of detergent. So, hoping for an exchange, the mother entered the shop and explained that her daughter had bought the wrong brand. She was detained and arrested, and the state's child protection agency has become involved.
Florida's John Goodman is a wealthy man, and he wants to stay that way in the wake of a wrongful-death suit related to his driving while intoxicated. He had set up a trust fund for his children, who are allowed to withdraw money from it once they reach age 35. The courts are not allowed to tap into this amount for any awards of compensation.
Therefore, Goodman, 48, has legally adopted 42-year-old girlfriend Heather Hutchins as his third child, meaning that she is entitled to a third of the money in the trust. She is also paid as the trust administrator.
The trial is scheduled to begin on 27 March.
The Daily Telegraph reports on a case in which, after a spate of shop burglaries, a CCTV operator in Sussex radioed a police officer on foot patrol to report someone 'acting suspiciously' in the area. Following the operator's directions, the plain-clothes officer gave chase for 20 minutes or so, reporting that he was on the same street, 'hot on his heels', at one point. The officer was never close enough to see the suspect, however. The chase ended when a sergeant entered the CCTV control room and began laughing - he recognised the suspect as the pursuing officer.
The Telegraph quotes a local police source as saying: 'We've had a couple of funnies lately, but all taken in good spirit.'
Police arrived at Hoover Elementary School, in Mariden, Connecticut, in response to an attempted drug deal of sorts. At snack time, a four-year-old special-needs student had announced that he wanted to share. He'd then pulled nine small bags of marijuana, apparently prepared for sale, from his jacket pocket. Principal Miguel Cardona described this as an isolated incident and stressed that the student had no idea what the substance was. Police stated that there is a possibility of arrests.
Reuters have released security-camera footage captured by police from a bank robbery in the state of Paraná, Brazil. A man is seen guarding the door of the bank with two guns as the rest of his group enter. He then lowers his right arm and manages to shoot himself in the foot.
He was unable to limp very far but did make it to a hospital, where he was arrested. The rest of the gang are still at large.
In other CCTV footage, Dean Dinnen is seen entering a pub in Hull while wielding a chainsaw. Drunk and high on drugs, Dinnen wanted to get back at the man who'd had him ejected about an hour earlier for lighting a cigarette inside the hostelry.
With the chainsaw, Dinnen severed tendons in a customer's arm and destroyed quite a few things. And Kevin Fletcher described being afraid he would die after falling over while trying to escape: 'I could hear the chainsaw screaming behind me and I got the feeling he was right behind me.' The locals, however, fought back and began throwing bar stools, kegs, and pool cues at the 24-year-old aggressor. They managed to overpower him.
Dinnen has pleaded guilty to an array of charges and has been sentenced to three years in jail. Also, it turns out that the man he was after had already left the pub anyway.
Footage captured and later broadcast by television news in India shows what can happen if one is at a boring meeting and decides to show other people something on one's mobile phone in order to pass the time. Karnataka state Minister for Cooperation Laxman Savadi shared a porn clip with women and children's affairs minister C.C. Patil while sitting in the state parliament assembly. They have both resigned, as has the owner of the telephone, Minister for Ports, Science and Technology Krishna Palemar.
In other porn news, a man in Trementon, Utah, borrowed a Smurfs DVD from a kiosk to project from his laptop computer for his child's birthday party. When he turned the projector on, peach-coloured rather than blue skin appeared - rather a lot of it.
According to Police Chief Dave Nance, the father complained to them that someone had tampered with the disc, putting pornography on a children's video. Finding nothing dodgy on the DVD, the cops concluded that the porn was probably on the laptop. The father isn't being charged for showing it to the children, since it was apparently accidental.
Police in Georgia (the US state) pulled over Kotina Lashan Feaster and Jessica Pennick for following another car too closely. Inside the car were quite a few shoe boxes - 78 in all. The officers looked inside these and quickly concluded that the two women were trafficking in fake Nikes. The fact that basketball player Michael Jordan was depicted in the Nike logo as having six fingers on one of his hands confirmed their suspicions.
Feaster and Pennick have been arrested.
Officers in Salem, Massachusetts, report that William Hare, 47, and Rajendra Srivastava, 30, were seen walking down the street at 1am with a dragon's head carved from ice. A short while earlier, the head disappeared from an ice sculpture that had been on display at a festival. The arrest report stated: 'I observed the ice Rajendra was carrying to be the head of the dragon. Rajendra stated he was taking it home as a souvenir.' Further, police said, Hare, who is a psychologist, told them that, as a doctor, he could 'do what he wanted'.
Both men were charged with receiving stolen property worth more than $250 and larceny over $250. Also, Hare faces charges of illegal possession of prescription pills and disorderly conduct.
Cigarettes can be hazardous to one's health. Florida fire officials report that an electric cigarette has exploded in a man's mouth, leaving him with severe burns, a chunk missing from his tongue, and fewer front teeth. North Bay Fire Department Division Chief Joseph Parker says that the cigarette's battery apparently exploded while the man was smoking.
The man has been using electric cigarettes in an attempt to wean himself from smoking. It is unknown whether the recent incident has brought him closer to that goal.