Police officers in Toronto report on a man who decided to get a taxi after a night of drinking. He climbed into a cab at a police station garage in Liberty Village and was soon informed that the vehicle was actually a police cruiser that had stopped for petrol. The officer checked the intoxicated man's details in police records, and he was arrested on an outstanding warrant, according to Constable Allyson Douglas-Cook.
The Peel Paramedics Union have responded with a suggestion that the force could 'leave patrol cars around the city like bear traps'.
It was getting late when Lisa Carr missed her bus home from an Ohio hospital, but she didn't consider the option of a taxi. After all, there was a University of Cincinnati ambulance just sitting there with its engine running. So Carr, 43, simply drove the ambulance to her home in Springfield Township. When the ambulance driver emerged from the hospital, he flagged down police officers, and Carr was soon arrested. She faces charges of theft, driving with a suspended licence, and failure to comply with a police order.
According to a police report from New Albany, Indiana, 37-year-old Michelle Nelson sent husband Timothy to fetch doughnuts from a local shop. They didn't have the type she prefers, so he returned home empty-handed. This did not sit well with her: she opined that he should know what other types she likes, given their long-term relationship, and she emphasised her frustration by lunging at him with a grill fork. He ran from the building with the fork embedded in his chest. When the police arrived, a blood-soaked Timothy was applying pressure to the wound. He was taken to hospital, and Michelle was charged with aggravated battery.
Meanwhile, Florida's Palm Beach Post reports on marital strife in the Bradshaw household: 84-year-old Uriel was eating mangoes in a bedroom when his 65-year-old wife walked in and noticed that he'd been placing the mango peelings on the floor. He responded to her complaints with a steak knife, stabbing her twice. She banged on the walls to alert her daughter, who lives next door, to summon the police. Uriel, who has been arrested for aggravated battery with a weapon, says that he doesn't remember stabbing his wife, though he does recall an argument about the mangoes.
In a story from last month, 18-year-old Tatyana Allen became angry at her boyfriend on a Florida beach. We don't know whether the issue was mangoes, peaches, or something else, but we do know her choice of weapon for expressing her feelings: their six-month-old child. First responders took the injured boy to a local hospital, and Allen was arrested for battery and for inflicting physical/mental injury on a child.
Holland's Alexander Pieter Cirk fell for a Chinese woman he met via a dating app on his phone. After growing frustrated with the distances involved, he decided to obtain a visa and air tickets to visit her, and he sent her a photo of his flight details. When he arrived in Changsha, however, she wasn't there to meet him, so the 41-year-old Cirk remained at the airport. Ten days later, his health began to flag, and authorities took him to a local hospital.
According to Chinese state broadcaster CCTV, a local television station tracked down the woman, who explained that she'd thought him joking about making the journey. She added that she hadn't been able to reply to his post-arrival messages because she'd been scheduled to have plastic surgery. The woman allegedly expressed hopes of maintaining her long-distance relationship with Cirk.
Curry Todd, who represents Colierville, Tennessee, in the state legislature, was captured on film while uprooting an opponent's campaign signs from in front of residents' homes. The 68-year-old Curry, who argued that 'I wasn't trying to hide anything; it was daylight', apparently promised to turn himself in to the authorities within the next week. Perhaps hoping that things would blow over, he failed to do so. Therefore, he was arrested at his house, for theft, and authorities shared the incriminating images at a press conference.
The opponent whose signs he stole, Mark Lovell, posted bail on his behalf.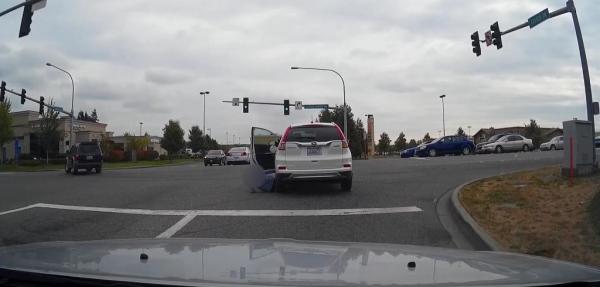 At a red light in Burlington, Washington, a motorist pulled up alongside another car and alerted the driver that she'd forgotten to put the cap on her petrol tank. When she exited her car to deal with this issue, she forgot something else, so the car rolled forward. David Alger, in the vehicle behind it, saw the woman reach inside and grab the steering wheel, with the result that her car turned to the left and ran over her legs.
Rebuffing Alger's attempts to tend to her injuries, she was intent on chasing her car through the junction. When it finally did stop, it was thanks to a tree in front of a nearby Starbucks.
Florida's Daniel Frederick Rushing, 64, had just taken a neighbour for chemotherapy and was preparing to drive a friend home from work when he was unfortunate enough to get pulled over for speeding and to have a 'rock-like substance' on the floorboard of his car. Rushing later said: 'They tried to say it was crack cocaine at first, then they said: "No, it's meth, crystal meth."' The officer's report settled on: 'I recognized, through my eleven years of training and experience as a law enforcement officer, the substance to be some sort of narcotic'.
Since two field tests indicated the presence of amphetamines, Rushing was strip-searched and rushed to jail. He remained there for several weeks, until a state crime lab determined that - as Rushing had insisted - the substance was pastry glaze, from a Krispy Kreme doughnut. It is unknown whether the officer's experience in law enforcement conferred any familiarity with this substance.
When two police officers arrived to address noise complaints surrounding a party tent in Bendorf, Germany, they were greeted by 'approximately 10 tipsy women' who were holding a 50th-birthday party. According to a police statement, the officers' multiple attempts to explain that they weren't strippers 'were completely unsuccessful', and the two men were besieged by women seeking selfies and hugs. The officers fared better at obtaining some of the information needed for their report, such as the birthday girl's phone number. In the end, a guest saw the police vehicle outside the marquee and the music was swiftly turned down.
A 75-year-old woman from Graubünden, Switzerland, received a telephone call from a police officer who was part of a national programme to guard older citizens against phone scams. Perhaps you will be unsurprised to read that the man was, in fact, a scammer himself. He persuaded her to transfer the equivalent of over 50,000 euros to his account before she detected a problem. The police have advised locals to be suspicious of 'supposed police who call speaking High German', though they did offer some useful general advice too.
In Winton, California, a sheriff's officer saw an SUV parked beside a construction site at midnight. Investigating, he approached and saw two 17-year-old boys inside. Jason Guins, speaking for the Merced County Sheriff's Department, said: 'There was a strong odor of marijuana coming from the vehicle. They were passed out and he had to wake them up.' Also in the SUV was a loaded gun, stolen a few months ago. The rest of the space in the SUV was occupied by copper wire and other items liberated from the construction site.
The youths were arrested and released into their parents' custody.
California brings us another story of out-of-it people in an SUV. This one was driving erratically on a San Diego motorway, so police officers turned on their siren and flashing lights so that the driver would pull over. This didn't occur, so the officers followed the SUV. When it eventually stopped, a Chinese woman stepped out, clearly confused at being greeted by policemen who had weapons at the ready. After the other two members of her family exited the SUV, they explained that they were tourists and hadn't understood the intent behind the lights and siren. The officers didn't give the two adults any tickets. They did give the boy high fives.
Sharon Marzouk rents out rooms in her Menlo Park, California, house via the Airbnb lodging service. Thinking 'what could be the worst case?', she recently took a reservation from someone she didn't know in person, an eager and friendly-looking young woman. It wasn't long before another resident informed her that the smiling young lady had let the bathtub overflow, sending water cascading to the floor below. The problematic lodger fled quickly, leaving some items behind. These, Marzouk said, made it clear 'why she had put her own source of lighting into the bathroom, even though the bathroom has many lightbulbs already'. They included a suitcase full of condoms, sex toys, and a checklist of scenes and stills to shoot.
Airbnb spokesman Nick Shapiro said that the company will cover the $10,000 in damage and is taking action against the woman: 'We have [...] removed this guest from our platform.'
Michael Kelly, a plastic surgeon in Florida, was recently contacted about a library book he had failed to return to West Virginia's Kanawha County Public Library. Kelly checked out So You Want to Be a Doctor 40 years ago, when he was a high-school student, and 'it has probably moved with me 10 times during college, med school, residency, etc.'. Instead of paying a fine, the 58-year-old man is 'getting off easy' with a $500 donation to the library. He said that, while extremely embarrassed about the magnitude of the book's overdueness, he hopes that the publicity will inspire young people to follow their dreams through reading.
A Ryanair passenger took too long to reach the gate after clearing security checks at Madrid-Barajas Airport. Finding that boarding had ended, he pushed open a fire-escape door at the gate and jumped from the air bridge to where the plane had been. He then chased his flight down the tarmac, attempting to commandeer a baggage-handling vehicle along the way. Though he had 'skipped several security protocols established by [airport-management authority] AENA', he was allowed onto the aircraft before the Civil Guard could intervene, according to an AENA spokesman. The man was apprehended when the plane reached Gran Canaria.
A 42-year-old man visited a hospital in Gurdaspur, India, with complaints of stomach pains and weakness. When an ultrasound scan revealed a 'large mass' in his stomach, he mentioned a possibly relevant factor: he had swallowed a few knives over the previous two months. Dr Jatinder Malhotra, who led the ensuing operation, said that 40 metal knives were removed from the man's stomach, some of them folded, some unfolded, some rusted or broken. He said that 'even for us, the experienced surgeons, it was frightening'.
The man, a father of two, apologised for letting his family down and will postpone his return home until psychiatrists have had a word with him.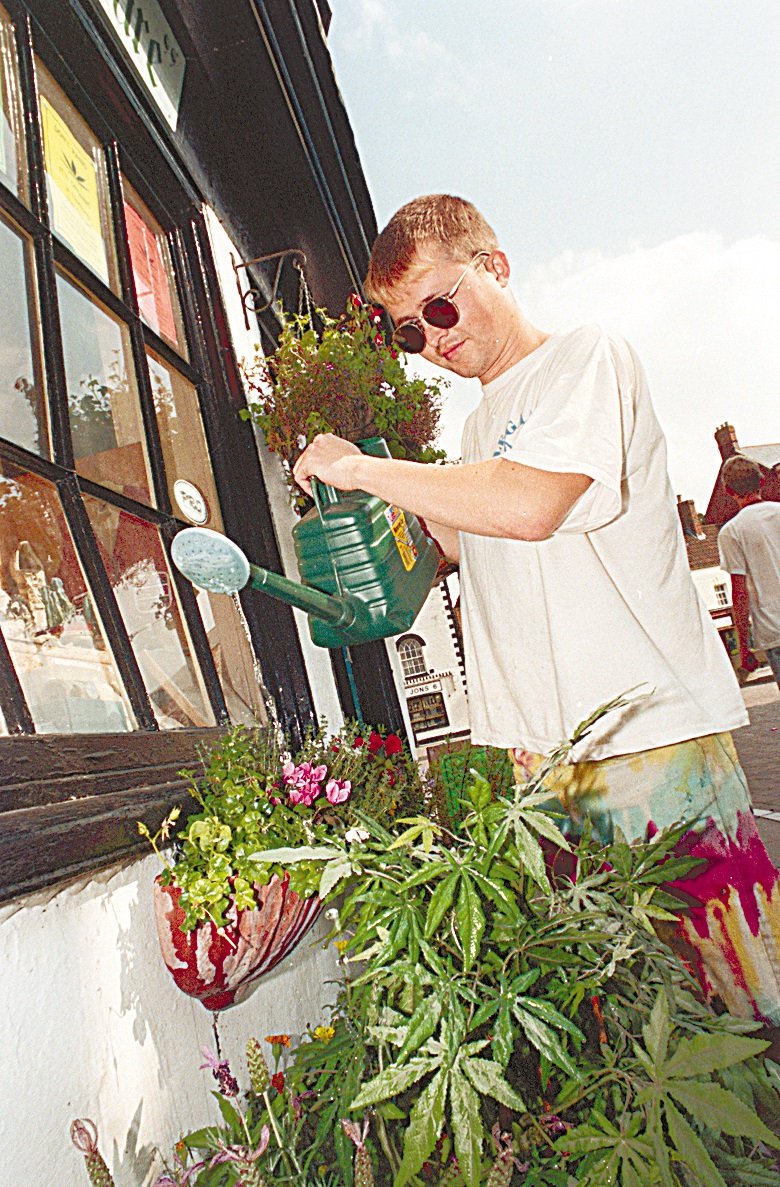 About 20 years ago, a man whose legal name is Free Cannabis started dropping marijuana seeds into public flower displays in Glastonbury: 'I and others come along and drop the seeds into the tubs; they get watered by nature - and the council.' This included displays outside his medicinal hemp shop, which won the Glastonbury in Bloom award in 1998.
When the marijuana in the winning display was noticed back then, Mr Cannabis was given a 12-month conditional discharge, but the leafy matter remained in place. Now, however, 18 years later, someone has complained, so it has been ripped out.
Mr Cannabis may be remembered also for his attempt to hand one of his plants to Jack Straw.
When a 27-year-old man on a moped evaded a traffic stop in Bamberg, the police set off in pursuit. However, the squad car was forced to stop when the path narrowed. Undeterred, one of the officers mounted a child's bicycle to continue the chase. Silke Gahn, speaking for the police force, indicated that the officer succeeded and gratefully returned the 56 cm bike after the chase. German authorities found the suspect to be in possession of drugs and to be under the influence of them.
According to China's People's Daily, angry animal rights activists dragged a naked man out of his home in Chengdu and beat him up. Jiang Yun, a member of the group, explains why: the man, whose identity has not been released, had posted animal-abuse videos to a chat channel with 200+ members. Then, when several undercover activists requested further information, they were told that he had adopted several female dogs for sexual-abuse purposes and that for 50 yuan they could 'rape female dogs in a way that serves us all'. Vigilante justice seemed the logical response.
The man has been put in administrative detention for suspected animal abuse and for distributing videos of it for profit, and the residents of the dog brothel are being treated at an animal hospital.
A Canadian teenager has been given what the police describe as a stern warning about appropriate use of the 911 emergency phone number. Why? The 15-year-old Toronto girl had summoned officers to a rental cottage out of town, in the Trent Hills area, where she was apparently being held against her will. When they arrived, she burst into tears and explained the situation: she wasn't enjoying a family holiday with her parents. According to Constable Steve Bates, the police left the matter of discipline to her parents.