While waiting to be sentenced in connection with a traffic violation, Michigan's Damon Perryman noticed that someone had left a mobile phone on the courtroom bench in front of him. The police later reported that he proceeded to seat himself near the device and place his hat over it. Once the phone was in Perryman's pocket, its owner returned and summoned a court officer for help. That help came in the form of the courtroom video record. In a different courthouse, Perryman will face a charge of larceny in a building.
With his shift at the county jail complete, a Marion County, Indiana, sheriff's officer retrieved the McChicken sandwich he'd left in a break-room refrigerator. About to re-heat it, he noticed that a bite was missing, so he returned to the relevant McDonald's outlet to find out 'who the person was [who didn't like cops] and they deal with that person in an appropriate way'.
After an investigation by both McDonald's and the sheriff's office, the authorities issued a statement explaining that the officer 'returned [...] having forgotten that he had previously bitten the sandwich'. He has formally apologised to the McDonald's staff for the accusations of tampering.
Not long after deported illegal alien Larry Ely Murillo-Moncada made his way back to Council Bluffs, Iowa, from Honduras, his parents contacted the authorities. They explained that, perhaps because of a reaction to his medicine, he had walked out of their house mid-argument and vanished in a snowstorm. According to Police Sergeant Brandon Danielson, the 25-year-old man left with 'no shoes, no socks, no keys, no car' back in 2009. We now know where he went.
Though not scheduled for a shift, he headed for the No Frills Supermarket where he worked, apparently aiming for the unofficial break area on top of the cooling units. Officials believe that Murillo-Moncada fell into the 45 cm gap between the wall and a cooler, which was where renovation workers recently found his corpse. It is believed that compressor noise would have drowned out any cries for help.
In Almeria, Spain, a household-appliance distribution worker unloaded a refrigerator from a van and tipped it over a cliff. His colleague captured this on video, along with the van's number plate and comments from the tipper and filmer such as 'Let's recycle it!'. The Civil Guard report that the man shown in the video has been fined 45,000 euros, and they have released a follow-up video - of the fridge-dumper struggling to obey the authorities' order to haul the appliance back up the ravine.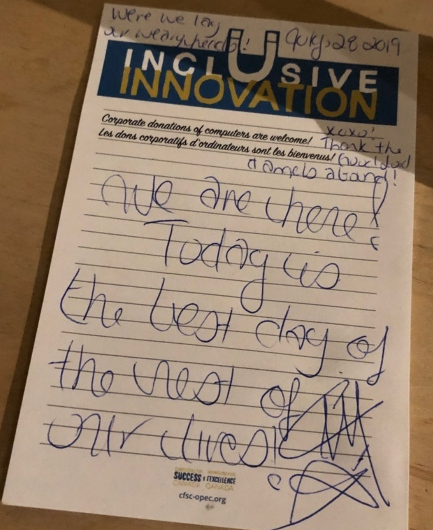 Canada's Rod and Kat Gordon were puzzled when they returned to the Airbnb loft where they'd dropped off their luggage a few hours earlier: the door was locked, but death-metal music was blaring from within. No strangers were present, but there were two more pairs of shoes. Also, the Gordons' bags had been unpacked, all their toiletries were on the shelf above the wash basin, someone else's laundry was in the washing machine, and someone had left a note: 'We are here! Today is the best day of the rest of our lives!'
Building security guards found a surveillance image of possible culprits, a male and female who, Kat reported, 'from head to toe were wearing our clothes'. The Gordons opted to stay with family for the remainder of the trip. Meanwhile, the two miscreants returned, and the security guard - who confronted them - allowed them to return to the suite for the night.
Airbnb host Erika Berney says that she is confused since she changes the door code after each stay. The Gordons received a refund but won't consider the 'incredibly frightening and violating situation' resolved until the police release the surveillance photo for catching the invaders.
Jamie Bisceglia was taking part in a fishing competition in Washington state when she encountered fellow competitors who had caught a small octopus. She placed the 'gorgeous, exotic creature' on her face and asked them to take a picture. She soon was bleeding - 'it had put its beak into my chin, not once but twice. It was like a barbed hook going into my skin', she reported. After two further days of fishing, unremitting pain led her to the emergency room. She was prescribed three antibiotics, told to expect swelling to come and go for months, and informed that the culprit was a venomous Pacific red octopus or a venomous giant Pacific octopus. Bisceglia identified the culprit differently: 'I probably made a big mistake.'
The British Medical Journal has published a report on the case of a 72-year-old man who had problems breathing and eating solid food in the week after an abdominal lumpectomy at James Paget Hospital. A prescription for mouthwash, antibiotics, and steroids proved insufficient, and he was re-admitted with suspected pneumonia two days later. This time, x-rays were taken. The result is a call for surgical teams to be sure that dentures are removed before operations.
This particular patient's false teeth, found lying across his vocal cords, were removed via a second surgery. He had assumed the staff mislaid them during his initial visit.