A 50-something US tourist visiting Italy stopped at the Vatican, where he bought a ticket for a sight-seeing tour. Disgruntled upon being told that the price did not include speaking with the Pope as he'd assumed, he sent a piece of Roman statuary at the Museo Chiaramonti crashing to the floor and ran off through the museum. While staff were chasing him, he pulled another bust from its shelf. Although he lost his head, as one of the busts did, the Italian authorities who took him into custody didn't break his ear or nose, as he'd done to the other.
After an official visit to Kyoto's Tofukuji Buddhist temple, a worker with the city's heritage-preservation department forgot that his car was in reverse gear and backed into the 700-year-old wooden doors and pillars of the temple's communal toilets at speed. This left him with the ignominious task of telling the police that he had obliterated the door to Japan's oldest loo. Toshio Ishikawa, director of the Tofukuji Research Institute, said that the scale of the damage, which should be fixable through considerable work, left him stunned.
After missing pre-scheduled check-ups, a pensioner in California began to suffer blurred vision and eye pain. The latter bothered her, so the 70-something woman consulted ophthalmologist Katerina Kurteeva.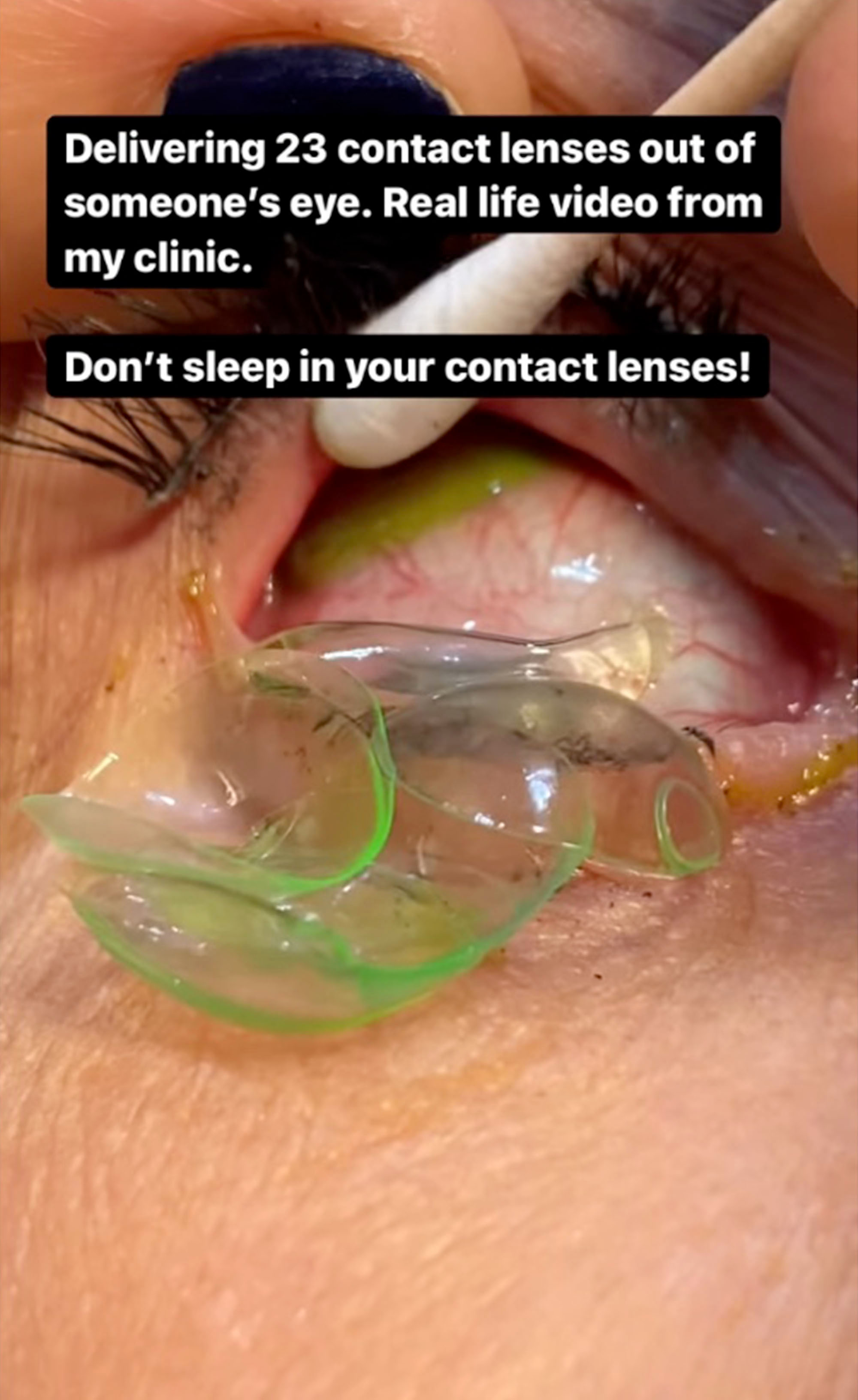 Kurteeva later reported on her investigation of the dark-purple blob visible in the woman's eye: 'I could see the edges of a couple of contacts stuck to each other' - the woman had put in a new pair without removing the previous day's. That does happen on occasion; however, this patient was atypical: under cotton-swab ministration, lenses started 'coming out in a chain, drooping down her lid', until Kurteeva had 'delivered' 23 of them from under the eyelid, where they had been 'essentially glued together'.
Police officers responding to reports of a break-in at a Tulsa apartment complex found the culprit naked in an office area behind a shattered front door. Apparently, he had shed his clothes after engaging with the building's pond. Making a break for it mid-investigation, the man burst through the back door and headed to the water again. The officers jumped in after him but found the conditions 'challenging': '10 feet of water with little to no visibility'. The suspect fared worse. He did not resurface, and a diving team recovered his body later in the morning.
Manchester's Oliver Kaplan took a 6 km Uber ride to a local pub after his shift as a trainee chef. The next morning wound him up again: thanks to a message from Uber reporting that he had insufficient funds for the journey, which had been quoted at the equivalent of 11-12 euros. Kaplan, 22, said: 'When I woke up hung over the next morning, the last thing I expected was a charge of over 35,000 pounds!'
A bit of nagging on his part and sleuthing on an Uber agent's eventually revealed that somehow the drop-off location had been set to Australia.
A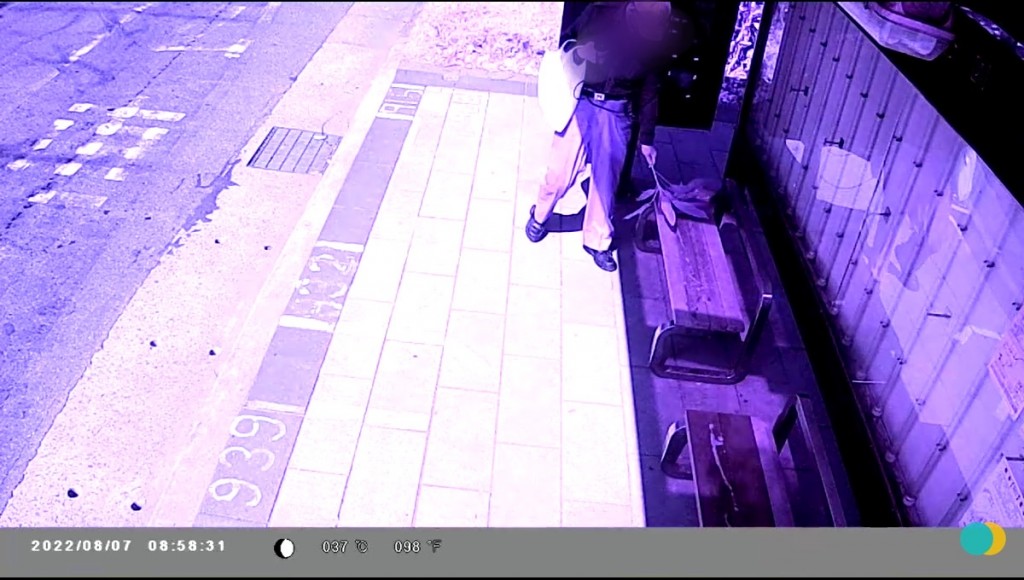 peeved user of Taipei public transport reported to the police that spilt drinks had precluded sitting down at a local bus stop on multiple occasions. Dutifully poring over CCTV footage, Sanxia Precinct officers uncovered a middle-aged man's habit of pouring his drink on the bus stop's seats, adding a few leaves, and then waiting not for buses but for women wearing skirts. When confronted, the 49-year-old security guard responsible, a Mr Huang, confessed to having engaged in this practice for 6-7 years. The New Taipei police then found photos of more than 100 victims of up-skirting on a hard drive at his home.
A member of the public recently entered a Chicago police facility on the pretext of needing to collect personal property, then climbed a fire escape while SWAT training was in progress on the fifth floor. 'The exterior door to that training is propped open because there's no windows or ventilation', Police Superintendent David Brown reported later when explaining how our intruder was able to grab two firearms from a table and point them at the SWAT officers.
They weren't live. The same could not be said for the retaliatory fire. He suffered non-life-threatening injuries, and one officer ended up with a sprained ankle.
Don't read this one over lunch -
Bristol's Anna Gommo was rushed to hospital with violent stomach cramps and muscle pains after a gastrointestinal infection left her dehydrated from vomiting and diarrhoea. In the preceding days, the family's chihuahua had been treated for a 'nasty stomach bug' but not before suffering a bout of diarrhoea near the sleeping Gommo. Yes, the 51-year-old woman sleeps with her mouth open. Yes, she plans to rethink this. Gommo reports that her discharge note describes her as having endured 'a gastrointestinal infection caused by a dog defecating in my mouth - something doctors had never witnessed before'.
At speeds of up to 160 km/hour, Arkansas's Christopher Gaylor flouted multiple stop lights and red lights on his motorbike, which had no obvious number plates. A police chase ensued, which did not end when the 38-year-old abandoned his bike and tried to flee on foot. It ended only when a state trooper fired a stun gun at the fleeing biker after warning him to stop and lie down. Gaylor was engulfed in a fireball, thanks to the four litres of petrol in his rucksack.
He is due to face various new and outstanding charges when/if he recovers.
After what they described as a road-rage incident involving a handgun, several police officers in Colorado converged on 20-year-old Yareni Rios-Gonzalez's pickup truck and arrested her on suspicion of felonious menacing. Much of the time that followed as she was handcuffed and placed in the back of a police vehicle involved denials that she'd hidden a weapon in her vehicle and the police repeatedly reassuring her that her mobile phone was in safe hands. It was, but she was not. While the officers were busy finding the 20-year-old woman's handgun, a locomotive smashed into the squad car, which was parked on railroad tracks.
The Fort Lupton police ended up with a broken car, their bodycams were graced with multiple 'Oh, fuck!'s, and Rios-Gonzalez emerged with several broken ribs and fewer teeth. A spokesperson for the Weld County district attorney's office reported that 'everything is still under investigation'.
In slightly older news, Beyond Meat suspended its chief operating officer, Douglas Ramsey, for eating meat. Well, sort of. In an altercation fuelled by road rage, the 53-year-old executive broke the rear windscreen of a vehicle in a car-park queue, punched the driver for allegedly having bumped one of the tyres of his SUV, and then bit the other motorist's nose hard enough to tear flesh from it.
Other drivers separated the two men, and Ramsay was arrested for terroristic threatening and third-degree battery.
In loosely related news from Germany, we have the case of a dispute in Ginsheim-Gustavsburg, where two 29-year-old men and a 35-year-old woman created a ruckus shortly after midnight. The police report that all three individuals were highly aggressive until officers brought 'massive physical force' to bear and hauled them off to the local jail's 'drunk tank'. That was not before the woman punched an officer and one of the men 'in the course of resisting arrest [...] bit a police dog'. The canine did not suffer significant injuries.
Since his divorce earlier this year, Florida man Michael D. Williams had been living with his ex-wife despite an ongoing dispute over the electrical supply to their shared home. He thought he'd found a solution before leaving the premises over the weekend: turning off the house's power and locking its junction box so that his ex and her son couldn't leave the lights on when leaving a room. When the 47-year-old Williams returned, however, the two had turned the electricity back on and attached their own lock in place of his.
Shortly after that, Williams rang 911 to report having shot two people. He was taken into custody without incident while their bodies were being bagged up and his two younger step-children were being escorted from the home.
To stop Jamee Kimble's vehicle, a Fairfax County, Virginia, police car struck her front bumper. This was easy, since she was already stopped, at a traffic light. Officers cuffed her and loaded her children into a patrol car, explaining that a national database lists the vehicle's occupants as the armed and dangerous people involved in a high-speed chase six days earlier. They soon released her, though - she'd been giving birth by Caesarian section at the time.
Officers with the Polk County, Florida, sheriff's office entered the trailer home of Cheryl Lynn Williams, a state prison system regular who was wanted on drugs charges, and took up position. When she stepped into view with a handgun raised, two officers responded with gunfire. One of their shots took down 21-year-old Deputy Sheriff Blane Lane, who had been waiting outside the trailer home in case of an attempt to flee. He died of a gunshot wound to the chest. Meanwhile, Williams, who had been brandishing what officials describe as a very realistic silver BB gun, survived.
Florida lawyer Ron Smith, 66, was a prominent lobbyist against motorbike-helmet laws whose actions with ABATE (A Brotherhood Against Totalitarian Enactments and American Bikers Aimed Toward Education) likely helped spell the demise of the state's requirement to wear a helmet. I say 'was' because his bike crashed while his American Legion post's biker group were on the way to another biker's funeral while he was exercising his choice not to wear one. Smith and his helmet-free girlfriend, 62, both died of head trauma.
The post's rider-group director, Eddie Rodriguez, said of his first ride with the group since the pair died: 'Every single one had a helmet on.'
Marcus McCowan, Jr., might have been bored at a Texas hospital while his girlfriend was in labour. So the 18-year-old McCowan started running back and forth in the corridor past the Odessa Regional Medical Center nurse's station, grabbed a nurse's arm, and then attempted to break into the hospital's locked nursery. His next action was to snatch a newborn from its mother and take it into the lactation room for strangling. Nurses rescued the bluish baby and rang the police, who arrived on the scene after McCowan had forced his way into the nursery and started choking another infant. He faces several charges, two of them for attempts to grab a police officer's service weapon from its holster.
Having decided to prevent a court-ordered eviction in Longmeadow, Massachusetts, Rorie Woods towed a trailer to the property while officers were waiting for its resident to return. She then started shaking the bee hives within, according to Sheriff Nick Cocchi. Her alleged actions escalated to donning a beekeeper's suit, then rolling a hive to the house's front door and opening it. Some officers taking shelter in the house were stung, as were anti-eviction protesters. A sheriff's report quotes Woods, 55, as saying 'Oh, you're allergic? Good' to a deputy after her eventual arrest.
She has pleaded not guilty to all eight 'dangerous weapon' charges. Cocchi said that she is lucky they don't include manslaughter: the sheriff's-office photographer required hospitalisation but is recovering.