Summoned to deal with intruders at a derelict laundry in Bower Hill, Epping, fire and rescue personnel found that a young man's ankles had become stuck in the course of joining his two friends in an industrial tumble-dryer. According to fire service watch manager Glenn Jackson, crews helped him the rest of the way into the machine so that its door could then be removed with 'a range of equipment'. Ultimately, four emergency services were involved in rescuing the three young men.
Dr Laeek Khan filed a fraud complaint with the police in Meerut, Uttar Pradesh, after two men, apparently sons of a woman he'd started treating upon his return from London, convinced him that they had a magic lamp. Although '"Aladdin" actually made an appearance in front of me' during a conjuring session, the physician later concluded that one of the two men masqueraded as said genie. While the fraudsters initially displayed reluctance to part with the lamp and stated that touching it could produce bad luck, Khan finally persuaded them to do so, for a down payment worth 40,000 euros. Good luck did not follow.
Senior police officer Amit Rai reported: 'Two have been arrested. A woman is on the run.' He added that the group are suspected of having cheated many others in similar ways.
India brings us another story, of Balasubramaniam Kumar, a 74-year-old man who was declared dead at a private hospital in Tamil Nadu, after which his family took the body home and placed it in a mortuary-provided freezer box. The undertakers who arrived at least a day later to collect the body for the funeral noticed it convulsing and gasping for air. While Kumar's brother was busy reassuring those present that the man in the freezer box was indeed dead, mortuary workers rang the authorities, who conveyed Kumar to a different hospital, where he died a couple days later of 'lung-related problems'. Members of his family have been charged with negligent conduct that endangers human life and others' safety.
The corpse in our next story stayed dead. Florida Highway Patrol officers found it after having a car towed from the scene of a single-car accident on the motorway and noticing clouds of flies focused on the vehicle's smelly back end. The body within was that of 25-year-old rapper Brian 'Kent Won't Stop' Trotter, 'wrapped in a piece of fabric and in an advanced stage of decomposition'. Also in the vehicle were fired and non-fired bullets matching those in Trotter's torso.
The driver, Trotter's long-time friend Robert Deupree Avery Coltrain, also 25, has been charged with second-degree murder and illegal transport of human remains.
According to a police report filed by an off-duty officer signing himself as Corporal Monte, those aboard an early-morning flight from Las Vegas to Detroit were jolted awake by a blood-curdling scream from passenger Alicia Beverly, 25. Next to Beverly's drenched seat stood Love Wins pastor Daniel Chalmers. Monte recounted: 'I then asked Chalmers "What did you do?" and he replied "I peed on her, I thought I was going to the bathroom"'.
After using the actual toilet, Chalmers clarified that 'whatever it is she is accusing me of, I didn't do it'. Allegedly, the North Carolina religious leader then asked Monte to feel the visibly wet groin area of his shorts. Chalmers also referred to 'a terrible reaction' to the sleep aid Ambien.
Several hours later, when the plane landed, Chalmers was arrested, his drunkenness was verified, and he threatened to sue Delta Airlines for defamation of character. Shortly after this, Beverly changed out of her soaked skirt and indicated a desire to sue Chalmers. Her solicitor contends also that his church breached its 'duties to the general public to properly hire, train and retain employees that could [...] refrain from injuring the public'.
A herd of about 60 dairy cows in Nyora, Australia, became bored of their surroundings and headed for greener pastures, 3-4 houses in the area. Local farmers swiftly rounded up all of the bovines but one, a hapless animal noticed by neighbour Shelley Churchill after she decided to 'check out my parents' place again, just to be sure there were no more cows'. This one had become trapped by an in-ground trampoline - with every attempt to stand on the springy surface, she fell and bounced. Salvation arrived in the form of a tractor. Once lifted onto solid ground, the cow was able to walk back home under her own steam.
About two weeks after being put in charge of a police station in the Philippines' Northern Samar, Christian Bolok received a report of a cockfight in the village of Manduyang - most such events have been declared illegal nationwide for the duration of the coronavirus outbreak. He decided to lead a raid in person. While collecting evidence amid a scuffle, he picked up a rooster and was struck in the thigh by its fighting spur. Bolok, 38, died of blood loss from the femoral artery before reaching a hospital.
Apart from what the province's head of police, Colonel Arnel Apud, called 'a piece of bad luck that I cannot explain', the raid produced three arrests, three arrest warrants, and the seizing of seven fighting roosters and the equivalent of 10 euros.
When Louisiana's Oscar Urias, 23, and girlfriend Elizabeth Tornabene, 31, returned from a bedroom, their family members received quite a fright - connected less with the devil mask Urias had donned than with the two large knives he proceeded to stab into Tornabene. Intervening, his teenaged brother and sister failed to save her life and ended up with knife wounds. Urias then ushered the other two people in the home outside. One of them was Tornabene's teenaged sister, who fled to a home down the street. According to the homeowner, Urias followed her into a garage there, killed her with a machete, and left with some of the girl's internal organs draped around his neck.
Urias returned to the garage later and was arrested. He faces two charges each of attempted and successful first-degree murder, along with offences related to illegal immigration.
Charged with drug possession and stalking, New Hampshire's Lisa Landon, 33, decided that she would merely declare the charges withdrawn. She did this by submitting forms allegedly from a Hillsborough County prosecutor to the state's electronic systems. This came to light when a forensic examiner asked county officials whether Landon's competency evaluation should go ahead despite the nolle prosequi filing by Assistant County Attorney Patrice Casian.
It appears that Landon pushed her luck further, by faking an order from one of her relatives not to have a guardian appointed for Landon's child. Also, there was a forged judge's waiver of the fees for Landon's filing of a lawsuit against the county.
Stories containing the words 'backyard zoo' seldom end well. The case of a man who paid $150 to play with a black leopard behind a home in Davie, Florida, is not an exception. At this 'licensed sanctuary for rare and endangered animals', the customer was promised a 'full-contact experience' including photos, but what he received was a mauling as soon as he entered the leopard's cage. According to WPLG Television, he was left with his scalp 'hanging from his head, [...] his right ear was torn in half', and he required several surgeries. Meanwhile, the entrepreneur has been cited for maintaining captive wildlife in unsafe conditions.
The Las Vegas Review-Journal reports on the day when a flustered Sidney Deal locked his keys in his new Nissan Altima after an argument with his girlfriend. He sought assistance from nearby police officers, whose efforts included trying to use a hanger and offering to break a window. Deal balked; he didn't have the money for repairs. The price cited for a tow truck didn't meet his approval either. Next, the officers offered to call a locksmith, but Deal used their phone to summon his brother Samid instead. Upon arrival, Samid proposed wrapping his shirt around his hand and punching out the window. Deal again balked, but the officers had had enough. Worried about Deal's daughter inside the car, they broke the glass, above his protests that the air-conditioning system was on. It turned out that one-year-old Sayah was already dead.
A neighbour from whom the police had requested a clothes hanger reported that these proceedings took hours in outdoor temperatures that reached 35 degrees. Deal has been arrested for felonious child abuse.
A Pasco County, Florida, couple entrusted with the care of six children chose to punish one boy's misbehaviour by confining him to a bedroom containing only a blanket and mattress, with a boarded-up window and no electricity, for up to 12 hours a day. One of his siblings, however, pushed a book of matches under the door, enabling him to set the mattress on fire. When fire crews arrived, the vermin and faeces in the room could not escape their attention, and detectives soon arrived to speak with the couple, Daniel and Kelly Davis. While officers had spoken with the children, all of them home-schooled and aged 10 and below, before, they couldn't speak freely at the time. On this occasion, however, even 37-year-old Daniel 'freely admitted, without hesitation, that the dogs in the household had more freedom and better living conditions', according to Detective Randall Jones. All the children are now in protective custody.
In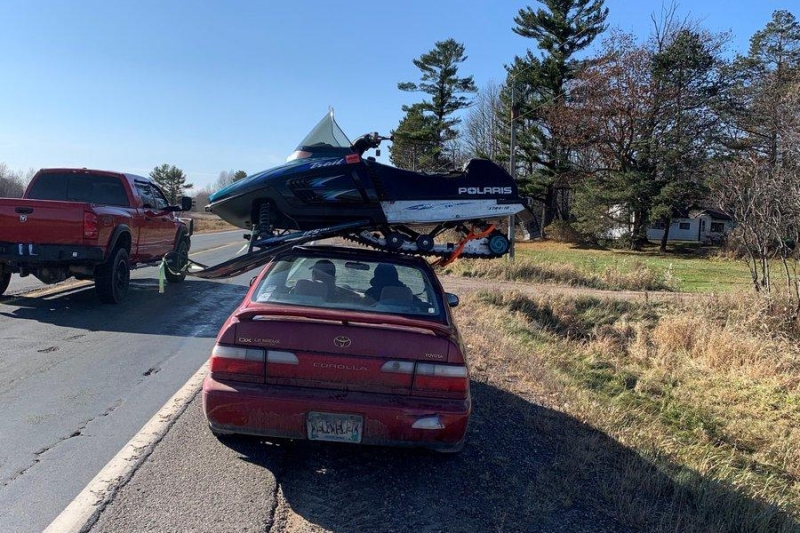 Polk County, Wisconsin, a state trooper pulled over a small car that had an 'over width' load: a snowmobile was attached to the roof sideways. The Toyota Corolla's driver, local Matthew Schmit, explained that he had just purchased the snowmobile and was on the way to show it off to a friend. He argued that 'we had it strapped down and shook it', and the trooper let him off with a warning, telling him to turn his 'beater car' around and go back home. She did fine this safety-conscious 23-year-old $10 for not wearing a seat belt, however.
Finally, efforts to honour fallen servicemen on Remembrance Sunday came to a premature and spectacular end at a Tesco Extra in Middlesbrough. A woman took umbrage at being asked not to keep talking and shopping during the two minutes of silence, and soon there was a shout of 'You've disrespected my mother!' from the offender's offended daughter. Raised voices escalated to a brawl, and eggs were raised in anger. 'There were smashed eggs all over the floor' before the police broke up the melee, explained one dazed customer, who added 'I only went in for a chicken...'.