A nine-year-old boy without identification or a boarding pass managed to walk past security screeners and a gate worker at Minneapolis-St. Paul International Airport, making it aboard a flight to Las Vegas. It was only partially through the flight when the flight crew noticed that he was not on the list of unattended young passengers. The boy, who was taken into custody upon landing, had planned his trip to Las Vegas well, staking out the airport the day before, blending in with a family for his journey through security, and briefly borrowing a bag from a baggage carousel in order not to stand out.
Surgeons in obesity-plagued Saudi Arabia performed weight-loss surgery on a two-year-old boy whose over-feeding had left him with bowed legs and obstructive sleep apnea, along with a reported body mass index of 44.1. A large portion of the boy's stomach was removed in the surgery, and two years later the toddler's BMI has been cut in half. Thanks to Osku for this story.
Marcy Keelin, 38, and her 10-year-old daughter filled a shopping trolley with groceries and beer at a Morgan Hill, California, supermarket. While the elder Keelin fetched her car, the 10-year-old girl headed straight for the exit with the trolley, which locked up as alarms sounded. The stone-faced girl was taken into custody, and her mother fled, later ringing the girl's mobile phone. When an officer answered, the woman refused to pick up her daughter.
The girl, who explained that she knew stealing was wrong but hadn't wanted to disappoint her mother, was released to the custody of her grandmother. Marcy Keelin did not return to her home, where the refrigerator was full of food, perhaps from a successful mother-daughter shoplifting at the same site two weeks earlier.
Running for the Alajõe local government council, Estonia's Aleksandr Petuhhov decided to aid his election campaign by registering 31 people as living in his home and thus rendering them eligible to vote, for him. All of the applications, from Petuhhov's friends, were rejected. If honoured, they would have increased the population of the municipality by five per cent.
A woman decided that it would be unsafe to leave her child's birthday cake in her car with her dog, so she took the cake inside the Cowlitz County, Washington, courthouse with her. After passing through a metal detector, the chocolate cake quietly sat on a table until a man, identified as 50-year-old Robert Fredrickson, began gobbling up handfuls of it. A sheriff's officer threw Fredrickson to the ground. Cake and icing went flying, and several sheriff's officers ended up decorated with frosting.
Fredrickson, who had been on his way to a court appearance, was arrested, accused of third-degree theft.
As part of efforts to stress that schools and firearms should not mix, Arizona's Entz Elementary School asked police officer Scott Urkov not to wear his uniform or sidearm when collecting his daughter after school. They explained that some children had told their parents that 'there was a man at school with a gun' and that it didn't matter to the concerned parents who was carrying that gun. Urkov responded with incredulity, and the school later relented, apologising and asking Urkov to speak to the children about police officers and what they do.
The family of slain Kimberly Walker decided to honour her obsession with cartoon character SpongeBob Squarepants - after all, twin sister Kara stressed, 'everything she had was SpongeBob'. The girls' mother recalls that cemetery representatives 'came and said: "Yeah, we can go ahead and do SpongeBob." She gave us a statement, we signed a contract, and then they started the design' of two two-metre-tall SpongeBob grave markers, one in an Army uniform and one in a Navy uniform for when Kara dies. Eight months later, the 30,000-euro monuments were ready. Less than a day after they were erected, the cemetery stated that they 'cannot remain here', with the cemetery president claiming that a worker had, 'unfortunately, made an error in judgment' and that an attempt is now being made to come to a compromise at the cemetery's expense.
In other headstone news, town officials in Chester, Cheshire, have told Angela Robinson that she must replace her husband Allan's headstone with one that does not lower the standards of the cemetery. The problem is the equation and Sudoku puzzle that pay tribute to her husband's work as a mathematician and love of the number puzzles. She said: 'He was a bit of a fanatic, but this is personal to him.'
Rondell Johnson claims that police were mistaken when they arrested him for a bank robbery carried out by someone dressed as a female clown. This is despite the fact that, 15 minutes after the robbery, officers and a police dog had found him at the end of a trail of footprints in the snow from the bank to a field. And the fact that he was standing near a bag that contained a clown suit, foam-ball breasts, and marked money stolen from the bank.
The judge chose not to believe Johnson and sentenced him to eight years in prison, including time served.
After a pedestrian in Brunswick, Ohio, reported having been nearly hit by a speeding SUV, officers spotted the vehicle leaving a McDonald's drive-through and tried to get the driver to pull over. The driver, 31-year-old Ronald Miller, led the police on a short chase before stopping. Miller apologised and explained that he had just wanted time to finish eating his Big Mac burger. When asked to perform sobriety tests, Miller said that it wasn't worth the trouble and admitted to having downed as many as 15 beers.
He was submitted to his wife's care and will face charges that include driving while intoxicated and not having a driving licence.
An employee at the Butte-Silver Bow County, Montana, health department found a motion-activated camera installed in a little-used room and contacted the police. According to a memo from Human Resources Director Penny McElroy, an internal investigation revealed that a couple of workers had decided 'it would be fun to have the Butte Paranormal Investigative Team see if there was any paranormal activity in the building. Members of the paranormal group said they thought they had permission to set up the camera. It was to be there for just an hour, but they forgot the camera when they left.'
It was determined that no crimes had been committed and no ghosts found. The county's chief executive, Matt Vincent, said that the incident, while amusing, doesn't help to gain the public's trust.
According to thelocal.de, a newlywed exited the couple's minibus during the final leg of the honeymoon to use a petrol-station loo near Bad Hersfeld. Her husband, believing she was asleep in the back seat, drove off. About two hours later, in Braunschweig, he detected his error when tending to his restless children in the back seat. He rang the police and soon was headed back to collect his 33-year-old wife, who later said: 'My first reaction was "Is he daft??" I had no money or telephone with me', added that she isn't actually annoyed with him, since he didn't leave her deliberately.
According to a police report from Mount Hope, New York, a woman was tending to her mobile phone while driving and ended up in a collision. More precisely, 21-year-old Daisy Cowit drove into a line of 50 dairy cows that were crossing the road between the two parts of Mike Hosking's farm. Her Jeep struck six of the bovines and narrowly missed farm workers who were frantically motioning her to stop. According to a witness, one cow flew about 1.5 metres into the air.
Hosking said that salt was rubbed into his wounds by the person who came to collect Cowit asking why there was so much fuss over a few injured cows. Hosking said: 'I think more of those cows than I do of some people.'
Three of the animals underwent emergency surgery, and Cowit has been charged with reckless driving, among other offences.
I haven't been able to verify the next item fully. It comes from China Radio International, citing Beijing Times. When Xu Wanfan, 75, was in intensive care at a hospital in Shaanxi Province's Xi'an, his wife tried to withdraw funds from his bank account but entered the code incorrectly enough times that a lock was placed on the account. Industrial and Commercial Bank of China staff told her that he would have to request a password change in person, so she summoned an ambulance - on the pretext, some sources say, that the family wanted him to die at home - and had it stop at the bank, where staff said that the old man still had to visit the counter.
The story came to media attention when the medical staff filed a complaint about having to carry the man's stretcher into the bank for a password reset. The bank later issued a statement of apology, stating that, though it has strict rules about account security, special service should be extended to clients who face troubles.
According to Brazilian media, 21-year-old Cristielli Mansa really wanted to communicate with her boyfriend, Wagner Machado Rodrigues, 19. Outside his temporary home, the prison in Porto Alegre, she and Sydney Lopes da Silva sent a mobile phone over the wall, on the back of a pigeon. Just on the other side of the wall, the bird gave out under the added weight and landed right in front of a patrol. Officers rushed through the gates and apprehended Mansa and Lopes, who were preparing a second pigeon, with a battery and other accessories.
Three Boy Scout leaders, also Mormon youth leaders, decided to do a good deed. In a video posted to Facebook of their heroic act at Utah's Goblin Valley State Park, the person behind the camera says: 'Some little kid was about ready to walk down here and die, and Glenn saved his life by getting the boulder out of the way.' The only problem is that the boulder was one of the 20-million-year-old rock formations that give the park its name.
Actually, there is a second problem: Glenn Taylor, now dismissed from the Boy Scouts of America, is in trouble also for filing a lawsuit claiming debilitating injury to his back, which held out fine during his rock-climbing and tent-rock-toppling escapade.
According to AP reports, Deidre Romine, a mentally disabled jobless woman, collected $2.87 in change from the fountain at the Logan County, Ohio, courthouse before an officer accused her of theft. Worried that a jail record would make it even harder to find a job, she explained that she had simply been trying to feed herself and her four cats and said: 'I didn't know it was wrong. It was mostly pennies in there. It's just been a really rough year.' Romine pleaded innocent of petty theft from the city and said that she didn't think the money belonged to anyone.
Walter Serpit, five other adults, and two children were watching television in a Columbus, Georgia, home when the room began to fill with smoke. After everyone had made it safely outside, Serpit decided to make a brave rescue. Leaning on his walking stick, he headed 'back into the house like a dummy', he said, to fetch some personal possessions - several cans of beer. He managed to escape the home, beers in hand, without suffering burns.
According to the FBI's Web site, someone demanded that a teller at a San Diego bank fill his carrier bag with money. The teller complied, and the robber then proceeded to carry the bag of loot across the bank lobby and sit down to look through the money, perhaps to count it. While he was doing this, a bank guard went outside to fetch a police officer. When the robber left the bank, he was arrested without incident. The man has been identified as 60-year-old Kevin Blair Grattan.
When a drunken 52-year-old man began cursing at other passengers on an EasyJet flight from Malta to Manchester, the captain left the cockpit to order him to calm down. This infuriated the man enough that, upon landing, he removed his shirt and challenged the pilot to a fight. The captain declined the offer, and the passenger continued to remove his clothes, stripping naked beside the aircraft. According to a witness, he received 'a real slap from the woman he was with', before urinating on a terminal wall and getting a zap from a Taser. He was arrested.
On his wedding day, Liverpool's Neil McArdle, 36, rang in a bomb threat to St George's Hall from a telephone box. After his arrest later in the day, he explained that the hoax call had been an attempt to cover for having forgotten to fill out the paperwork for booking the hall as the wedding venue.
The results of his action included a 12-month jail term and his fiancee having to wait in the street in her wedding gown while the building was evacuated and searched. The couple are still together.
Williamson County, Tennessee, Assistant District Attorney Tammy Rettig filed a motion to stop a defence attorney from calling prosecutors 'the government' in an aggravated burglary case. She wrote: 'The state believes that such a reference is [...] meant to make the state's attorney seem oppressive and to inflame the jury.' In response, defence attorney Drew Justice stated that there was no legal basis for Rettig's request and that he would prefer to be referred to as 'Captain Justice' or 'defender of the innocent' rather than as a lawyer.
The judge found that the word 'government' is not derogatory and denied Rettig's motion.
According to police in Glendale, Arizona, air-conditioning technician Bill Bratcher discovered that someone had partially unrolled the large spools of copper wiring in the back of his truck, worth the equivalent of about 400 euros. Bratcher recalls: 'It was strung - a red, a black and a green - strung down here, [...] and I went to the sidewalk and that's where I found the finger on the end.' After police attached an ice-lolly stick to the would-be thief's severed finger, they were able to obtain a print. Joshua Goverman, 29, had a matching gap on his hand when arrested a few days later. He initially told officers that he had lost the digit while working on his car.
Bratcher said: 'I can't believe he didn't come back and get the finger. I would've come back and got the finger.'
Eight primary-school students in Brooklyn, New York, were hospitalised after they began experiencing breathing difficulties. The ensuing 'hazardous smell' report at Medgar Ewers College Preparatory School led to uncovering of the culprit: Axe Body Spray.
The deodorant spray had already been banned in at least one high school for causing medical complaints and set off fire alarms at another.
In Hemet, California, Robin Irvine woke up to find an intruder attempting to steal her watch, which was on her wrist at the time. Irvine, a former tomahawk-throwing champion, grabbed her bedside throwing axe and chased the man from her home, while ringing the police. Officers searching the area saw a bicycle tyre poking out from a nearby bush, in which they found 22-year-old Nicholas Ulloa and several bags of property bearing Irvine's name. Ulloa was jailed on suspicion of first-degree burglary.
Montana's Billings Gazette reports that Carol Frances Omeara, 55, rang the emergency services to report being unable to exit her vehicle. The dispatcher asked her to clarify: was the problem a medical or a mechanical issue? Omeara replied that she was 'just too damn drunk' after returning from a bar. When an officer removed her from the vehicle, parked outside her house, she said she had been sitting there for the last four hours.
Omeara, whose blood-alcohol level was measured at .311%, has a police record featuring three convictions for driving while intoxicated, so far.
Sweden's The Local reports on a family in the western town of Strömstad whose attempts to assemble flat-pack furniture from Ikea awoke their child at about 1am. Hearing the screaming child and accompanying banging noises, neighbours contacted the police.
Meanwhile in Stockholm, the police reported on another case in which neighbours reported loud screaming to the cops: 'It turned out to be a young couple in a toothpaste war. Not a crime.'
A Loganville, Georgia, police officer caught Rachel Gossett, 25, and Frank Lucas, 27, engaged in sexual intercourse in a pickup truck in the car park of a Waffle House. According to Officer Joshua Brickle, Gossett dismounted Lucas and then just sat in the passenger's seat until, after being told several times to get dressed and present identification, she finally made to clothe herself - 'she attempted to put a cheeseburger on her foot as if it were a sandal'. Both she and Lucas were determined to be quite intoxicated.
There was a bit too much friction for two young girls, ages two and four, to play easily on a slide in Atlanta, Georgia. Investigators don't know which of the two girls poured a bit of petrol onto the slide for added slickness, and they were unable to determine what ignition source led to the younger girl suffering serious burns. They believe static electricity to be responsible, according to Keith Brooks, chief deputy with the Walton County Sheriff's Office.
Four men ordered a large amount of fast food at a Carl's Jr. drive-through in California, then asked the worker at the window to take pictures of the many bags of food for them. Shortly after the group drove off, one of the food-service workers posted a photo of the receipt to Instagram.
Not long after this, a guest at a nearby hotel reported her credit card stolen, with 100 euros' worth of Carl's Jr. food charged to it. Police visited the fast-food joint, where they learned that a friend of the worker who had photographed the receipt had reported back to said worker: 'I know the person because they posted a photo of all the food.'
Police Sergeant Scott Horrillo said of the social-media conjunction: 'Sometimes, technology acts in our favor; sometimes, it doesn't. This time it did.'
Thanks to Osku for this item:
Police in Carlisle, Pennsylvania, report that a Walmart employee saw Scott T. Shover tearing packages of raw ground beef and stewing beef open, shoving some of the meat into his mouth, and placing the packages back on the shelves. A manager and a loss-prevention officer followed the 53-year-old Shover out of the Walmart and pointed him out to a police officer who was directing traffic in the car park. The toothless Shover was arrested at Taser-point.
A 'loophole' in the law was highlighted by the arrest of Shover, whose criminal record includes attempted rape of a child. Police Lieutenant Michael Dzezinski reported: 'As it stands right now, someone who is otherwise bound by law to report their current address can simply avoid the reporting requirement by claiming to be homeless.'
Postal workers in Portland, Oregon, rang the emergency services to report chemical contamination, and three employees were sent to an area hospital to have their eyes flushed. Firefighters with separate oxygen supplies descended on the building, packing biological, chemical, and radiological hazard detectors. The cause? It turns out that a mail-carrier's strong pepper spray for fending off aggressive dogs had been released by mistake. Portland Fire Bureau spokesman Rich Chatman said that it's easy to 'hit the button accidentally'.
Chinese media report on the air quality at a residential and commercial property in Nanchong, in Sichuan province. According to the property-management office, the problem is an unpleasant odour in lift shafts that air-conditioning systems are drawing in from the underground car park, which is under renovation. Construction workers claim the smell is formaldehyde, while others believe car fumes are to blame. Reporting headaches, watering eyes, and coughing, workers at one Internet company asked for time off work. Instead, on day 3 of the complaints, managers purchased gas masks for use while the problem is addressed.
'There had been previous attempts to schedule a session for a massage and the [client] had stood up [masseuse Drew] Thorngate', reported Kalamazoo, Michigan, detective Brian Beauchamp. On the last attempt to arrange a time, Thorngate apparently attempted to provide a massage then and there, with a baseball bat to the head. Thorngate is accused of then dragging the 30-year-old man to a skip and dumping him inside. Beauchamp says that Thorngate later 'tried to clean up the scene and then dumped bleach on the victim as well and fled'. The victim survived but is in critical condition, and Thorngate has been arrested.
Derek Codd and Kristen Rynearson burgled a house in Palm Beach County, Florida. We know this partially because, when officers arrived, a mobile telephone left in the kitchen rang. Said device identified the caller as 'Mom', so the police officer who answered simply asked the 19-year-old Codd's mother who owned the phone. Both he and Rynearson have been arrested. They had stolen a shotgun, some jewellery, and the homeowner's mobile phone.
Three people in Salt Lake City woke at 6am to the sound of a window breaking. They then heard an intruder screaming for help as he walked through the house, bleeding from a deep gash in his arm. One of the residents, Pablo Solorio, said: 'I met the kid the weekend before. He knew my name. He was like, "Pablo, help me! Help me! Help me!". The 'kid' in question told him that he'd jumped through the window to escape from people who were chasing him, though Solorio's video game consoles being in his hand didn't seem to gel with that story.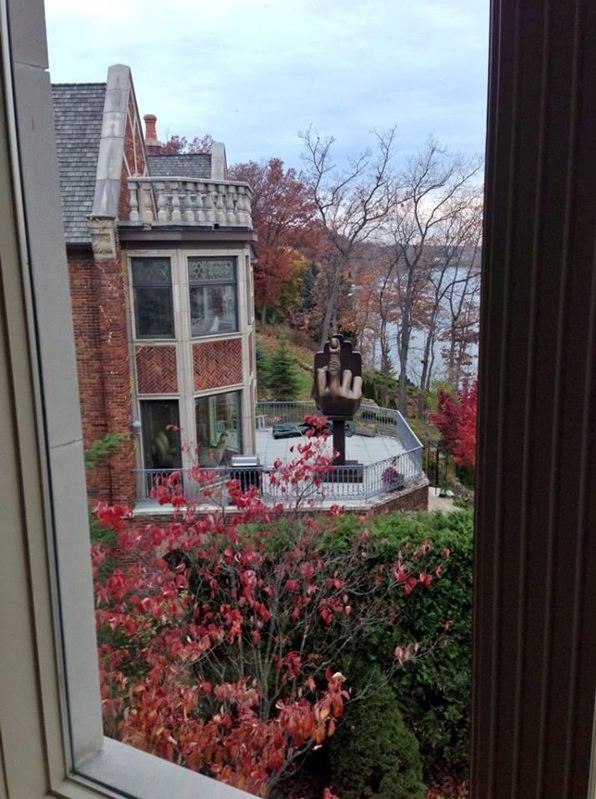 One of the residents helped the intruder to the bathroom to begin treating him while another rang the emergency services. He was later admitted to hospital.
Michigan's Alan Markovitz recently moved in next door to the building into which his ex-wife lives with her lover. Markovitz, who claims that this is a coincidence, recently placed a 3.6-metre-tall sculpture in his garden. The sculpture, which is illuminated at night, is of a hand with middle finger raised. Markovitz explains that it is directed at the lover, who knew Markovitz before embarking on an affair with the latter's wife, 'broke the Man Code'.
At 4:21am, a man rang told the emergency services in Waukesha, Wisconsin, that he needed police officers to remove a woman who was 'snoring like a train' from his bed. The man, Benjamin Duddles, provided the dispatcher with further information: he had been drinking and brought the woman home because he had been 'talking' with her. He couldn't provide her identity but did provide a sample of the seriousness of the snoring, holding his phone up in his bedroom.
Officers sent to the home awoke the woman, who explained that she suffers from sleep apnea. She then went back to sleep. The police report states: 'He was advised this was not a police matter because he allowed her in. He was provided the comfort of his couch for the evening.'
When firefighters responding to a call at New Brunswick's Forever Young old people's home found the cause of the blaze, they called the police. That cause was a pot-growing operation in the basement. Royal Canadian Mounted Police Corporal Brian Villers said that officers seized more than 550 marijuana plants. No arrests had been reported as of Clippings press time. The nursing home has been closed down, and residents' families are looking for new care arrangements.
Brandon Campbell, 27, is accused of burgling 15 homes in Colorado. He has been linked to all of the locations because he wears an ankle bracelet that tracks his location by GPS. District Attorney George Braucler said he expects Campbell to be 'the last guy picked on the prison Brain Bowl team'.
Campbell is required to wear the ankle bracelet as a condition of his probation in a case involving attempted theft of a GPS-based navigation device.