New York's Todd J. Remis isn't satisfied with the photographs that were taken at his wedding, so he is suing the studio, which missed the last dance and the throwing of the bouquet, for the $4,100 cost of the photographs and for an additional $40,000 to redo the wedding so that proper photos can be taken.
Remis, whose wedding took place in 2003, isn't sure where the bride is now, however. She may have moved back to Latvia after the couple divorced.
The Union, South Carolina, police were summoned by a 27-year-old man who reported that his aunt had thrown an ashtray in his direction and, after missing, punched him in the face and pulled his hair. He explained that the aunt, 53-year-old Linda Johnson, had found out that he'd used the toilet roll she had bought. Johnson told officers that she was ready to be taken to jail.
Another South Carolina woman recently tried her hand at crime, with more devastating results: Susan Hendricks decided to collect some insurance money. After making this decision, the 48-year-old woman reported that her son had shot himself in the head at the family home. However, she didn't think she would get enough money from his life insurance policy alone, so she killed her other son, her ex-husband, and her stepmother - all with the same gun. Prosecutor Walk Wilkins said: 'We see greed involved in a majority of the cases we prosecute. However, I don't think we've seen greed rise to the level of a quadruple homicide.'
According to Pickens County Assistant Sheriff Tim Morgan, she may have been responsible also for the fatal shooting of a man who had entered the house without permission in 2006, but there wasn't enough evidence at the time.
According to authorities in Colorado Springs, Kevin Gaylor booked a date with a university student he'd 'met' on the Web site Craigslist and then things got complicated. His girlfriend returned home for the evening. Therefore, when the Craigslist woman arrived at his home, Gaylor rang the emergency services to report that there was a gun-wielding burglar trying to get in.
Instead, it was the 24-year-old Gaylor himself who was arrested, for making a false report to authorities.
A 13-year-old Philadelphia boy was walking home with his submarine sandwich when a man with a revolver told him: 'Whatever you do, don't move' as an accomplice began going through the youth's pockets. The men ended up finding nothing of interest so ran back to their SUV with only the meatball sub. Since he still had his mobile phone, the boy rang the police immediately.
Officers soon found the vehicle and arrested the two men - 21-year-old Rashawn Mallory and 22-year-old Ernest Barnett. The gun used in the crime was found in the vehicle.
According to Sweden's The Local, lingerie retail chain Change has a policy of female employees wearing tags that state their bra size. Hoping to avoid a lawsuit, CEO Susann Haglund has claimed this to be a voluntary employee initiative aimed at helping customers get a better sense of what bust circumference or cup size matches what body shape. However, one worker says that 'we have mystery shoppers here, and if we don't wear our tags with name and size, it gives us loads of demerits'.
The woman who drew the Commercial Employees' Union's attention to the matter says: 'It isn't great when you're out on the town and people greet you with your name and cup size. It feels sort of private.' By contrast, Haglund says: 'I don't get why this would be seen as demeaning in any way.'
In Sydney, Australia, police officers responded to a call to St Vincent's Hospital when a doctor saw that a patient who was recovering from a leg amputation had a weapon with him. The 66-year-old man had a gun beneath the sock of his other leg, also a prosthesis. While he was carrying no ammunition, his 18-year-old son and 23-year-old girlfriend were with him in the room and had two rounds of ammunition between them. It is not clear why he had a gun with him.
Also in Australia, 27-year-old Rebecca Crimmins describes a prank she'd played on a McDonald's worker as having ruined her life.
Crimmins thought it would be funny to dab a cordial-dipped tampon on worker Luke Clareburt's hand and then throw the item at him. Alcohol contributed to her sense of humour at the time.
She still maintains that Clareburt made 'a mountain out of a mole hill' by involving the police, while he says he had no idea what was on the tampon and that Crimmins has 'got no one to blame but herself'.
New Jersey's Janora Carter placed a call to the emergency services when a police officer pulled her car over. She told the dispatcher that someone had arrived with a shotgun at a nearby shop. Instead of the officer being sent to investigate the bogus gun-toter, she and passenger Robert Webb were arrested. Both had previous warrants out for their arrest.
Canada's Victor Giesbrecht stopped his pickup truck to help Lisa Meier's party in western Wisconsin change a tyre. Within minutes of returning to the road, Giesbrecht suffered a heart attack. His wife stopped the vehicle, rang emergency services, and waved her arms at the side of the road. This attracted the attention of certain motorists with a newly changed tyre. They pulled over, and Meier performed CPR on him until a crew with a defibrillator arrived. Giesbrecht remains in serious condition in hospital.
Police in Mansfield, Ohio, report on a five-year-old girl who became worried because her mother wasn't at home when the girl returned from school. While her mother was dealing with an emergency at the local hospital, young Ameleah Kegley set out to look for her. She started her mother's Lincoln Navigator, which backed down the driveway and into the grass across the street. At this point, the girl rang the police, explaining that she needed help getting the car back home before her mother could find out what she'd done and become cross with her.
A 67-year-old man in a Florida bank's drive-through lane became upset at a Palm Coast RBC Bank policy that prevented him from obtaining a money order. His anger took itself out on the driver behind him, who picked up the bank's pneumatic tube and was promptly soaked in a liquid that bore a striking resemblance to urine.
Flagler County authorities' task of identifying the perpetrator was made easier by his transaction attempt and a previous incident of the same type at another branch. He has been charged with creating a public nuisance, and the bank branch has closed his account for him.
Residents of Snellville, Georgia, rang the police to report that a naked man and woman were running around naked in the street. The alcohol-, marijuana-, and LSD-addled couple - Nicholas Modrich and Jamie Hughes - explained to officers arriving at the scene that they were looking for Oscar, who had disappeared after being fed LSD inside a gummy worm.
Modrich's mother and brother arrived with Oscar, who turned out to be the couple's dachshund. The dog, wounded by a car, had bitten both the mother and the brother when they'd tried to rescue him. The animal, in apparently terminal condition, was turned over to an animal control officer, and Modrich and Hughes were sent to a hospital.
According to AP reports, police officers in Portland, Oregon, responded to a call stating that a drunken man was threatening his relatives, but he was no longer doing so when they arrived. Instead, he had barricaded himself in the attic. The officers deemed him not to be a threat and resolved to return later. On their way out, however, they heard a crash: the man, 21-year-old Aaron Deon Kinsey, had fallen through the ceiling, depositing himself on the living-room floor. He is being charged with domestic violence, fourth-degree assault, and harassment.
Police in Vallejo, California, report that a man made a $100 bet with friends that he could fit into a child's swing at a park. Liquid laundry detergent helped him get into the seat, but it couldn't help him escape its confines. His friends left him in the swing, where he remained overnight. The next morning, a grounds-keeper heard him shouting. Firefighters took him and the swing to the local hospital for separation.
Another man in California had to be rescued from a tight spot. Following the sound of screaming, Orange County sheriff's officers found a man chest-deep in the narrow hole in a tree trunk. The hole continued for more than a metre underground. It took about 90 minutes to free the man once he'd been found. Sheriff's Lieutenant Roland Chacon says that it is unknown why the man climbed into the tree in the first place.
New Zealand's Trevor Crampton, 56, recently appeared in court because he stole a haircut. While intoxicated, he had entered a hair salon in Hastings at about 2pm, had his hair cut, and then claimed to have no money. He left a rattled stylist behind.
When Judge Bridget Mackintosh asked him whether he could explain himself, Crampton replied: 'Actually, the first thing I knew about it was the next morning when I looked in the mirror.' He has pleaded guilty to obtaining a haircut by deception and must pay a fine and the cost of the haircut.
Spain's El Mundo reports that a man decided to withdraw money from a Caja Madrid cash machine on his way to work in Llodio. When the machine dispensed his money, the front portion of a snake also was dispensed. The man managed to retrieve his money and then alerted the police, who sought the bank manager's help in freeing the snake from the mechanism. It is unclear whether the snake found its way into the cash point from a nearby field or was inserted by a two-legged interloper.
Alexander Pratt, 59, and Clara Pearson, 53, saw a car that had been left running outside a Florida corner shop, so they decided to borrow it for a brief sexual encounter. Things might have gone better for them if the car they stole hadn't been in use by plain-clothes detectives at the time. The amorous couple were arrested not far away, where Pratt reported that he wasn't sorry for his actions, as he'd simply wanted to 'have intimate relations with Pearson', according to a police report.
Florida's Phillip Winikoff has signed a plea agreement after facing charges of, among other things, impersonating a medical doctor. Winikoff had gone door to door in Fort Lauderdale with a 'doctor's bag', performing breast examinations on unsuspecting women. He timed this to coincide with the Women's Breast Health Initiative's door-to-door campaign, which offered free, non-door-to-door, mammograms.
Winikoff, 81, was caught because one of the women became less unsuspecting, when Winikoff began fondling her below the waist. Without the plea deal, he could have spent 40-odd years in prison.
Also in Florida, L.B. Williams was hoping to get his wife to stay with him though she'd already filed for divorce. The 50-year-old man admitted to police that, to get her to reconsider, he had set light to a cross next to the marital home and then left a note purportedly from the KKK. His wife, Donna, described the note as saying 'they were watching us - I assumed me and the kids - and that I better not leave that nigger'. She contacted the police, expressing surprise that the Ku Klux Klan would support interracial marriage.
The pilot on Delta flight 6132 from North Carolina to New York needed to use the lavatory about 30 minutes from landing. Because two crew members must be in the cockpit at all times, the flight attendant joined the co-pilot, which left it to a passenger to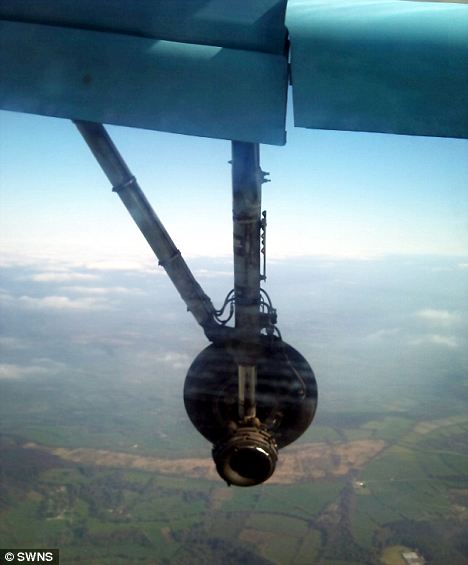 alert the co-pilot that the captain had become stuck in the lavatory. This prompted the following call to air traffic control: 'The captain has disappeared in the back, and I have someone with a thick foreign accent trying to access the cockpit right now, and I've got to deal with this situation.'
The captain had given the man a password to access the cockpit, which did nothing to ease the co-pilot's suspicions. The co-pilot was about to declare an emergency when the captain managed to throw his body against the WC door with enough force to get free and land the plane.
The UK's Air Accidents Investigation Branch has released a report describing an incident in which the wheel fell off a FlyBe aeroplane shortly after take-off from Exeter airport. Passengers with the budget airline had noticed sparks from the right inboard wheel area during take-off and snapped photos as the landing gear retracted, minus a wheel. Responding to a query from air traffic controllers, the pilot asked the flight crew to have a look at the right landing gear. Passengers then reported what they had seen, and a FlyBe engineer on the flight had a look. The pilot made a successful emergency landing, relying as much as possible on the left-hand side of the plane.
In other wheel-loss news, Ananova reports that two men stole a jeep in Xingtai, in China's Hebei province. A police spokesman is quoted as saying that the two men 'hit a parked car than [sic] then accelerated so fast over a speed hump they lost both their rear wheels'. With the police in pursuit, they were able to drive for a couple of kilometres. Finally, as sparks showered from the rear axle scraping along the road, the thieves decided that it might be better to escape on foot. That too failed.
According to Reuters, at least three people are seeking compensation after attending a concert at the Lutheran church in Loviisa, Finland. Green paint from the benches ended up on their clothes. Dozens of concert-goers ended up with green bottoms. And, financial officer Mona Lindfors said, 'there are a lot of imprints on the benches'.
When an 11-year-old boy returned to his Vandalla, Ohio, home, there was a stranger sitting on the sofa. The man, Terry Trent, told the boy: 'I'm sorry. I didn't mean to scare you. I'll get my things and go.' He had stolen nothing, just put up Christmas decorations and lit candles.
The boy fetched his mother from next door, and she rang the police, who arrested Trent. He is believed to have been high on bath salts.
Ontario's Gregory Tedford was quite persistent in taking out his anger on another motorist. When the pickup truck behind him on the road tailgated him and then made a tight pass, Tedford executed his own pass and then slammed on the brakes right in front of the other driver, who pulled onto the shoulder in order to avoid a collision. Tedford, 39, then got out of his truck, tore off the other vehicle's side mirror, got back into his truck, and rammed the other truck twice before speeding off.
The other driver decided to follow while talking to an emergency services dispatcher. When Tedford later stopped, so did the other driver. The actions that followed included Tedford screaming 'You messed with the wrong Ennismore hillbilly' and rapping on the other vehicle's window with a chainsaw, which he tried 15 times to start before giving up. Tedford was more successful with his knife, but three punctured tyres didn't prevent the other man's vehicle from running into him. Tedford finally returned to his own truck and drove off again.
This time, the other man didn't follow. The police found Tedford parked at a nearby petrol station. He was arrested and has pleaded guilty on assault charges.
Freemon Everett Seay punished his 16-year-old daughter for trying to run away from home. The 38-year-old Washington man started by using a willow switch on her. He then engaged her in battle with wooden swords for two hours, stopping at 4am, when she could no longer stand in the armour she had been made to wear for this. The girl later sent pictures of her injuries to friends, who contacted the authorities. The Renaissance fair enthusiast was arrested, as was his wife, Julie May Seay, who works at the Loving and Learning Childcare Center.
Japan brings us the case of a 45-year-old mother who accepted money from 72-year-old male acquaintance Shoichi Koshio in a hotel room this summer and then remained in the room while he twice tried to rape her primary-school-aged daughter. Perhaps the most worrying thing about the case is that the girl was in her mother's custody at all: The two adults had been arrested previously for prostituting the woman's eldest daughter, who is in her early teens.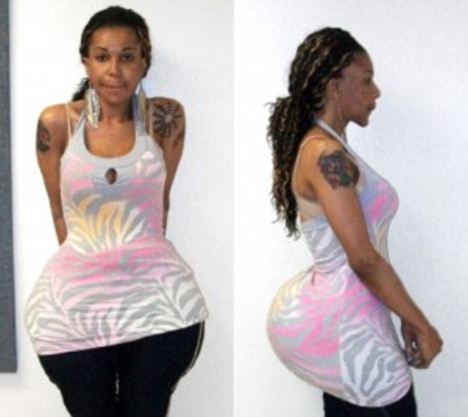 A 30-year-old Florida woman, Oneal Ron Morris, faces charges of practising medicine without a licence after 'enhancing' several women's buttocks with a variety of materials not designed for the purpose. Morris, who may have used the same procedures on herself as part of her gender readjustment, typically used a mixture of canned flat-tyre inflater Fix-A-Flat, cement, and mineral oil. In at least one case, Morris, who posed as a medical doctor, sealed the incision with superglue.
She was arrested and jailed after one victim was hospitalised with what the state department of health termed life-threatening injuries. According to Jennifer Hirst, the agency's deputy press secretary, the woman 'sustained extensive disfigurement to her buttocks and scarring [and] had to undergo several blood transfusions and multiple surgeries [...] followed with home nursing care for several weeks'.
The Columbia University Marching Band were a little fed up with the university's American football team losing so often this year (0 wins, nine losses). On the field, they decided to adjust the words to the team song 'Roar, Lion, Roar' thus:
We always lose, lose, lose: by a lot and sometimes by a little. 
We all were winners at the start, but four years has taught us all the value of just giving up, 
'cause we really suck.  Why are we even trying?  
We always lose, lose, lose, but we take solace in our booze. 
The band were banned from the final game of the season after this. When the band issued a group apology, the ban was lifted. The standard lyrics were used at the final game, which the team won.

A valve on a tanker truck sprang a leak on the Pennsylvania turnpike, leaving a stretch of about 65 kilometres coated with driveway sealant. The thick black tar brought more than 150 vehicles to a standstill, and many more suffered damage. Only when exiting the turnpike at a motorway services plaza did the driver become aware of the spill.
Several road maintenance vehicles and police cars had to be towed away after becoming stuck. Maintenance crews used snow ploughs and sand to deal with the tar.

Transport came to a halt on a smaller scale in Missouri, during what is normally a six-hour Greyhound bus journey from Memphis to St. Louis. After throwing an obnoxious passenger off her bus, the driver pulled in at a petrol station in the town of Charleston, where she simply left it. The 45 passengers spent the night waiting for a replacement driver. Company spokeswoman Maureen Richard described the incident as unprecedented.

Former Hollywood make-up artist Bill Morrison, 45, told the police that he had planned to sell a rubber axe to a friend, fake blood and all. He didn't get that far, because walking into an Ohio bar with the axe under his coat prompted a panicked call to the police. Morrison spent a night in jail. Akron City Prosecutor Doug Powley dropped the charges of inducing panic, stating that the 'situation did not warrant a criminal conviction'.

Ohio's Joseph Hughes has racked up charges of stealing items such as a welding machine, a 6,000-watt generator, and 12 air-conditioning units from the Morrow County sheriff's office. When the items were found in his basement, the former police officer said that he wasn't aware the items were down there, since he had been scared away from that part of the building by a ghost. The court didn't believe him.

Two women stole about 400 GBP worth of alcoholic beverages from an Asda supermarket in the Manchester area - one distracted a security guard while the other simply pushed the shopping trolley outside. Rose Devlin, 59, and Denise Egan, 52, soon found that their getaway vehicle wouldn't start, so they pushed it to the supermarket's petrol station. This was captured on CCTV.
The women got away with it. However, they were caught four months later, when they tried the same technique, though with more fuel, at another Asda. Each has pleaded guilty to two counts of theft.

According to The Local in Germany, a man wearing a balaclava rang a doorbell in Schwanewede, then forced his way into the home after a woman came to the door. He had her at gunpoint when the two children she was looking after came downstairs. A police spokesman is quoted as saying that they 'had heard what was going on from upstairs and came down with their money, all their savings'. In response, the robber put his gun away and simply left.

An 11-year-old Minnesota boy was tired of having to go outside in order to escape the smell of marijuana smoke in his mother and stepfather's home. He took pictures of carrier bags full of marijuana on his mobile phone and sent the images to his biological father, who passed them on to authorities.
The stepfather, 40-year-old Mark Siebenaler, stated that his wife didn't know about the drugs and that they were kept away from the children. He explained that the marijuana was for a brain injury he suffered about 20 years ago. He is still being charged with possession and intent to distribute. The boy's mother, probation supervisor Heidi Christine Siebenaler, has been placed on paid administrative leave and charged with fifth-degree possession of marijuana.

In a piece from Italian wire service ANSA, police report that a 45-year-old Bologna woman has been found out after nine years of malingering and otherwise avoiding her work as a nurse with the National Health System. She was arrested and has been accused of defrauding the state. Her 'tricks' included bogus sick-leave notes and two false pregnancies.