Scott Green is a California plastic surgeon who likes to optimise his use of time. This might be why he received a speeding ticket and why the YouTube recording of his public traffic-court hearing features a Sacramento court clerk asking 'Are you available for trial? It kind of looks like you're in an operating room' and Green, in scrubs, answering in the affirmative. When the judge enquired further, the physician reassured him: 'I have another surgeon right here who's doing the surgery with me.' The trial was postponed, and the state medical board have promised to investigate.
After accepting a Valentine's Day marriage proposal, Ohio's Brittaney Strupe decided to spread good cheer rather than let her fiancĂé throw away 300+ dollars' worth of red roses. When her daughter suggested leaving the flowers under windscreen wipers for drivers to find 'and think it's awesome', the family's females headed for the local Wal-Mart car park.
What ended up happening was that a store manager and then some motorists rang the sheriff's office, whose Deputy Chris Johnson recalled having heard about items left on vehicles as distractions to facilitate kidnappings. An official warning soon appeared on Facebook, speaking of 'suspicious' activity by 'males' and stressing a need for vigilance.
When Strupe saw the description of her vehicle, she rang dispatchers. The officers' follow-up post referred to 'the Walmart rose incident' as 'solved and [...] in no way related to Human Trafficking in our county'.
Also in Ohio, US Customs officers intercepted a shipment of Hong-Kong-bound breakfast cereal sent from Peru. The corn flakes caught the attention of a narcotics dog because they were frosted not with the usual sugar but with cocaine - 20 kg of the stuff in all.
This is not the most labour-intensive drugs delivery attempt even in recent history, however. Readers may recall last year's parcel intercepted by Italian police who recognised the addressee as a character in a John Wick film: more than 500 coffee beans that had been hollowed out, packed with cocaine, and sealed up with brown tape.
It takes a special set of circumstances to provide quotations such as 'He cooked the heart with potatoes to feed to his family to release the demons', but we have such a story this time, thanks to Oklahoma's Lawrence Paul Anderson, 42. While visiting his uncle Leon Pye's family in Chickasha, he killed their neighbour Andrea Lynn Blankenship and returned with her heart. His ungrateful family refused to eat it, so Anderson stabbed his aunt in the eyes and killed both Pye and Pye's visiting four-year-old grand-daughter.
Thanks to a hang-up 911 call, Anderson was soon behind bars, a familiar location for him. For instance, the governor had commuted his 20-year prison sentence in January, about three years in. As for the future, Grady County District Attorney Jason Hicks said: 'The death penalty is absolutely on the table.'
When hit man Dalvin Wilson visited a Louisiana home and asked to speak to one resident in particular, Brittany Cormier replied that she was the woman in question. Therefore, Wilson fatally shot her and intervening neighbour Hope Nettleton. He then reported success to friend Beaux Cormier, who'd asked to have his niece bumped off before she could testify that he'd raped her. Brittany was Beaux's sister.
The authorities arrested Wilson, 22; convicted sex offender Beaux, 35; and Andrew Eskine, who'd let Wilson use his car and had taken part in an earlier failed attempt to kill the niece. According to District Attorney Joe Waitz, Jr, all three men face charges of first-degree murder, for which 'the death penalty is definitely on the table'.
If you recall November's story of a police officer in the Philippines who was slain by a fighting cock's spur, you may be pleased to learn that this 'sport' subscribes to equal-opportunity bloodshed. During a pre-fight escape attempt in the southern Indian village of Lothunur, a knife-fitted rooster stabbed its owner in the groin. The human died of blood loss while on the way to hospital, and the animal was taken into custody and then turned over to a farm. Fifteen people involved in the cockfighting event remain at large.
Detecting a draught in her Roosevelt Island, New York, flat, Samantha Hartsoe followed it to the mirror hanging in her bathroom. Behind it was a hole leading to an empty room. Recognising that 'curiosity is going to kill me', she strapped a torch to her head, donned a surgical mask, and grabbed a hammer. Having dropped through the looking glass, she reckoned that she wouldn't be able to crawl back through, so she had to explore what lay beyond. This turned out to be another flat, extending over two floors, with cold air pouring in through open windows. The only sign of life was a water bottle.
Hartsoe, 26, made sure the front door was locked and navigated the building's hallways until she was in familiar territory. Maintenance workers have promised to patch the hole and investigate the mysterious vacant property.
German authorities report having solved a burglary case from nine years ago in Gevelsbert, thanks to the culprit taking a bite of the victim's hard sausage. The Nordrhein-Westfalen force report that the breakthrough came automatically when a 30-year-old Albanian man with matching DNA was detained in France for a violent crime. However the statute of limitations for the burglary and the wurst-nibbling has expired.
A concierge at a block of flats in Birmingham noticed that a McLaren 570S whose owner was abroad had gone missing from the garage. Even if the concierge hadn't rung the police and thus prompted the issuing of an alert, the 31-year-old thief's best move might not have been to drive the bright-orange supercar to a local garage and ask the staff to change the locks. He hadn't disguised his contact details either, so he and the vehicle were swiftly collected at his home address.
In another case of a conspicuous stolen item, police officers were executing a search warrant at a Burbank, Washington, trailer home when they found something more than the stolen catalytic converters they were hunting for. Detective Julie Lee recognised a 180-kilo playground slide that had been liberated from a city park in Pasco. It had been painted a different colour, freed of its uppermost portion, and attached to a child's bunk bed.
It is unclear how the slide made its way to the mobile home, but the parks and recreation department have recovered it, and the child's father faces charges of possession of stolen property.
After Taiwanese 'transsexual influencer' Chiang Chia-wen (also known as Wangyao) posted a baby-bump selfie and an ultrasound image from Kaohsiung's medical-university hospital to Instagram, Chiang's boyfriend praised an experimental treatment that had cost the couple 'a fortune'. This led the Kaohsiung municipal department of health to investigate whether the hospital's personnel had violated regulations by performing an illegal uterus transplant. Only after a check of all hospitals in Taiwan turned up nothing, Chiang admitted to faking a pregnancy and posting someone else's scan. The apology post stated that, in response to a family member's pregnancy, Chiang had 'posed with my boyfriend for a picture with his hands on my belly to imagine what it would be like to be a mother' and then become carried away.
Indiana's Malik Halfacre and his girlfriend got into an argument about economic stimulus cheques: he wanted some of the payment she'd received. She didn't like this idea, so he shot her and took the cheque. Left wounded outside the house, she was later able to direct officers inside, where Halfacre, 25, had proceeded to kill a seven-year-old child and three adults. The charges against him include murder and robbery.
Our next story, set in Ludlow, Kentucky, begins after the stimulus money was spent. When first responders couldn't get her two-year-old son to resume breathing, 33-year-old Lauren Ashley Baker admitted that she had purchased fentamyl with her economic impact payment and fallen asleep after consuming some of it. This had left the boy free to rummage in her handbag and ingest the substance. Some of it was still strewn across the bed when the boy's father arrived on the scene and rang 911 too late to save him.
Pennsylvania high-school student Madi Hime was gobsmacked when the cheerleading coach confronted her with a video of her breaking team rules by smoking. After having a cry because she knew that no-one would believe her in preference to 'proof', Hime told her mother, who contacted the police. It then emerged that at least three members of the cheerleading squad had featured in deep-fake videos of smoking, drinking, and nudity and in doctored images based on their social-media photos. An associated IP address led officers to the home of Raffaela Spone, the 50-year-old mother of a cheerleading rival whom the Hilltown Township Police Department believe was unaware of the image manipulation or of related abusive calls from spoofed numbers.
Meanwhile in Florida, another 50-year-old mother was up to no good. Laura Rose Carroll is a Pensacola-school-system assistant principal accused of using her access rights to tweak hundreds of votes for Homecoming Queen at her 17-year-old daughter's school. The vote-rigging came to light after the system flagged a single IP address as the source of 117 votes, all cast within a suspiciously short time.
The daughter in this case is not off the hook: a state law-enforcement report states: 'Multiple students reported that Carroll's daughter described using her mother's account to cast votes.' Carroll has been suspended from her job, and her daughter is in custody.
Virginia's Roanoke Times reports on the idea that Megan Anne Walthall devised while high on heroin: creating a video to show her overdosing boyfriend later as motivation for him to give up drugs. It shows her trying to get him to move by pouring water on him, repeatedly shaking him, and sexually abusing him. After 45 minutes of this, she gave up and rang the emergency services. By that point, it was too late, and he died in hospital. Officers found enough drugs and video content that Walthall faces 16 years in prison.
A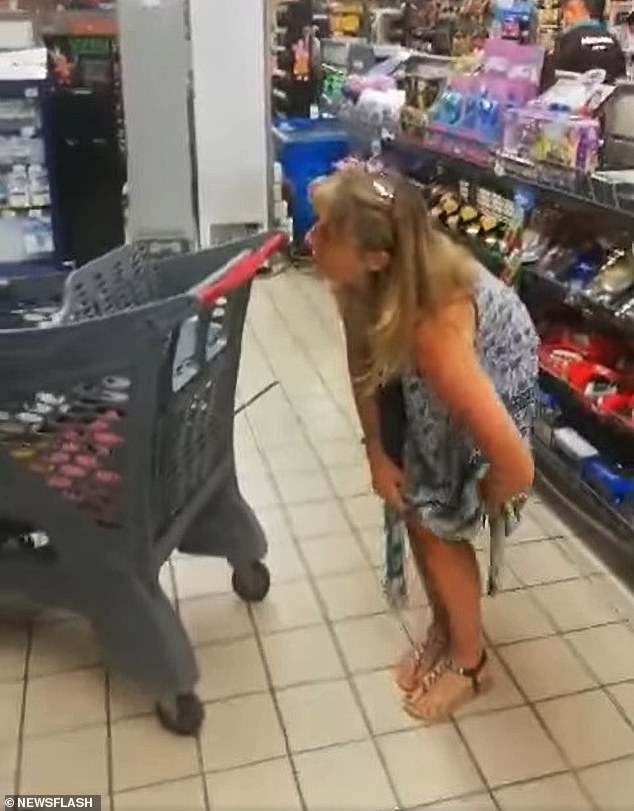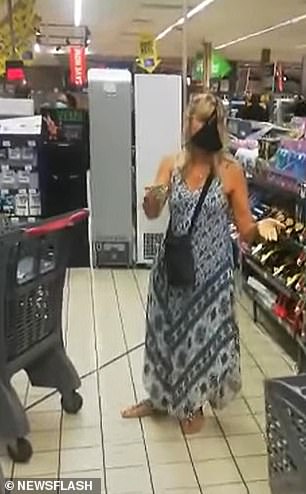 security guard at a Pick n Pay supermarket in South Africa approached a woman in the check-out queue and told her to put on a mask. While she argued that she wasn't carrying a mask but didn't want to lose the fruits of her shopping trip, the guard explained the options: don a mask or immediately leave. A video of the incident shows the shopper's solution: removing her thong from beneath her skirt and placing the widest portion over her face. Deeming this sufficient, the guard terminated her radio conversation with other staff as the customer asked 'Happy?' while giving a thumbs-up sign.
Finally, sometimes a tweet really is short enough to capture all you need to know. That's one of the lessons to be gleaned from a message recently posted online by Canada's Halton Regional Police: 'Never thought we'd have to say this, but here we are. Mom changing your Xbox password is NOT a reason to call 911. Yes, this happened.'