According to AFP reports, Siberian traffic policeman Alexei Nikolayev offered not to report a motorist's traffic offence, in exchange for 2,000 roubles. The driver told Nikolayev that he could collect the money later in the day, then alerted the police station. When Nikolayev picked up the cash and the other officers emerged from hiding, he locked himself in his patrol car and ate the three banknotes that constituted his bribe. That is not preventing the investigation from moving forward.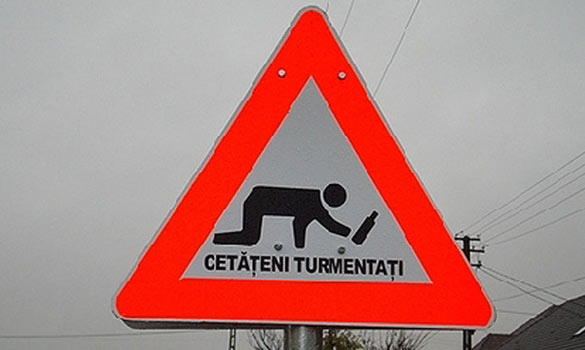 Peter Antal, the mayor of Pecica, Romania, says: 'We are a border town and have lots of cars thundering through here all the time. But we also have a very vibrant nightlife and the two don't mix.' To address the issue, the town of 13,000 has erected signs aimed at keeping drivers from running into inebriated pedestrians. The signs feature the words 'Attention: drunks' below a stylised figure of a crawling figure clutching a bottle.
Tennessee's Lebanon Democrat reports on Cheyenne Alexis McKeehan, a three-year-old girl whose mother reported that she enjoyed playing Nintendo Wii games for days at a time. The child cannot report this herself because, while her mother was working at a computer nearby, she picked up the Wii controller and began to play with it. The only problem was that this was actually a loaded .380-calibre handgun that her stepfather had set on the table after investigating a noise. She shot herself in the abdomen and died in hospital.
Wilson County Sheriff Terry Ashe said: 'If you have a live handgun with a toy that looks the same - for parents some bells and whistles need to go off.' No decision has yet been made on whether the lack of bells and whistles in this case will lead to charges.
A South Korean man identified by police in Seoul's Suseo district only as Park has made quite a few visits to funeral homes recently. Each time, as is customary for mourners, he removed his shoes before entering the mourning room. However, he would put on a considerably more expensive pair when leaving. When caught, the 59-year-old Park had amassed 1200 pairs of stolen shoes at his warehouse, sorted by size in preparation for resale at his second-hand shoe business.
In Japan's Kitakyushu, 34-year-old motorist Atsushi Kamata decided to run into a gang of about 10 bikers on his way home from work. He hit two of the motorbikes directly, killing the 18-year-old rider of one, and then turned himself in to the police. He explained to officers: 'I got angry as the bikes were meandering on the road with a roaring sound. I thought I would run them down.'
A condition imposed for Richard Peterson's probation is that he not leave North Carolina. His probation officer happened to see him appear after this on The Jerry Springer Show, where he boasted of a one-night stand with a stripper and fought with his girlfriend. The Jerry Springer Show is not taped in North Carolina. As a follow-up to his all-expenses-paid trip to Connecticut for filming, he has received an all-expenses-paid trip to the Lincoln County Jail.
Tanesha Turner of Indianapolis allegedly asked her daughter to steal a handbag for her at a Chuck E. Cheese restaurant. According to a probable-cause affidavit, Turner, 24, admitted that, when she pointed out the handbag she wanted, her daughter wasn't keen on the idea but agreed to do so when asked to 'do it for Mommy'. The incident was captured by security cameras, and Turner - found hiding in a closet in her home - was soon captured too. The handbag has not been recovered; she claimed to have thrown it from the window of her car, then said instead that she had incinerated it.
A Florida teenager's mobile phone rang emergency services by itself while its owner was jostling about in the course of a vehicle break-in. Dispatchers heard 19-year-old Stefanie Vargas and a 13-year-old boy discussing which items in the car would be worth taking. Officers arriving on the scene took the two into custody, and they admitted to breaking into cars and stealing.
A Pittsburgh man had cleared snow from a parking space, which 61-year-old Errol Parker, Sr, then pulled into. When asked to move his car, Parker punched the man, who then rang the police. Two officers showed up to investigate, and they were treated to bullets courtesy of Parker. After an exchange of fire, Parker surrendered to the police.
Terry Hoskins of Moscow, Ohio, was unhappy that his bank had begun foreclosing proceedings for his home, valued at $350,000. Plagued by lawsuits and the tax man, he owed nearly $160,000. Hoskins, who explained 'I wasn't going to stand for that', decided to put an end to his dealings with lawyers and bankers by simply levelling the house with a bulldozer.
A 66-year-old Czech woman had experienced abdominal pain for five months before medics worked out what the problem was. At a clinic in Ivancice, doctors discovered that their colleagues had left a 30-centimetre gynaecological instrument in Zdenka Kopeckova's abdomen shortly before her pains began. Kopeckova plans to sue.
According to AP reports, Idaho bridegroom Nathan Lewis, 21, was arrested twice on his wedding night. First he was booked for drunken and disorderly conduct. Once released on bail, he proceeded to slap and choke his bride. He also racked up a charge of interfering with a report of domestic violence.
According to South African media such as the Star, two guests at a wedding in Eshowe were trying to find their way to a local dam, where post-wedding photos were being taken, when one signalled to the other that he was turning. The other driver thought that this was a signal to overtake. The result was the collision of the two cars, a Ferrari F430 and Lamborghini Murcielago LP640. Seeing the wreckage of the two supercars, other guests began taking photos. The irate drivers responded by confiscating cameras and making threats, until police arrived.
The Baltimore Sun reports that Harold Montaize Alford was unhappy with his girlfriend for communicating with a male on the Facebook social networking site. Alford, 22, woke her at her home and began attacking her. Her nephew, 27-year-old Adam Couther, intervened. For his trouble, he was fatally stabbed in the neck with the knife attachment of a bottle opener. Later, Alford stressed his innocence and explained that he had seen something fly through the air just before Couther began bleeding. He has been arrested anyway.
Chicago truck driver Murat Adzhiev drove his truck to a grocer's and claimed to have a delivery. The employee who came out to help him unload it was himself loaded up - Adzhiev forced him into the truck and drove him to a nearby block of flats and ordered him to begin unloading some furniture. The worker rang his manager, who summoned the police.
Marcos Valdez possibly should not have left marijuana and rolling papers visible from outside the window of his Lincoln, Nebraska, home. Officers responding to a Crime Stoppers tip concerning this came to Valdez's front door. The 40-year-old Valdez answered the door with a joint in hand. He pleaded guilty to possession of 28 kilos of marijuana with intent to deliver and has been sentenced to three years in prison.
Spiegel reports that a woman in Bochum, Germany, heard a loud knocking sound in her house in the middle of the night. She rang the police, who could hear the sound clearly over the telephone and sent a patrol car immediately. The responding officers traced the noise to a drawer in the woman's bedroom, described in the police report as 'a very personal battery-operated item that obviously had switched on independently'. The woman reportedly turned red and said 'Oops'.
Also in Germany, Reuters reports on a 26-year-old man at a nightclub who wanted to snort some amphetamines from the top of a vehicle in the car park. Bert Rauenbusch, speaking for Nuremberg police, said: 'He's got horrible luck.' The car chosen for the snorting was an unmarked police vehicle, and the time chosen for the snorting coincided with the officers walking past.
Dutch police arrested a Swedish pilot in the cockpit of his aeroplane at Schiphol airport while he was preparing to fly a commercial jet to Turkey. He had been discovered not to have a valid licence and to have forged the credentials under which he'd been flying for Turkish airline Corendon for the past two years - and for 11 years prior to that for airlines in Belgium, the UK, and Italy. The man reportedly expressed relief when arrested.
Prosecution spokeswoman Natasja Keijzer said that the man is unlikely to serve more than a year in prison if found guilty of forgery and flying without a valid licence.
Guo Liwei is one student at Jilin Agricultural University who values his sleep. His 22-year-old room-mate, Zhao Yan, had a habit of snoring. When Guo grew tired of this, he tried various approaches, eventually posting a video of a snoring Zhao on the university computer network. Zhao responded angrily, at which point Guo decided on a foolproof way of making the snoring stop. He decided to buy a knife. After stabbing the snoring man in the chest and back, Guo surrendered to the police.
As his final wish, lifelong smoker Albert Wittamore asked that his hearse and grave-side bear signs stating 'Smoking Killed Me'. The signs, designed to look like the health warning on a packet of cigarettes, were placed at the expired emphysema-sufferer's grave and in the windows of the hearse as it carried his body through Dover.
Meanwhile, Ontario's Moira Williams, 67, ran out of cigarettes on a night of drinking and decided to ask someone to fetch some for her. She chose emergency line operators for this task. She was warned several times not to keep ringing with this request but really wanted those cigarettes. She has been charged with mischief.
Paul Railton has admitted to magistrates in Consett, in the north of England, that it was silly of him to walk his dog in the way he did. The 23-year-old man was feeling lazy so drove a car while the leashed dog ran alongside. He was ordered to pay a fine worth about 70 euros, plus costs, and now has enough points on his driving licence to be walking himself for the next six months.
Authorities in West Cape May, New Jersey, are investigating a recent outbreak of unauthorised artwork on public property. Under cover of darkness, someone has been covering lamp posts and tree branches with miniature knit-ware, jumpers in a wide range of colours. Mayor Pam Kaithern admits to fascination with the work of the 'Midnight Knitter', considered a more pleasant alternative to spray paint.
Oklahoma City's Rondell Bailey walked into the police station and offered a stick to various of the officers there. He explained to officers that this was payment for crashing his truck in a nearby car park, and that it was the last tree on Earth. Officers' refusal of this payment annoyed Bailey, who left the building and then threw a brick through the jail window. When he was arrested, officers found what they believe to be methamphetamine in his truck.
In Florida, Megan Barnes has contributed to the list of things one should not do while driving. Barnes, 37, was speeding along the roads to meet her boyfriend in Key West and felt the need to multitask, giving herself a bikini trim. Not wishing to be a danger on the roads while putting on the finishing touches, she turned the steering wheel over to her ex-husband in the passenger's seat. The car rear-ended another vehicle.
'If I wasn't there, I wouldn't have believed it', said Trooper Gary Dunick. Police report that Barnes had been convicted of drink-driving the day before and had her driving licence suspended, which adds a few more items to the list of charges against her.
Elisa Gonzalez carved a copy of the Venus de Milo from snow in the front garden of her New Jersey home. The 44-year-old woman said that many local people stopped by to take photos and compliment the work. Until the police showed up. Gonzalez said that a neighbour had complained about the sculpture's nudity. Her family covered the snow sculpture to avoid trouble with the law.