Monalisa Perez is a 19-year-old woman who posted online 'Me and [boyfriend] Pedro are probably going to shoot one of the most dangerous videos ever. His idea, not mine.' Later in the day, the couple's three-year-old child and about 30 other people watched as Perez fired a bullet from a .50-calibre handgun into a hardcover encyclopaedia volume that Pedro Ruiz was holding in front of his chest, about 30 cm away. He died, and Perez, who is pregnant, is now in jail, where she awaits charges of second-degree manslaughter.
Ruiz's aunt said that Ruiz had explained his reasons for the 'stunt' to her earlier - 'we want more viewers, we want to get famous'.
A man attending a softball game in Lakeland, Florida, noticed a two-year-old girl wandering around so decided to accompany her on a search for her parents. According to the town police, bystanders then told the girl's parents that he was trying to kidnap her, so the father punched him in the face a few times. Not satisfied with the account of witnesses and the police, the father and his friends were soon sharing the 'child predator''s photo and details online. This prompted the good Samaritan and his family to leave town, for their safety, but he has told local media that he doesn't plan to press charges.
The police later urged locals to 'be careful about what you post on social media so as not to victimize an innocent person'. The girl's father responded: 'All that matters is that my daughter is home safely.'
Also in Lakeland, Detective Phil Ryan was parked outside a 7-Eleven when he saw a man walk out of the shop with quite a bit of bulk in the trouser department. Ryan accosted the man, 38-year-old William Jason Hall, and determined that those baggy blue jeans contained 30 second-hand DVDs - which normally sell at 'Treasure Hunt' prices of $1.99 to $5.99 each - and 15 bottles of Pennzoil motor oil. Hall was arrested on a charge of petit theft.
The Los Angeles Police Department has a programme for teenagers who may want to become police officers. According to Chief Charles Beck, three members of that cadet programme - a girl and two boys, aged 15, 16, and 17 - signed out stun guns and radios under the name of a sergeant who was on holiday, then drove out of a police-station car park in one patrol car each. The teenagers then went 'on patrol' in LA, until found out via a routine stock-taking.
At that point, three separate pursuit operations were launched. Two of these ended in the death of the stolen cruiser. The third car was recovered thanks to one of the teenagers fessing up: it had been left around the corner from a police station. All three youths were arrested (one while wearing a bulletproof vest), and Beck has ordered a thorough review of LAPD rules on the cadet programme and on managing the inventory.
Kyndel McConchie, the spokeswoman for South Carolina's State Department of Natural Resources, spoke about two Ridgeland men who admitted to picking up a young alligator that they had seen crossing the road. Having waylaid the animal, Joseph Andrew Floyd, Jr, 20, and Zachary Lloyd Brown, 21, decided to pour beer down its throat and blow cigarette smoke into its mouth, then post photos of these actions on social-media sites. Members of the public alerted the Department of Natural Resources to this social-media content, after which Floyd hastened to provide reassurance that the alligator had later been released in a nearby pond. The two men are still being charged with harassing wildlife.
Alaska dentist Seth Lockhart was apparently bored with misreporting which dental procedures he performed and which medicines were used, so he chose to perform the 'unlawful dental act' of pulling a sedated woman's tooth while standing on a hoverboard. We know this because authorities investigating other charges found a video of this on his mobile phone, attached to text messages to friends about 'a new standard of care'. Thanks to this and other evidence, Lockhart now faces 17 charges, ranging from insurance fraud to letting his office manager practise dentistry without a licence,
Thieves broke into start-up company Roambee's California headquarters and made off with laptop computers and other hardware. The next day, workers noticed that about 100 units of its product were missing too: bright yellow tracking devices that can communicate their position to within 10 metres. In under eight hours, the signals had led Santa Clara police officers to a storage unit in Union City that contained loot from several thefts. Meanwhile, a second cluster of GPS trackers was on the move, to Alameda: the plan reportedly was to sell these 'phone-chargers' on. Two arrests were soon made.
In exchange for what was stolen from Roambee, one of the burglars left behind some DNA: on a bottle of beer swiped from the company fridge and on a serviette that he'd used to soak up blood from a cut.
New Mexico's KOB News team were reporting on locals' concerns about crime in the downtown Albuquerque area when someone stole their news van. As soon as they saw the vehicle drive off, they began following the signal from its GPS tracking device, and KOB News Director Michelle Donaldson reported that the vehicle was recovered, damaged, within half an hour without police assistance. The thief was no longer in the area. In a news report on the incident, Donaldson echoed citizens' concerns: 'I'm very angry that somebody can walk up to a parked, locked, vehicle in front of you in this city and drive it away.'
In Canada, personal trainer Devin Sherrington and cosmetologist Lauren Arbuckle planned to wed last year, but the costs were a sticking point: Arbuckle, who text messages showed had initially wanted to elope, acquiesced to Sherrington's idea of a party but then wanted a more lavish celebration than he was comfortable with. After Sherrington postponed the wedding, Arbuckle ended the relationship, and he responded by taking her to small-claims court for the cost of the engagement ring, valued at up to about EUR 18,000. Halifax adjudicator Gregg Knudsen has ruled that Arbuckle may keep the ring, since it was Sherrington who broke the engagement, via indefinite postponement.
Also, Knudsen said that text messages between the ex-pair showed that Sherrington had told Arbuckle that she could keep the ring. In any case, Arbuckle has filed for bankruptcy, so the ring is now in the possession of the bankruptcy trustee.
After a night of drinking, Mexican farmer Miguel Anaya Pablo returned to his home in Oaxaca's San Lucas Ojitlán community and started to beat one of his pigs. The pig decided to fight back, and it won - emerging relatively unharmed while managing to bite three fingers from its owner's right hand and tear off his testicles.
The 60-year-old farmer was rushed to hospital, where his wounds were treated. However, he later died of a grave infection caused by the bites.
An Algerian court has handed down a two-year prison sentence to a man who had made a provocative Facebook post: the text '1,000 likes or I will drop him' accompanied an image of the poster dangling a baby from a 15th-storey window of a high-rise block of flats in Algiers. The man, who is related to the child, later claimed that the baby's life had never truly been at risk and that other social-media users later doctored the image to remove protective barriers from around the balcony. According to BBC reports, the judge ruled that the image was clear and the child's life had been in danger, though the baby's father had emphasised that the poster was only joking.
The Downtown Hotel, in Dawson City, Quebec, have problems with the secret ingredient in their flagship drink - the mummified human toe in the Sourtoe Cocktail has walked off. Although at least eight toes have gone missing in the 70,000+ times that the cocktail has been served in the last 40-plus years, this was a fresh one that the staff had grown attached to. It had been donated by a man who had had it amputated, then let cure for six months before entering service just days earlier.
Barman Terry Lee explained that while 'your lips must touch the toe' consuming it is discouraged, and anyone who swallows it gets fined. The police are investigating the disappearance as a theft.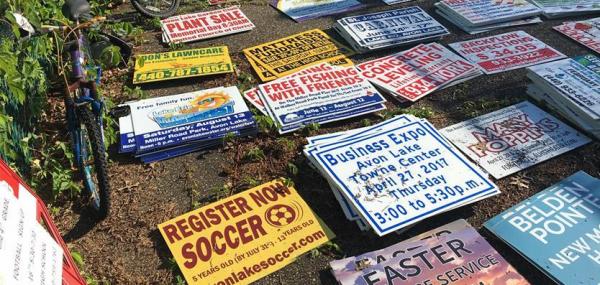 Ohio's Avon Lake Police Department reported having received numerous complaints in recent months about approved signs having been removed from city-owned land along the side of Cleveland-area roads. After 62-year-old John Hoelzl was recently caught on video taking a sign from one such location, officers searched his home, where they found more than 500 signs advertising local events and businesses. Hoelzl explained that he has been removing signs from city-owned rights of way for roughly the last decade because he feared that they would be distracting to drivers. After turning over the signs, he said: 'I probably shouldn't have done it, because, you know, I'm in trouble now.'
Shortly after someone dropped off a box of kittens at a construction site in Santa Barbara County, California, a few workers wondered what had happened to the young felines - the box was empty. Hopefully, they assumed that other staff had adopted them; however, several months later in their jail-construction project, they heard mewing emanating from a hollow brick wall that was about to be filled with concrete. The sheriff's office reported that the small grey kitten within would have preferred to remain in the wall, so the building-site personnel did some de-construction work: breaking down the wall that they had created. The sheriff's office adopted the kitten.
The Shanghai Daily reports on an 80-year-old woman, surnamed Qiu, who decided to bring good luck to her flight from Pudong to Guangzhou. In a gesture akin to throwing small amounts of money into a wishing well or pond, she flung several coins into the Airbus 320's engine before boarding the aircraft. China Southern Airlines pulled all passengers off the flight, and 4-5 hours of inspection procedures and checks for unaccounted-for coins ensued. According to police reports, one coin was found in the engine and eight around it, having a total value of 1.7 yuan.
Police officers in Oviedo, Florida, pulled over 57-year-old handyman Karlos Cashe for driving without his headlights on. After they discovered that he was on drugs-related probation, they sent a dog sniffing around his car and performed field tests that reportedly confirmed the presence of cocaine. Cashe was sent to jail for, among other things, violating his probation terms, and lab-test results confirmed two months later that the white powder in his car was drywall, as Cashe had assured officers. After a further month of waiting in jail, he was released.
The Czech Republic's Temelín nuclear power plant provoked outrage with their procedure for choosing a new secondary-school graduate to work as an intern at the facility. This involved asking Facebook users to vote for Miss Energy 2017 from among photos of the bikini-clad candidates. CNN reports that a now-deleted Facebook post stated: 'The combination of beauty and the industrial environment gives an interesting result.' One result is a later post stating that, while 'the purpose of the competition was to promote technical education', 'Infocentrum Temelín has decided to end the vote early and not announce anyone as Miss Energy 2017'. All 10 young women are being offered a two-week internship.