Students Matthew Basile and Remigiusz Wojdala, 18, were spotted chatting near a Fleet Bank branch in Denville, New Jersey, shortly after it was robbed by an armed man. Visible in the back seat of the students' car was what appeared to be a machine gun. The teenagers explained to police that the gun was a toy and showed the officers the video Wojdala shot of Basile robbing the bank - slated to be the opening section of a video for art class.
Wojdala said: 'Overall, it was a stupid thing to do. We didn't think before we did it.' Both are being charged with disorderly conduct.
In an update on the item about Christina Silvas, whose stripping job led to her daughter's expulsion from a Christian kindergarten in California, Silvas quit her job and now works at a local radio station. Her daughter was accepted back by the school. Since then, Silvas has posed nude for Playboy's Web site; after all, 'posing for Playboy is the American dream for a woman', she said.
Officials of Capital Christian School say that Silvas has broken her 'Christian Philosophy' agreement again, but Pastor Rick Cole said the girl will not be expelled again. After the Playboy deal, Silvas now has enough money to pay her daughter's $400 per month tuition for some time.
When staff were cashing up after work hours at the Thai Farmers Bank in Ku Kot, two police officers knocked on the door. Or at least they looked like police officers, with police radios, guns, and uniforms. After assistant manager Supat Kedprajit asked a cleaner to open the door, they drew their guns and demanded money and the tapes from the CCTV cameras, according to the Kom Chad Luek newspaper. While the manager complied at gunpoint, the robbers taped the eyes and mouths of other bank workers. The robbers escaped on motorcycles.
In another armed robbery, a man held up the Shoprite supermarket in Fairfax, Delaware. After a struggle with employees, he left without the money. Also, according to Delaware State Police Lieutenant Tim Winstead, he left his upper dentures behind. The false teeth are undergoing DNA tests; in the meantime, police have asked local dentists to be on the lookout for the perpetrator.
Locals in Marinwood, California, were tired of people making U-turns at a particular intersection, so someone put up a no U-turn sign there. No-one will admit responsibility. Police started handing out real tickets to those ignoring the sign; after all, '[i't is assumed that if a sign was put up and it looks official, it is official', according to Julio Bandoni of the California Highway Patrol. The tickets can only be overturned after it has been proved at a higher level that the sign is fake.
In Leon, New York, three Amish men are being charged in connection with a late-night buggy race that left a horse dead. Coming over the crest of a knoll, the three buggies ran into a Eli D. Miller's buggy going the other way. Involved in the unlawful speed contest were Joseph R. Miller, 20; Andy E. Wengerd, 18; and Jacob E. Wengerd, 17.
At a convenience store - Rosy's Market & Taqueria - Pablo Lopez Jarquin, 23, was shot in the back of the head. The surveillance tape shows the incident, thought to be gang-related. Two men cornered him, and a third shot him. The tape also shows customers stepping over Jarquin to get to the counter. Santa Cruz Police Sergeant Steve Clark called this behaviour 'pretty callous'. Jarquin died in hospital.
In Modesto, California, a seven-year-old girl showed her classmates a few $100 notes. School officials called police, who found that the girl's five-year-old brother was also carrying a few $100s. The siblings didn't want to admit to stealing the notes, which they later admitted were in a pile in their grandfather's van, so police turned to asking the five-year-old about the games he liked to play. He said he liked Frogger and his grandfather's favourite game was the 'money-making game'. Police found the grandfather, Jose Luis Landeras, 42, a few hours later as he was stuffing counterfeiting material down his pants.
The Washington Post reports on a 19-month-old girl who died after being locked in her family's van in Manassas, Washington, for seven hours while the temperature inside rose to over 140 degrees Fahrenheit. Walking by, a neighbour noticed the girl in the van and called police. Her father, Kevin Kelly, found out she was dead when he brought pizza home for dinner.
In February, Kelly left his three-year-old son in a video store. When police found Kelly that time, he was unaware that anything was wrong. Police referred this case to the Department of Social Services, but workers never contacted the family. A neighbour said she warned the famly about leaving children in cars, having seen it happen twice.
A Largo, Florida, jury tried to decide whether to convict Anthony Lanza for murder. Lanza knew they were deadlocked 11-1 but didn't know whether it was in his favour or not, so he told the judge he would accept the majority's verdict. He was sentenced to life in prison. A day after he waived his right to a unamimous verdict, he changed his mind. Lanza's defence attorney, Maura Kiefer, said she and Circuit Judge Nancy Moate Ley had explained what could happen to Lanza.
Kiefer said case law suggests that such a waiver can't be granted after a jury indicates by what vote it is deadlocked. Chief Assistant State Attorney Bruce Bartlett said that Kiefer and Lanza 'initiated this [...]. They got burned. So now they're trying to blame the judge'.
Awaiting trial on burglary charges, Garrette Bellew, 21, tried to break a bulletproof window in the Jefferson County, Missouri, jail. Using his buttocks. A guard on the other side of the door was among the witnesses. The window did suffer some damage, and Bellew is being charged with second-degree property damage, which could land him a year in jail.
In Tampa, Florida, the Department of Children and Families put its building up for absolute auction. When auctioneer Tom Hicks asked if there was anything inside they wanted, DCF officials walked through the building several times and took only the building's blueprints. They left behind several signs saying 'Shred all' and several thousand confidential files (in boxes with similar markings).
A reporter for Channel 10 News bought some of the boxes of records. Governor Jeb Bush asked for the records so they could be destroyed, and the station turned them over. Bush said DCF needs to take responsibility for the mistake. A DCF spokesman blamed Hicks for the incident and said he will be fired.
In Waiuku, New Zealand, seven-year-old Yona Hou went missing at 7:00pm and her mother, Susan, couldn't find her. Neither could her grandmother or Susan's husband. So the two women drove around the streets - in vain - then called in the police, the girl's teachers, and 30 local volunteers. Police found her at 1:00am, asleep in the back of the family's van, which her mother drove in the search. Susan said she just didn't see her daughter there.
A nurse and a nurse's aid sued Maintenance Co. Inc. after falling out of a lift that stopped between floors at a hospital. On the way to the courtroom in the Westchester County [New York] Courthouse, the jury were stranded in a malfunctioning lift. Defence attorney Thomas Cerussi said: 'We didn't have to twist the judge's arm too much' in order to get a mistrial declared due to the jury being potentially prejudiced by the incident. The jury selection process now begins anew.
An unnamed 31-year-old school teacher from Frosinone, Italy, took out a bank loan worth about UKP 15,000 and used the equivalent of UKP 5,000 in savings to pay a clairvoyant to tell her if her husband was involved in an extramarital affair. According to the couple's lawyer, Gianfranco Barrella, her husband was not happy when he was informed that his wife had asked the bank for a loan. The husband, who insists that 'I never cheated on her', is divorcing her for ruining him financially. The clairvoyant cannot be located, according to Il Nuovo.
It was Sergio Bayangos's first time driving the family's car when he backed it into his wife, who was helping teach him to drive after he received his learner's permit. Police said in a statement that the Newark, California, man didn't mean to harm his wife, Virgie, and that it appears the car rolled backward when he started it. And it kept moving until hitting the condominium complex's cinder block wall. Police said the car probably switched into drive upon impact and that's what caused it to run over Virgie again.
In Lebanon, Ohio, David Biren was charged with domestic violence and assault of his estranged wife and her boyfriend. Biren, 52, told a Warren County judge that he dropped drums, boxes, soda cans, and a sheathed dagger on Kimberly Biren and Charles 'Shadow' Perkins because he thought they were vampires, given their 'extensive involvement' in the vampire world.
In St. John, New Brunswick, Greg Boyle's home was raided, and he was convicted of possession of marijuana for the purpose of trafficking. Since then, he has earned the right to possess and grow marijuana to ease his chronic back pain. Dave Kelly, representing another defendant in the same case, said: 'This is probably the first case in Canada where a person may be allowed to bring his own dope into jail.' According to public safety minister Margaret Anne Blaney, the province will have to come up with a policy for this situation by 18 July, when Boyle is due for sentencing.
Police in Tondabayashi, Japan, arrested Taketomi Miura, 30, for beating a newspaper delivery man to death with a child's car seat. Miura, 30, admitted to attacking Izuka, who was delivering newspapers at 4:30am, with Izuka's helmet and the child'd car seat from Izuka's car. Miura explained to police that the altercation came about because he thought Izuka was staring at him. Also, shortly before beating Izuka to death, Miura hit two parked cars, which left him irritated.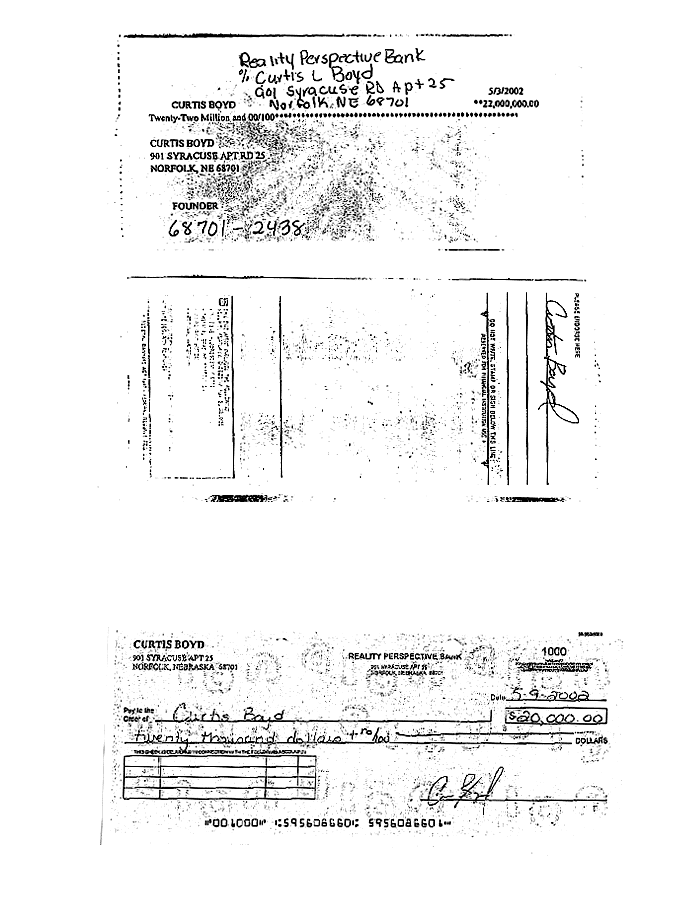 Curtis Boyd bought cheque-making software and tried it out by creating a $22 million cheque, made out to himself, which he tried to cash at the Bank of Norfolk in Norfolk, Nebraska. Teller Tammy Ferguson refused to cash it but took a copy of Boyd's driver's licence. A short time later, Boyd, 23, returned with 'Reality Perspective Bank' handwritten at the top of the cheque. He used his apartment's address for the bank address.
Police found another cheque, for $20,000, which Boyd apparently had tried to pass at the same bank earlier in the day.
Click - or your equivalent - on the image that demonstrates Boyd's cheque-writing prowess if you wish to see a larger version of the image.
Also in Nebraska, Lincoln's Sally Bennett found that someone had broken into her home. Noticing her cordless telephone on the floor, she hit the redial button, which connected her to a female friend. The friend told her that a mutual acquaintance, Matthew Hutchinson, had earlier called to ask to be picked up in front of Bennett's house. When the friend arrived, Hutchinson, 21, had several bags with him and Bennett's garage door had been destroyed, but the friend did not call police.
Safecracker Skip Eckert received an emergency call from a Medina, Pennsylvania, bank where 18-month-old Matthew Mingle had been playing hide-and-seek at closing time. A bank employee hadn't seen him hiding in the vault so locked it for the night. While Eckert sped to the town of 1,400, studying diagrams of the vault's time-locking mechanism, gap under the vault door allowed the small town's emergency personnel to pump oxygen to the child. Eckert opened the safe in 30 minutes.
In Texas, Johnnie Lowell Thomas, Jr, and his friends were watching television and drinking when they noticed an antique rifle and wondered if it worked. They tied a string to the trigger to fire it from a safe distance, and Thomas went to retrieve it after it was fired several times. Austin police Sergeant Joe Stanish said: 'We believe he was walking out of the creek bed - gun in hand, barrel up - when he stepped on the string while stepping out of the creek bed.' The bullet hit Thomas in the head. His friends rang emergency services. Meanwhile, Thomas's pit bull attacked one of them. When the police arrived, it bit an officer at least three times. Police opened fire on the dog, and Thomas died in Brackenridge Hospital.
There was some confusion when other officers heard the incident on the radio and believed a gun battle had occurred.
This item too comes from Texas. Louis Papakostas was convicted of burglary 15 years ago, but he fled. Now, after serving in the Greek army and starting a family, he went to a Texas restaurant and sat near Mark Skurka, who prosecuted him in the case. Papakostas introduced himself, asking if Skurka still worked with the district attorney's office. Learning that there was an outstanding warrant for Papakostas's arrest, authorities picked him up.
Florida's St. Petersburg Times reports that Seminole High School dropout Austin Redshaw streaked naked through the school's graduation ceremony. Redshaw allegedly told deputies that he was acting on a dare. Teachers and police chased Redshaw away but were unable to catch him. Later found at his home, Redshaw faces a $500 fine.
'But I couldn't eat a whole one...'
Melissa Wright, a 26-year-old woman from Coosada, Alabama, was charged with attempted murder after she placed her 14-month-old daughter in a hot oven. The child's father, Robert Lynn Smith, came into the kitchen when he heard crying. He removed the girl from the oven, into which Wright then said the baby had fallen. The story Wright reportedly told authorities is that she had heard voices that suggested this course of action. Diane Black, spokeswoman for the Children's Hospital in Birmingham, said the child is listed in guarded condition, with third-degree burns. Wright may be in jail a long time, Sheriff Bill Franklin said.
Also in Alabama, an Aliceville woman was upset at her boyfriend, so she attacked him with a utility knife. Kimberly King, 26, is being charged with attempted murder after cutting off nearly all of Rodney Outlaw's buttocks and leaving him on a rural road. Outlaw regained consciousness and drove about 15 km to the nearest home to summon help. Police believe King acted alone, although the victim did not tell police what happened in detail; as District Attorney Chris McCool asked, 'with the trauma of the attack, how do you talk about that?'. As she was being arrested, King objected: 'This ain't right.'
Aimee Lee Weiss, a Tamarac, Florida, teenager who faces charges that she killed her newborn son, put his body in a backpack, and dumped the body in a canal, gave birth to a baby girl last week. Her first pregnancy had ended in a miscarriage, and during her second, police say, she asked friends to jump on her belly to cause a miscarriage. Weiss's stepmother, Cherylann Weiss, said Aimee used to be in denial but would now make an excellent mother. She retains custody of the premature girl.
The AP reports that a Farmers State Bank teller in Grass Lake Township, Michigan, recognised the name on the cheque but didn't recognise the 20-year-old who brought it in for cashing. The cheque bore the name of an employee at the bank and had been stolen. The teller stalled, and the suspect was arrested while waiting for the money, said David Luce of the Jackson County Sheriff's Department.