We begin on a lighter note, with the dulcet strains of the band KISS, who recently performed in Vienna. Their KISS LOVES YOU VIENNA graphics near the end of the concert might have been better received if the image displayed weren't of the national flag with its stars and Union Jack motif - i.e., had it been the Austrian flag rather than the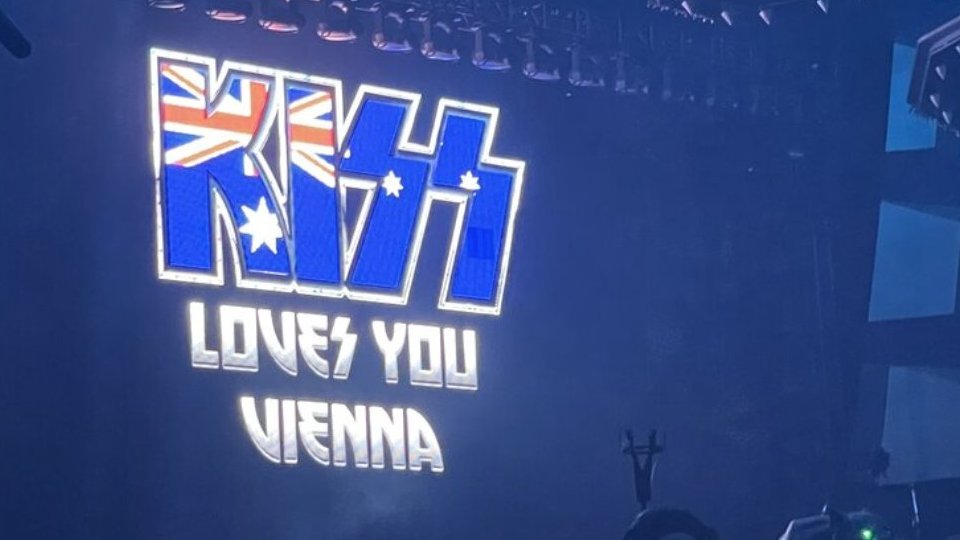 Australian. Predictably enough, fans responded online with greetings such as 'G'day from Austria'.
Now we have to dive in, swimming to our mainstay Florida for a rather more grim item. Lashun 'Bones' Rodgers, 41, was hosting a neighbourhood barbecue when drunken neighbour Lakrisha Isaac, 31, slapped her. While the two women were exchanging blows at the Rodgers home, Isaac handed a bag to her 10-year-old daughter. Within was a handgun, and the girl knew what to do with it. According to witnesses, the daughter shot Rodgers twice, killing her. Isaac faces such charges as manslaughter by culpable negligence, and the girl is in state custody.
India's Maya Murmu was fetching water from a well in the village of Raipal, in Odisha, when an agitated elephant straying from the Dalma Wildlife Sanctuary trampled her. Murmu, 70, died of her injuries at a local hospital. We fast-forward to her funeral, where her family were preparing to light the funeral pyre. According to Rasgovindpur police inspector Lopamudra Nayak, the elephant showed up, knocking her body from the pyre before allowing the ceremony to continue.
When Brendan Mills returned to his home in Logan, Australia, he saw a woman attempting to drive off with the car he'd left there. Announcing that she'd been busted, he told her several times to exit the vehicle. She did not acquiesce, so he warned that 'I've got an alternative option here'. When the police arrived, they found the vehicle hanging in the air, thanks to Mills's forklift truck.
Had she not showered and changed her clothes in his house before attempting to steal the car, she might not have ended up suspended and arrested.
Suara Indonesia Media has shared a story of a woman who, against her 'paranoid' mother's advice, agreed to an unregistered religious wedding with a trained surgeon she'd met online. After 10 months of sexless marriage in which she 'never saw his cock' and of financial bleeding (coming in at around 20,000 euros), she found out why he'd been unable to present the documents required for a civil wedding. Her husband had lied not just about being a surgeon but also about being male.
Jambi District Court now is hearing details of how Ahnaf Arrafif had isolated the aggrieved woman from her family, explained away a bulging chest by referring to a hormonal disorder, and insisted on keeping the lights off at night.
Responding to reports of an unsupervised two-year-old boy wandering around near the Children's Museum of Northern Nevada, Carson City sheriff's officers determined that his parents were the facility's caretaker and its manager. When they interviewed his elder sister and asked for her home address, she cited the museum. Sure enough, a search of its non-public areas revealed sleeping bags, food, etc. - and a storage room containing an AK-47, some handguns and a pistol, knives, a bong, a stun gun, and ammunition. The 41-year-old caretaker, Wilbert Calhoun, has been arrested. While it is unclear whether his wife will face any charges, the museum is closed while its board have found a new manager. Also unclear is whether the couple's five children will be taken into care.
In a cheerful item from Russia, police officers responding to welfare-check requests from a Bataysk woman's employees found that she was not fine, and not all there. Apparently, she had collapsed at home two weeks earlier, leaving nobody to feed the 20 Maine Coon cats she'd been breeding. The animal-rescue worker in charge of finding new homes for the felines pointed out that the cats simply 'ate what was there'.
Last month, Luis Carlos Chía was ecstatic at winning the third stage in the Vuelta a Colombia cycling race. With his arms held wide, he crossed the finish line. Then he frantically grabbed at his handlebars in a fruitless attempt to avoid hitting a group of photographers. One of them was knocked to the ground: his wife Claudia Roncancio. She received four stitches in hospital. Meanwhile, Chía mused: 'She knew there was going to be a sprint finish, and I don't understand why she didn't get out of the way.'
Jeremiah James Taylor is yet another of those people who impersonate cops. He took an atypical approach, though: this 31-year-old Colorado man broke into a sheriff's office and stole a patrol car. If one wants to be taken seriously when responding to a 'domestic violence in progress' call, one has to look the part, after all. It is unclear what Taylor actually did on the scene, but the next officers to show up there, from Teller County, had been informed that 'a Park County sheriff' was there and appeared intoxicated.
Taylor fled the scene, and a later high-speed car chase culminated in a crash and a taser-terminated sprint toward nearby woods.
A spring 2021 delivery of industrial products for the Juneau, Alaska, school system included four pallets of shelf-stable milk and a pallet of floor sealant. The latter ended up in a warehouse reserved for items such as the former, and this partly explains why some parents were informed that their children's summer-school group had been served paint thinner instead of milk at breakfast. Two adults and 12 children aged 5-12 drank the wrong milky white fluid. The only resulting symptoms were upset stomachs and upset parents.
Two Subway workers in Atlanta, Georgia, took the brunt of the abuse from a customer who hadn't wanted so much mayonnaise on his sandwich. After doing some yelling, he punctuated his point with gunshots, according to the police's Deputy Chief Charles Hampton, Jr. These killed a 26-year-old sandwich artist and left the other woman on duty in critical condition. At least he didn't manage to harm the five-year-old child who was present and did manage to get taken into custody.
Jason Morales received his food order in a Burger King drive-through lane before the woman in front of him, who had pulled forward to wait for her own food, and he began impatiently yelling at her. The 70-year-old woman's response that she'd left enough room prompted Morales to exit his car and reach through her window to try dragging her through it by the hair. After leaving her with what a police report describes as 'a very large area of hair missing from the back of her head', he found sufficient space to drive off.
Morales, 45, was on probation for stabbing a man at the same St. Paul, Minnesota, Burger King three years ago.
Close to tears, a Chicago man rang Kasia's Bridal & Special Occasion Boutique to beg them to reorder his bride-to-be's $2,300 dress, complete with tailoring. Reassured that, while there might not be enough time for a reorder, Kasia could alter the existing dress as necessary, he explained that 'there's nothing to alter', ultimately explaining that the gown had been in the safekeeping of the bride's mother, whose own mother had recently died after expressing a wish to be buried in the attire from her marriage, as her husband had been.
He handed the phone to the future bride's brother, who stated: 'Mom told me and my future brother-in-law to go get Grandma's wedding dress out of the closet. [...] We didn't know to get the box. We took the bag.' In line with the farce formula, the wrong dress had ended up in the closed casket. It had been underground for two weeks when the mistake came to light.
Kelli Anderson is a 55-year-old Indiana woman who ignored doctors' orders not to drive. In May, that decision led to the death of an emergency-room doctor who was going for a walk. In June, with the frequency of her seizures increasing further, that decision created an eight-vehicle crash and another death. Investigations after the latter incident revealed that Anderson has been at fault in at least five other car crashes in the last three years, from flipping her car in a ditch to sending another motorist to hospital after running a stop sign.
While she'd cited epileptic seizures to explain the first accident, the ditch excursion, she has also told the police that, for example, she can black out because of allergies and is allowed to drive since 'nothing is wrong with my brain'.
Inderjeet Kaur, in contrast, might be too good a driver. Over the span of 2-3 years, this 29-year-old woman who lives in Wales raised the suspicions of test-centre staff in Swansea, Carmarthen, Birmingham, and London by becoming a familiar face, repeatedly passing driving tests. She has been handed an eight-month jail sentence for taking approximately 150 theory and practical tests in the place of people who have difficulty with English.
If you want to record evidence of accessing an off-limits portion of Mt Vesuvius, letting your three family members take photos of you might be easier than attempting to capture a selfie - especially if that attempt includes accidentally dropping your mobile phone into the crater. If you do lose the device and decide to attempt its retrieval, it's best not to trip and fall several metres into the volcano. Philip Carroll, a 23-year-old man from Baltimore, Maryland, lived to - one hopes - learn these lessons because four volcanological guides on the opposite side of the crater spotted him. They came to the unconscious Carroll's aid with a rope.
After he was treated for scrapes and cuts, his party were taken into custody to face charges of invading public land. It is unclear what price they will pay for trying to avoid the 10-euro entrance fee.
Players at the Moscow Open chess tournament may have broken both the tournament's rules and Asimov's laws of robotics recently. When a seven-year-old boy rushed to make his next move after a chess robot captured one of his pieces, his finger ended up pinched by the robot arm and broken. After several seconds, humans freed the boy from the machine's clutches. Moscow Chess Federation president Sergey Lazarev later stated that the child apparently had violated the safety rules by not pausing. He stressed also that 'the robot was rented by us. [...] We have nothing to do with the robot'.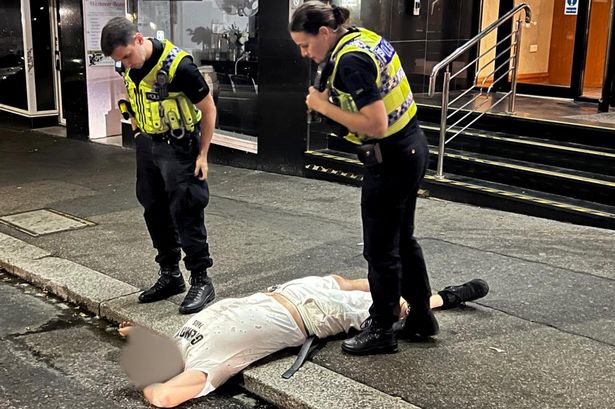 Staff at the Premier Inn in Bournemouth refused to let a man into the room he had booked, so he decided to stage a protest outside the hotel, refusing to budge. The Dorset police, responding to reports of an intoxicated man lying on the pavement, found a solution: they assisted him in standing and making his way to the correct hotel. Bournemouth has five Premier Inns.