A Norwegian medical doctor didn't want to perform military service, so he stayed awake for two days prior to his physical examination, according to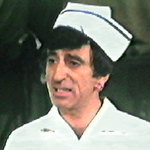 Fredrikstad Blad. He also set about convincing the military that he was mentally unsuitable for service, by rubbing sour cream in his hair, smoking 40 cigarettes simultaneously in a closet, and pouring a liqueur into his shoes. He told the newspaper: 'I used a made-up life story about how things had gone downhill from being a student in medical school to being down and out.' Although the national health authority bought the story told by the man they had licensed to practise medicine, he now faces the prospect of disciplinary action from the military and the medical board, in the wake of their discovery that his patients give him high marks. In a letter to the Norwegian Board of Health, the doctor asserted that his claims were no more fictitious than those of many patients, the newspaper stated.
A motorist approached Jay Desimone of Roseville, California, and asked him how to get to the freeway. Desimone didn't want the apparently intoxicated driver on the road. According to police spokeswoman Dee Gunther, 'Instead, he led the suspect into our parking lot and called police on his cell phone.' Gunther said the driver didn't understand what was going on when he was arrested and 'he asked the officers if they could direct him to the freeway.'
Mainichi Shimbun reports that police inspector Yuko Yoshizawa, 48, got into an argument with a jaywalker in Mito, grabbed a bicycle that was parked nearby, and hurled it at the man, causing injuries to his face. Yoshizawa was arrested and explained during questioning that, while he had been too drunk to remember exactly what happened afterward, 'If the victim claims I did it, I guess that's what happened.'
The New York Post reports that 20-year-old Franco Beaumont broke a window to gain entry to a shop in Canarsie and made off with $20, a video camera, and various items of clothing. In exchange, he left at the crime scene rather a lot of blood by the broken window, and the tip of his thumb. Police collected a print from the severed digit and found a match on file. Officers went to Beaumont's home and a bloody-bandage-wearing man answered the door. 'We sort of knew he was going to be our guy', said one officer.
When Hector Collazo of Kissimmee, Florida, was arrested on a forgery warrant from Texas, he offered proof that he had been in a residential drug treatment programme in Orlando when the crime occurred. He said: 'All I was asking for over and over again was for them to fax my picture over to Texas. All it takes is five minutes.' For 54 days, Collazo remained in jail, speaking of identity theft and of having lost his Social Security card in Puerto Rico some years earlier. Then it was time for him to be escorted onto a waiting flight to Texas. In Florida, a Harris County, Texas, sheriff's official sent a fax of Collazo's photograph to those who would collect him in Texas. Shortly thereafter, the official gave Collazo $45 for a taxi ride and told him he was free to go.
The Houston Chronicle reports that Tammy Jean Warren, a 42-year-old Lake Jackson woman, has been indicted on a charge of negligent homicide for causing her husband's death by enema. To be precise, police believe she gave Michael Warren an enema using at least two 1.5-litre or larger bottles of sherry, causing his blood alcohol level to reach .47 per cent. Police detective Robert Turner said Michael had a long history of alcoholism but was prevented from actually drinking alcohol by medical problems.
Tammy is also charged with burning her late husband's will.
In 1998, Utah's Misty Star Sorensen woke from a drug-induced stupor to find that her two-month-old infant, Kalee Ann Jones, lay dead beneath her. A small methamphetamine bag was stuck to the baby's cheek. Police officer Eric Jensen wrote after Sorensen's arrest that Sorensen and her boyfriend were 'uncooperative with officers and acted unemotional to the baby's death'. Sorensen was sentenced to probation, and her two other children were removed from her custody because she decided not to submit to random drug tests. As she explained later, 'people would come by to say how sorry they were she had died, and then they'd get me high'. In 2004, after the end of her probation, Sorensen gave birth to another child, Alexandria Maricale Sorensen. When Alexandria died in similar circumstances to Kalee after being in a twin bed with her mother and her mother's boyfriend, it was decided not to press charges. Sorensen said: 'I can't believe this happened again.'
State emergency management officials in Connecticut have stated that they believe someone responsible for a test of the emergency broadcast system pressed the wrong button. Television and radio audiences were told that the state of Connecticut was being evacuated. State police said they received no calls related to the false alarm, which was manually released to broadcasters. Governor M. Jodi Rell issued a statement in which he reassured residents that an investigation is being conducted.
Marisa Nicole Sivesind's landlord and a neighbour in Bakersfield, California, reported her to the police for putting a picture of a naked woman on her two-year-old son and one-year-old daughter's bedroom wall. She claimed that her son had asked her to buy a copy of Hustler a week earlier when she and the boy were in a liquor store, and that she obeyed his request for her to put the centre-fold image on the wall because she didn't want him to call her vulgar names. Sivesind has been charged with providing harmful matter to a minor, as well as with the misdemeanour of threatening to kill her neighbour.
The US's largest white supremacist record company Panzerfaust, which earned media attention last year when it distributed free compact discs to teenagers, found its star rising when proprietor Anthony A. Pierpont, 38, recruited business-savvy Bryant Cecchini (who goes by the name 'Byron Calvert'), 33. Things began looking less bright for Panzerfaust when Pierpont was jailed awaiting trial on drugs offences and Cecchini saw a copy of Pierpont's birth certificate, which indicates that his mother was Mexican. When Pierpont refused to take DNA tests to verify his 'whiteness', Cecchini announced that he was quitting the label. Others withdrew their support. The label's Web site now redirects visitors to another white power site (to a template page at the time I write this).
Kirk Alan Marvel of Waterloo, Iowa, parked his car and took a nap. The 42-year-old man's chosen nap spot was in front of the county jail. Sheriff's deputies noticed the car at about 4am and investigated. Inside were crushed pseudoephedrine pills, lithium batteries, a canister of starter fluid, and a plastic bucket full of sludge. Marvel was arrested for having marijuana and a meth lab in his car.
Walking past a fire station in Palm Bay, Florida, in the wee hours, a man saw smoke billowing from the building. Unable to rouse anyone by banging on the office doors, he rang the emergency services from a telephone outside. Dispatchers were able to wake the firefighters inside, who made their way out through the smoke as fire alarms began to sound. They were then able to fight the blaze, which apparently started in a temperamental fire truck that had been attached to a battery charger overnight. The truck's metal frame was melted in the intense fire. The incident is under investigation.
Steve Swartzmiller, the police chief of New Riegel, Ohio, woke up in the middle of the night to the sound of Beethoven. He found an intoxicated Shawn Chadwell, 19, sitting at his piano. According to Swartzmiller, Chadwell had been looking for a friend's house when he entered the wrong home by accident. He was charged with under-age drinking and burglary.
Lieutenant Anthony Masi, a police officer in Yorktown, New York, said that Jaime Lopez was highly intoxicated when he stumbled into a neighbour's unlocked apartment and went to bed. When Lopez's neighbour noticed that Lopez was next to her in bed, she screamed. He awoke and she chased him back to his own apartment. Masi stressed that the apartments all look alike. Lopez has been charged with criminal trespass.
In Sand Lake, Michigan, a four-year-old boy wanted to go to the video store in the middle of the night. He managed to put his mother's car in gear and make his way to the store, 400 metres away from his home. It was closed, so the young driver headed back home - rather slowly, as he couldn't reach the accelerator pedal. Officer Jay Osga noticed the car, which was weaving along and didn't have its headlights on, and assumed the vehicle had been left running at a petrol station. The boy turned in at his family's apartment complex and hit two parked cars as Osga turned on his cruiser's lights. The boy then put the car in reverse and backed into the police car. Police chief Doug Heugel said no charges will be filed against the boy or his mother.
Vincent Calabria, 73, of Carteret, New Jersey, said he received a money order for $400 from a remorseful thief, who enclosed a letter apologising for stealing Calabria's coin collection 20 years earlier. Calabria said he had assumed he'd hidden the coin collection so well that he couldn't find it. He said the coins were almost certainly worth under $400. Calabria said: 'I think it's a message from God that not everyone is bad or loused up'.
Police in Santa Clara County, California, say that registered sex offender Glen Westberg used the online database of registered sex offenders as a dating service. The 35-year-old Westberg sent explicit letters to female offenders who appeared to share his interest in child molestation. County prosecutor Steve Fein said he never would have thought the database would be put to such a use. Westberg faces up to six months in jail and a $1000 fine if found guilty of illegally accessing the database as a registered sex offender, reports the San Francisco Chronicle.
Larry Valletta pulled over on a Connecticut highway after seeing two cars that had been involved in an accident. One had flipped over. He called the state police and went to check on the people whose car had flipped over, one of whom was injured. He then checked on those in the other car. Meanwhile, a man who had been in the first vehicle stole Valletta's car. State police are looking for the thief and Valletta's car.
Also in Connecticut, the Berlin Station Cafe was the centre of controversy after it put up a sign advertising a fake nude karaoke night as part of a joke. Someone saw the 'Naked Karaoke' sign and complained to the city fathers. The bar's co-owner, Marty St. Pierre, was told he could be arrested because he didn't have a permit for the event. St. Pierre's business partner, who is a lawyer, sued the town on grounds that such a restriction is against the law. The bar won the battle. St. Pierre has now decided to actually hold the event and says that 120 people have signed up to take part. The town's mayor said he is not pleased.
Seattle lawyer Harish Bharti has filed a civil suit on behalf of six female patients of obgyn physician Charles Momah. The woman were allegedly examined, operated upon, and fondled by his twin brother, Dennis, who is in general practice and not certified in obstetrics or gynaecology. Bharti said the women are among patients of the Momahs who had complained to various authorities over a period of years about the treatment they received at the Momahs' hands. They said that on some occasions the man they thought to be Charles Momah stuttered and had a heavy accent while at other times he spoke fluent, unaccented English. His weight also varied quite a bit over short periods.
Oklahoma City's Brian Bates conducted a 'video vigilante' campaign to highlight the street prostitution problem. Because he paid prostitutes to conduct their financial arrangements in view of his camera, he has been charged with pandering or pimping. Bates apparently ran the tapes only if the prostitutes didn't give 'specific signals' to indicate that a john was a regular customer. Investigators see this too as a problem. Bates is also accused of aiding in prostitution, as he apparently instructed the prostitutes in how to improve their odds of a successful deal and spot undercover police officers, all for the sake of his tapes. Bates, who could face up to 20 years in prison, called the charges a 'shock to me and my family'.
Patricia Pokriots of Fort Lauderdale, Florida, told no-one she was pregnant. Less than an hour after giving birth, she brought the baby to the authorities - after all, the state has a policy whereby newborn babies may be abandoned at designated locations such as hospitals and the police station. Rather than just leaving the child, Pokriots decided to take the role of a hero. She claimed that she had saved the baby after an arguing couple threw it from a car. Sheriff Ken Jenne said the 30-year-old woman's story suffered from a few holes and that she eventually told the truth. She is undergoing psychiatric evaluation.
After his wife died, retired aerospace worker Ben Waldrep decided to move out of his home with a view of the Pacific Ocean. He offered the home as the top prize in his 'Why I Want to Live in Manhattan Beach, Calif.' essay contest. Paying $195 each, 1,813 people entered the charity fund-raising contest. The winner, Canada's David McNair, decided not to accept the home, and the rules didn't specify what would happen to the house in such a situation. Also, the judges had given four people second place. Waldrep sold the home. A disgruntled entrant filed a class action lawsuit claiming that the contest was fixed, because the winning entry was bad prose and McNair never explained his refusal of the prize.
Last week, a jury ordered Waldrep, 77, to return the entry fees, plus interest. The entrants were also to split $1 million in punitive damages. However, the wording of the judgement awarded $1 million to each entrant. The jurors discovered this when speaking with lawyers after the trial. Heading back to the courtroom to rectify their error, they were told it was too late, since they had been dismissed. There is a chance that the mix-up can be sorted out when the judge hears objections next month.
Standing in a queue at a convenience store in Albuquerque, New Mexico, 23-year-old Hugo Suso-Dominguez dropped a one-dollar note. This is worthy of mention here because it was worthy of the attention of the police officers who had stopped at the store to collect food. The dollar was folded into a pouch, in which was cradled some cocaine. An officer picked up the banknote. Then, Detective Thomas Gutierrez said, 'Hugo looked back at us and the dollar bill, which was now open displaying the suspected cocaine. Hugo laughed and stated: "That is mine" (in Spanish)'.
According to Texas's Fort Worth Star-Telegram, Joseph Fabnbulleh, 22, held up a store with the aid of pepper spray. He made off with $200 but left his wallet on the counter. Detective Marco Valladares said: 'Once we had the wallet, we called him to say it had been turned in to our lost and found (we don't really have one)'. Fabnbulleh walked into the police station to collect the wallet and was jailed on a robbery charge.
On Saturday, police in Dublin noticed that an ambulance had been parked in an emergency parking zone at the airport for a while, perhaps half an hour. So they decided to clamp the vehicle. David Hall, owner of Life Line Ambulances Ltd., said: 'No inquiries were made about the patient, to find out how acutely ill they were before the clamp was applied'. Upon emerging from the airport with the patient, who had been seriously injured on a skiing holiday, the paramedics were told that they had to pay the fine. The police wouldn't accept the ambulance company's credit card, so the ambulance crew ended up withdrawing about 90 euros of their own money from a cash machine to pay the fine. Dublin Airport Authority spokeswoman Siobhan Moore said the charge would be refunded and that ambulances are not to be clamped at the airport in future.
Legislators in the state of Virginia have dropped their trousers bill in the wake of media attention. The proposed law would have attached a $50 fine to wearing trousers so low-cut that the underwear is visible in a 'lewd or indecent manner'. The bill passed one of the legislature's two chambers but was unanimously rejected in the other after being lambasted by the media as a distraction and a sign that legislators were preoccupied with droopy trousers. The bill's sponsor, Delegate Algie T. Howell, said in a statement that the bill 'was in direct response to a number of my constituents [including customers at his barber shop] who found this to be a very important issue'.
Liz Hodges, owner of the Globe Hotel in Topsham, said she was left with a bill of around 300 pounds after a couple checked in, paid for their room in cash, and spent the night. The man, in his 50s, and the woman, in her 20s, turned off the water supply and disconnected their shower, removing the entire shower unit from the en suite bathroom. Devon and Cornwall Police Sergeant Alan Mobbs called the theft odd 'particularly when you consider the efforts needed to physically take a shower from the wall'.
Chilean MP Ignacio Urruita is threatening to sue Talca Regional Hospital. He told Las Ultimas Noticias that he went to the hospital to visit a friend but was told that he would have to donate blood first. Urruita called the hospital's demand blackmail and 'totally illegal'. A spokesman for the hospital called it a widespread approach used 'because we don't have enough blood to satisfy the demand'.
A Dutch man claims he has complained for three years about the noise flooding his home from the Irish pub next door. Tom van den Belt admitted to police that he finally retaliated, during a particularly loud carnival celebration, by blocking the doors of Murphy's pub in Deventer and drilling a hole in the pub's wall. He then inserted his garden hose in the hole and turned on the water. The manager of Murphy's, Rianne Jansen, said the water started creating a hazard on the pub's wooden floors and that the crowds couldn't leave. Eventually, van den Belt contacted the fire brigade. He told De Telegraaf: 'We want to be able to sleep and have now declared war'.
Maureen Monaghan was a school bus driver in Pennsylvania. Wanting to appear as a contestant on the reality television show Survivor, she had to prepare an audition tape to, in the producers' words, 'talk about your job' and 'why you would be the ultimate Survivor'. Monaghan collected permission slips from 21 students' parents for children on her bus to appear on her audition tape. To liven things up a bit for the video, she apparently encouraged the students to jump around and throw things. The idea was to make her seem to be more of a survivor. A second camera angle was obtained by the bus company, who shared this footage with the police rather than Monaghan. Monaghan is now surviving a charge of recklessly endangering children and has been voted off the bus by her employers.
Isac Aguero, 24, works for a Miller Brewing distributor in Racine, Wisconsin, as a forklift operator. Or at least he did. A photo in the local newspaper's weekly 'On the Town' feature on Racine's nightlife captured Aguero drinking his beer of choice, competing product Bud Light. Aguero said he arrived the following work day and was called into the general manager's office to be sacked. He said of the circumstances: 'It was a Saturday and I wasn't at work. They can't tell me what beverages I can drink. [...] I always drink that. Just because I work there, do I have to change what I drink?'
An 11-year-old boy in Houston, Texas, woke up to his mother's screams. The boy in turn woke his 16-year-old brother, who went into his parents' bedroom and told his father, 43-year-old Jacob Hughes, to leave his mother alone. The teenager apparently told police that he then shot his father in the arm to defend his mother while Hughes argued with her.
Sheriff's Sergeant Mike Smith said he initially believed the children's account but now has a new take on events: 'During the course of love making, the wife was evidently being somewhat loud - loud enough to where it woke the children up'. He said the boys simply interpreted consensual sex as 'their mother being in danger', possibly because of Hughes's convictions for domestic abuse. Officials said it isn't clear whose story is the correct one. Regardless, the teenager is being charged with aggravated assault with a deadly weapon, a felony.
A woman visiting Columbus, Georgia, for a civil rights march rang the police to complain that before the march began she saw a police officer eating a banana in the area. When the woman indicated that there was no sexual tension or phallic reference involved, the police were puzzled by the woman's indignation and she hung up. She then rang Mayor Bob Poydasheff, who said the woman explained that the banana eating 'was an affront' because it could be seen as a racial slur equating black people to apes. She said she didn't know what to say to the officer.
After some research, he rang the woman and told her that officers working an eight-hour security shift were provided with food, including bananas and other potassium-rich fruit, by a department-sponsored snack van. She demanded that he apologise in writing, so he sent a letter in which he said: 'I am sorry you found Columbus police officers eating bananas on the street when you arrived in Columbus for the protest' and apologised that she was offended. 'I haven't heard from her and, quite candidly, I don't care. Our officers did no wrong', said Poydasheff.
Three men in Sparta, Wisconsin, were annoyed when the marijuana they had bought from a man in a trailer park turned out to be oregano. Dylan Schmidt, Ben Maxwell, and Jeremy Kimpel went back to the trailer park to try to collect a refund. An angry Schmidt fired a shotgun several times into what he thought was the home of the oregano dealer. The house he had wanted was a few trailers down. Formal charges have been filed against Schmidt, including a variety of charges of possession of real drugs. Further limiting Schmidt's chances of being able to buy marijuana in the future, the police discovered a list he was carrying, of what appeared to be possible dealers.