In Harrison, New Jersey, Christopher Russell was cold and just wanted to go home, to the town of Newark. In a decision possibly influenced by his drunkenness, he decided to solve the problem by stealing a vehicle. The vehicle he chose was a bulldozer, which the 30-year-old Russell first tried to manoeuvre through a park. This resulted in the loss of some signs, a drinking fountain, three benches, two steel bollards, and a tree. He eventually left the park and added a car to his tally. When officers caught up with him, he had parked the construction vehicle in a street and was trying to climb out.
Dwayne Fenlason, of Pomfret, Vermont, drove his pickup truck off the road, so he went home to get his other pickup truck, for towing the first out of the ditch. The second pickup too ended up off the road. On his third try, the 40-year-old Fenlason went home for his all-terrain vehicle. He didn't make it to the scene that time. At the time of his arrest, he had a blood alcohol level of 0.30 per cent.
Every November on Germany's National Heroes' Remembrance Day, supporters of Nazi ideology march through the town of Wunsiedel, where Rudolf Hess was buried, Villagers, who had been annoyed at not being able to stop the marchers by legal means, this year cheered them on, even supplying free food (labelled 'Mein Mampf'). This is because locals had agreed to make cash donations to a charity supporting people who have left extremist groups, for every metre the neo-Nazis marched.
Speaking for the mayor's office, Inge Schuster called the event 'an absolute success'. Results included 10,000 euros in donations to EXIT-Deutschland and 'lots of surprised right-wing extremists'.
William Ojeda, a member of Venezuela's ruling party, has revealed how inmates' protests at the Uribana prison evolved. They stormed the infirmary and ingested the medicines within. This left 35 dead and over 100 in treatment for overdosing on anti-seizure drugs, insulin, anti-hypertension medicines, and more. Relatives have accused wardens of poisoning the prisoners.
Australia's Anthony Philip Whiteway had just bought a light aircraft and wanted to take it home. Since it had no wings and he had no pilot's licence, he chose to taxi down the main street of Newman with the propeller rotating and fuel running through a line from a can in the cabin.
The 37-year-old Whiteway decided to stop for a quick break on his way home. Officers found him in a pub. The aircraft was parked outside with the ignition running.
Whiteway was found guilty of committing an act likely to endanger the life, health, or safety of a person and was fined the equivalent of 3,500 euros plus towing and court costs. After the court case, he said: 'I don't think I'll be taking it to the pub again, no.'
Police officers brought 23-year-old Savannah Turachak to the Uniontown, Pennsylvania, police station, where she was cited for public drunkenness and released. When she re-entered the station moments later to report someone harassing her, she dropped something while straightening her shirt.
Turachak bent down to pick up her bag of crack cocaine but gave up as other people walked in. It was discovered a short while later, and she is being charged accordingly.
Seven brawling and bloodied officers with the Metropolitan Police were handcuffed and bundled into police cars in Vilnius by Lithuanian police in late November. Scotland Yard said that local officers are still investigating the incident, which occurred while the men were on leave for a stag party. They may face disciplinary action in Britain if charges are filed that entail a return to Lithuania.
Massachusetts police report on an incident at Logan Airport, where a man fell through a suspended ceiling in a ladies' washroom. Cameron Shenk had stripped off his clothes in order to fit in the gap more readily. The naked Shenk's sudden appearance startled a woman in the loo, and the surprises continued when he next attacked an 84-year-old man. According to state police spokesman David Procopio, the older man suffered serious injuries before others intervened in the 26-year-old Shenk's attempts to choke him with his own cane.
The police have not identified a plausible motive motive for the 'bizarre' behaviour.
After Tony and Jan Jenkinson expressed disappointment online with their stay at Blackpool's Broadway Hotel, they discovered a credit-card charge from the hotel for their negative review. The establishment's terms and conditions explain: 'For every bad review left on any website, the group organiser will be charged a maximum £100 per review.'
Blackpool Council's Gillian Campbell has now stated that the council have asked the hotel-owner to scrap this policy. The Jenkinsons have not altered their review on TripAdvisor, which refers to such features as attack-oriented bedsprings and termed the hotel a 'rotten stinking hovel run by muppets'.
Beijing Youth Daily reports on a clothing shop on Beijing's Albemarle Road where 'Chinese people may not enter (except employees)' signs are posted. Staff explained to several reporters that the idea is to solve shoplifting problems and keep local pickpockets and bag-snatchers away - especially because foreign visitors have accused the shop of being in cahoots with the criminals and demanded compensation. Other area establishments have posted similar signs but with a stated rationale of wanting to prevent industrial espionage.
While some have expressed outrage, this is not illegal, since China does not ban racial discrimination.
According to AP reports, police officers in Nampa, Idaho, responded to a call about a protracted case of shoplifting by trying to arrest culprits Gregory Redner and Camilla Hunt. When the pair fled and got into a car, officers decided not to pursue them, figuring that it would be hard to capture Redner and Hunt safely amid the crush of Thanksgiving shoppers.
However, Hunt ended up driving in circles in the car park, which gave officers ample time to lay a spike strip. She and Redner were arrested two flat tyres later.
In another Thanksgiving story, Pennsylvania's Jacklyn Blake, 47, woke up after a bout of drunkenness to find that her boyfriend was eating the holiday meal without her. He later explained her reaction to officers: she stabbed him in the chest and then threw the knife in his face. He was hospitalised with non-life-threatening injuries, and she faces various charges related to threats, assault, and endangerment.
According to the Toronto police, two assailants grabbed a 29-year-old woman from behind and demanded her valuables and baby. Inspector Art Little said that the woman was punched, kicked, and knocked to the ground but kept hold of her child after a brief tug-of-war. The attackers, a 12-year-old girl and 14-year-old boy, have been apprehended.
Elsewhere in Toronto, Kaling Wald decided not to report her husband's death from complications of diabetes. Instead, the 50-year-old woman sealed up his room so that she, five of her children, and the rest of the family wouldn't be disturbed by the smells. The sheriff noticed the corpse six months later, when he showed up to evict the group for an unpaid mortgage. Since the dead man hadn't yet been reanimated, the family had packed his belongings too for the move.
According to Wald's defence attorney, Peter Boushy, 'there clearly was an over-exuberance of one's faith [...] I think counselling is certainly going to be beneficial for her.'
According to Florida Attorney General Pam Bondi, the now-defunct FastTrain college 'purposely hired attractive women and sometimes exotic dancers and encouraged them to dress provocatively while they recruited young men in neighborhoods to attend FastTrain'.
Authorities also accuse the institution of obtaining many millions of dollars in undeserved grants for its seven campuses by fraudulent means. For instance, a federal lawsuit claims that, since first-time students must attend classes for at least 30 days before their college can receive some types of taxpayer funding, the 'admissions representatives' would shuttle people to the class location. It is alleged that if they still didn't show up for at least the first five days, the relevant papers were simply falsified.
Caroline Cartwright has been given an eight-week and 12-week suspended jail term for violating the four-year Anti-Social Behaviour Order forbidding her from screaming and making other loud vocalisations during sex. She responds that she has no intention to comply, saying that 'that's what you should be doing [...]. It's not as if I'm having sex and think "Oh, I'm making too much noise. I'd better be quiet."'
The problems began when Cartwright and her husband moved into terraced housing and promptly began treating their neighbours to the sound of the iron headboard of their bed banging against the wall. That ended when the bed broke. The police have visited more than 30 times since then to tell the couple to be quieter.
The California State Medical Board has ruled that urologist Charles Coonan Streit committed 'an extreme departure from the standard of care' by relying on memory in his removal of a kidney from a federal inmate. The 59-year-old inmate ended up with his healthy kidney excised and the cancer-affected organ still inside his body. A second surgery has been performed, and Streit has been placed on three years' probation.
Police were called to a Des Moines, Iowa, home after Tramaine Hill's wife woke him at about 1pm and handed him a McChicken sandwich. Hill, 21, told responding officers that he doesn't like that type of sandwich. This, he said, is why he threw the sandwich at her and then smashed pieces of the fallen bun into her face.
Hill explained that she is guilty of assault, and as evidence he produced a video in which he entered the bathroom while she was cleaning up her face and clothes. Officers say that he provoked her into swatting the camera-phone from his hand so that he could paint her as aggressive. Hill has been arrested.
When a Lakewood, Washington, couple returned home from a holiday, they noticed that their chair, mattress, carpet-cleaning machine, military-issued equipment, and other belongings were missing. They were, however, the proud new owners of some empty pizza boxes and beer bottles. They also didn't recognise the recliner and television stand in their flat.
A traffic ticket found on the scene pointed to a neighbour, who returned the missing items and told officers that he had assumed that the couple had moved away and abandoned their furniture. According to the News Tribune, he added that he'd been drunk when deciding to swap sets of furniture with the neighbours and when ringing a friend for assistance. That buddy's details were on a pizza receipt found at the burglary scene. Both men were taken to jail.
A 22-year-old woman in Gmunden, Austria, rang the emergency services when an explosion shattered the glass door of her wood-burning stove from within. While a bomb-disposal team confirmed that the only thing inside the stove had been the logs that she'd purchased at an area hardware store, one of those logs had been home to an 8 × 2 cm fragmentation grenade. According to police spokeswoman Petra Datscher, officers believe that the grenade had landed in a tree, which grew around it in the years since the Second World War.
According to AP reports, a pair of teenagers liberated a car from its driver at gunpoint in Houston. However, they then recognised that they didn't know how to operate it. After demanding and receiving a few instructions in how to use a stick shift, they sent the driver on his way. The motorless motorist then rang the police, who apprehended the teenagers after a brief chase. Officer Stefan Happ said that the youths, ages 15 and 17, had encountered 'issues operating the vehicle' and had ended up trying to flee on foot.
Also in Texas, a 28-year-old man is seen on surveillance video taking 20 minutes to break down the front door of a meat-processing business in Austin. Once inside, he stole two sausages and left, only to return a moment later to swipe a coat and fall asleep in the back office.
When officers awoke the man, identified as Ricardo Cardona, he explained that he had been out drinking.
Heather Cho, a vice-president of Korean Air and daughter of its boss, has been resigned from responsible positions at the company after she delayed a flight on account of 'service standards' while flying as a private passenger: Before the plane left New York for Seoul, she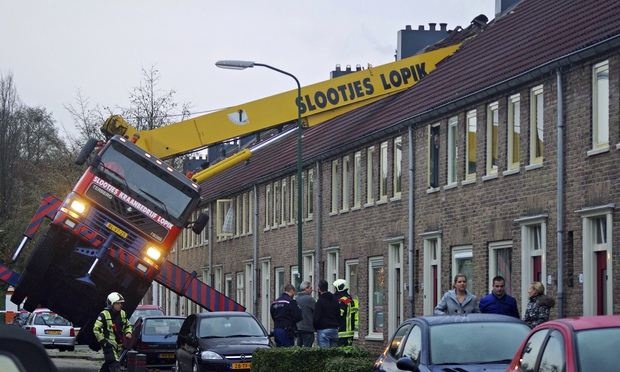 had berated a flight attendant for serving her macadamia nuts in a bag rather than on a plate. The incident ended with Cho ordering the plane to return to the terminal and having the chief flight attendant ejected for supporting the junior attendant.
In Ijsselstein, Holland, a man hired a crane to lower him into his girlfriend's garden, from which he planned to deliver a marriage proposal. What ended up happening, according to emergency services spokesman Jelle Mulder, is that the unsecured crane overbalanced and toppled into a neighbouring building's roof. The man escaped unharmed, but the building did not fare as well: it was battered again when the crane slipped during an attempt to right it.
The neighbours were 'deeply shocked', but no-one was injured. it is unclear whether the building will need to be demolished. The girlfriend accepted the marriage proposal, and the pair are now on holiday in Paris.
Utah's Ryan Roche wanted to beat the record in an eggnog-chugging contest at an office Christmas party. He succeeded easily, downing about a litre of the creamy concoction in 12 seconds and thereby winning a steakhouse gift card. He later reported: 'I just opened up my throat, didn't even swallow. [...] I got done, and I was gasping, I couldn't breathe.' Feeling increasingly uncomfortable in the coming hours, he heeded a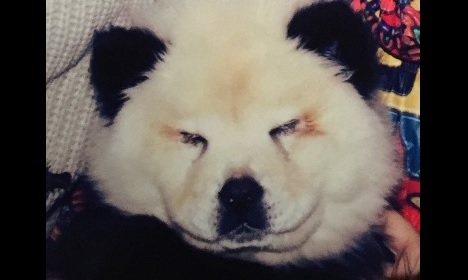 friend's advice to seek medical attention. In hospital, he was told that he was 'dry drowning' from the eggnog in his lungs. He spent 24 hours in intensive care and returned home a further two days later.
According to local media, environmental officers paid a visit to a circus in Brescia, Italy, where some customers had questions about the pandas posing for photos with children. The officers' statement reported that the pair of animals, imported from Hungary, had watery eyes, probably at least on account of all the camera flashes, but also that they were chow-chow dogs painted to look like pandas. They were seized, and the circus-owner faces charges of animal abuse and fraud.
In St. Petersburg, Florida, Donald John Clark took a front-end loader from a construction site and led police on a 90-minute chase through residential neighbourhoods at speeds of up to 40 km/h. The chase took so long because they kept using police cars as roadblocks and hastily retreating at the last moment as Clark ploughed on ahead. It took as little time as it did because the vehicle ran out of fuel. Clark, 32, was subdued with a Taser when trying to run off. He has a history of driving with a suspended licence and driving while intoxicated.