Florida man Earle Stevens, Jr, knew that drinking while driving is a no-no. So why did he hit the vehicle in front of him at a Vero Beach McDonald's drive-through several times, thereby prompting its driver to summon the police? The 69-year-old Stevens explained to officers that he hadn't been drinking from his brown-paper-bagged bottle of Jim Beam bourbon while driving. According to his arrest report, he explained that he took a swig 'only when he stopped for stop signs and traffic signals' on his journey of 65+ kilometres. Although he felt 'pretty good', Stevens failed field sobriety tests and a breath test. He has been arrested, but there is no risk of his driving licence being revoked. He doesn't have one.
In the 'Do not go gentle into that good night' department sits Arizona's Anna Mae Blessing, who spent a few days contemplating her 72-year-old son's resolution to send her to a care home. With a handgun in a robe pocket, she visited the bedroom he shared with his girlfriend. She fatally shot him and then turned the weapon on the girlfriend, who wrested it from her grasp and discarded it. Blessing then produced a second 1970s revolver, from her other robe pocket, and that too was confiscated.
Blessing, 92, sat in a reclining chair and waited for Maricopa County sheriff's officers to arrive. As she was being led away, she had this parting shot for her son: 'You took my life, so I'm taking yours'. She told officers that she'd had planned to kill herself too, adding that she deserves to be 'put to sleep' for first-degree murder.
Meanwhile, Florida brings us a story of someone who didn't want a loved one to leave. In the town of Clearwater, 67-year-old Colin Lee Showard was engaged in an argument with girlfriend Crystal Grimes, who was in his car. To prevent her from driving off without at least hearing him out, he got into a forklift truck and pinned the car against a bus. Grimes suffered a back injury, and Showard faces a charge of aggravated battery.
Jack, who pointed me toward the next story, offered 'See what you get for going to Walmart?'.
Whitney Leigh McWhite and her ex were having words about her sport utility vehicle's car radio in the Greer, South Carolina, Walmart's car park. He decided to find his own way home so opened the back of the SUV to remove his bags. At least five onlookers saw her clobber him in the head with a tyre iron and pack him into the boot, where he probably couldn't hear the radio, let alone touch its controls, as she drove off. McWhite hadn't made it far before the police stopped her. She helped to free her ex but maintained that no physical assault had taken place.
Among the charges against her are kidnapping, driving under a suspended licence, and using a licence plate on the wrong vehicle.
Allegedly, Preston Smith rang his brother 'under duress' to relay a kidnapper's demands for $2,000 to secure his release. The ransom money was to be brought to a local West Virginia Sheetz convenience store. Smith's brother didn't pay up: he rang the sheriff's department, whose officers converged on the location, where they found a captorless Smith waiting for money to arrive. Smith, 24, was soon deprived of his liberty for real and is being held on $10,000 bond on charges of conspiracy.
A Pulaski, New York, man woke with a start when a snake fell on him from his bedroom ceiling. The state Department of Environmental Conservation's Matt Foster determined that this two-metre-long creature was a red-tailed boa constrictor that had escaped from its enclosure in the flat above his. The boa constrictor was returned to its owner.
In another tale of falling things, a 19-year-old man was hit in the head by one of the pins that are used to attach numerals to a manually updated scoreboard at Chicago's Wrigley Field during a baseball game. Chicago Cubs spokesman Julian Green said that it isn't yet clear whether the 15–20 cm pin was dislodged or instead a worker dropped it. He explained that the man, who received five staples to close a resulting cut, might well have suffered much greater injury if he hadn't been wearing a plastic bucket on his head.
Kahali Johnson says that he was investigating an alarm sounding at his New Jersey home when the stench of vehicle exhaust led him to the running vehicle in the garage and the corpse of his partner of 13 years, one Tamika or Tameka Hargrave, and of her 56-year-old mechanic. He rang the emergency services, who believe the deaths to have been accidental carbon monoxide poisoning. The Newark police have neither confirmed nor denied reports cited by local media that 'law enforcement sources' believe Hargrave to have been paying for car repairs via sex at the time of her death.
Johnson puts the blame on owners who didn't have adequate alarm systems in place. Echoing this, Hargrave's daughter Khalisha stated: 'They have cameras and stuff. Why can't they get smoke detectors?'
Rye Daniel Wardlaw rang the emergency services at about 4am to report that he was 'stuck' in an escape-room business in Vancouver, Oregon. He claimed that he had headed there in a panic when someone started breaking into his house 'an old folks' home', but it was Wardlaw himself who was doing the burgling, after having found some keys in a lockbox near the business.
Wardlaw eventually found his way out of NW Escape Experience, shortly before responding officers with the Clark County Sheriff's Office saw him in the vicinity. The 40-year-old homeless man, who initially denied having been anywhere near the escape-room business, is being charged with second-degree burglary - he took a beer from the business's fridge, a television remote control, and the mobile phone he had used to ring 911.
A 13-year-old boy in China's Heilongjiang province decided to insert a USB cable into his urethra, removing the USB connector first to avoid trouble. Trouble found him anyway - about 10 cm of cable became scrunched up in his bladder, and he was unable to remove it. Staff at a local hospital in Linkou fared similarly: they couldn't solve the problem via lubrication. A day later, the boy, in intense pain by this point, was transferred to another hospital, whose urologist Dr Xu Liyan reports that surgeons there cut off the knotted portion within his bladder before pulling the remaining portion from his urethra. The boy spent two weeks recovering in hospital and answering questions about his 'curiosity' about his genitals.
Hastings, Michigan, police officer Cleon Brown is upset about the results from DNA testing he received through an ancestry.com service. The results in question are his colleagues' responses to the revelation that he is '18–33% sub-Saharan African'. Brown, who is white, says that he was upset by racial taunts such as colleagues whispering 'Black Lives Matter' in his presence. He described responding 'I cannot believe you just called me that' after the police chief addressed him as Kunta.
He sued the city for $500,000 on account of this 'straight-up racism' and was placed on paid administrative leave until 31 October. City officials, who argued that Brown himself had taken part in the jokes (e.g., 'the 18% is all in my pants'), stated that it has chosen to have insurers pay out a $65,000 settlement merely to avoid further disruption.
Eric Stagno entered a gym in Plaistow, New Hampshire, and started performing exercises on a yoga mat. He was soon arrested, because of stripping off all his clothes first. The 34-year-old Haverhill, Massachusetts, man objected to his arrest, explaining to officers that the Planet Fitness facility in question is signposted as a 'Judgement Free Zone'. Stagno has been charged with indecent exposure, lewdness, and disorderly conduct. It is unclear whether his yoga moves were particularly disorderly.
Colorado's Emma Bauer, 30, crashed into the back of a parked Subaru Forester while sending text messages on her mobile phone. The accident left the Subaru with a shattered back window and a cracked tailgate, and it left Bauer trying to explain why she had a half-empty beer in her bicycle's water-bottle cage.
Bauer successfully completed at least one field sobriety test, failed another, and refused to allow a breath test. She was given a lift to jail and a citation for careless and intoxicant-influenced driving.
Two police officers stopped Georgia's Sarah Webb, 24, for speeding at about 130 km/h on a wet road. They decided to use a digital coin toss to decide whether to arrest her for reckless driving (heads) or instead issue a speeding ticket (tails). The result, heads, was overturned after a news station in Atlanta alerted Webb to the video footage.
The two officers involved, Courtney Brown and Kristee Wilson, have been placed on administrative leave, according to a statement by the Roswell Police Department's Chief Rusty Grant.
After spending the night at his father's Indiana home, eight-year-old Curtis Collman III woke early and ate some cereal that had been left out on a plate. But it wasn't for him, and it wasn't cereal. He soon fell ill, and Curtis Collman II summoned a female friend to help. He wouldn't let her help by ringing 911, however - because the boy had consumed his drug stash.
Allegedly, he pointed a gun at her and took the boy to his own parents' home, where a family friend ended up summoning an ambulance. Jackson County Detective Tom Barker reported that the child died in hospital with 18,000 ng/ml of methamphetamine in his bloodstream (more than 100 times the accepted lethal amount).
In addition to 'neglect of a dependent causing death', drugs offences, and pointing the gun, the surviving Collman, 41, is being charged with theft and failure to register as a sex offender.
Police officers in Rhode Island were alerted to a video posted on Facebook by self-styled rapper John McEvoy (or 'Mack Sauce') in which he leads a 17-year-old girl around on a leash while she drinks from a vodka bottle. When officers arrived to speak with the 25-year-old Cranston man about this and various pictures of the girl in her underwear, they witnessed 'what appeared to be a drug transaction'. Making matters worse for himself, McEvoy then fought with the police.
Thus far, he has pleaded not guilty to resisting arrest, simple assault, and obstructing an officer. As for the girl, she has told the police that she is McEvoy's girlfriend and that they can't prove she was drinking alcohol.
Dozens of people were swept along in the wake of a wake in Peru's San José de Usuha. About 60 people fell ill after the funeral dinner for Víctor Santos Cucho Atucsa. Among those recovering are two sons of the deceased and Mayor Iván Villagomes Llamoca. Others were not so fortunate. Villagomes, whose father and teenaged nephew are among the nine people listed by La República as confirmed to be dead, summed up: 'The whole village has been poisoned. I can't grasp it yet.' Pesticide-related food poisoning is suspected, according to Peruvian Health Minister Silvia Pessah.
When workers at a New York City café opened a freezer, a man jumped out and shouted 'Away from me, Satan!', then grabbed a knife and went on the offensive. As soon as the workers wrested the blade from him, he dropped dead of a heart attack.
The staff of Sarabeth's Restaurant now know who it was hiding in their cold case: 54-year-old Carlton Henderson, recently linked to a 1988 double murder. Four days before the freezer incident, he had been released on bail in Boston, after the granting of his attorney's motion to suppress evidence from the police cold-case team.
A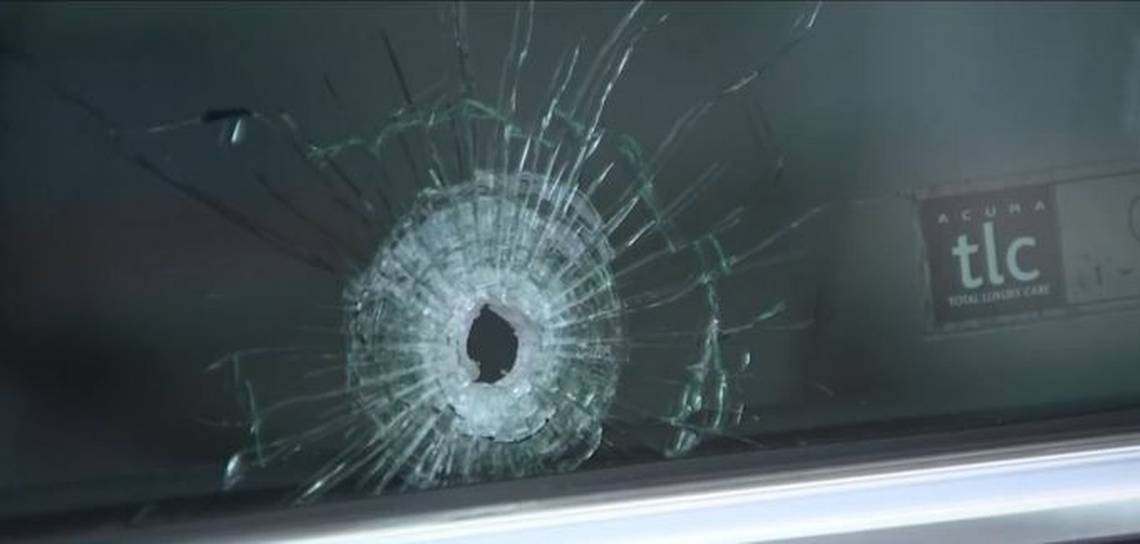 woman driving through a Harris County, Texas, car wash heard a noise and noticed a crack in her car window. Later, her bleeding arm helped her realise that a rock was not responsible, so she contacted the police. They identified the owner of the late-'90s green Ford Explorer that had been alongside her car, local resident Nicholas D'Agostino, who stated that he had shot her in self-defence because she'd swerved into his lane. This led to uncovering of an incident a few months earlier in which a woman in the same locale had reported getting shot in the arm from the direction of a dark green older-model SUV while leaving a petrol station. In that case too, D'Agostino had appealed to self-defence.
According to court records, D'Agostino, who has now admitted to 'doing it before - maybe five times', has posted various diatribes online about females being incompetent drivers and ranted that women should stick to their sole purpose: 'to give birth to male children'. His attorney argues that the authorities can't be sure that D'Agostino hates women and says that his client needs psychological help.
Sometimes it might be best to answer the questions one is asked by airport security personnel. Berliner Morgenpost reports on a routine baggage check at Berlin--Schönefeld Airport that revealed 'suspicious content' in a 31-year-old man's luggage. After being summoned via the loudspeaker system to explain what was in his bag, he cagily referred to 'technical stuff', so a bomb squad were called in. They determined that the offending item was an Ann Summers vibrator that had been mistaken for a hand grenade. When the terminal was reopened, he and the various sex toys for his girlfriend continued on their way.
Kimm Vann noticed the absence of one of the three topiary dogs that had been part of a televisual makeover for her bakery. She reviewed CCTV footage, then shared the evidence online: video of a woman kicking the urinating-dog-shaped bush, named Peabody, and walking off with it. In response, the thief messaged Vann online, saying that the theft was a 'dumb drunk thing to do' and explaining that, because she hadn't known the object to have sentimental value, she's thought taking it would be harmless.
Under cover of darkness, a man returned Peabody in a condition Vann deemed 'only suitable enough for the trash man at this point'. Hence, Vann encouraged visitors to 'do your best reenactment' of the kicking and theft. The thief's parting shot was: 'The dog has been returned and it seems the bakery has gotten some much needed publicity from it and all is back where its supposed to be.'
Dutch newspaper De Telegraaf calls our attention to the case of a 29-year-old man who had a clever idea while under the influence of the drug GHB. He and his partner inserted carefully peeled hard-boiled eggs up their respective recta. With 15 eggs remaining inside him after this exploit, our hero began to experience stomach pains and sought medical attention. The outcome is described in a Nederlands Tijdschrift voor Geneeskunde article chronicling three cases of rectal foreign bodies: Finding it hard to deal with the man's abdominal spasms, physicians had to cut open his belly to access and remove the ova. They repaired a rupture and kept him in hospital for several days for observation.