Gracie Henderson, from New Caney, Texas, didn't have a plunger when her toilet became clogged. Rather than resort to ringing a plumber, she tried to clear the blockage by hand. She hadn't removed her wristwatch first, however, and soon resorted to ringing the emergency services to report that it had caught on something in the bowels of the toilet. While her neighbours looked on and videoed the proceedings, firefighters removed the commode from its fixings and carried it outside. A little force from a sledgehammer then freed Henderson's arm.
In other clog-related news from Texas, blockage of a municipal sewer pipe in Austin led city workers to the door of Juan Wang, 49, and husband Joseph Emery, 54. The cause of the problem was flushing used condoms down the toilet. No, things aren't that much bigger in Texas - the quantity was what made the difference. The business that operated from that address, Jade Massage Therapy, was kept under monitoring, and a raid six weeks later resulted in Wang and another woman being caught mid-hand-job. Wang and Emery were arrested for managing a 'prostitution enterprise that used two or more prostitutes' and engaging in money-laundering.
Nick Mead restores military vehicles. When he saw an eBay listing for a Chinese Type 69 tank, he asked whether his business, Tanks A Lot, could have it in exchange for two other retired military items: a British Army truck and an Abbot self-propelled howitzer. The seller agreed to the trade, and Tanks A Lot soon began work on the Type 69, a unit formerly used by Iraq's army. It wasn't long before mechanic Todd Chamberlain alerted Mead that there might be weapons in one of the fuel tanks, so the two decided to document this for the authorities. As a result, they have a video of the restorers pulling five foreign objects from the fuel tank: about 32 kilos of gold bars. It is unclear what will come of the gold, which is thought to have entered the fuel tank during the invasion of Kuwait.
An eight-year-old Ohio boy wanted a cheeseburger at McDonald's while his parents were sleeping, and he knew how to get it. He began by searching the Web for information on how to drive. After watching tutorial videos, he stretched onto his tip-toes to snatch his father's car keys and drove to the fast-food restaurant, about 2.5 kilometres away. When he arrived there with money from his piggy bank, the drive-through workers assumed that his parents were in the back of the vehicle. The only passenger was his four-year-old sister, who had wanted her own cheeseburger.
East Palestine police officer Jacob Koehler described worrying that he would receive reports of damaged mailboxes etc. after the youth's trip. In contrast, witnesses report that the boy had appropriately waited for traffic to pass before turning, stopped for red lights, and not caused any damage. After he apologised, the two children were allowed to eat their food while officers waited for their grandparents to collect them.
In considerably more trouble with the police is Pacheco Bustamante. Driving a nearly police-issue-looking Ford Crown Victoria, he turned on a siren and pulled a motorist onto the motorway shoulder in Florida. The vehicle he chose was driven by a detective, who was able to detect rather swiftly that the 46-year-old Bustamante wasn't a traffic cop and that Bustamante's 'service weapon' was a BB gun. When busted, Bustamante mentioned that he has played traffic cop before.
When Montana's Gilbert Kalonde was applying for a state fishing licence, the Wal-Mart worker handling the transaction asked him to state his profession. Kalonde responded by showing the worker his Montana State University identification card. When the licence was issued, it did not list him 'Assistant Professor of Technology Education'; his occupation had been recorded as toilet-cleaner.
Describing this database entry as exposing him to 'hatred, contempt, ridicule', Kalonde has filed a libel suit for unspecified damages in Gallatin County District Court.
After getting to know each other via an online dating site, an Arizona woman and Phoenix's David Harlow met for a real-life first date at a resort in his hometown. As the evening wore on, the woman excused herself to use the toilet, asking the 38-year-old Harlow to watch her belongings. It appears that he indeed never let her handbag out of his sight: he took it with him and headed for a casino. He also attempted to withdraw money at various banks. Harlow is now in jail on various charges.
Cheshire's Harvey Kenyon-Cairns was summoned to the US embassy for an interview before a planned trip to Florida. This was because of the response to 'Do you seek to engage in or have you ever engaged in terrorist activities, espionage, sabotage, or genocide?' on his visa-waiver form: 'Yes'.
Kenyon-Cairns didn't make the mistake himself - at three months of age, he left grandfather Paul Kenyon to fill in the answers. In addition to a 10-hour round trip to the embassy, the mistake caused delays in issuing the baby's visa. Kenyon paid the equivalent of 4,000 euros to arrange new flights and accommodation for Kenyon-Cairns and his parents. Things could have gone worse, though: Kenyon had considered dressing the tyke in an orange jumpsuit and cracking jokes at the interview.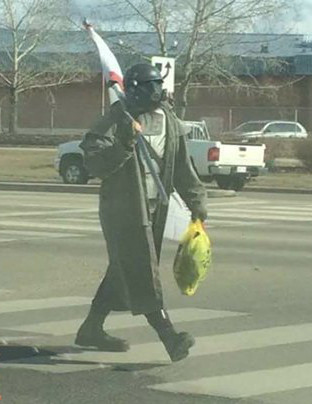 Responding to a bomb scare at Grande Prairie's Bell Tower Plaza shopping centre, at least eight Royal Canadian Mounted Police officers with long guns converged on the site, where the cause of alarm - a gas-mask-wearing man with what appeared to be explosives on his back - then entered Hoa Hugnh's shop. Hugnh was serving the armoured visitor when officers rang and asked him to evacuate the premises. They then confronted the man, who turned out to be a costumed devotee of the video game Fallout. The 'bomb' was a set of silver-painted Pringles tubes. Hugnh explained that the cosplayer had entered Lynn's Alterations simply to get measurements taken. The Alberta man responsible for the fuss was released from custody without criminal charges.
Mechanics who were working on Alex Tom's car in connection with a recall found an iPhone in the airbag compartment. This locked device identified itself via USB as 'Sully's iPhone', and a friend's advice on how to view recent notifications led him to the dating app Coffee Meets Bagel. This information proved to be enough: Coffee Meets Bagel customer-service staff tracked down Sully, who had participated in rafting trips with Tom in 2014 in an area with little mobile-phone network coverage. The device had been placed in flight mode and left in Tom's (apparently holey) glovebox. Sully now knows that he didn't lose the phone on the river, and he can return it to its actual owner, his brother.