Roxanne Perez, a 29-year-old woman from San Antonio, Texas, probably didn't think heating fish fingers in her oven would make the news. Two weeks earlier, she had told a friend that no guns were allowed in her house. His solution was to hide his .357-calibre handgun in Perez's oven. The gun discharged when Perez heated up the fish. She was shot in the leg and was taken to hospital. According to the police, no charges have been filed, as the shooting was not intentional.
Houston teenager Duncan Posey climbed a tree to rescue a cat. The 16-year-old kept climbing higher after the retreating animal. He soon realised he would need help if he was to get down from the tree in safety. According to KPRC TV, the fire department had to use a ladder truck to reach Posey. They cut away several branches before they could pluck him from his perch.
Dustin and Elizabeth Bond moved onto former business premises near Kearney, Nebraska, a little over two months ago. When they did so, they were told that the lock of the 8-foot by 10-foot safe had been disabled. They turned the safe into a nursery for their 14-month-old son, CeJay. When the door was closed, the safe locked. The boy emerged unharmed, as the safe was ventilated and the combination hadn't been reset from the factory default. The Bonds had a locksmith disable the lock; they then removed the door just to be on the safe side.
This has hit mainstream news sites, but I should report on it for the sake of completeness. California's Michael Todd Howard set up a rendezvous with a woman he met in a rape fantasy chat room. What court documents indicate is that Howard broke into a 25-year-old woman's home and struggled with her. When the woman attacked Howard's testicles, he asked her to tell him her chat room handle. She replied that she'd never been in a chat room and didn't even have a computer.
In a plea bargain agreement, the 35-year-old Howard pleaded guilty to residential burglary, for which a sentence of a year in jail is expected. He will not be charged with attempted rape or possession of illegal drugs.
Illinois's Betty Gooch writes bad cheques. Out on bond after her arrest for making out a $22,000 bad cheque to a car dealer, she wrote an even larger bad cheque to another auto dealer. Gooch, 75, has pulled this stunt at least 10 other times, driving each car until it was repossessed a few months later. Gooch, 75, explained that her medical bills necessitate this approach. Judges have felt sorry for her in the past - perhaps owing in part to the oxygen tank she sometimes wheels into court with her - and so did defence lawyer Steve Ford. Ford dropped Gooch as a client after she missed a court date and her cheque to him bounced. It is likely that she will spend some time in jail.
John Pezy Junior realised the family van was in the way when he was mowing the lawn of his Orange County, Florida, home. He asked his son, John Pezy the Third, to move the vehicle. Police say that the eight-year-old boy lost control of the van, which hit his father and continued on through the south wall of the house. It came to a stop inside the house. The elder Pezy was treated for his injuries in the local hospital.
Nicholas Gombos saw what he assumed was an abandoned chicken outside Ray's Food Place in Murphy, Oregon. He took the animal home, and his wife reported the bird's rescue to the market the next day. Employees told her the hen was a store mascot that lived off scraps provided by patrons. She was apparently told to keep the chicken. Later, a store employee called to accuse Gombos of hen theft. After Gombos refused to return the animal, Sheriff's deputies concluded that the hen belonged to Ray's. Officers woke a judge at midnight to obtain a search warrant. Four squad cars were sent out, and Gombos, wearing only briefs, was jailed.
Sheriff Dave Daniel explained that his officers 'treat every call as important for the person who called it in'. According to the Medford Mail Tribune, the store manager has admitted that the chickens outside the market 'are not owned'.
West Virginia's Floyd W. Shuler, 61, has filed suit against US Airways because he wasn't warned about the dangers of drinking alcohol on his flight. Shuler opined that he should have been warned that the effects of alcohol on airline passengers are greater at night. He also claims that the escalator at Southwest Florida International Airport wasn't being properly maintained when he fell down it. Shuler is seeking damages in excess of $15,000.
In another one of those 'wrong number' stories, Patricia Michel of Oklahoma City intended to buy methamphetamines. Doug Canant said: 'I am a bit of a joker, so I was playing along. She thought she was talking to her local drug dealer.' Michel explained that she didn't have much money, and she offered to exchange another drug for the methamphetamines. Canant is Michel's former parole officer.
Security guards at Northtown Mall in Blaine, Minnesota, found a duffel bag containing 25 bags of marijuana and identification for Bruce Jermaine Hall. While Officer Scott Parks was looking at the bag and its contents, the 26-year-old Hall appeared and asked if anyone had found his bag. When a guard answered in the affirmative, Hall further explained that 'it's mine'. After the handcuffs were on, Hall said the bag was his but that the items inside belonged to his brother. A search of Hall's person revealed a few joints and 10 bags of dope similar to the ones in the duffel bag.
Miguel Castillo, 49, was released from prison after serving 11 1/2 years of his 48-year sentence for murder. He had been pardoned by the governor. Castillo promptly sued the City of Chicago and three police officers, claiming that he had been framed and didn't kill anyone. The city denied that Castillo had been framed but did agree to give him $1.2 million. Castillo was in police custody at the time the murder was committed.
Theodures Raaymakers, 62, and wife Annette, 60, went ice fishing near Rouses Point, New York, on Lake Champlain. They weren't the only ones to do so, but they were the only ones whose ice floe broke loose and began drifting in open water. According to Champlain, NY, Fire Chief Bruce Barcomb, the floe was over 200 feet from shore and cracking when rescue crews pulled a boat onto the ice to keep the Quebec couple safe. Barcomb said the remaining ice too is cracking and unsafe but people didn't stop fishing after witnessing the incident.
Australia's Tristan Ellis, 18, committed 17 breaking and entering offences. Northern Territory Supreme Court Justice Dean Mildren looked at his file and noticed that Ellis had been given a total of three sentences of only probation involving a curfew - for the 20 previous breaking and entering offences he was found guilty of a year ago. Mildren said he was 'absolutely staggered' by this leniency and added: 'Who is the idiot who did that?' Mildren later realised that he was the judge in question. Ellis, who described himself as a 'lowlife crim', faces up to life behind bars.
In a restaurant inspection, a new employee at the Tennessee Alcoholic Beverages Commission told the owner of The Sutler that the antique nude photos adorning the restaurant's walls and shown on the menus might violate state regulations. Johnny Potts, the owner, immediately removed the photos - which had been on the walls for over 30 years - and blacked out the nipples on the menus with a marker pen. ABC Executive Director Danielle Elks has now said that the pictures are tasteful and, with the exception of one, not in violation of a state statute forbidding the depiction of genitalia on licensed premises. Potts said he doesn't know what he'll do about the menus, which he indicated would cost thousands of dollars to replace.
Shannon Kramer of Jacksonville, Florida, thought it would be funny to fire a rocket at his girlfriend as he passed her in his car. The firework didn't co-operate, and it whizzed around inside the vehicle until it settled between his legs. The display left him with second-degree burns, removing hair and skin from his feet to his groin area, according to police. An outline of his sandals is burned onto his feet.
After recovering from temporary blindness, the 35-year-old Kramer said there wasn't enough time to get the rocket out of the car after he'd lit the fuse. Of the rockets, with the diameter of a golf ball, Kramer said: 'No more of those.'
The front page of the University of Central Florida's campus newspaper featured a picture of the university president and the chairman of the Board of Trustees wearing Afro wigs. President John Hitt sent out an apologetic e-mail message after complaints surfaced that the act resembled racist imagery used to mock blacks. The pair and many fans of the university's basketball team have been sporting such wigs in support of black star player Dexter Lyons. Lyons, who was at the meeting where the wigs were donned, said that 'it's a big deal for me to get the president of this university to put on an Afro wig. That's an honour'.
Australia's Gavin Conrad Harris, 31, nearly hit a stationary squad car. His driving licence was suspended as a consequence. Later, having had a bit to drink, he apparently figured it was a good idea to let his six-year-old nephew do the steering while sitting on Harris's lap. Harris's blood alcohol level was four times the legal limit.
The Manly local court heard that Harris had been driving in defiance of court orders just a day before his court appearance. He was then sentenced to a five-year driving ban and six months of weekend detention.
Colin Sadd has now been convicted for the 156th time of car theft. The 41-year-old Sheffield native's modus operandi is to show up at car dealerships in a suit, take a car for a test drive, and just not return the vehicle. He drives around for two or three hours and then cleans the car inside and out, abandoning it afterward. His wife said he desperately needs help with his obsessive-compulsive disorder rather more than jail time. Sadd has never owned a car. A judge who dealt with him previously called him 'the man you would most want to steal your car'.
Six-year-old Levey Pados, Jr, showed up with a blue mohawk one day at Pleasant Ridge Elementary School in Auburn, California. His father had allowed him to get the hairdo as a reward for being better behaved in class. After some of Levey's classmates' parents complained that the blue mohawk would ruin an upcoming class photograph, Principal Derek Cooper took the boy to the nurse's office to wash the dye from his hair. Cooper claims he received permission from the boy's mother, but that is in dispute and attorneys have been mentioned.
In Clinton, Tennessee, Michael Corder wanted to prevent the authorities from seeing the marijuana growing in his mobile home. He tried to do so by setting the trailer on fire. After firefighters subdued the flames, over a hundred of the illicit plants were found in Corder's trailer. He is free on $10,000 bond.
Lee Alaban of Port Macquarie in Australia said she was upset when her car was stolen. She sent text messages to her mobile phone, which was in the car, explaining that the vehicle contained presents for her son's upcoming birthday. Alaban said: 'We exchanged a number of text messages. He started apologising, and I felt I was getting through. Next thing, I get this text saying he will return the car.' The thief sent a final SMS, telling her where to find the vehicle. He kept the telephone and the presents.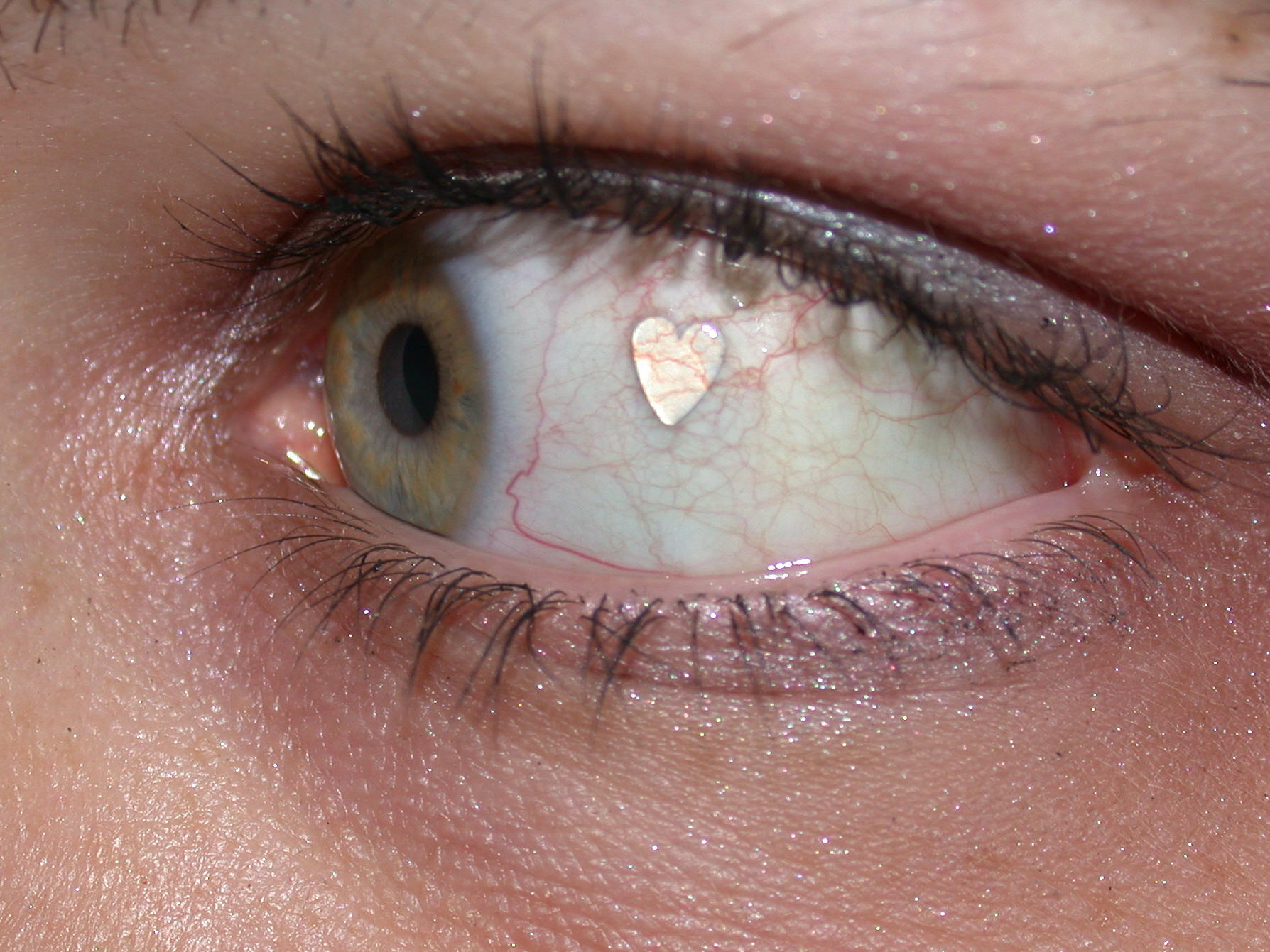 Dutch eye surgeons are making available a service for the person who's pierced everything. Surgeons at the Netherlands Institute for Innovative Ocular Surgery have implanted small pieces of 'JewelEye' jewellery in the mucous membrane of six women's eyes. Each piece of the specially developed eyewear is about 3.5 mm in diameter, and its insertion under local anaesthesia costs about 500 to 1,000 euros. Half-moons and hearts are among the designs available. Gerrit Melles, director of the institute, said he thinks the JewelEye pieces are 'more subtle than (body) piercing. It is a bit of a fun thing and a very personal thing for people'. He said there is a waiting list for the procedure.
Jonathan Wilson felt happy to weigh 350 pounds recently. An inmate in Florida, he hid 1.9 grams of what is thought to be crack cocaine in a cigar holder concealed under a roll of belly fat. The drug made it through a strip search undetected. Later, another inmate squealed on the 27-year-old Wilson. Wilson, who was originally jailed on charges of sale and possession of cocaine, now faces an additional charge of bringing contraband into a detention facility.
As Police Detective Kevin Fuller tells it, a burglar grabbed a power drill and cookies from a Riverdale, Utah, home but couldn't resist answering the telephone while he was there. It was the homeowner's daughter on the line, and she immediately hung up and told her mother someone was in the house. When the mother rang, the man identified himself as the guy she had kicked out of the house the night before. Police took the 23-year-old man into custody as he was walking around the neighbourhood. He has admitted to taking the drill but maintains that he was just reclaiming cookies that he'd left the day before.
A construction worker and a female security guard at Canada's Pearson Airport visited the new terminal's Canada Customs holding cell for a moment in private in the cell's bunk at lunchtime. They didn't realise they would be locked in when the door was closed. The pair had to wait about four hours for search crews to find them. Bill Tu of the Canadian Border Services Agency stated that Customs hadn't taken control of the area yet and now at least know the locks work. The security guard could lose her security clearance if charges are brought against her for breaching security by having sex in a public area.
A drive-by shooting in Fontana, California, didn't go according to plan. Passenger Richard Allen Eppard, 20, was shooting through the driver's-side window but missed the target. He ended up shooting Christopher Bonadiman, 20, who was driving the car, in the head. The car crashed when Bonadiman died, whereupon Eppard took off running. Police Sergeant Mark Weissman said Eppard 'is probably one of the stupidest people we've come across in a very long time, but at least he was responsible enough to turn himself in'.
Dennis J. Colbert robbed a bank in Elizabethtown, Pennsylvania, in order to get the money to buy a new alternator for his car. He left the car running during the robbery, as he didn't know whether he'd be able to restart it. With $1,876 in a plastic bag, the 37-year-old Colbert drove off - and came to a stop a few metres away. Police officers arriving on the scene saw a driver stop to let Colbert use her jumper cables. Witness Nicole Ditzler said: 'He couldn't get it started in time. Then the cops came flying in. The lady was flabbergasted.'
Police Lieutenant Carl Steinhart said Colbert was helpful after he was caught, watching the surveillance camera footage and saying: 'Yup, that's me going into the bank. That's me at the counter.'
A seven-year-old English boy with Down Syndrome left a group of 32 disabled children at Stansted Airport, then climbed onto the luggage conveyor. No-one noticed as the system transferred him to a second belt and then a third. When he passed through an automated x-ray machine, the operator assumed he was a doll and sent him down a chute for luggage that must be checked by hand. This is where the giggling child ended his 600-metre journey. The alarm had been sounded by this point, and the child, who was unhurt, was able to travel on to Lourdes with his group. Robbie Barrigan said that an investigation has been launched at the airport.
A traffic officer at Tampa International Airport approached Carmelo Cordero, who was sitting in the passenger's side of a car outside a terminal, and asked him to move the vehicle. Cordero repeatedly told irate traffic officer Ricky D. Murray that he couldn't drive. The car's owner was in the airport. Finally given a choice between moving the car and it being towed, Cordero decided to move the car, with Murray managing the gearstick from outside the vehicle. When Cordero hit the accelerator, the car lurched forward, hit two women, and ended up lodged between two other vehicles. No-one was seriously injured in the incident, which 73-year-old victim Beverly King said 'really wasn't his fault'.
Murray disputed witnesses' claims that Cordero had repeated that he didn't have a driving licence. He has been suspended with pay.
A passenger found a handgun in a toilet at Cleveland Hopkins International Airport. She alerted a staff member, who turned the gun in to airport police. About five minutes later, a federal air marshal went to the airport police to report that she didn't have her weapon. The woman had apparently placed the gun on a shelf before washing her hands.
Dave Adams, a spokesman for the federal Air Marshal Service, said that the woman, whose name was not released, will probably be suspended from her duties.
Over a period of two years, John Sarver robbed six banks in the Kansas City, Kansas, area. According to US Attorney Eric Melgren's office, when the 47-year-old Sarver was arrested in January, investigators found 'to-do' lists that included the item 'rob bank'. This might have been one of the factors influencing his recent decision to plead guilty.
On Sunday, a 16-year-old girl was kidnapped on her way to a bus stop in Houston, Texas. She was taken to an abandoned house, where three men sexually assaulted her. The girl escaped and tried to summon help from a nearby phone box, local television station KPRC reported police as saying. A passing motorist asked her if she needed help. When she explained the situation and said she wanted to go the hospital, he offered to take her there. The police department's Emma Rodriguez said the girl soon noticed that the man was heading in the wrong direction and became suspicious. The driver took her to a remote location, sexually assaulted her, forced her back into the car, and then made her get out on a street corner. Police say they have some good leads concerning the first three men but are offering a reward for information leading to the arrest of the fourth rapist.
Donald A. Willis, 46, walked into a Kokomo, Indiana, bar with a shotgun at 3:00am. When he told the owner and three customers to get on the floor, one man charged Willis, another grabbed the gun, and a third hit Willis in the head with a few bottles. A fourth helped hold Willis until the police arrived. The customers couldn't tell that the gun wasn't loaded, but they could see that it was fitted with a trigger lock. The police indicated that Willis needed 19 staples to his head.
North Carolina's Wilbur Grady says he was doing yard work when neighbour Reginald Suggs, 49, approached him brandishing a handgun and stick and claiming to be an undercover agent. Grady was sceptical when Suggs told him he was under arrest, so Suggs backed up his words with handcuffs and drove the 68-year-old Grady to the county jail. Suggs told a magistrate there that he was bringing in a prisoner for possession of stolen property, selling illegal lottery tickets, and selling alcohol without a permit. It was Suggs who was then admitted to the facility. He has been charged with kidnapping, aggravated assault, and possession of a concealed weapon.
Melissa Haycraft, a 25-year-old inmate at Kentucky's Daviess County Detention Center, got pregnant while in jail. Jail officials accuse Haycraft and inmate John Benson of entering a plumbing crawlspace at the jail and creeping into Haycraft's cell at night in January. Haycraft's cellmates told officials of the encounter, and she was sent to an all-female prison. A security firm is scheduled to inspect the facility, according to Daviess County Jailer David Osborne. 'It's embarrassing. Those doors shouldn't be in there', Osborne said.
Robert Gulley, 25, was out of work, so he decided to apply to be a police officer. When he visited Washington State Patrol headquarters to pick up an application, Trooper Maureen Crandall noticed that he was slurring his speech and smelled of alcohol. When she suggested not applying for the job while drunk, he insisted he hadn't been drinking, and he took Crandall up on her offer of a breathalyser test. When it showed that he was over the limit for driving legally, he concluded that the effect of the single drink he'd had might have been increased by his not having eaten for a day or so. Officers say they then warned Gulley not to drive home. He went outside, walked around for 10 minutes in a nearby alley, got in his car, drove away, and was pulled over and ticketed. Of his visit to the cops, Gulley said: 'I guess it was a bad time to go there.'
A Fort Myers, Florida, teenager offered a man $2,000 to kill his mother. Carlos Marcelo Chereza, 17, provided a key to the apartment, a photo of mother Dreama, and a drawing of the apartment. He suggested a staged burglary but stressed 'When you kill my mom, please make sure nothing happens to the TV set'. The intended killer balked, so the teenager asked him to at least help procure a gun. The man instead introduced the youth to someone he said could get the job done. The younger Cereza discussed the plan with this second man, who did get the job done - turning the teenager in to his fellow police officers. After her son's arrest, Dreama described him as a good man who was upset by a lot of trauma, including a recent fire.
In Verona, Pennsylvania, burglars broke into the Verona Moose Club in the wee hours of the morning and stole money, candy from vending machines, and liquor. Summoned to the scene by a cleaner a few hours later, policemen Marc Myers and Guy Truby found two smashed tills in a skip behind the club. They then noticed a footprint in the mud nearby. Approaching it to take a picture, they also noticed the top of a cash drawer and a couple handfuls of pennies on the ground. They followed a trail of clumps of pennies to the back of a house down the street. A claw hammer and three-pound sledgehammer rested outside the house. Inside was loot from three robberies. Two suspects returned home while the police were taking an inventory of the evidence.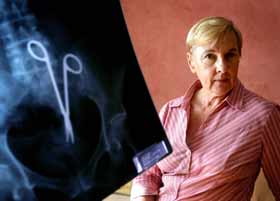 Pat Skinner, a 69-year-old Australian woman, had part of her colon removed at Sydney's St. George Hospital. After suffering intense pain for the next 18 months, she finally demanded that doctors x-ray her abdomen. They did so. She said it was 'like a nightmare' when she saw the image, which featured a 17-centimetre pair of partially open surgical scissors. The scissors have since been removed. The hospital, which maintained that the presence of the scissors in Skinner's abdomen is a mystery, has in the wake of media attention admitted to human error. Hospital CEO David Pearce said that 'this is the first time this incident has occurred'. Skinner is considering filing a lawsuit.
Finally, closer to home, a 36-year-old man travelling on the Helsinki metro decided to hit another passenger in the head with an axe. After receiving repeated blows to the head, the 23-year-old victim was described as in critical condition. The two men, both of Helsinki, were not known to each other prior to the attack. The axe-wielder did not put up a struggle when arrested.