UK - Aug.-Sep. 2019
Below is a summary of hither and yon.
As (nearly) ever, full-sized versions can be seen by clicking on the thumbnails (I might not have rotated all of the biggies, so you might have to rotate your head, though). -anna
---
WED.
• We left Tallinn bright and early on an 0825 flight, for the start of what would turn out to be a rather long day.
Our first hop involved (s)ticking our toes in two (not-quite-)watering holes at the airport in Helsinki for a new beer or four.
Upon touchdown:

Flying Chariot (JD Wetherspoons at Heathrow)
- This may have a Skegness Butlin's feel to it and isn't as inviting as its sibling at Stansted, but it's far from the holeyest transport-hub Spoon in the drawer. Bar staff told us which glass was which without prompting, the food filled the space prepared for it, etc.
• Having reached Heathrow, we were soon off on a longer leg of the journey, a long coach trip to Portsmouth (after seeing some scary rail prices).

-- Portsmouth:
• Getting the lay of the land en route to our hotel, we found some pubs in our path, before heading back out to explore town more properly.
Brewhouse & Kitchen
26 Guildhall Walk
We were greeted warmly by the guildhall area's B&K pub, a beautifully inviting corner building with a non-tiled back space adding variety to the lovely interior. Prices weren't bad for craft beer, the three-beer samplers were appreciated, the quality of the real ales couldn't be faulted, and the music wasn't bad either.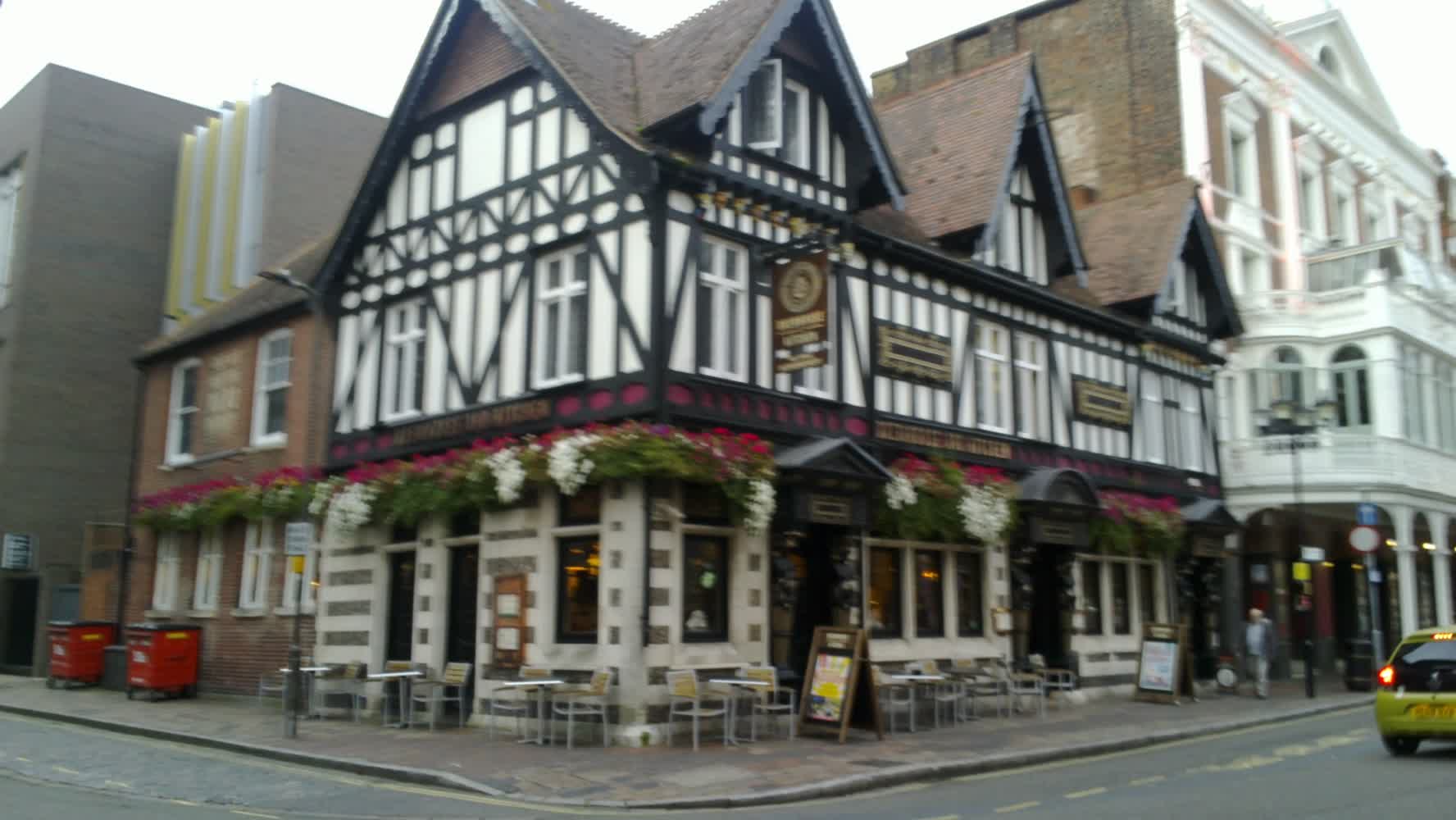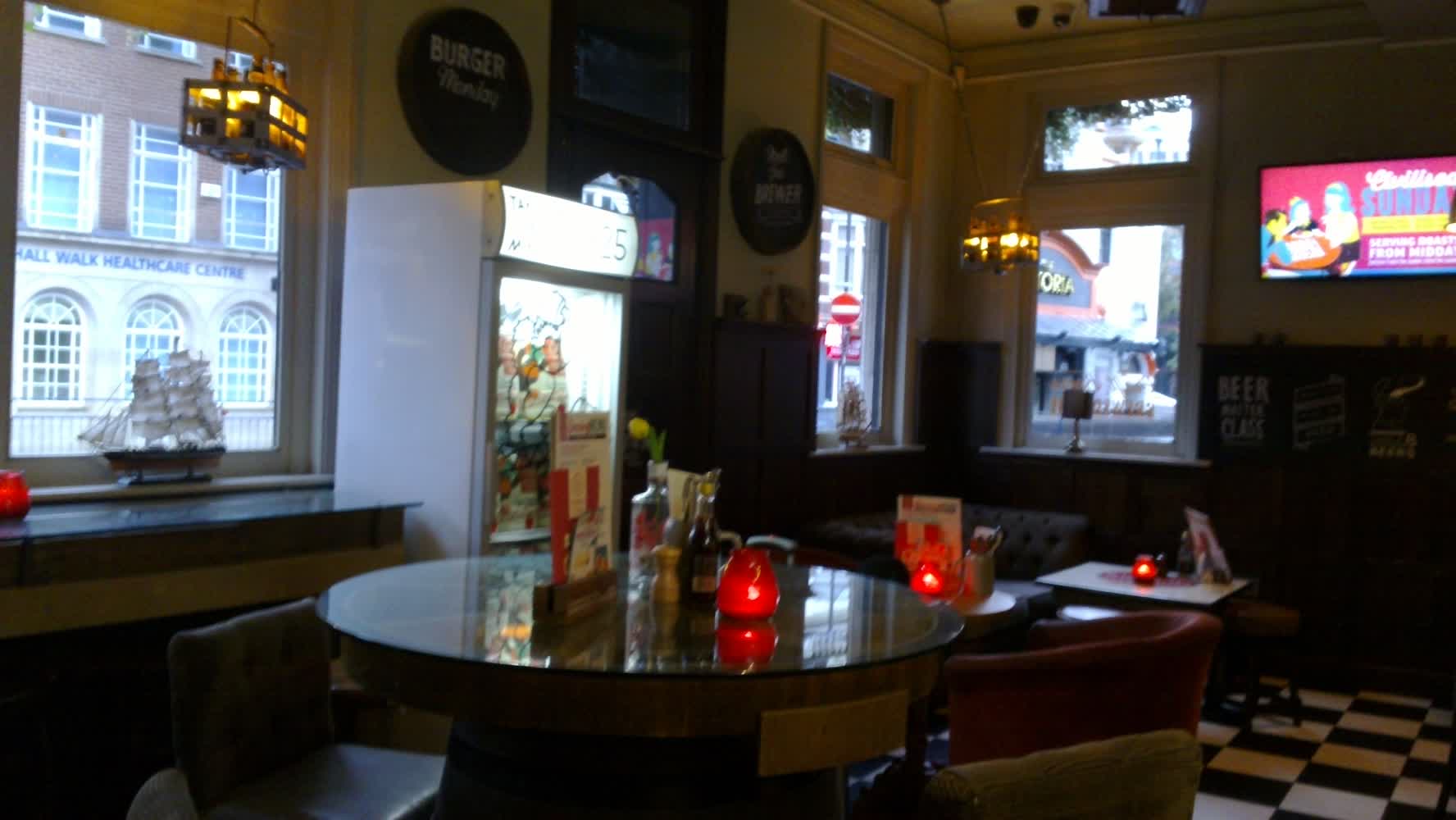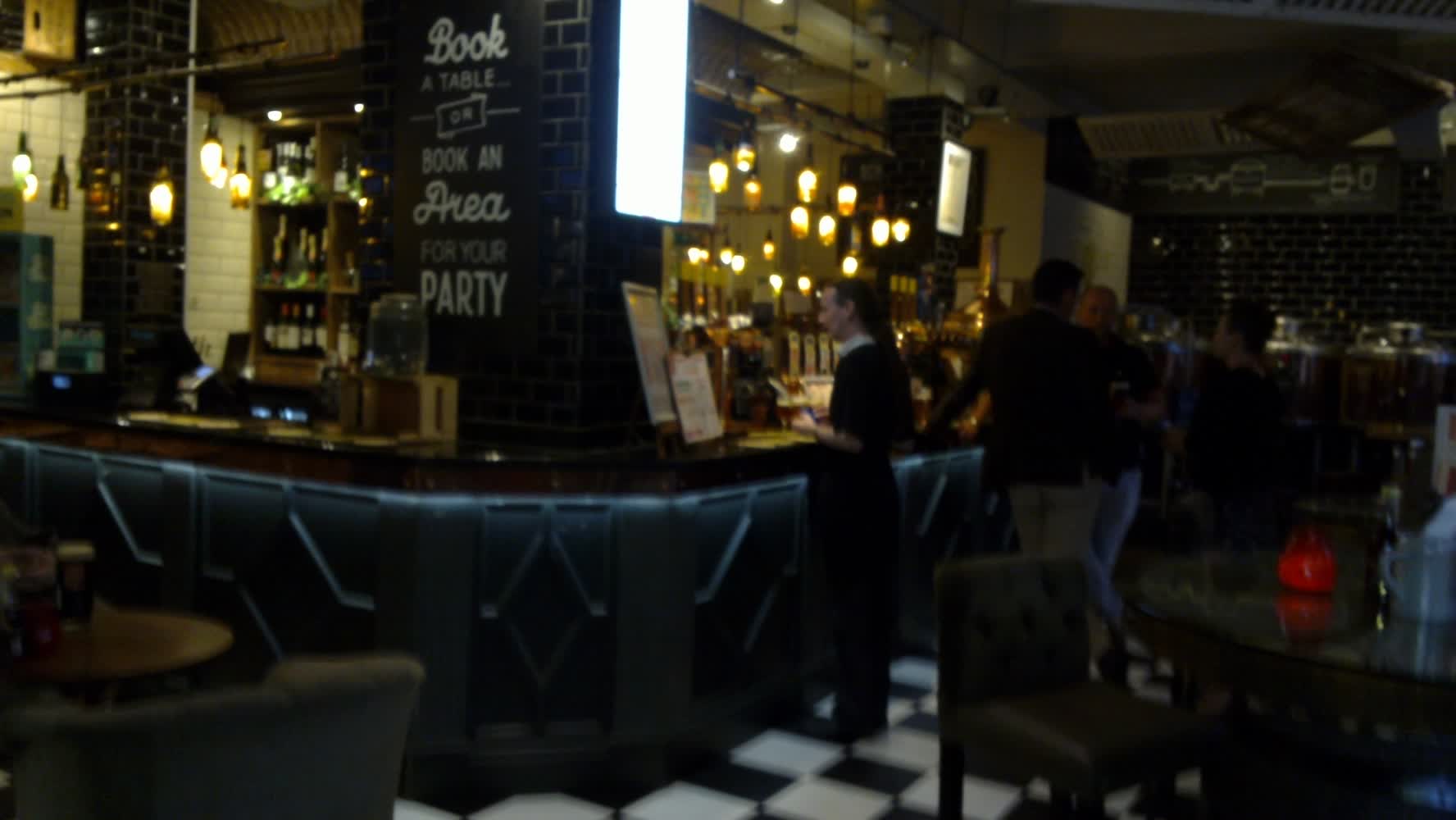 Isambard Kingdom Brunel (JD Wetherspoons)
2 Guildhall Walk
Our next waypoint was a long, thin town-centre Wetherspoons where two of the three beers we requested weren't actually on. The venue suffered from its clientele somewhat, along with some blank stares and that curious smell hovering outside.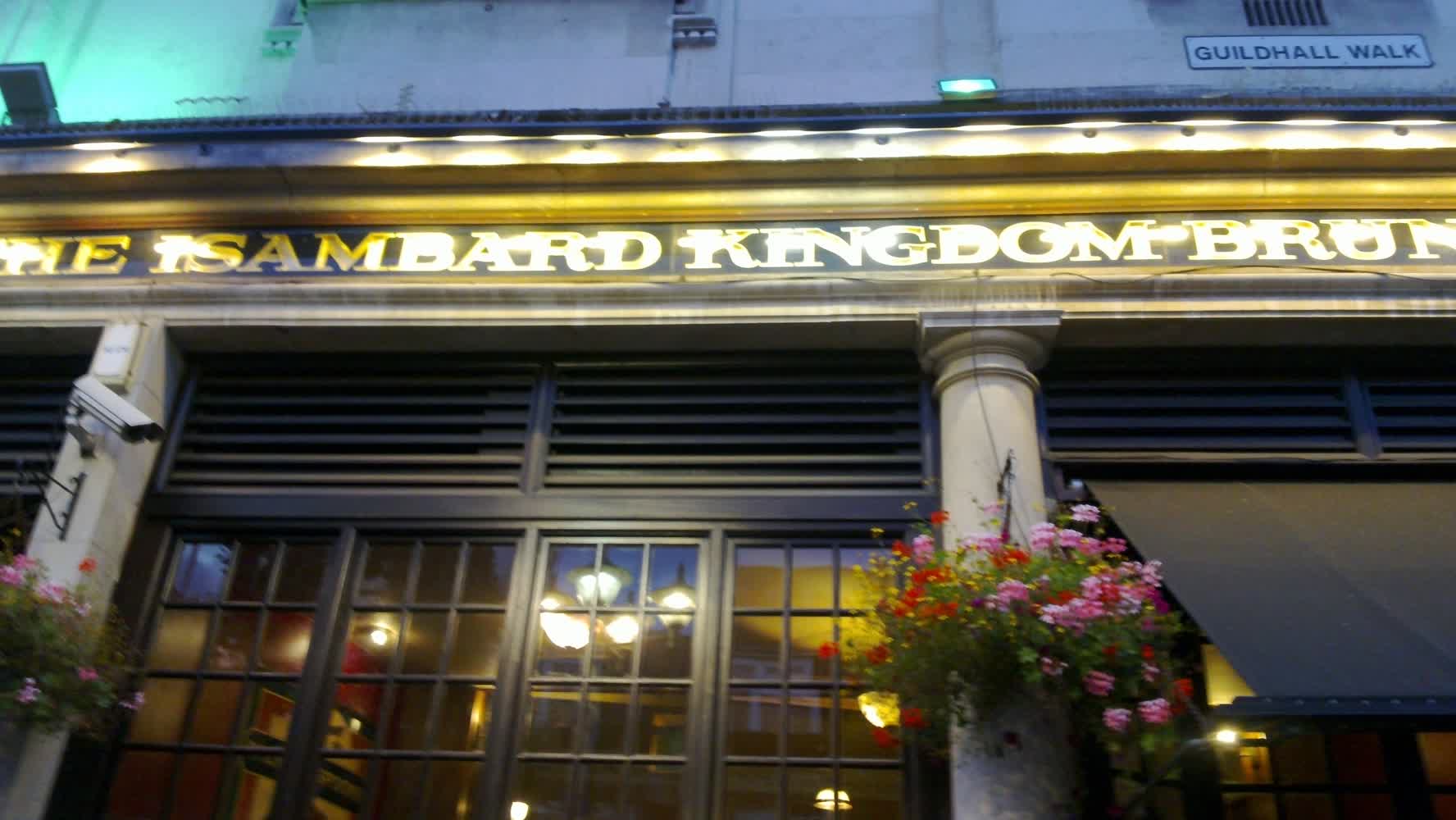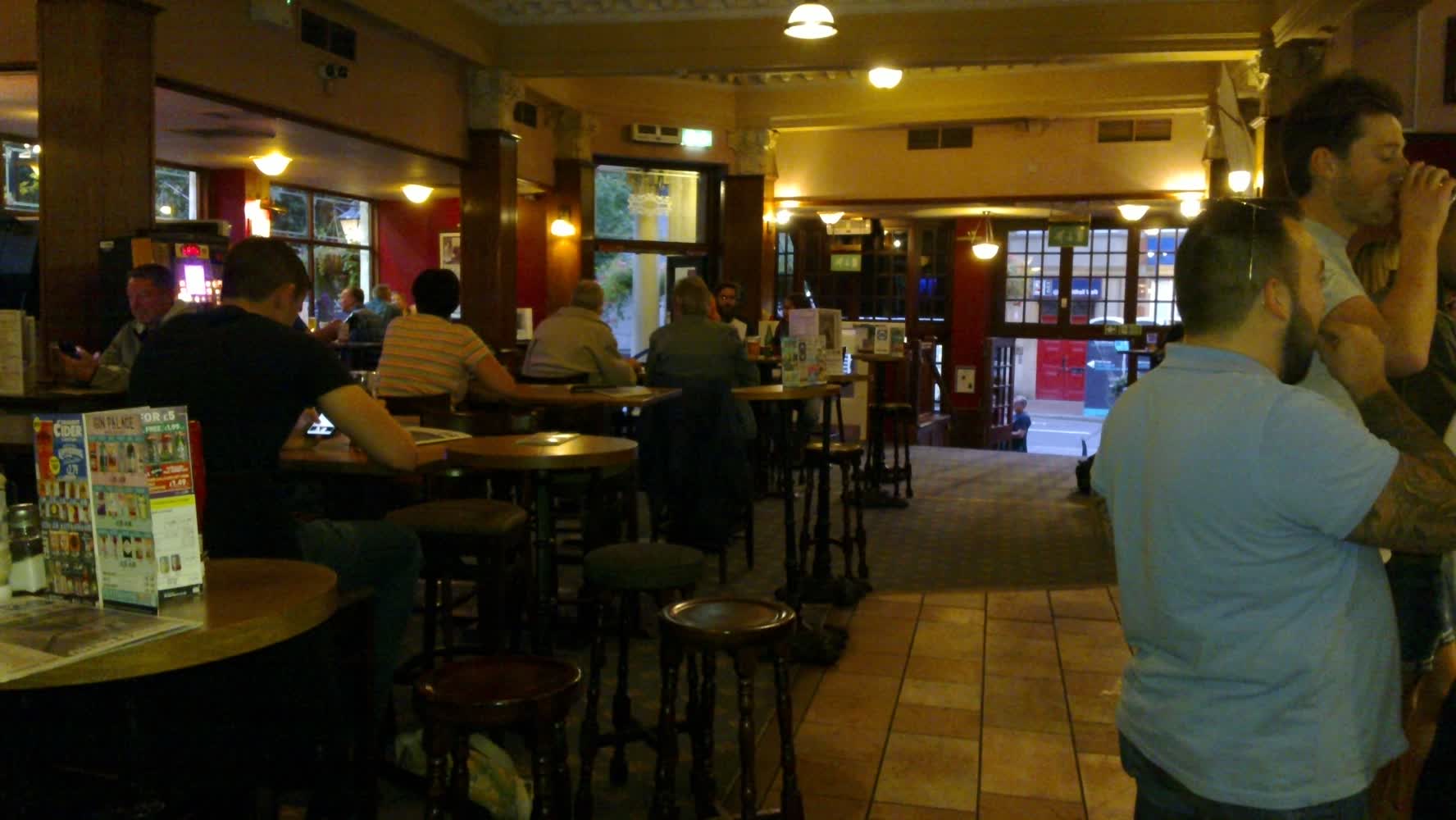 The Fleet
1 King Henry I Street
Pretty much right next door was this slightly sparse split-room pub with plenty of wood. Plenty of ciders attempted to seduce us too. After a visit made more pleasant by friendly, helpful bar staff and by third pints, the declaration 'That's my kind of pub!' was made without hesitation.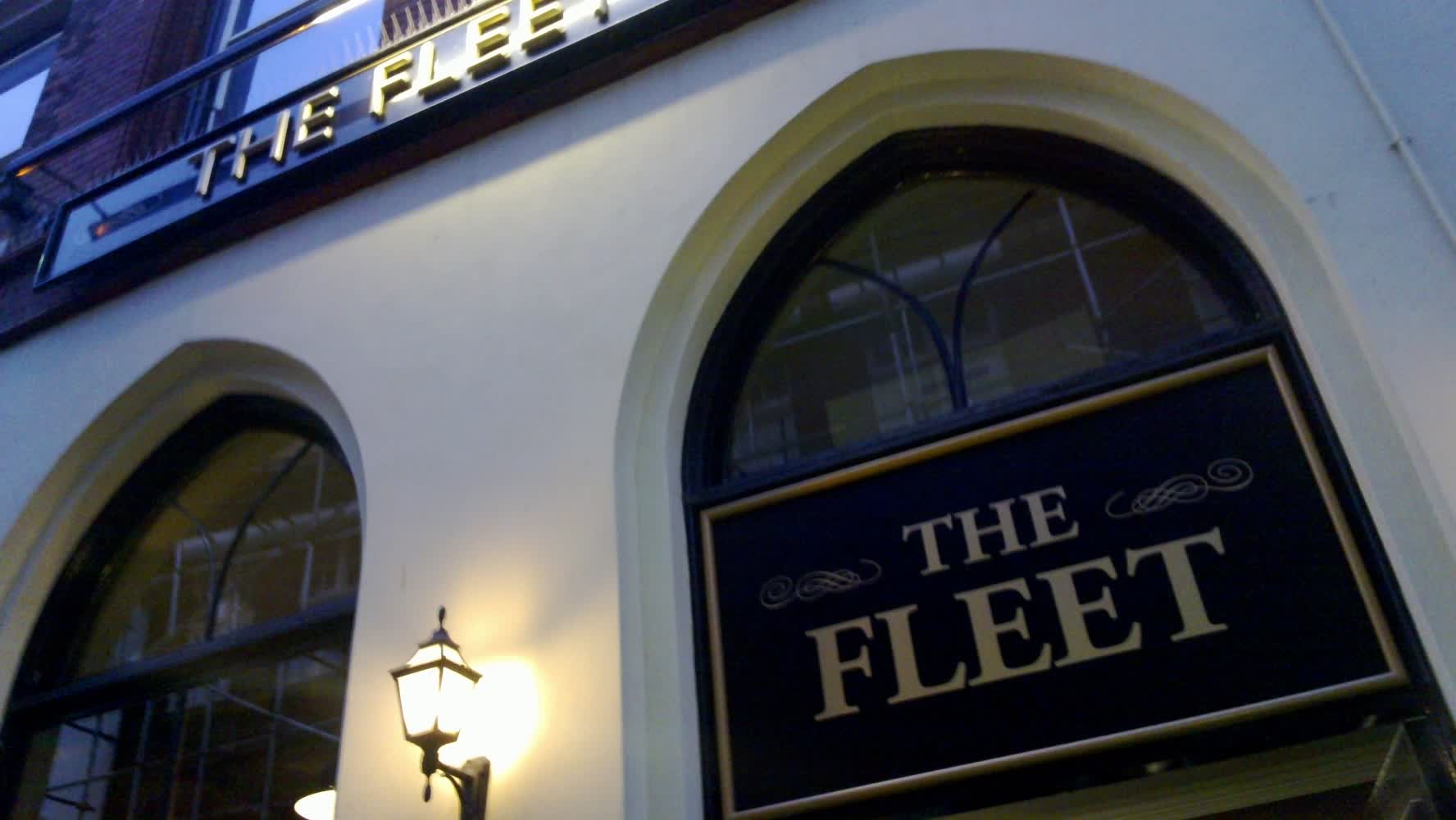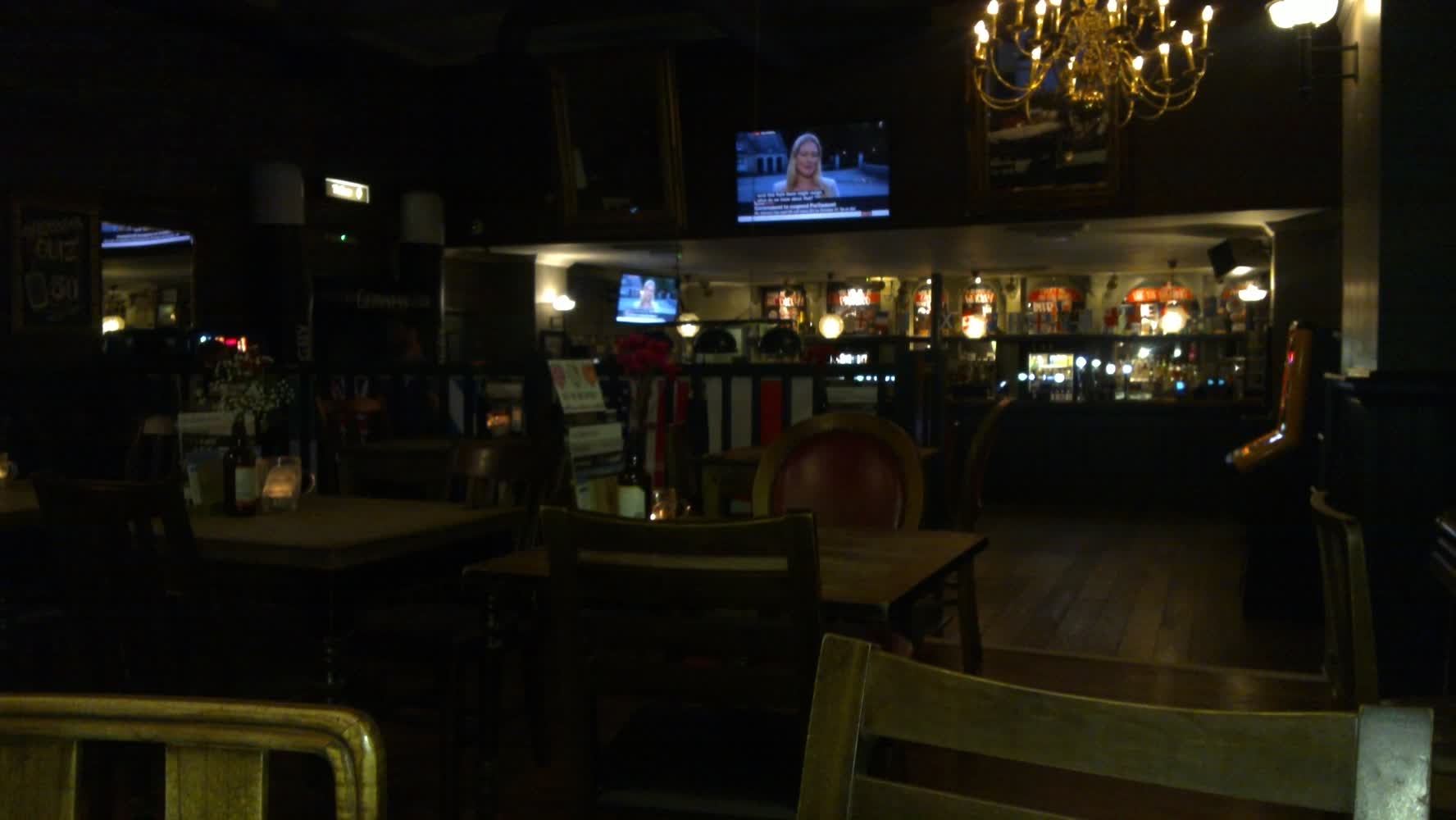 Eldon Arms
11-17 Eldon Street
On the way south lay a listed building that beckoned us with its Eldridge Pope sign. This had a relaxed local feel, and sports and other television further welcomed the regulars. Plenty of friendly banter was on offer at the bar, as were directions to the next pub.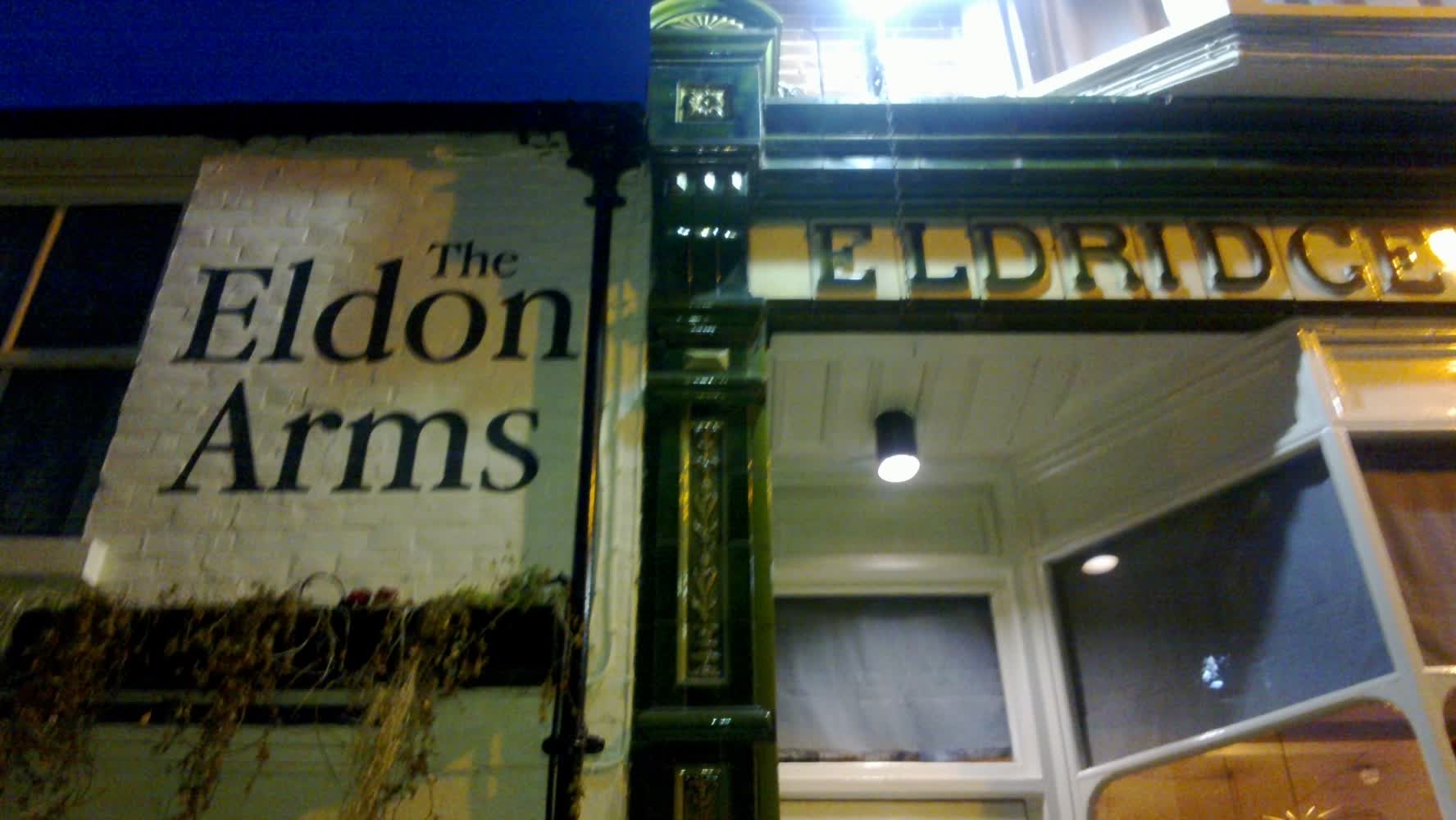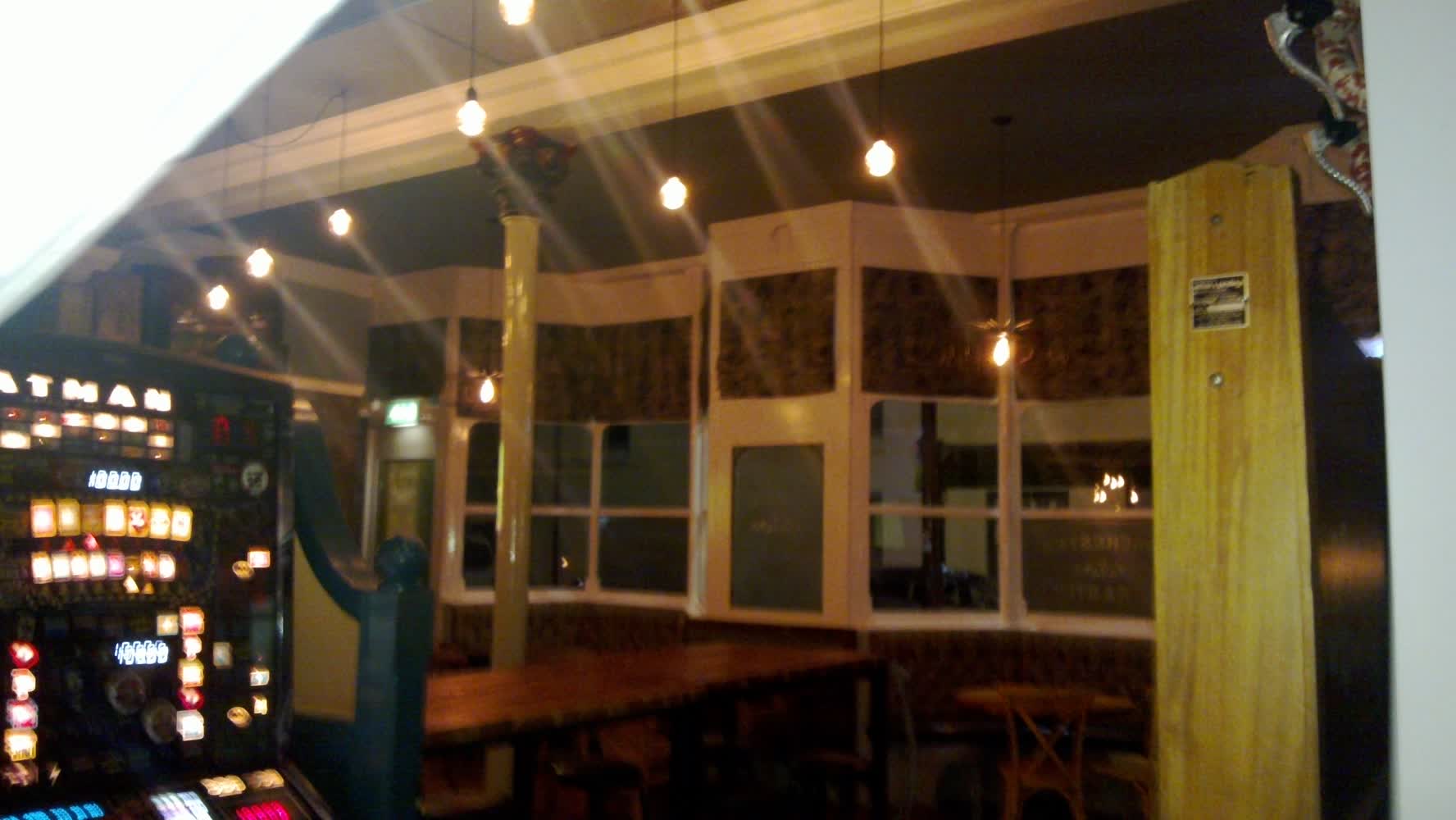 King Street Tavern
70 King Street
It was around the corner, a Victorian building with well-worn wood and a bar backed by green tile. There was plenty of music memorabilia but no piped music. This had the feel of the Live & Let Live in Cambridge, a bit like the Devonshire Arms but linear. Not so many new-to-us beers, but a good pub.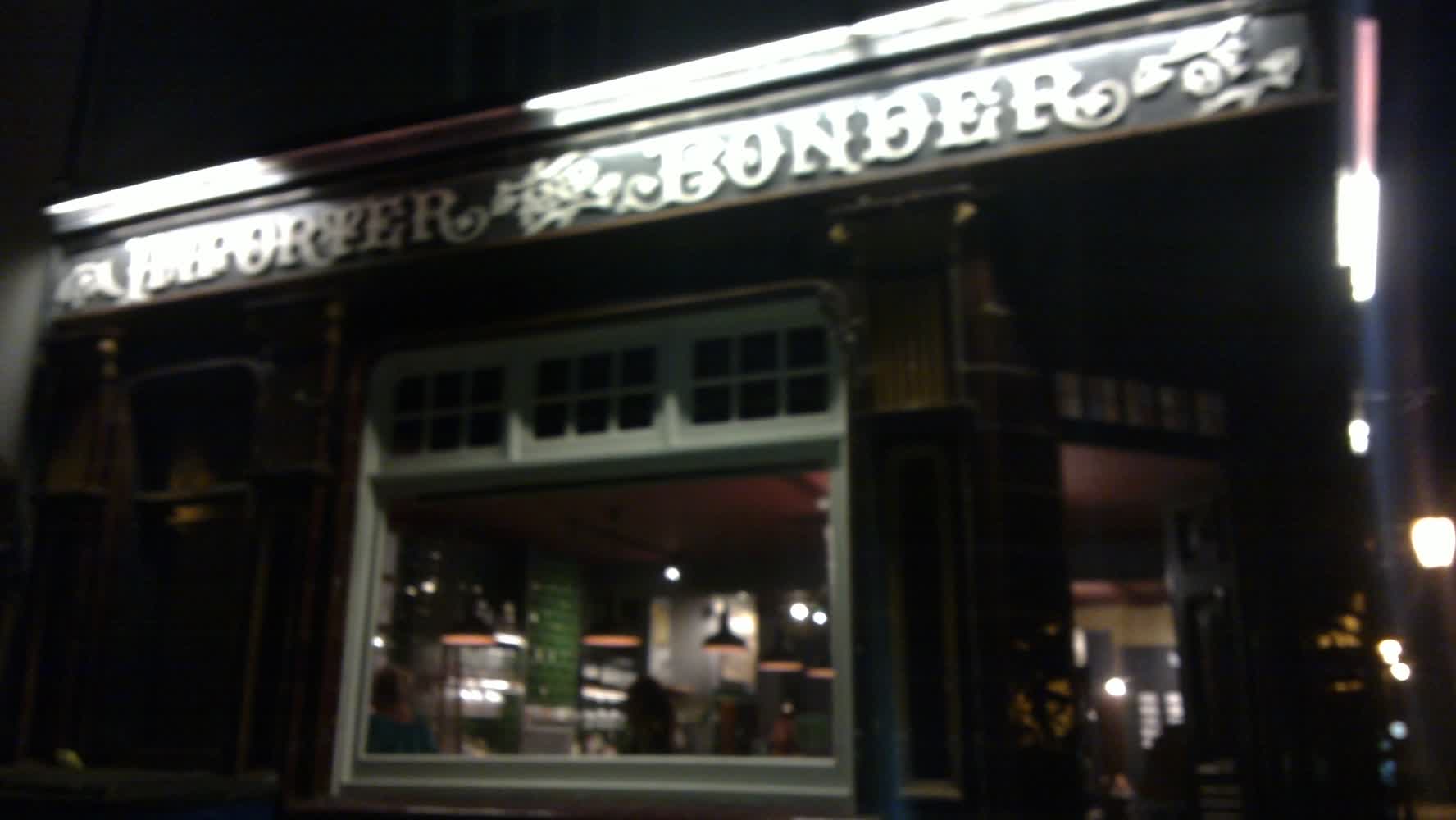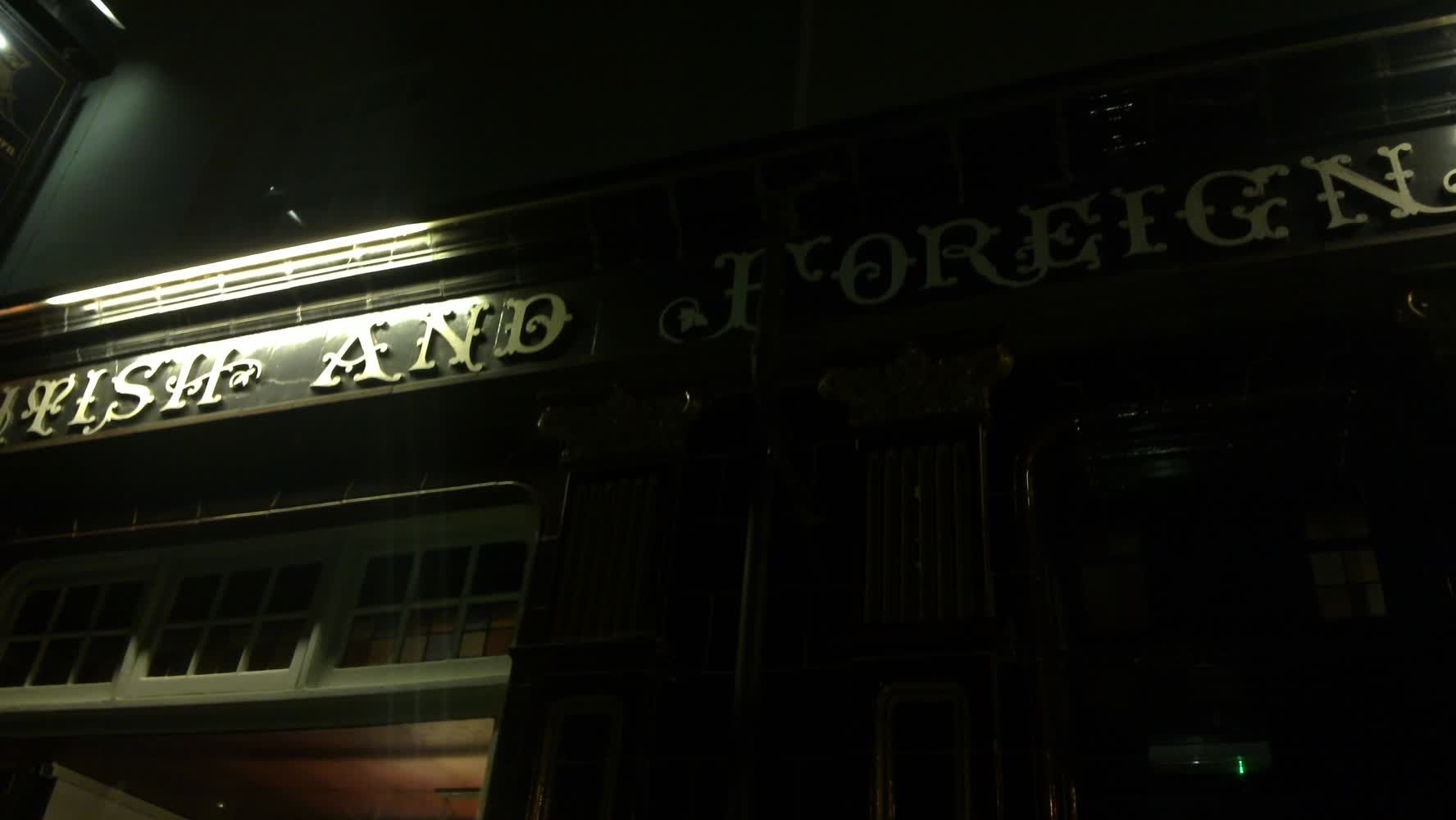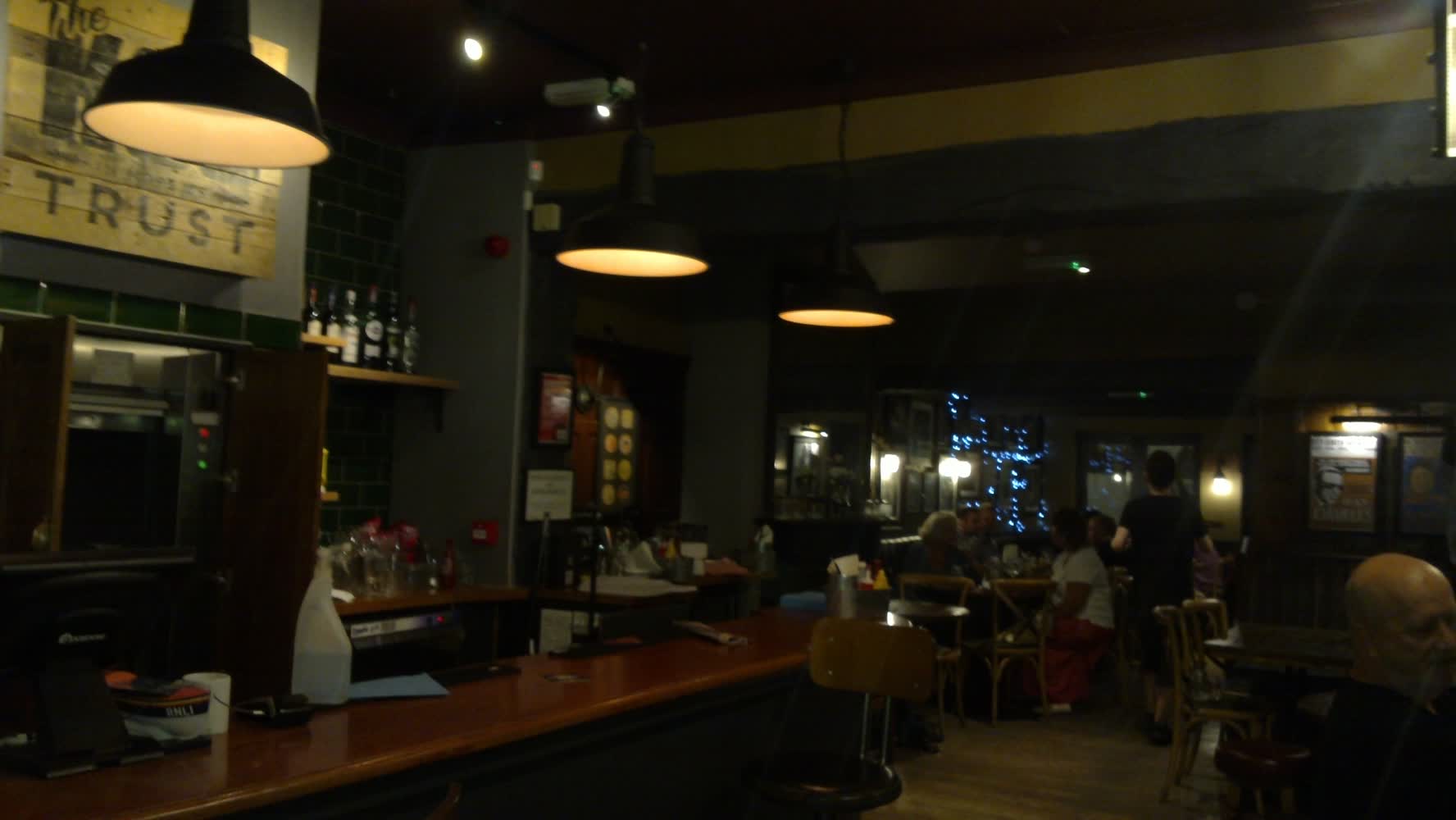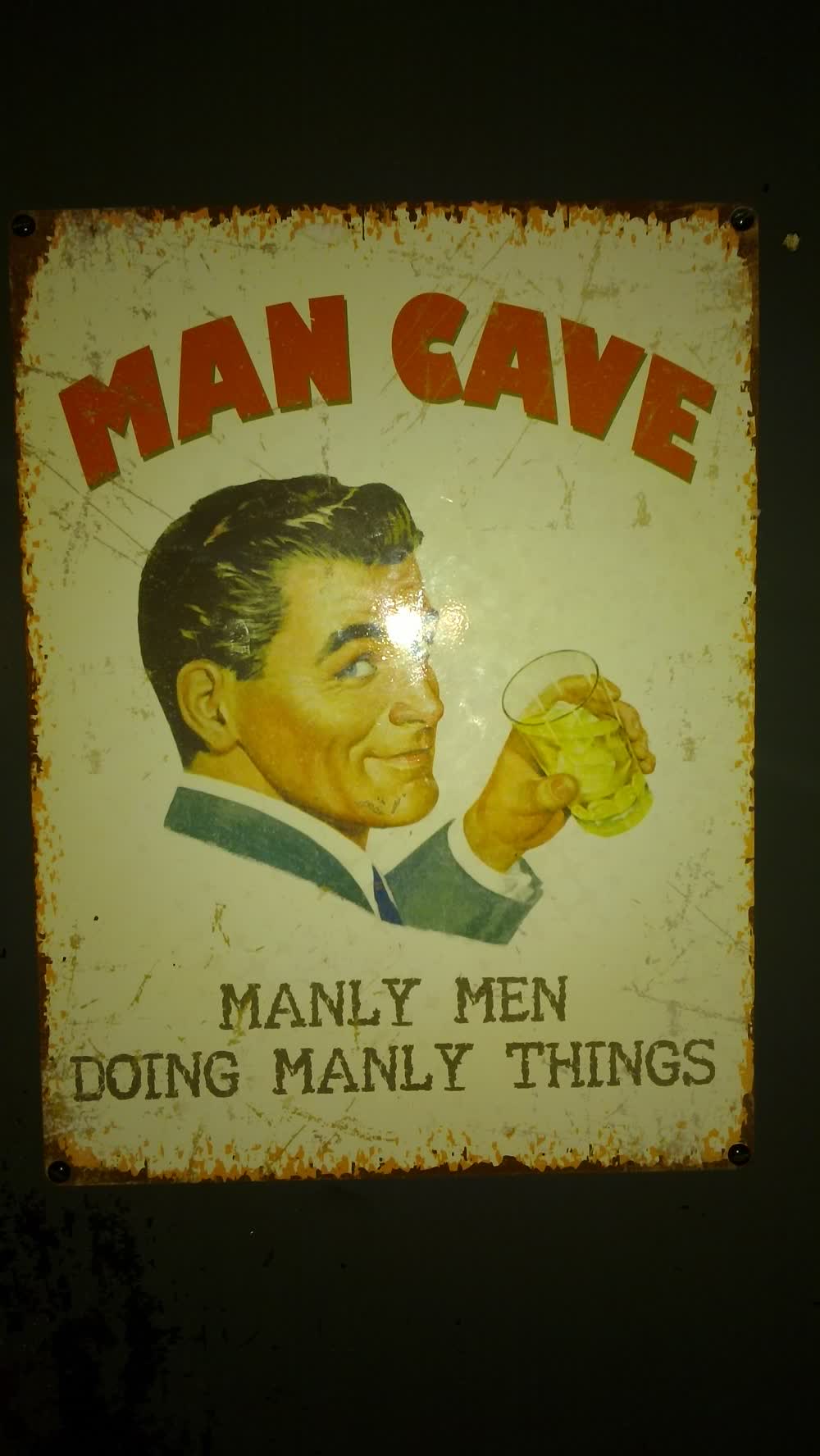 The Florence Arms
18-20 Florence Road
Our next pub was not on the list of must-visit hostelries but was part of a cluster of pubs conveniently close to our accommodation (the Southsea Rocks Hotel, also on Florence Road). This nautically themed pub had a largely keg-oriented selection. Other features were locals, a lack of music, and sharp shadows.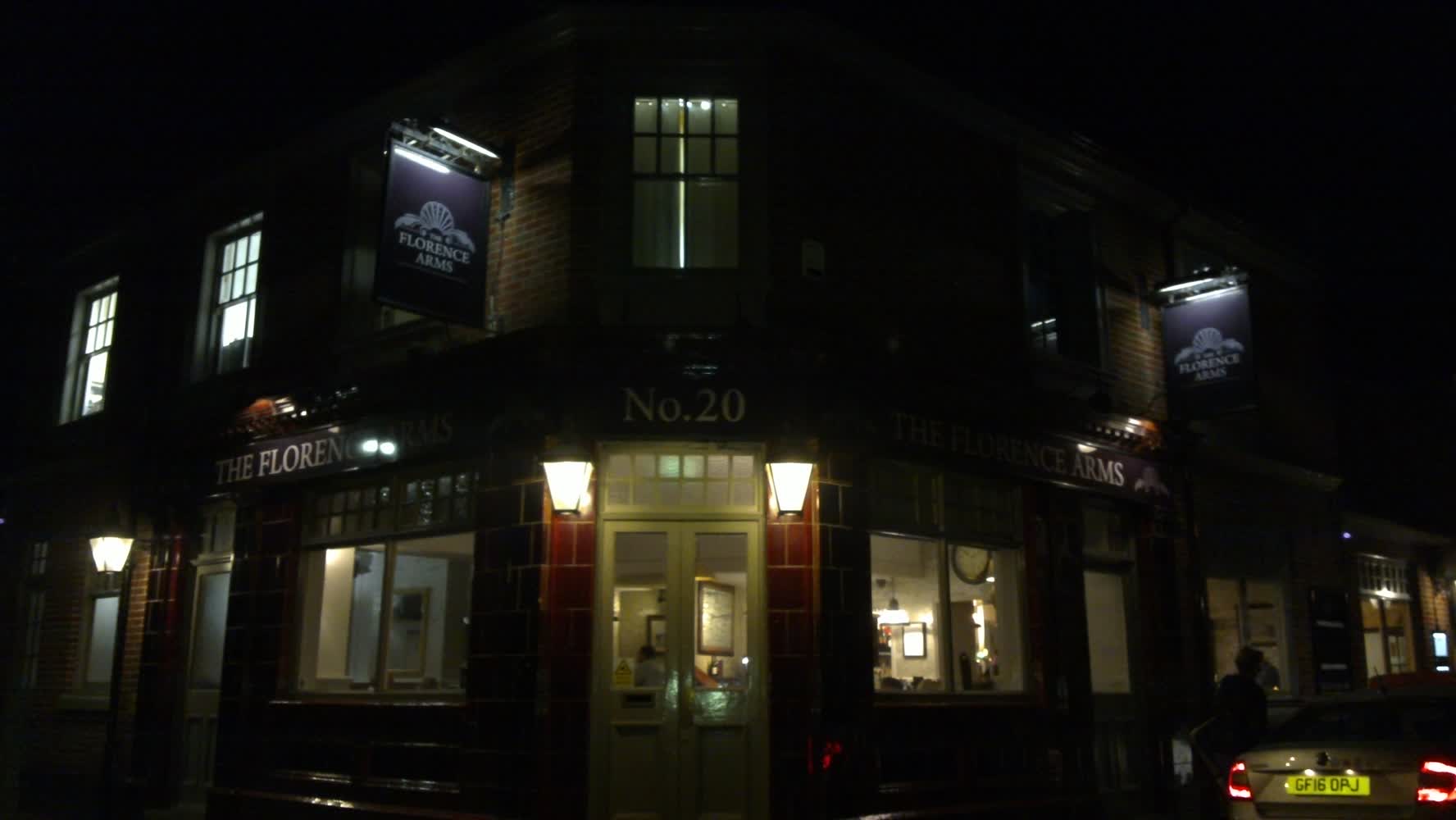 The Phoenix
13 Duncan Road
One of our top discoveries in Portsmouth was the environment at the Phoenix. We were greeted by a huge pile of Good Beer Guides, meatballs and custard at the end of the bar, and a nearly boisterous (side? front?) space filled out by locals who had made their way to Southsea via many winding and fascinating paths.
Oh, don't worry about the passed-out guy on the floor; the staff don't.
The Cambridge equivalent would be part Portland Arms and part Elm Tree (tight pub etc.).
Not a huge beer selection here, but we don't know how often the casks change. NB: Cash only.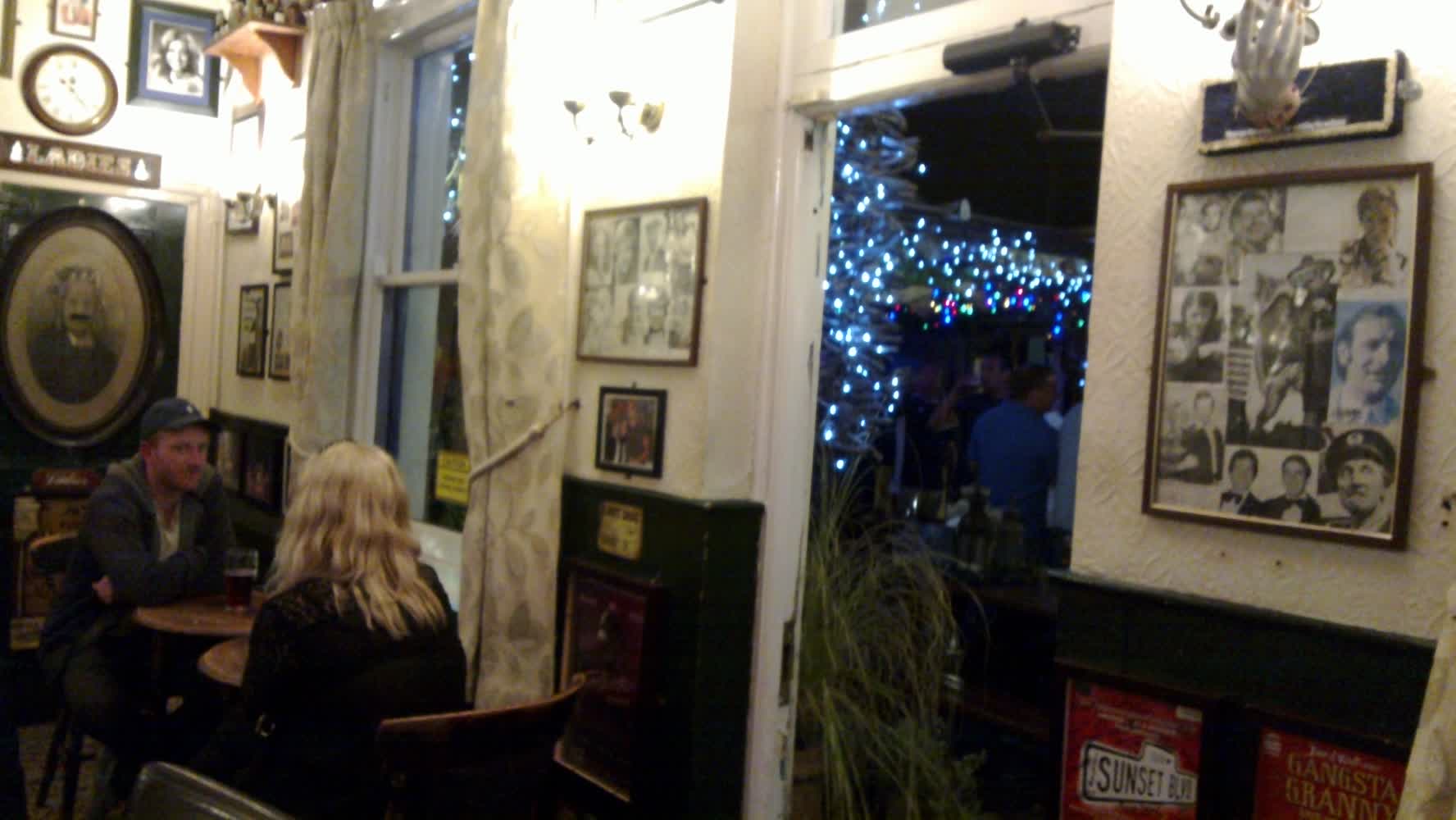 Duke of Devonshire
119 Albert Road
Our final stop - well, before the evening finished itself off back at the Phoenix - was at the Duke of Devonshire, with its weird courtyard between buildings. Somewhat of a Manchester-style back-to-back architectural feel here. The ambience was a bit youthy but not as much so as the Regal's, if we continue the Cambridge comparisons. Much of the time here was spent chatting with one of the other drinkers about lager preferences and such.


THURS.
• We were up reasonably early - the time difference did help in that regard - to take a day trip to the Isle of Wight. After all, some of pubs open before noon. This gave us enough time in Ryde to enjoy the friendly atmosphere of some areas a fair way beyond the main promenade.
• Legging it to the hoverport, we were joined by tourists, who show up just to watch the departures and arrivals. This new-for-us form of transport ended up saving us money and walking time in comparison to the ferry, not that economising was the main point.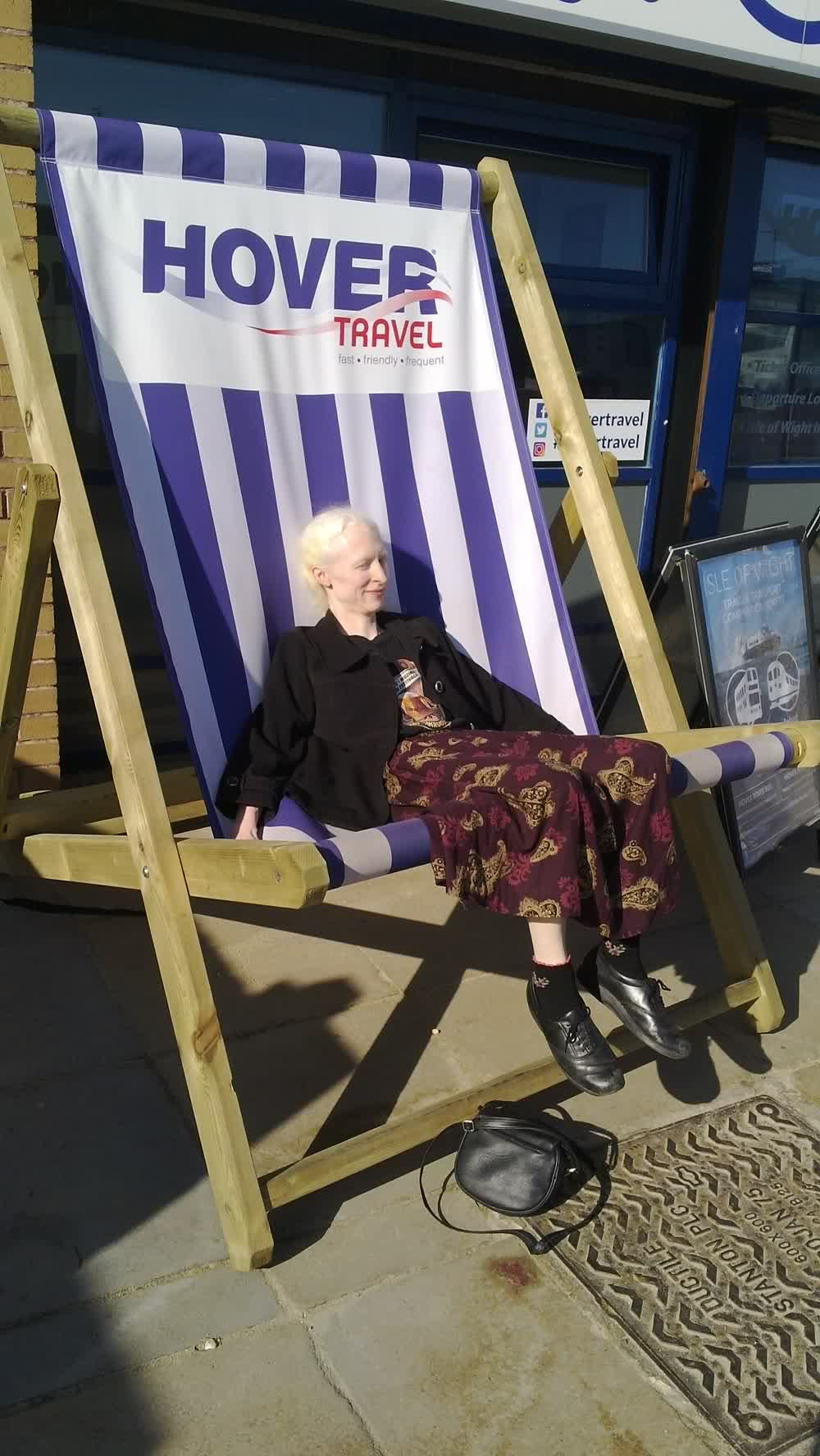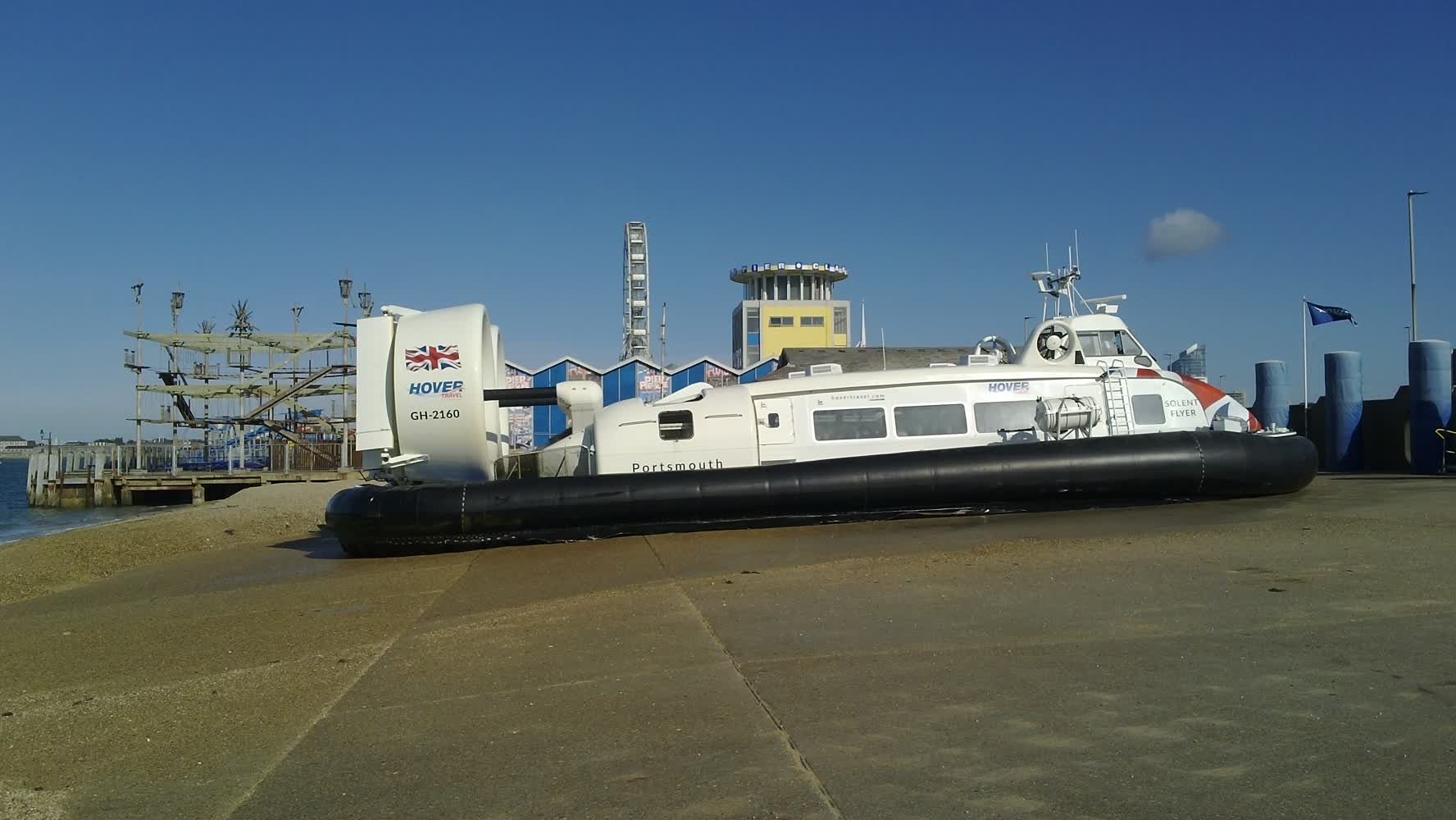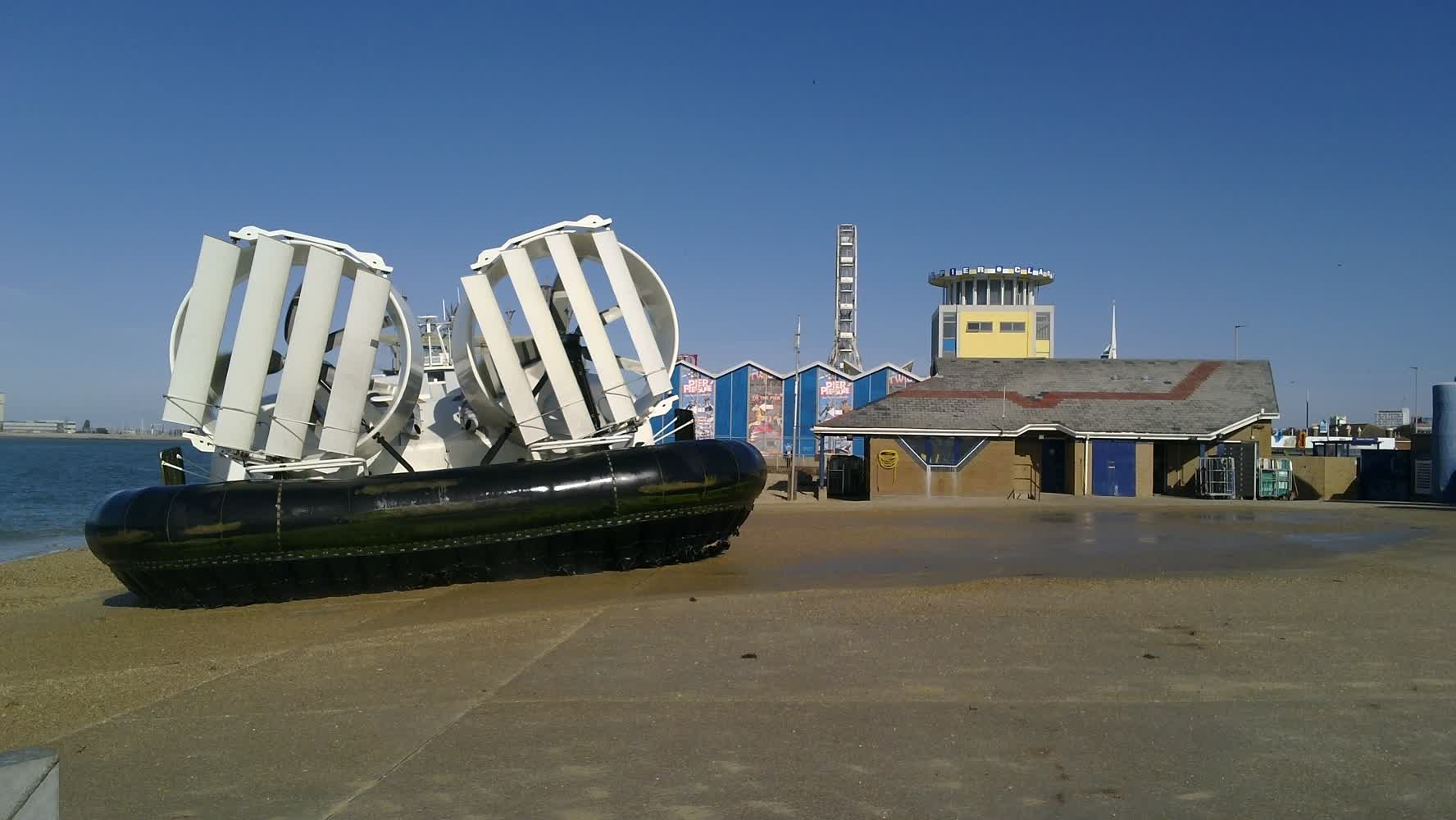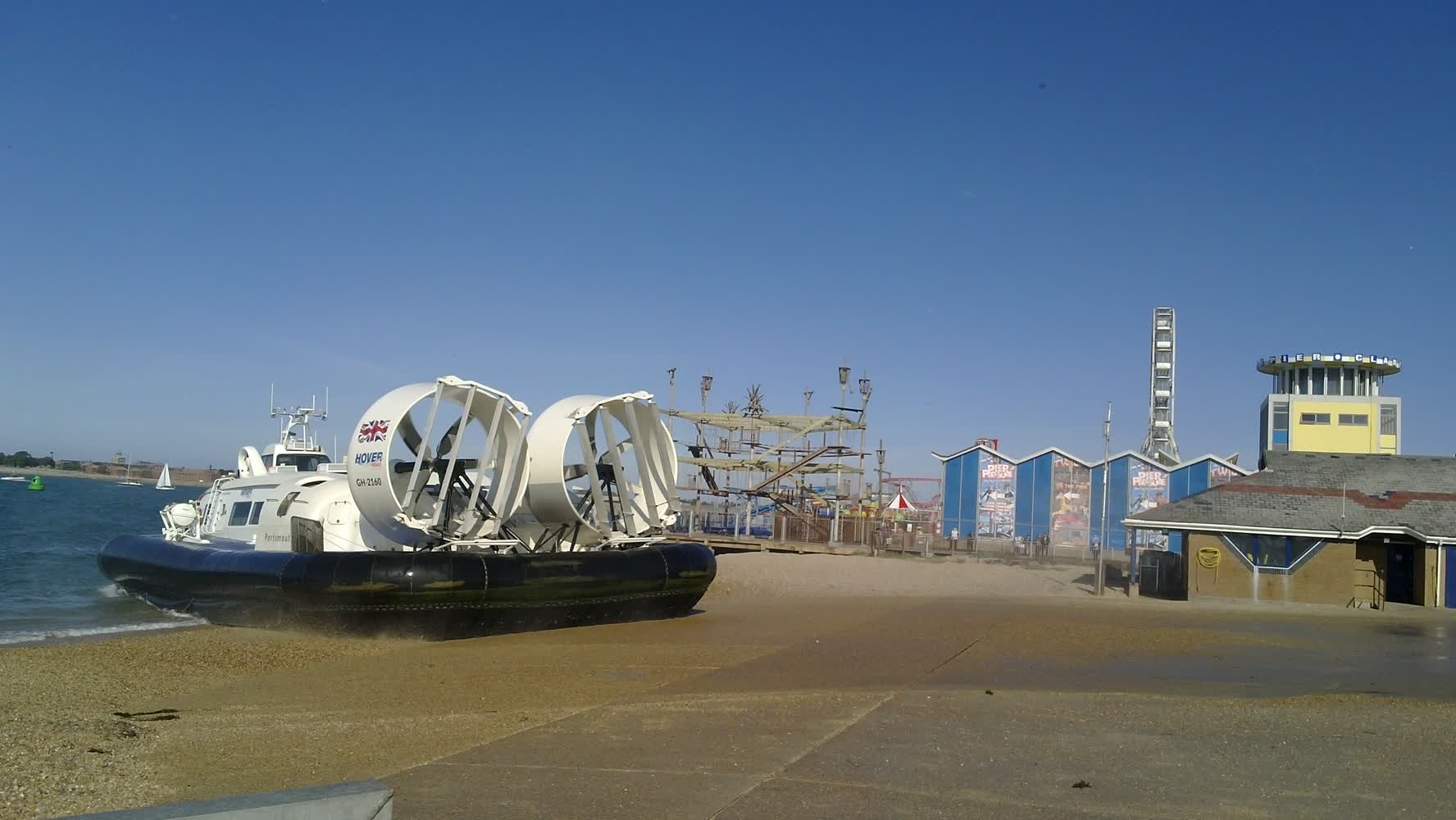 -- Ryde:
• It was not long before we had arrived on the Isle of Wight and were having our first drink, thanks to advance checking of which places would be open well before noon.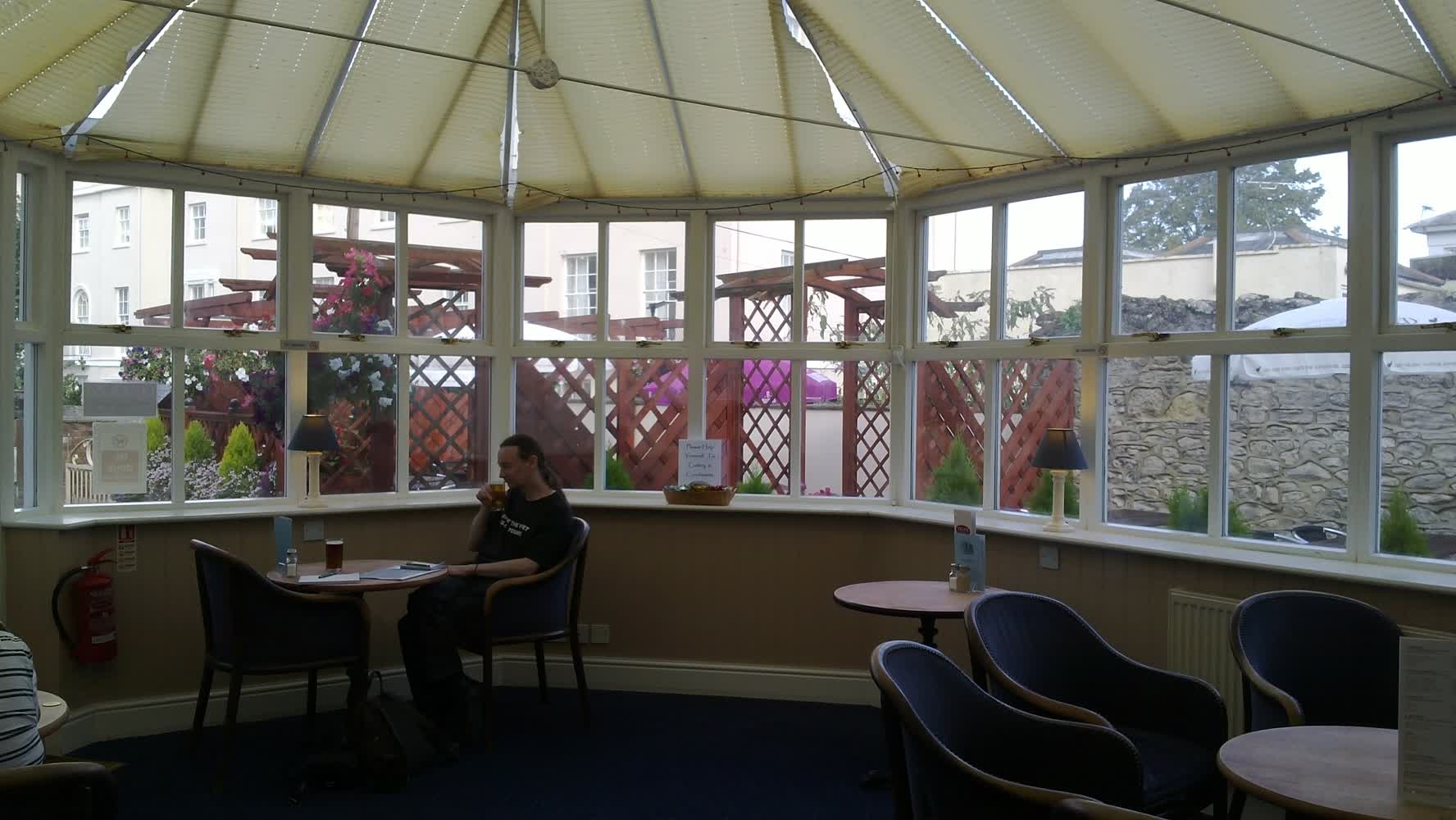 The drink in question was at...

Yelfs Hotel
54 Union Street
Quiet when we visited, this was a relaxed hotel bar with a couple of new beers for us and a very English feel. One can sit in the boat-themed main area with its oar, blue carpeting, etc. or in the patio area as we did. A stress-free start to our day trip.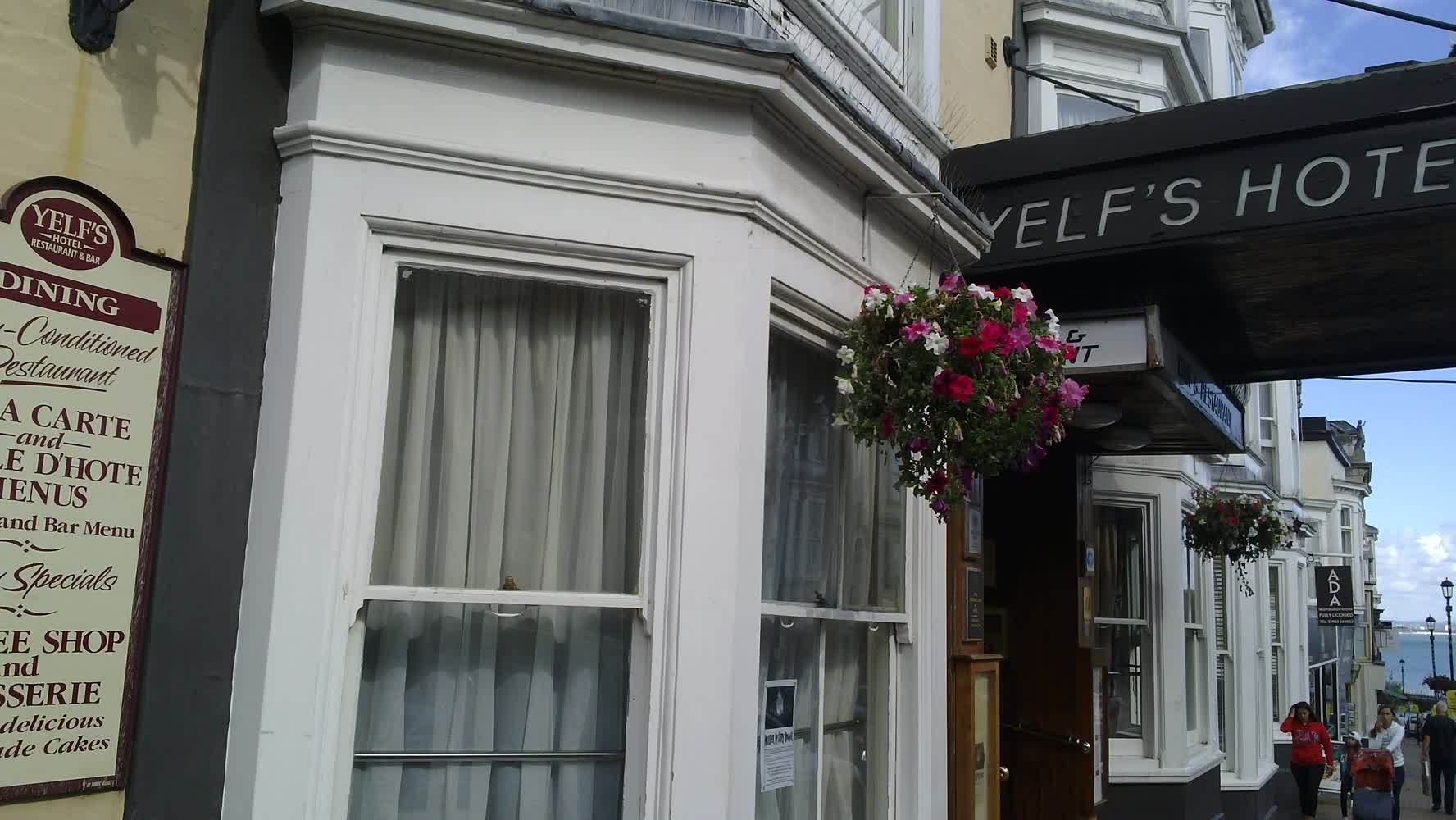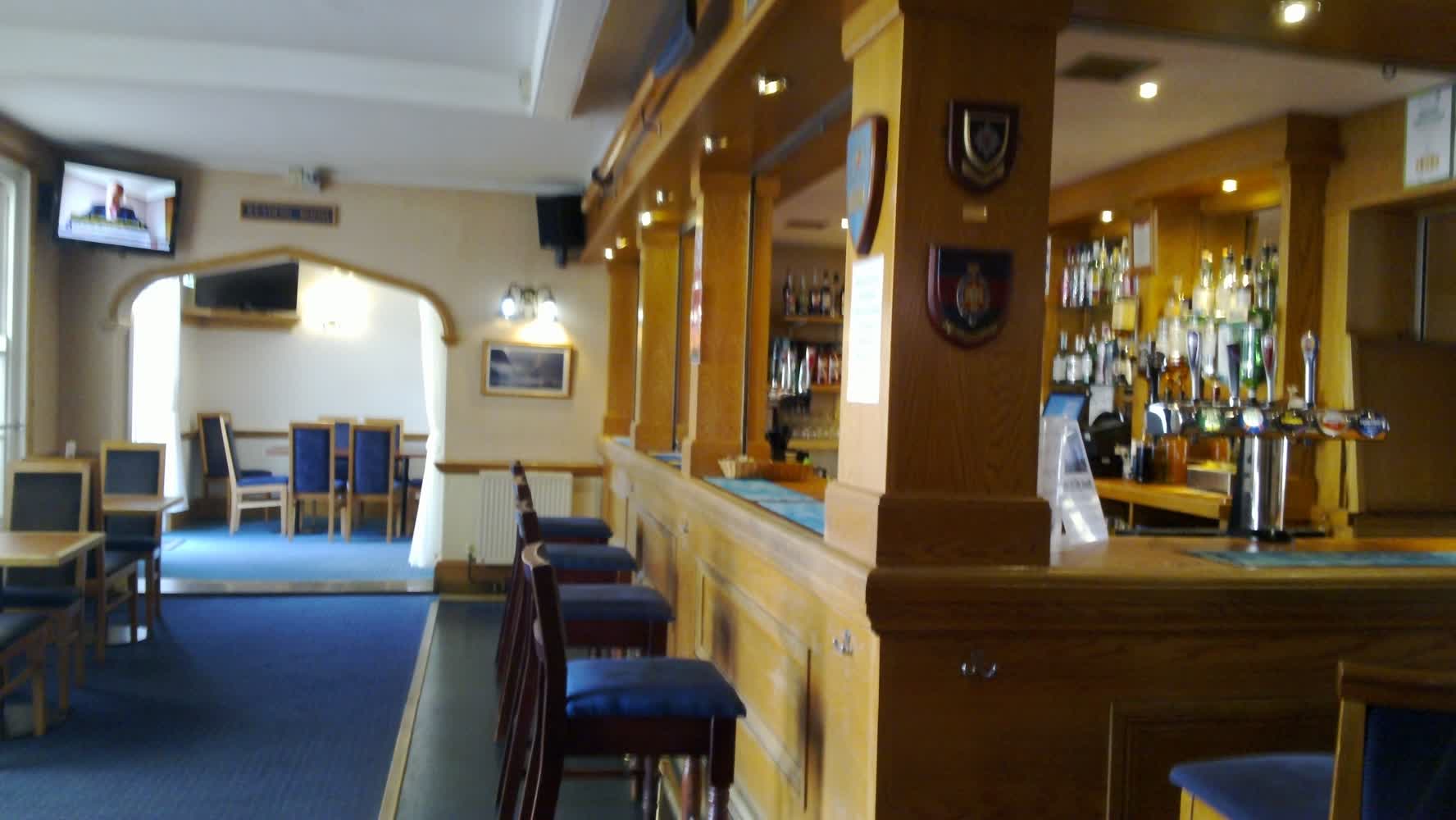 S. Fowler & Co. (JD Wetherspoons)
41-43 Union Street
While this is a converted drapery store, the building lacked a curtain flare, and the tables were just a little too close together (unlike the chips). But our beers were on top form, satisfying us even from within offputtingly plastic glasses (we were informed that the plastics were because of a local event), and the staff were hard-working and polite.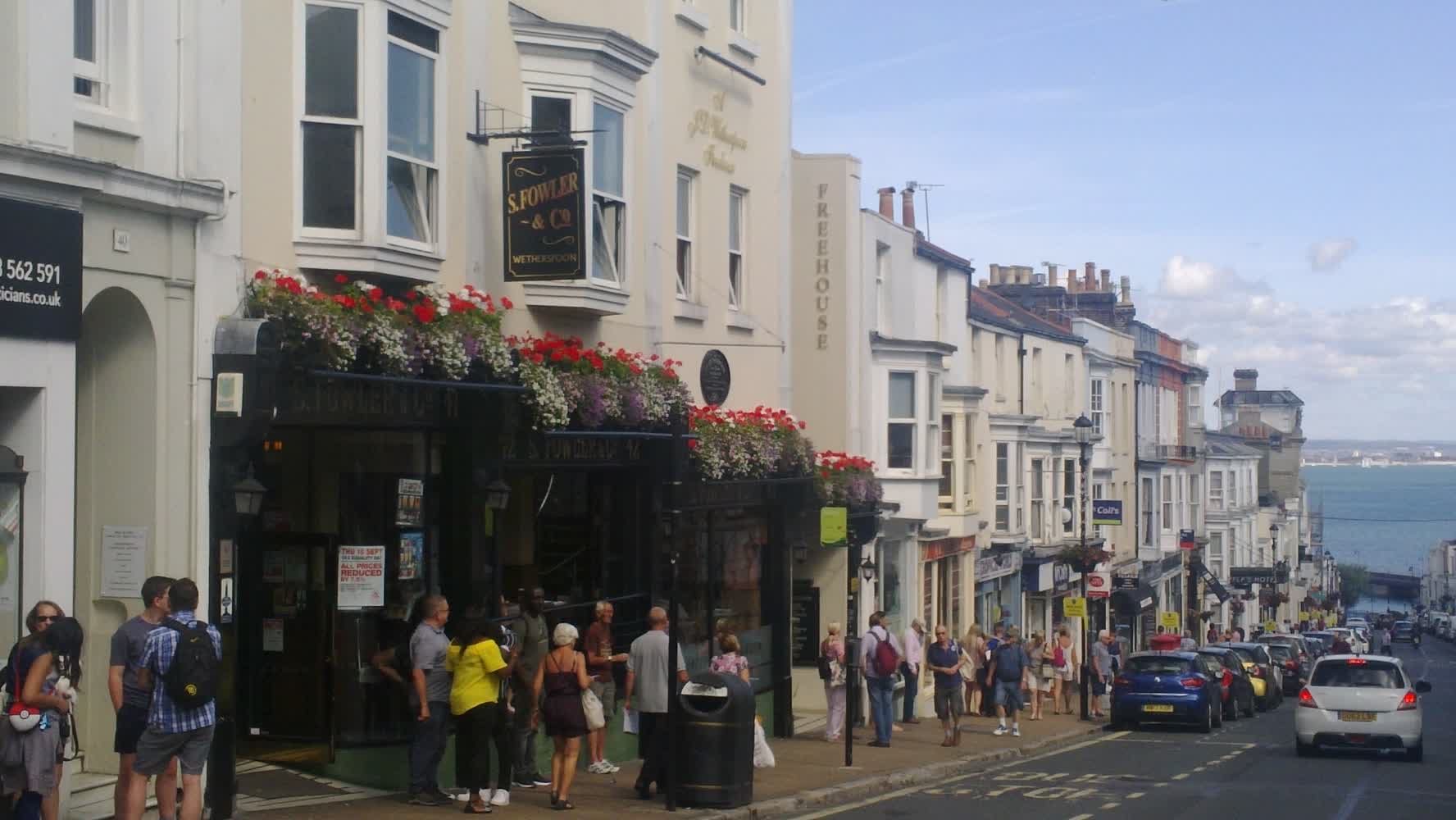 Below, Phil contemplates the next possible venue
(The Crown Hotel, on St Thomas's Square),
a bit further along. The exterior boasted Georgian bay windows,
but the inside revealed 10 keg lines and no evidence of handpulls.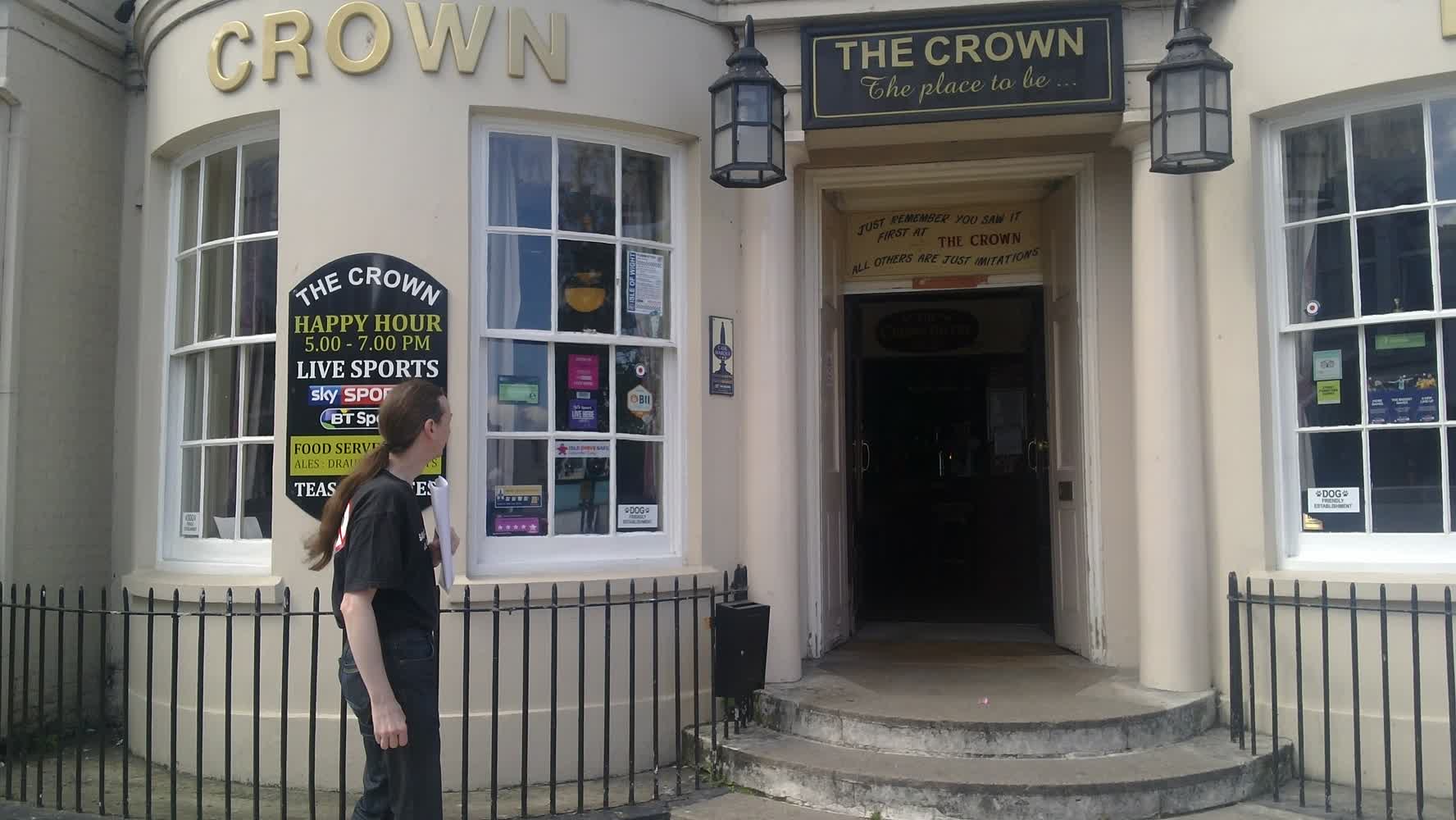 The Castle (a.k.a. The Castle Inn)
164 High Street
We fared rather better in the next spot, a fine Grade II listed building with etched glass and a scooter in the window. Noteworthy features included the mods theme, excellent HSB, and plenty of 'my darlings'es from the staff.
The interior didn't feel fully done up yet, and there was a 'disco' light bulb in the loo when we visited, but this place is well worth visiting for a no-fuss drink or to work your crossword in peace.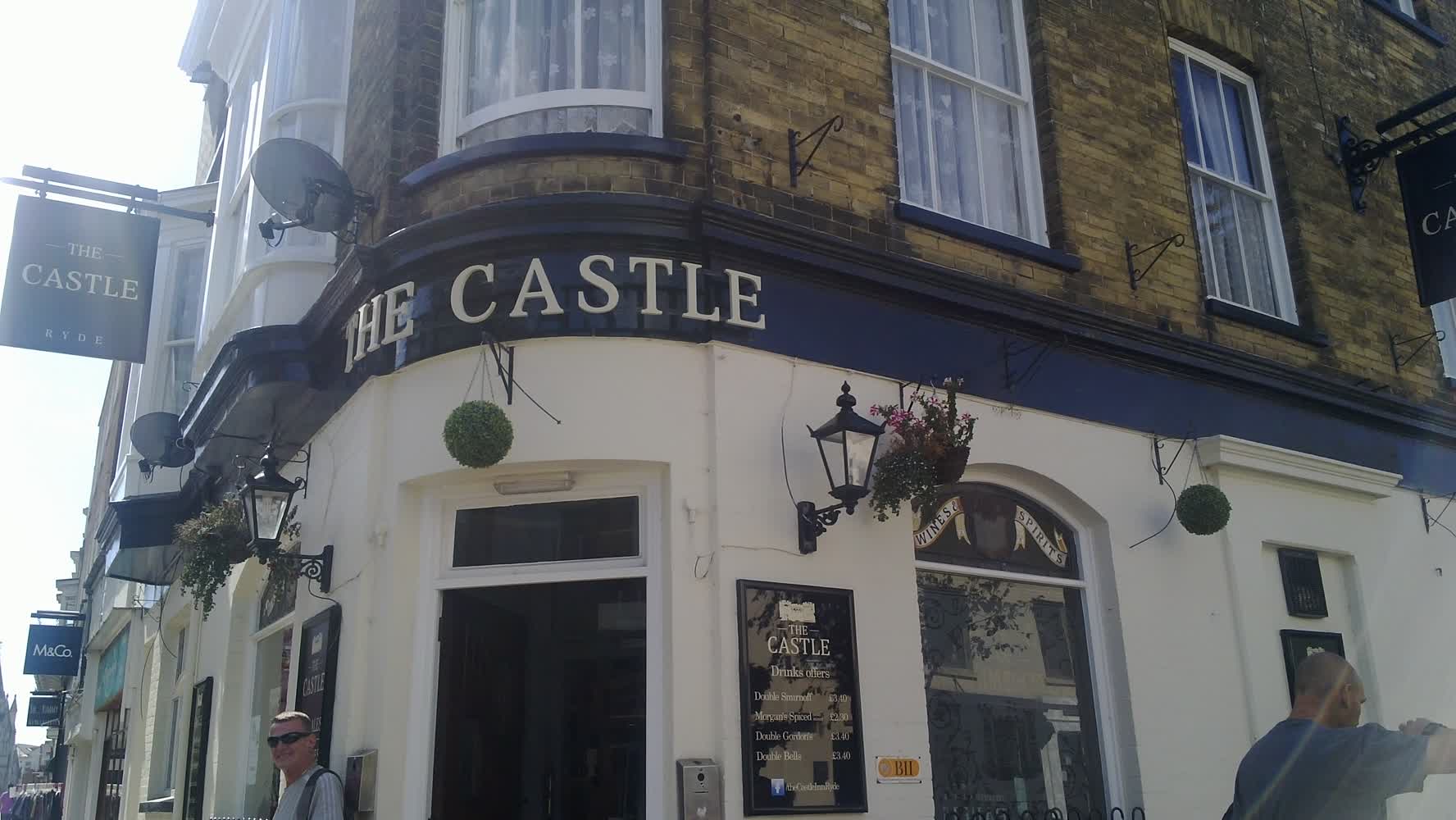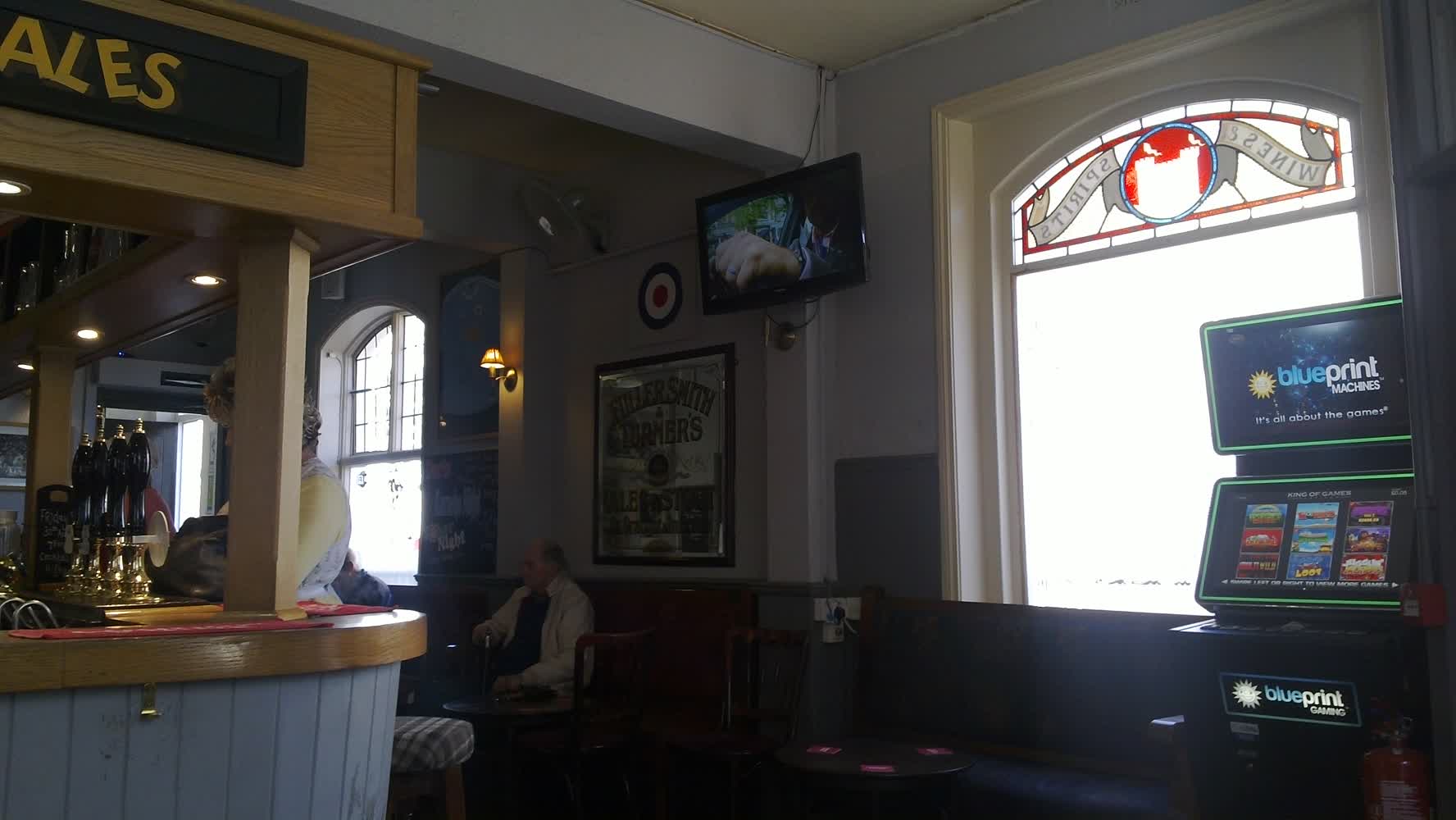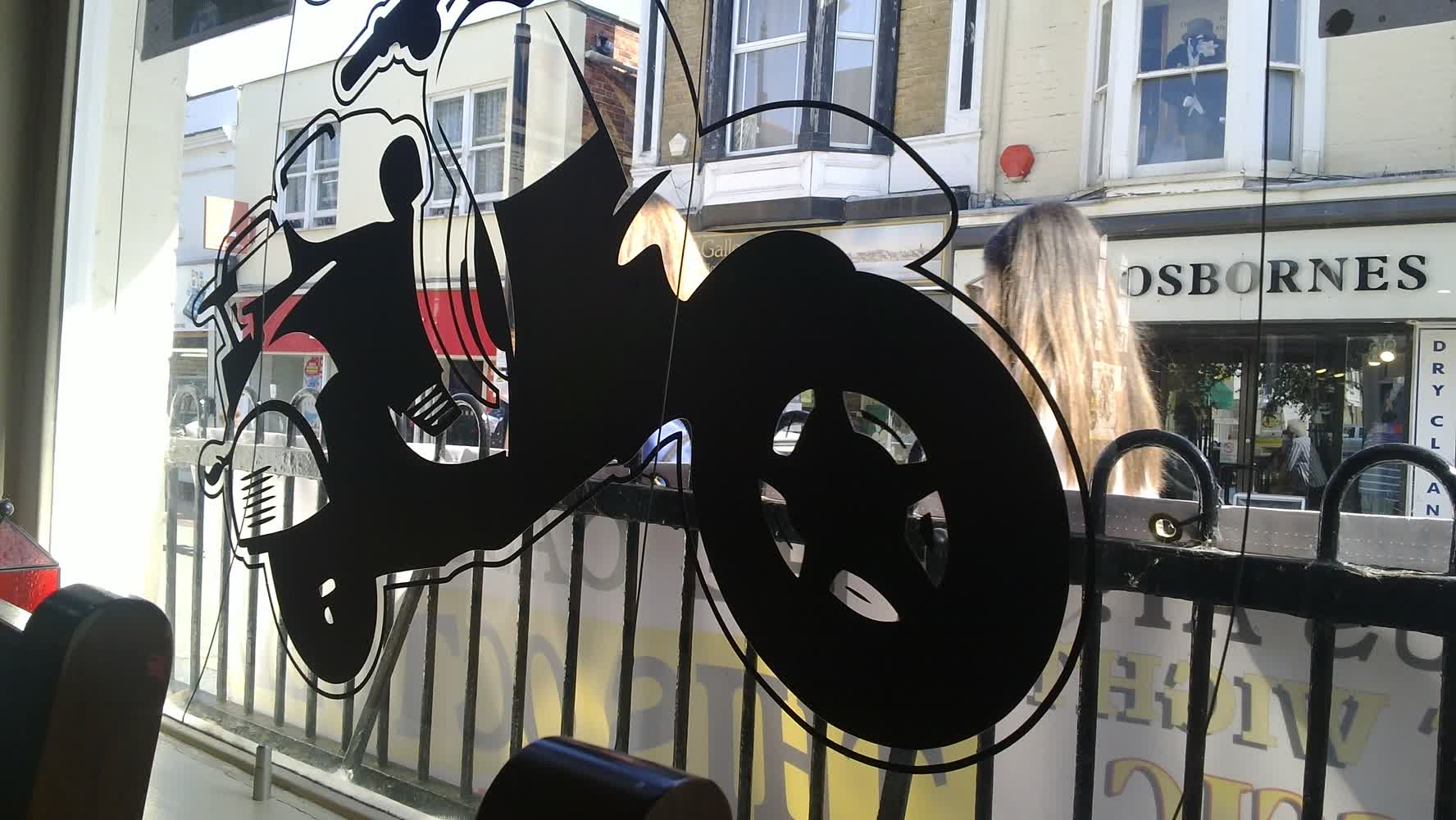 Solent Inn
7 Monkton Street
A street-corner local pub with fisherman's net, hopbine, and a big smile from barlady 'Loopy Laura'. Mediaeval garden wall, Timmy Taylor, live music, and more atmosphere than you can shake a tick at.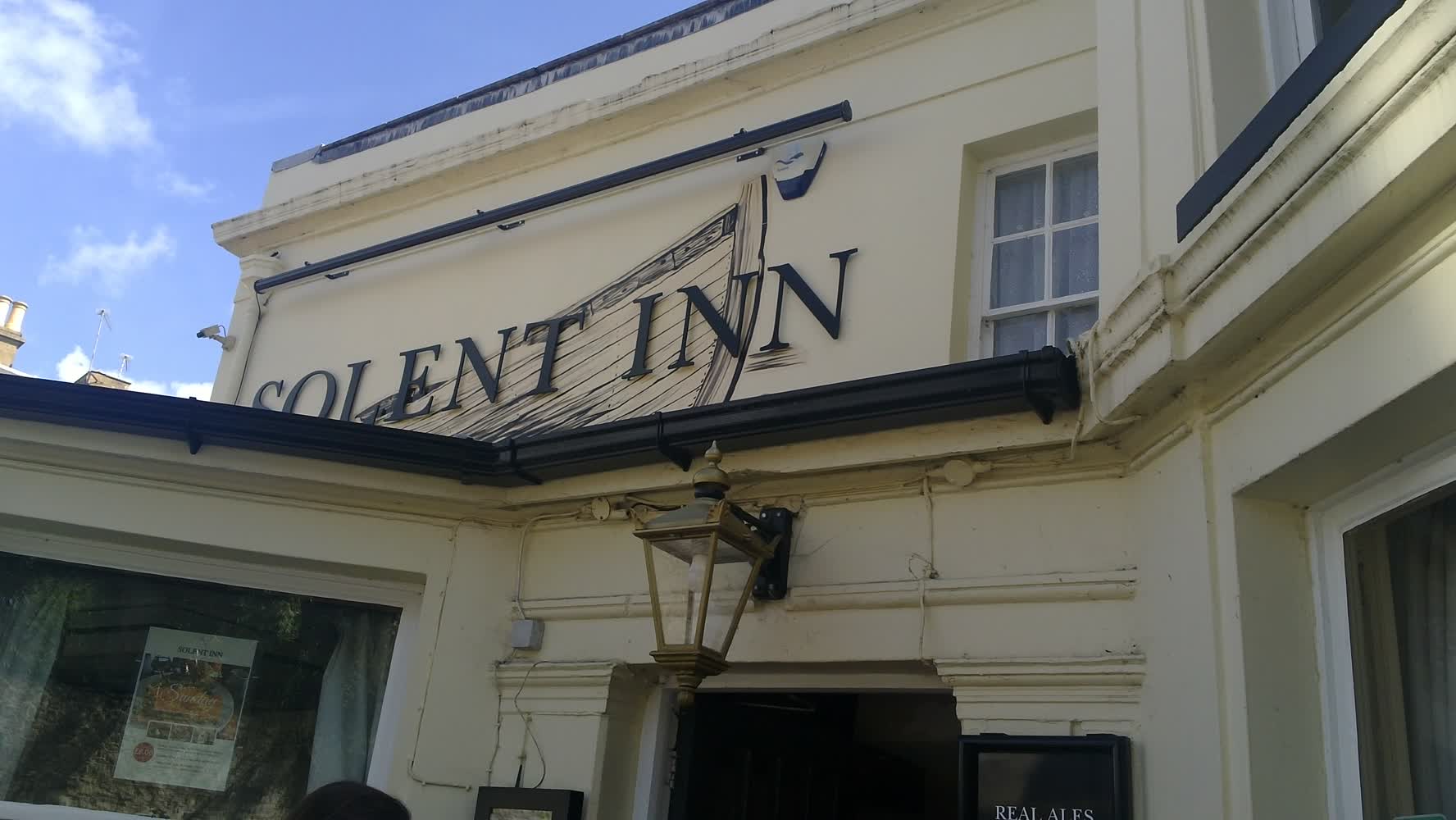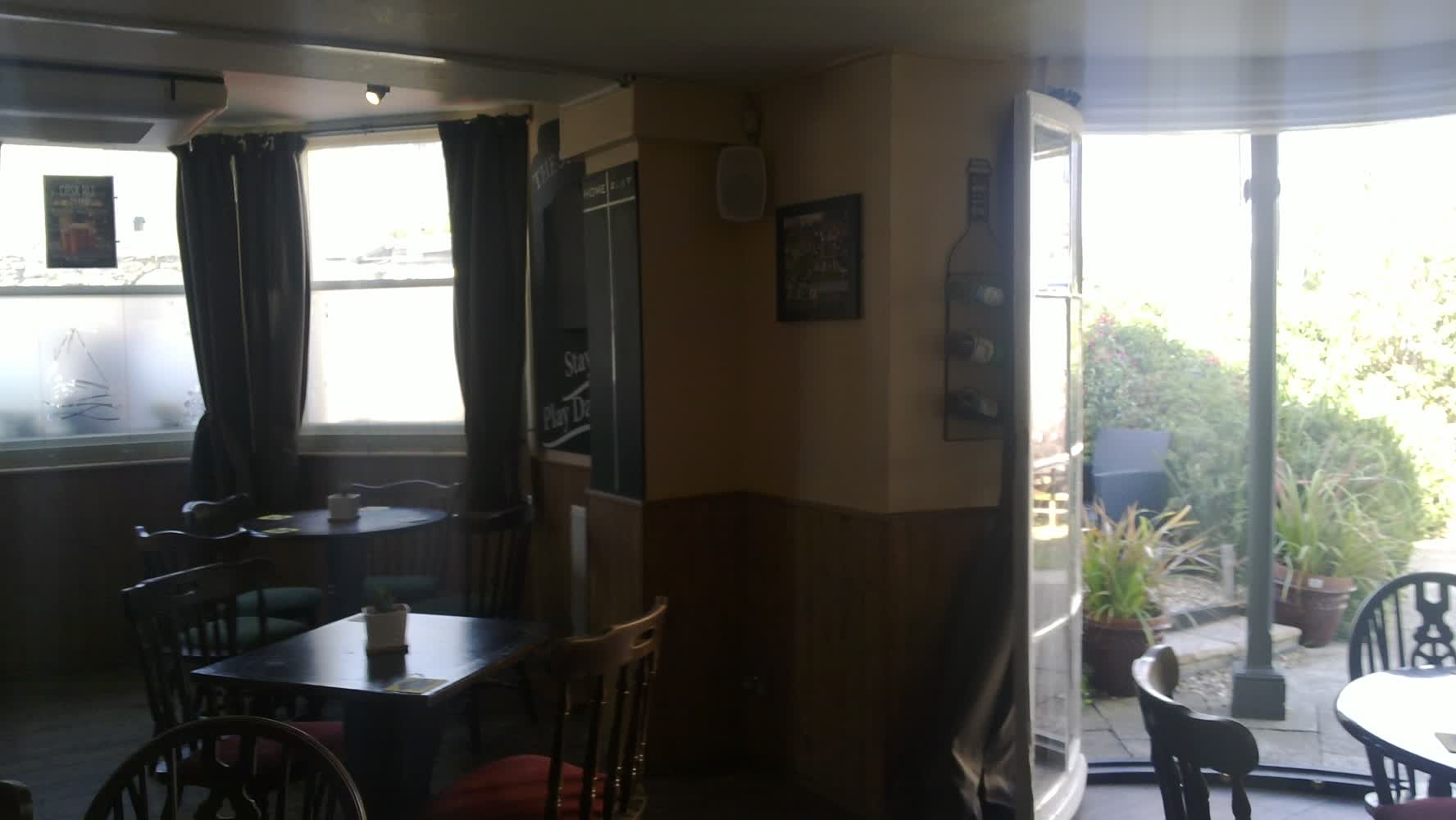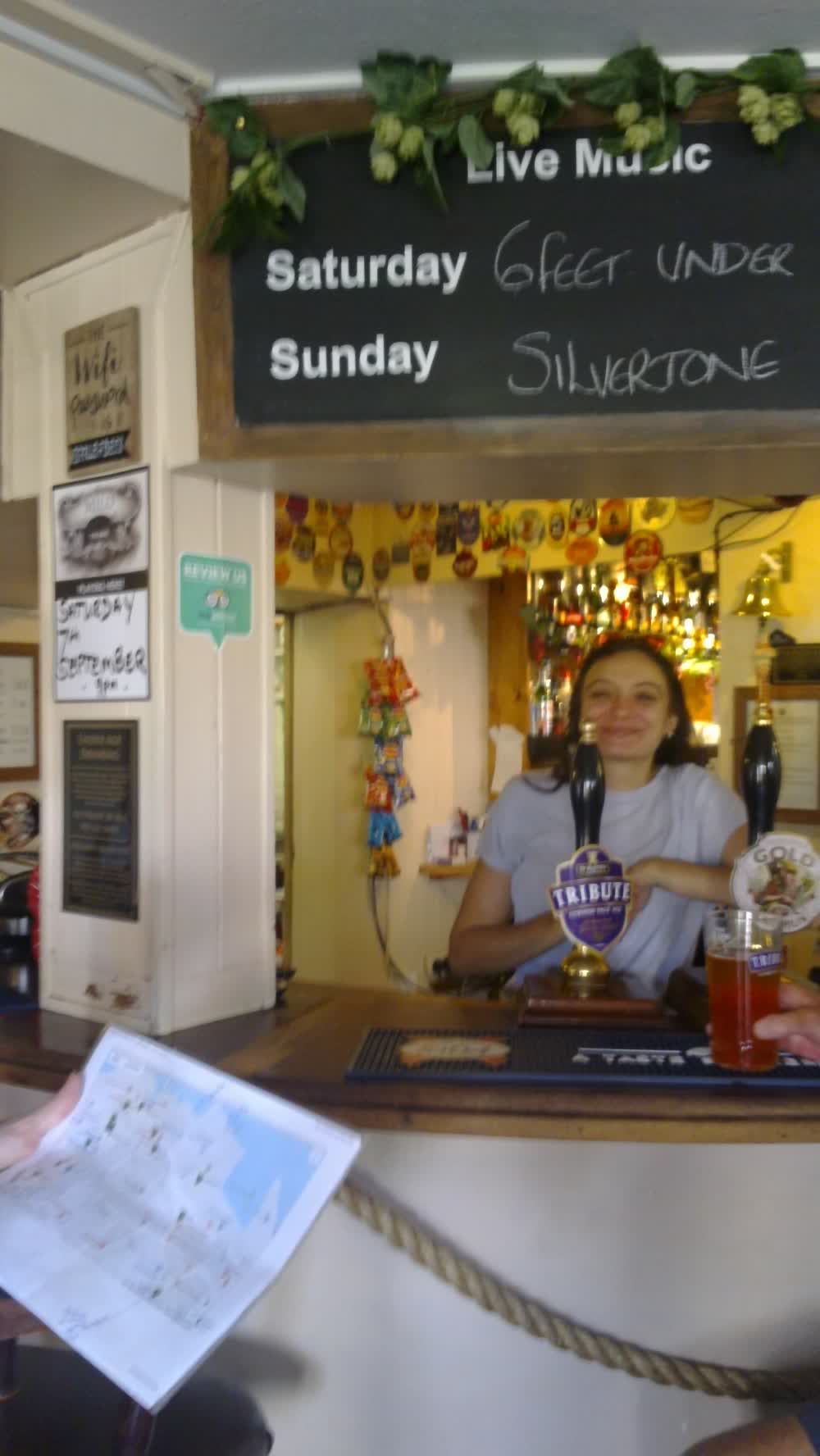 Simeon Arms
21 Simeon Street (in the streets off the east end of Esplanade)
Here, they have a pub cat, bar billiards and darts, and 'Sleepers' Corner' photos above the bar. The lamps on the reddish walls put out just the right amount of light for a locals' boozer, and yet another positive staff experience left us happy.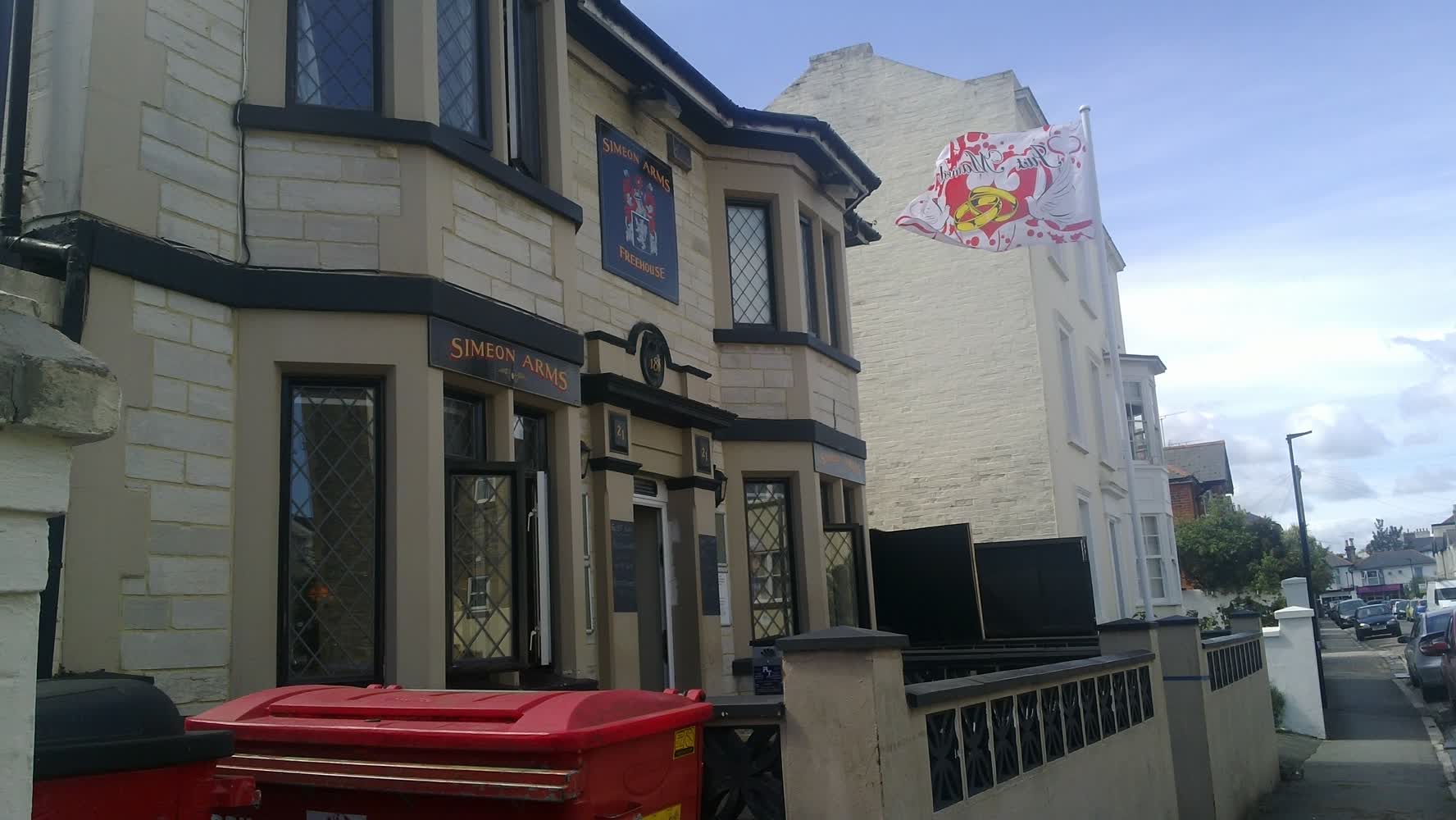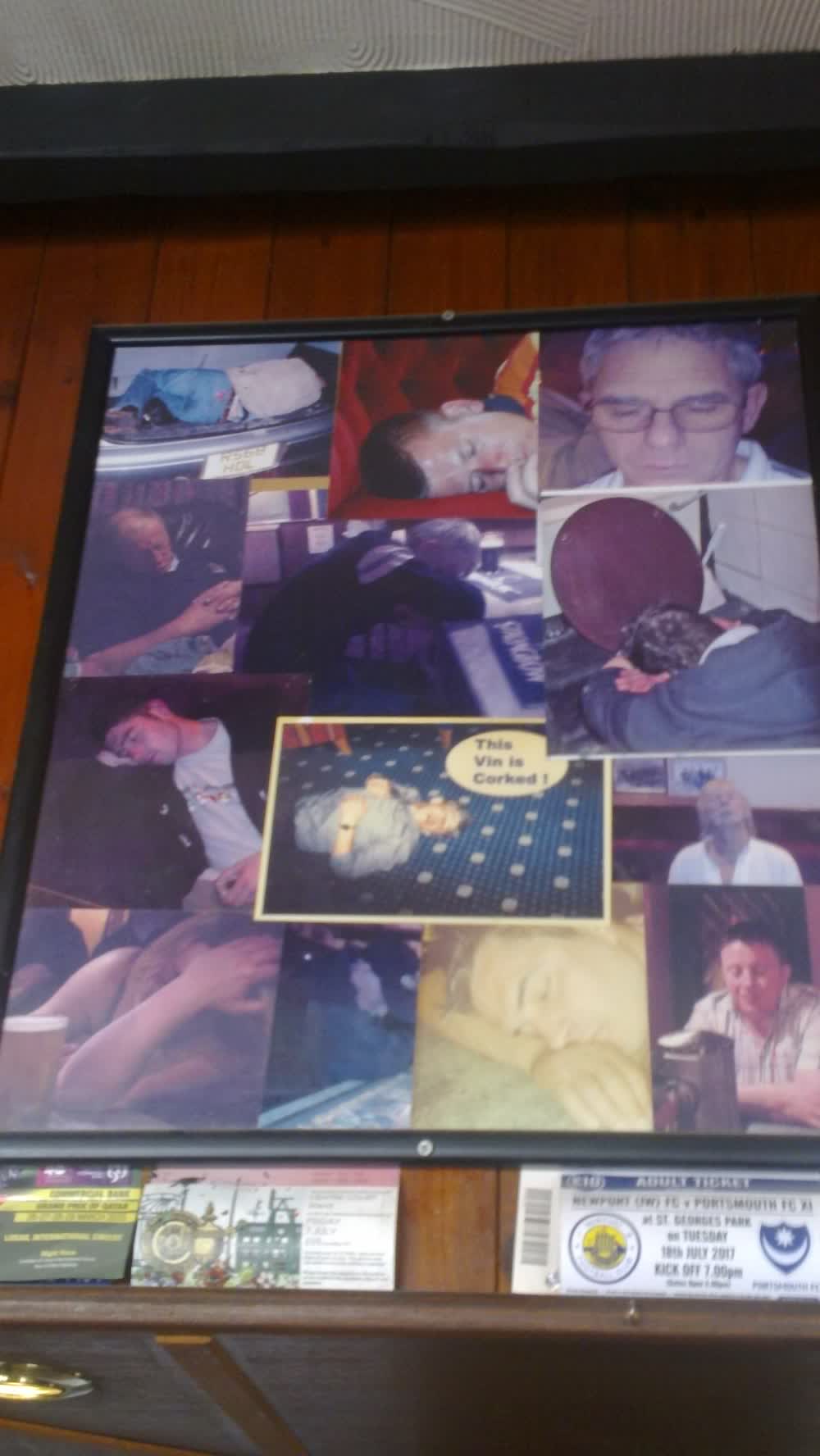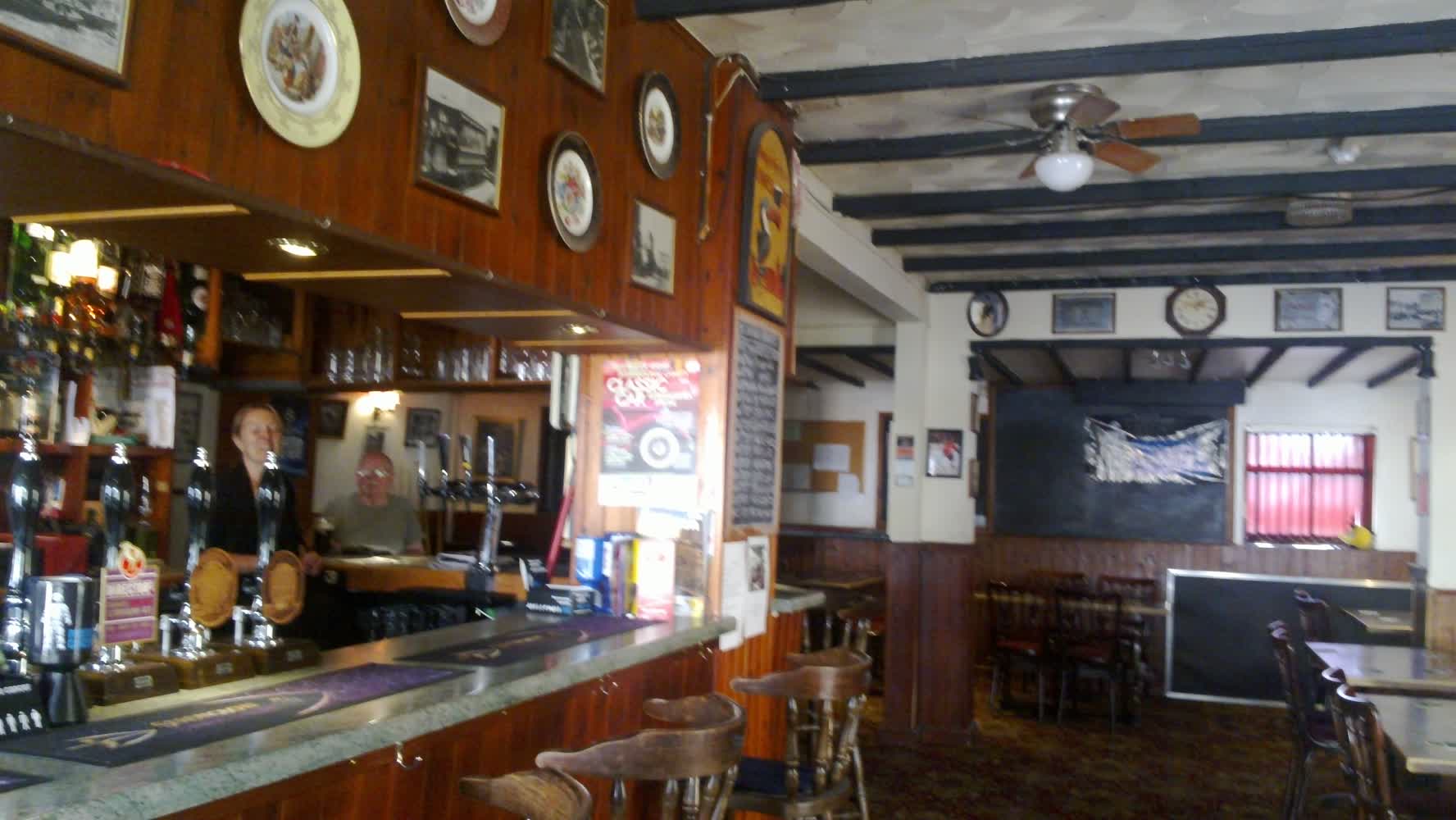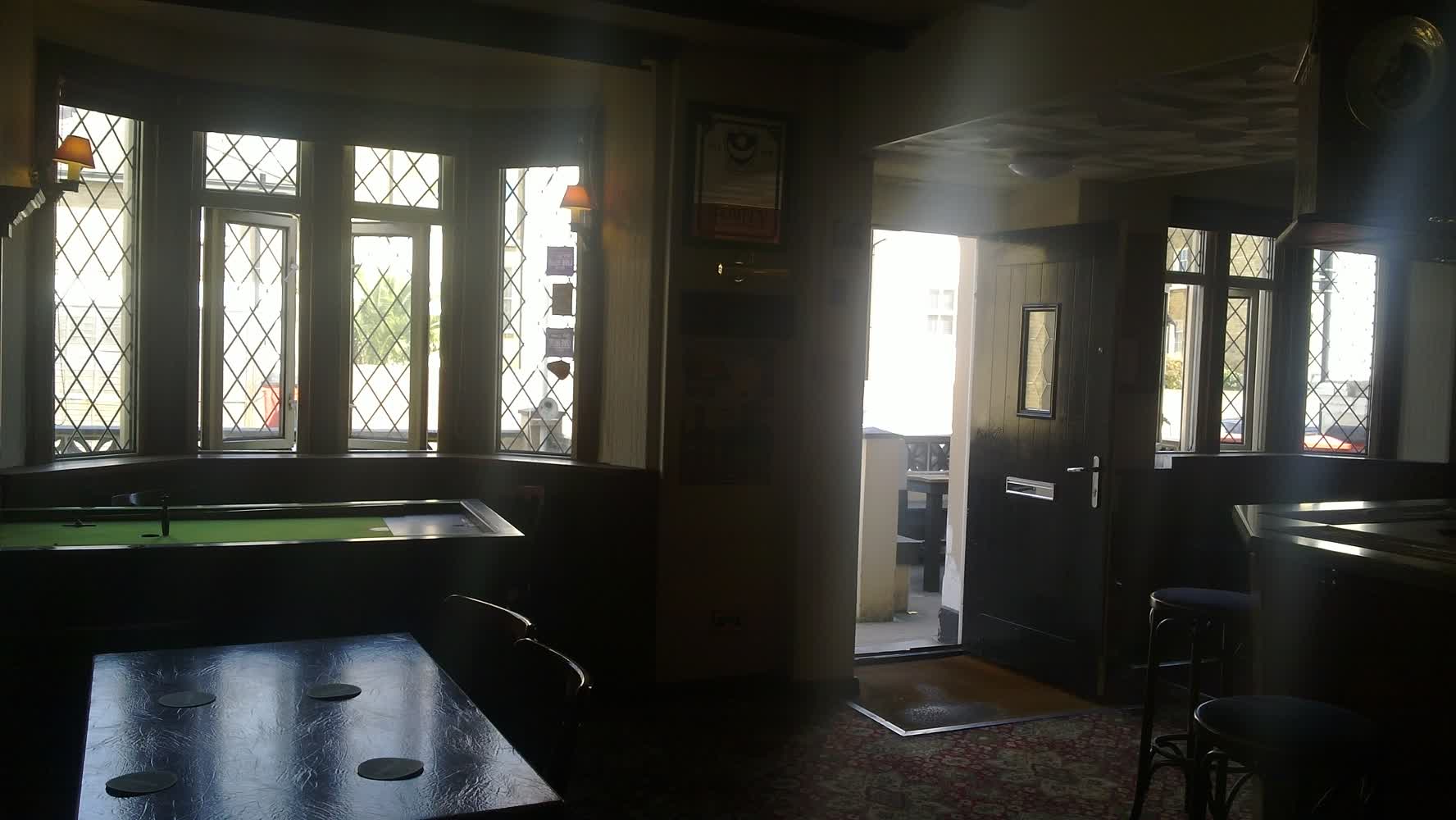 On the promise of Island Yachtsmans Ale, we took a bit of a trek next:
(Appley Manor Hotel, Appley Road)
The lush-carpeted, fairly dimly lit carvery/restaurant at the end of our walk did not deliver, however:
- 'Real ale - Island Yachtsman?'
- 'Yes, Doom Bar.'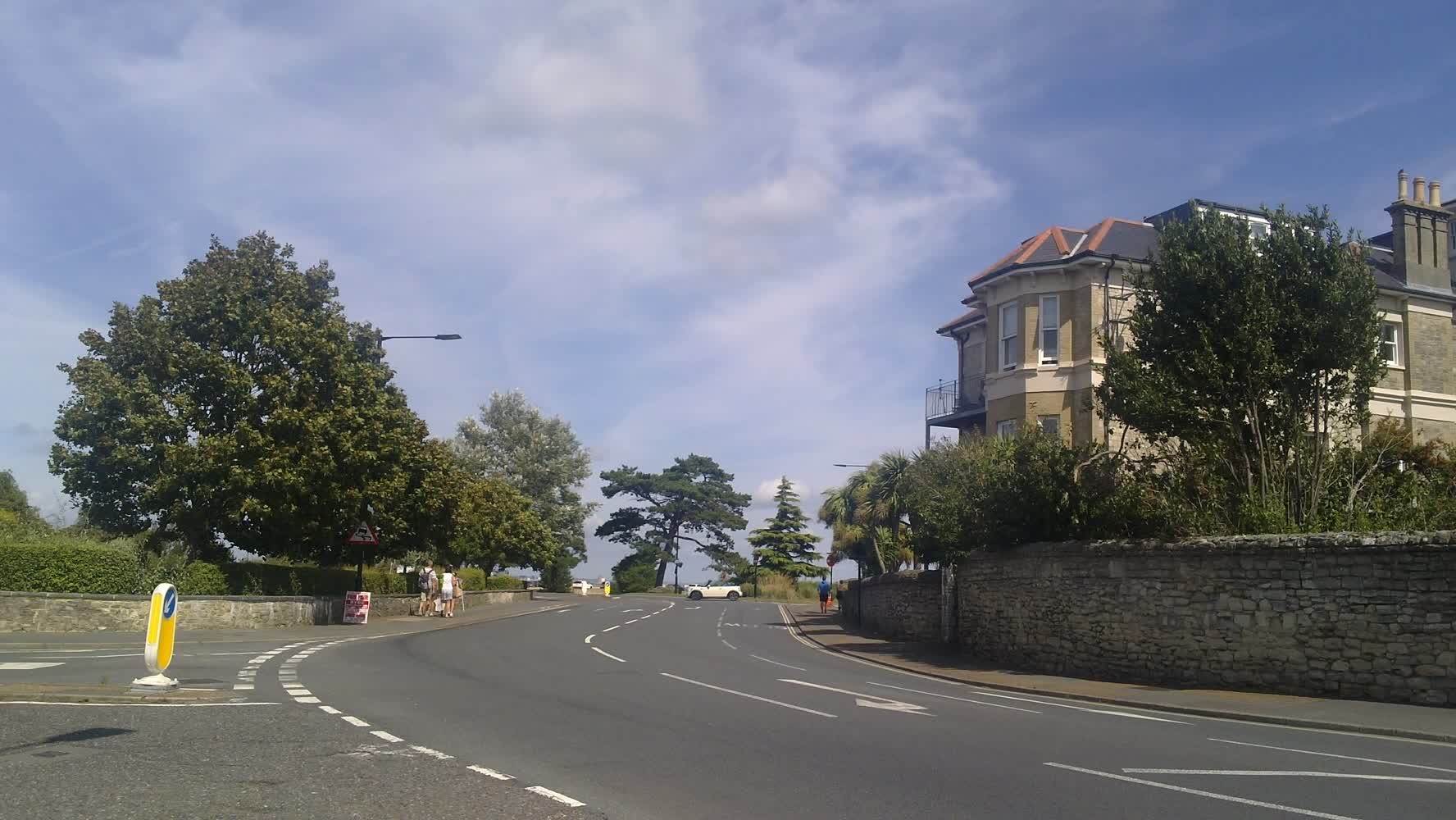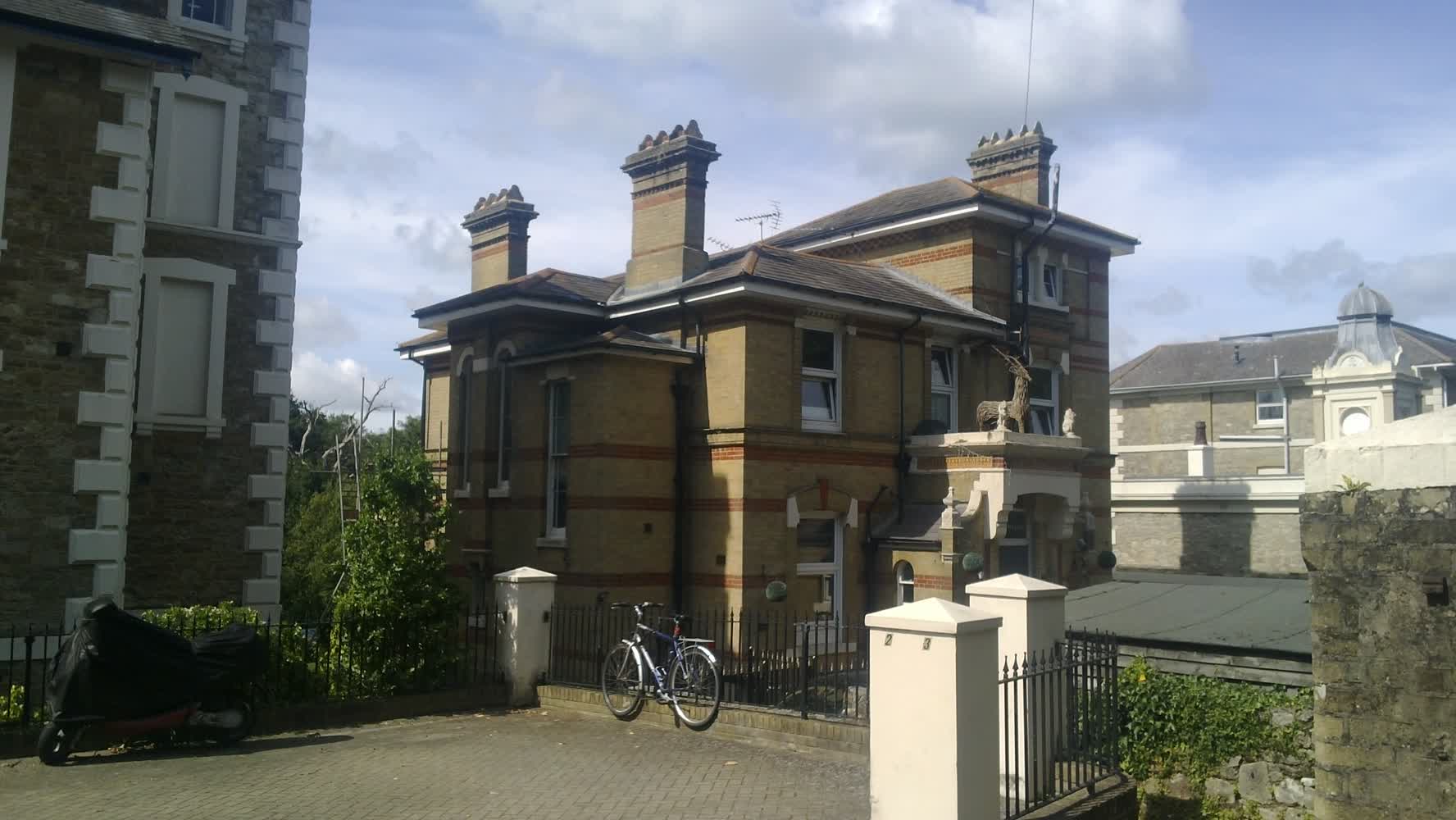 But all was not lost. We had a bottle of beer with us so could wet our whistles as we headed for a couple of pubs nearish the railway station.
High Park Tavern
84 Marlborough Road
South-east of the railway station lay our next target - small, quiet, decked out in wood, bay windows, quiet, pub dog. Did I mention quiet? A cosy place with chatty locals and advice on good pubs.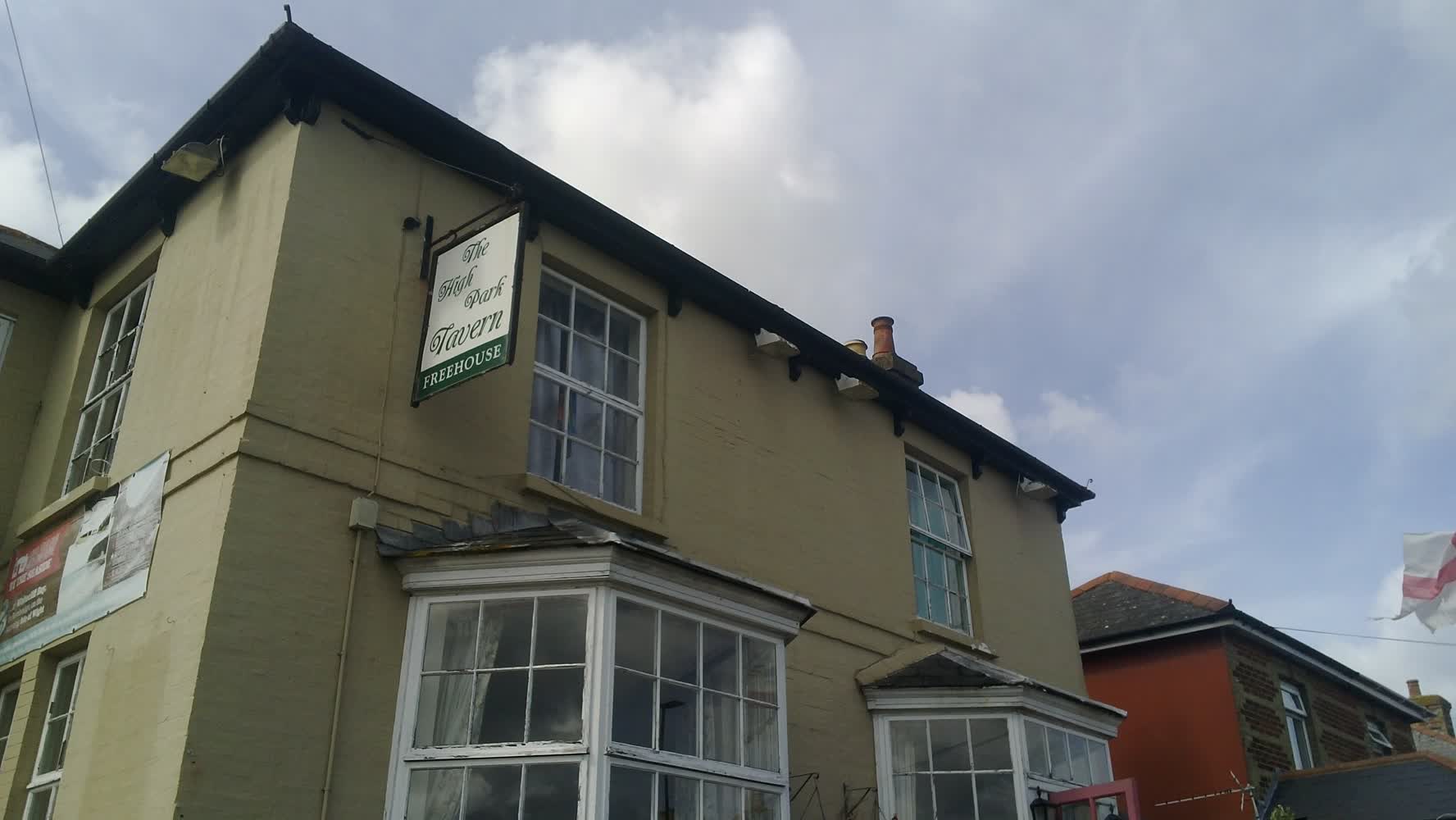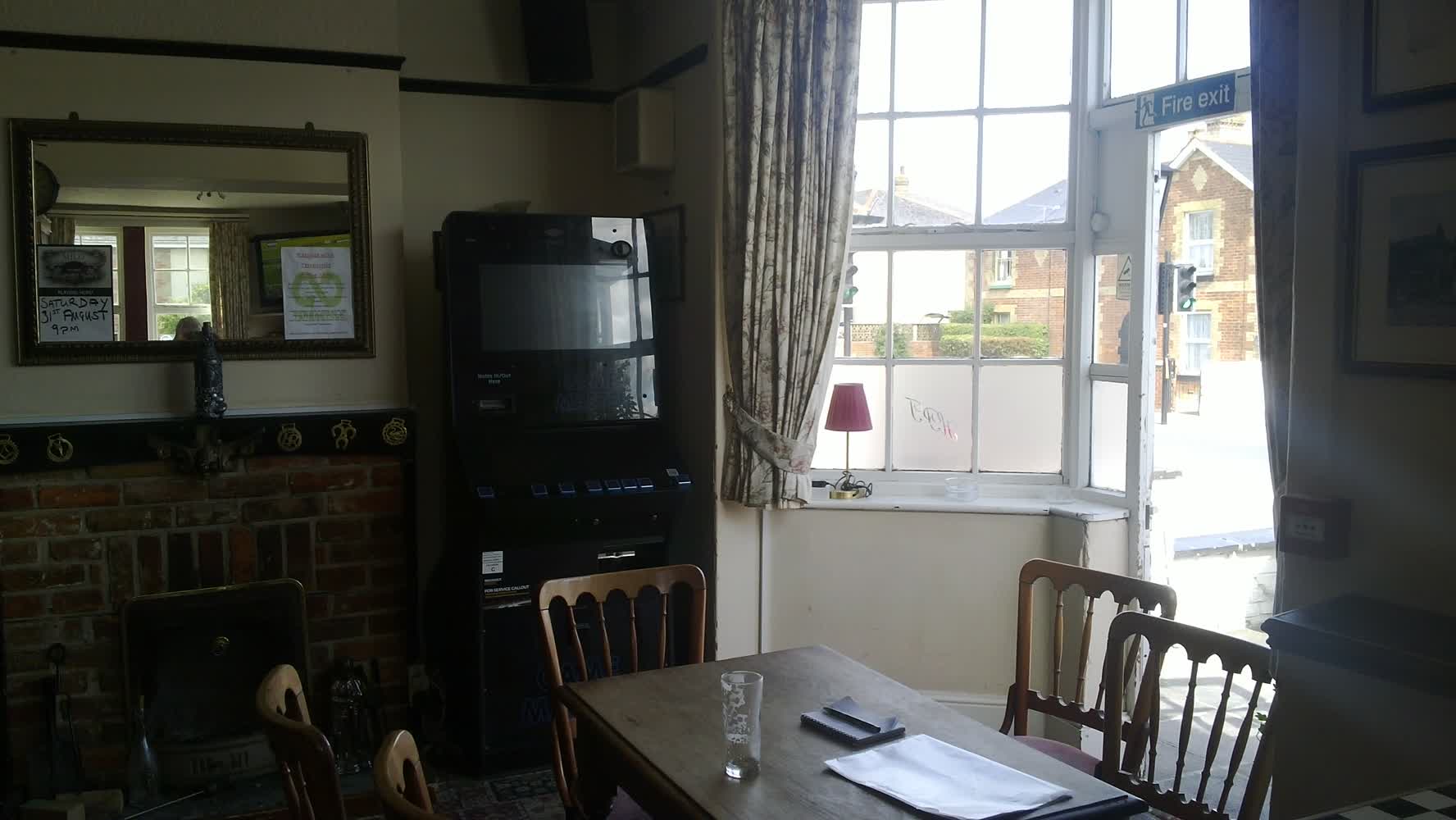 • At this point, we attempted to visit a pub on High Street, a discontinuous road for which Nokia Maps had the wrong end of the stick.
The walk was shortened, however, by conversation with a local who pointed out several places where pubs used to be.
The Railway (ex Hole in Wall)
68 St Johns Road
We arrived at The Railway a little before opening time, in mid-afternoon, so sat in the beer garden around the side for a few minutes. When the doors opened, we found a pub with a tired feel. There were no more than 0-1 local beers, though this is ostensibly under joint ownership/management of four local breweries. We did find a new beer at least.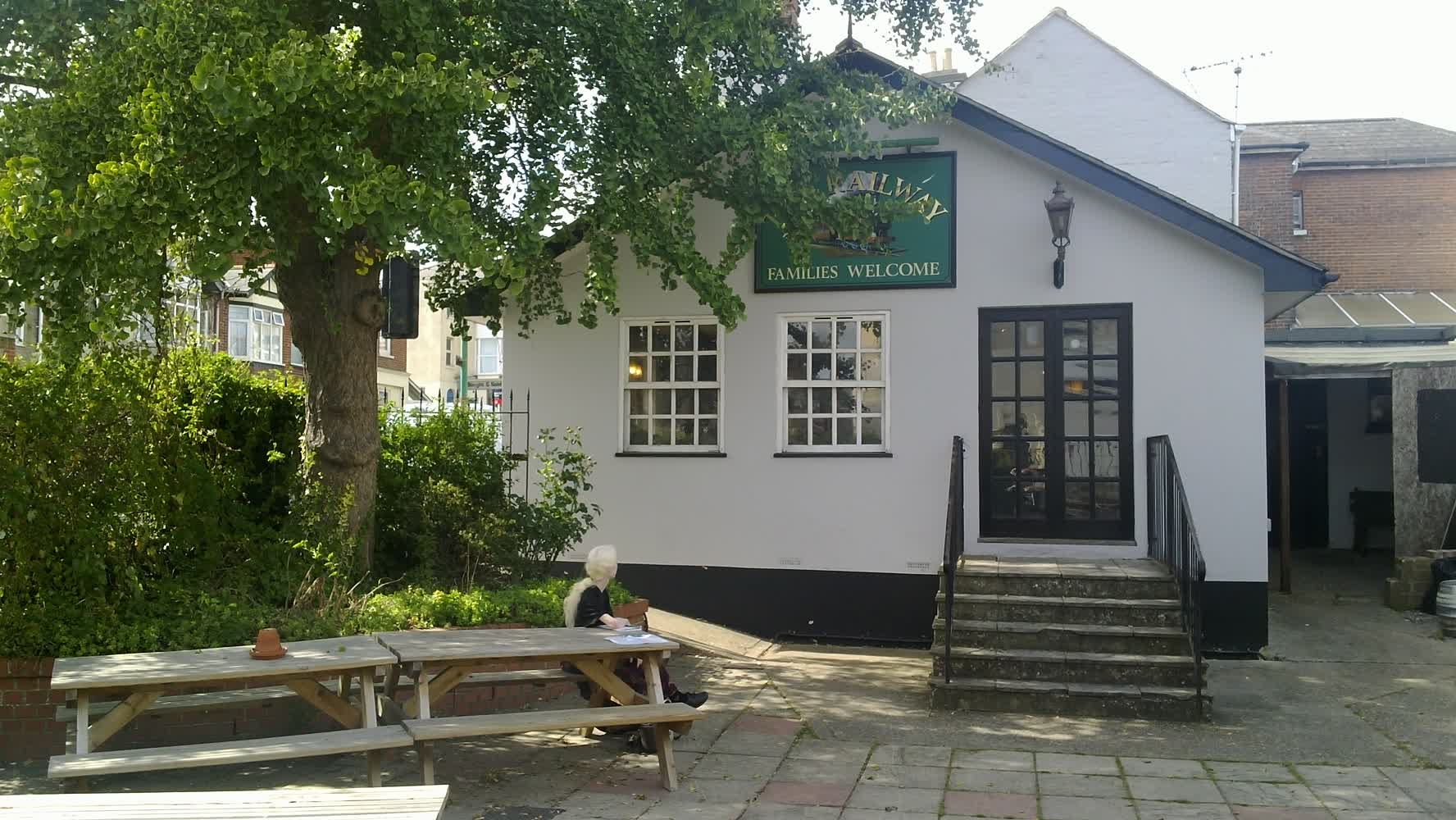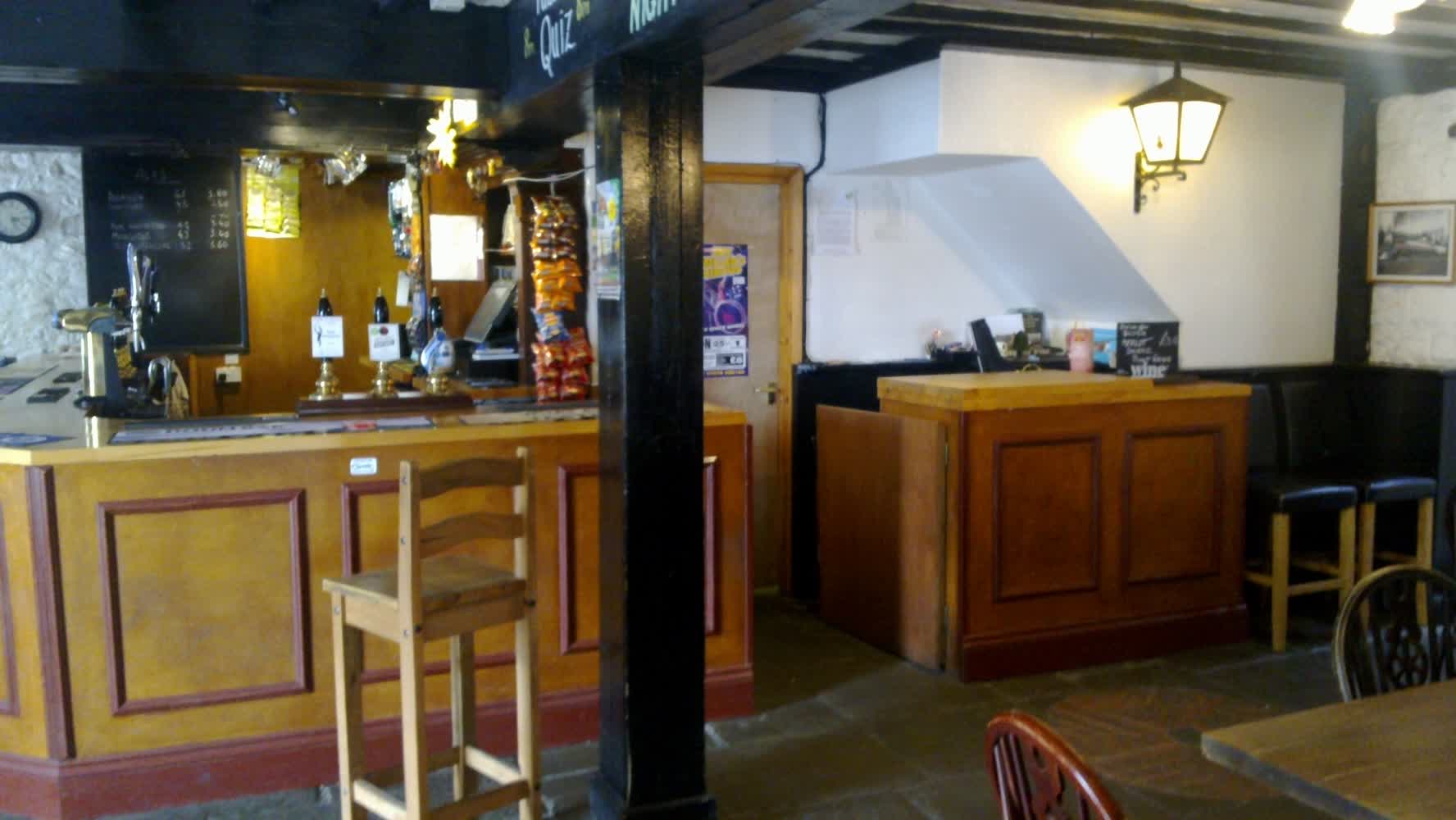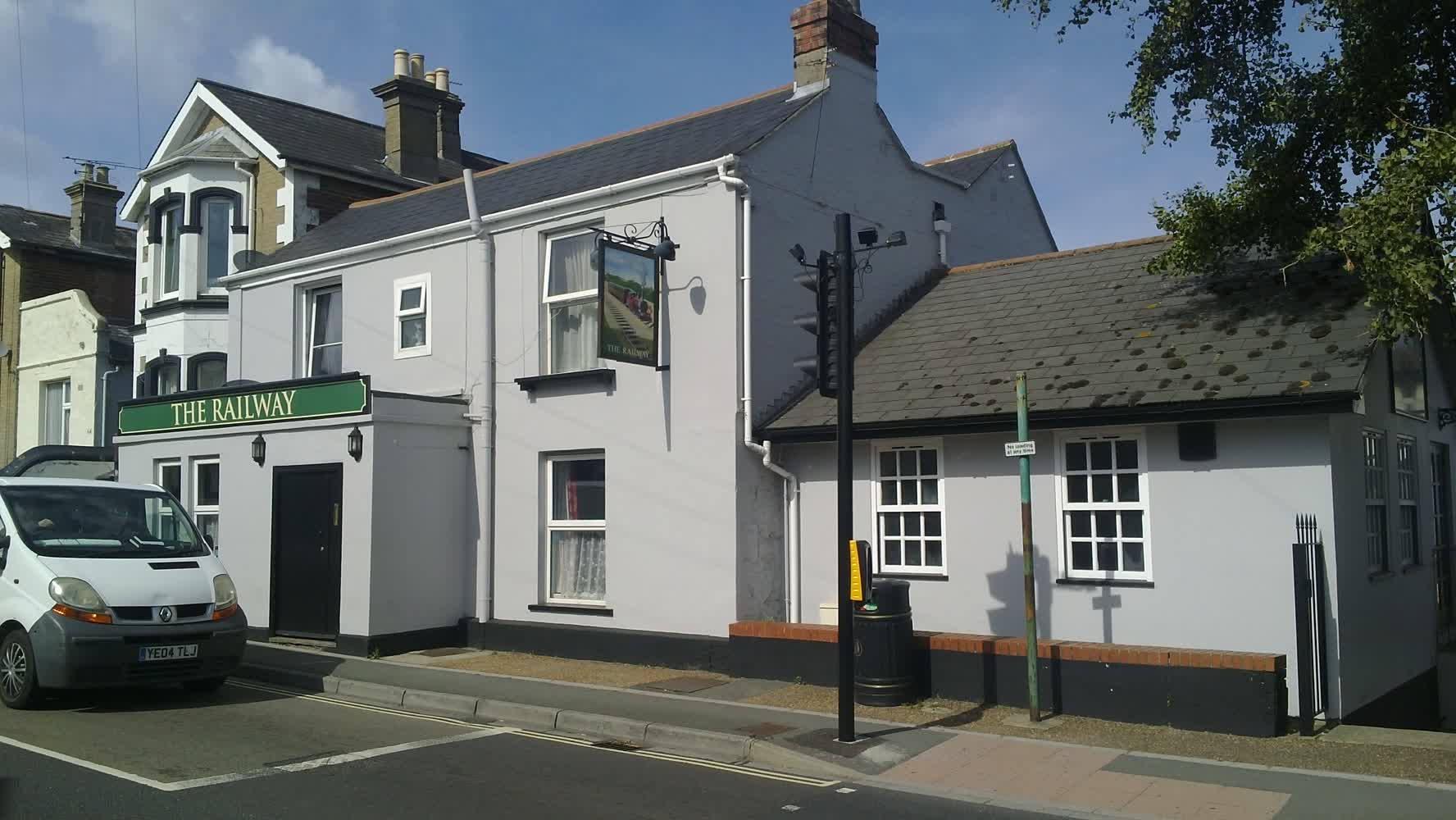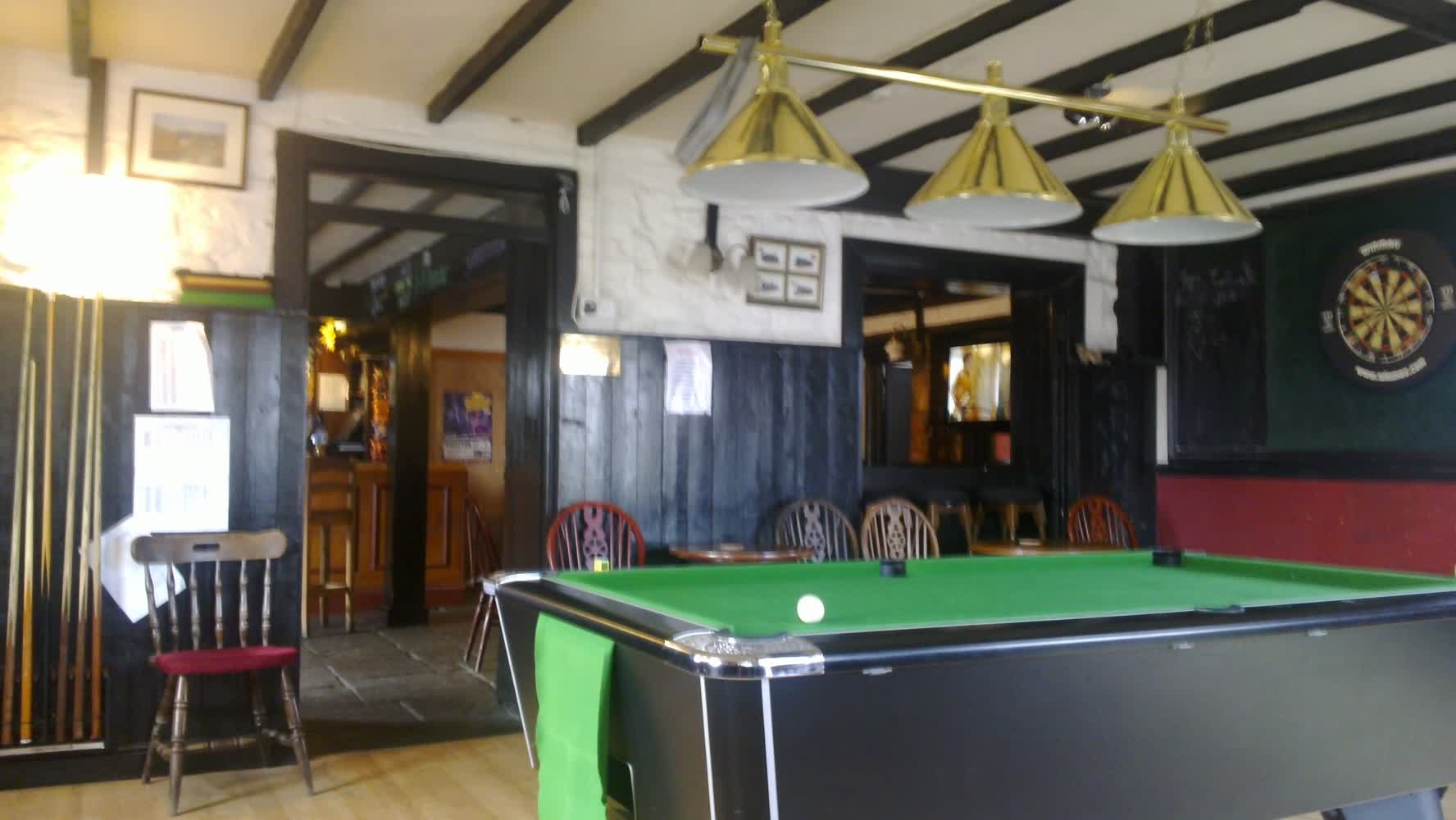 • Ducking back through the streets, we enjoyed the sea peeking out on occasion.
We had left a couple places near the shoreline for last.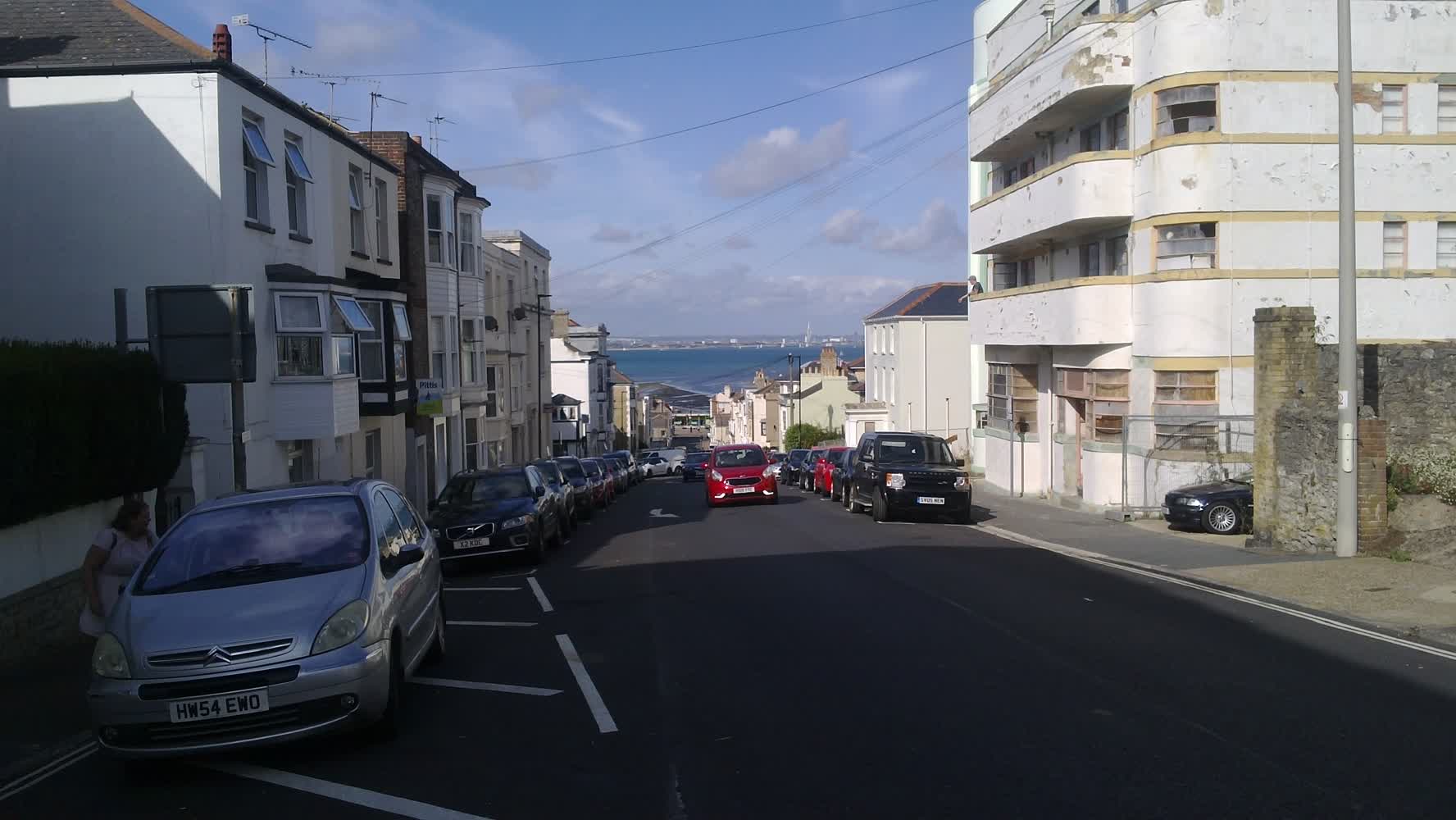 King Lud
2 Esplanade
A good pint of Landlord was available for only a quid and a half in this humming but not bustly venue. The place didn't gibe with us, perhaps on account of somewhat of a 'me mate Dave' feel, but there was nothing wrong with it. Phil draws parallels with the Harrow Wetherspoons.

Harry's Bar / Esplanade Hotel Bar
16 Esplanade
A bit closer to the pier, this is in an imposing building. We had scoped it out earlier and knew that two new beers awaited us. Down-to-earth staff, music that wasn't too loud, and not too busy a place. Here, just as in Ryde in general, we were pleased to find annoying tourists and annoyed-by-tourists staff absent.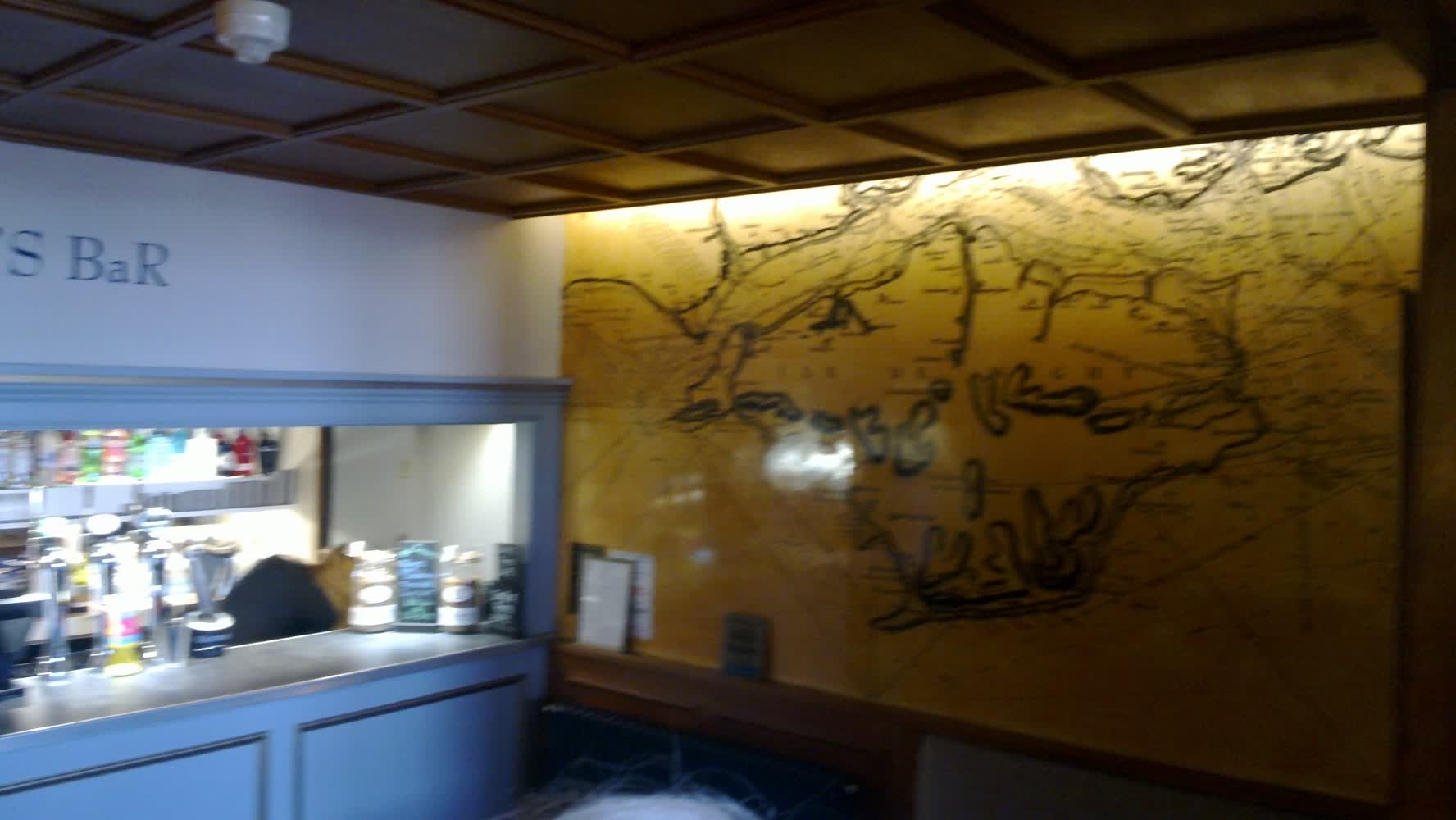 -- Back in Portsmouth:
• We left enough of the evening to check out some of the Portsmouth pubs that don't open until later in the day.
Our final night in the area saw us ultimately wend our way back to our hotel.
The Dolphin
High Street (opposite St Thomas's Anglican Cathedral)
It was slightly quiet when we arrived here, in late afternoon / early evening. One of the things that stood out most was the staves on/as walls, shown in the photos. There was a more open area in back, and the architecture bore a resemblance to that of the Cambridge Blue. There are about six real ales and three bag-in-a-box ciders on offer to keep a person occupied.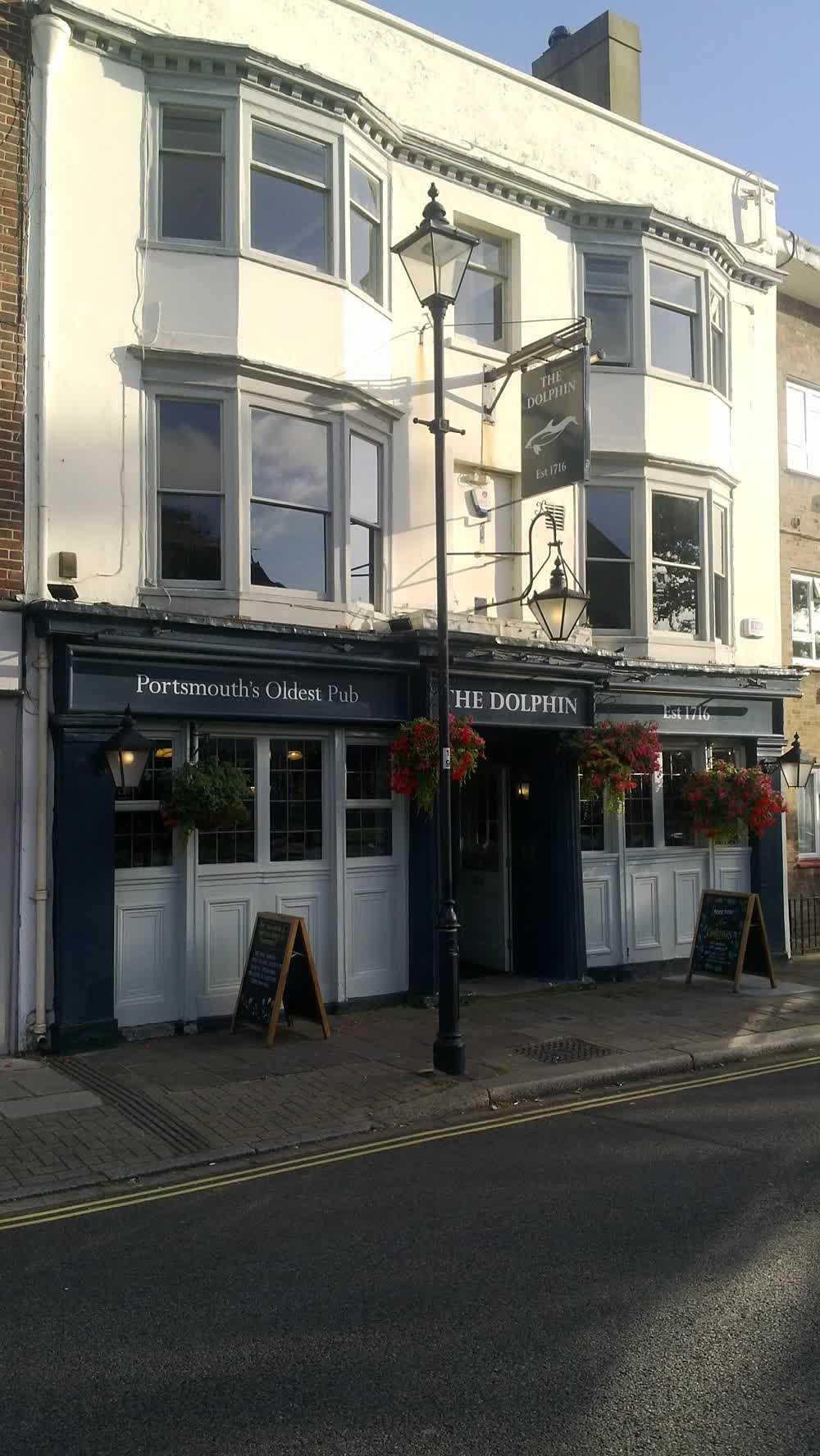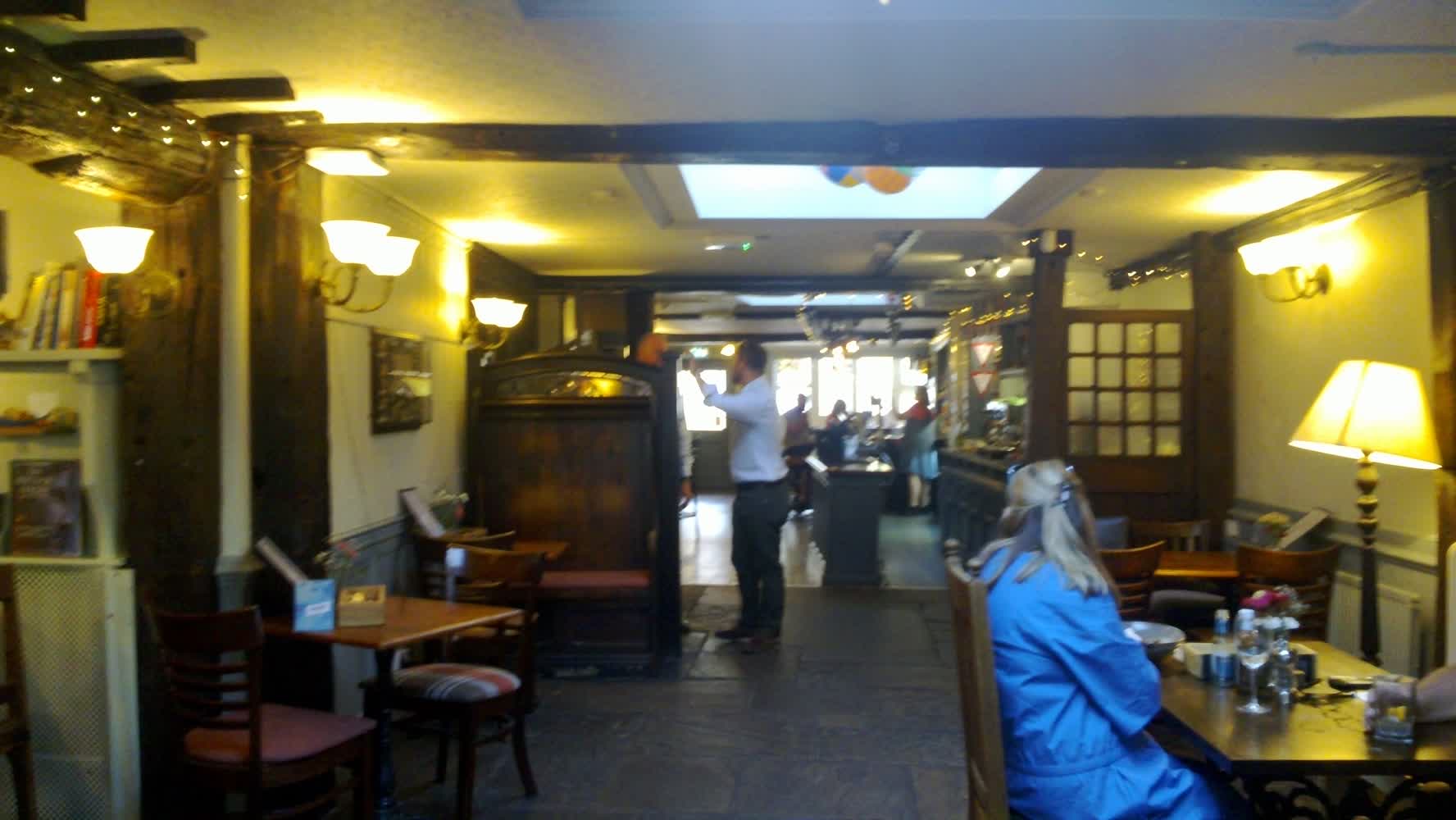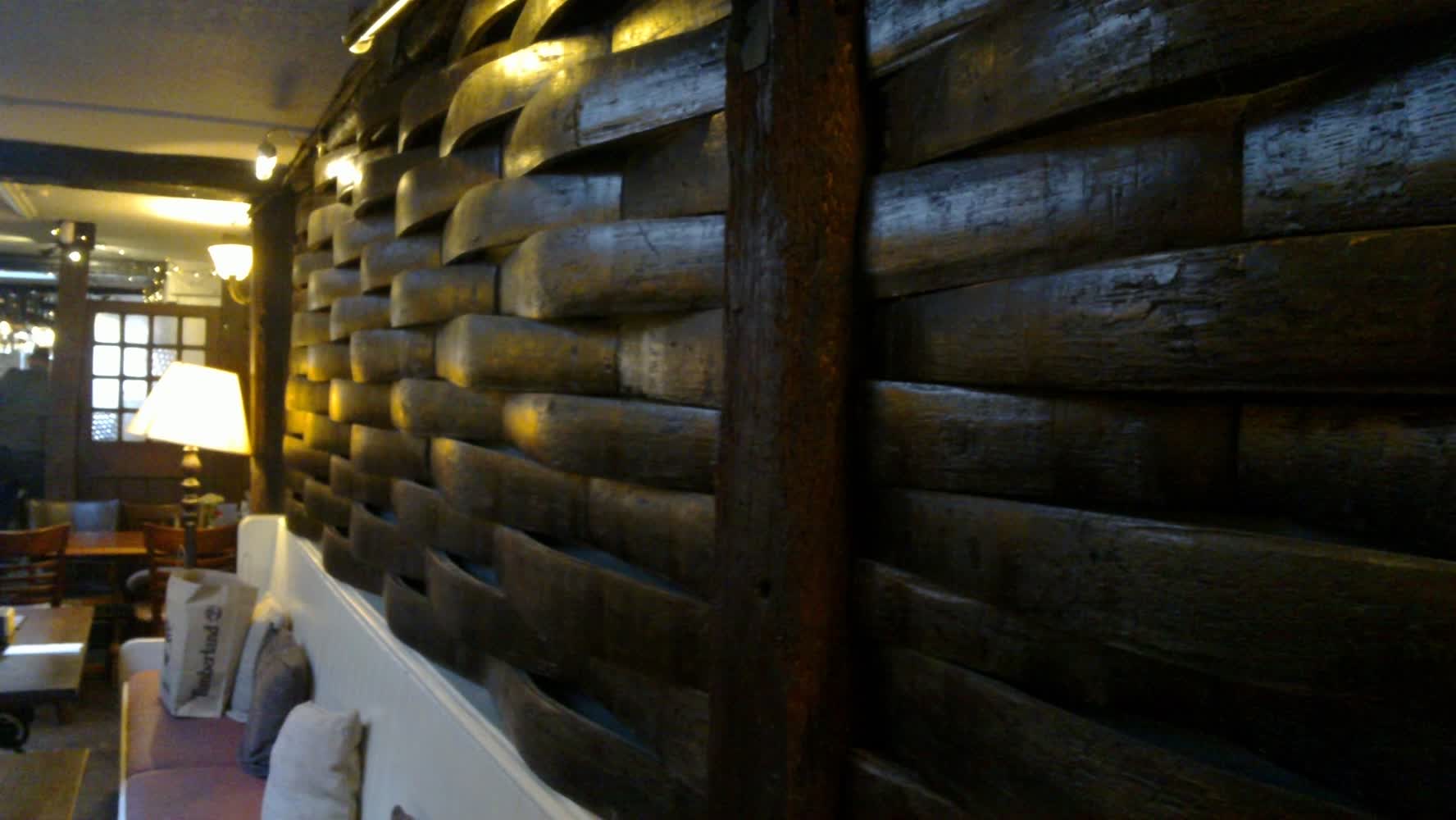 Brewhouse & Kitchen Southsea
51 Southsea Terrace
Quite close is another B&K, with separate brewing facilities. A decidedly different feel awaited us here, with a slight buzz, brick pillars, and mildly aggressive lighting.
Just before leaving Portsmouth, we would return to the other location for a few more sips.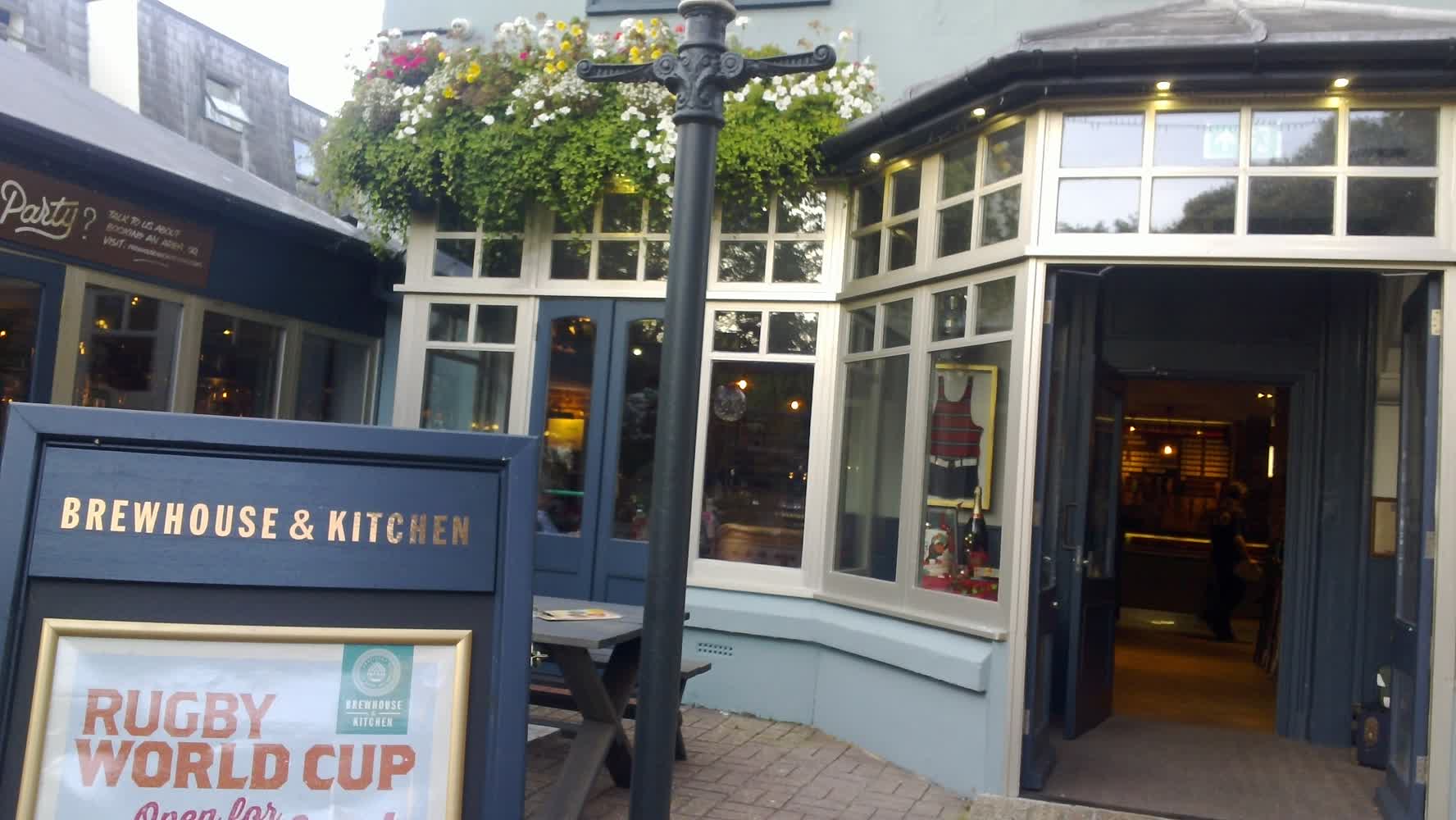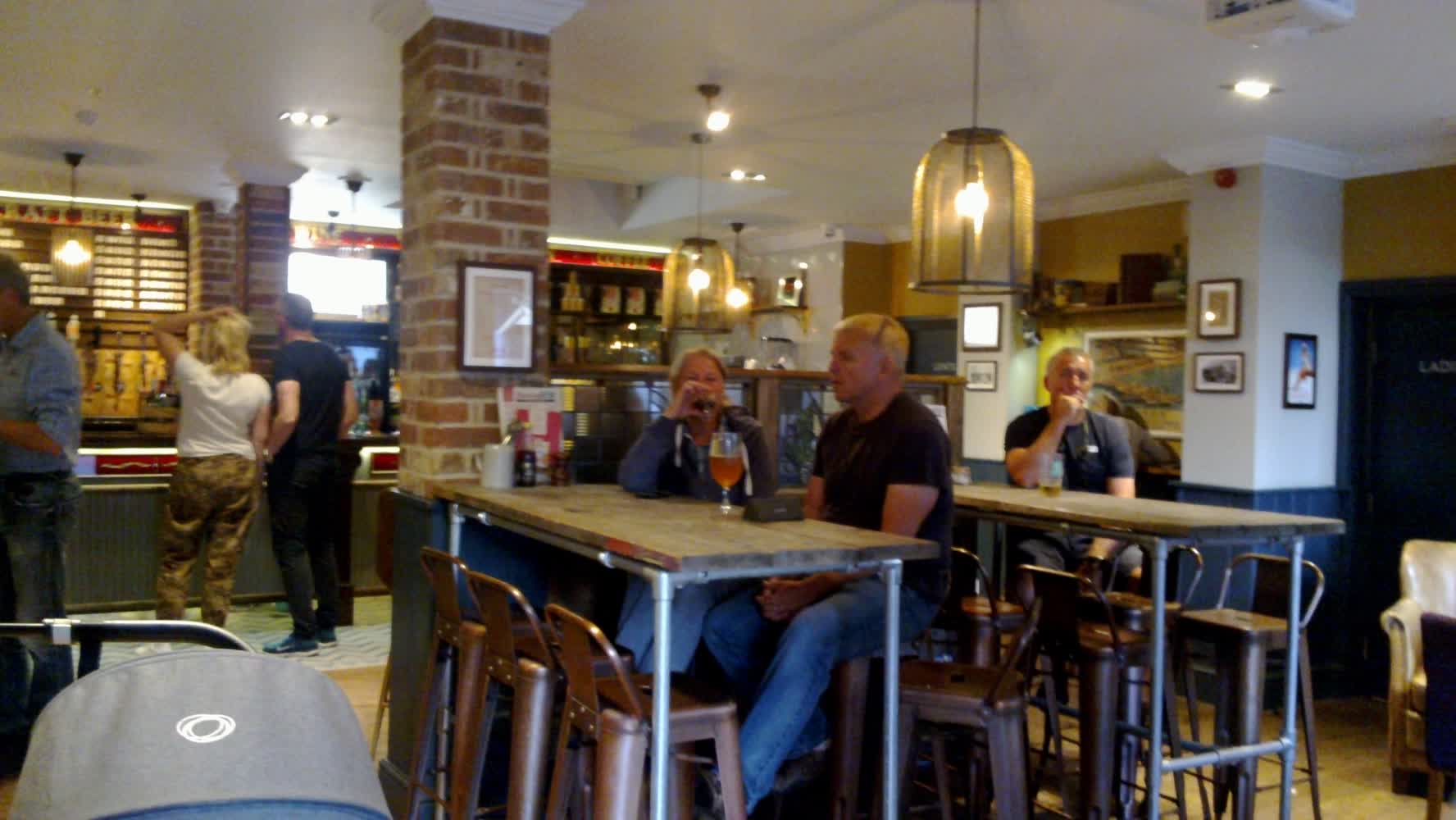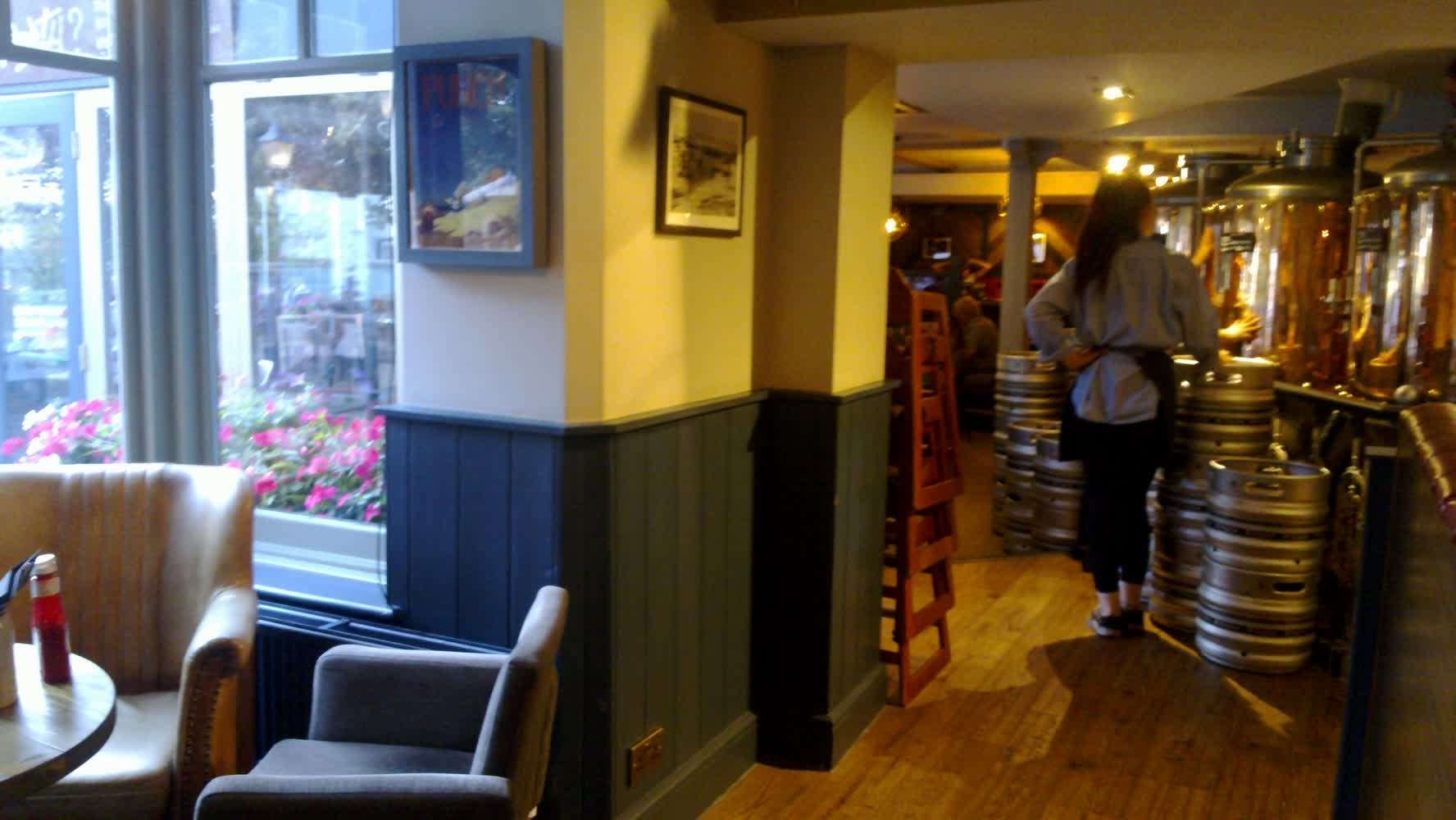 Barley Mow
39 Castle Road
A live band were setting up at this two-bar community pub, and we'd have stayed a while if we hadn't been on a mission. There were hints of a nautical theme, but it wasn't over-baked. There were six real ales, representing a very good range, and staff who offered ideas about other pubs to visit in town - and some pretty direct disrecommendations too.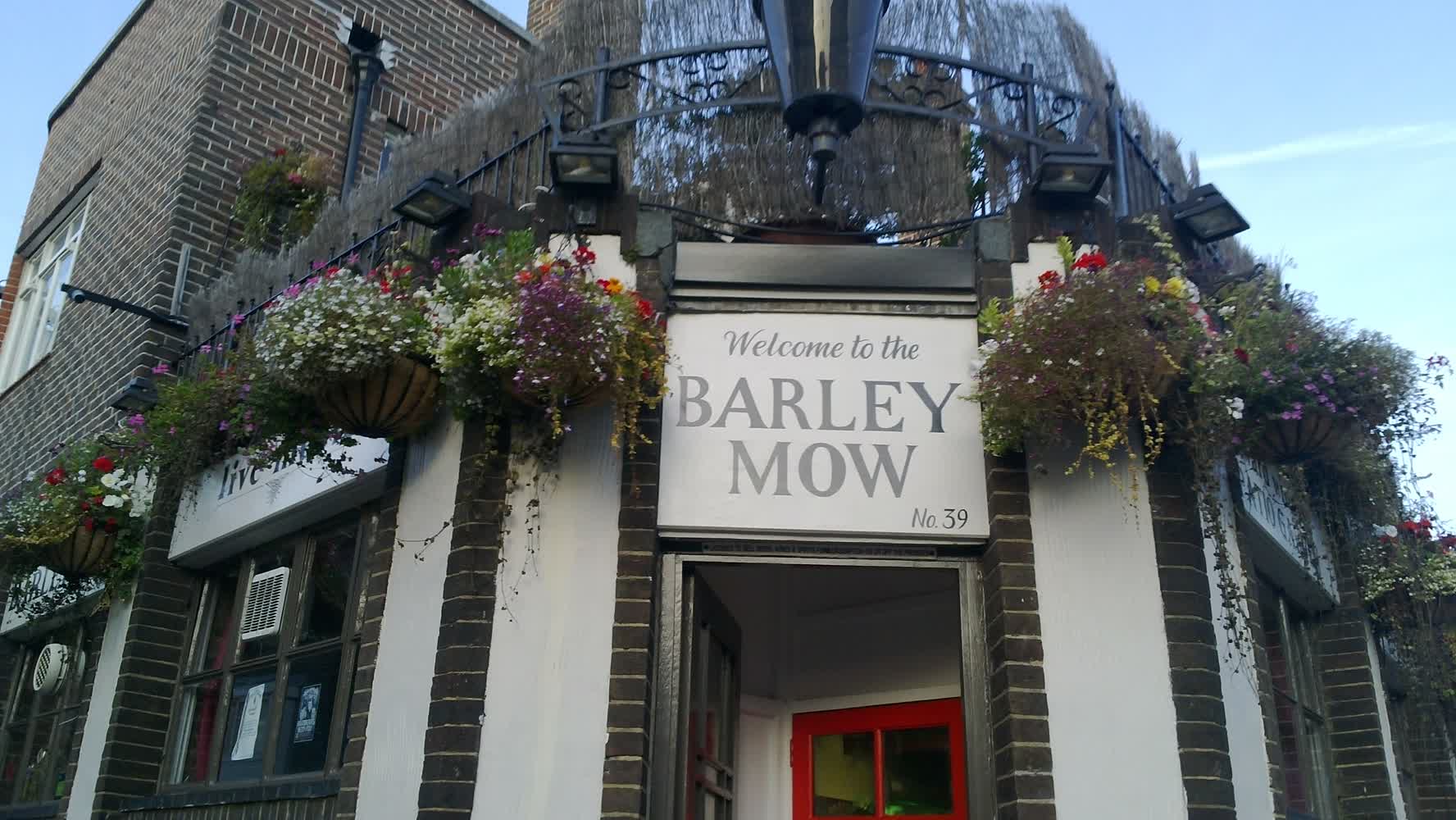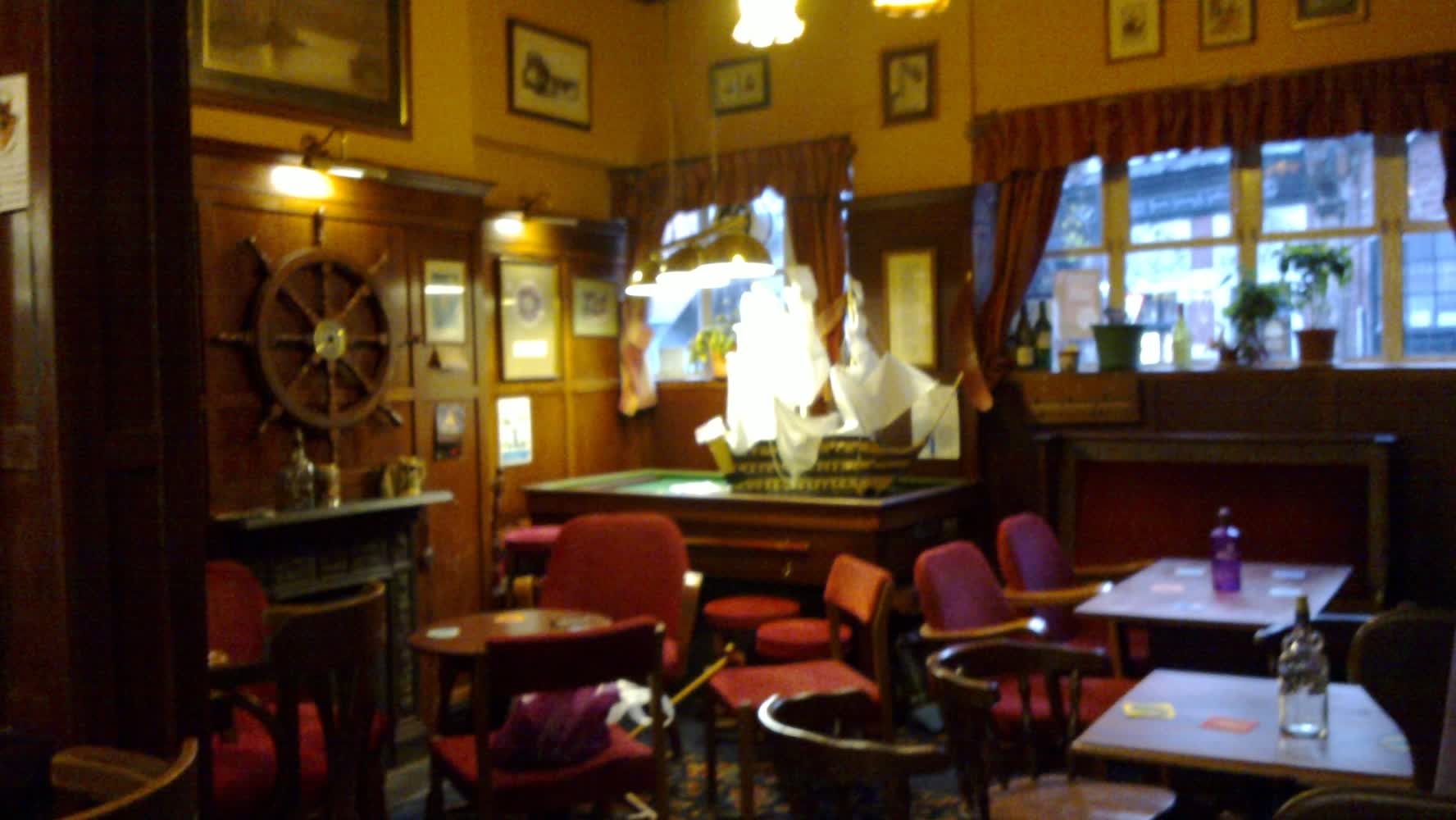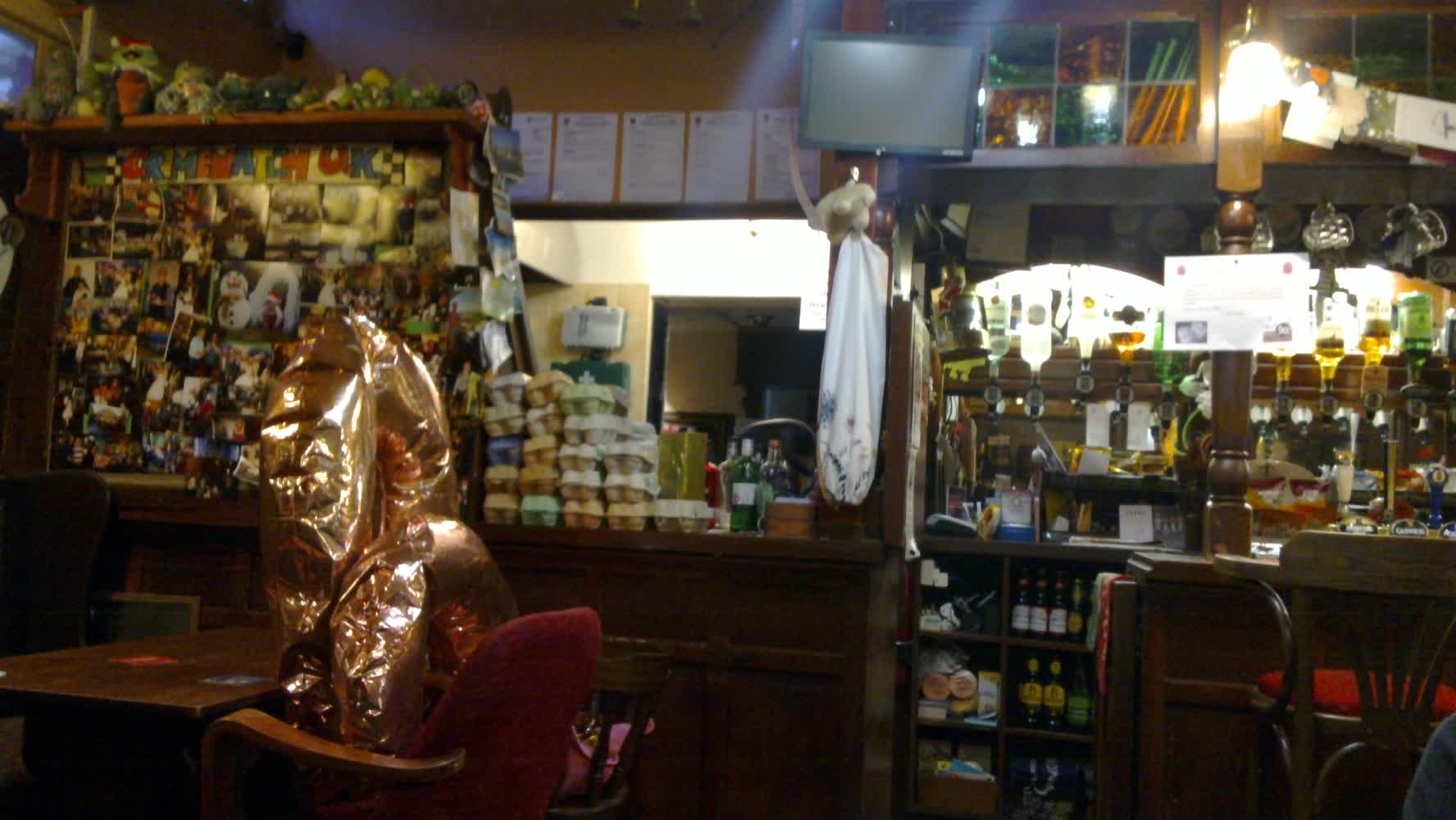 Hole in the Wall
36 Great Southsea Street
A free house right next door advertising 'We sell cask ales', this pub was noteworthy for its super-quiet music and subdued lighting.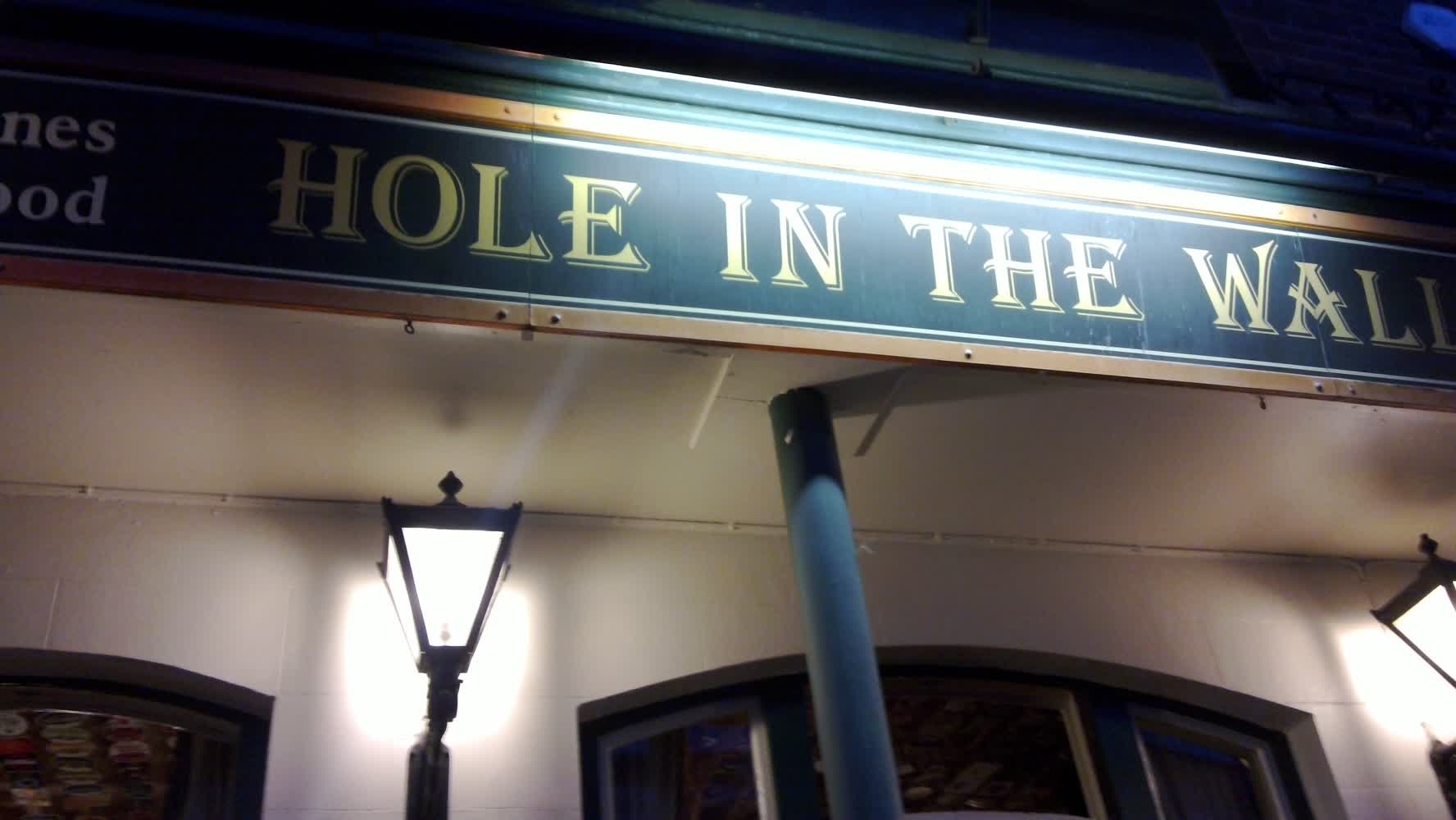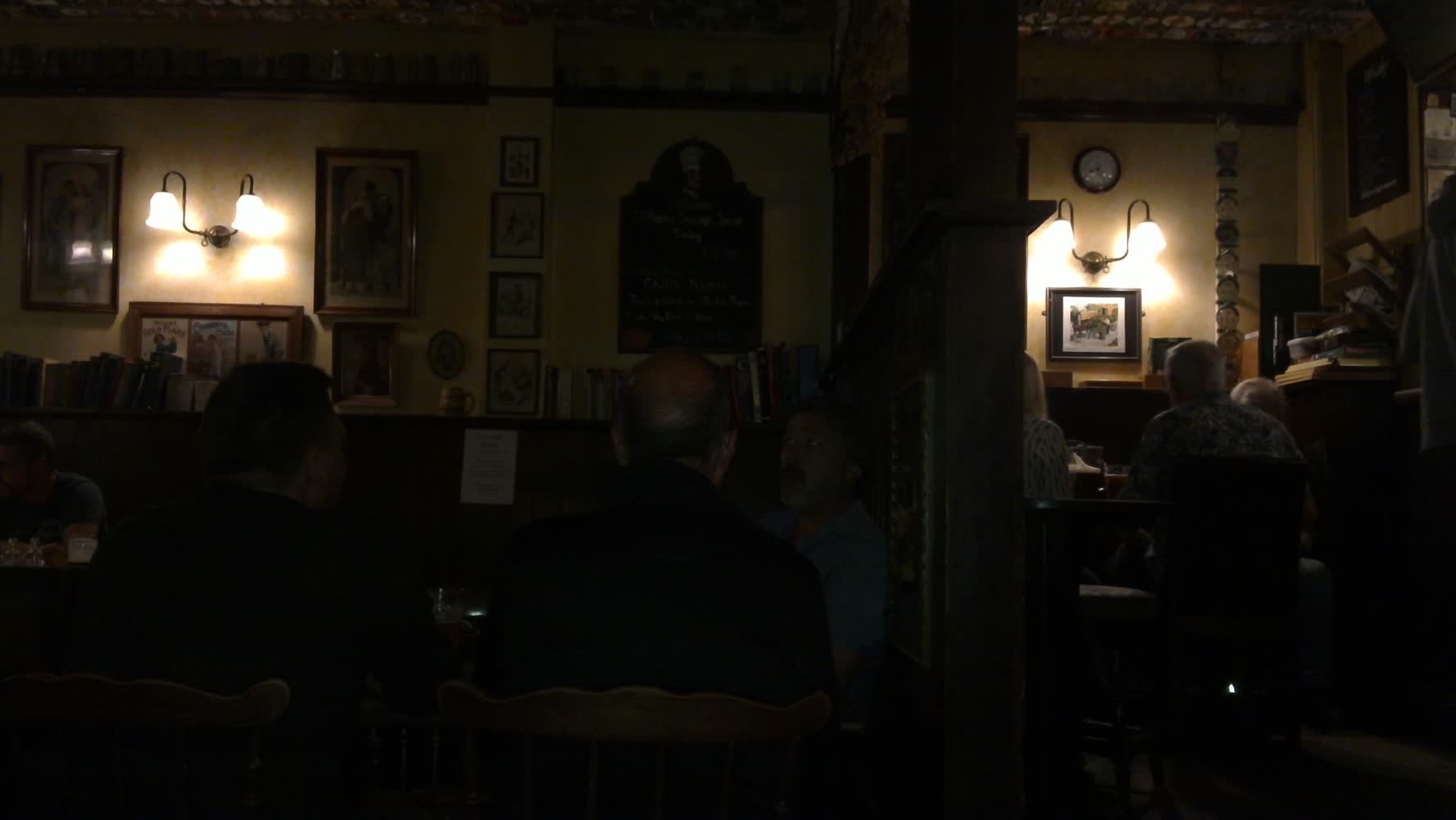 In the darkness, we managed to walk right past the unimposing sign for the next pub we planned to hit, so we popped our heads into the Irish bar
Shenanigans
along the same street. We were able to find a new-to-us beer here, accompanied by a bit of live music. Its name notwithstanding, this place was lively but not raucous.

The Wave Maiden
36 Osborne Road
We'd been promised gravity stillage, but the cask beer was off. What remained was keg and rather hipster-oriented, though the pub itself wasn't negative. Similar in feel to the XT bar in Oxford. Time was against us, so we didn't stay long.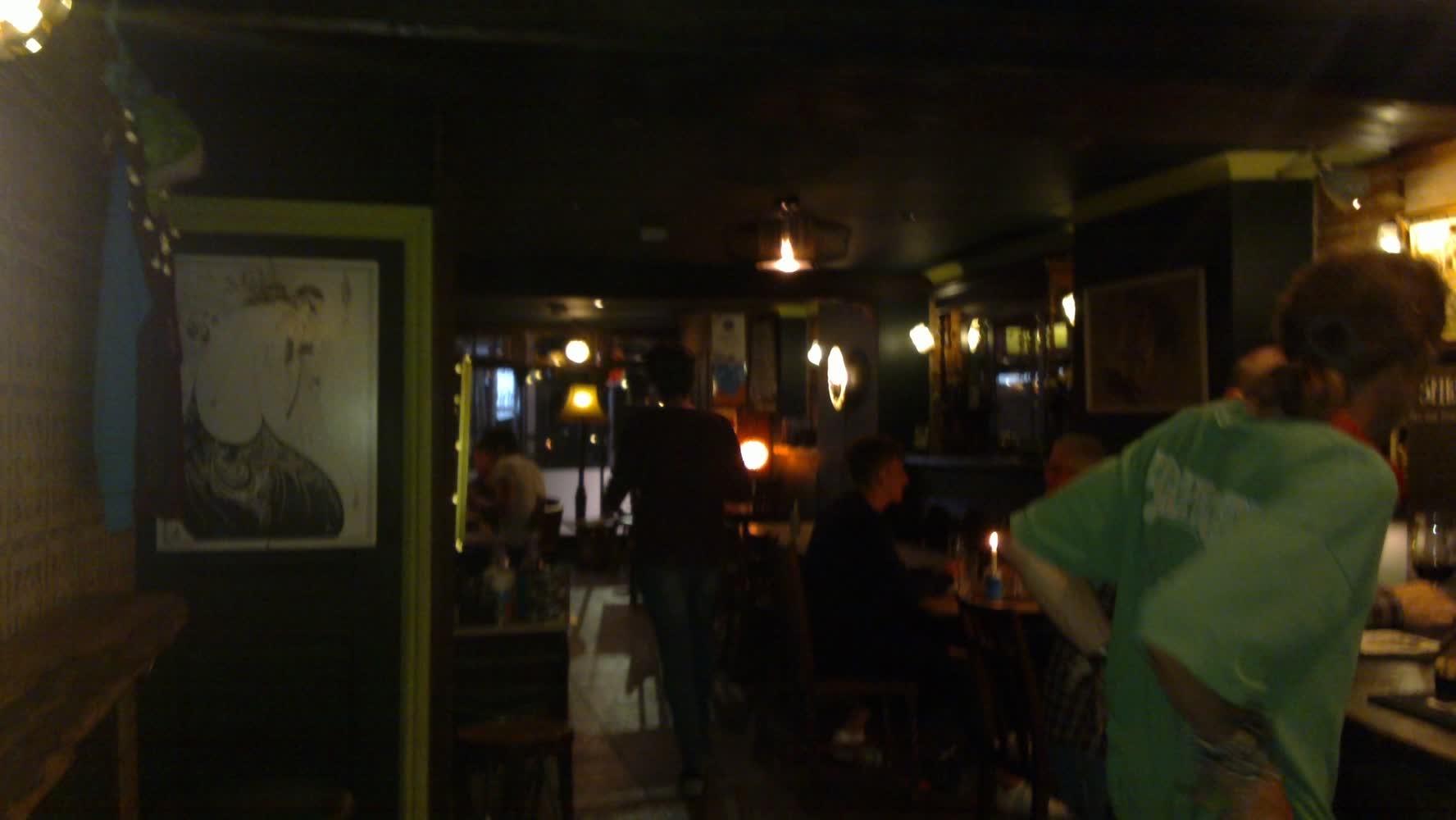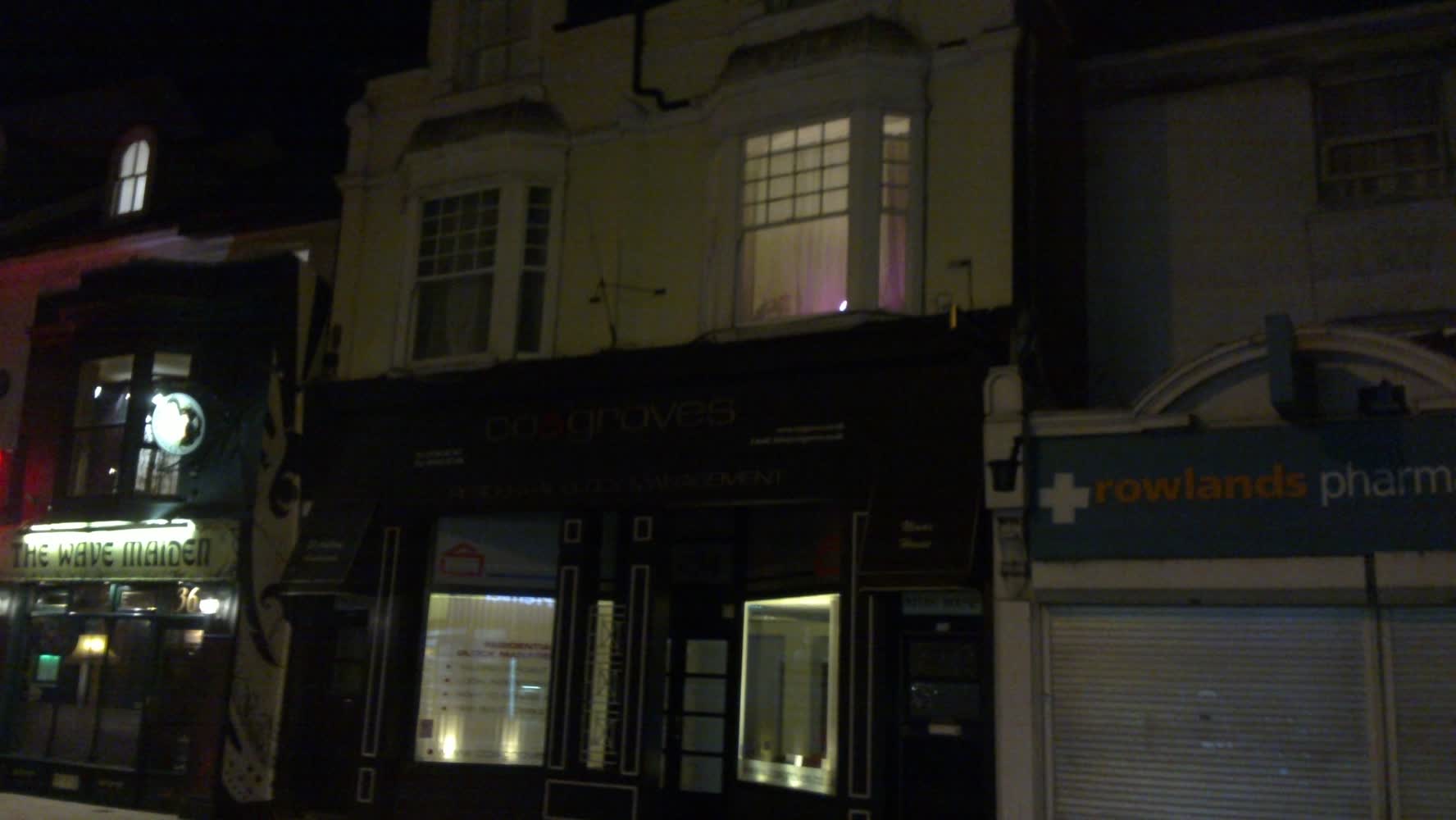 Lord Palmerston (JD Wetherspoons)
84-90 Palmerston Road
The next pub was just around the corner. Chandeliers, a slapper-free batch of customers, and carpets etc. exuding that Wetherspoons feel. Alas, we experienced sour beer here.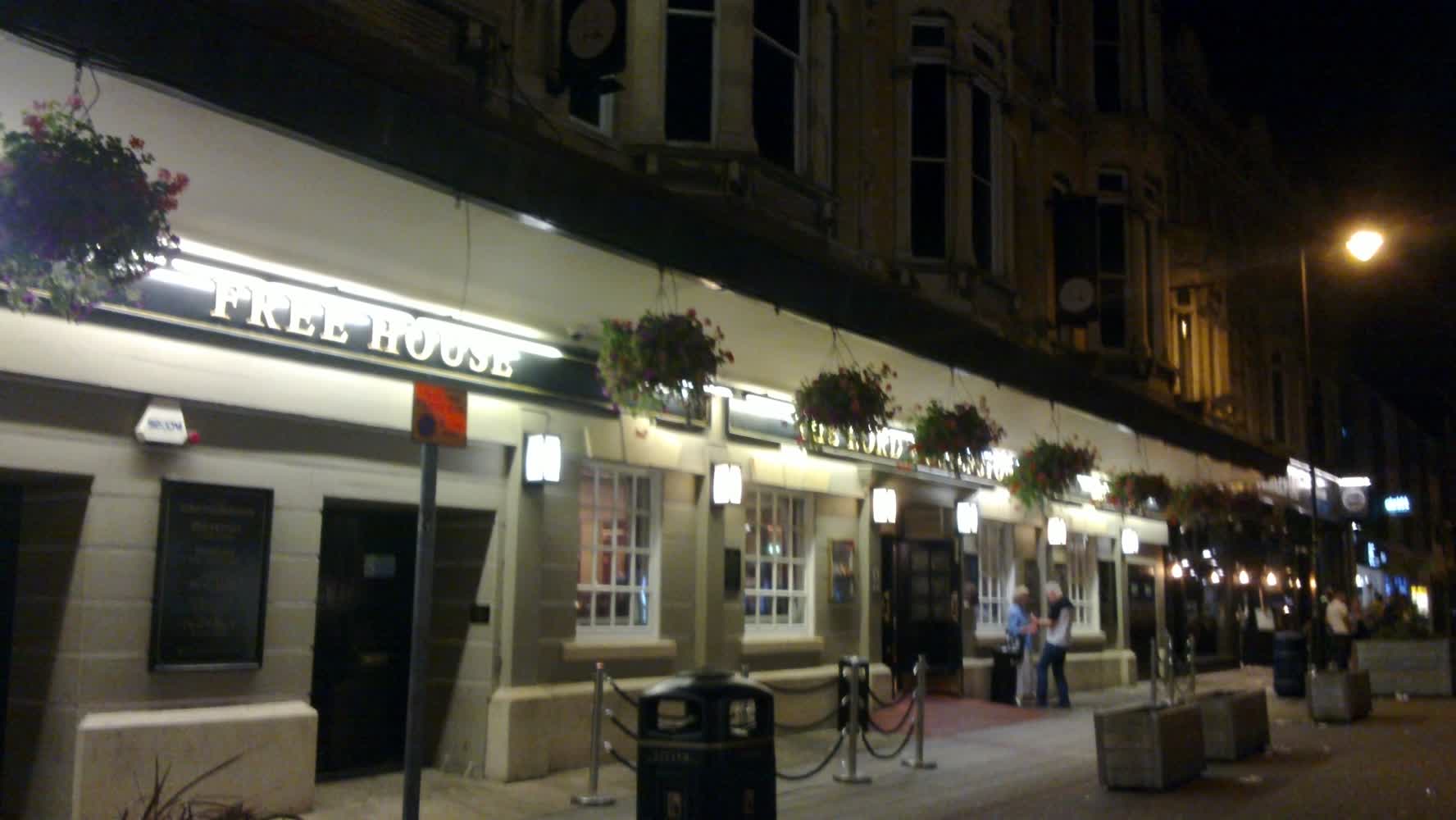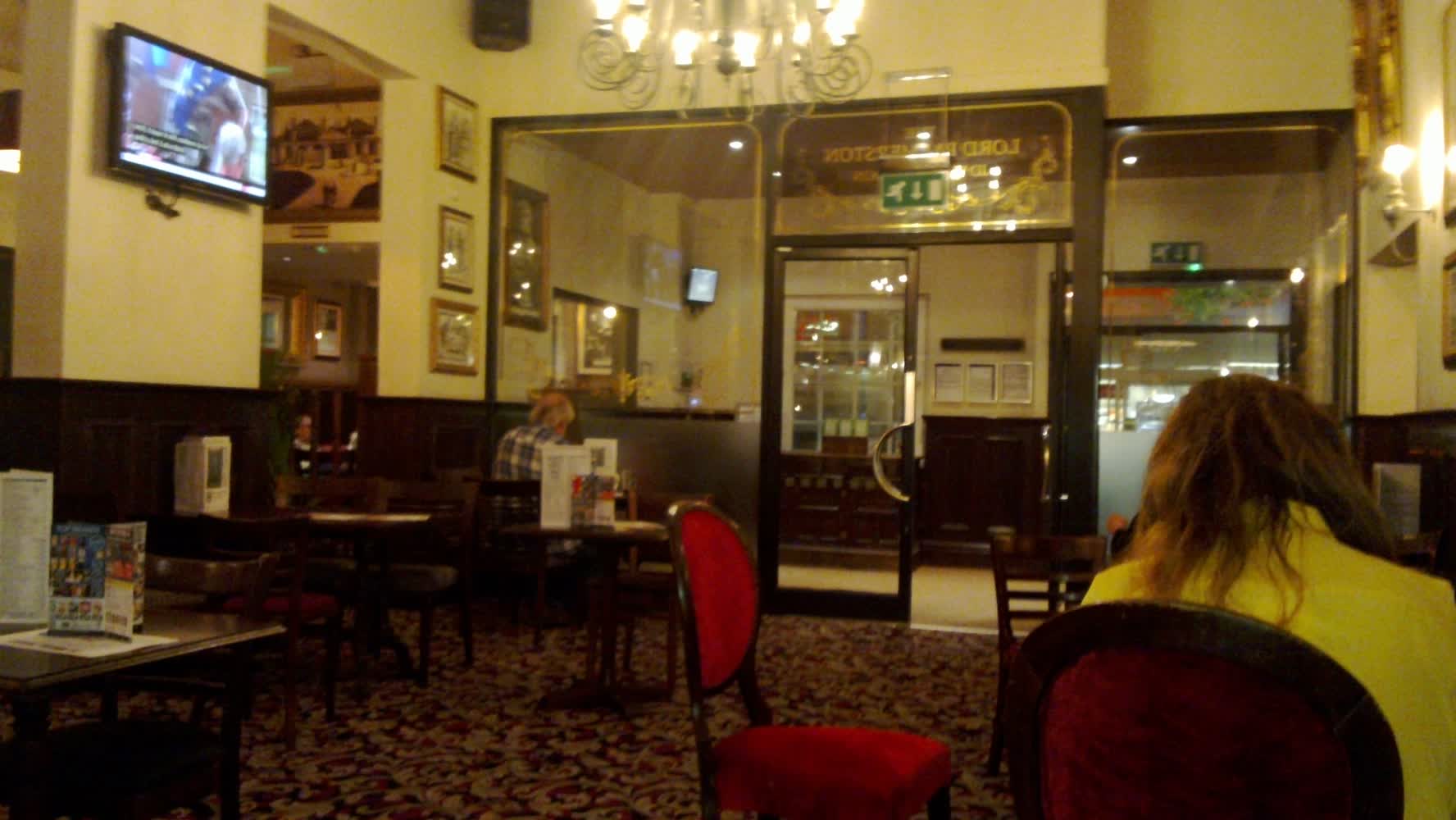 The Southsea Village
81 Palmerston Road
Just next door in the parade of buildings was this crafty space, which had almost a café feel in some respects. The main things on tap were some items left over from a Wild Beer tap takeover, which left us cold. It is said that local beverages are represented more in their usual range.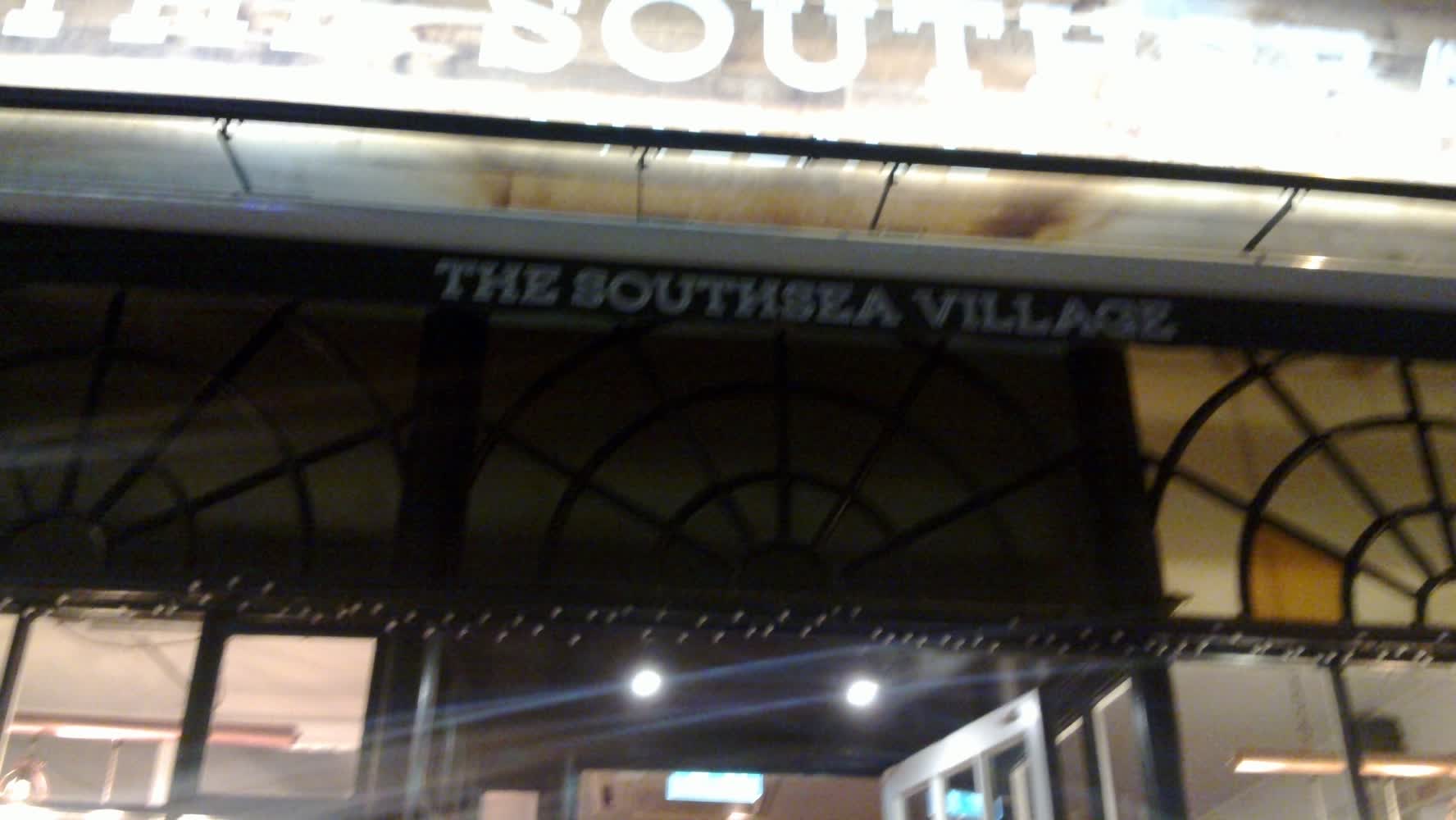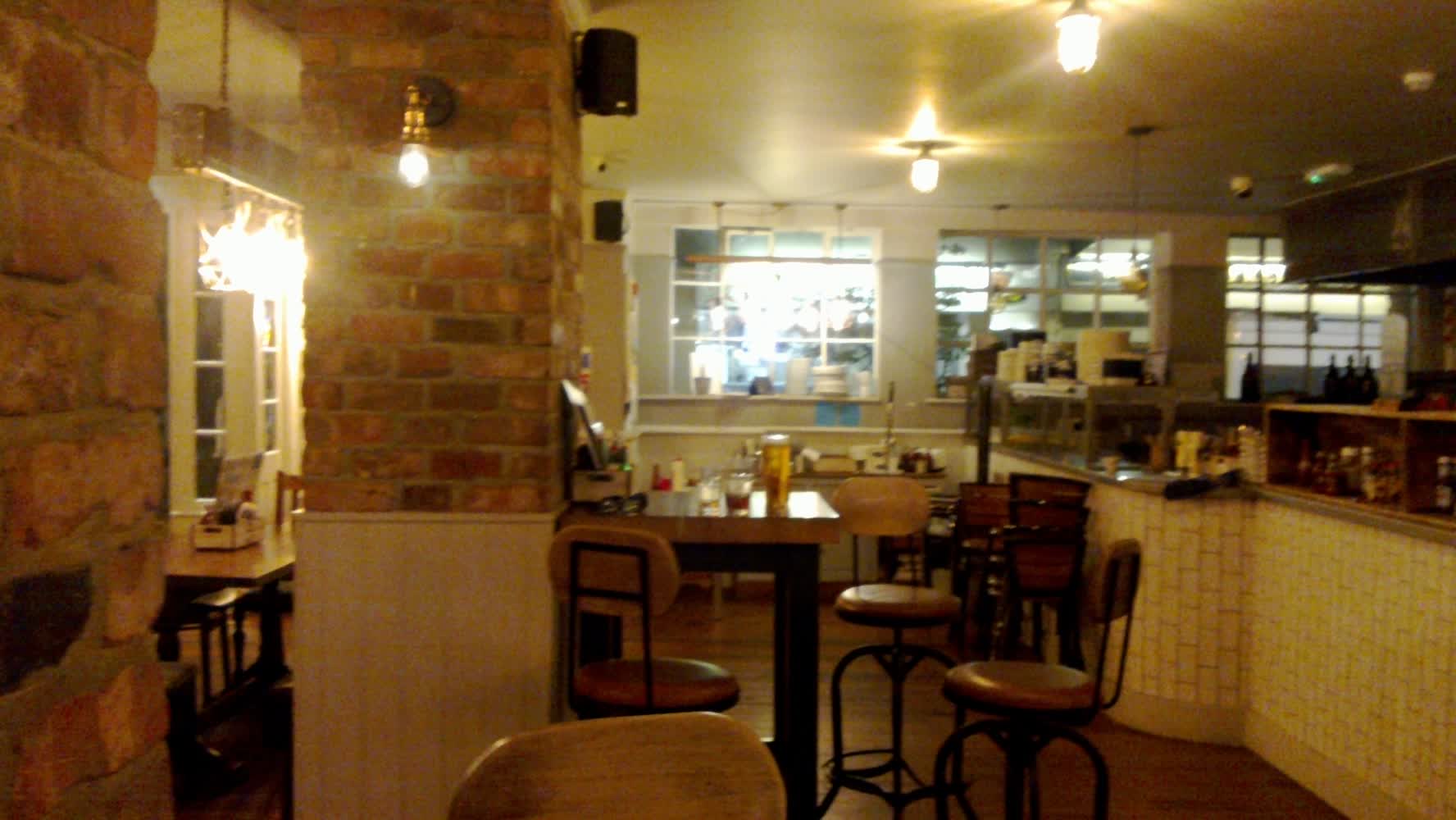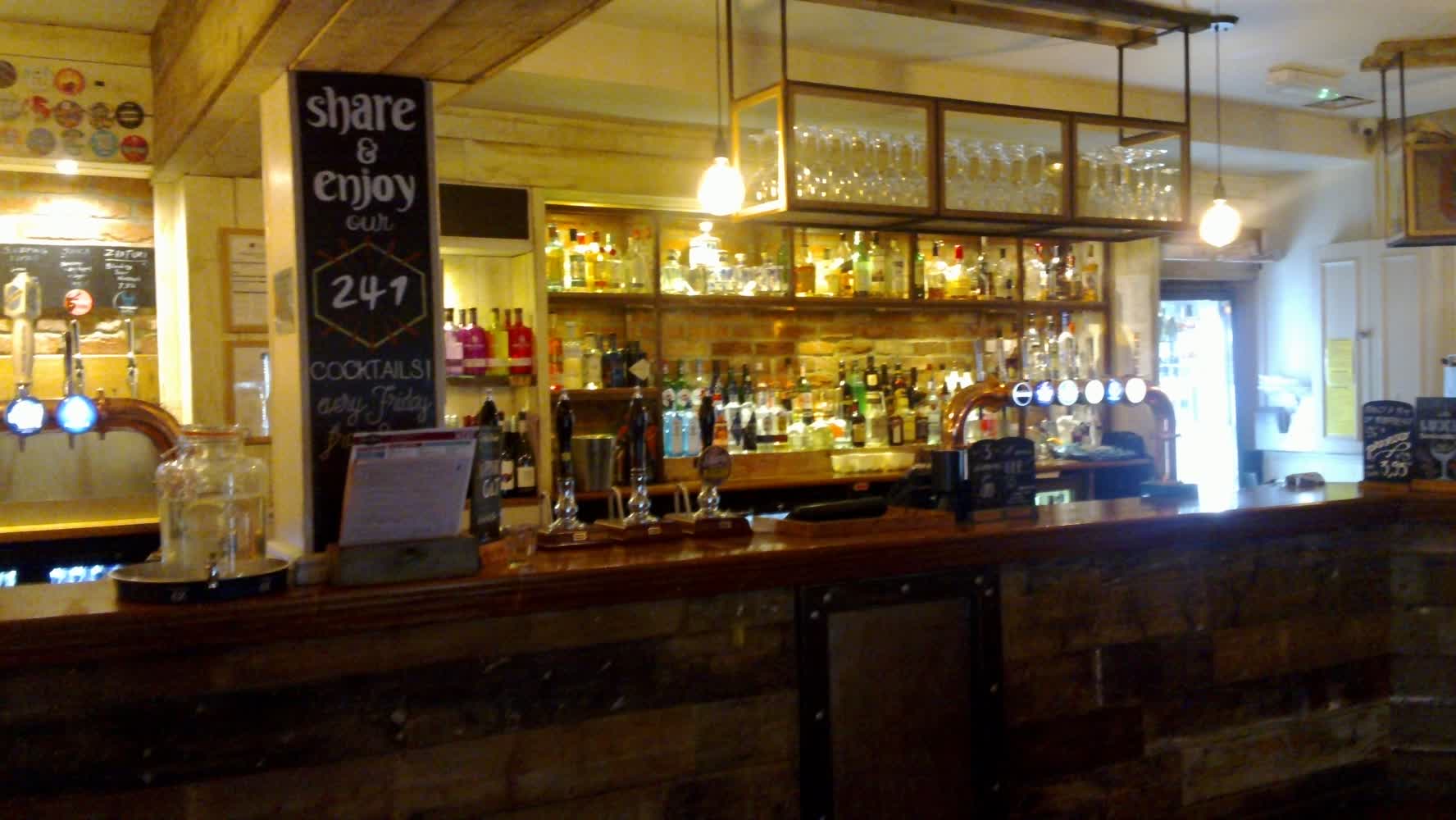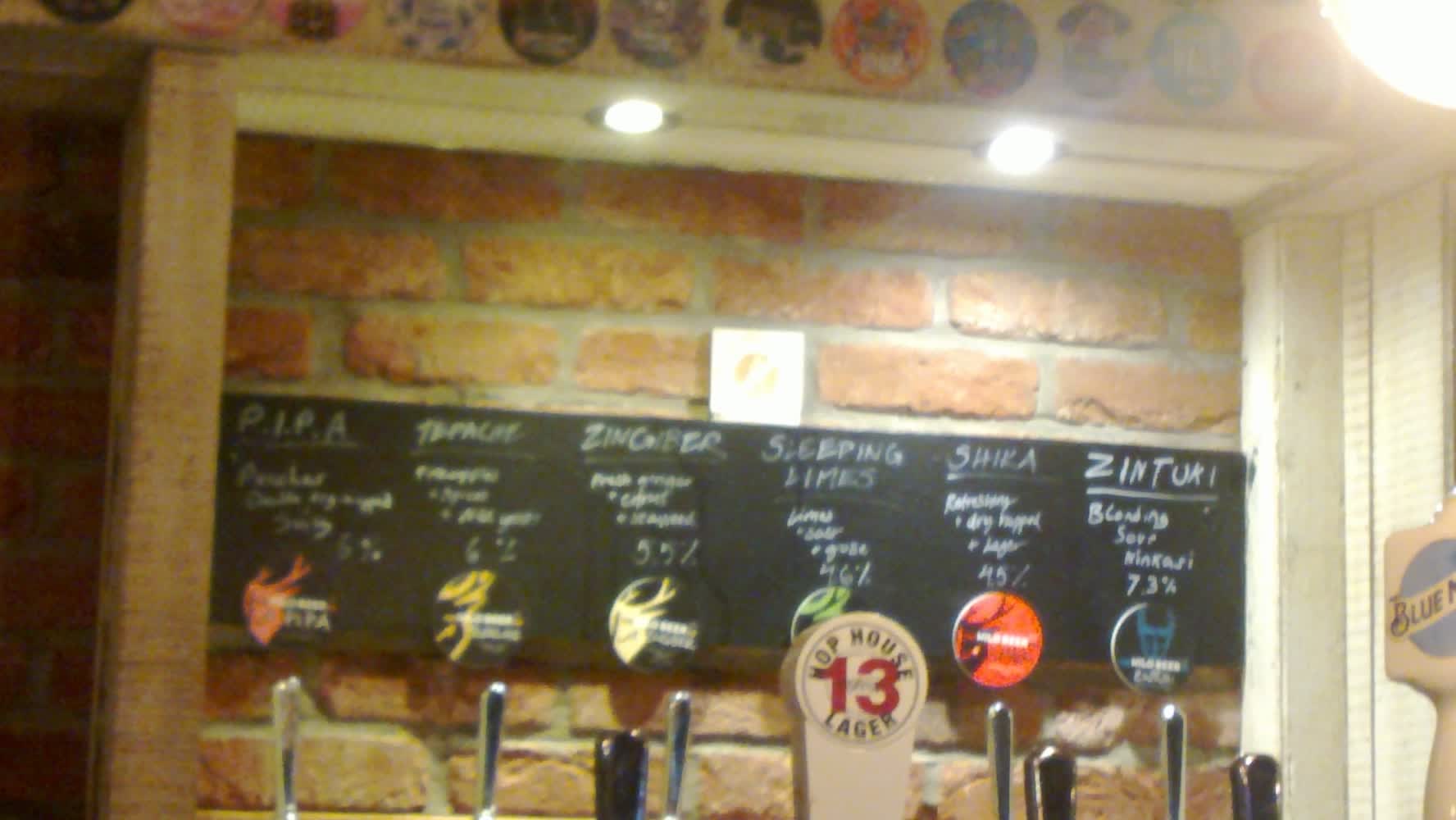 There is always the one that got away. We were unable to visit the outlying Lawrence Arms, at 63 Lawrence Road, though it was last year's CAMRA pub of the year.


FRI.
• Checking out by 1100 gave us just enough time to grab a start to the day in Portsmouth - the Guildhall area is conveniently near the railway - and then share a 'splash and dash' in London with Mark en route to the family rendezvous in Denham. Our adventure was bringing back some fond memories of transport in Britain.
The Dockyard
Guildhall Walk
The B&K wasn't open this early, but their staff suggested eating at the Dockyard. This proved to be a good suggestion, with good value for money on both food and drinks. This was a restaurant type of space, though there were plenty of swan necks and craft cans. Light wood and pleasant staff. But we have to give them 1 out of 10: the 'darling' term of endearment was not used once!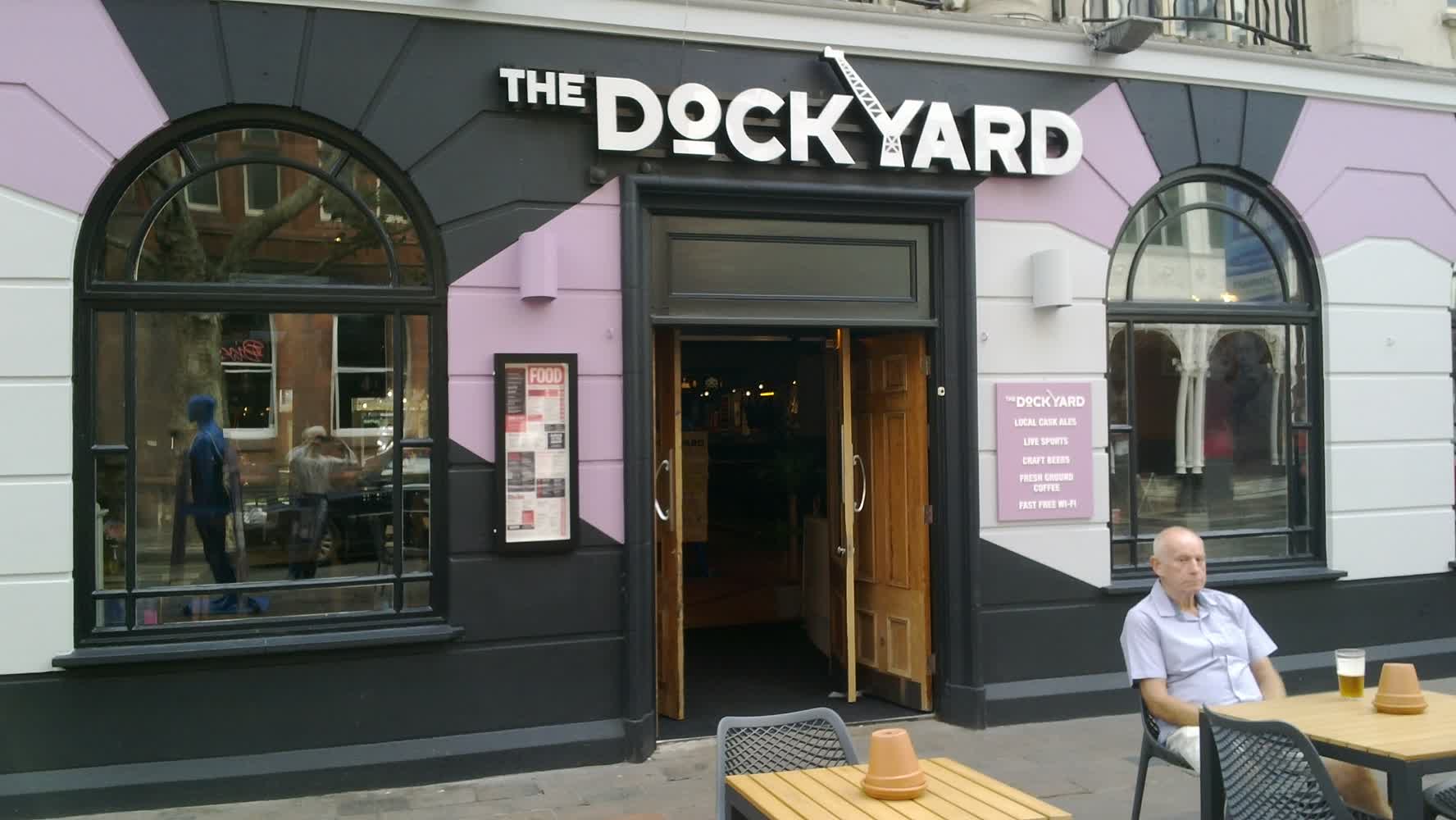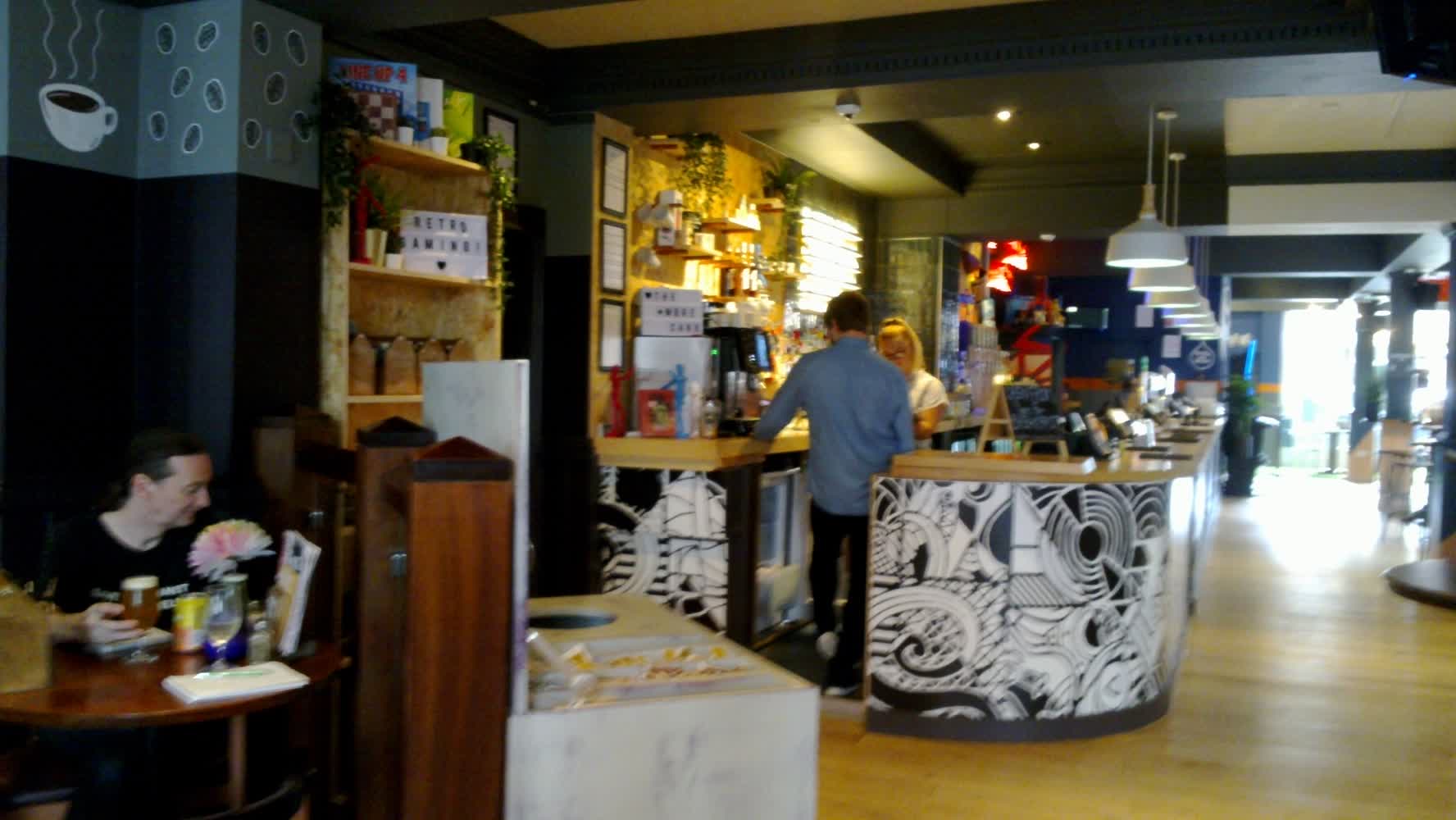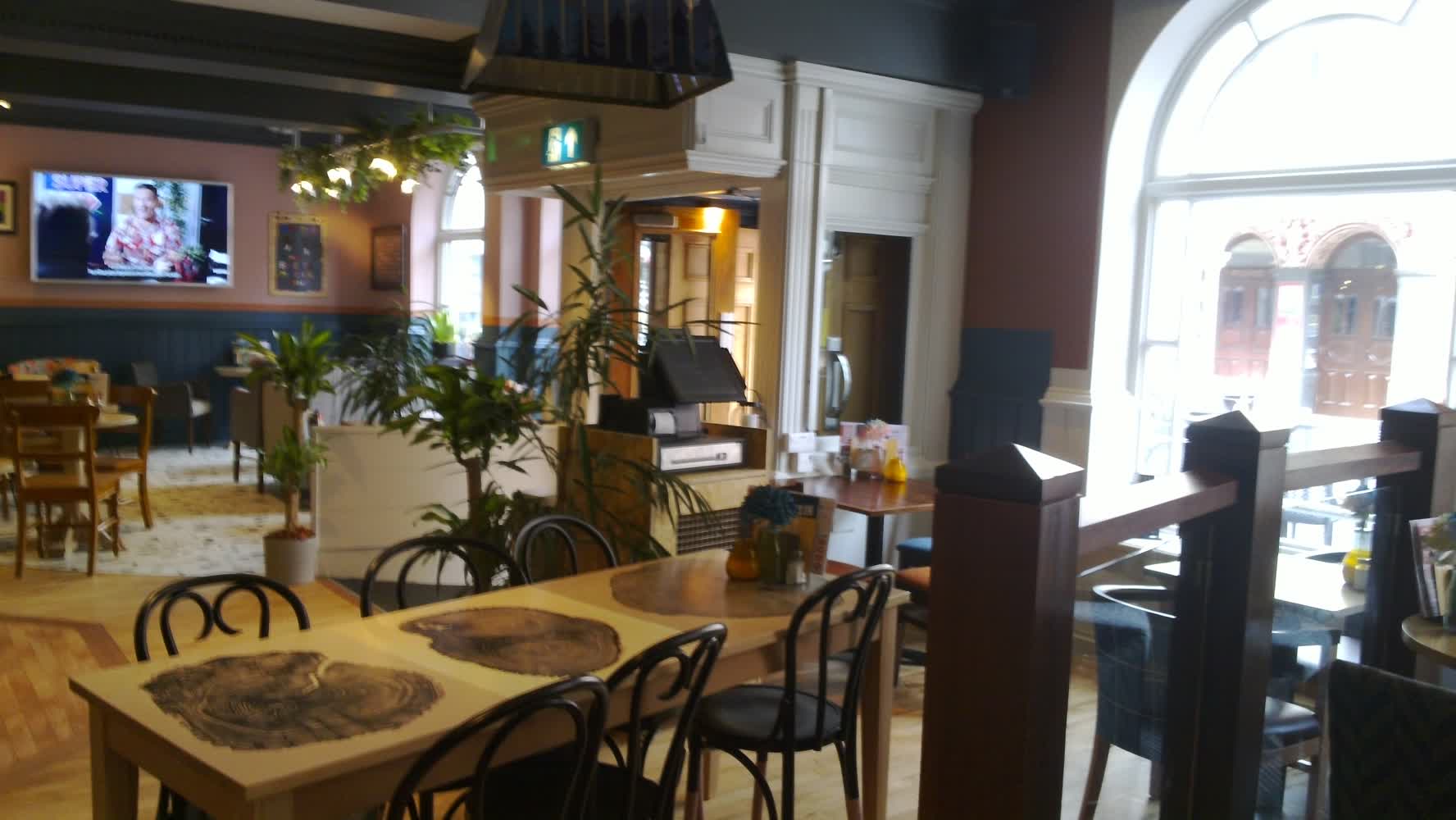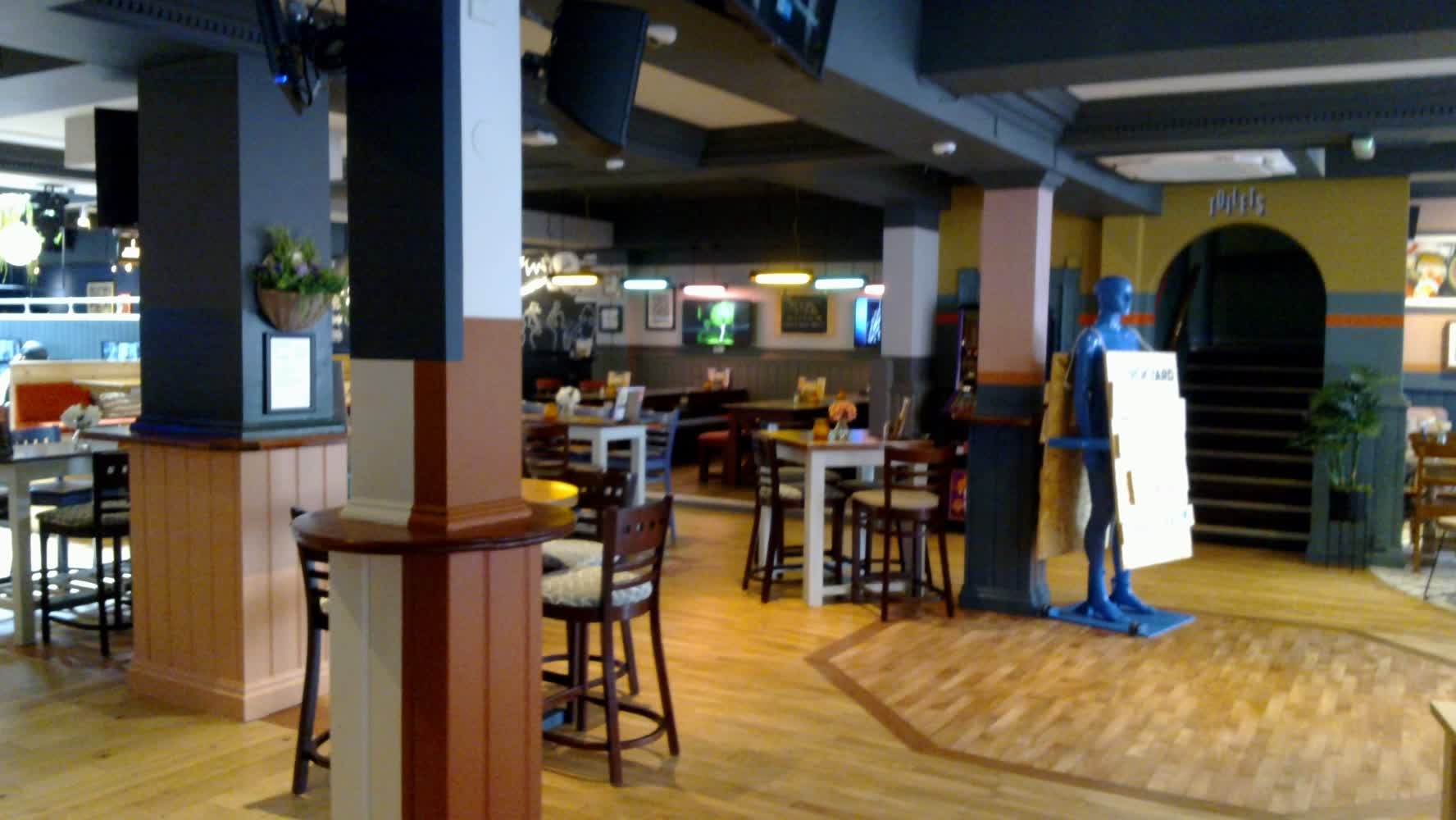 Guildhall Village
Same, a few steps away
Mellow and refreshing morning music greeted us at this light and open parquet-floored pub, recommended by the Dockyard staff. Perhaps a bit cold inside and a bit snoozy, but it was early.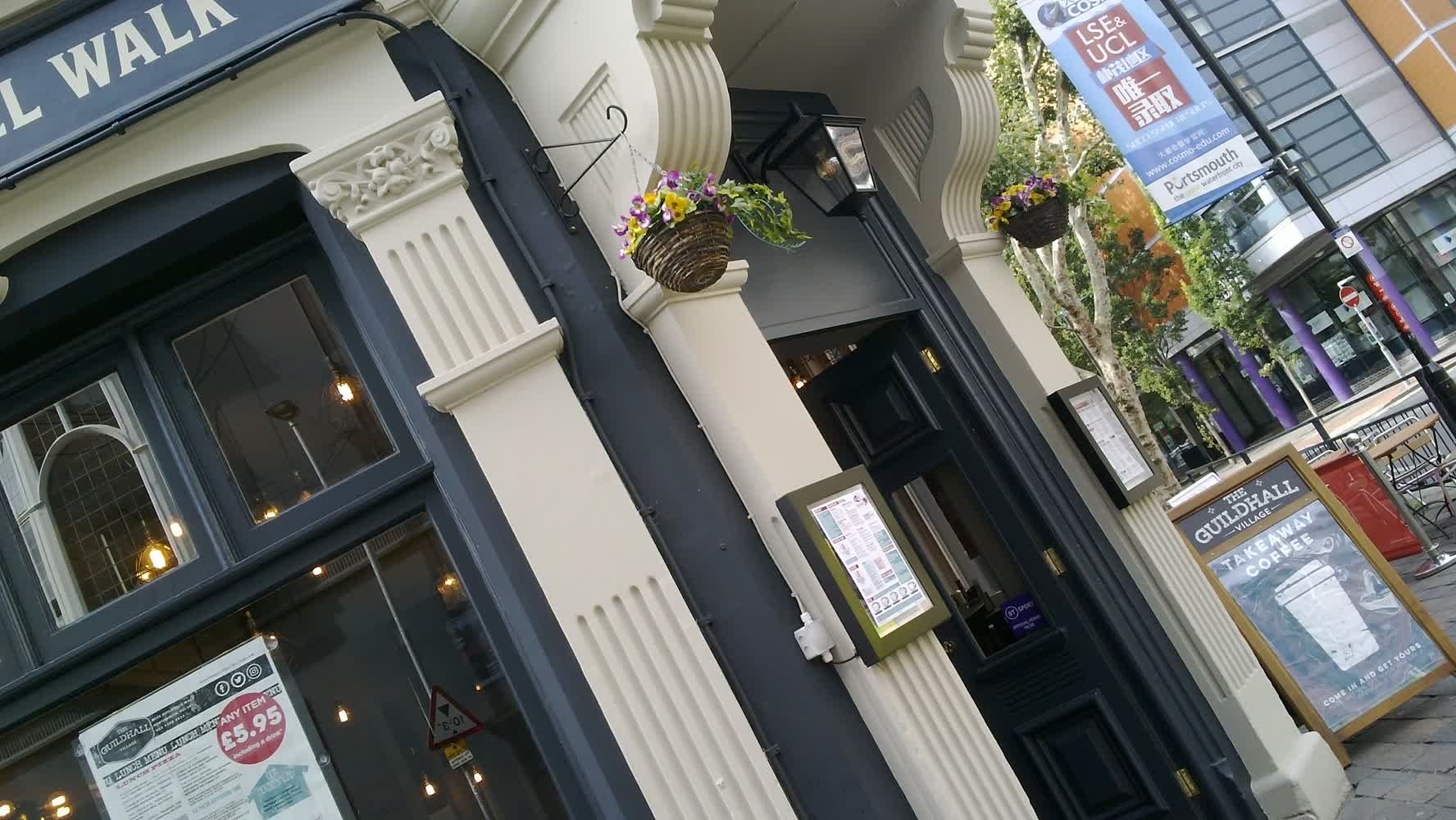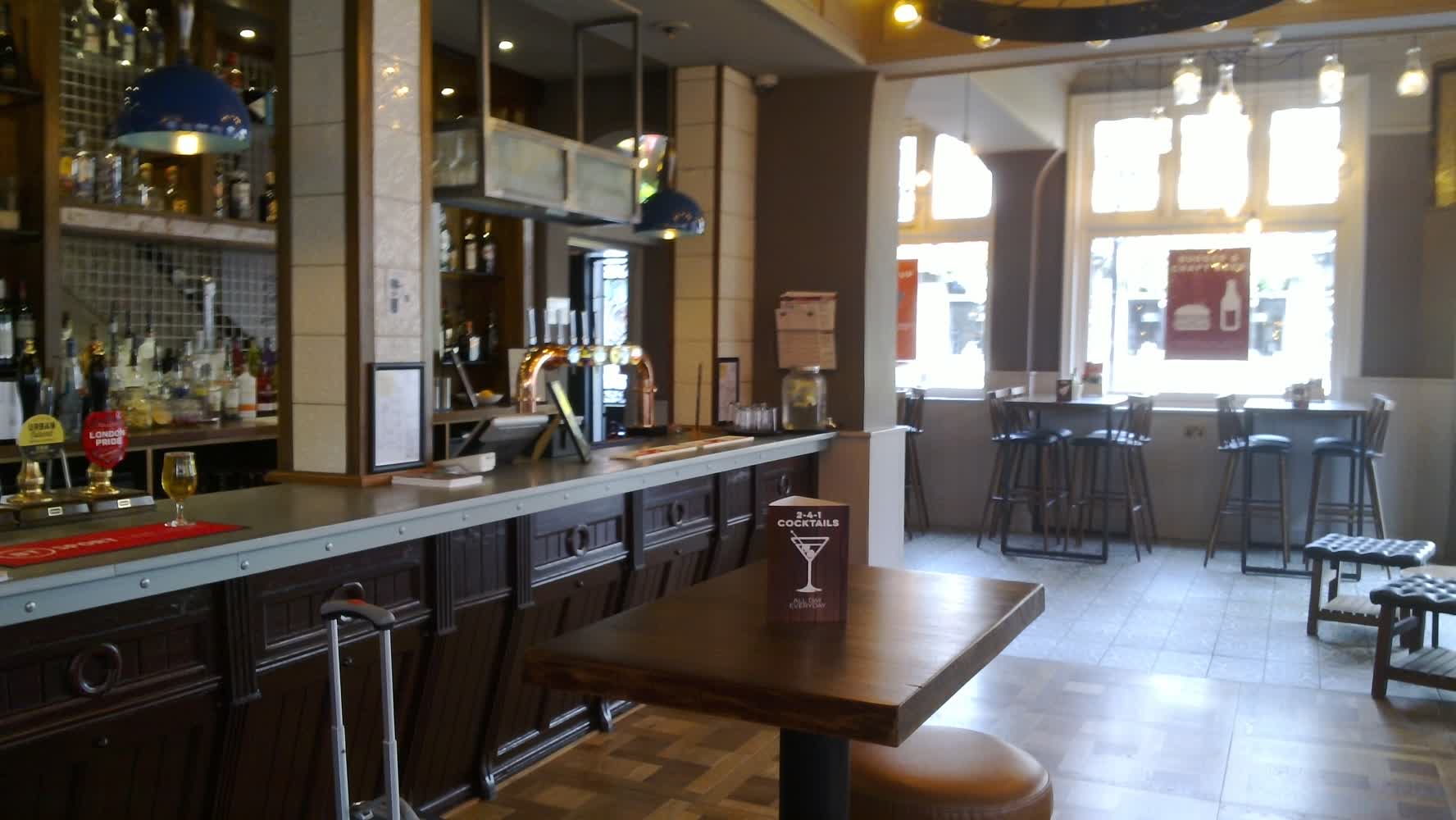 -- Through London:
Waterloo Tap
Sutton Walk, near Waterloo station
In a railway arch was a light and open space with wood and glass. Also here were several beers and traditional trouble-maker Mark.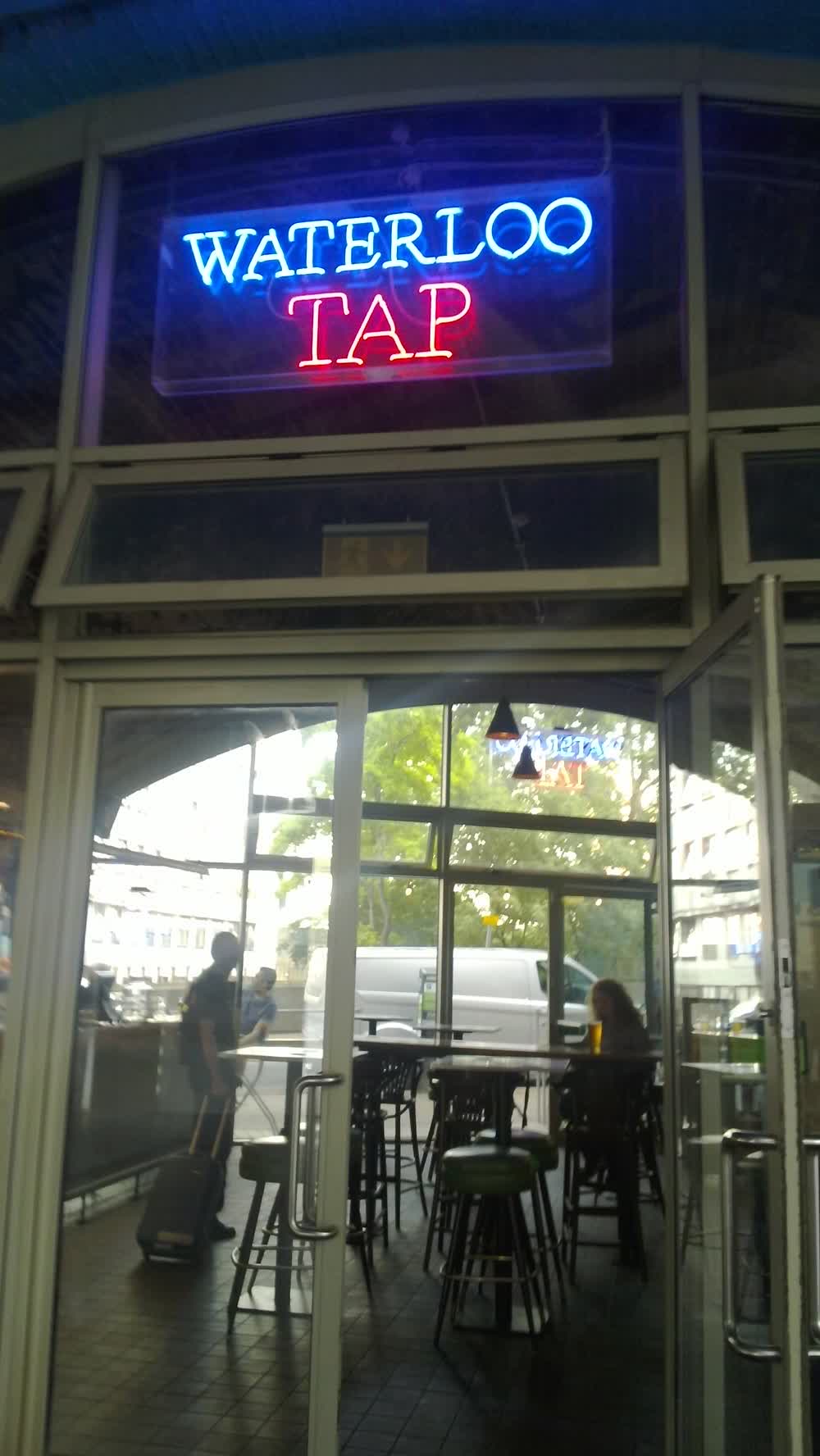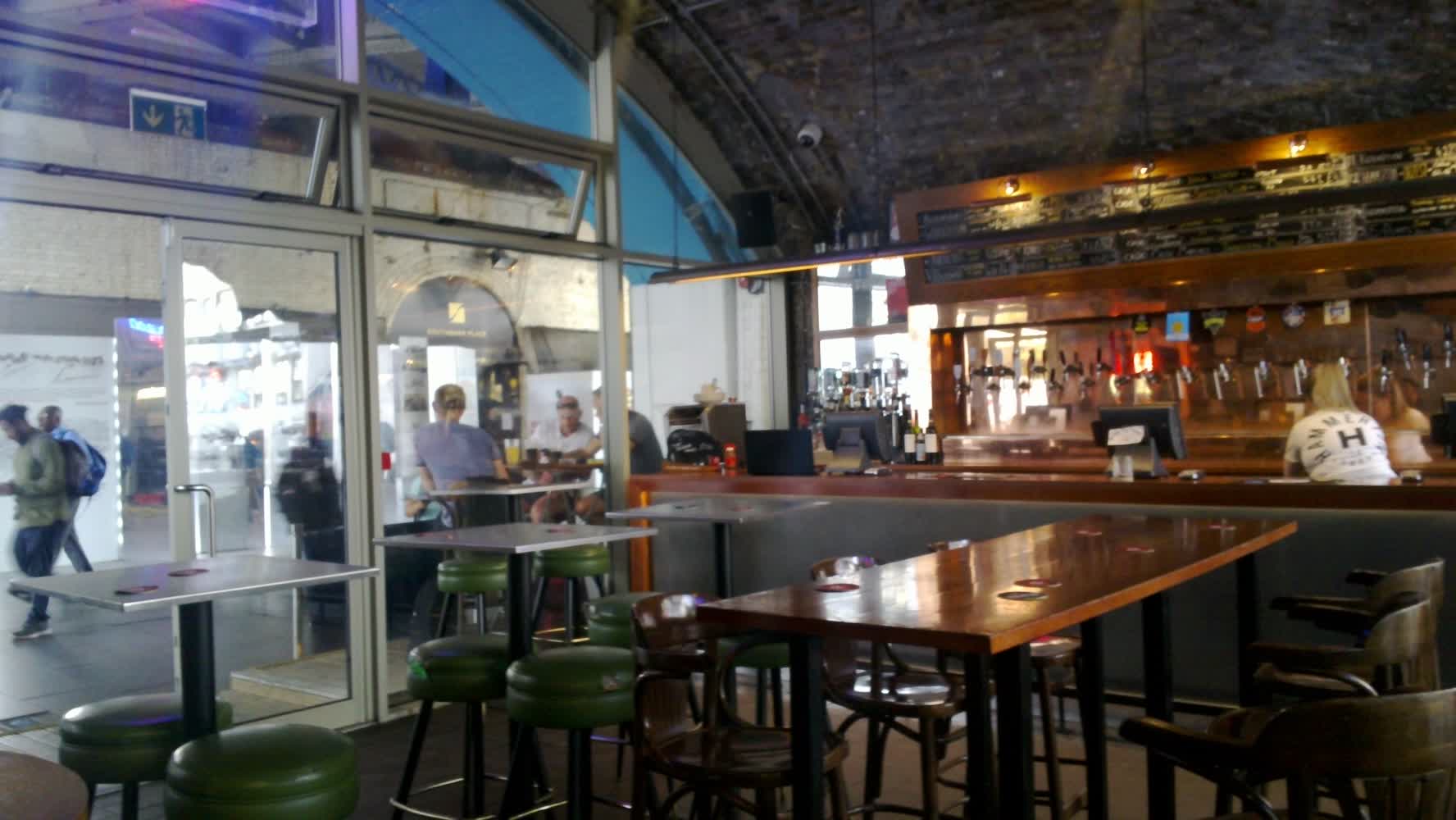 After this, we visited the Harp and then were off to...

The Jackalope
The Waterloo Tap's sister pub in Marylebone
Once one has swum through a street teeming with hoomans to get in the door, one is greeted with four real ales, about 16 keg beers, and several rooms. 3.10 a pint. We sat in a wood-lined back room, but the zombies outside eventually invaded nonetheless, so it was time to move on.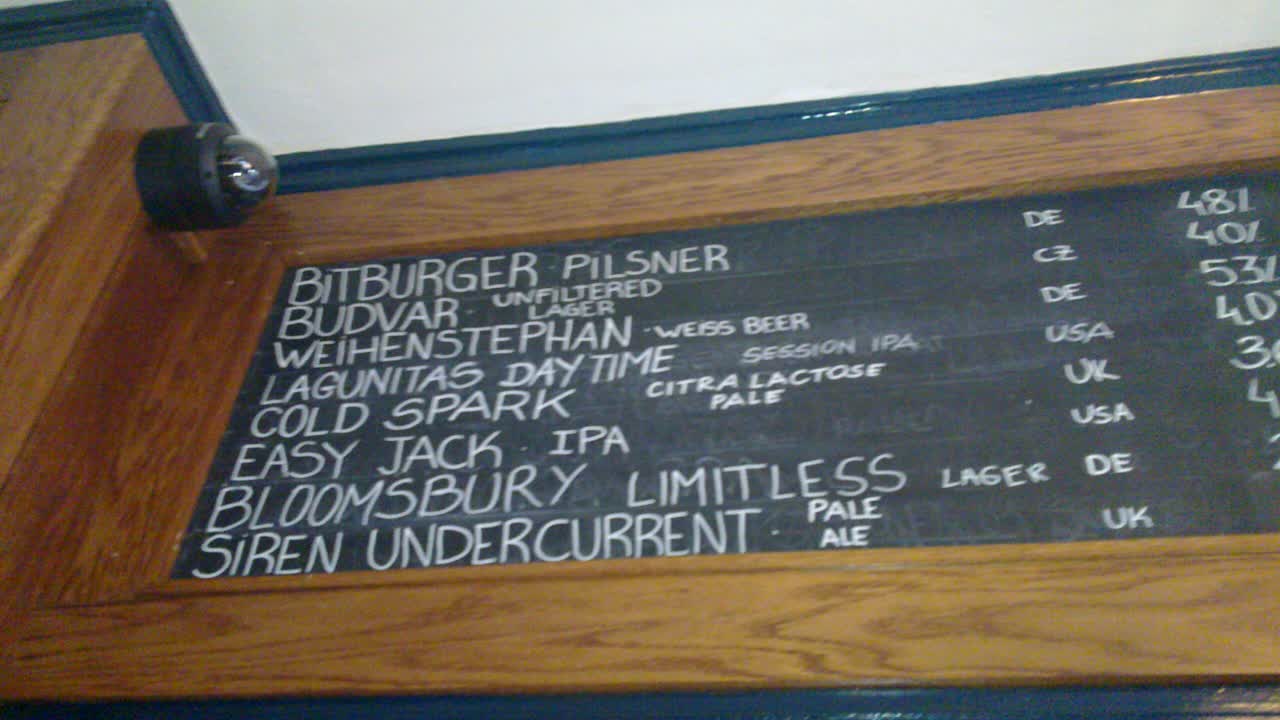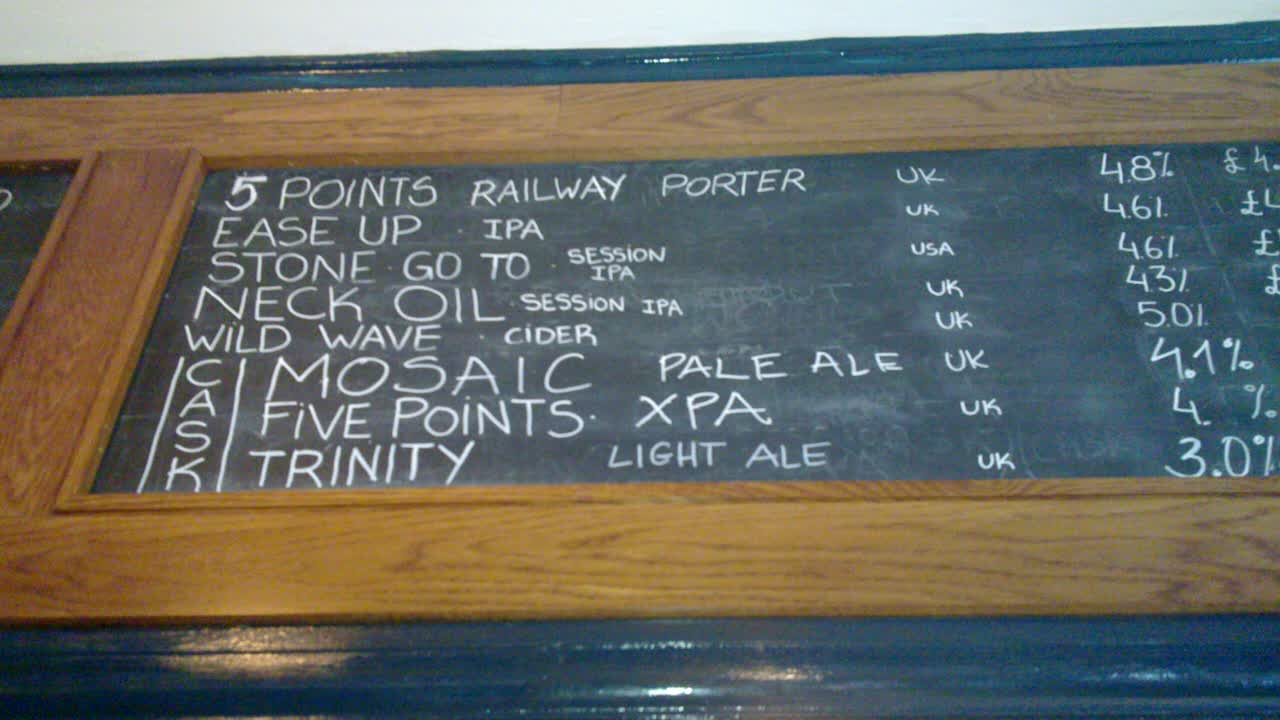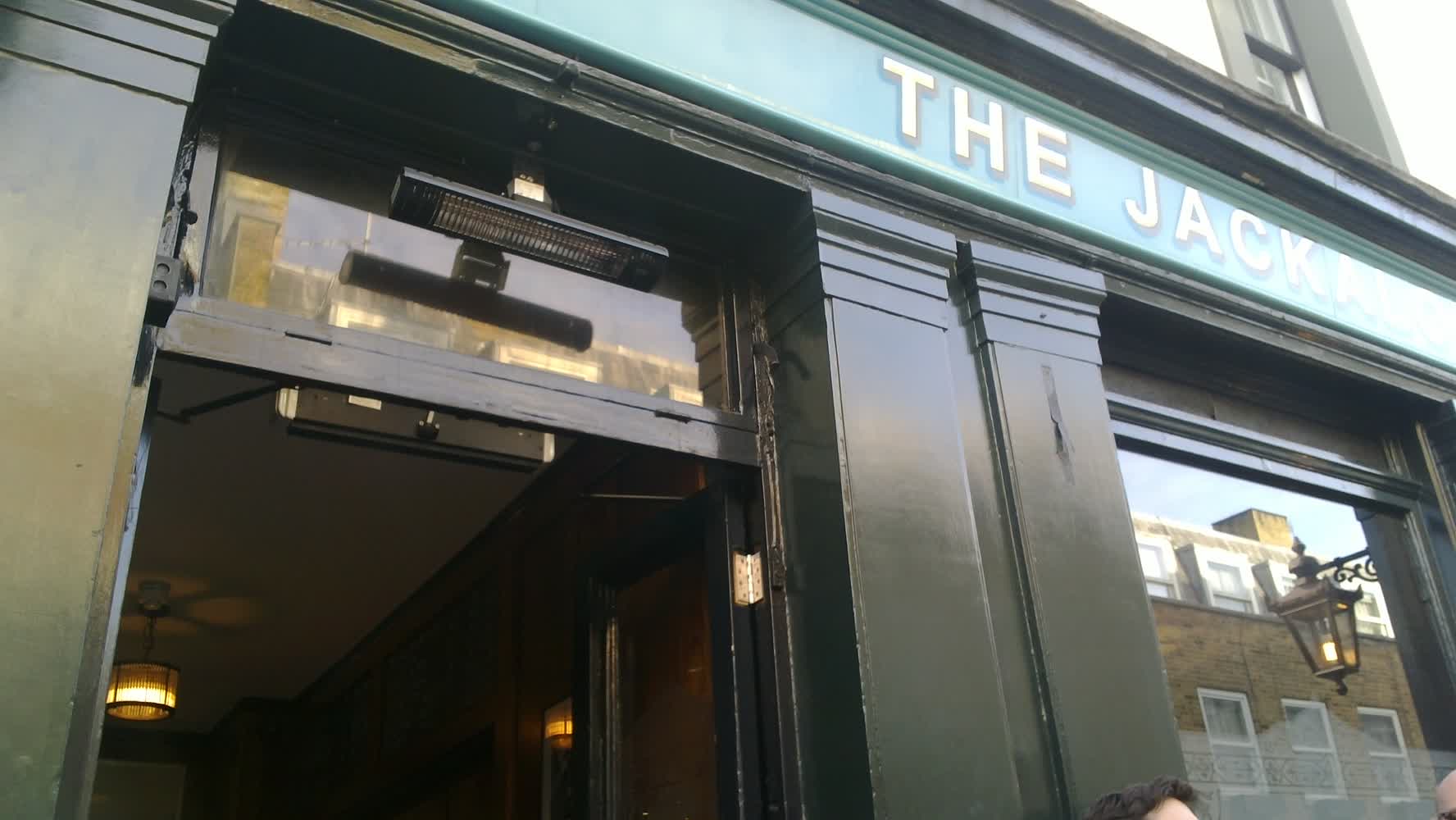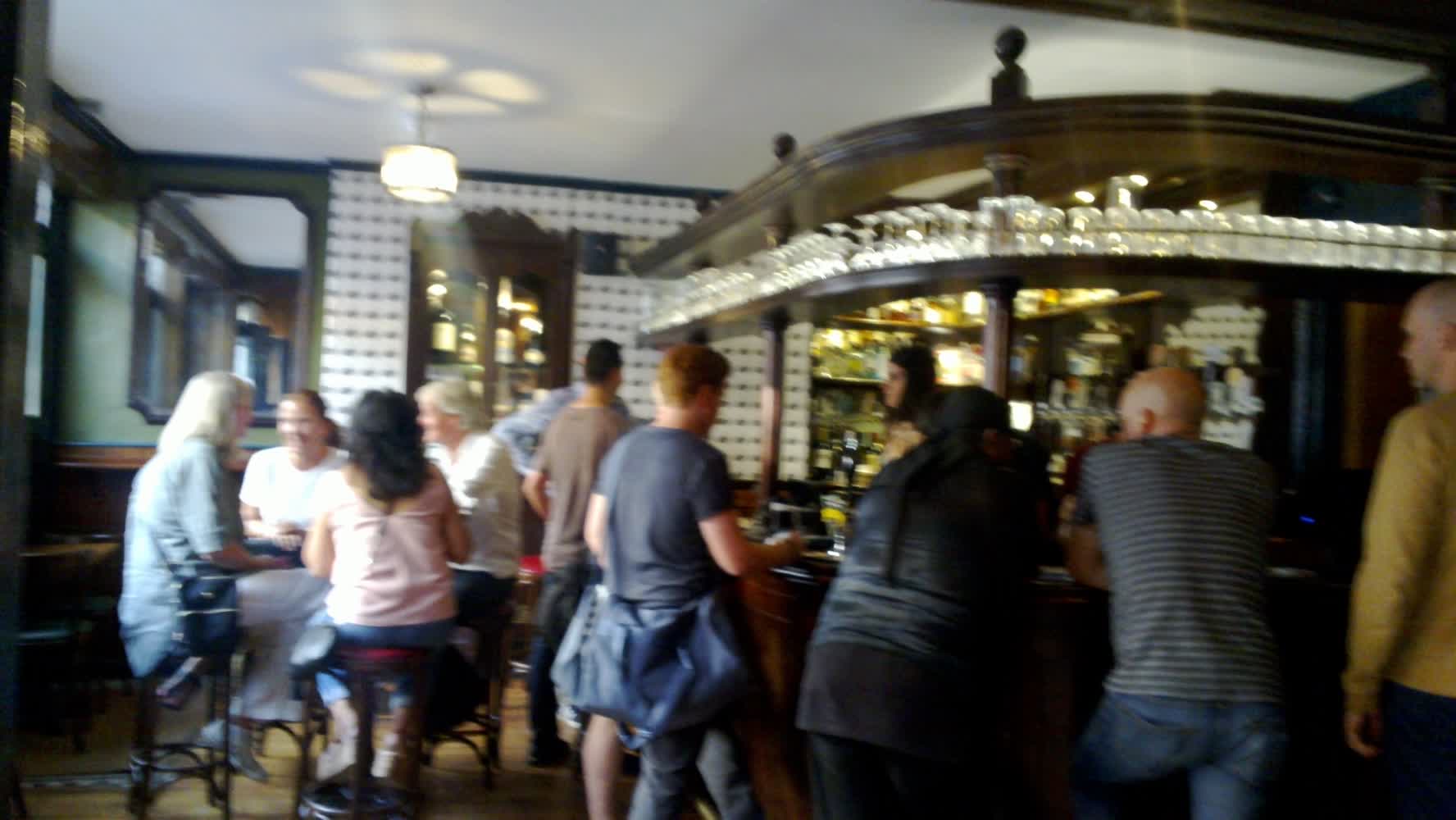 Victoria & Albert (at Marylebone Station)
A quick stop at a station bar exposed us to the spread of Doom Bar disease, but there was a tick for us here, albeit a Strongbow thing. Chandeliers, station bar feel, and a non-functional coffee machine.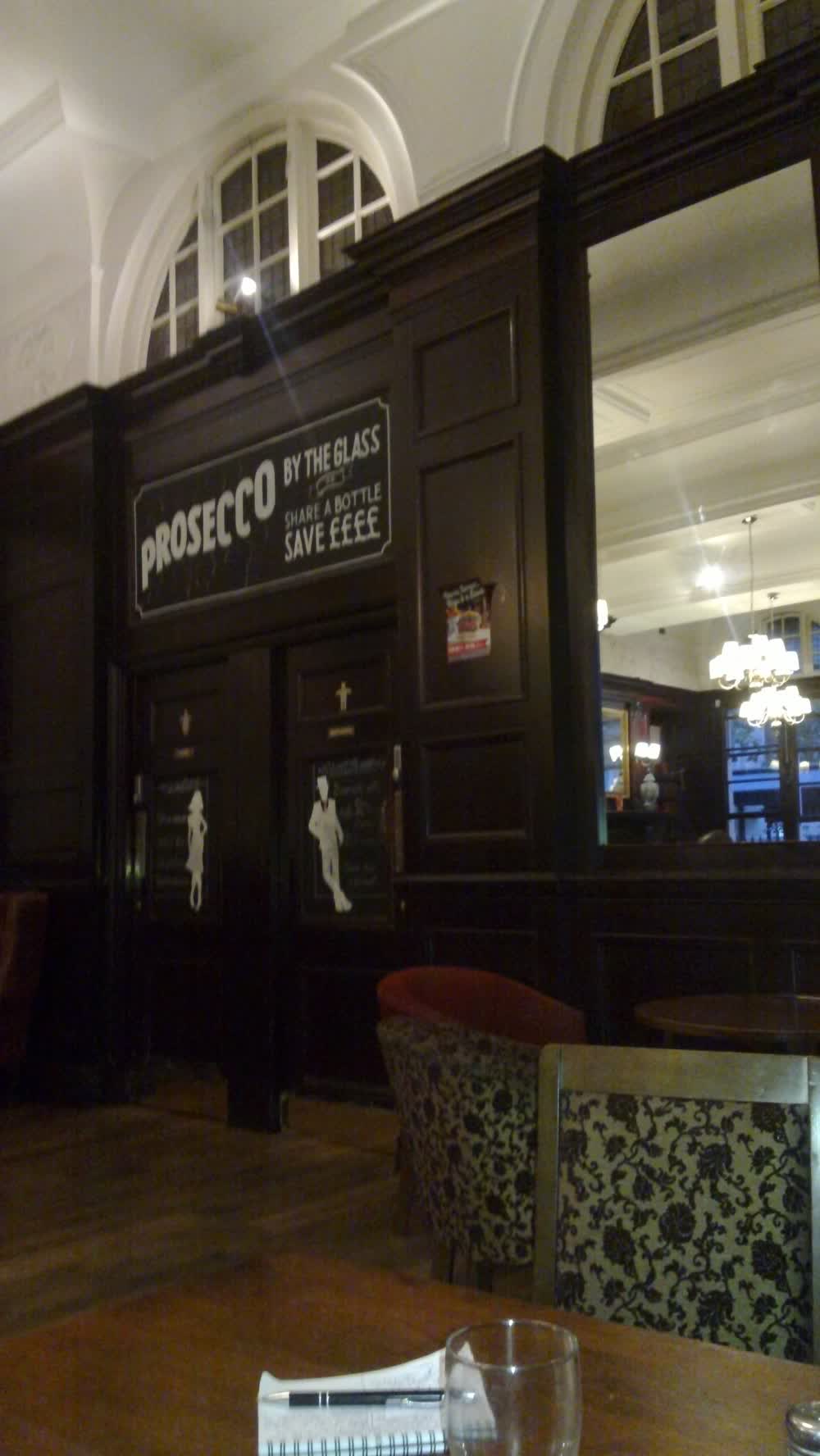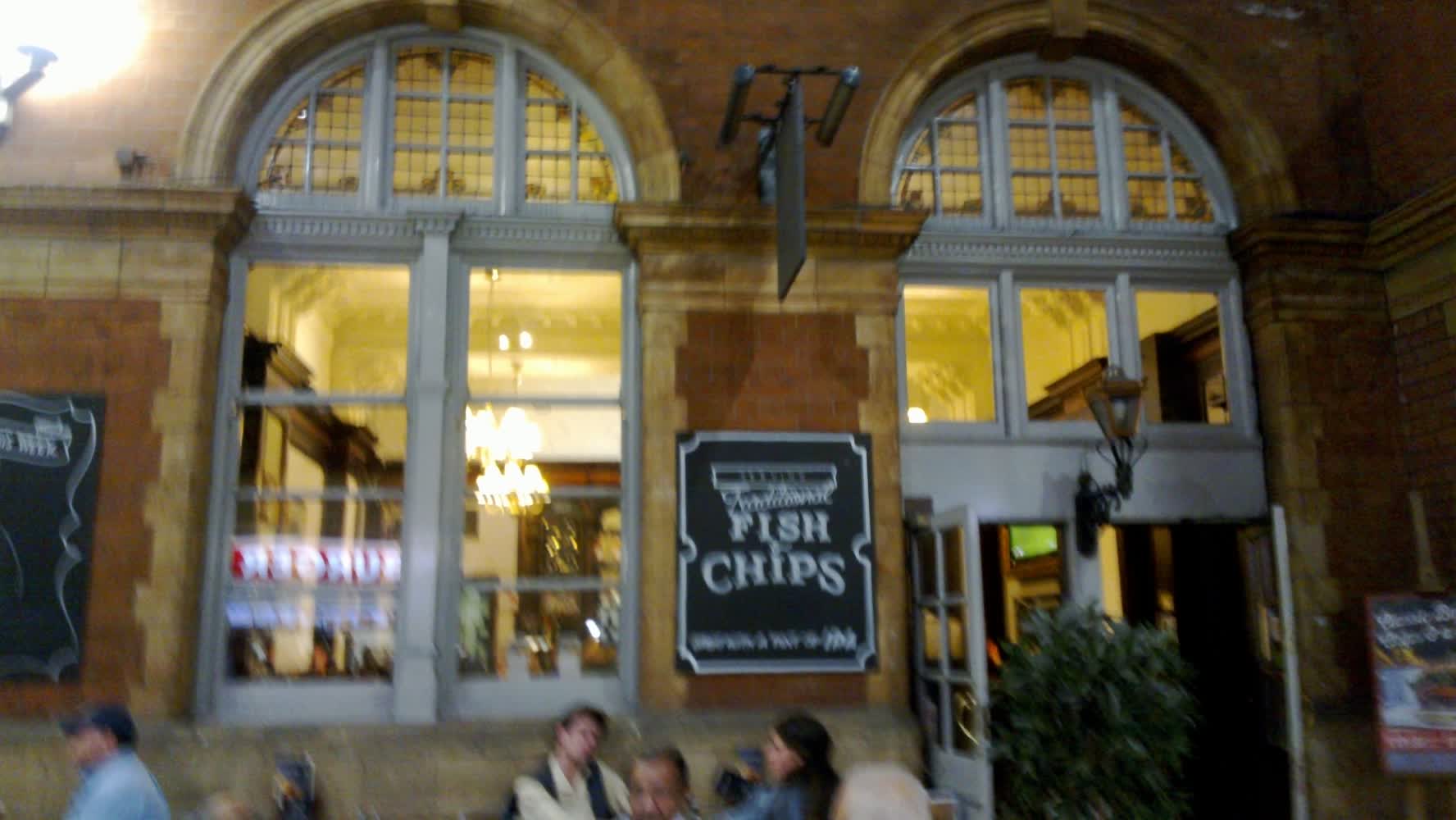 SAT.

-- Denham:
• While we expected this to be a 'day off' from new beers, the Denham village hall / community centre proved to have a new real ale for us. And, of course, we had to round off the evening by dealing with some bottles that were too inconveniently large for the luggage.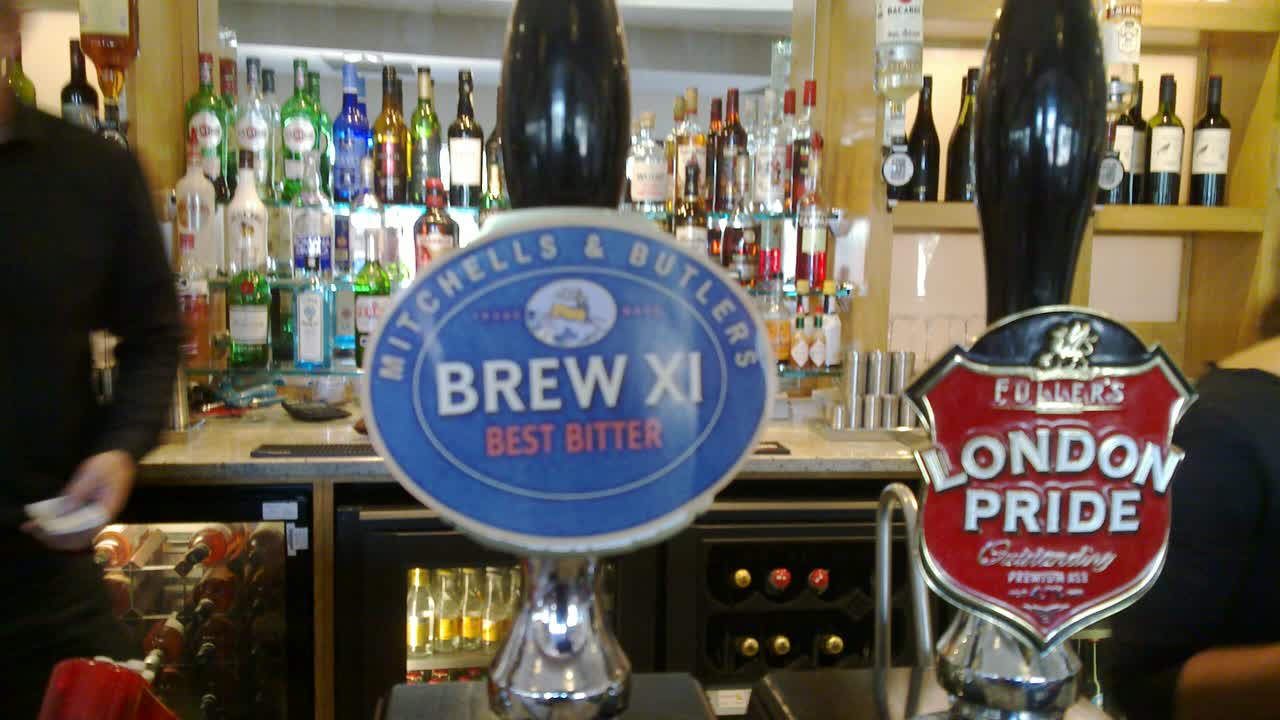 SUN.

-- On the way to Shrewsbury:
Traveller's Tavern (near Victoria coach station)
We stopped at a high-throughput GK pub with tellies showing sport and so on. A nice building that held somewhat less nice 'ciders' if memory serves.

Digbeth Works (near Birmingham coach station)
We found something to drink at a single-room spit-and-sawdust pub while waiting for our horses to get rested, watered, and ready to drag the coach the rest of the way. Brick and tile, six kegs, and some warm air to take the chill off us.


-- Shrewsbury:
• We knew that we would miss the opening times of Chez Sophie, a creperie reported to have an excellent bottle range, by an hour or so. But plenty remained on our list.
Pretty much as soon as we reached Shrewsbury and well before checking in at the Station Hotel, in the castle foregate area, we knew that we'd made the right decision in staying overnight rather than just swinging through. The good-pub density proved impressive, as did the architecture and feel. We began with a cluster of three pubs (images below):

Bird in Hand
50 Coton Hill
A one-room locals' pub where it might be best to have exact change if one cares about that sort of thing. Oooh, through the beer garden is another room, with French windows and lots of wood. Let's sit there. Light pub grub is available here.

Woodman
32 Coton Hill
A couple of steps away is another venue, with six real ales and six kegs. The beers were on good form. Two bars, lacking a direct connection between them - one with a lighter feel and friendly locals, the other a quieter one with deep wood, fireplaces, and maroon and red upholstery. This place has a lovely beer garden with plenty of flowers and nooks.

Royal Oak
Near there on Coton Hill
The final pub in the set was the Royal Oak, with 10 handpulls. We sat in the side room with French windows rather than the main bar, with telly and darts. They sold third pints, though the pricing for these proved challenging.


---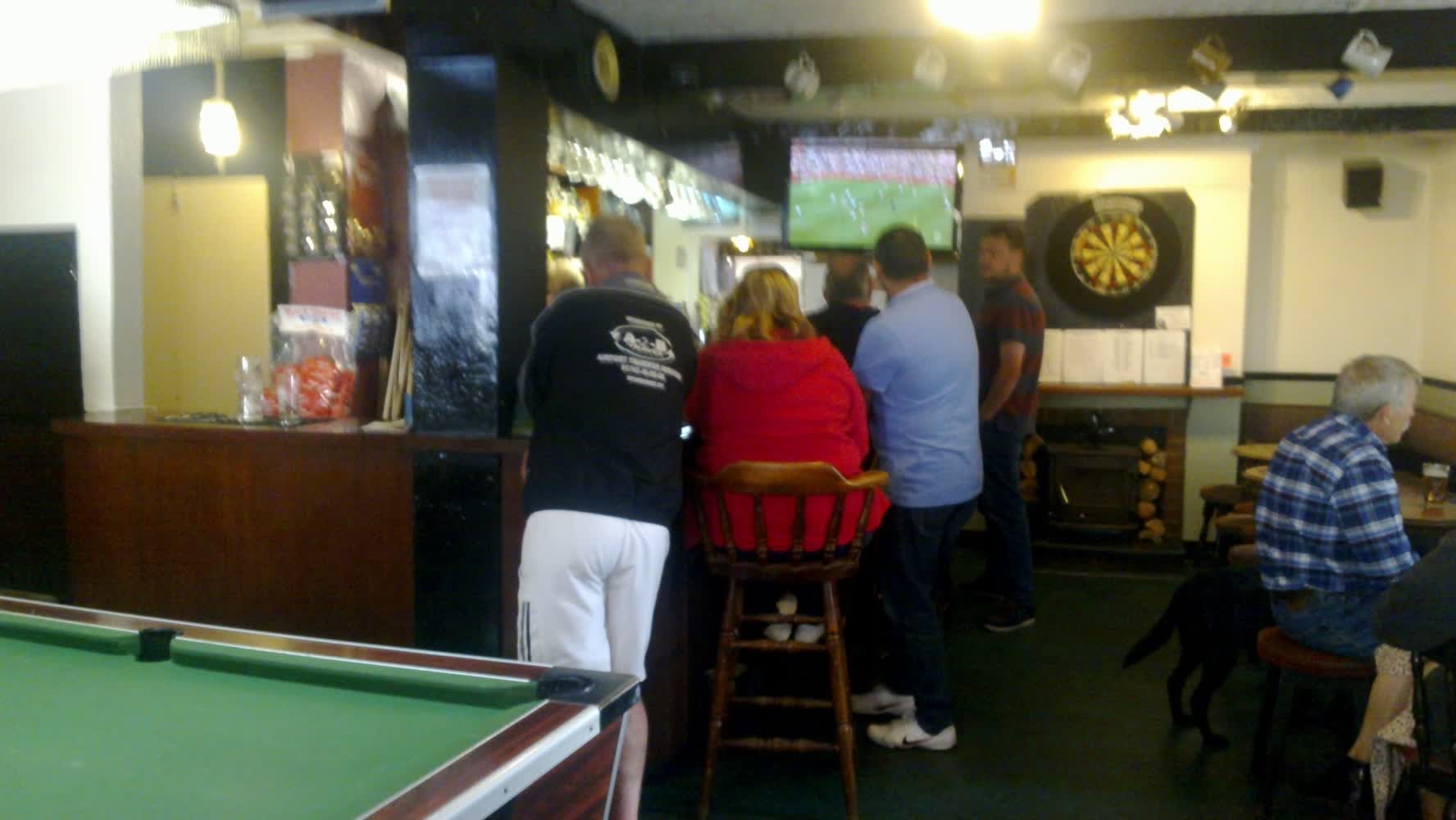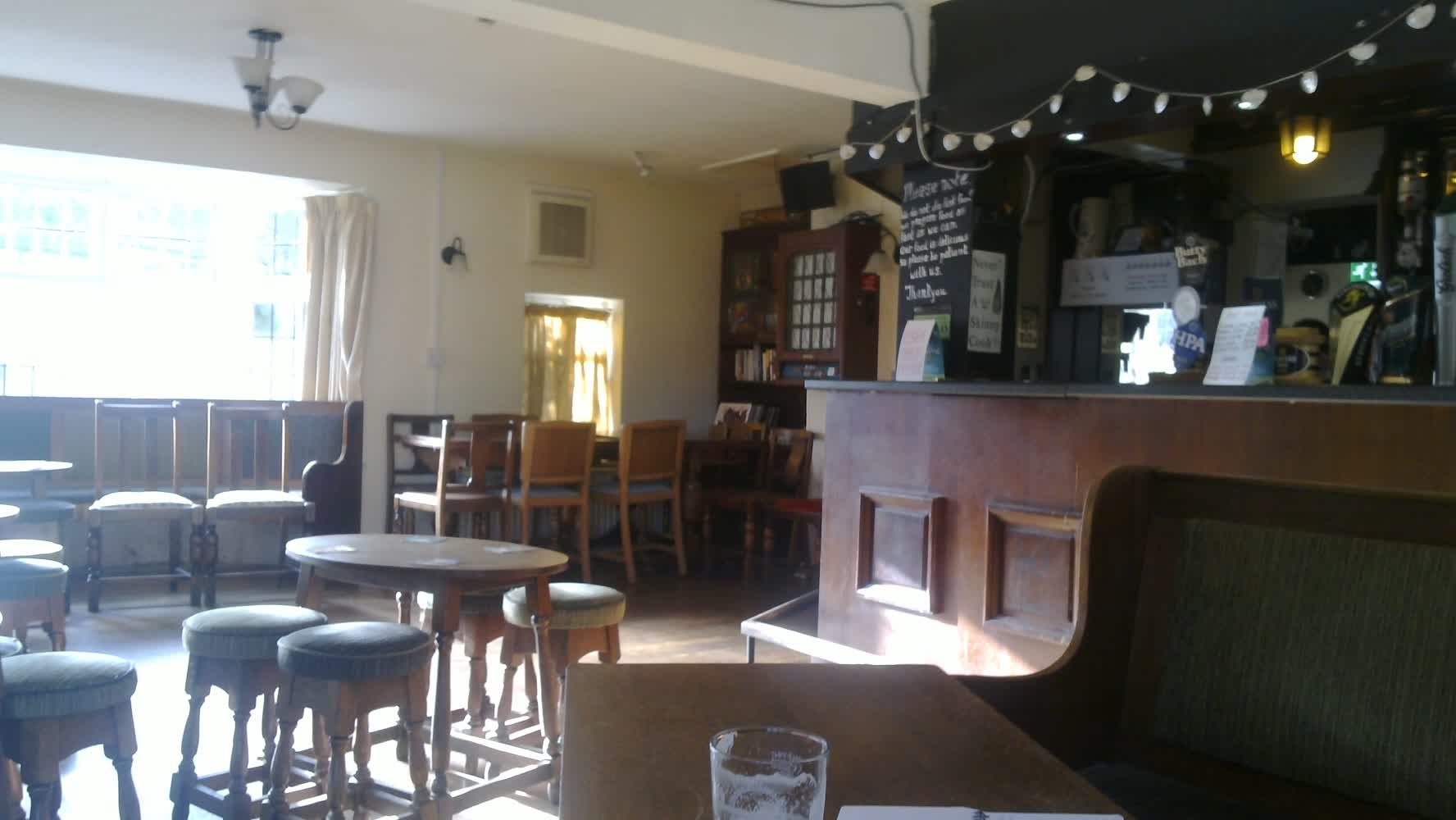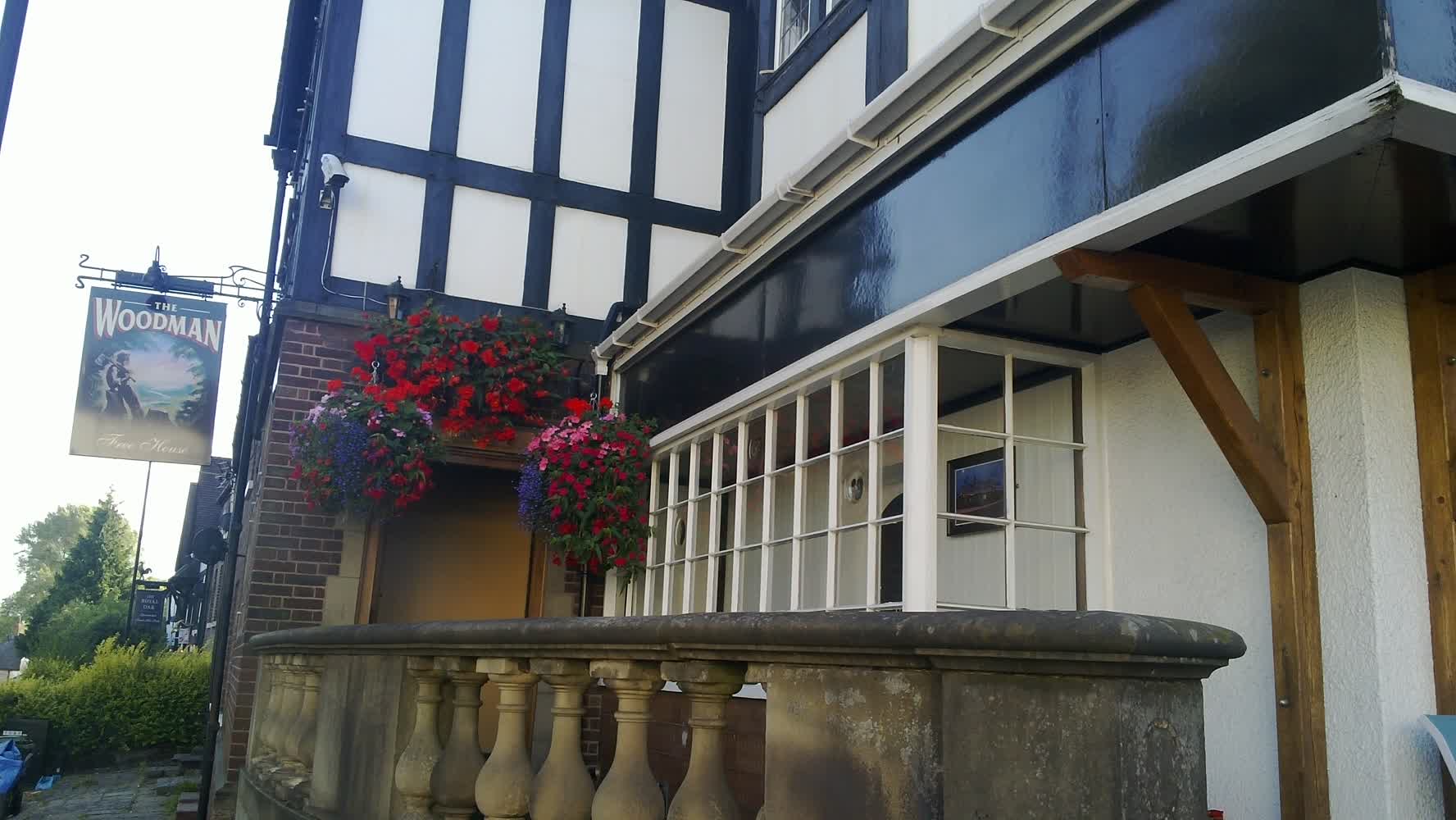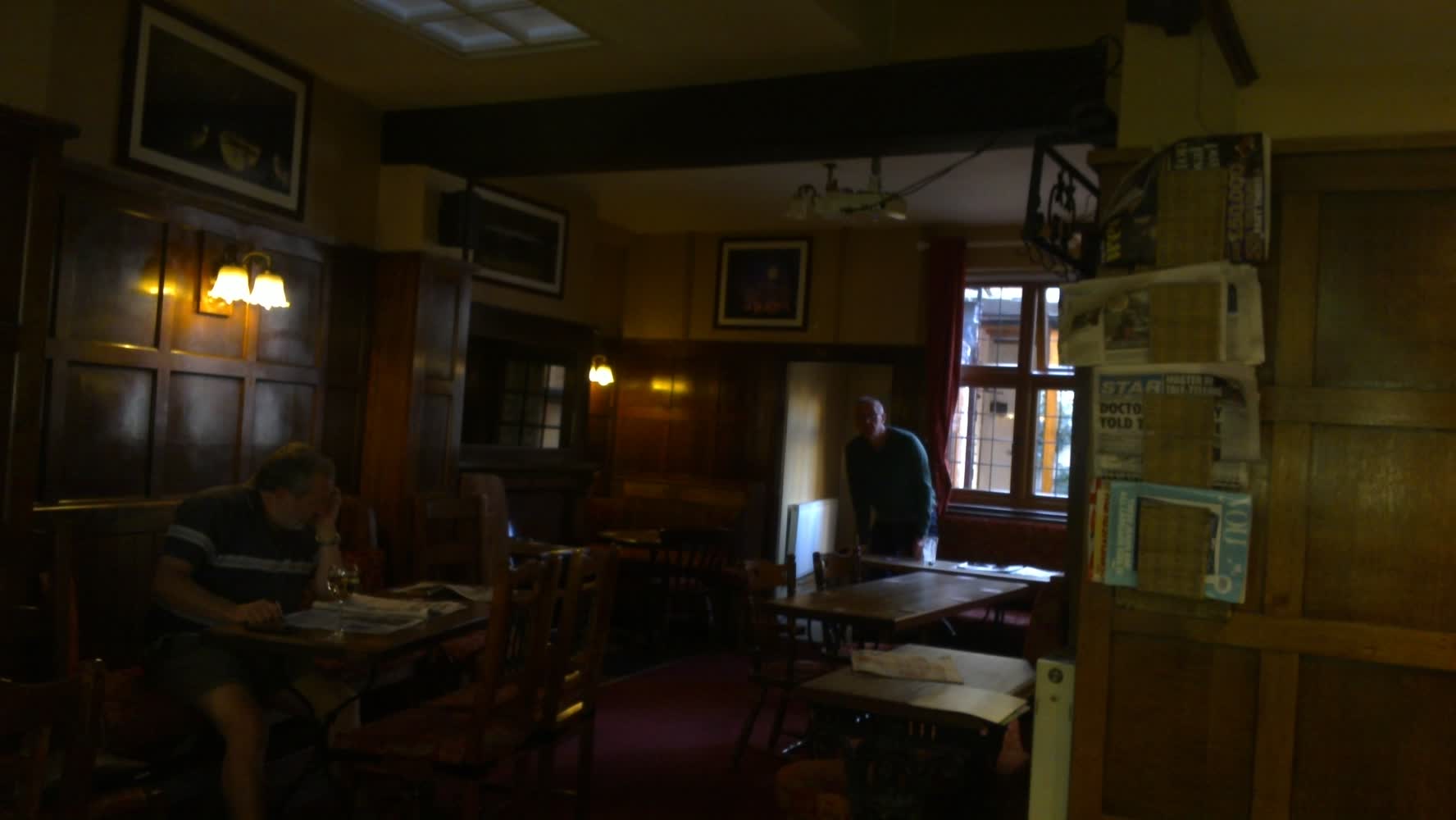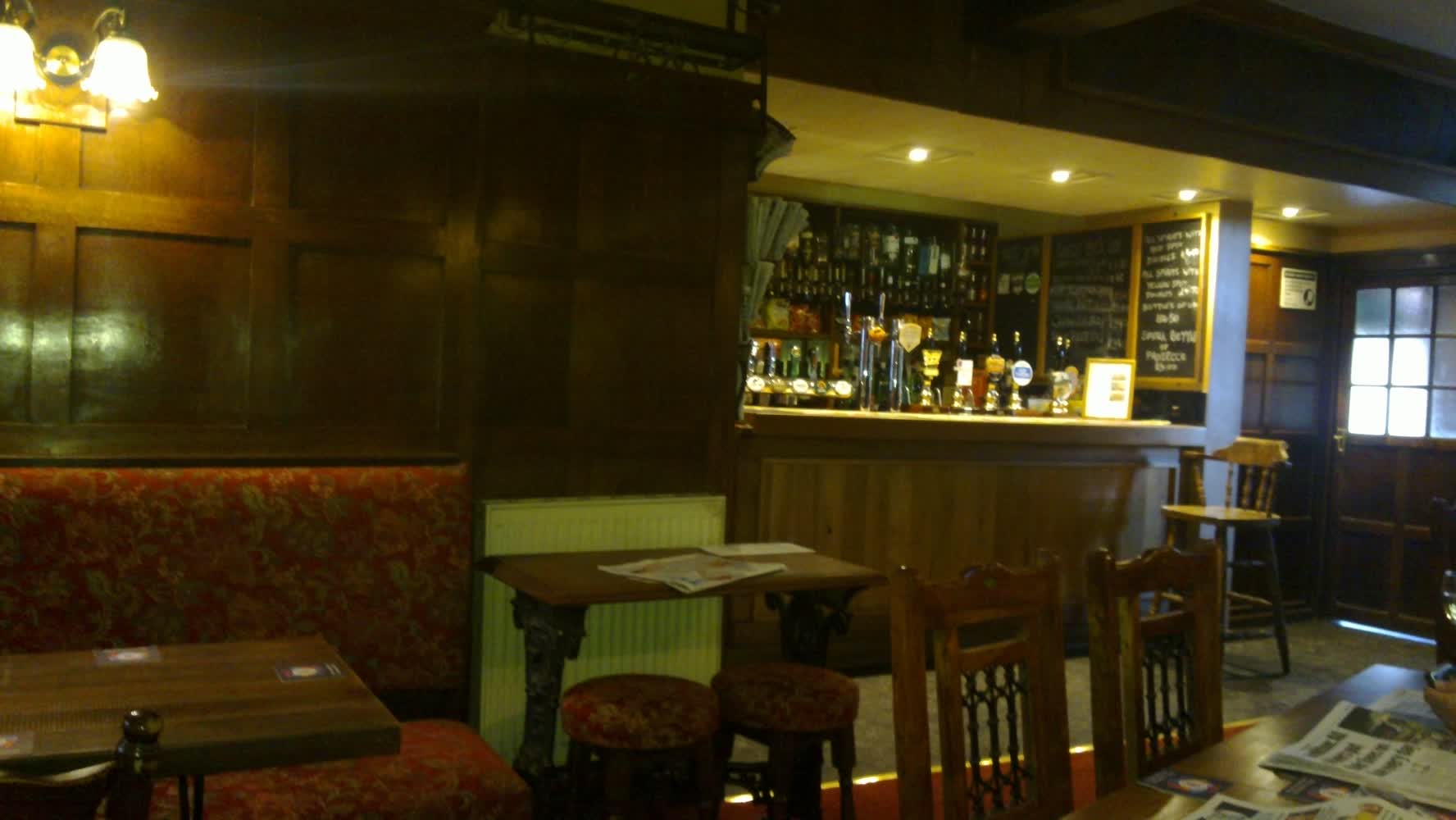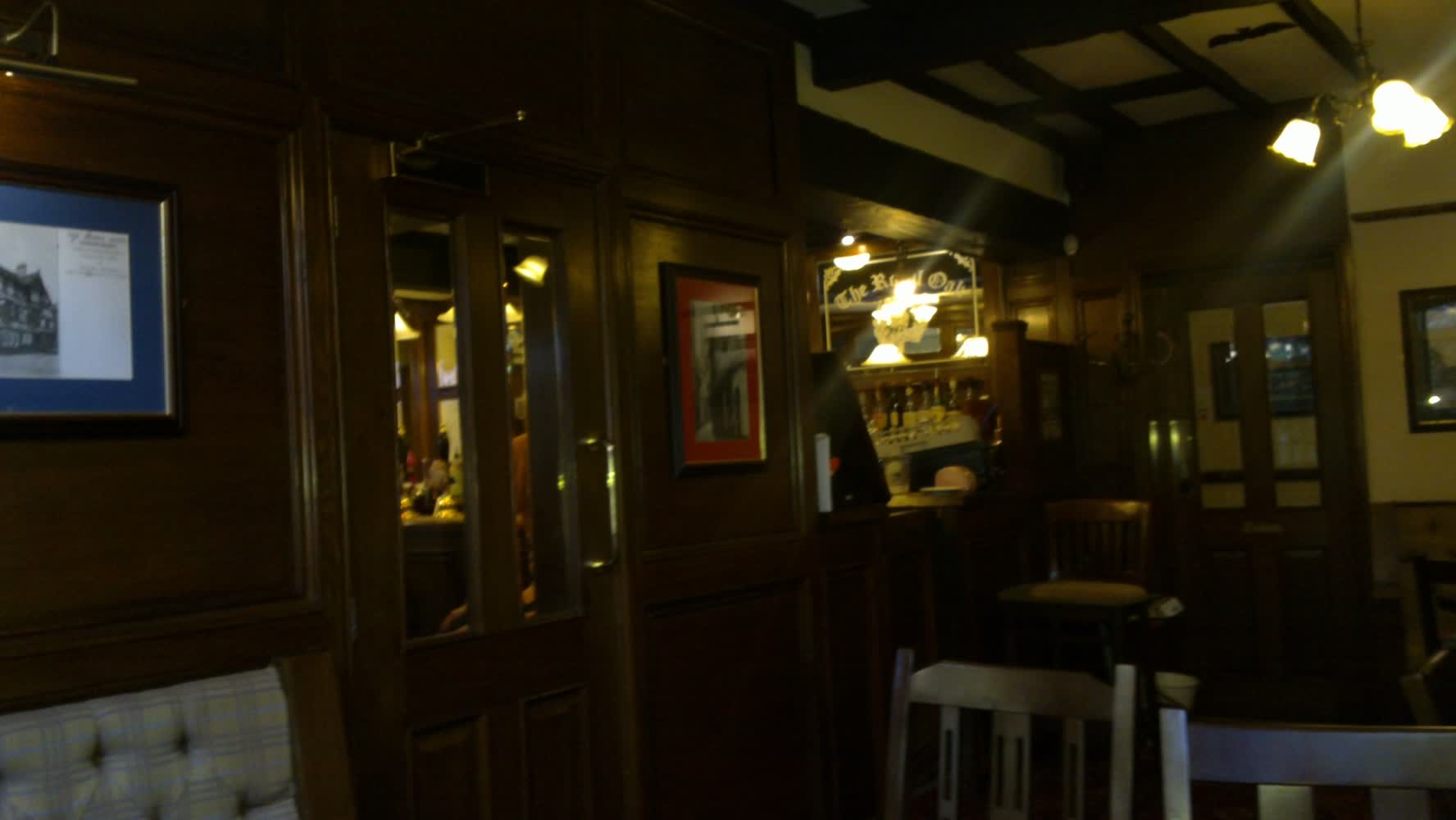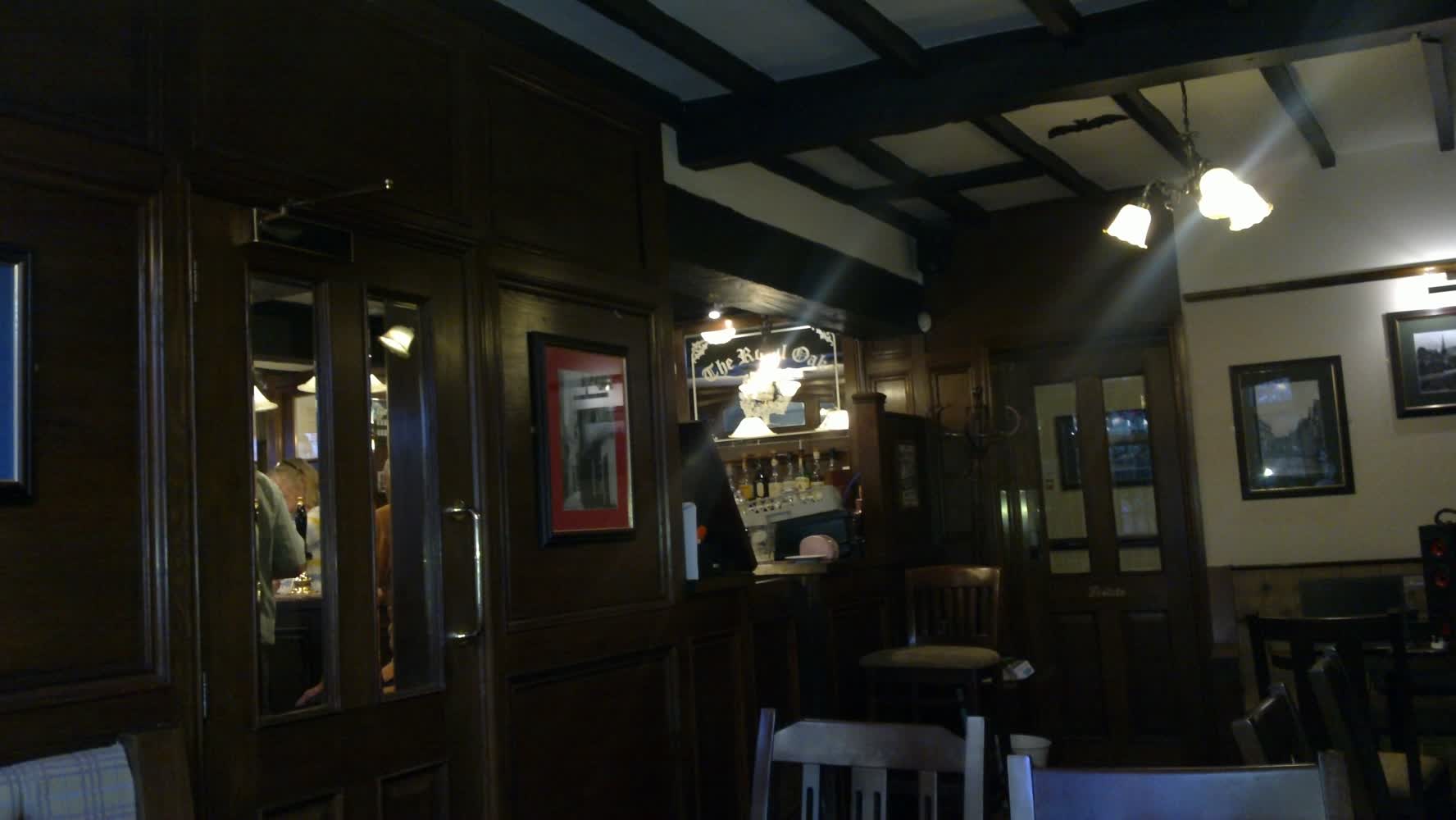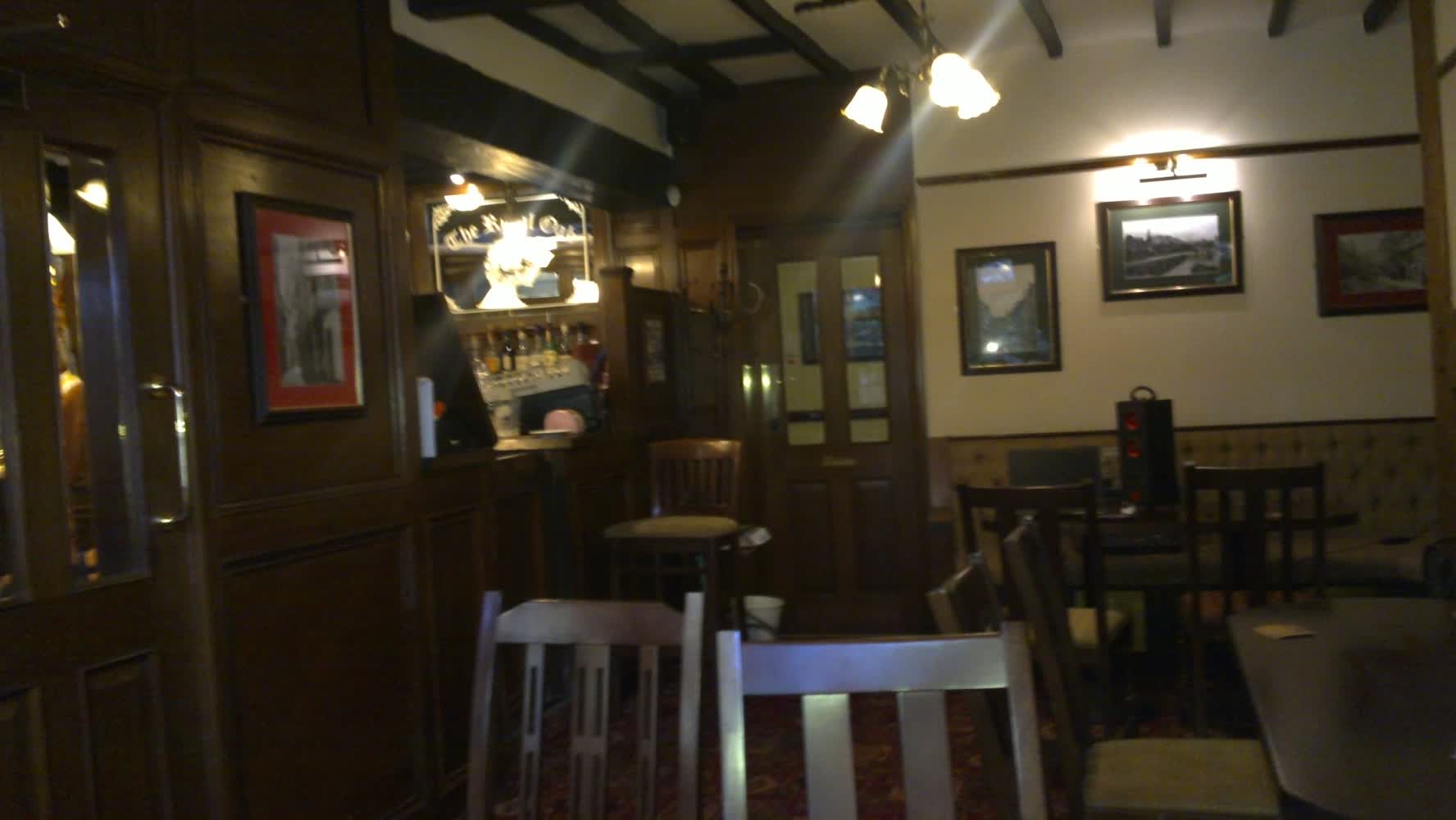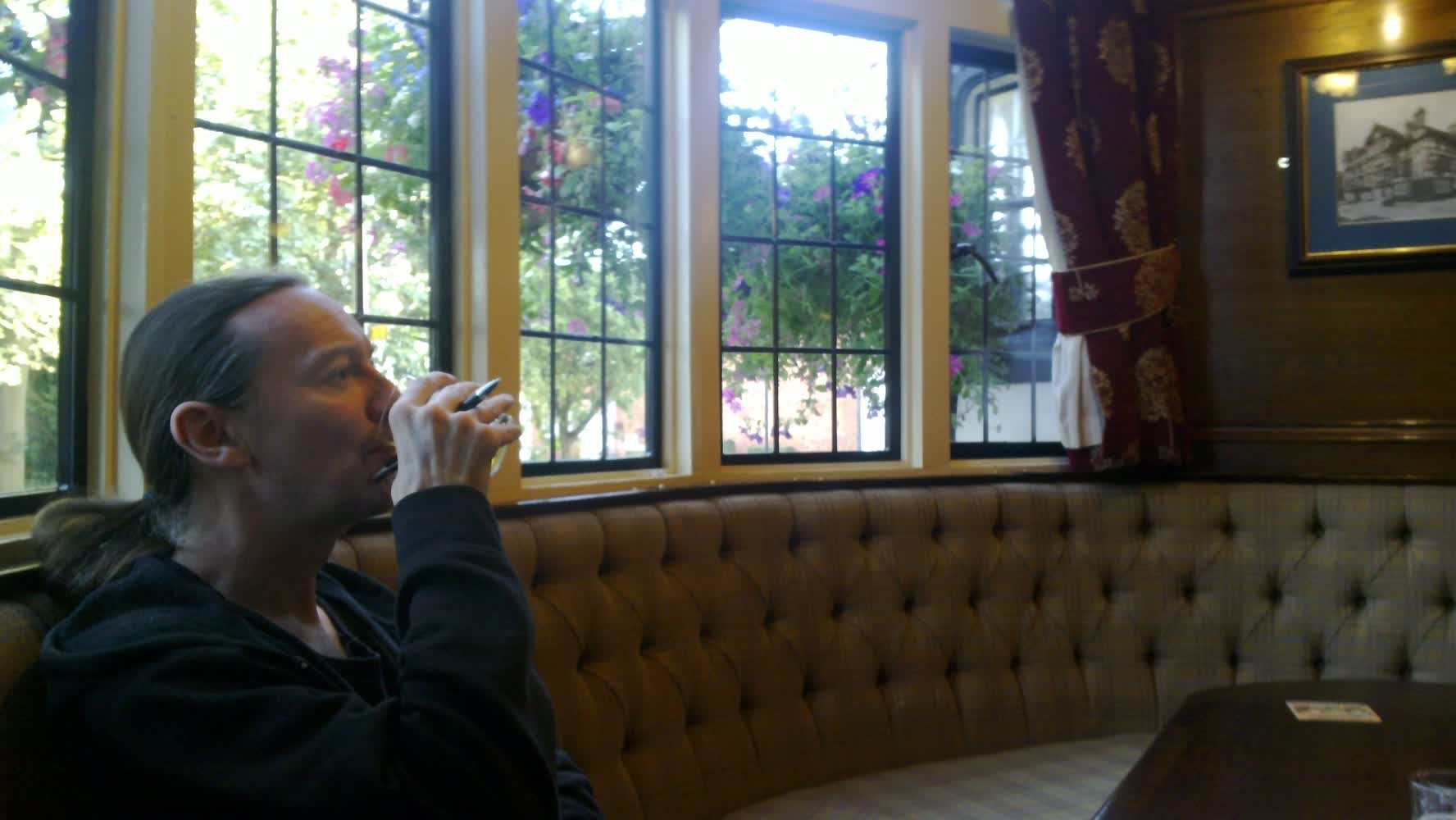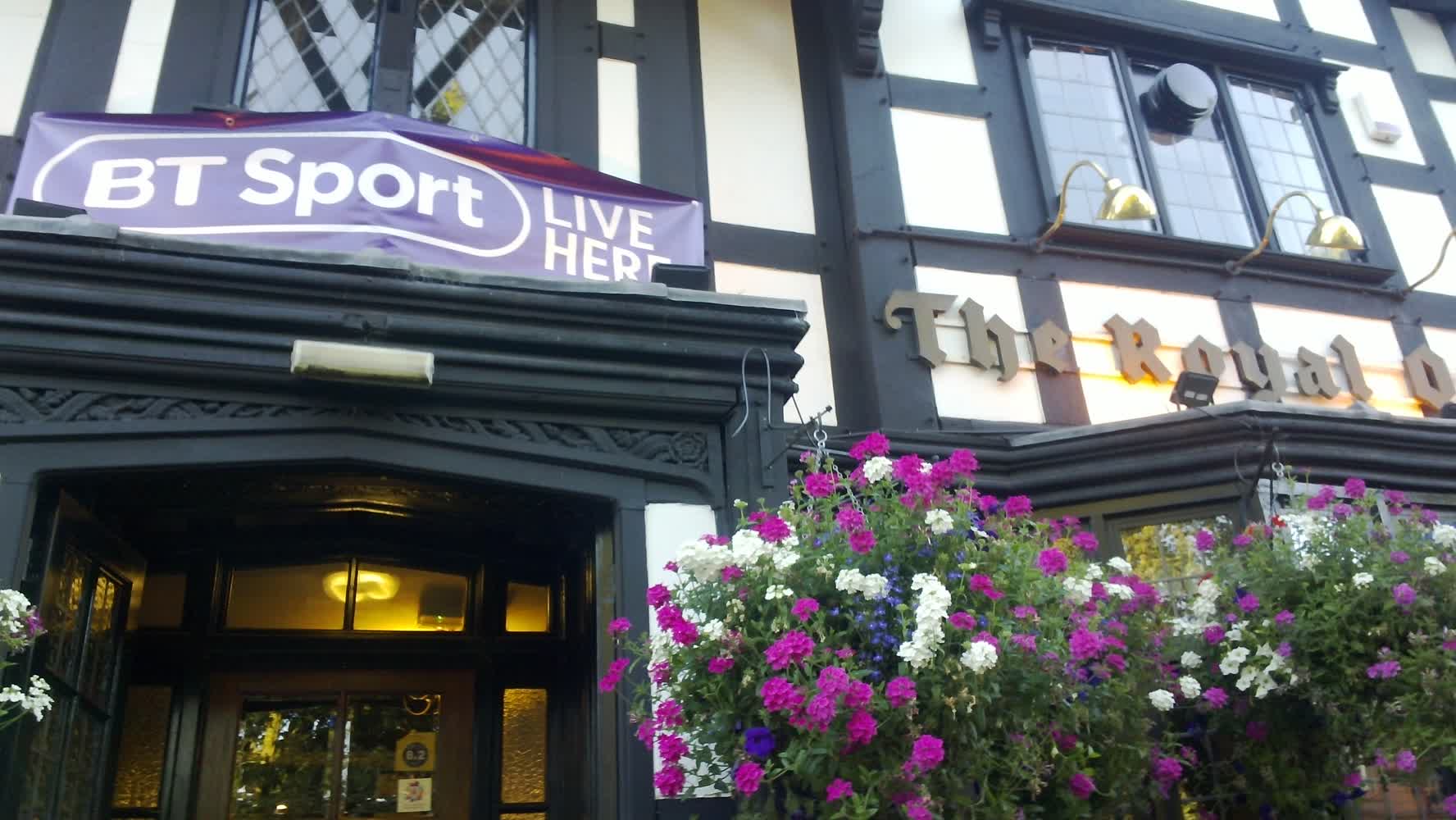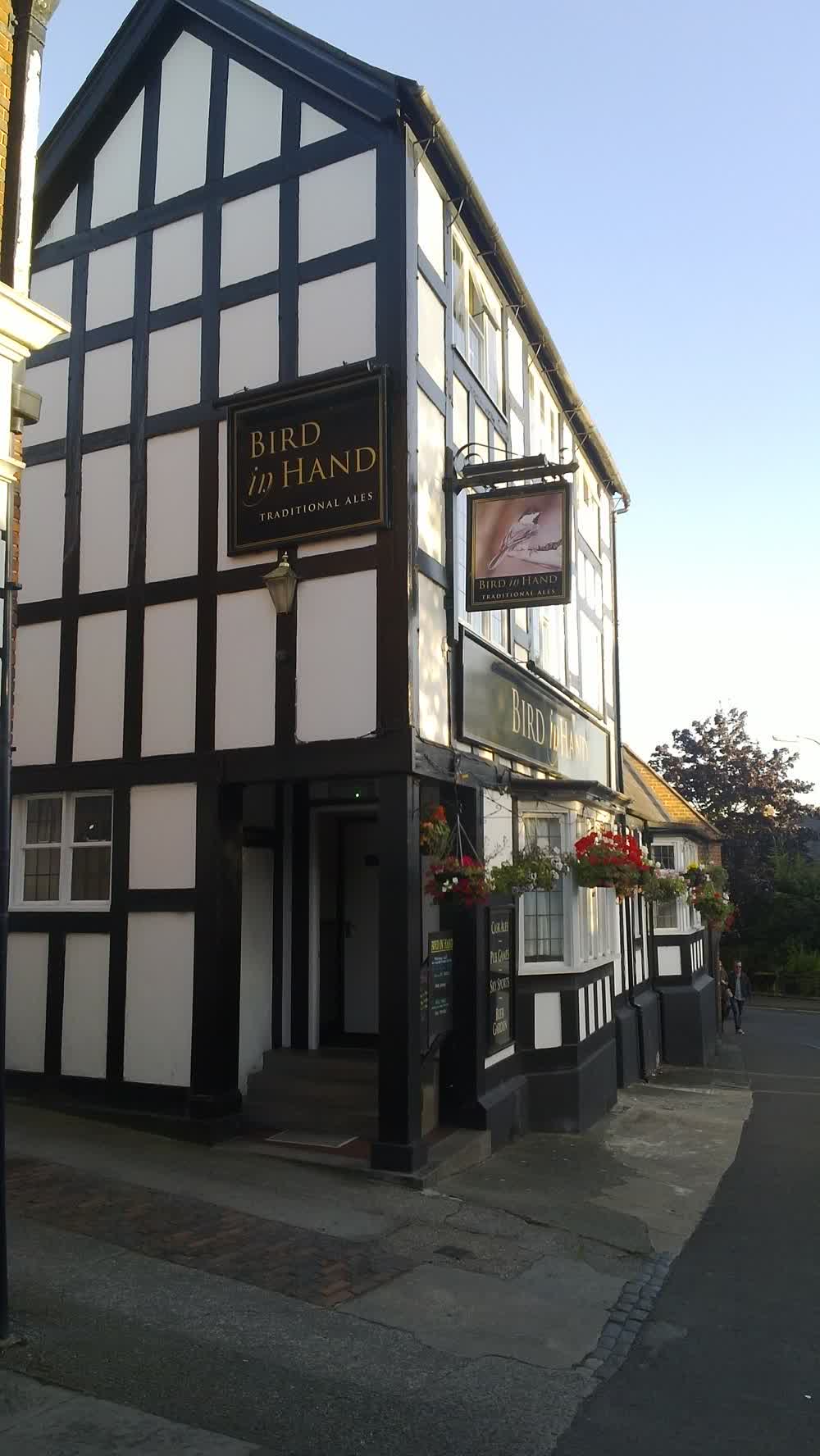 ---
One of Shrewsbury's most well-known native sons, Charles Darwin, is recognised by this abstract sculpture along the way: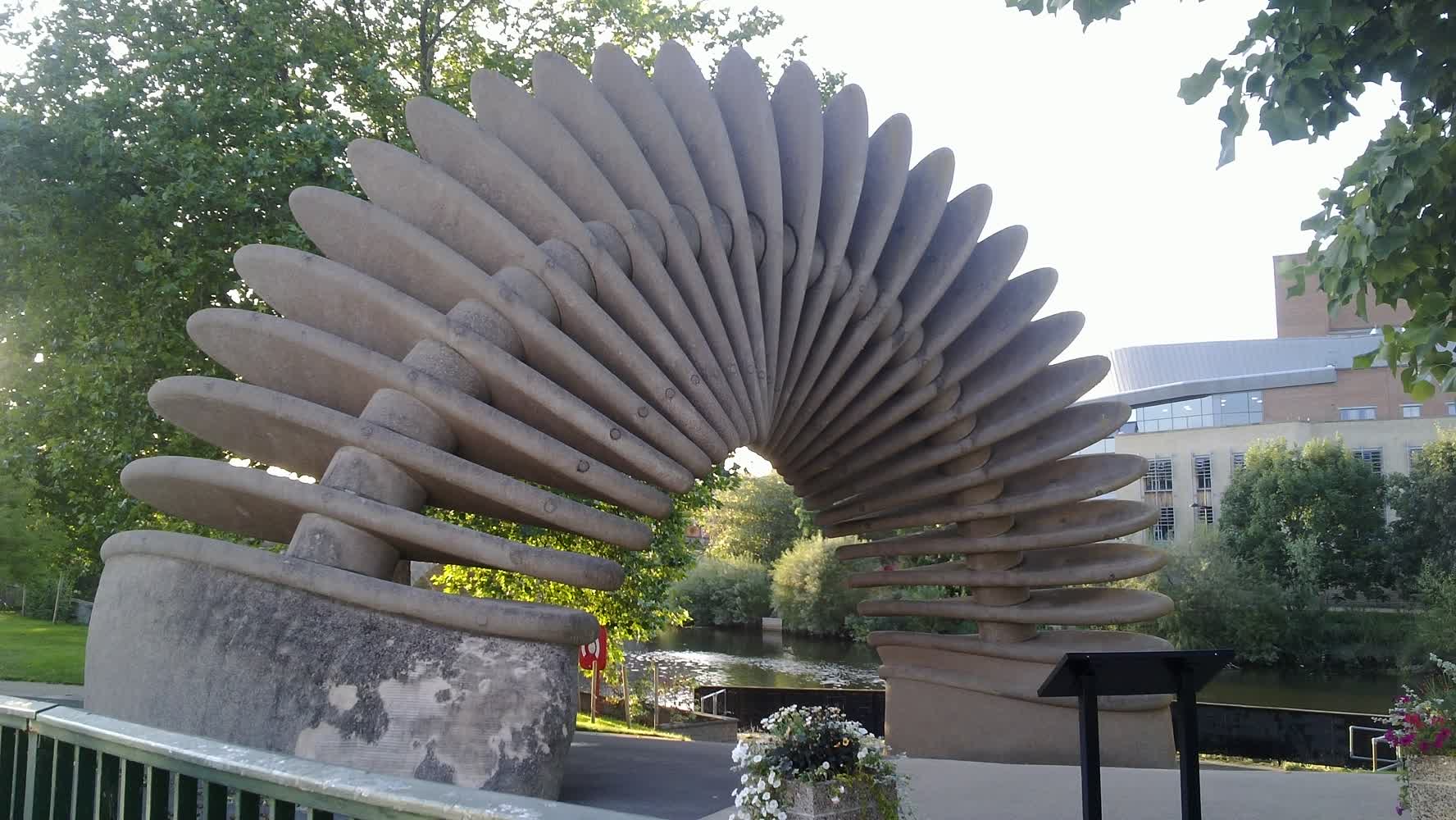 Shrewsbury Hotel (JD Wetherspoons)
Bridge Street / Bridge Place
Locals come here mainly for the food, and indeed there wasn't much here for us on the beer front. The beer was fine, however, and there was nothing actually wrong with this Wetherspoons; we just found it a little uninspiring.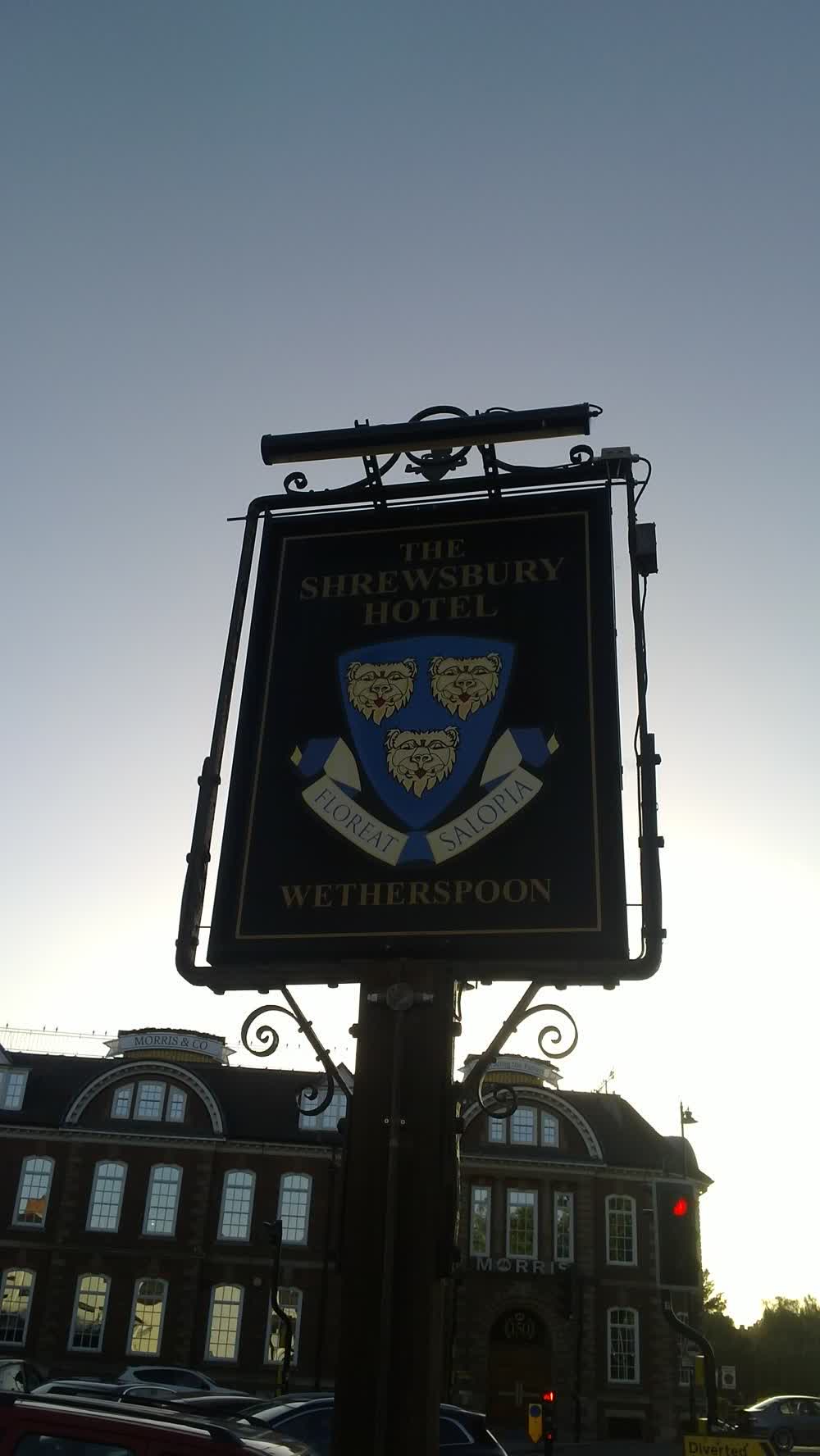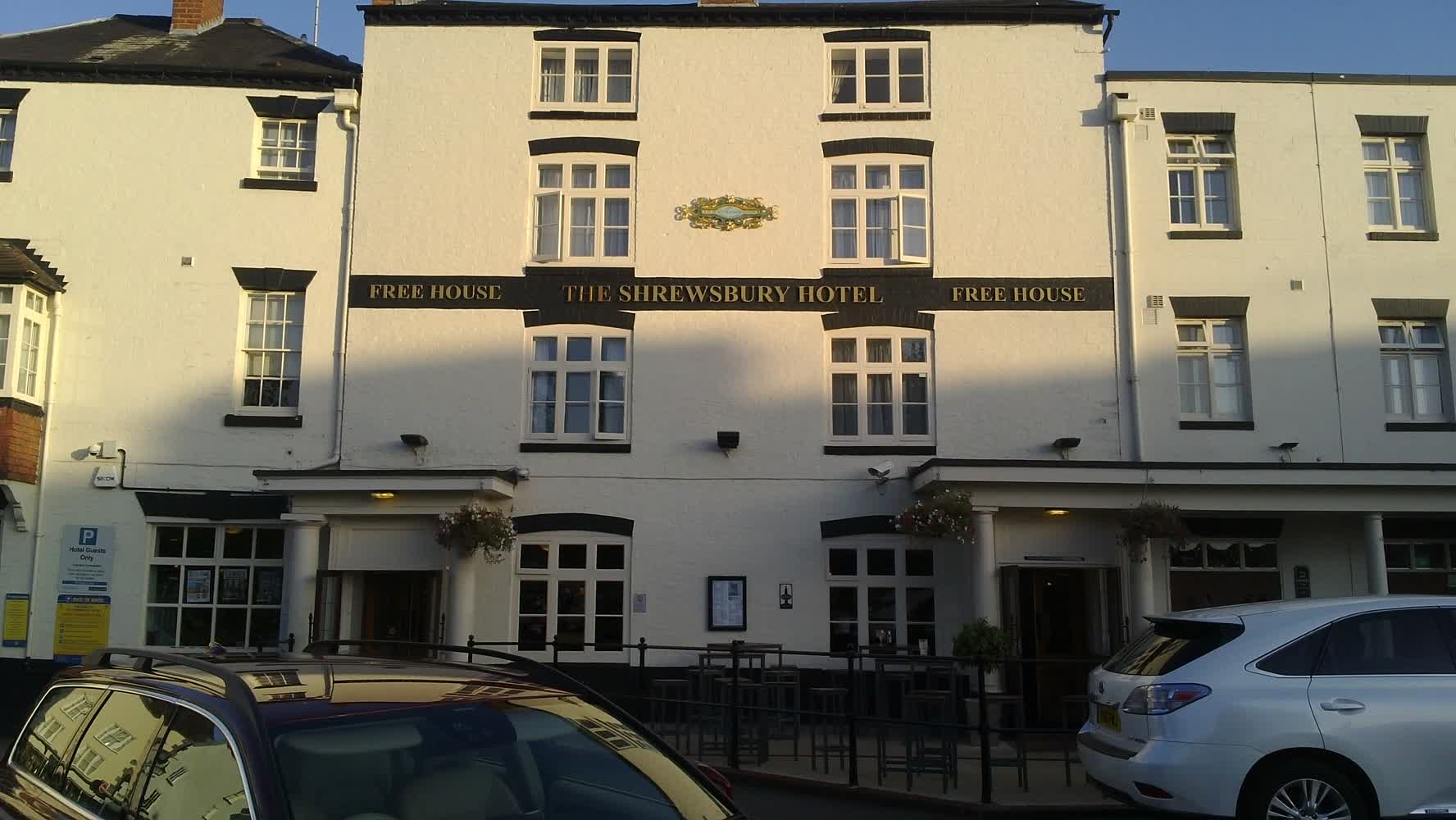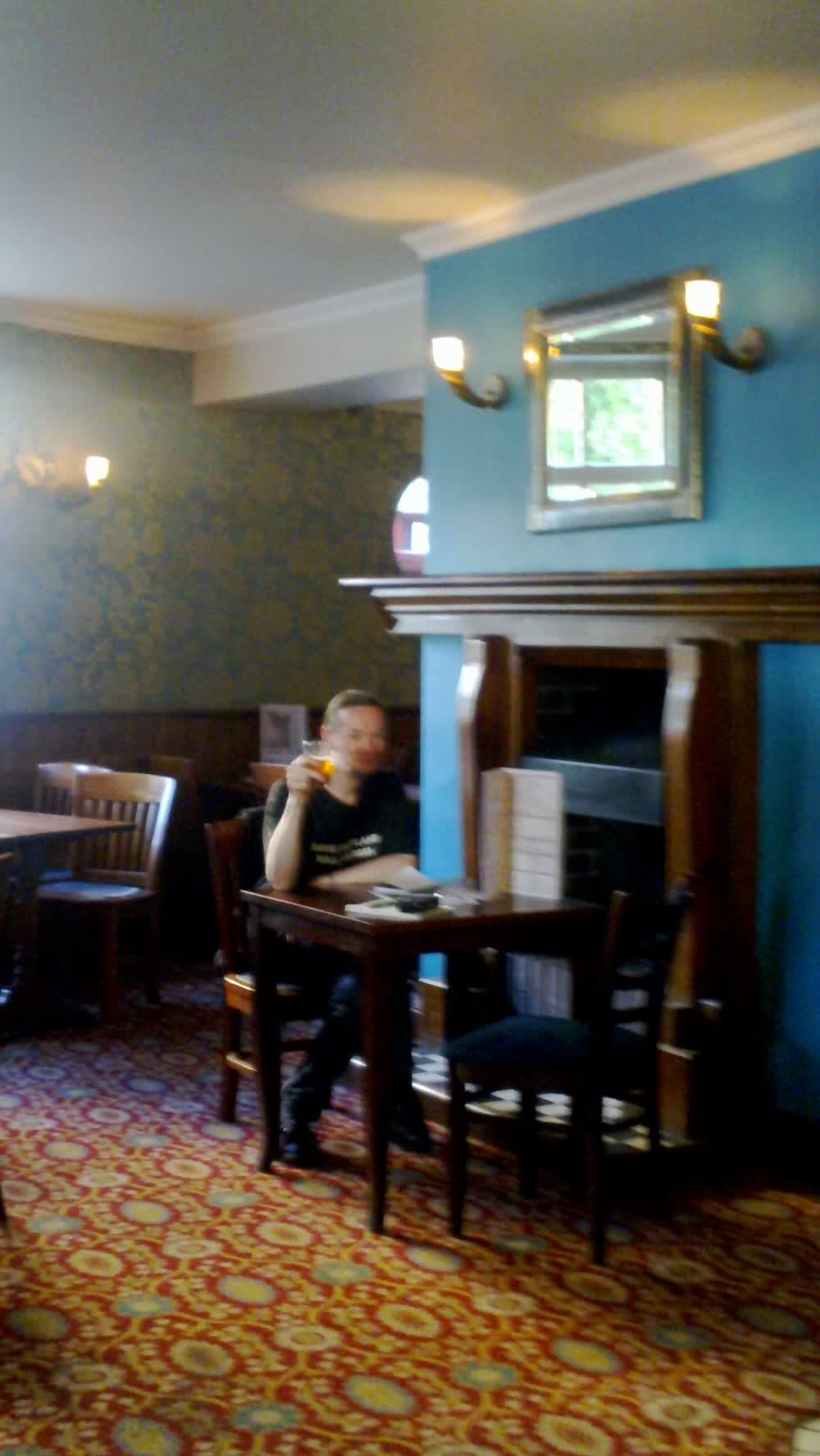 Anchor Inn
137 Frankwell
The Anchor Inn was a buzzing venue with low lighting and brick pillars. The beers were bubbling also, thanks to the use of sparklers, and were filled to overflowing - no short measures here...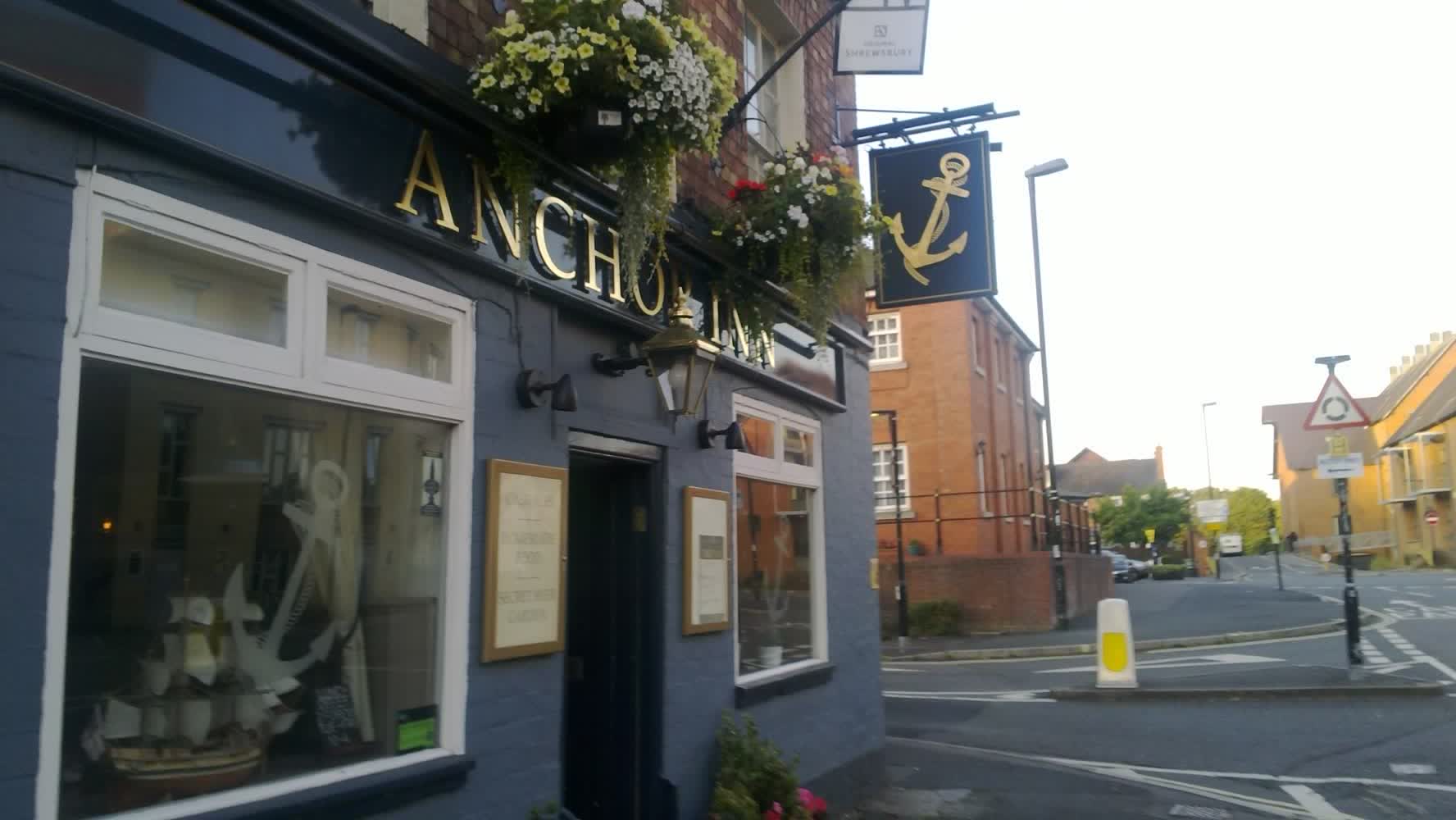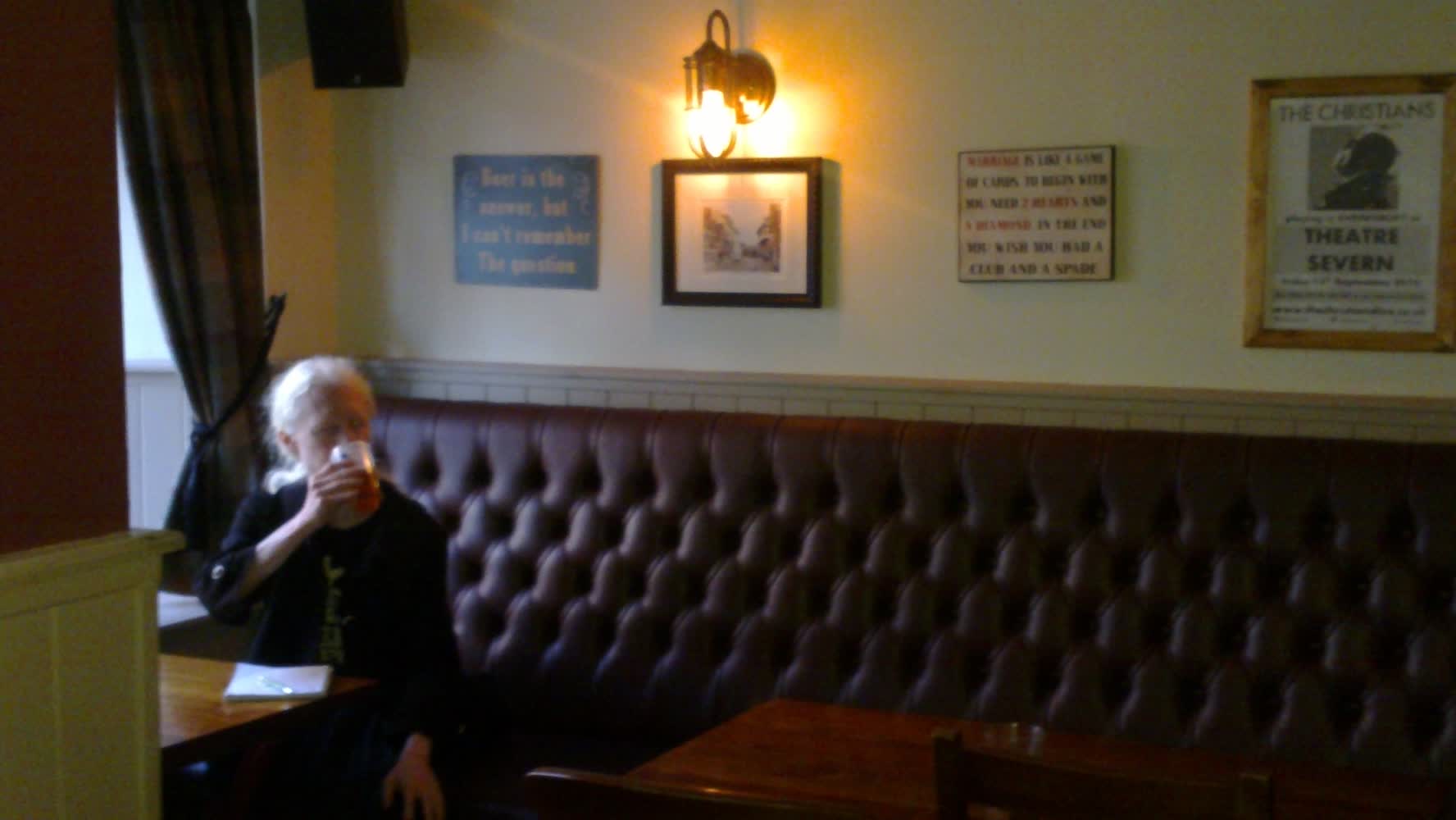 Albert's Pour House
128 Frankwell
At the next pub, there was a lovely almost-steampunkish mechanical bent to the environment. Great atmosphere, which also included some amazing-looking cocktails. This was a somewhat crafty venue that charged 2.95 for a half pint, but the atmosphere will turn your cogs. The wood here was probably charred and sanded rather than just painted to look like that. Some clinical grunge.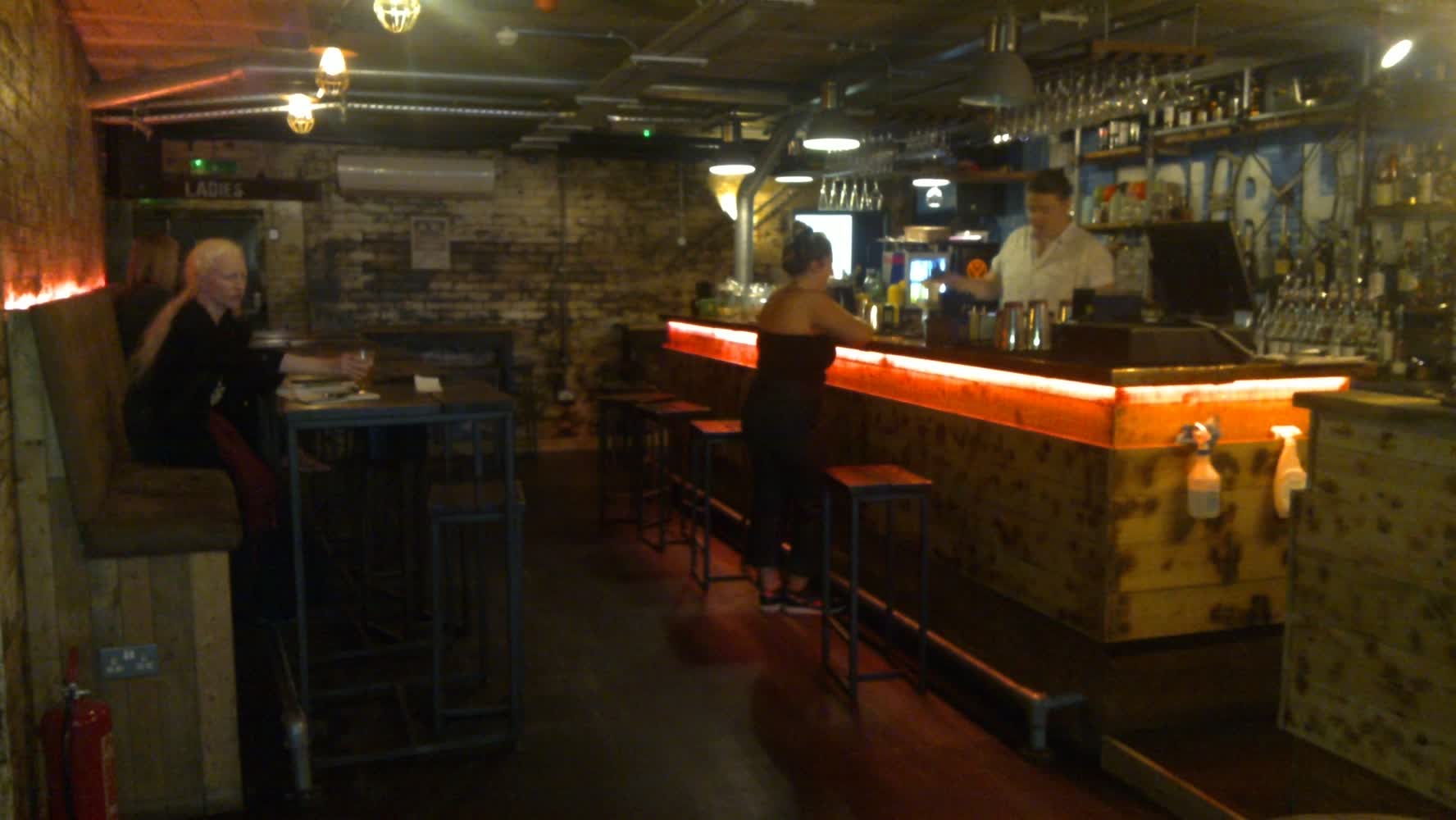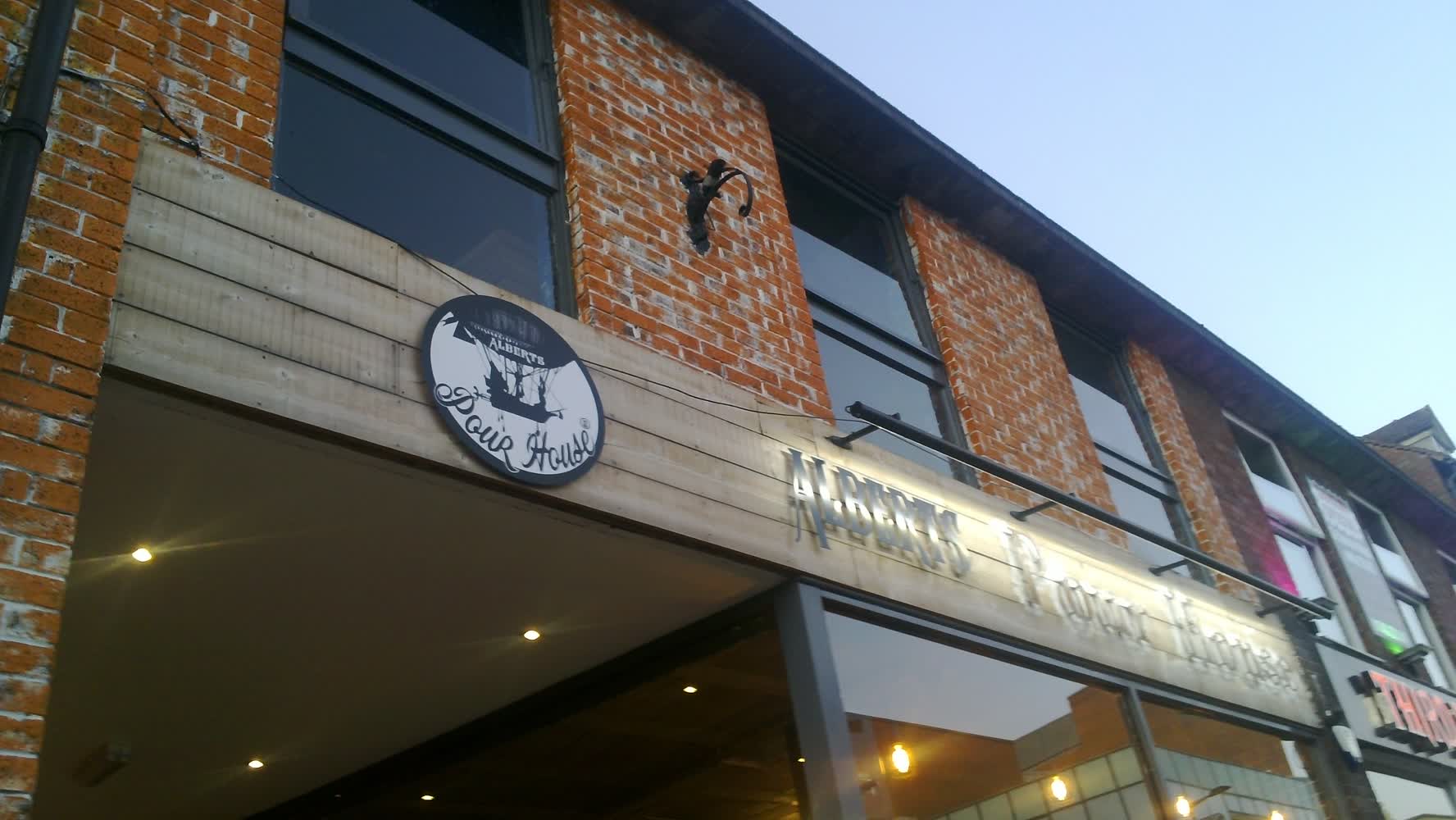 Does this have our name written all over it?: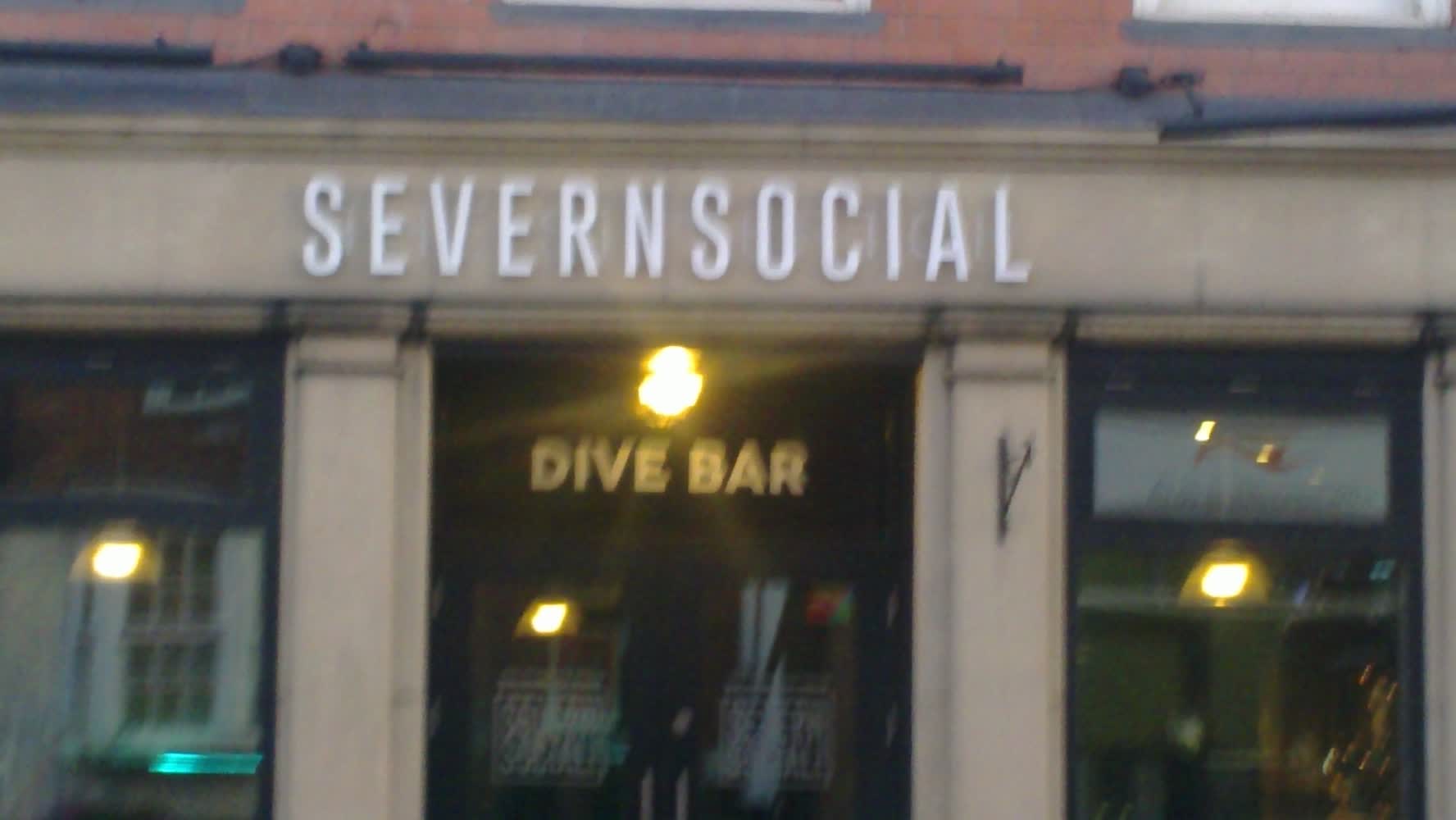 Wheatsheaf (Frankwell)
17 Frankwell
The first of the two Wheatsheaves we visited in town, this one had several real ciders - clear and fresh but too many for us to try safely. A cosy (tiny even), low-ceilinged boozer that tried to get us to stay longer, thanks in part to an acoustic guitarist playing Madness.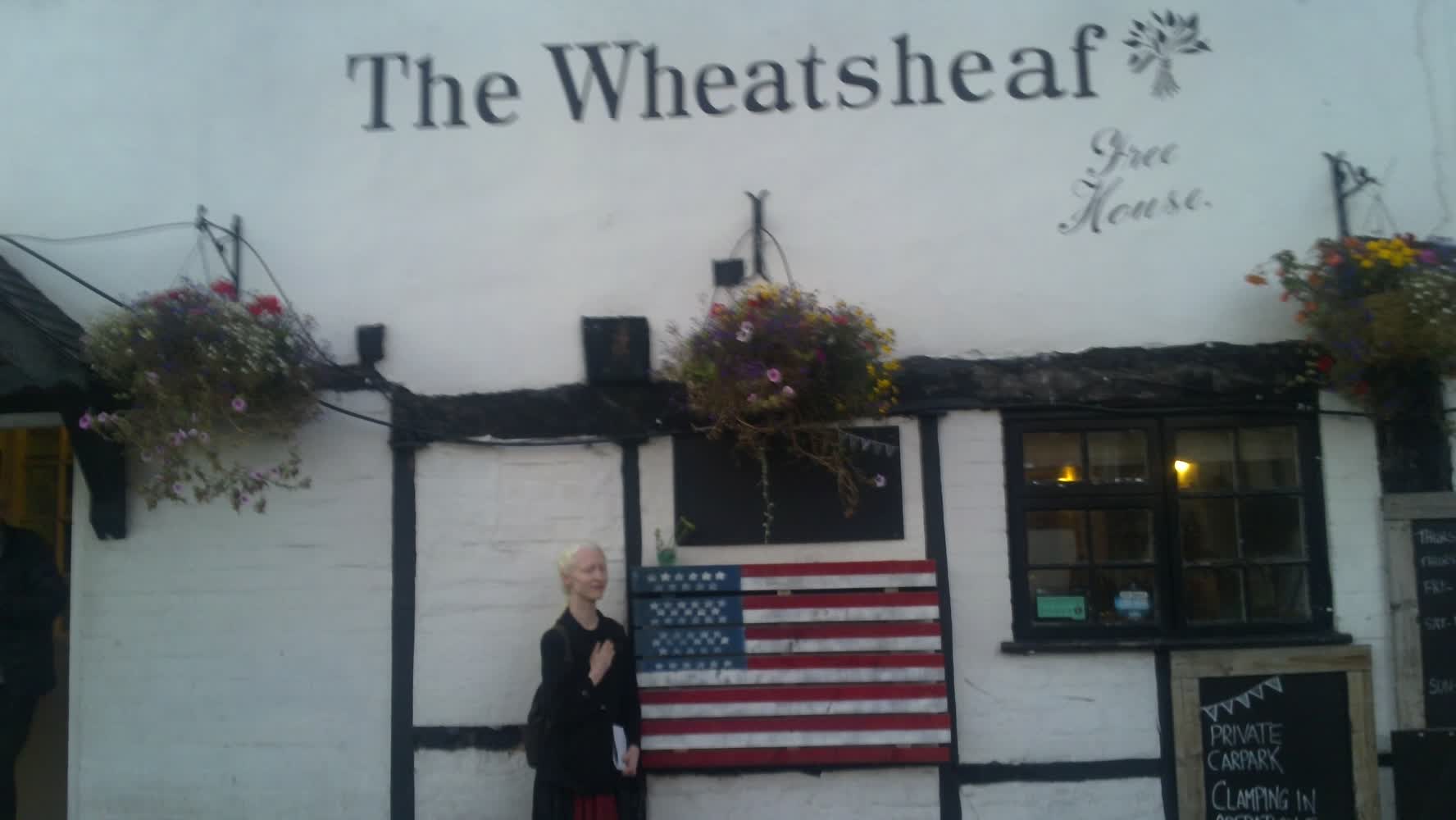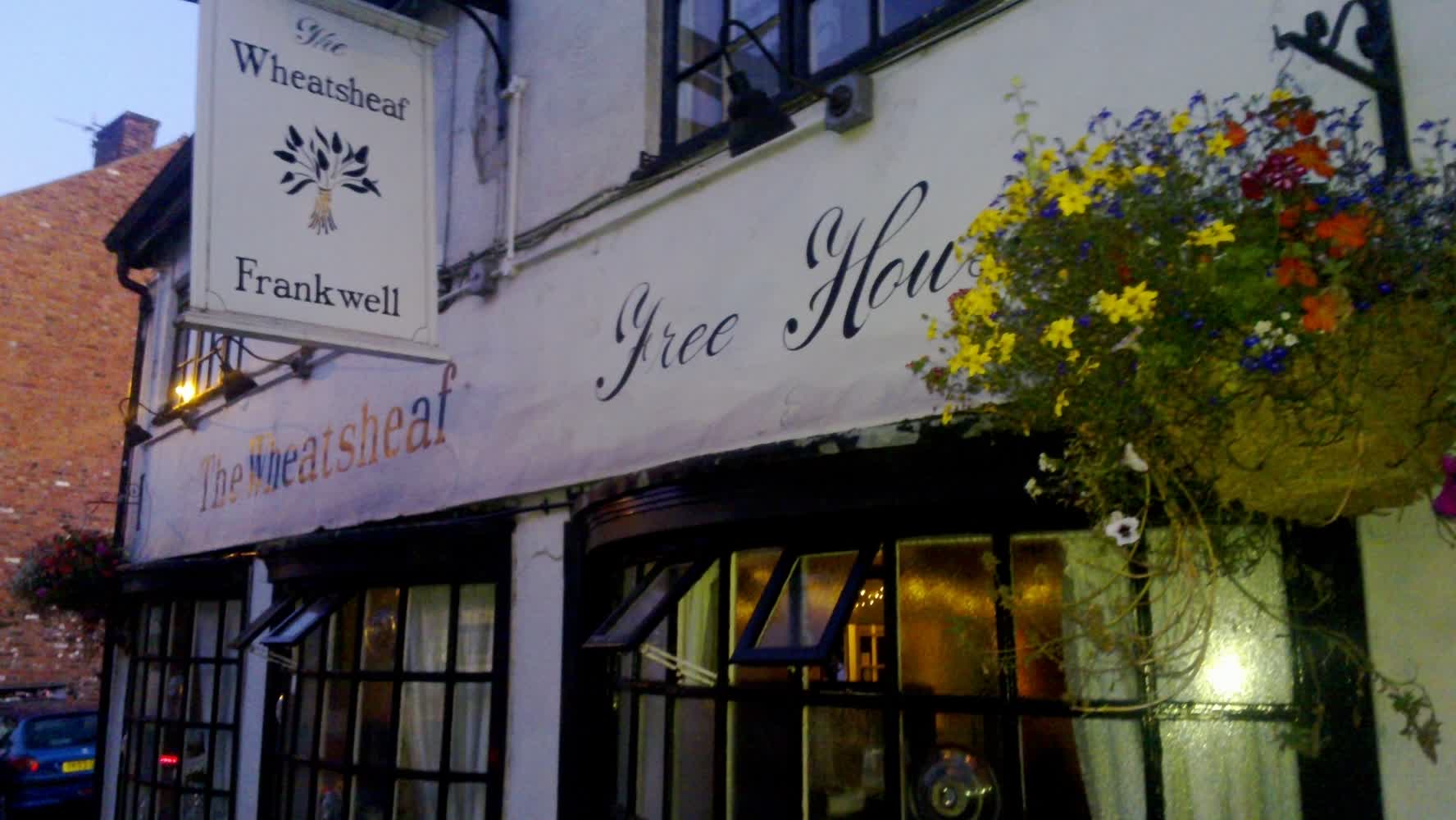 Bricklayer's Arms
Copthorne Road
An L-shaped bar is in touch with the whole space, which is a lovely woody pub with bay windows. Staff were solicitous and gave us some info on Joules etc. (this is a Joules pub). It was quiet here on a Sunday evening; we were the only customers.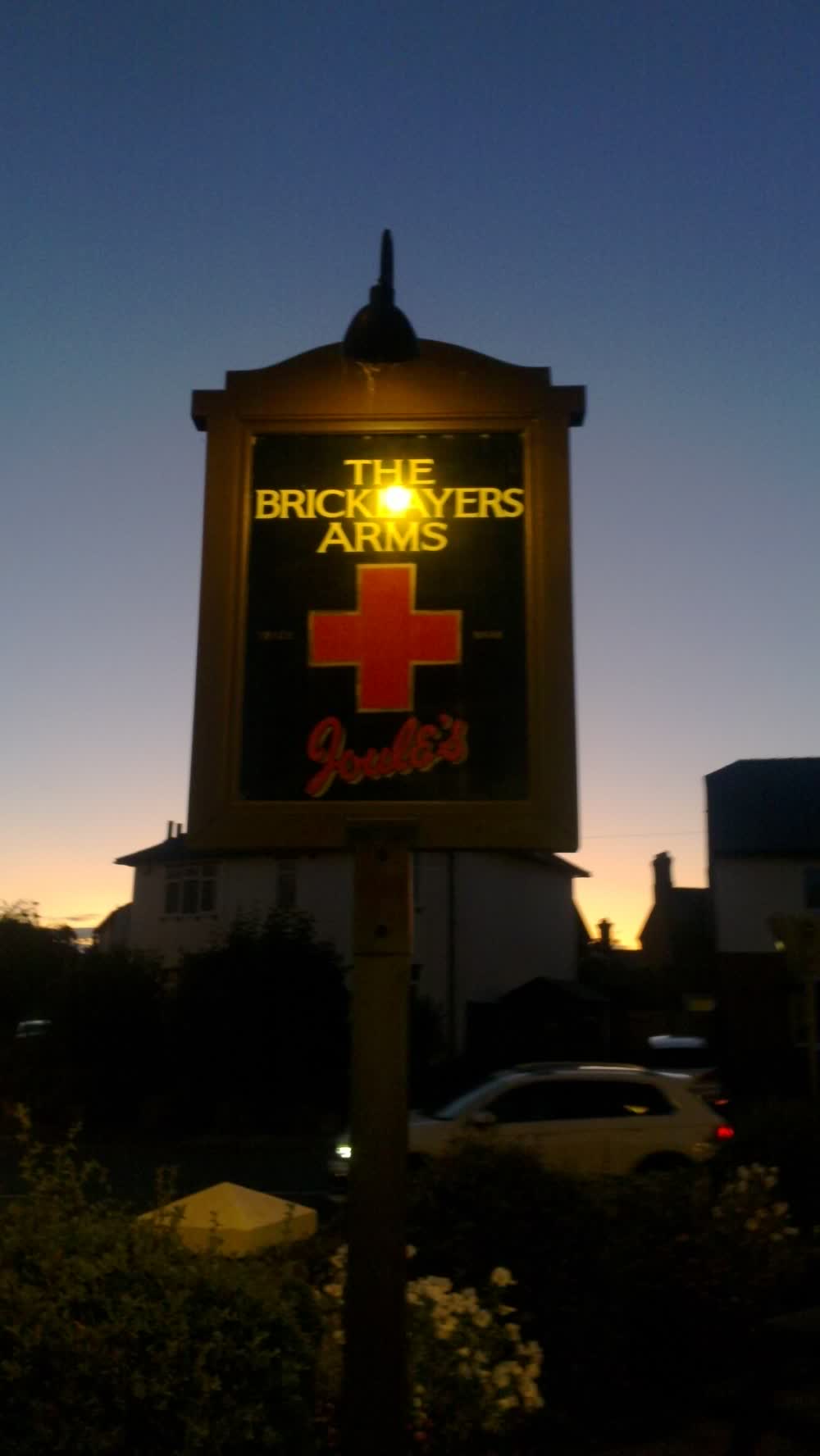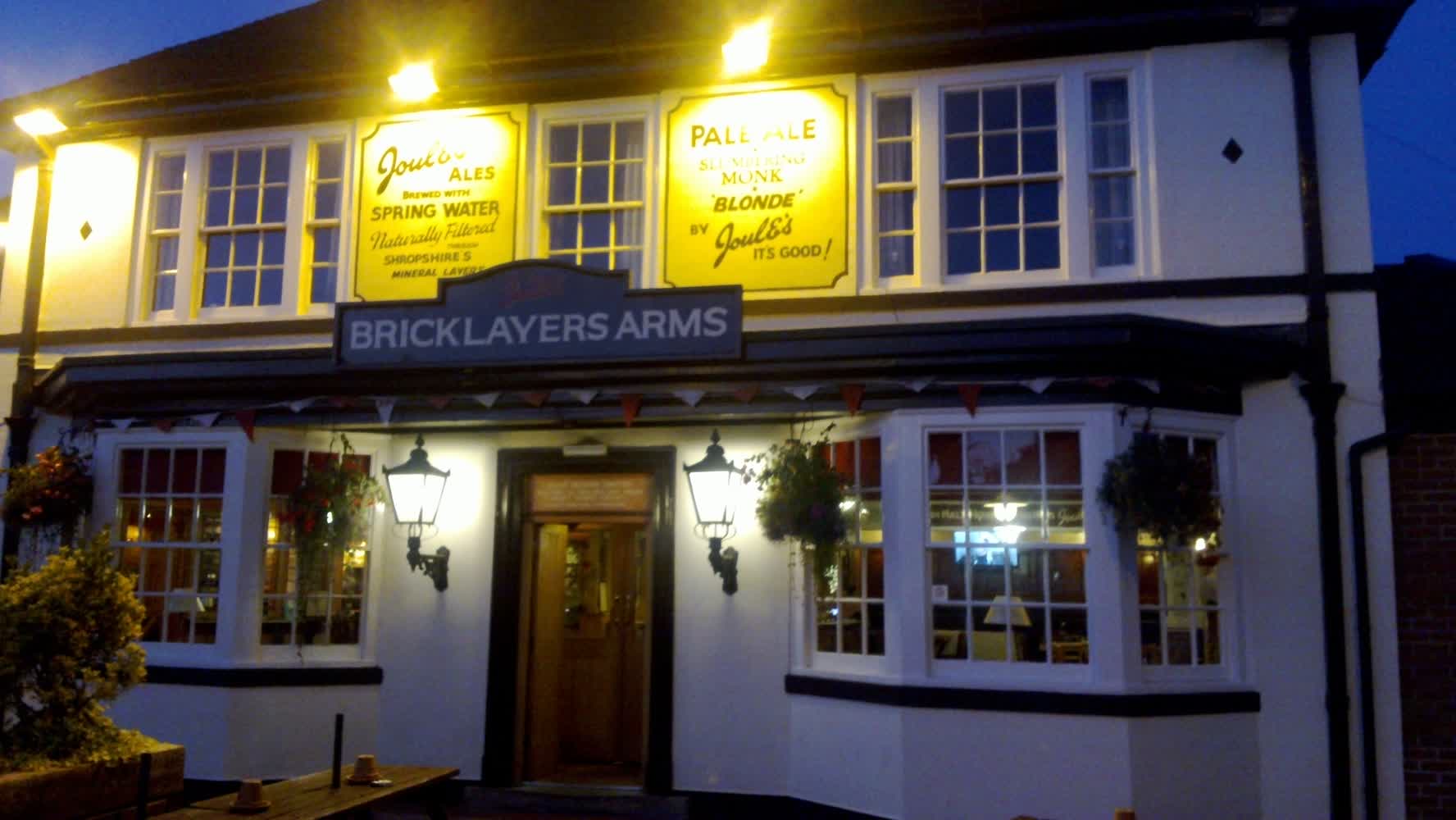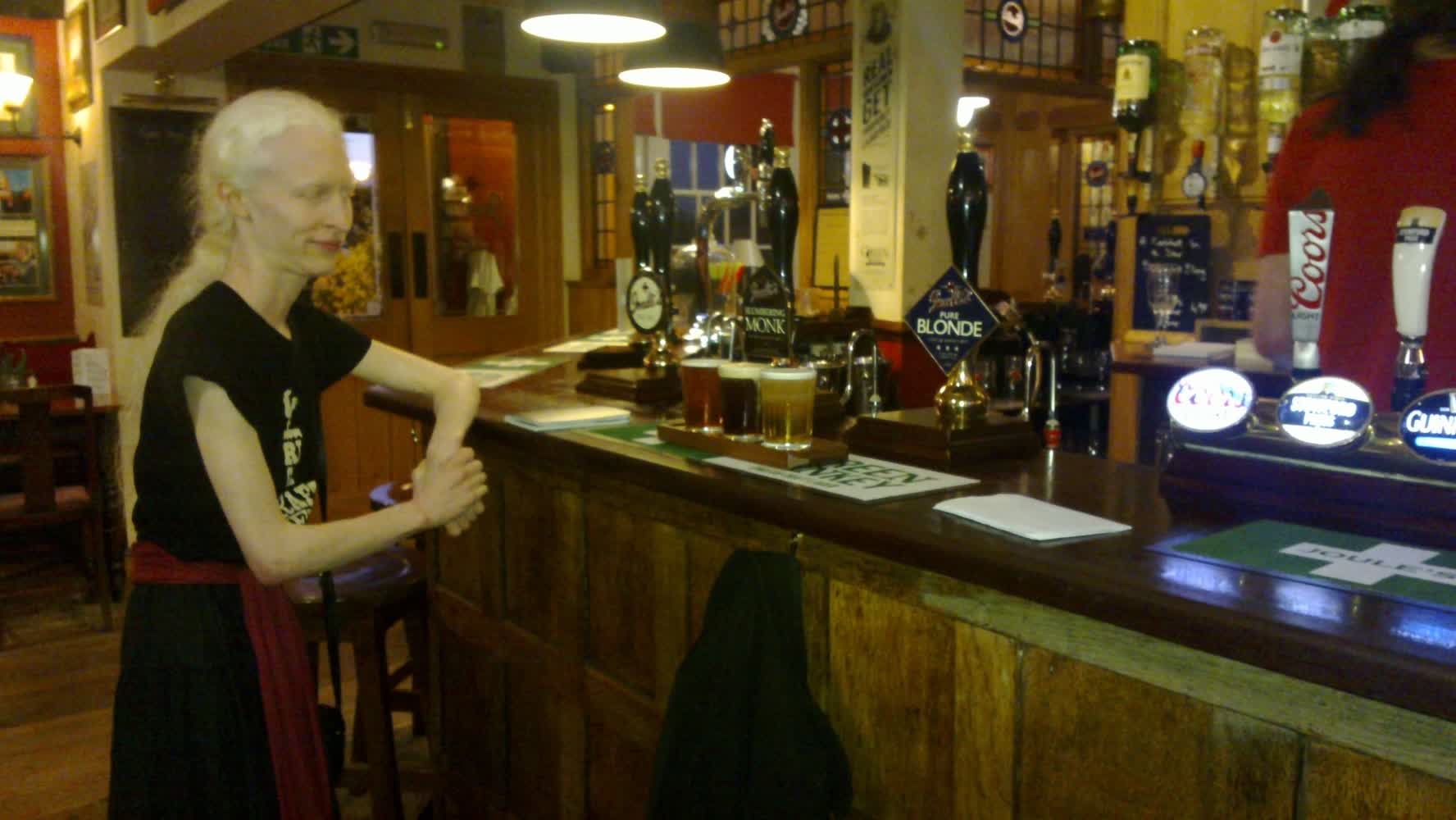 Admiral Benbow
24 Swan Hill, just off the town square
A quiet free house, this is a back-to-basics pub but by no means grotty. The environment included hopbines on the ceiling, lamps and other nautical elements, and a fireplace. Tasty real cider.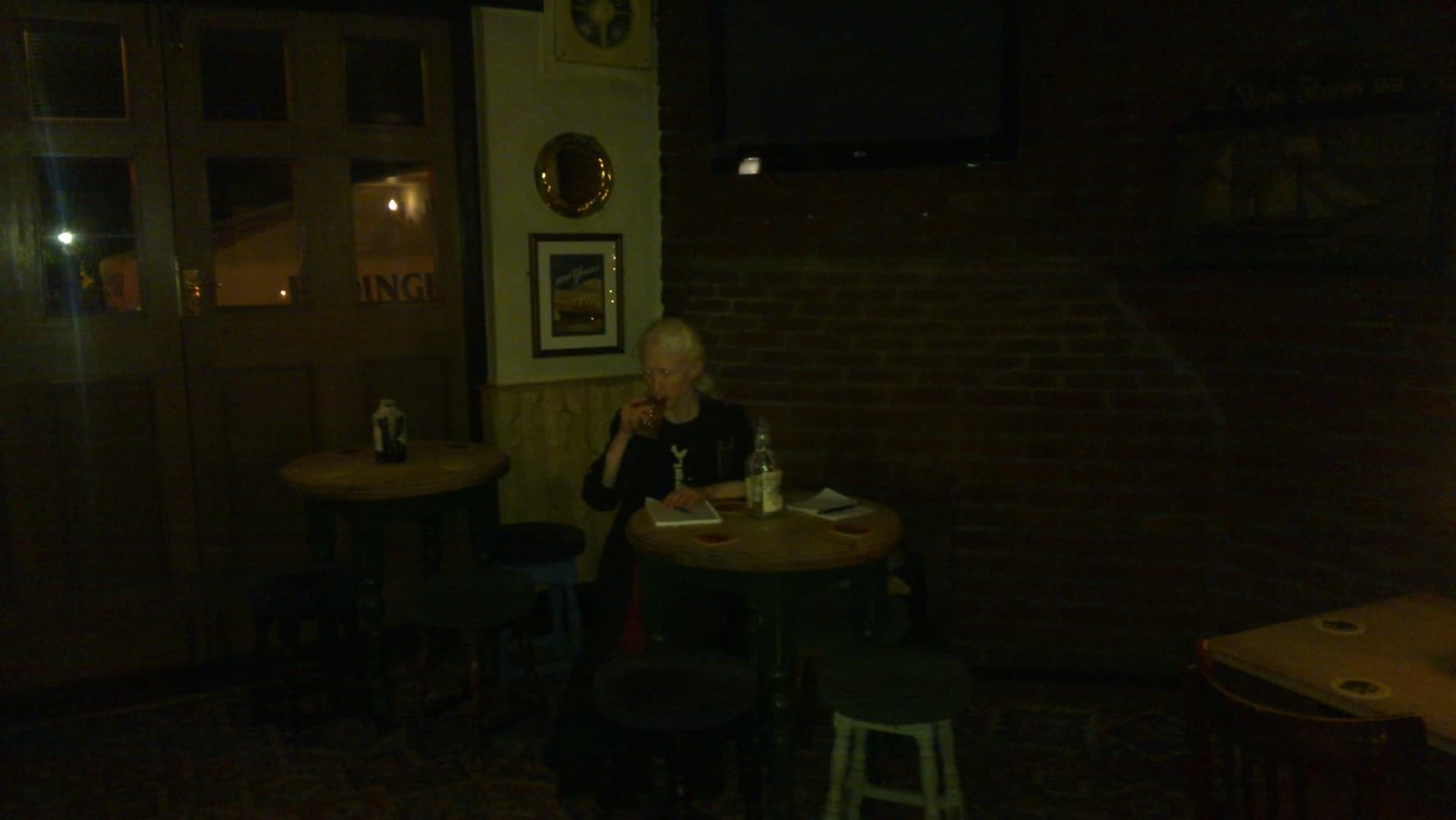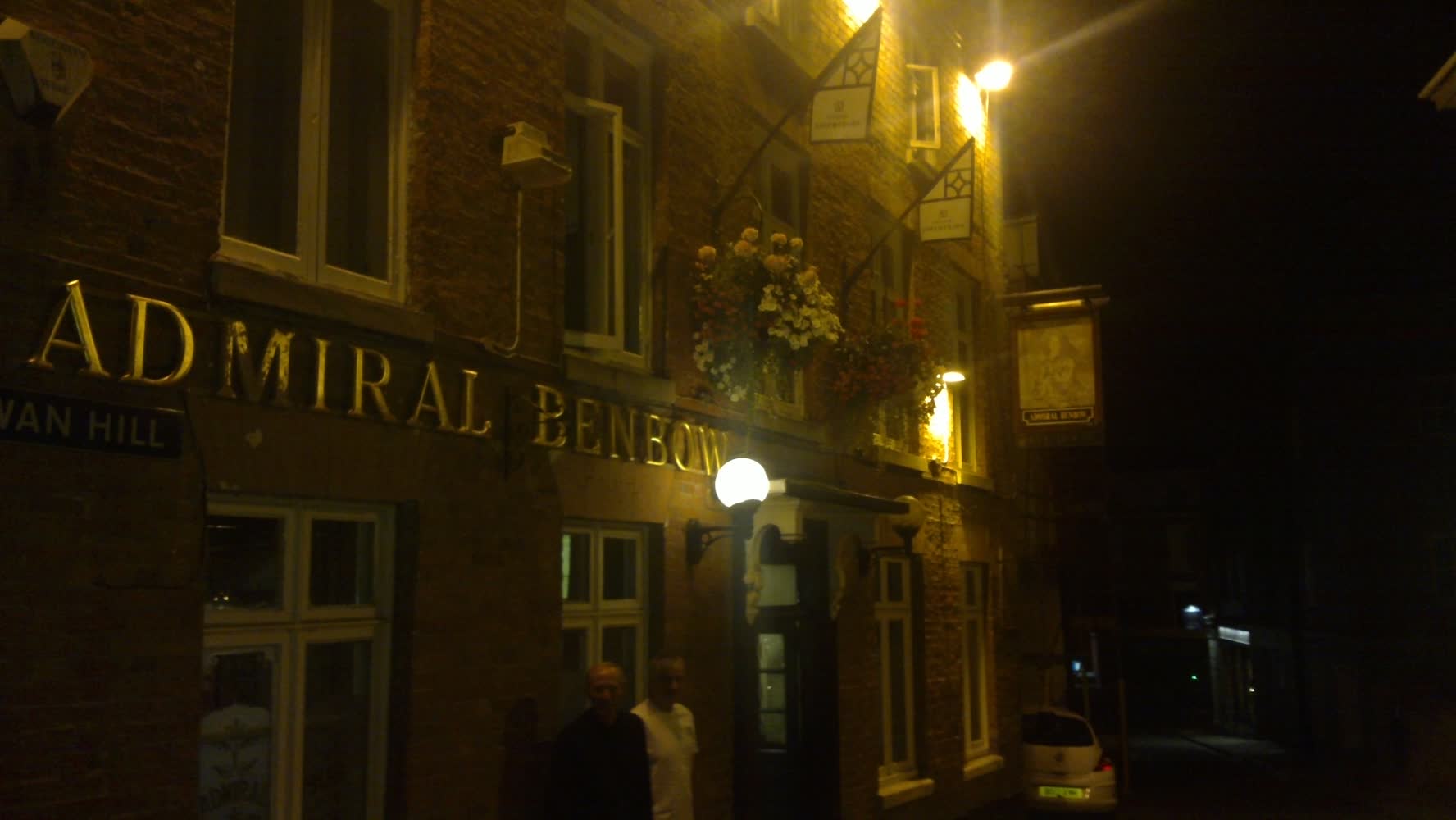 Coach & Horses
also on Swan Hill
We step into our last venue of the evening and find that it's yet another with well-kept beers. Small round tables and snugs. We're the last customers, and they're closing things up around us but not making a fuss. The toilets are in an upstairs area that mirrors the upper floor of the Pint Shop in Cambridge - creaky wooden stairs, lots of tiny rooms and weirdly shaped old spaces, etc.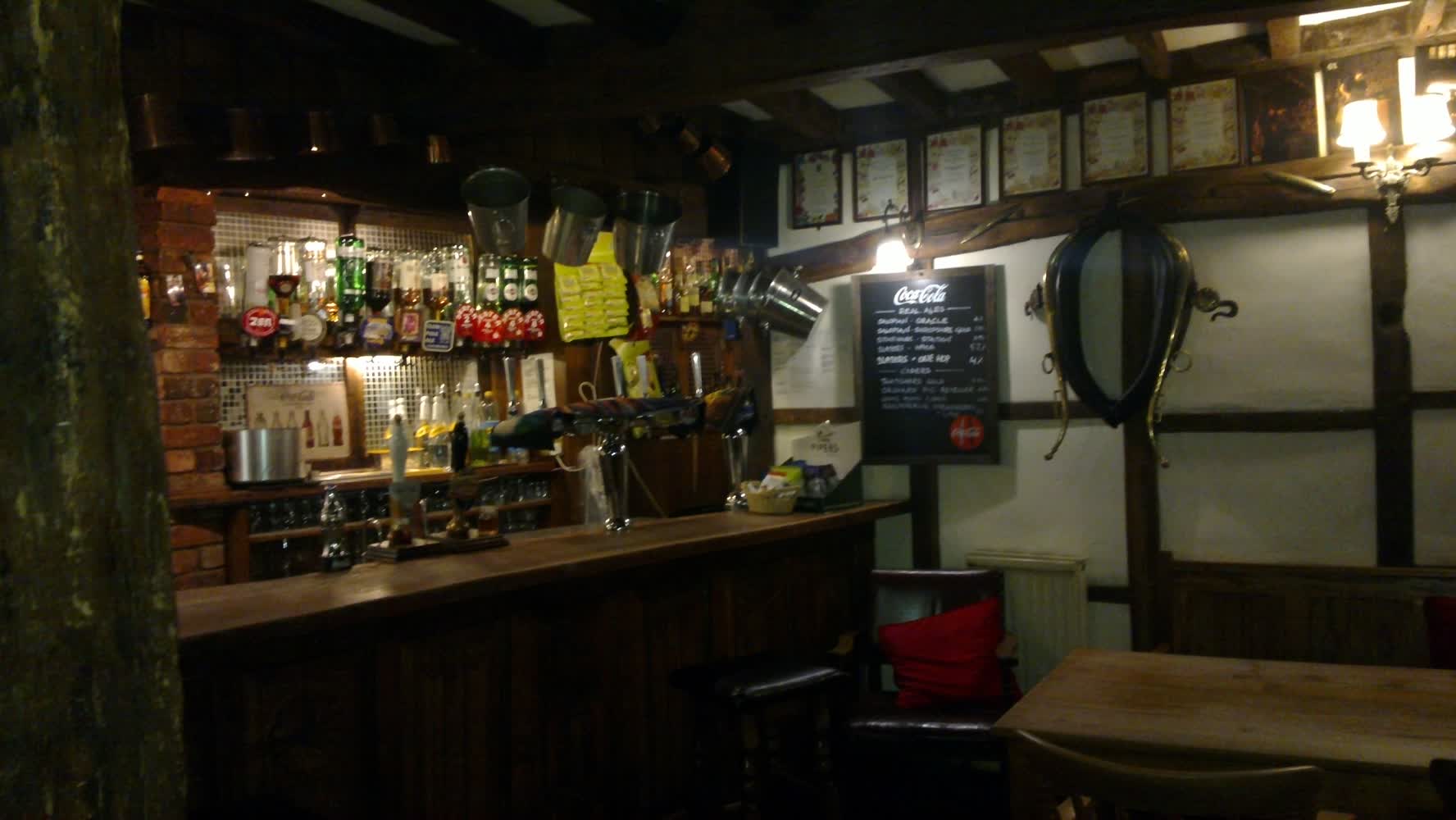 MON.
• We started the day with a bit of sightseeing, through the crooked old streets and past some classic black-and-white photos.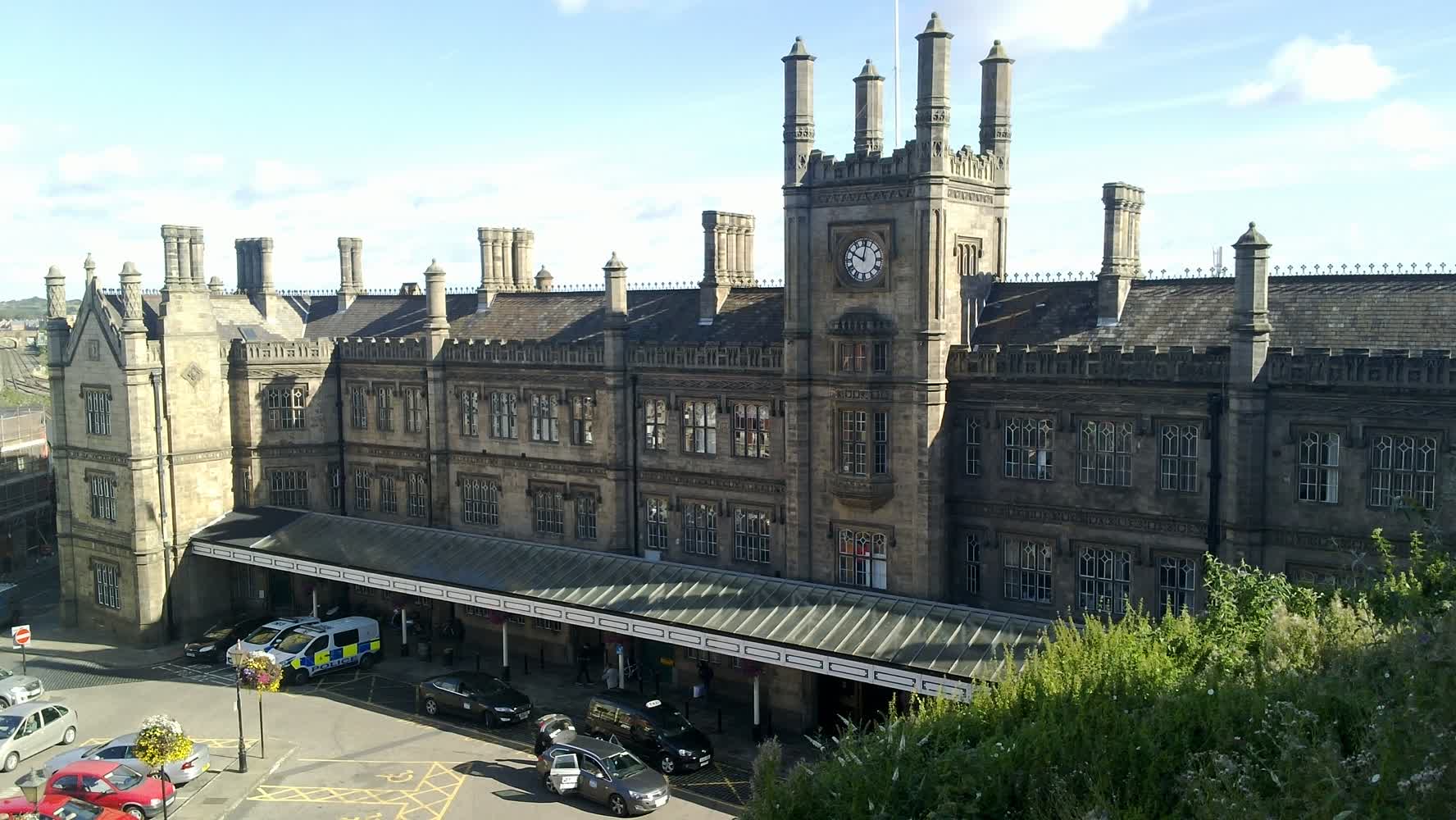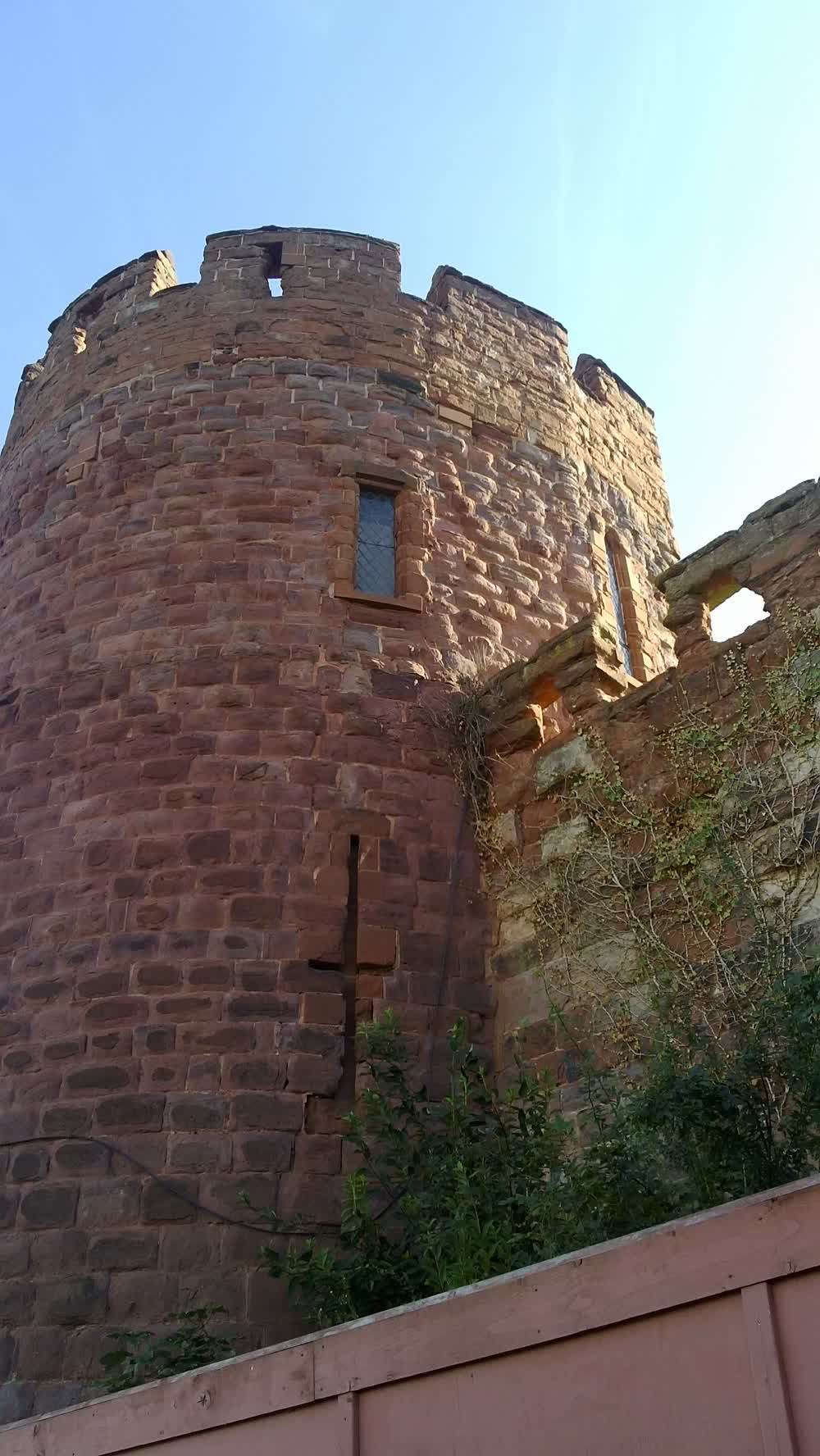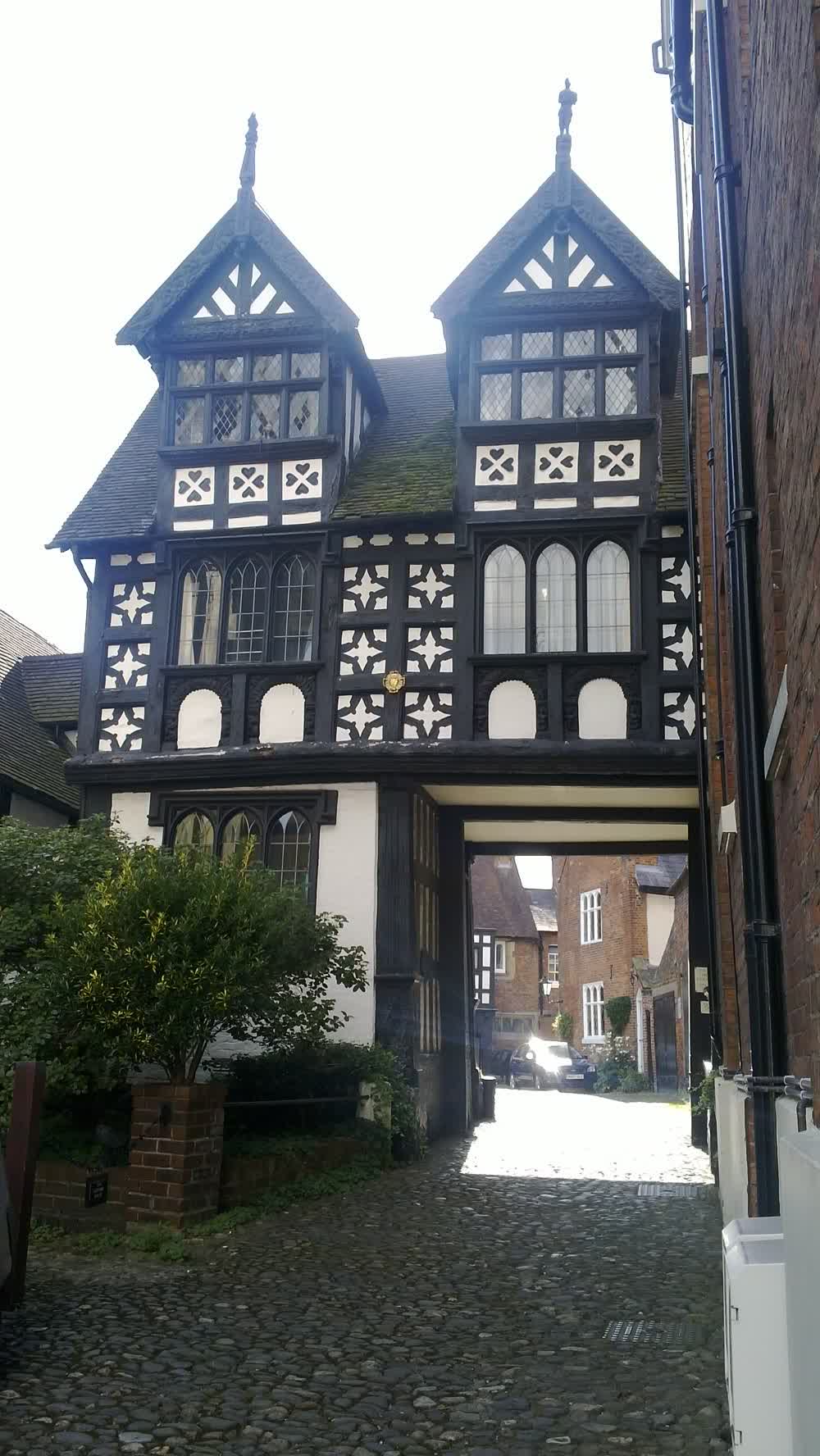 Of course, we had to prowl through Britain's last Grope Lane
(other such streets of ill repute have become Grove Lane and the like, and nary a Gropecunte remains).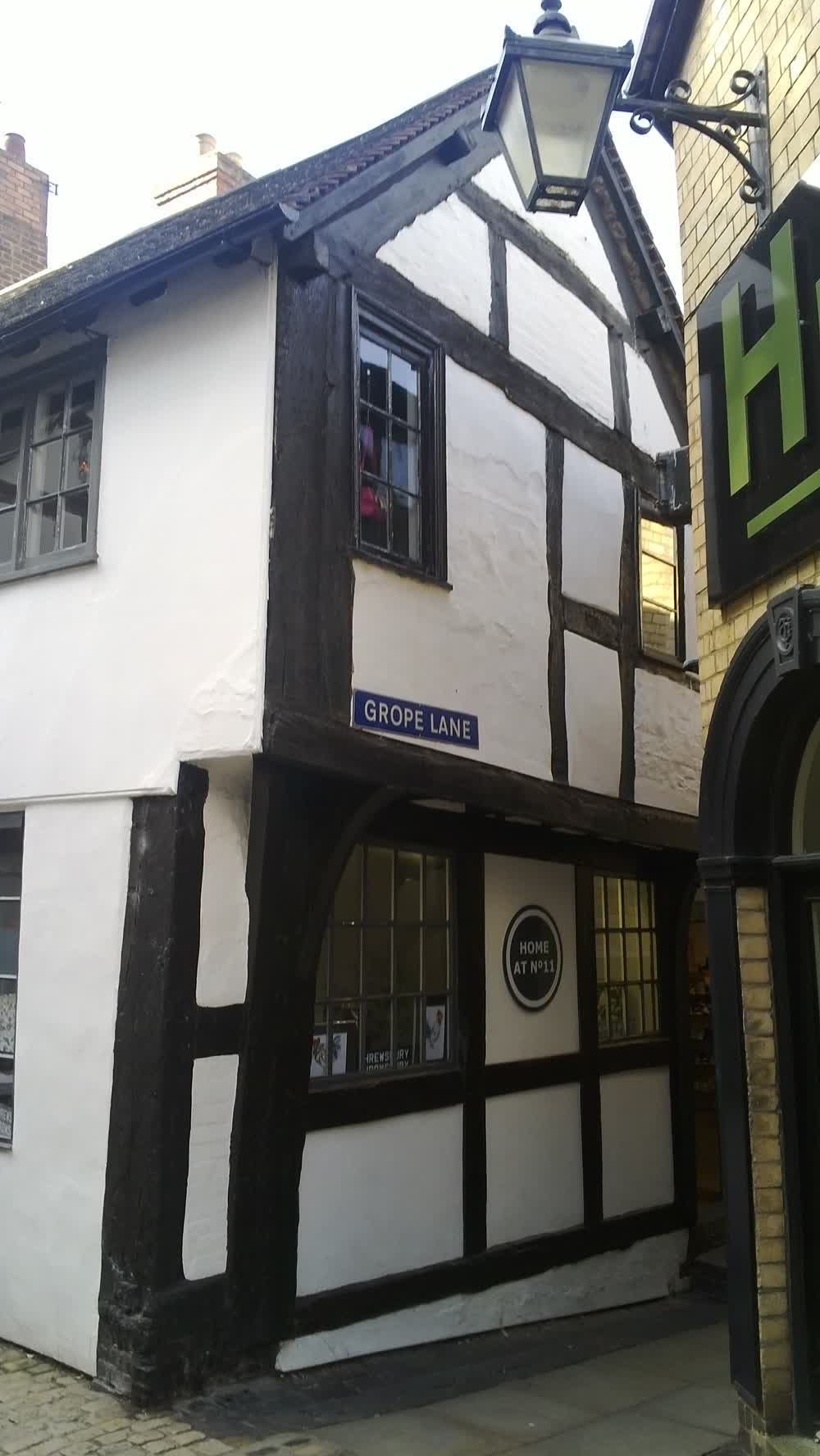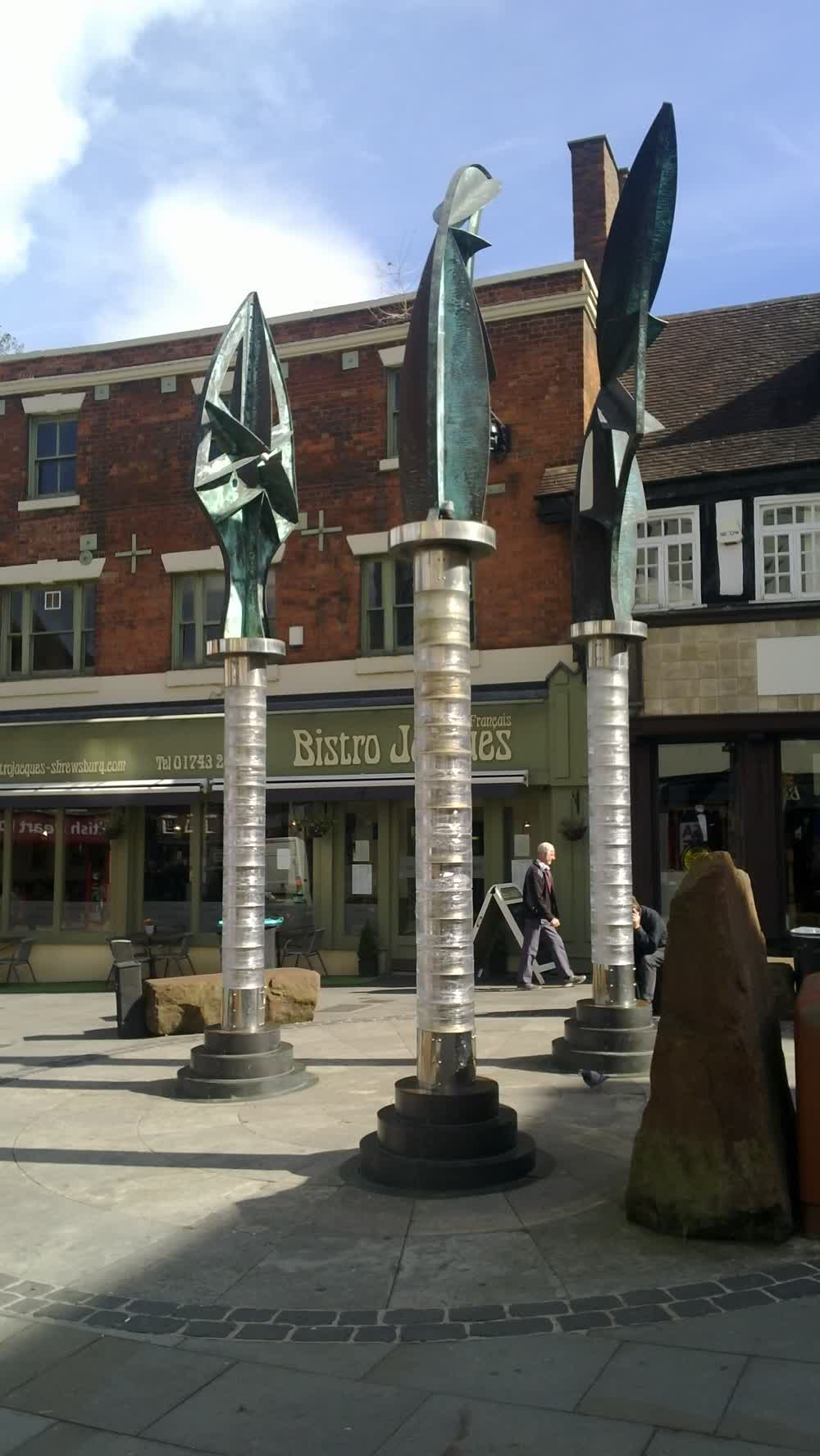 Armoury
Victoria Quay
A walk along the river led to our first venue of the day, a restaurant-feel one whose arched windows looked out on the willows and river opposite. The staff here were initially not sure about their beer-serving hours, but our glasses ended up filled soon enough (and the staff later enquired after the one that didn't get emptied). A large, open space with light-wood tables, this started to fill up as noon approached, largely with older patrons. All kinds of stuff featured here - photos on pillars, bookshelves, etc.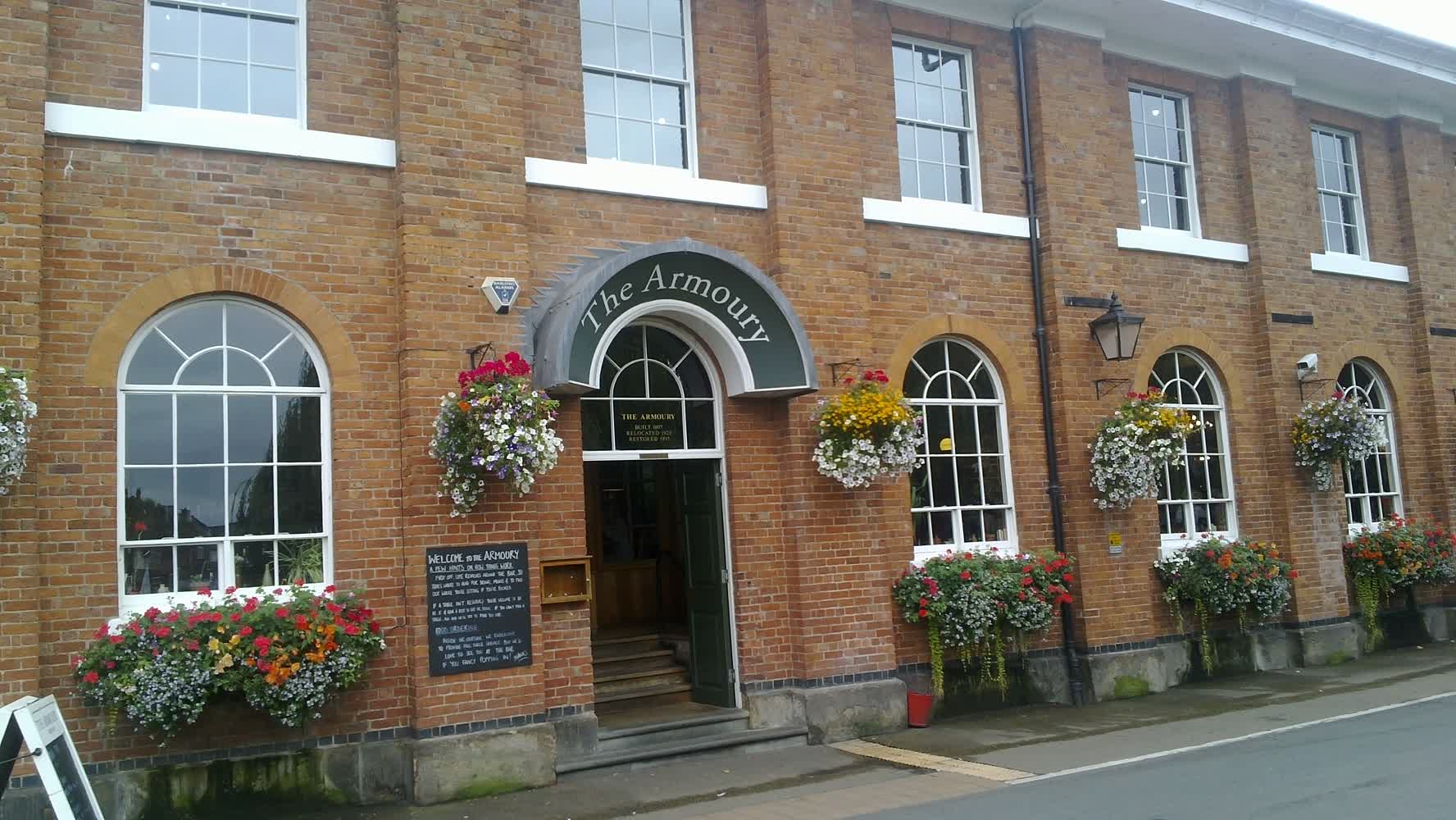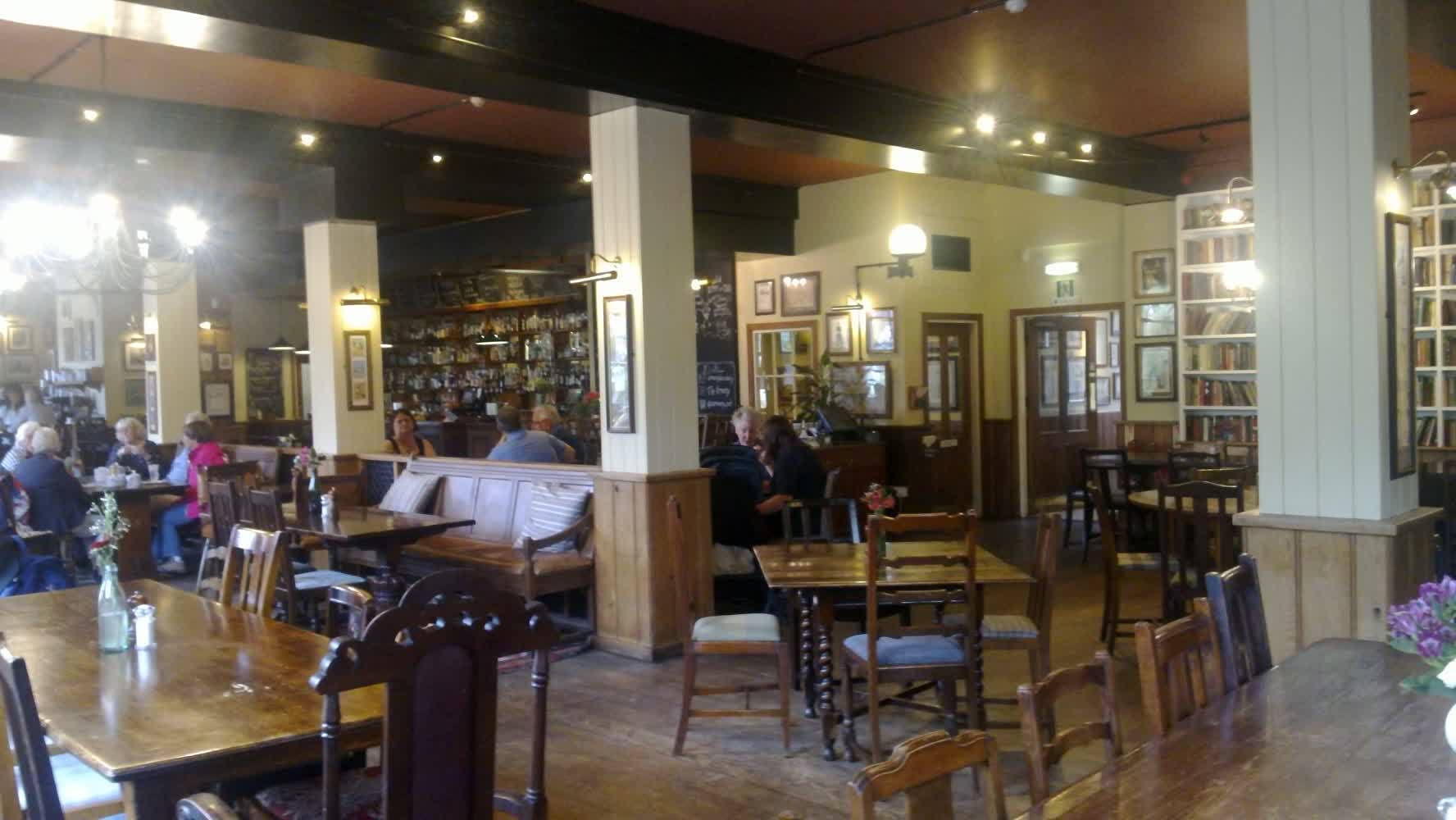 King's Head
48 Mardol
Recovered-beam ceiling, stained-glassish windows, and incongruous check carpet. This is a modern place deep down, but it has preserved a good look that doesn't say 'fake!'. While our sample suffered from First Pour of the Day Syndrome, what ultimately was served to us proved to be spot-on.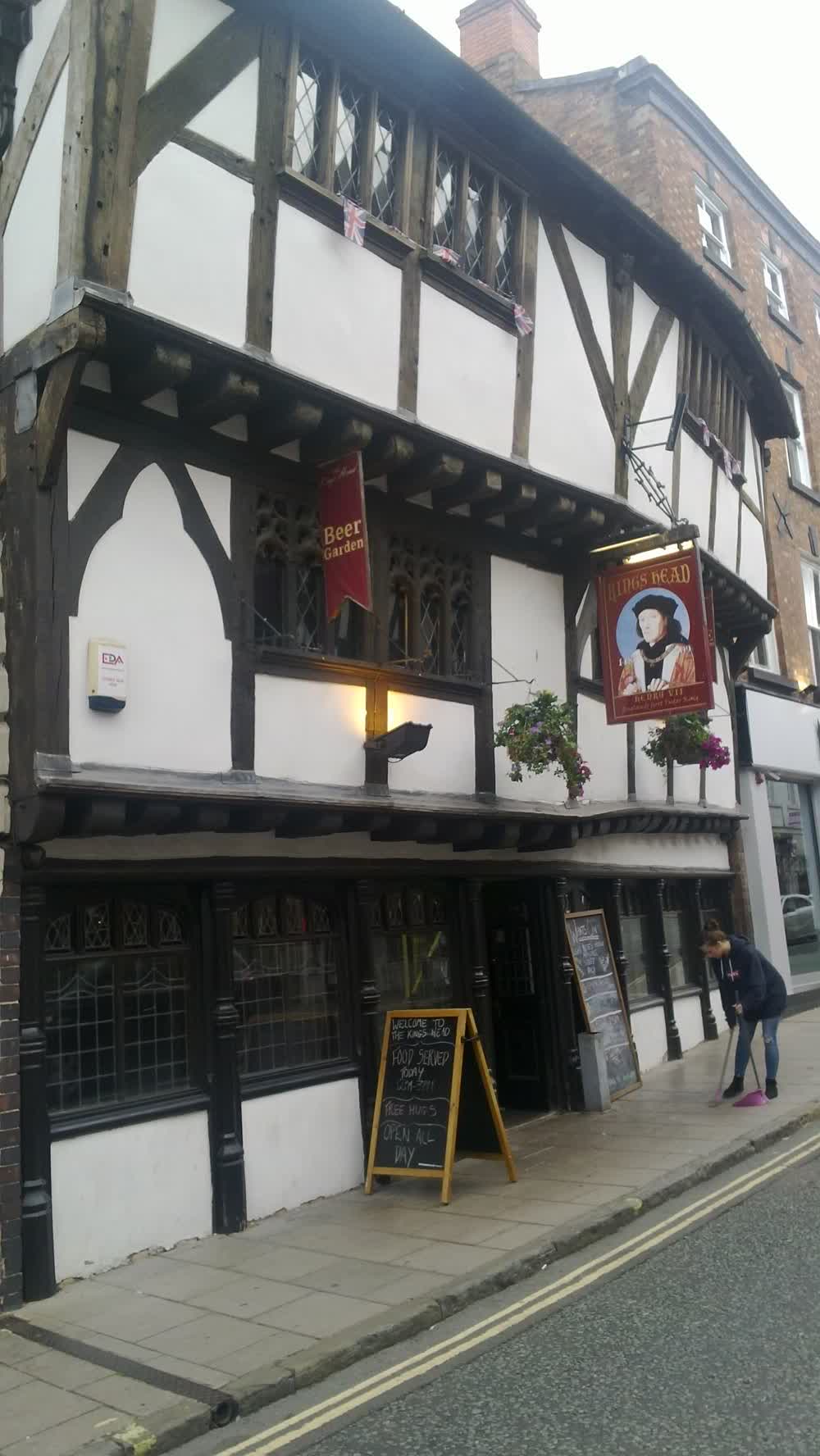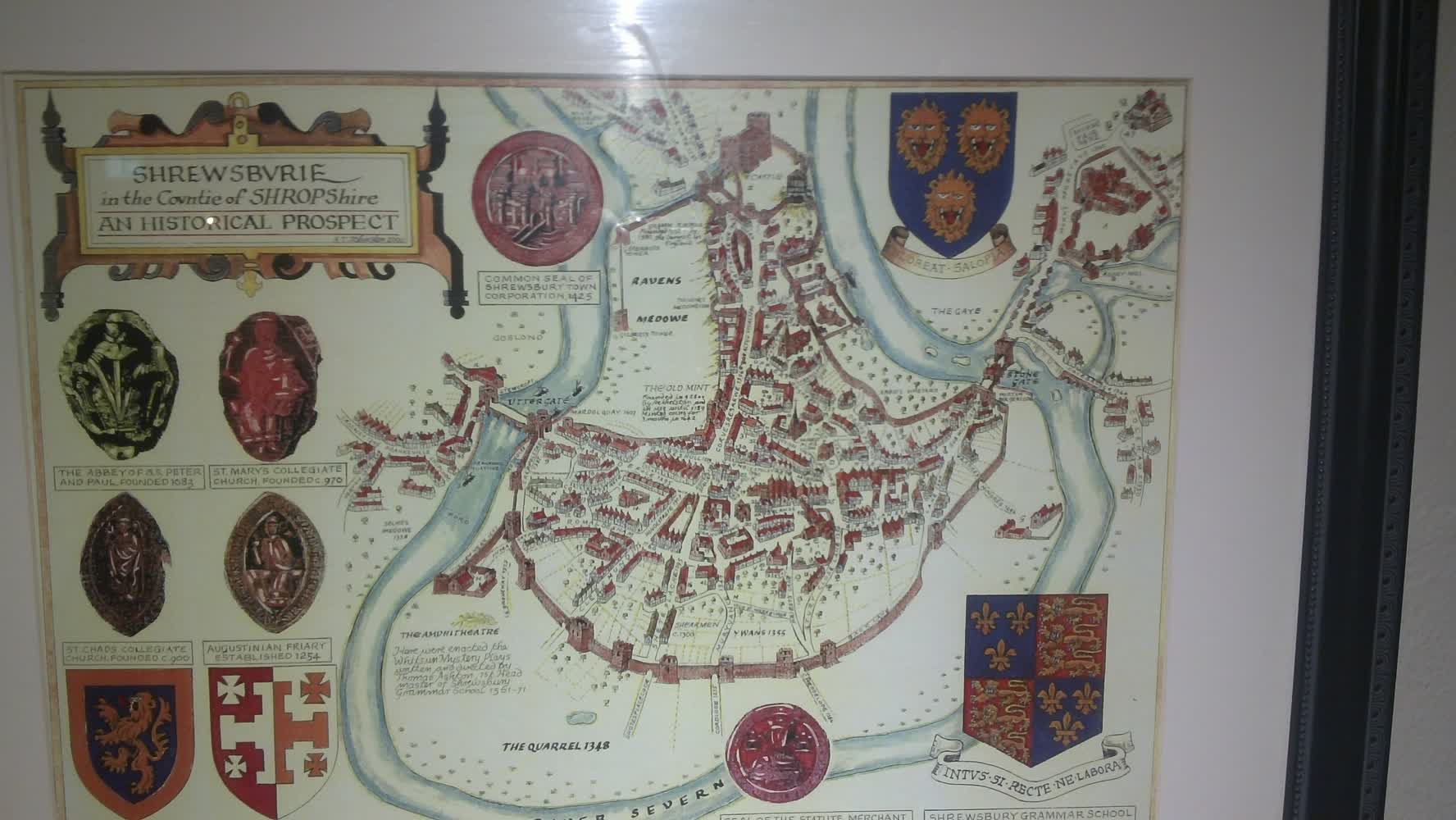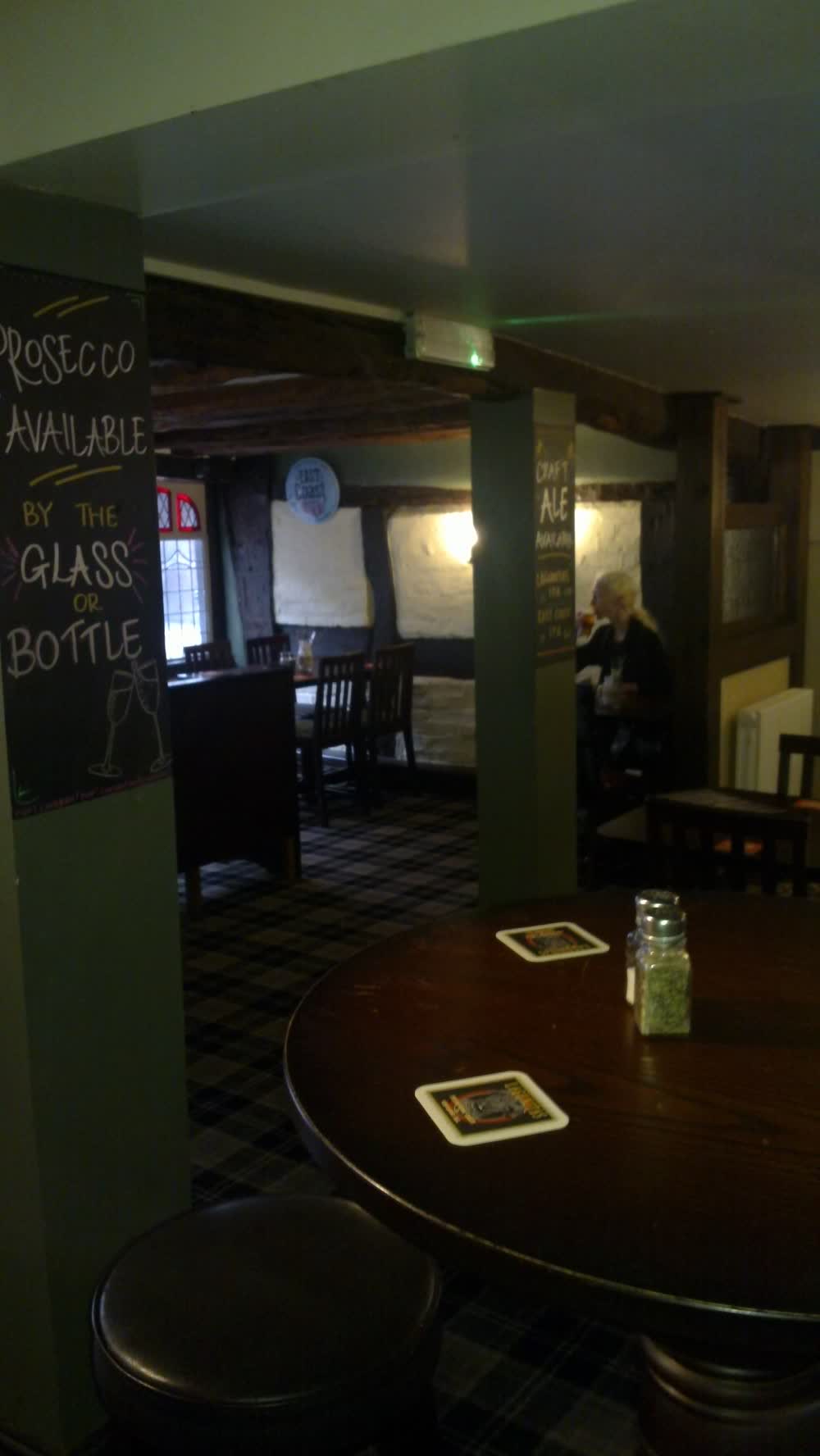 Salopian Arms
Smithfield Road
A traditional workmen's pub in layout and feel, with a red and black color scheme. Tellies were on but without sound, so we were able to appreciate the full version of 'Layla'. A good range of real ales, and kegs, and fridge residents. 'Definitely a dog-owners' pub.' Gets plus points for not using sparklers, but minus a point for vaping inside.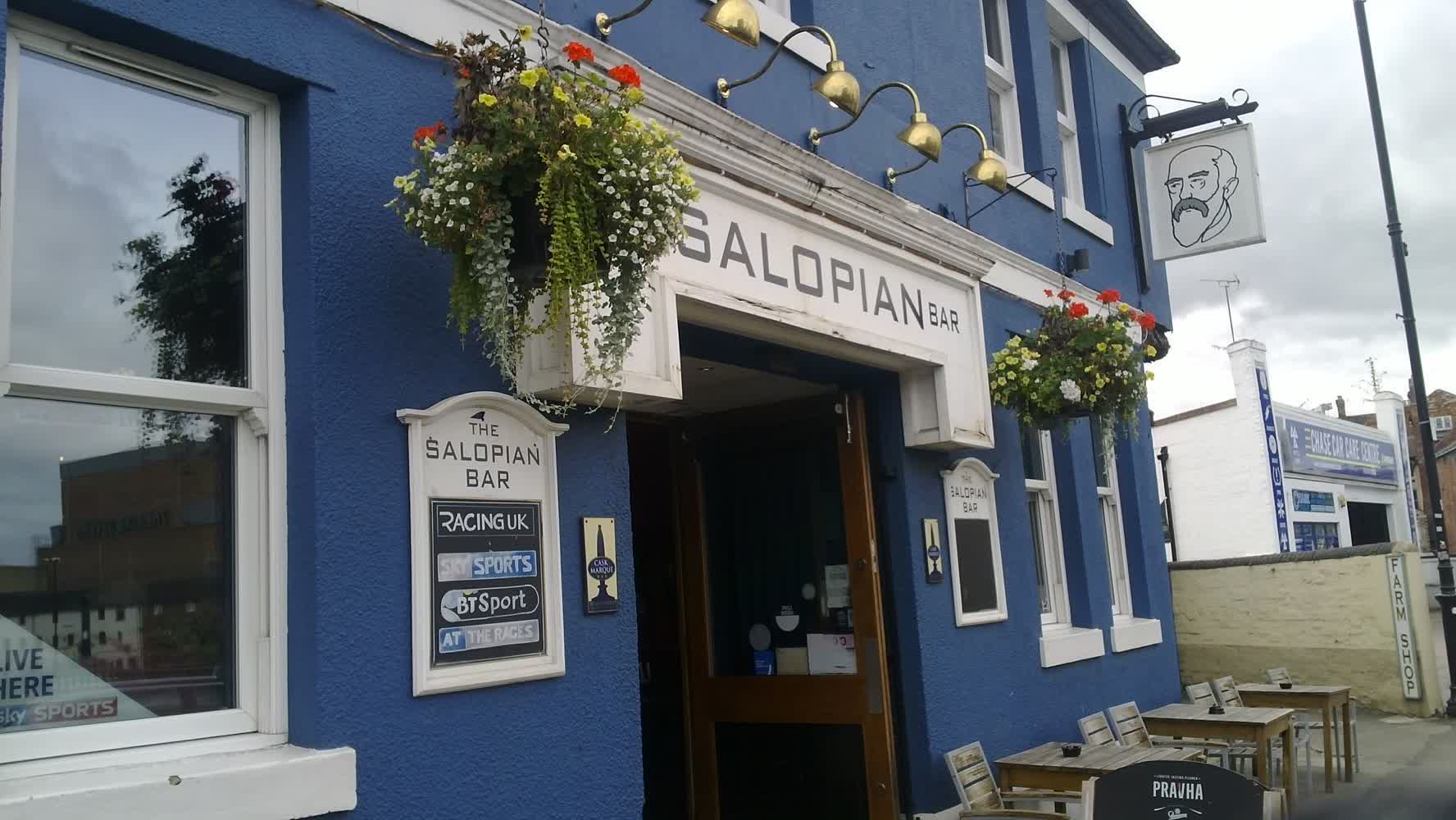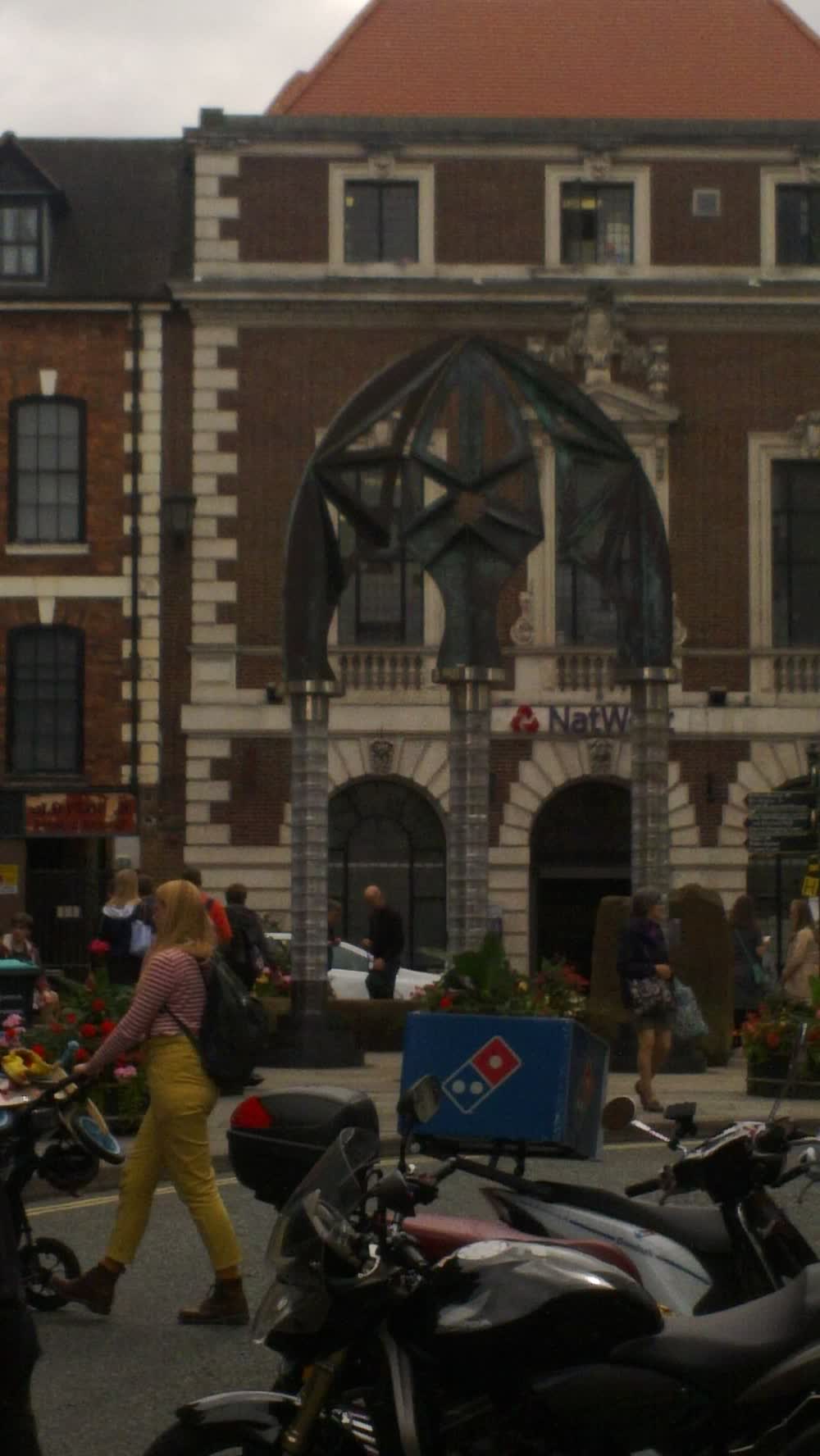 (Hole in the Wall, 1 Shoplatch)
One of the places recommended by locals greeted us with Doom Bar turned around and two unlabelled real ales. But we fared better at the next spot suggested to us.

Loopy Shrew
15/17 Bellstone
Visited on local recommendation, this café-feel place (with plenty of tea and croissants, for example) had three real ales and 10 keg lines. Without prompting, staff told us what their house-branded beer was. There are other sections (cf. the Cambridge Brewhouse, even with the steps up), with a more pubby feel available if one prefers beams over light wood and a café vibe.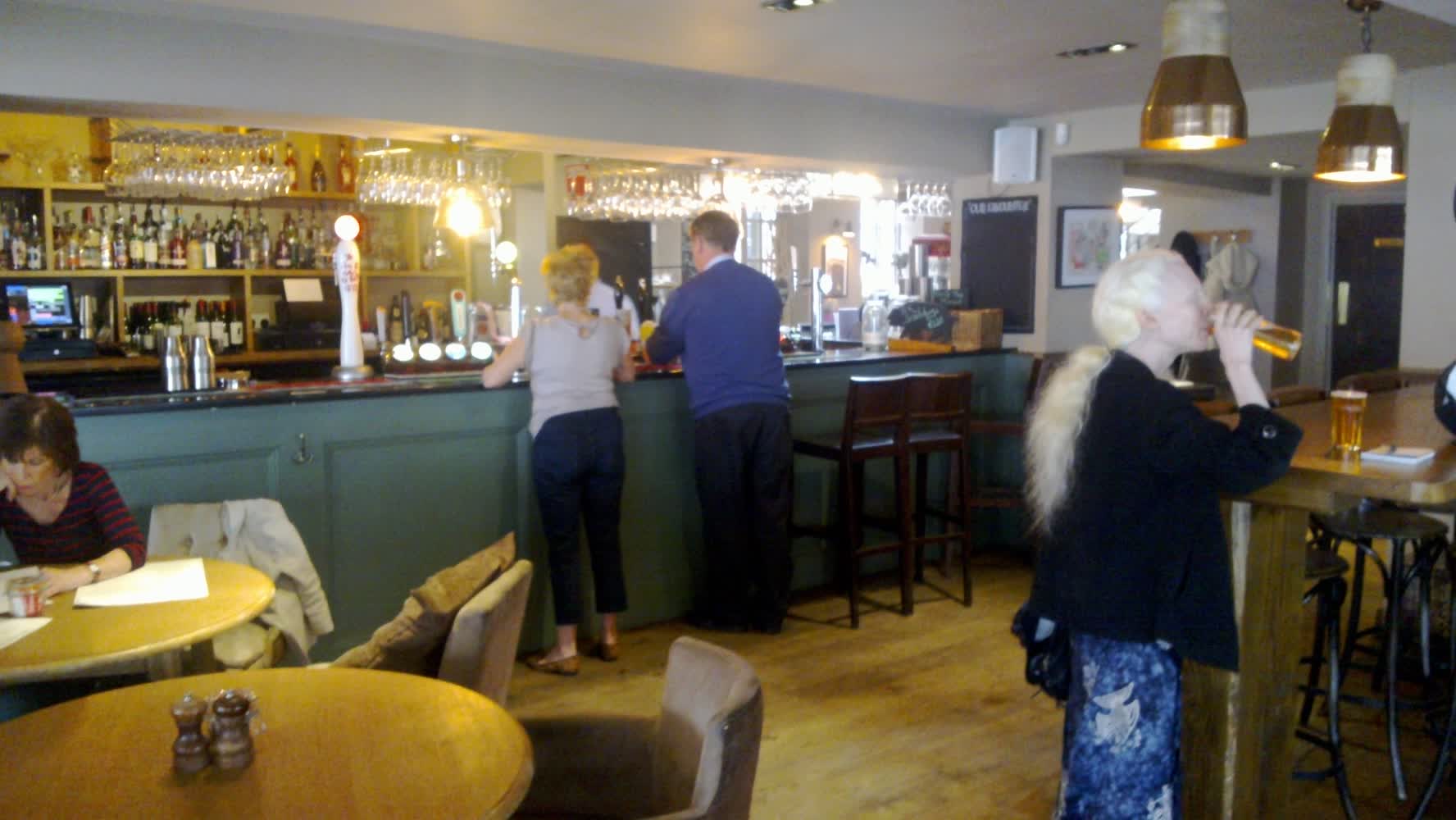 • The crawl was in high gear now, though we'd still end up having to miss out pubs such as the Prince Of Wales, out at 30 Bynner Street, Belle Vue) and a whole cluster of places of unknown status (Crown, Peach Tree, etc.) along the river.
(Images are below)
3 Fishes
4 Fish Street
The well-regarded 3 Fishes is in a slightly cockeyed, dimly lit building done in black and cream. Old pump clips adorn the ceiling's beams. A quiet locals' pub that gave us tasty beer, for the best prices in town so far. No music. This place was so quiet, in fact, that we wanted to whisper while here, though more people, of a mix of ages, arrived, and a general burbling of conversation did develop.

Wheatsheaf (High Street)
50 High Street
The other Wheatsheaf was covered with big windows and light wood. Staff and customers were friendly and chatty, recommending other pubs we should check out and so on.

Old Post Office
97 Foregate Street (?)
A Victorian-feel setting with grey and blue painted walls. Largely food-oriented, with cutlery in place on the tables. Works well enough though not perhaps for refined tastes.

Lion & Pheasant
49-50 Wyle Cop
A hotel bar with light wood and railings, this had four handpulls but also, more noteworthy, a well-stocked fridge with plenty of Belgian bottles in it, among them several that are less commonly spotted.

Castle Vaults
16 Castle Gates
Next to the station was this solid space with brick and reddish wood. A two-sided fireplace featured, alongside four real ales and 12 keg beers.

Bull's Head
14 Castle Gates
Dark wood here, a pool table in the bar area, and people relaxing. Phil wonders what langauge the locals are speaking. An unlikely place for a tick perhaps, but we found one. A good boozer.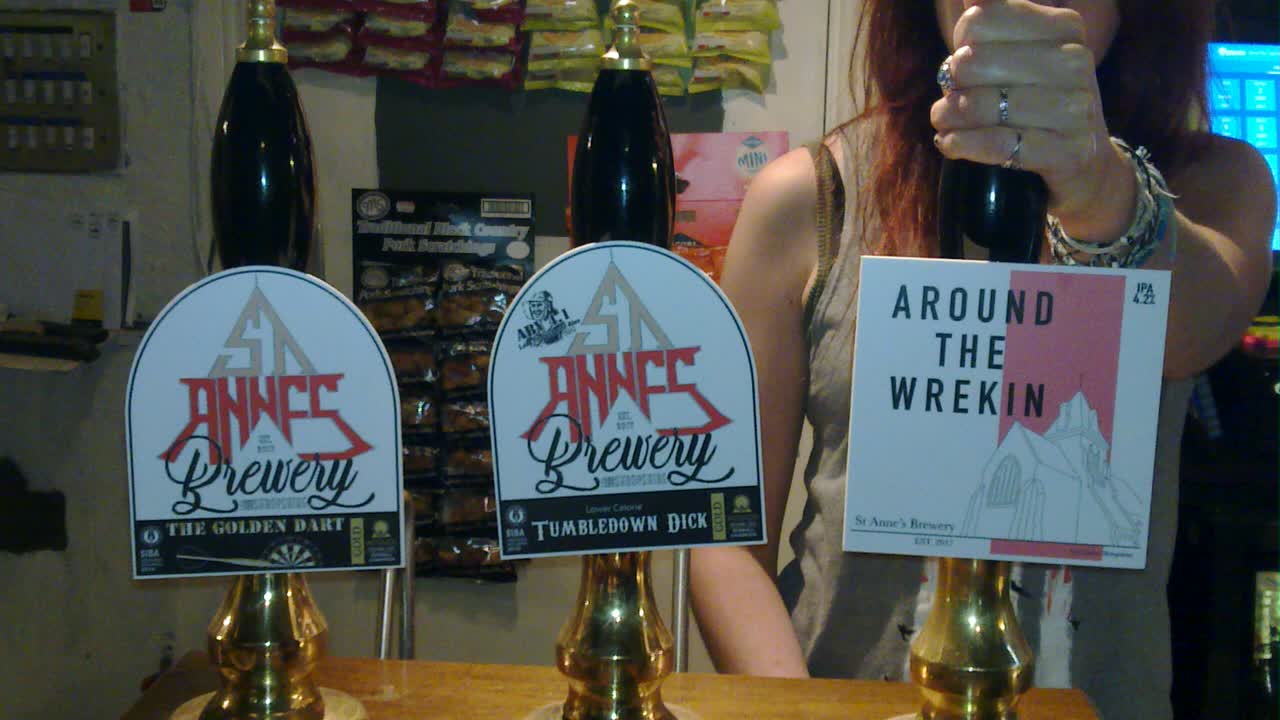 Albion Vaults
12 Castle Foregate
Across the road from the railway station, the Albion Vaults gave us St Anne's beers - one of several new breweries for us on this trip. Phil gets a sense of some of the North Oxford pubs, partly because of the customers. Slightly lubricated guests here, including us, and the chatty bloke with his beloved cancer-ridden old dog.

Station Hotel
4 Castle Foregate
Craft was in evidence more than real ale here, and we fell back on the fridge for 'one for the road'.

• Yes, we had returned to our place of accommodation, for the station beckoned.
We grabbed our bags and then were off to Chester, with a good taste in our mouths from Shrewsbury if not that particular bottle.
---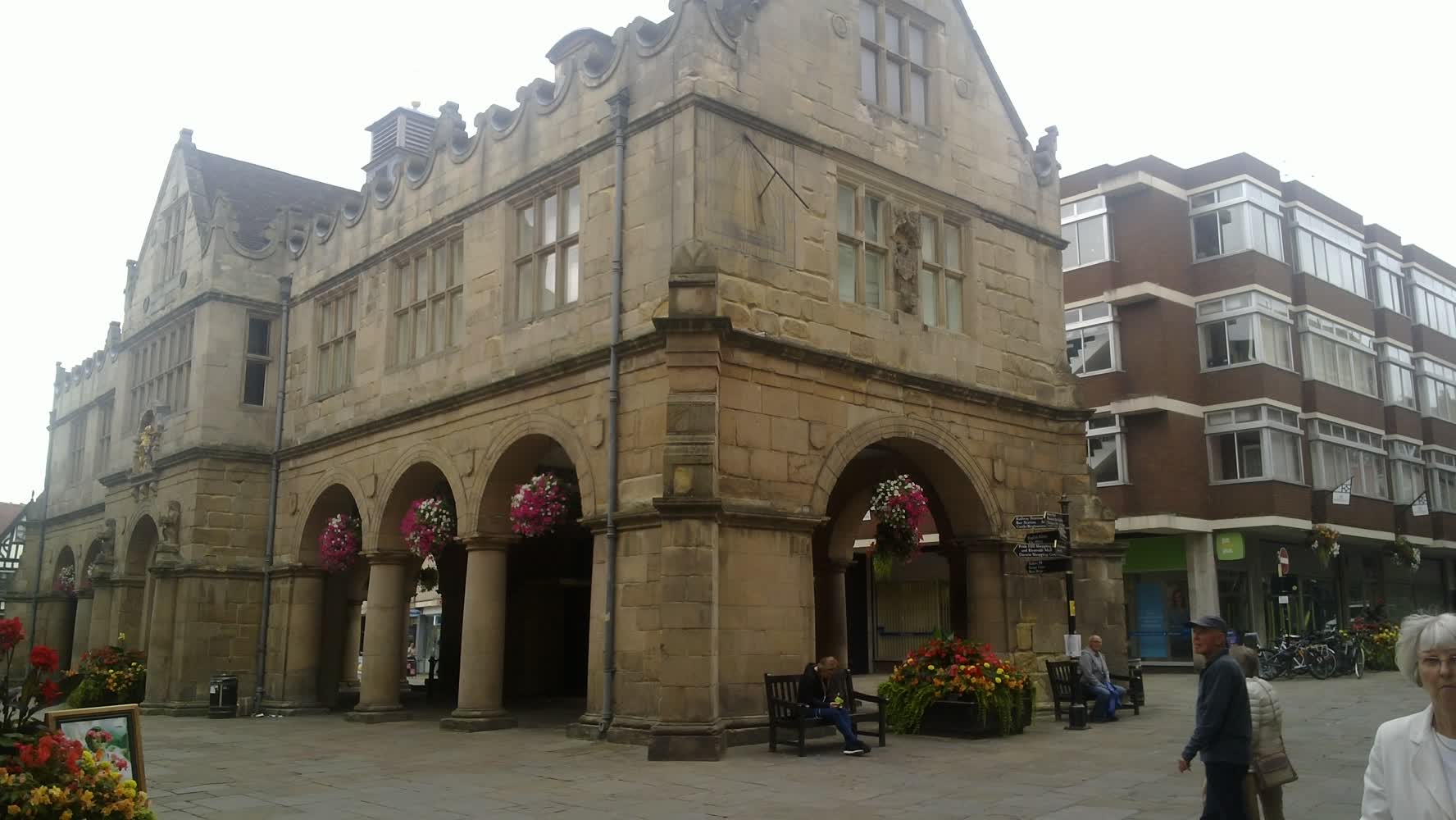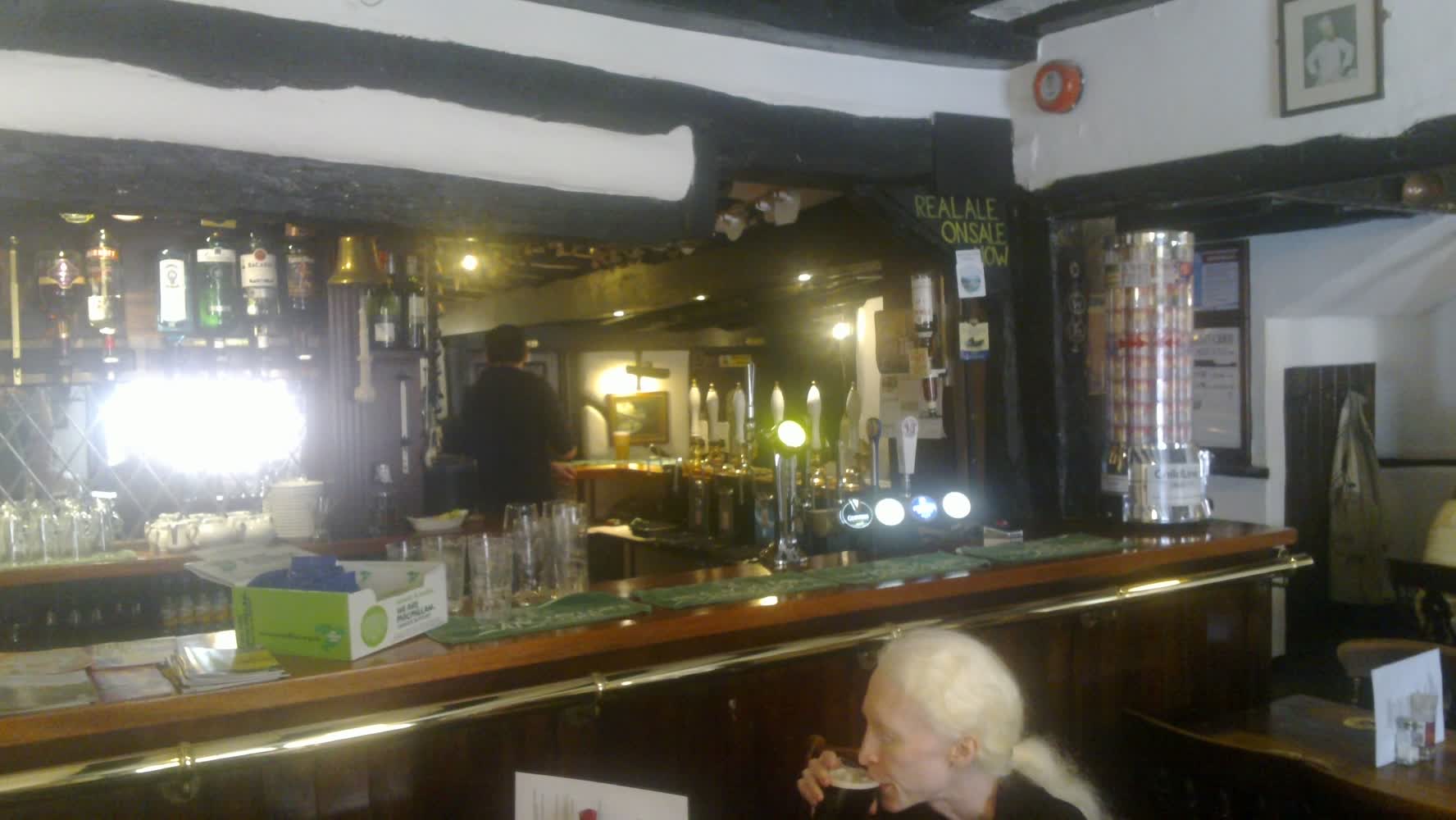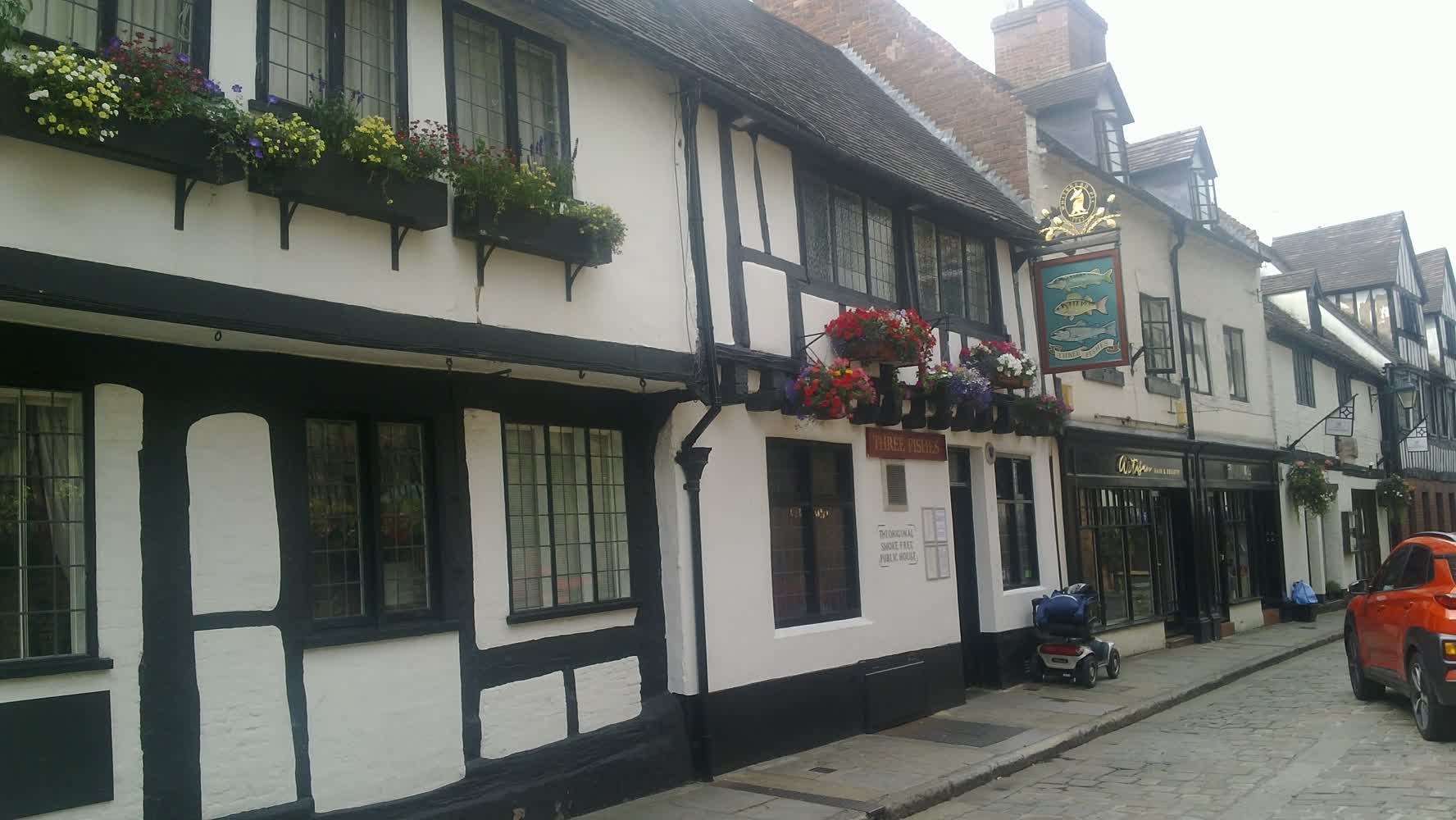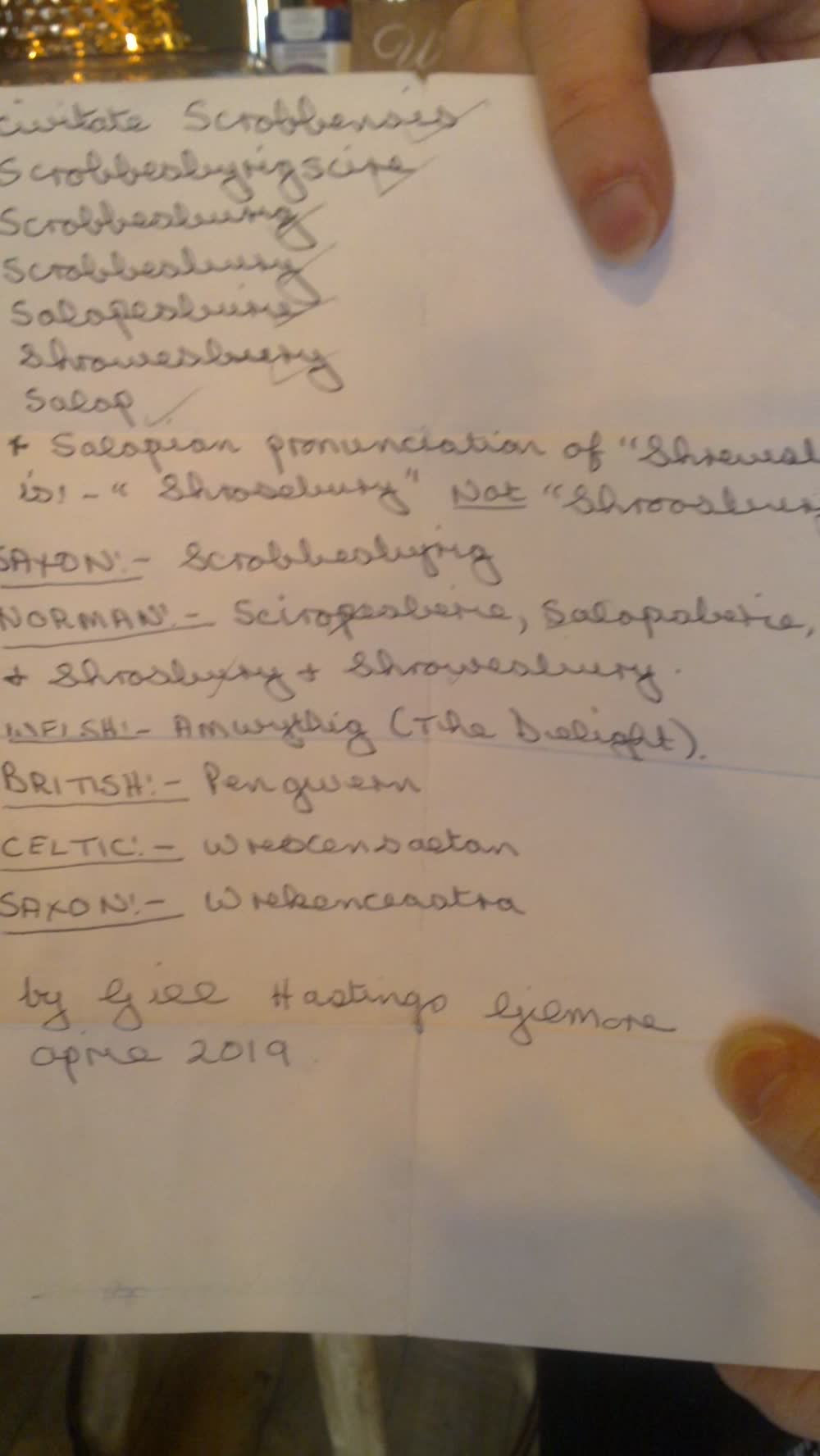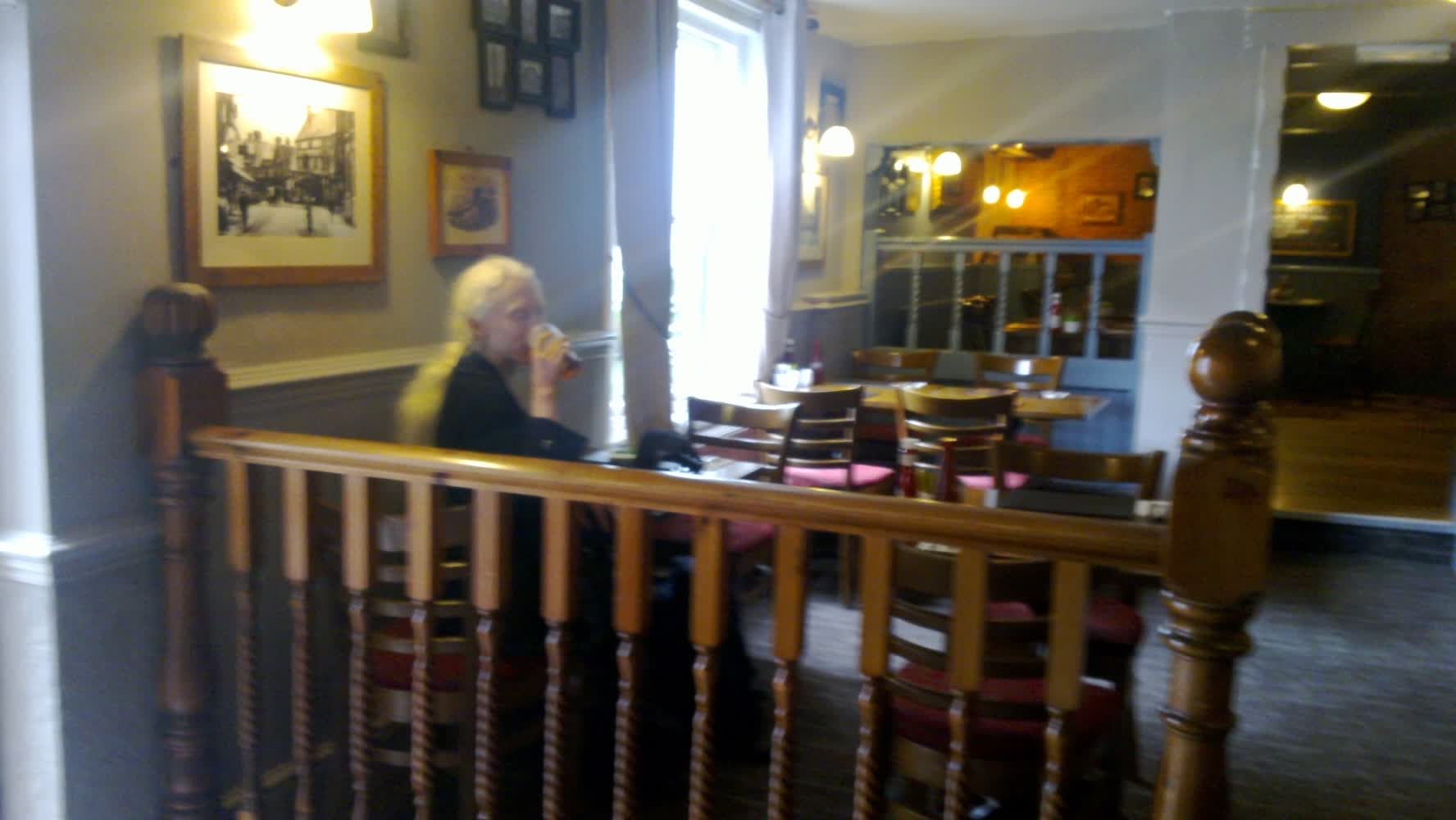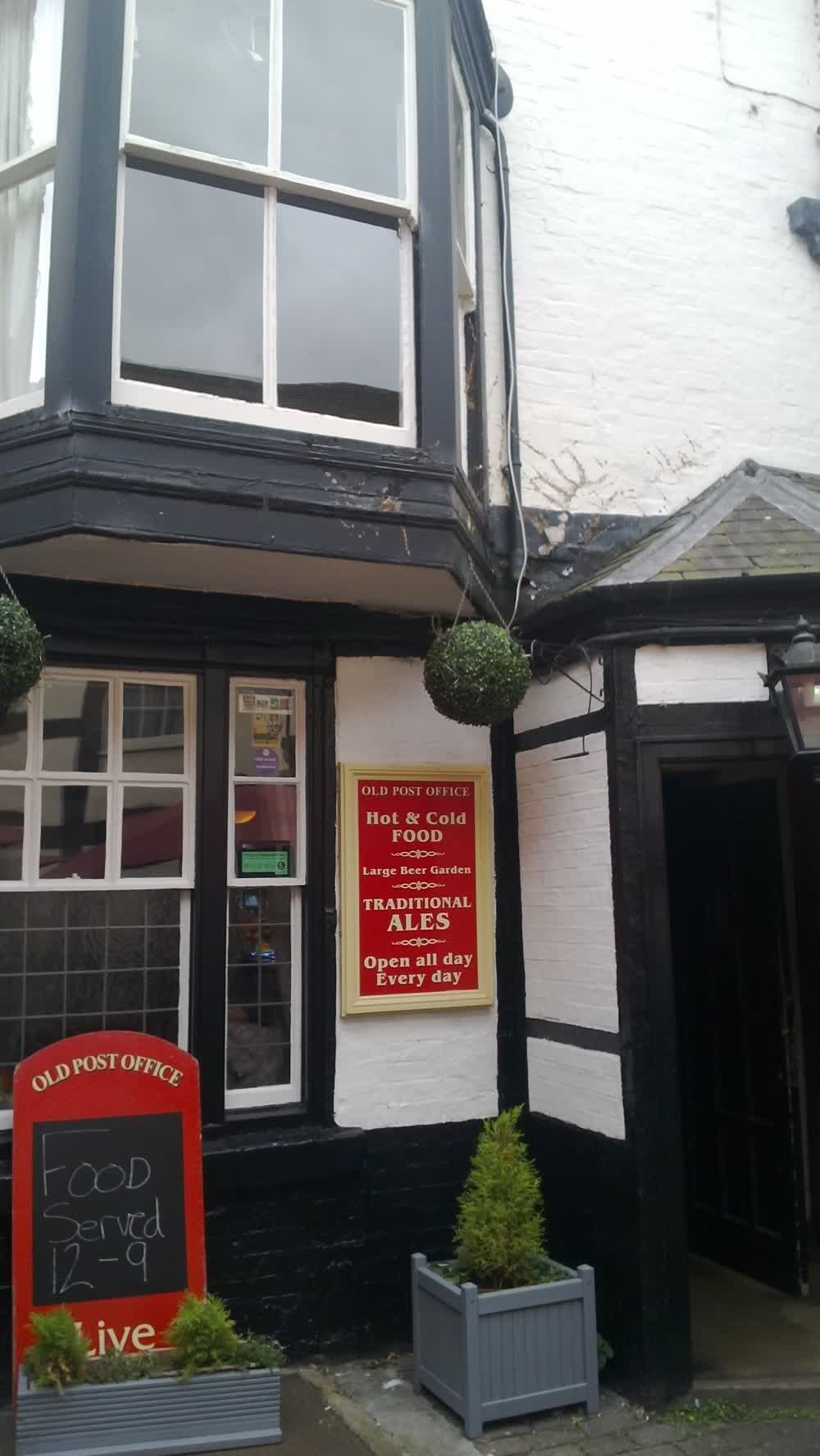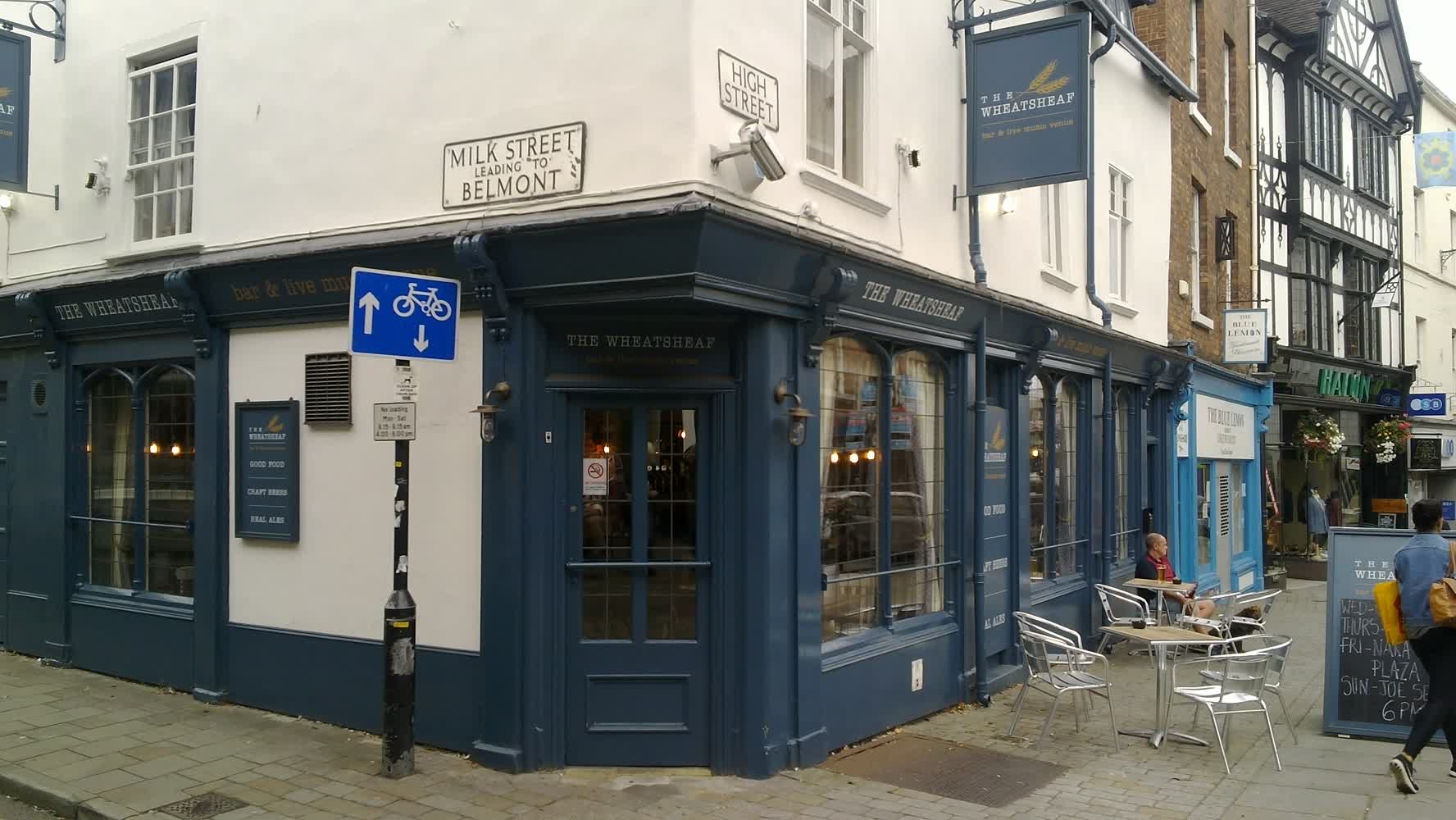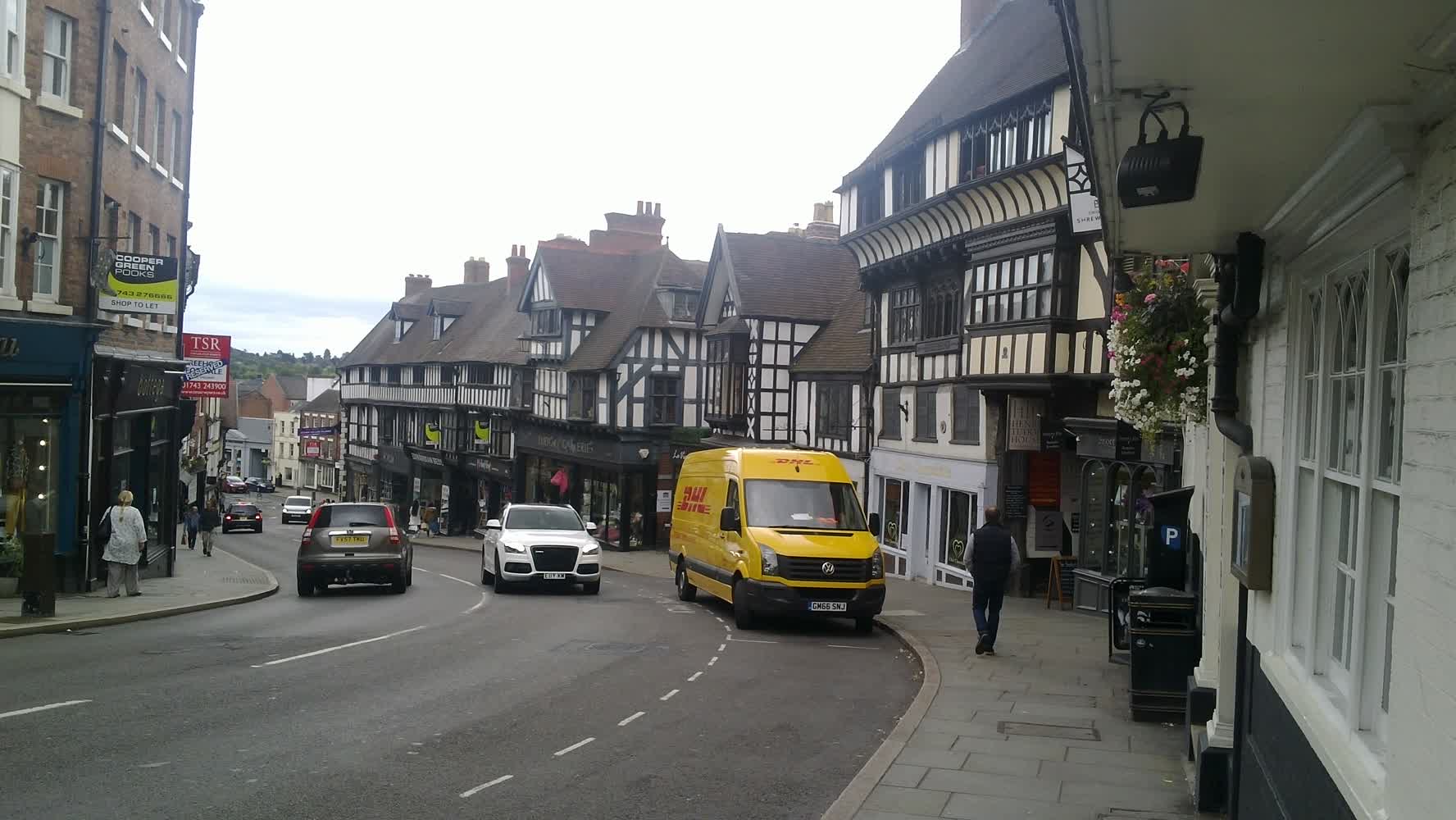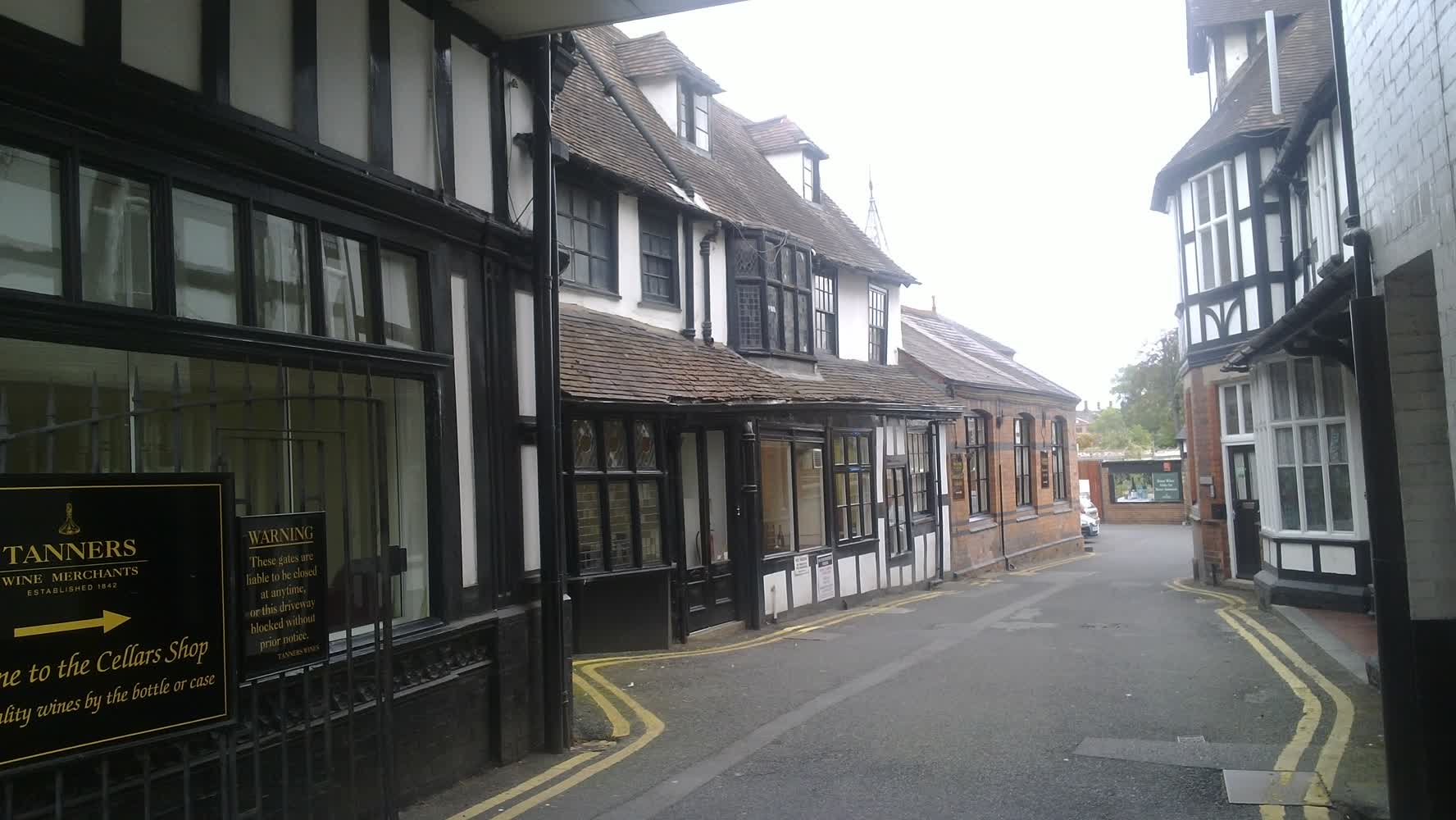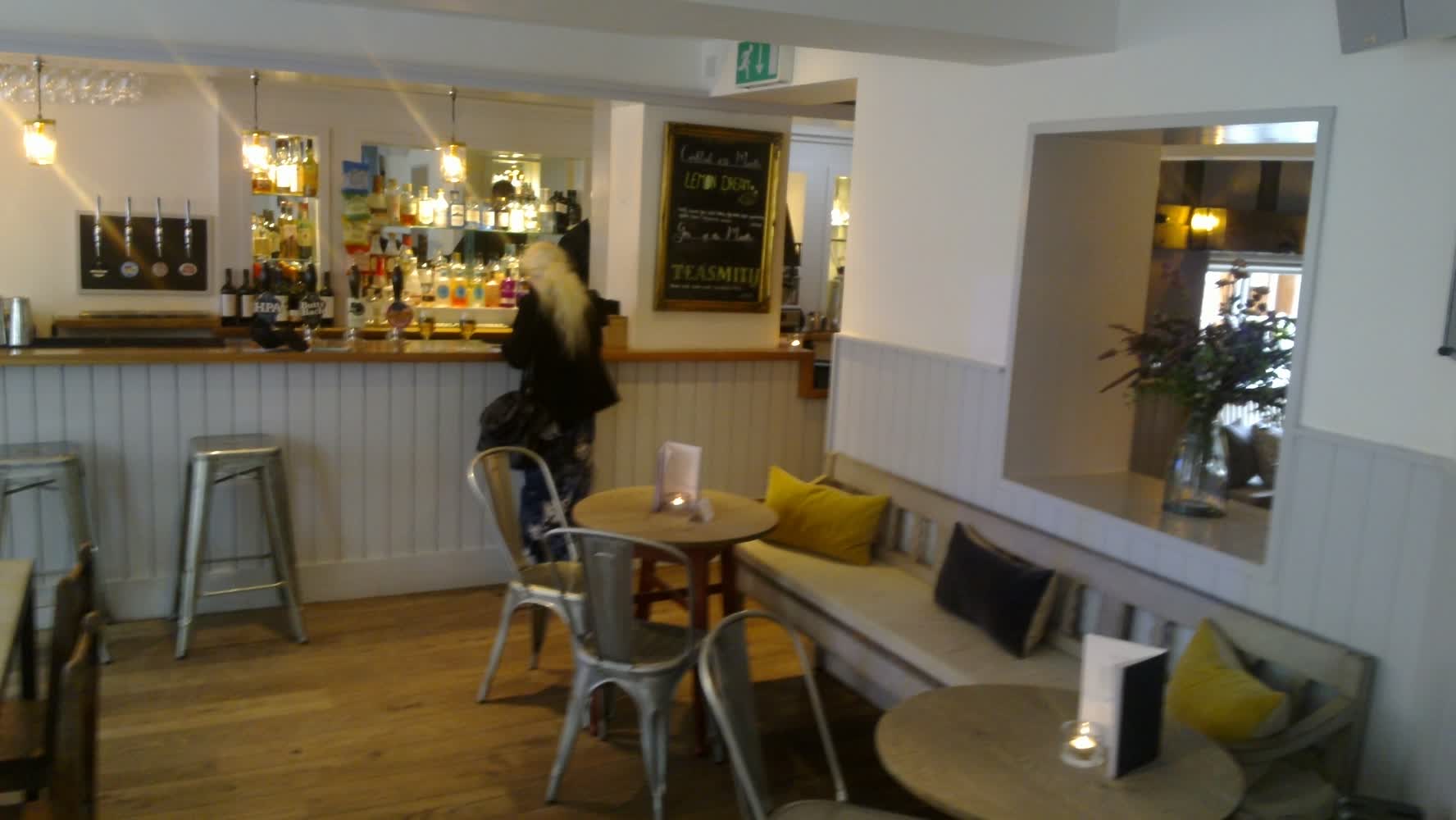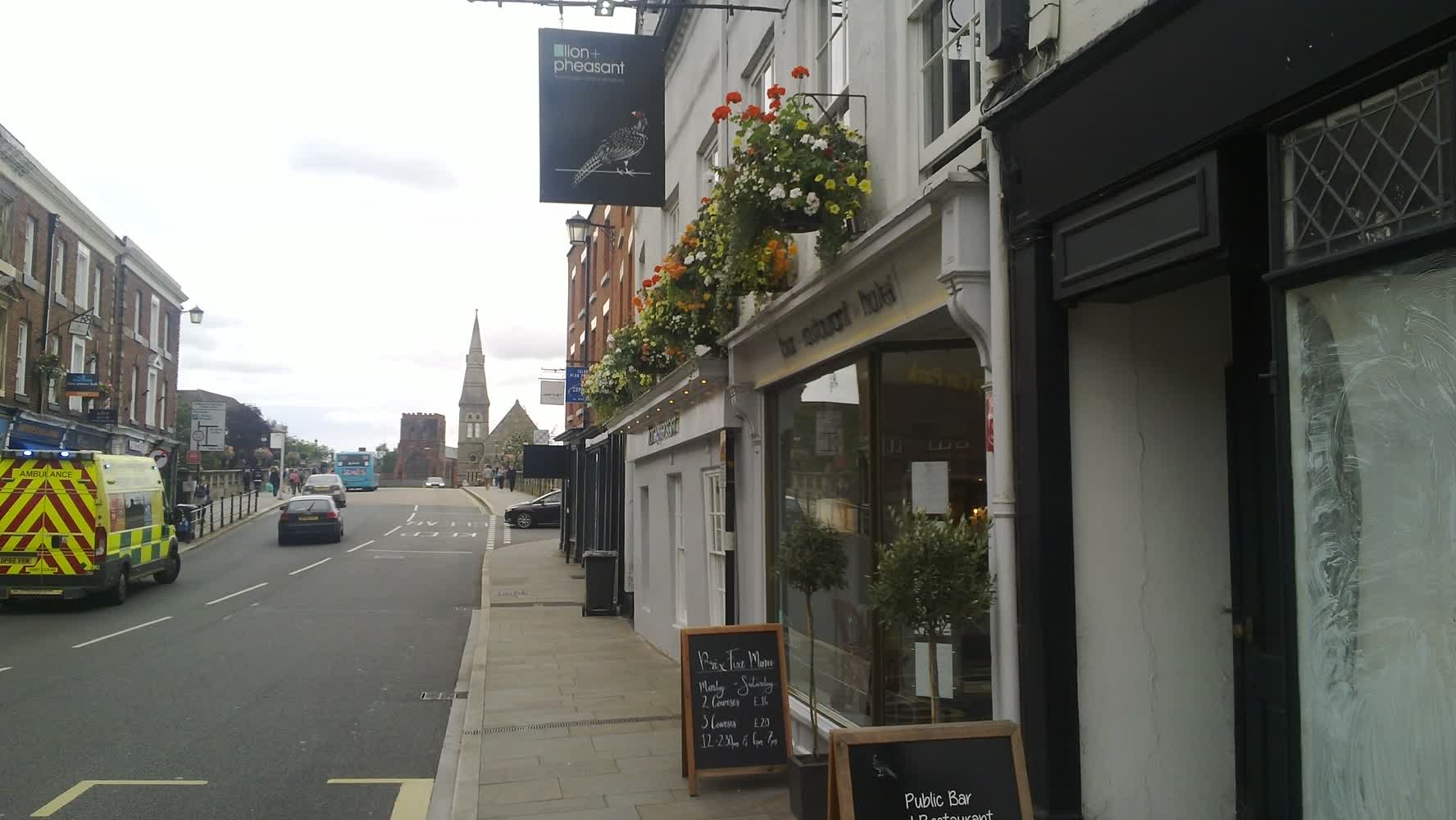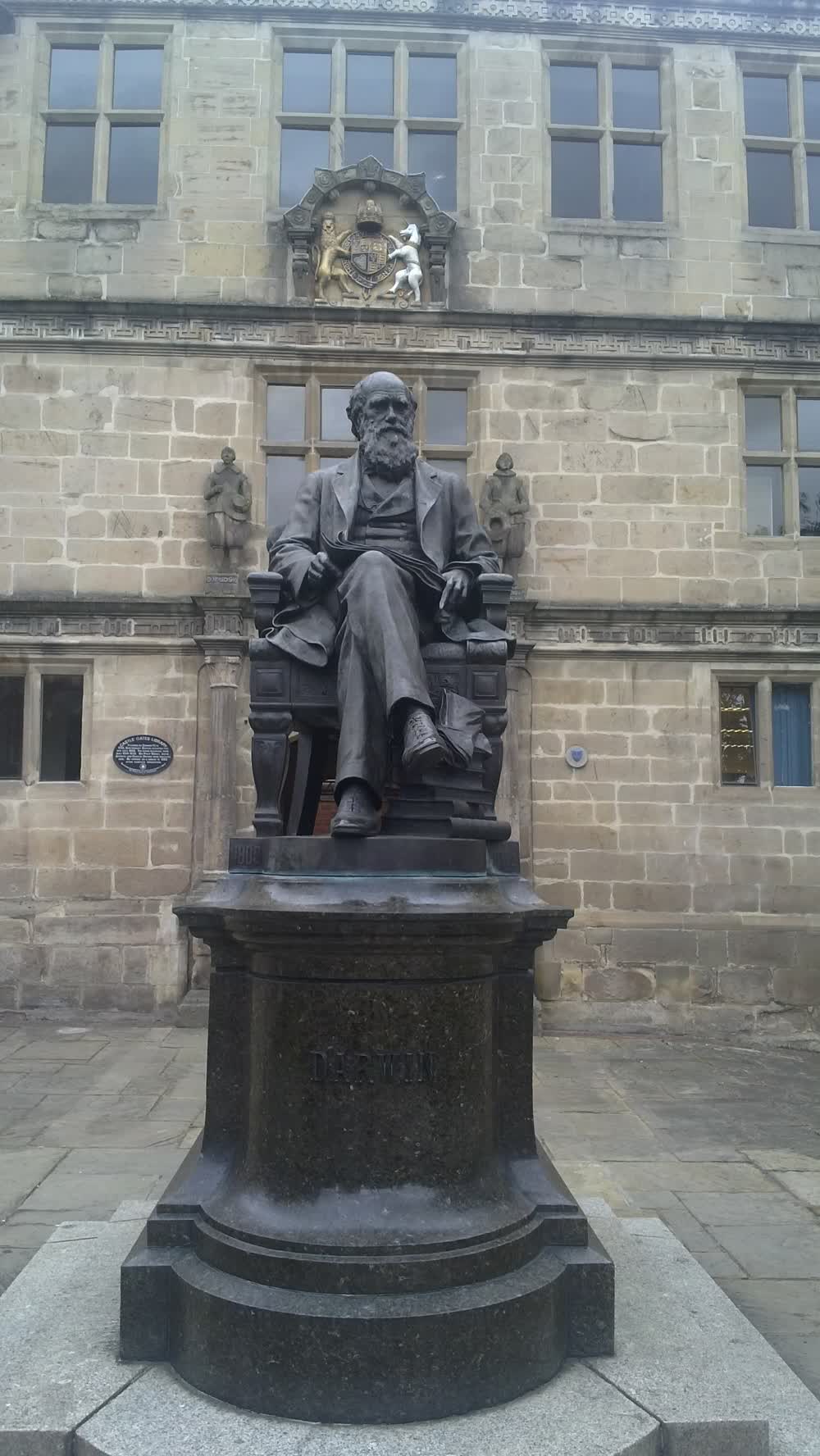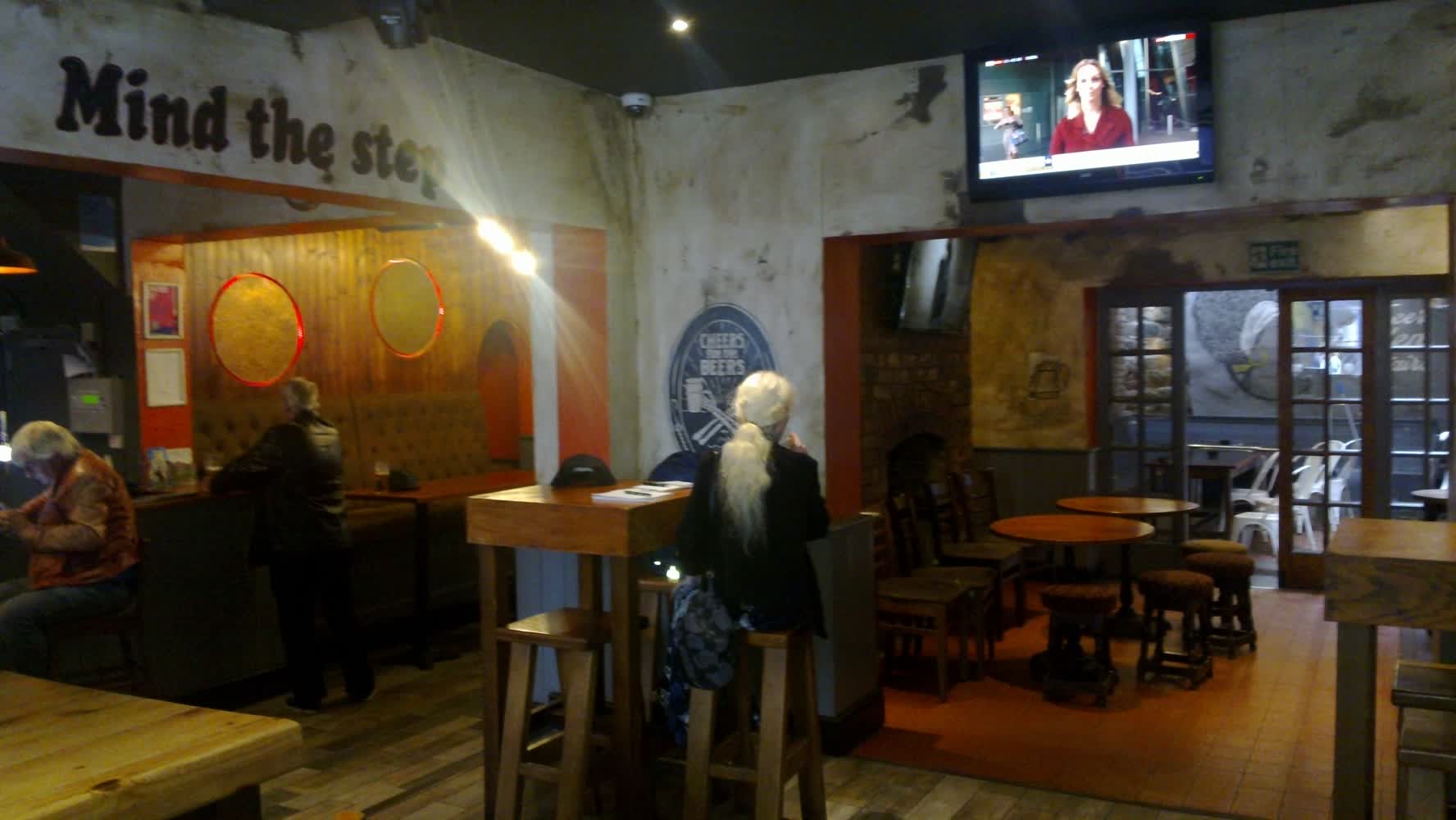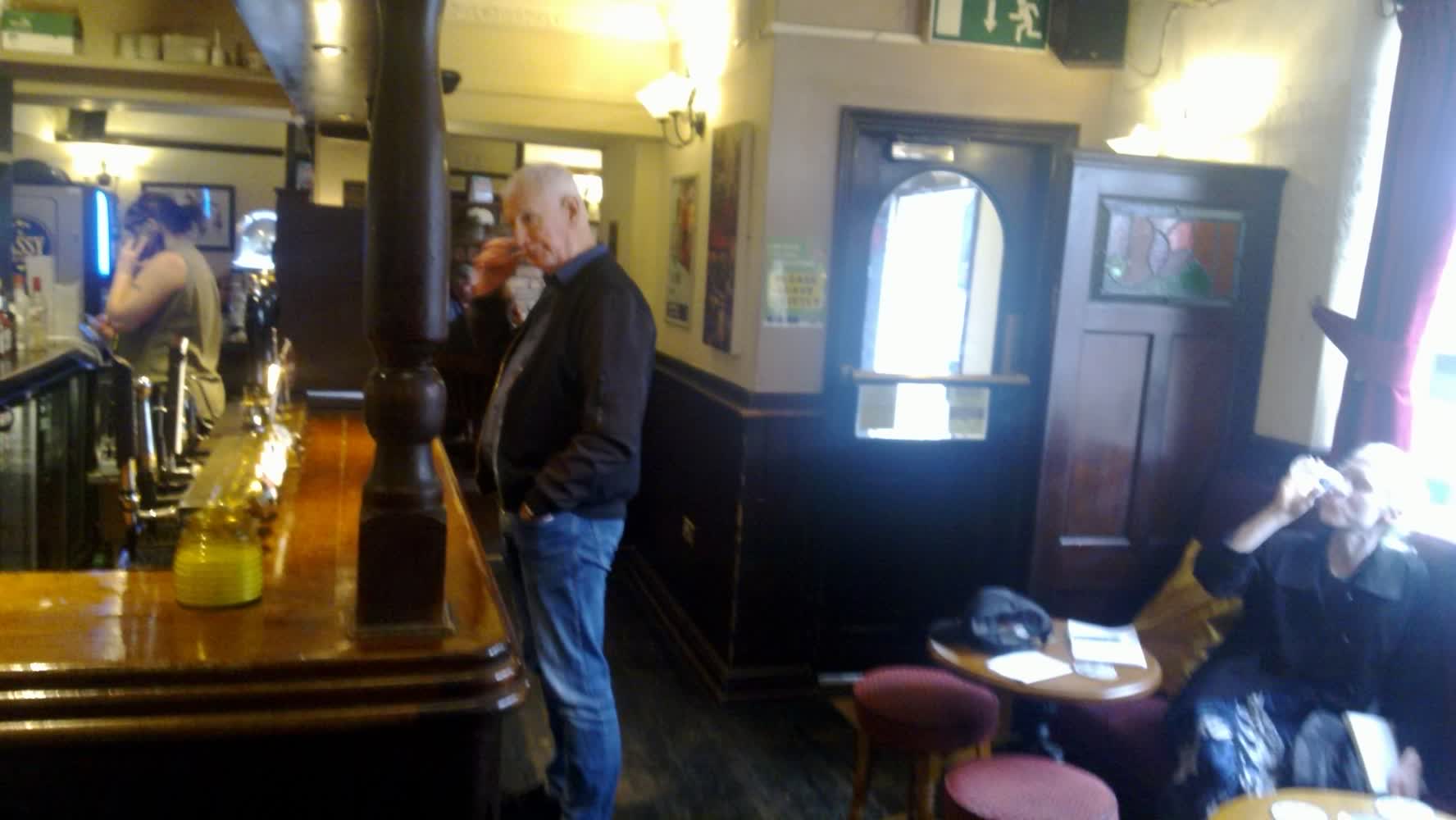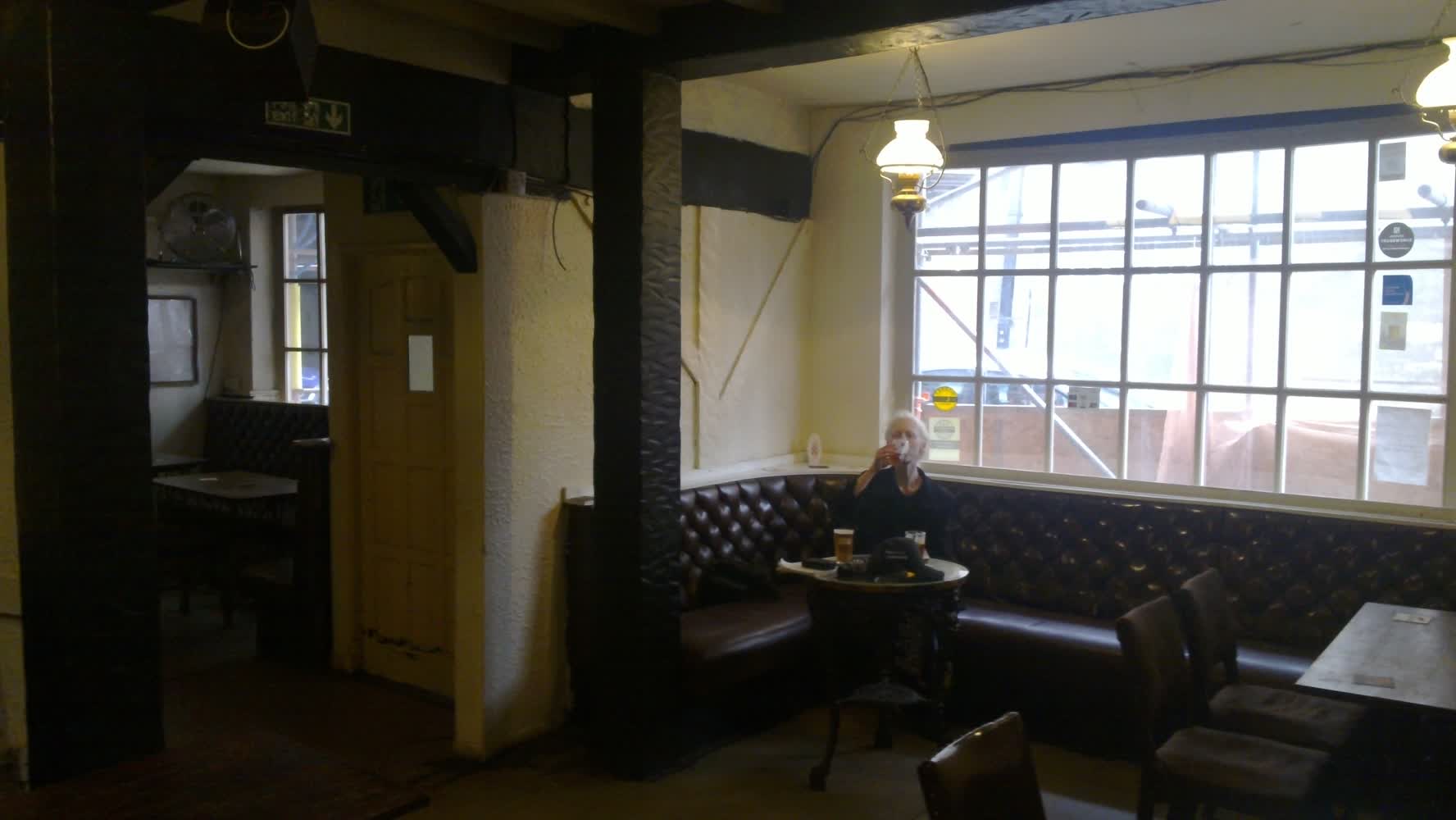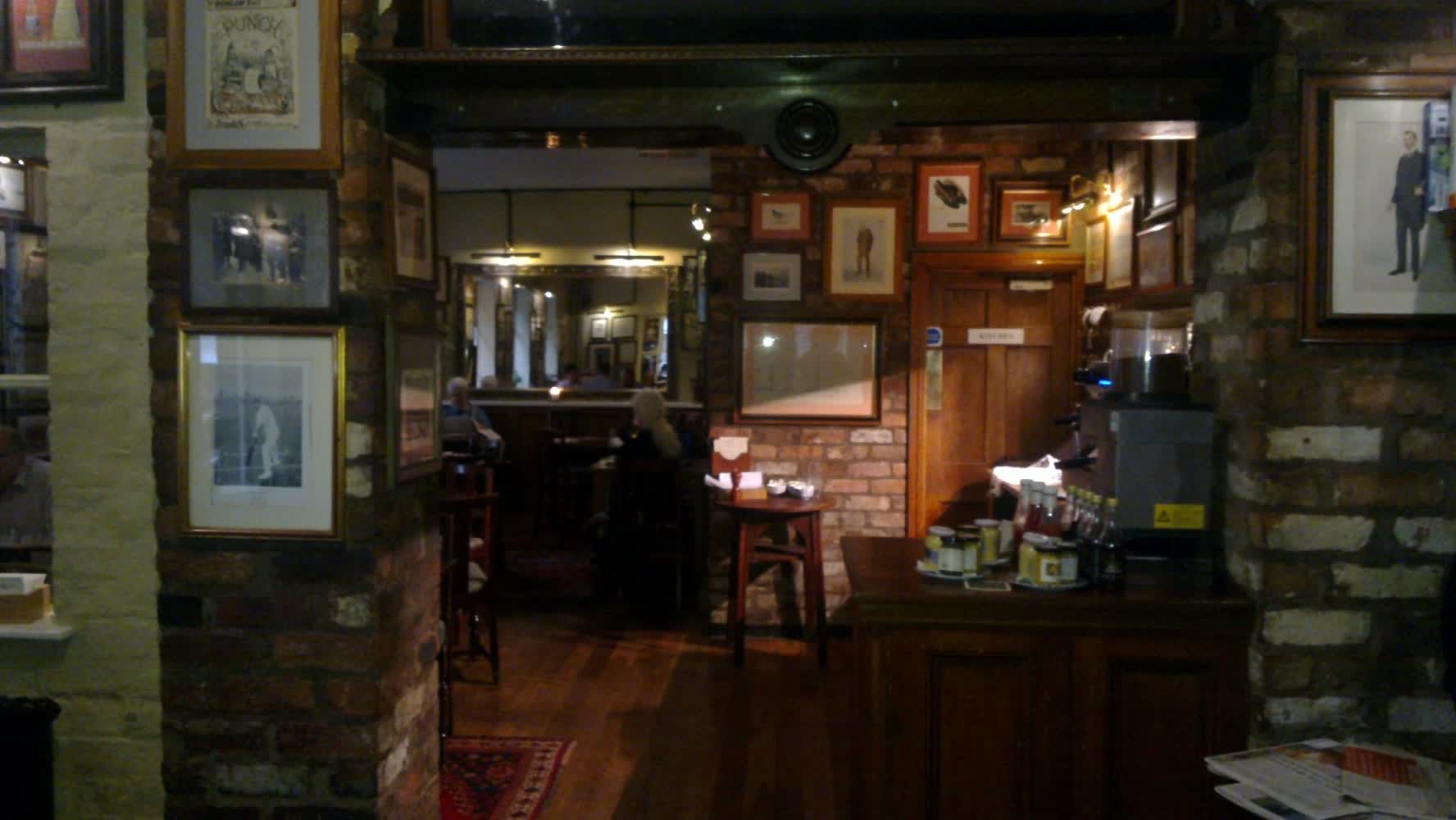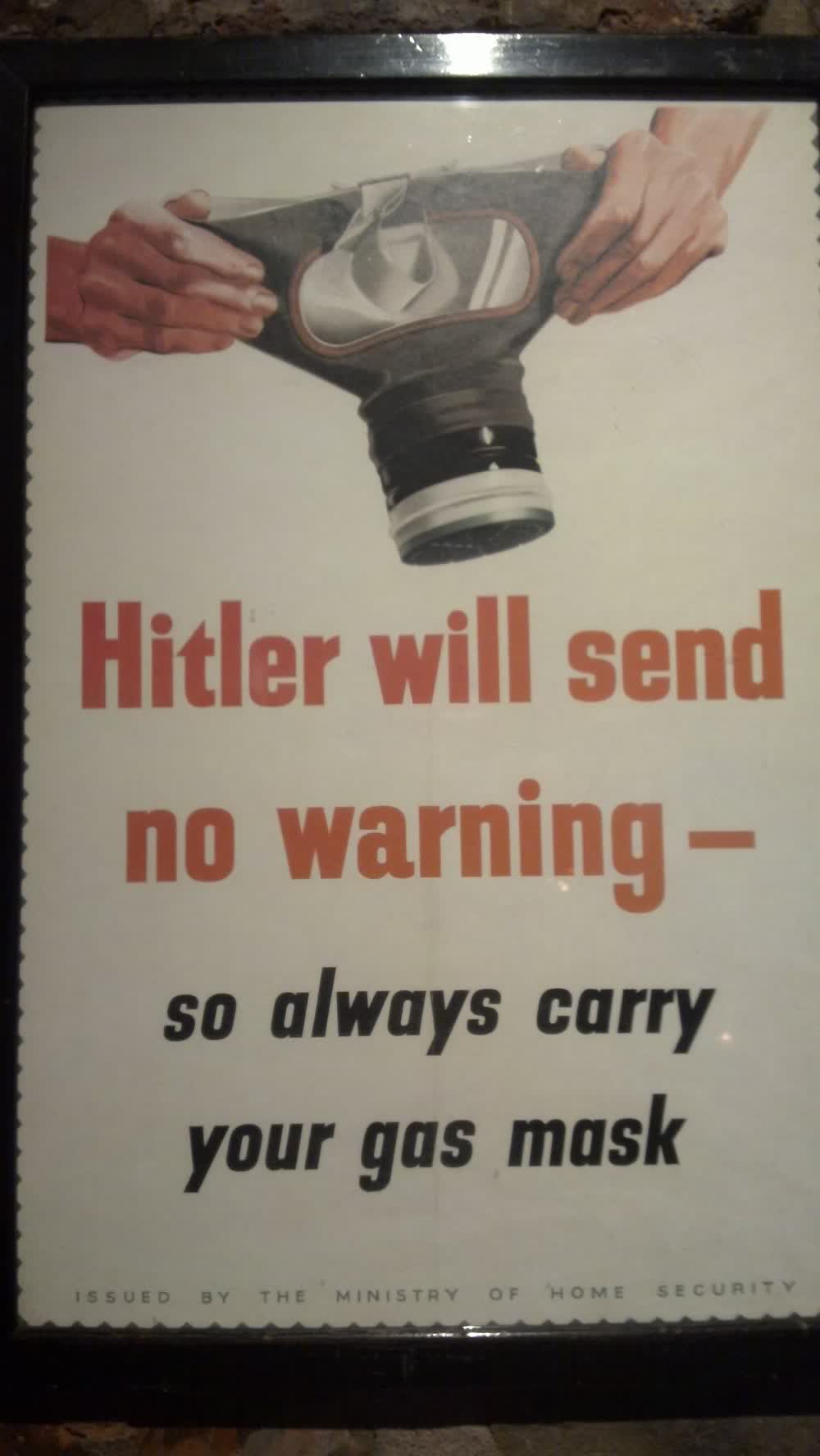 ---

Before we move on, I should note that we had a peek at several places without new beers for us:
(Loggerheads, 1 Church Street)
One was the kind of place where clandestine meetings might be held. This small, dark, and lovely pub had some interesting taps and locals such as 'Steve'.
(Nag's Head)
Wrexham recommendation here, another place with a pleasant local feel.
(Bull Inn)
This dark pub presented such offerings as Ringwood Razorback for the discerning drinker.


-- Chester:
Old Harkers Arms
1 Russell Street
We began at this converted-warehouse pub with an emphasis on upmarket food. A lovely building but with a bustling town-centre feel at this time of day. We had tasty liquid, which was not damaged by the sparkler, as near as we could tell. Seven or eight cask beers here.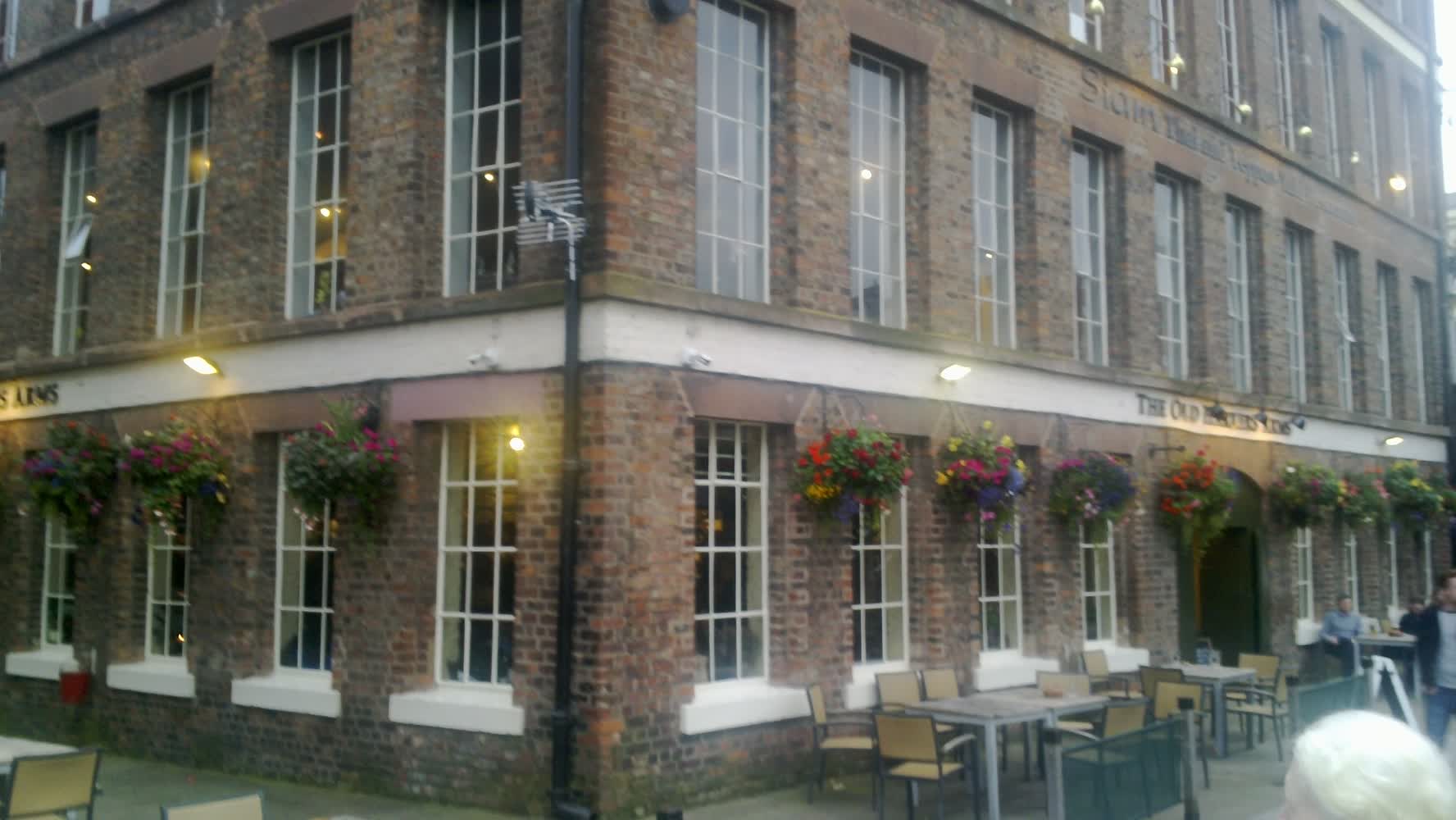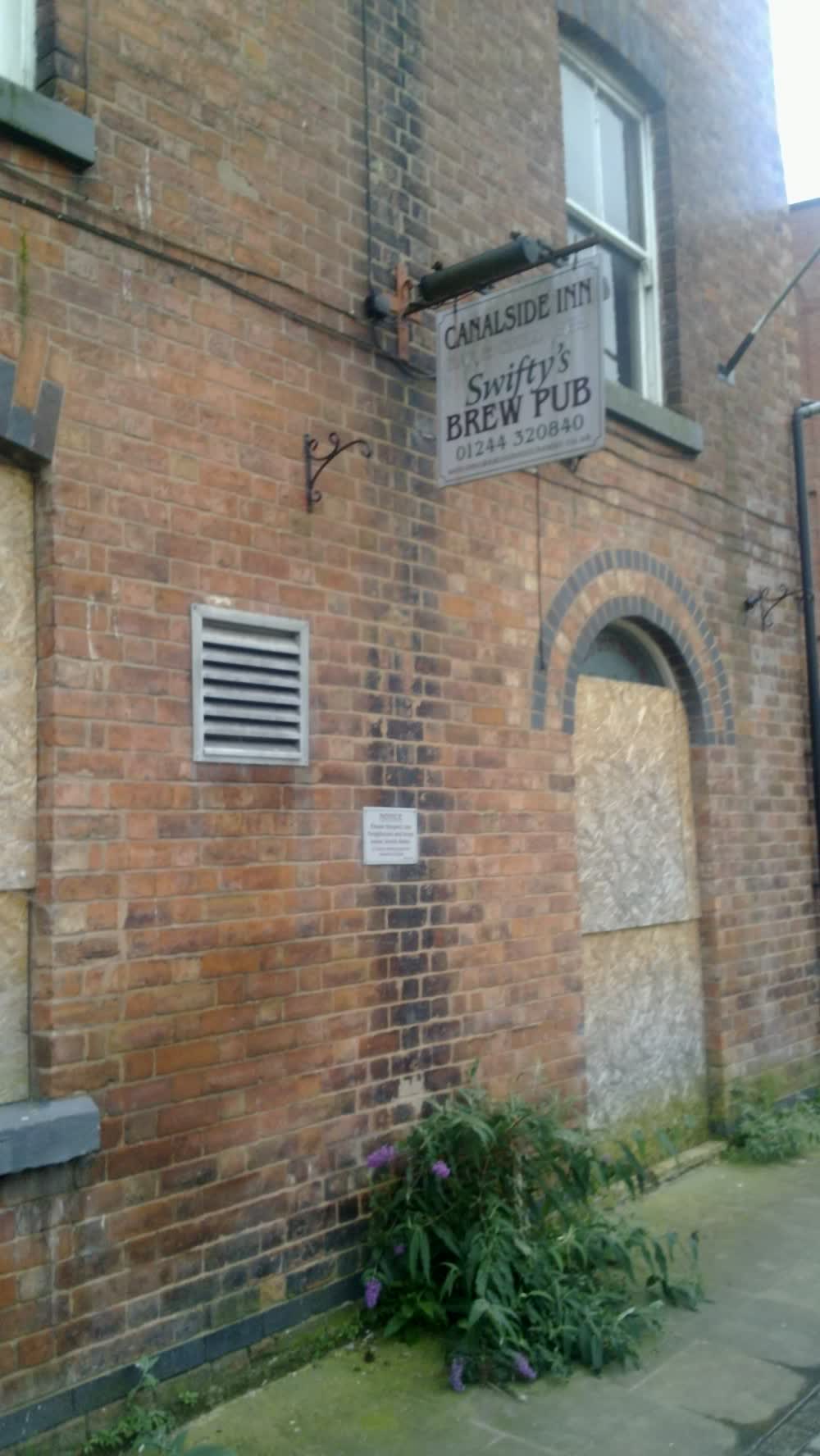 Beer Heroes
26 Watergate Street
Darkness had fallen, and we managed not to do likewise as we entered this crafty venue in an arch. The low ceiling was good, as was the open tab in case we wanted to buy bottles for take-away. Some Liverpudlian accents. Keg beer proved gutless, though, and the bottles' prices weren't low.
Time was getting on, so we didn't stay long, but it was still long enough for Phil to Duran-Duran the staff a bit. We still didn't manage to get banned, though.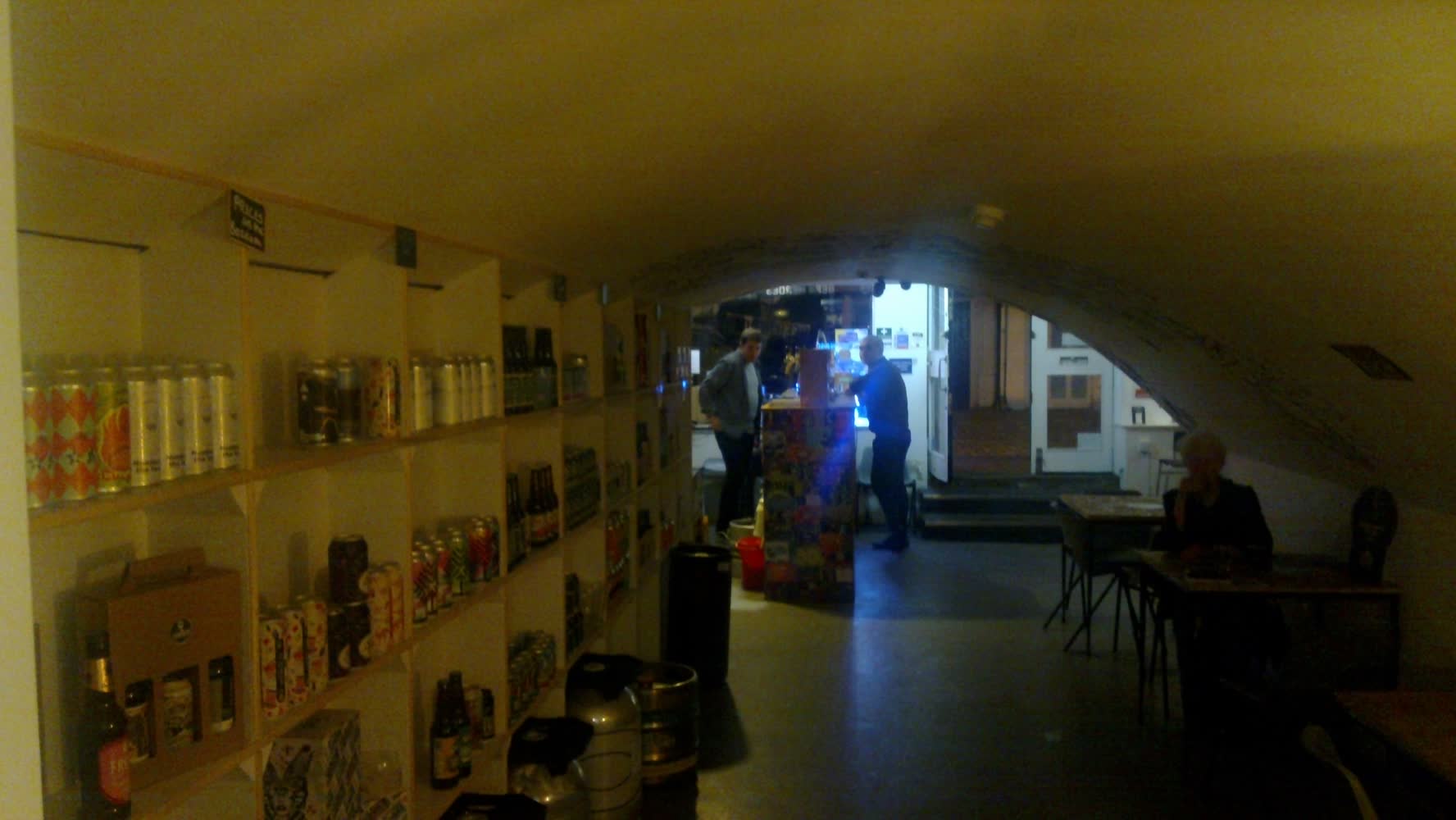 Pied Bull
57 Northgate Street
A cavern of a building. There was a murmur of conversation tonight, but there would also be a music quiz and other events in the other evenings. We know this because this is where we'd be laying our heads for the night.
The beams etc. hark back to the old, but cable ducts etc. are in evidence too, and there is a clean and brightly lit atmosphere. Their beer names are fun, but the beers themselves weren't done any favours by the serving system. We would later have a couple of their beers in Crewe, and they worked much better there.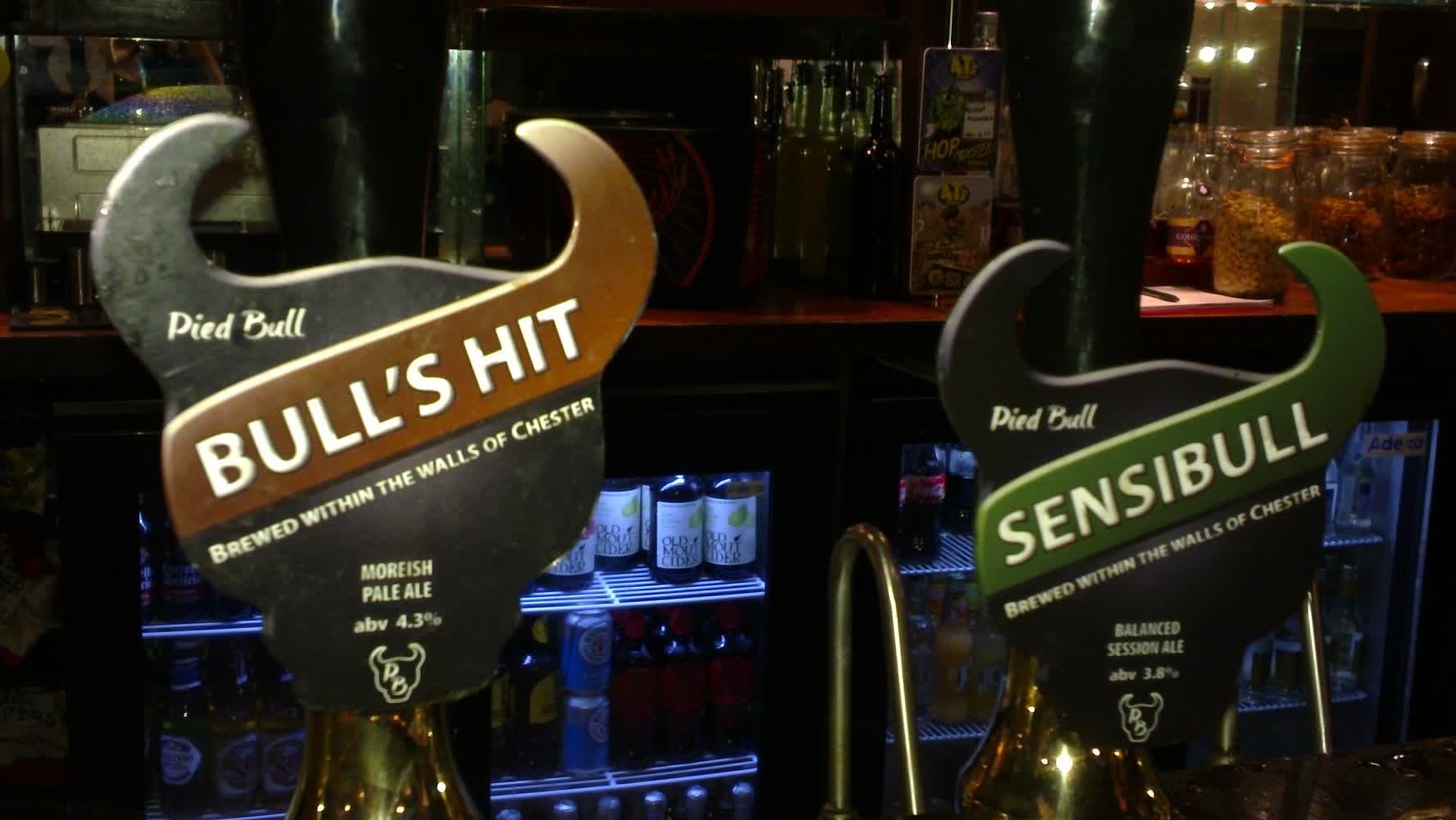 TUES.
Bull & Stirrup (JD Wetherspoons)
8 Upper Northgate Street
A huge old manor with warm colours and yellow lights. The area near the bar has a more café feel, and the bar itself is canteeny, though. The beer we wanted had run out, and there weren't so many taps here, but the service was pleasant enough and the staff checked up on things. Also, those were the best-stuffed bacon sandwiches we've had yet from a Wetherspoons.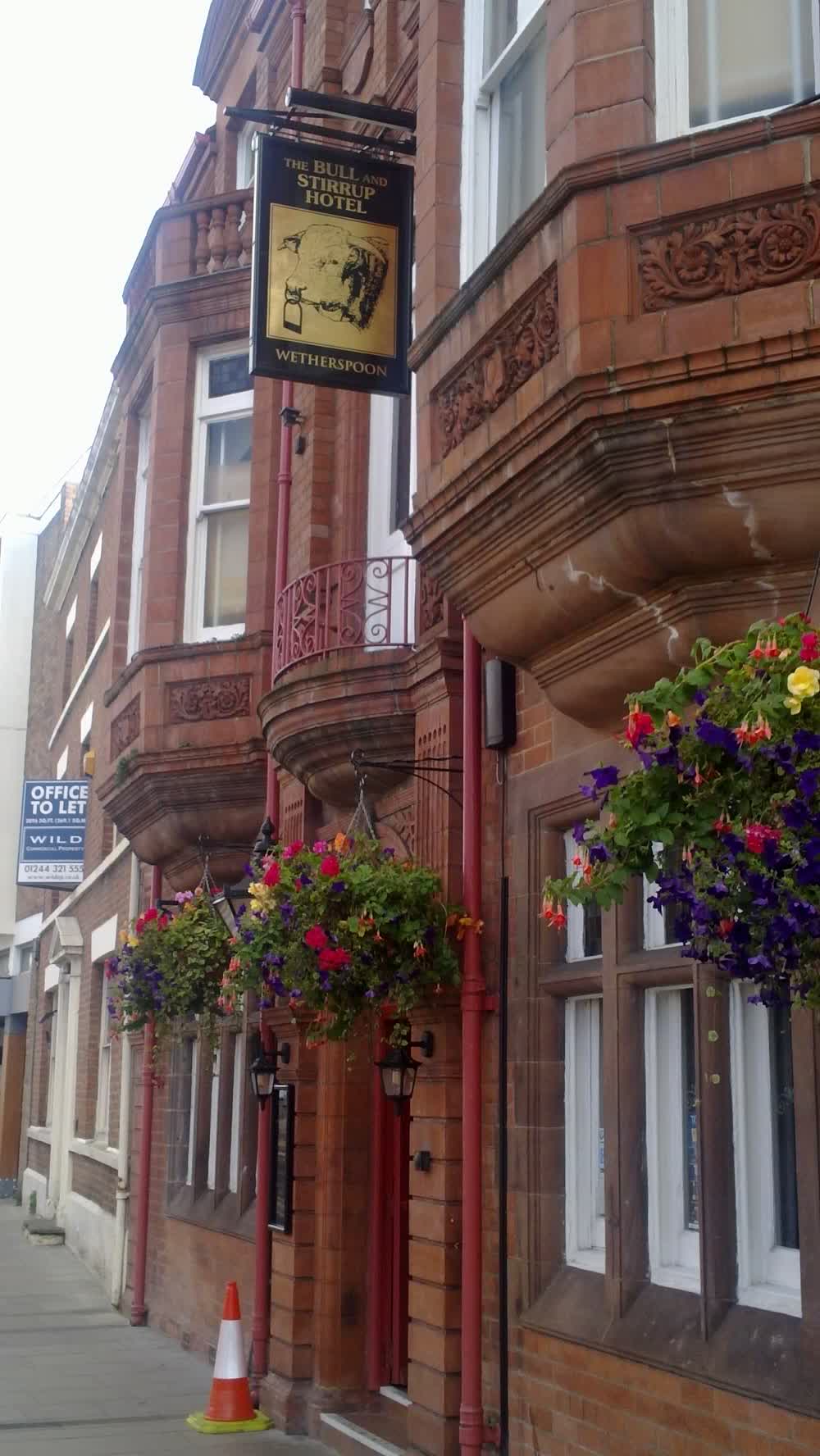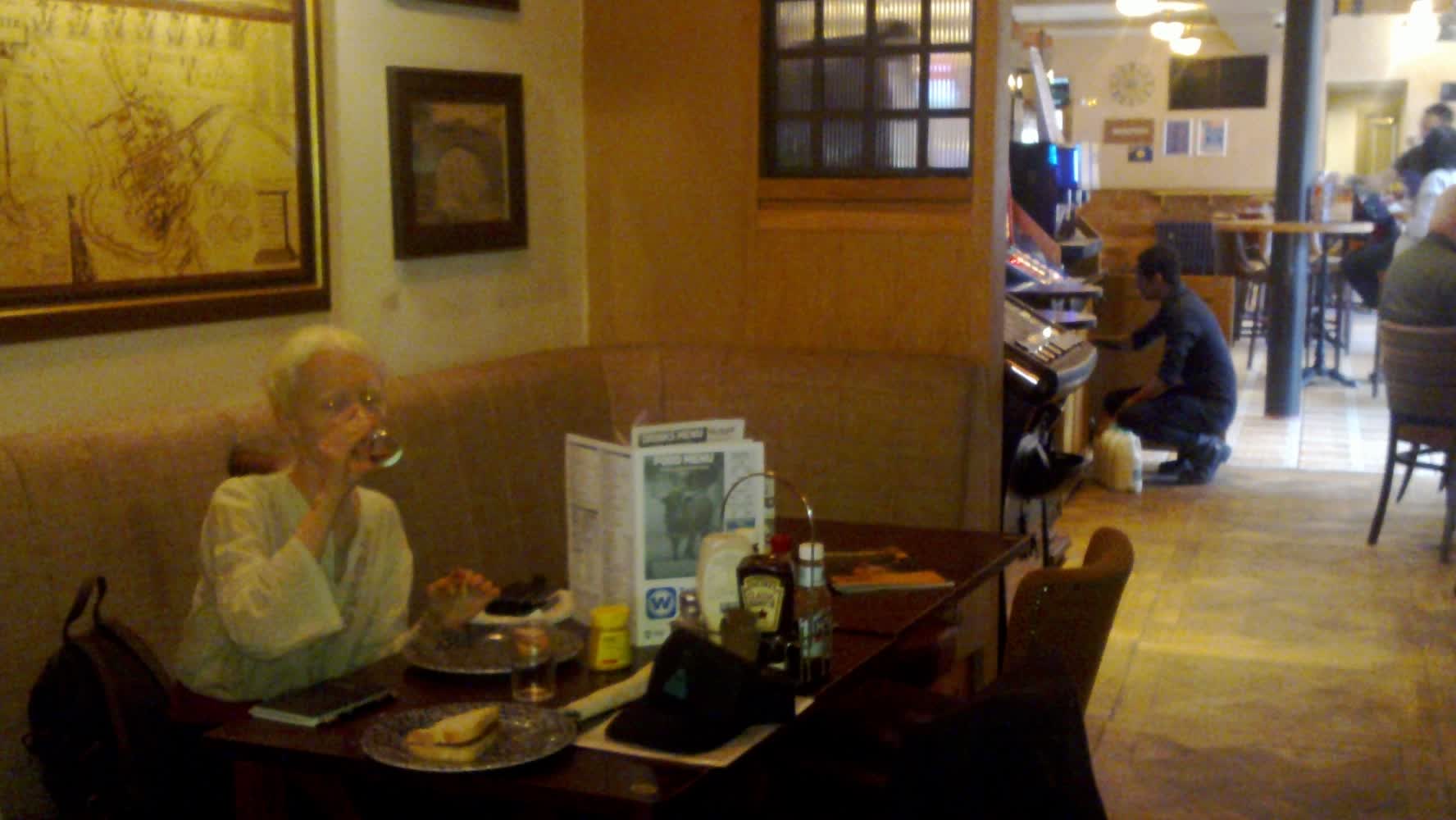 Now it was travel time: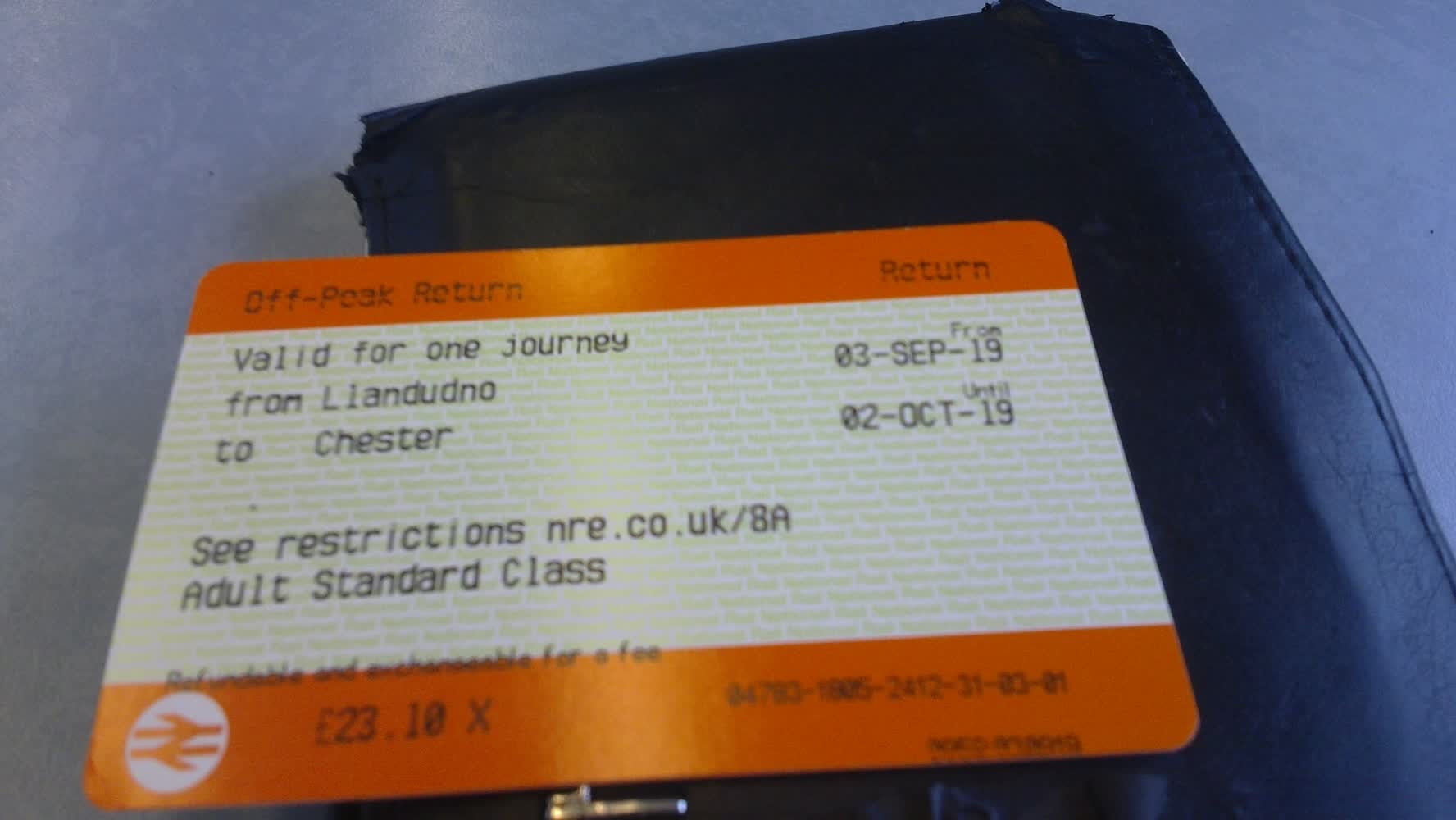 • We were headed to Wales, with tickets to Llandudno.
However, we'd get off the train in Llandudno Junction and walk to Conwy first.
Some places with Welsh names appeared before we'd left the English countryside, and we sat back to appreciate the views from the train.
And a new beer appeared before our journey was completed too - thanks, train company!

-- Conwy:
Erskine Arms
Rosehill Street
We had a civilised start at a railway-bar-like pub with plenty of natural lighting and light wood. This was a multi-level space with another set of handpulls in the 'billiard room'. The drinks were on good form, and the selection was strong. Slightly upmarket prices, though the food looked tempting. As did the top hats...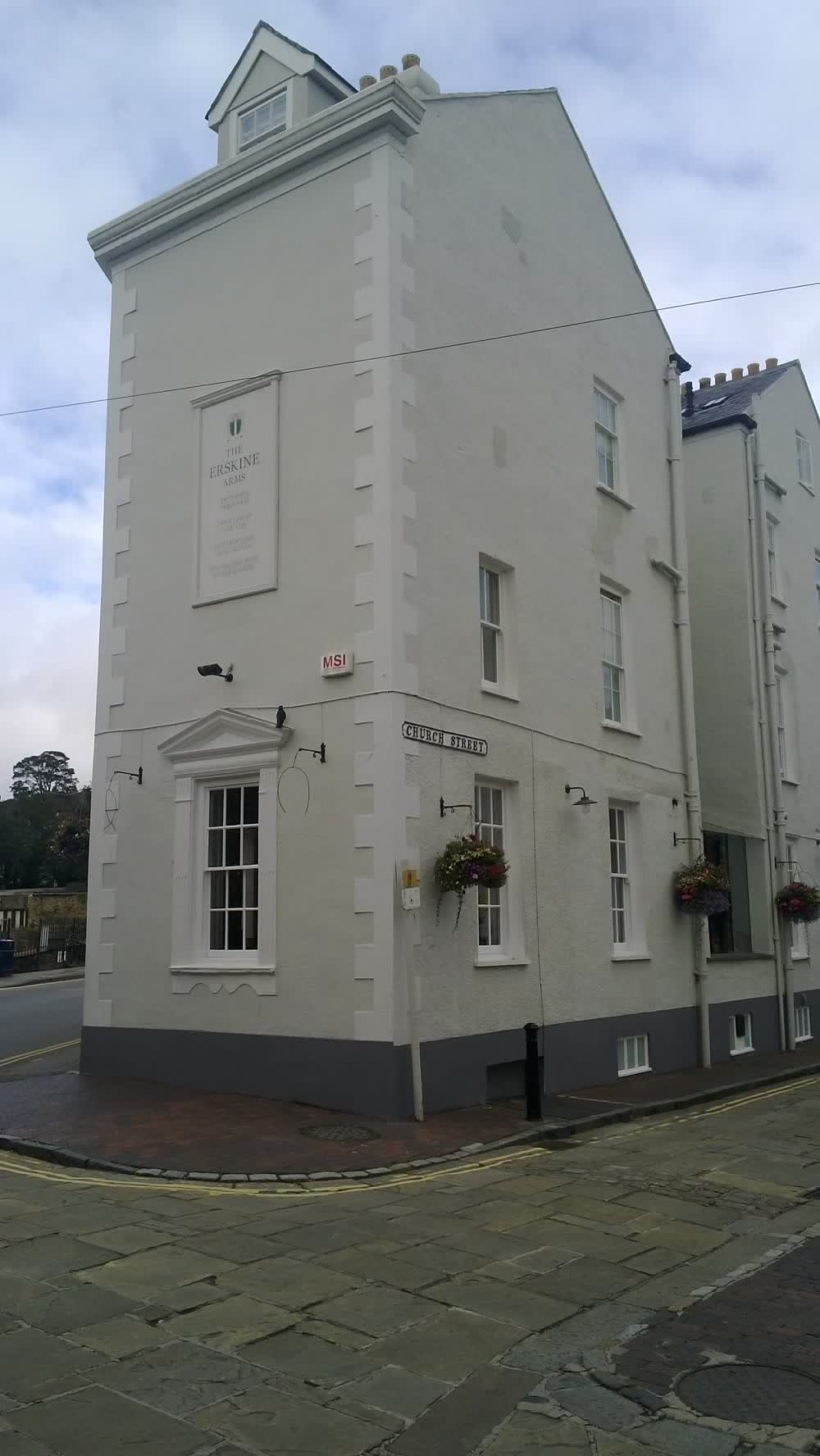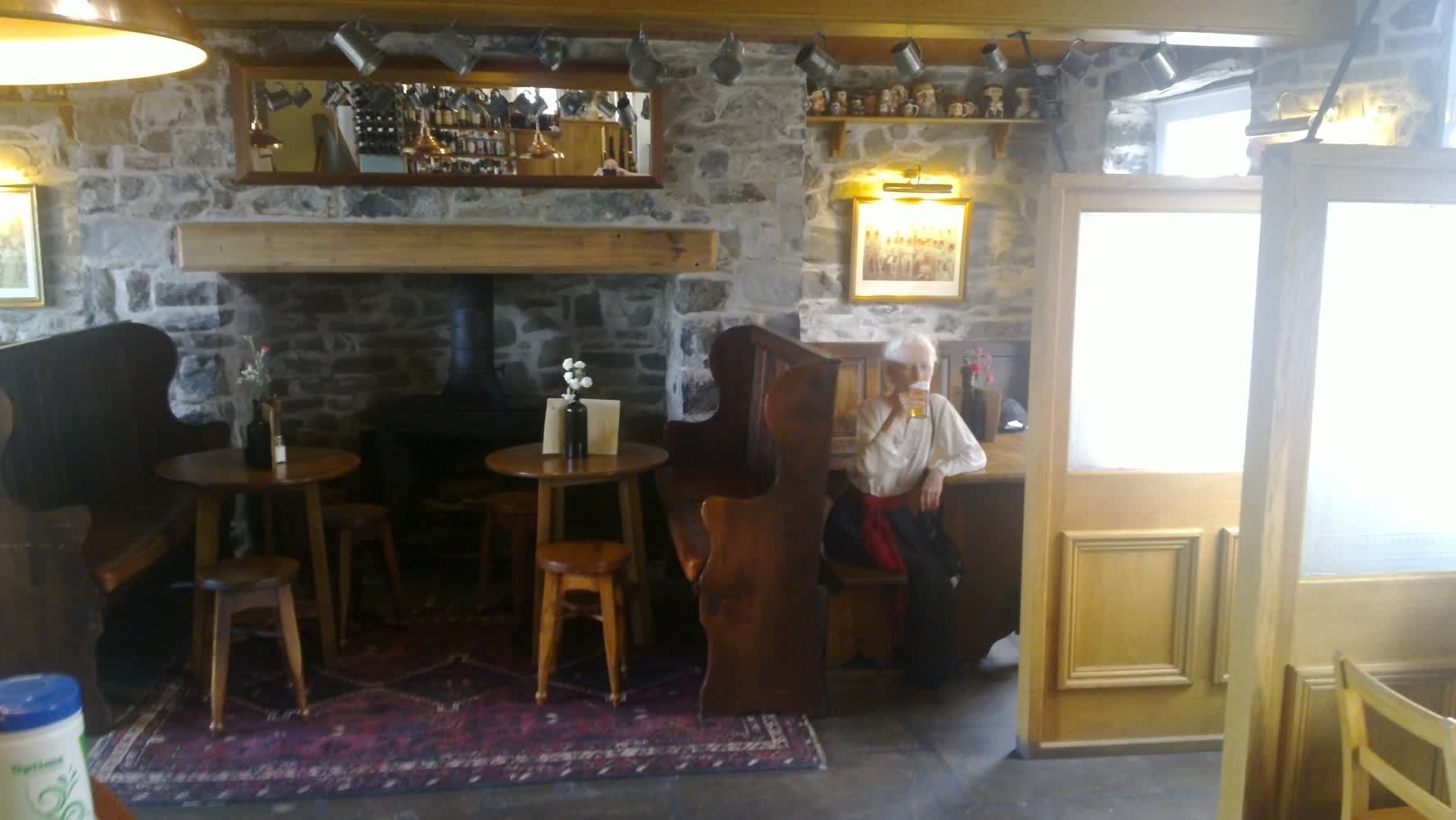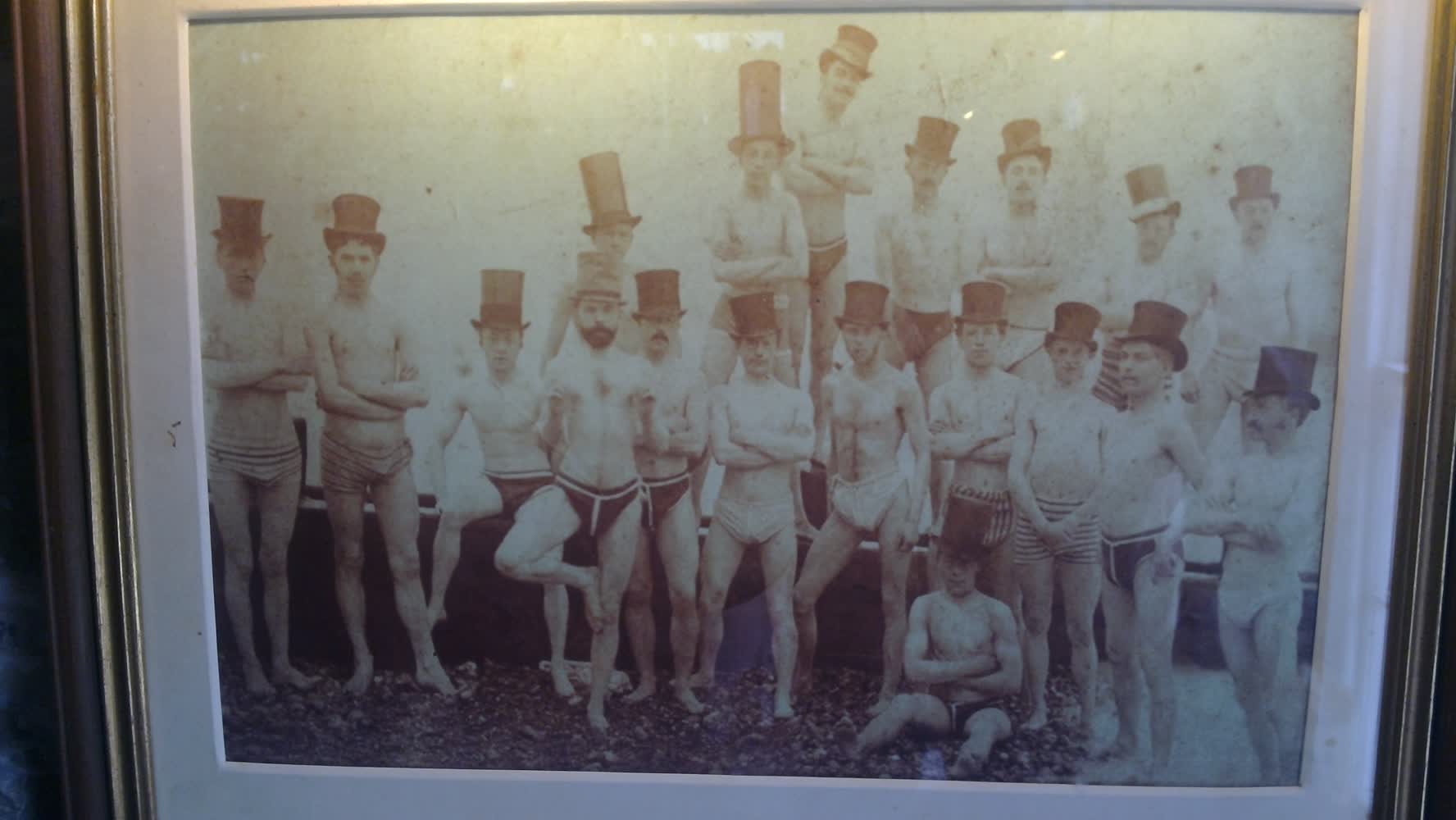 Next, we popped in quickly at a 'gentlemen's club' kind of spot
(Conwy Comrades Sport & Social Club, 8 Church Street)
where two real ales, neither new to us, stood at the bar. This was a rather nondescript place, providing its denizens with just what they need (telly-viewing, their friends, and beer) but probably not much more.

Bank of Conwy
1 Lancaster Square
Perhaps unsurprisingly, the Bank of Conwy is housed in an old corner bank building, quite a beautiful one. Big arched windows and interesting light shades caught the eye while we sipped our third pints. There was a selection of both cask and craft keg here, which may have been to the detriment of the former. We had our first sour beers of the trip here.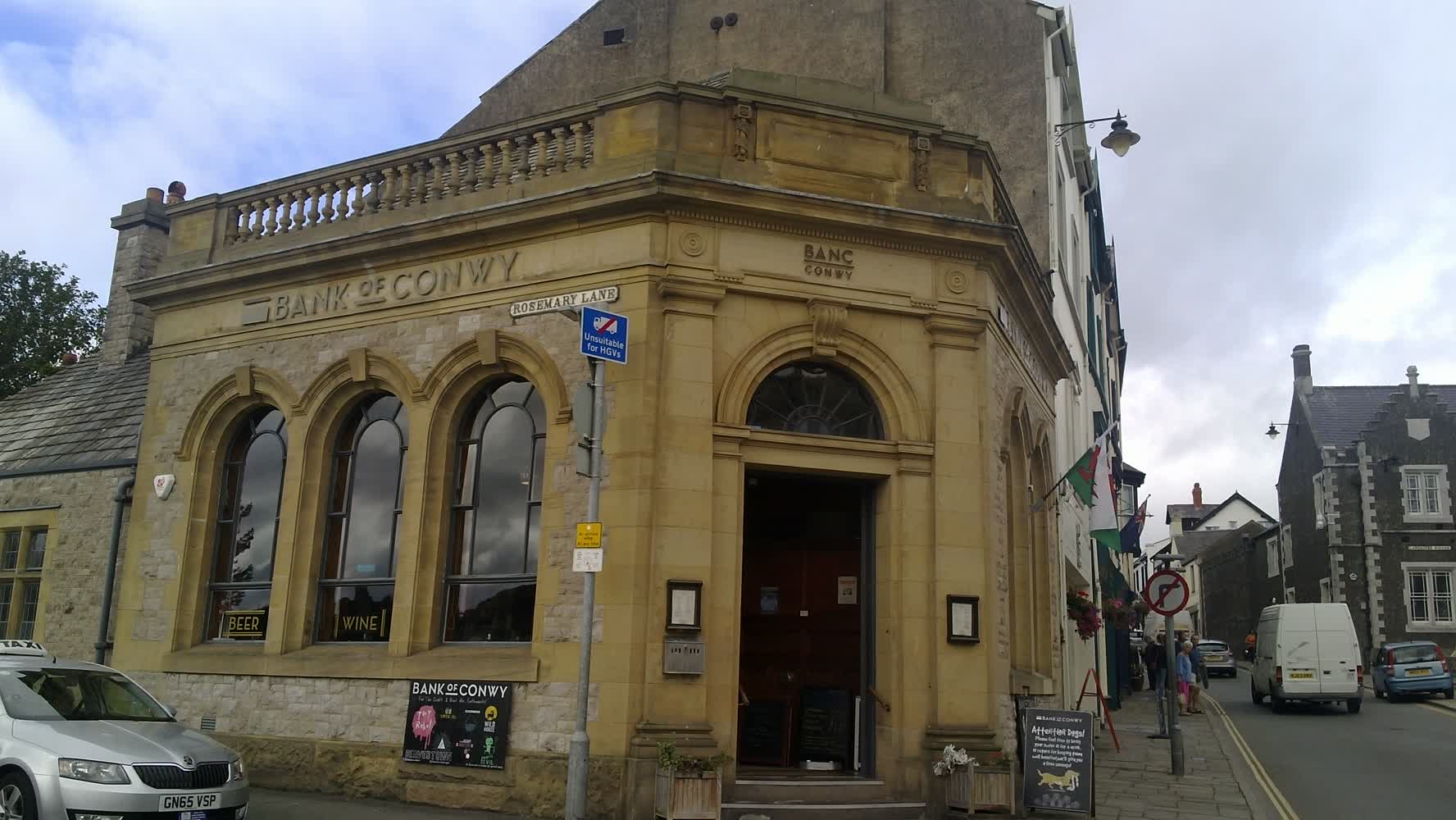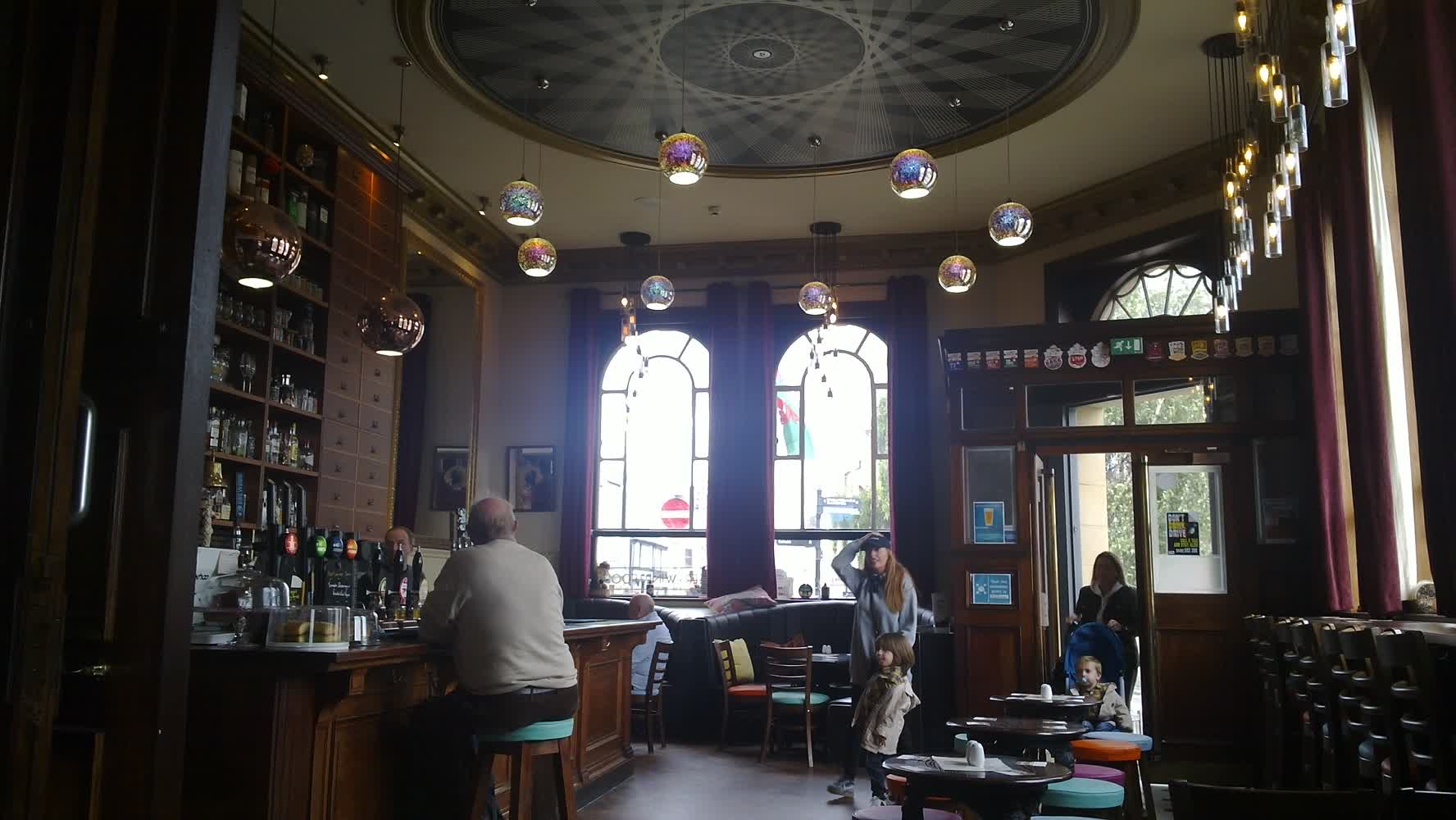 Albion Ale House
Upper Gate Street
The next pub managed to do even better on ambience, with quite possibly the best room to sit in (on padded seats) yet. A beautiful dark building accommodated us well in the 'smoke room'. Beams everywhere. Art Deco lampshades, a large brick fireplace, and more.
As for the beers, third pints were available here too, which helped since there were 10 real ales, several of them from Conwy and other local breweries. The staff offered info on the various beers, and the locals too were friendly and chatty.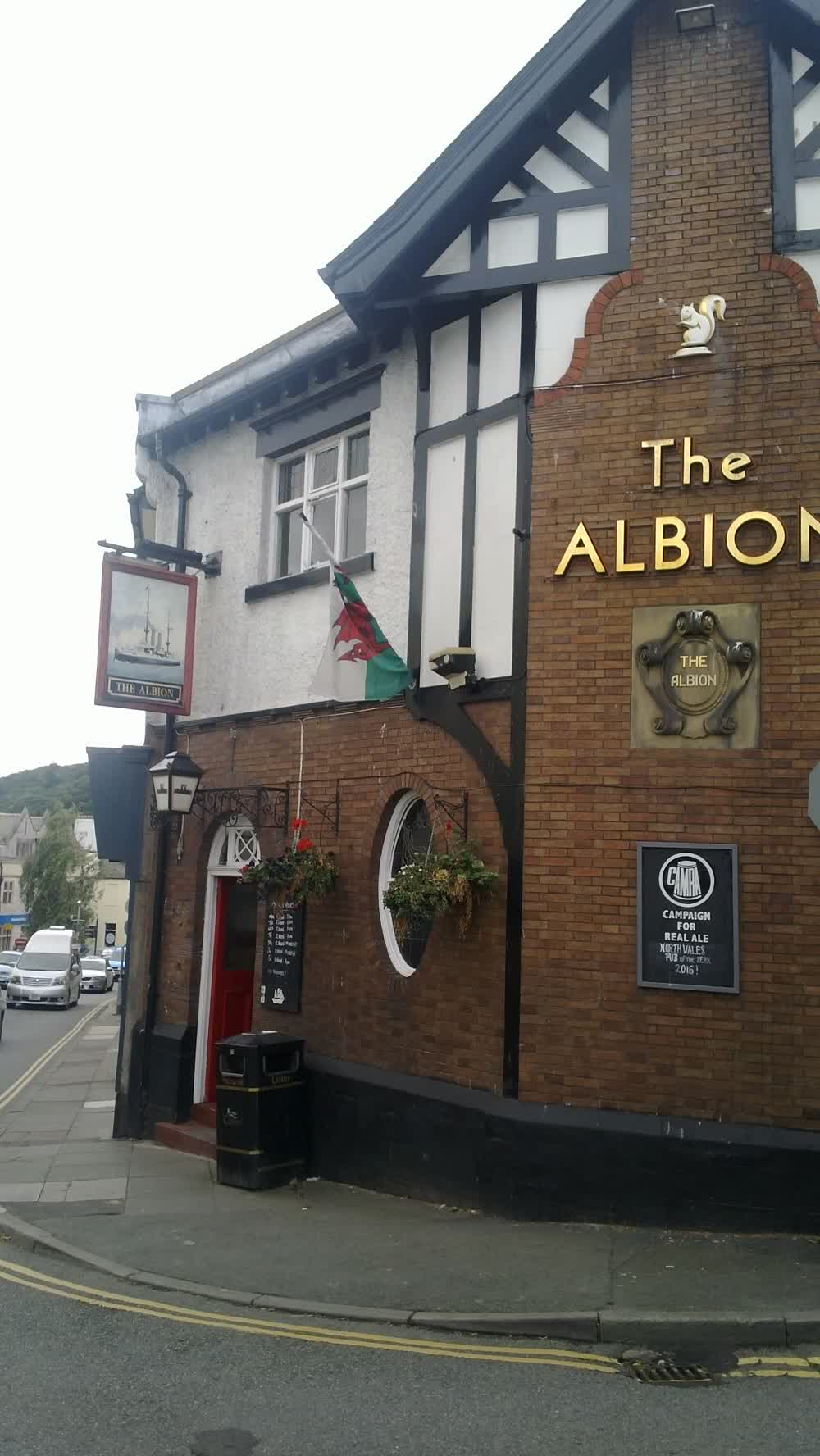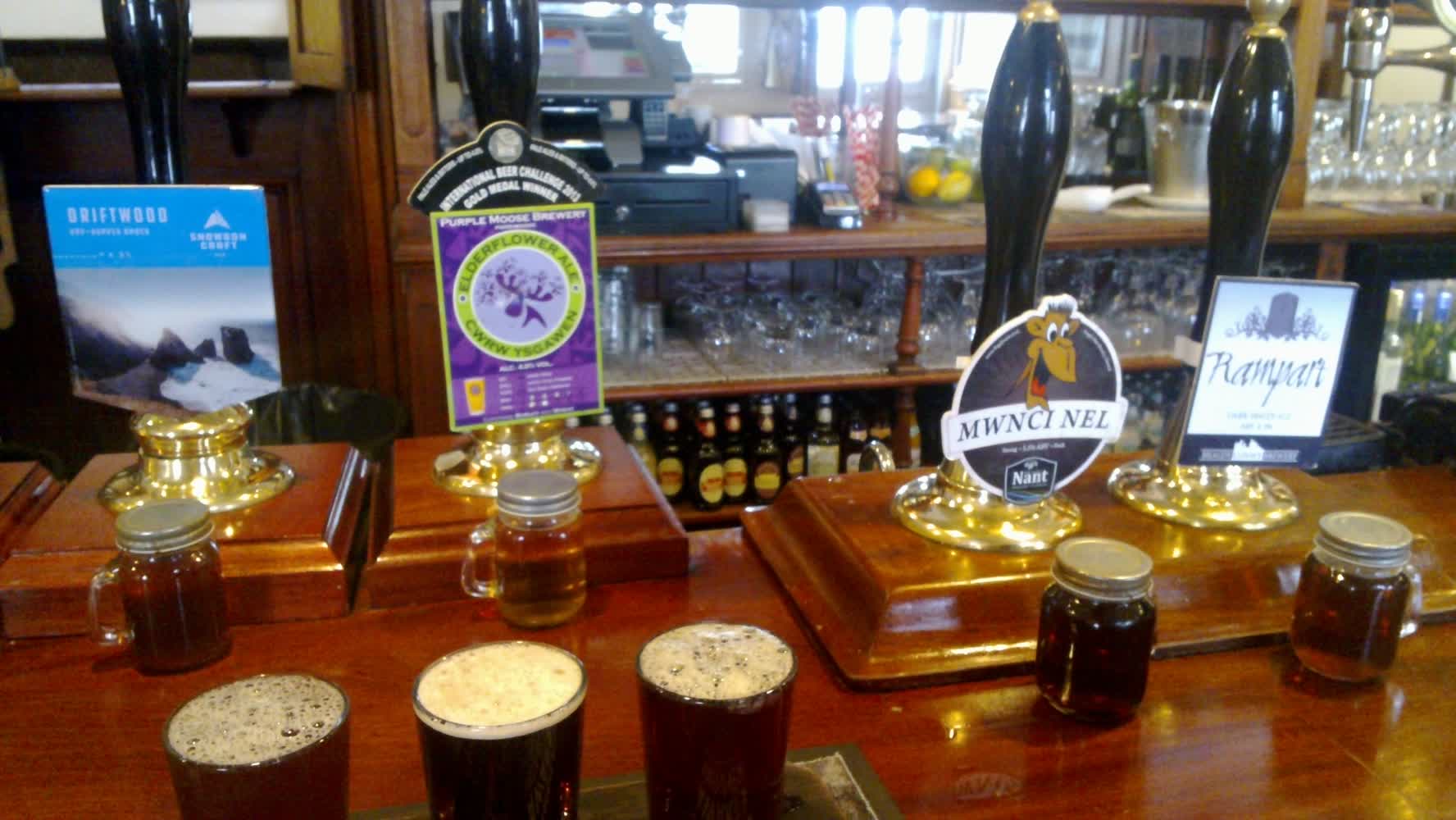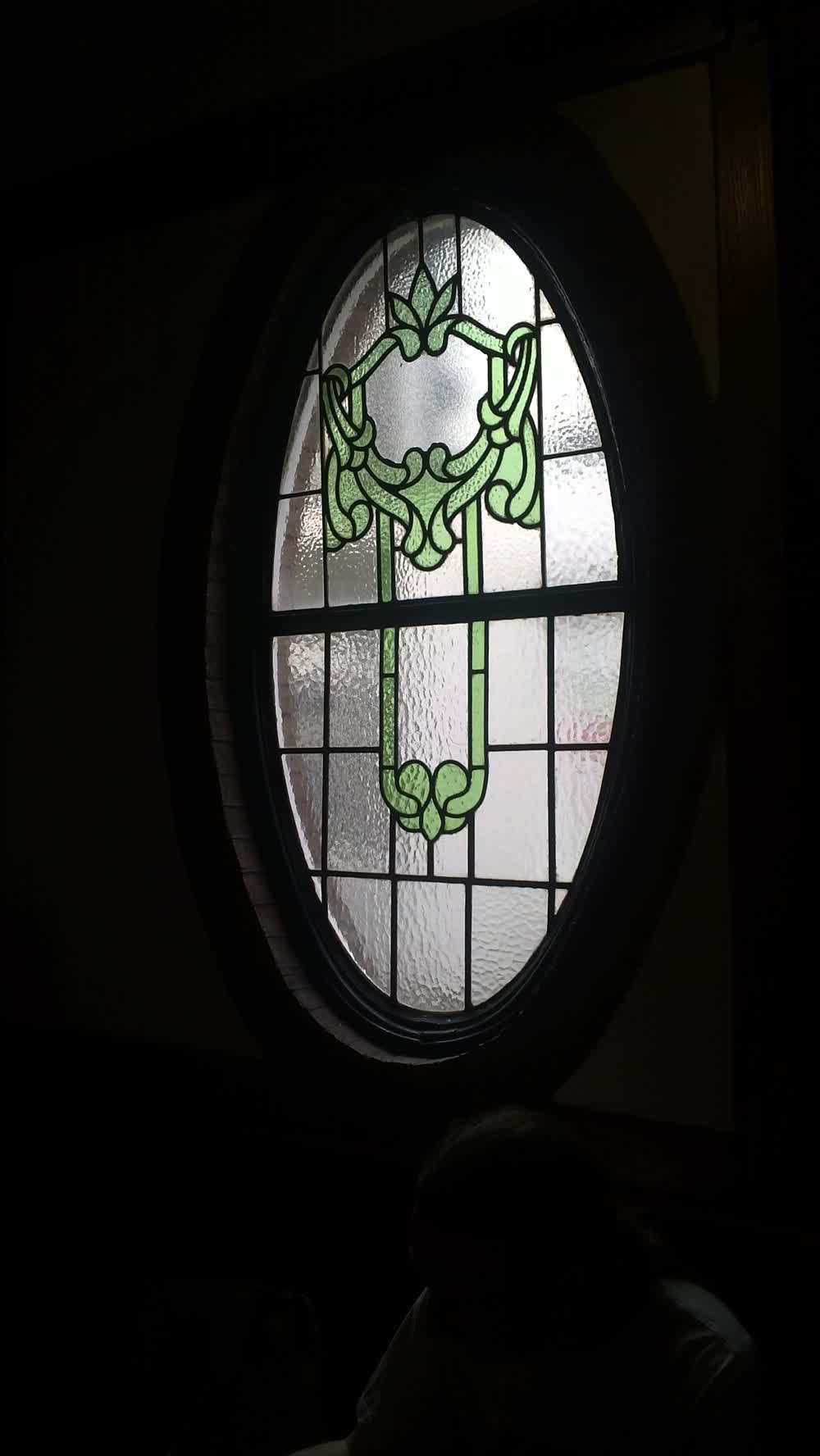 After this, we made a quick stop at another pub on the list
(Olde Mail Coach, High Street),
finding that it was a sports bar without a wide selection. That said, they did have Timmy Taylor on.

Castle Hotel
High Street
We found a couple more local beers at an old coaching inn next. The space was dark except right beside the windows, with classic Tiffany lamps not putting out much light. We had a lovely view of the street and buildings here. We were liking Conwy.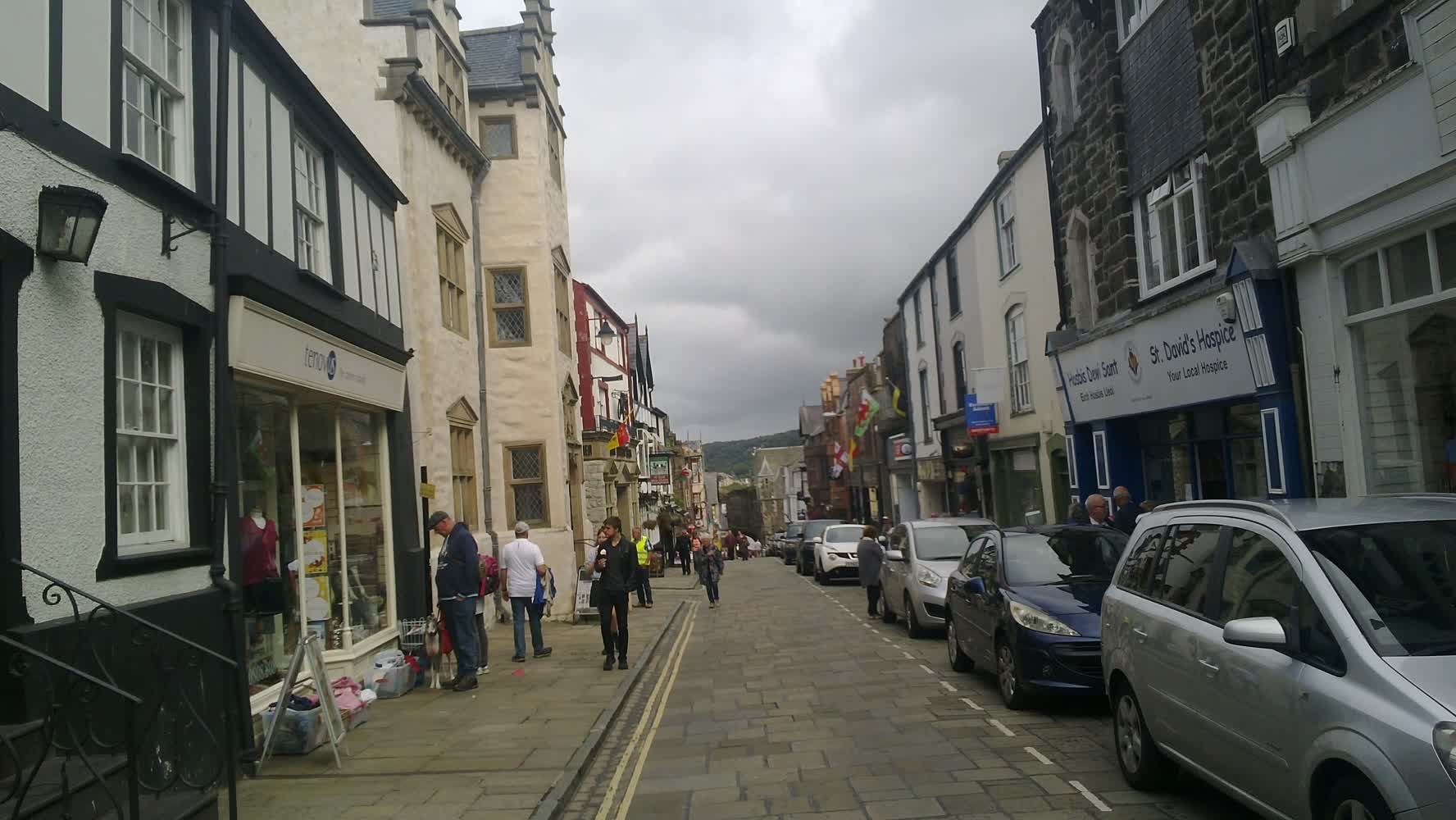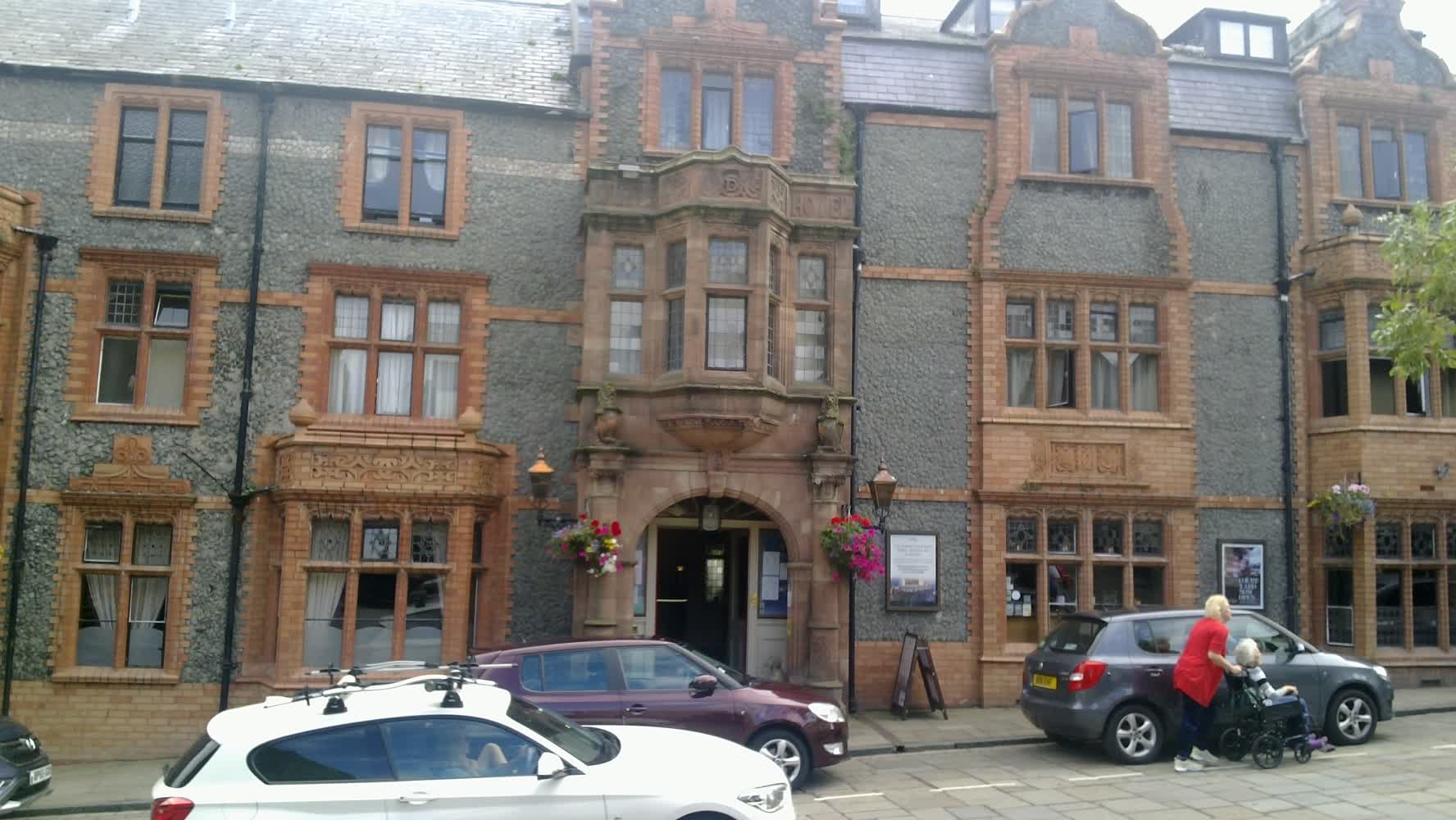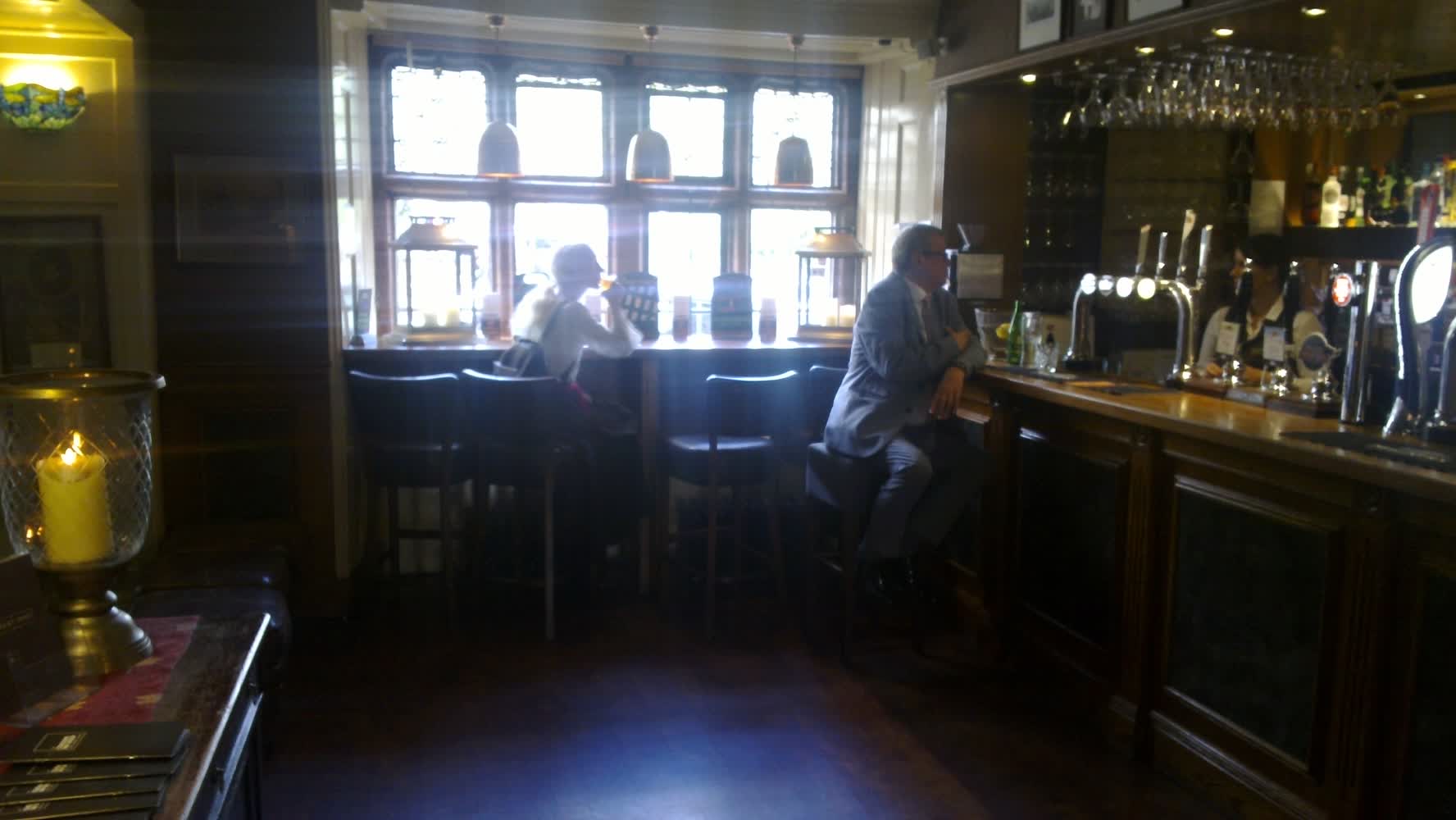 Liverpool Arms
Lower Gate Street
Our next stop was a smallish, one-roomed quayside pub with stone walls and a rounded central bar. Phil said that the second most prominent thing after the stone is more stone. There is seating in back that provides a view over the water. The toilets provide real stained-glass windows. A good pub and clearly old.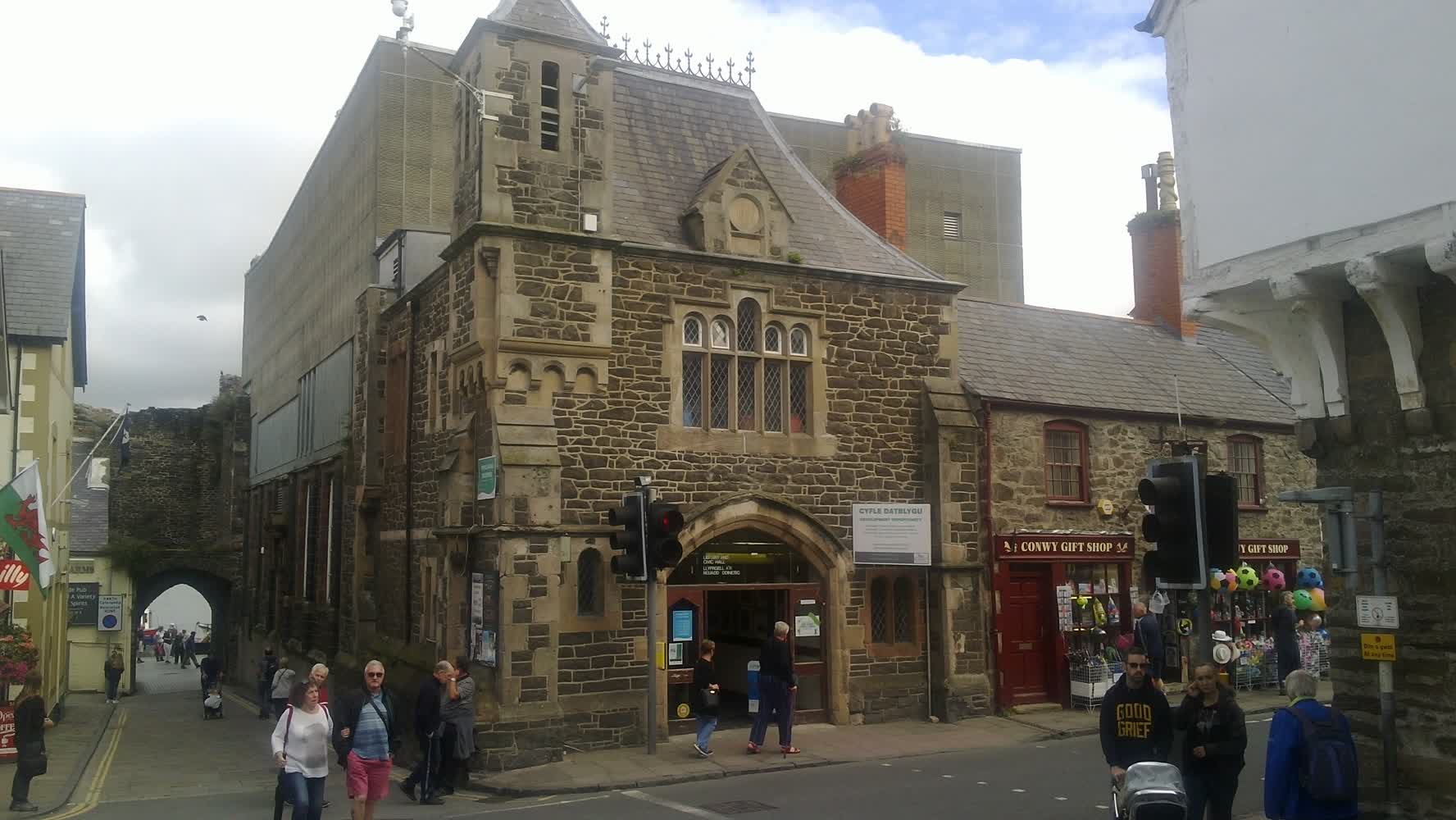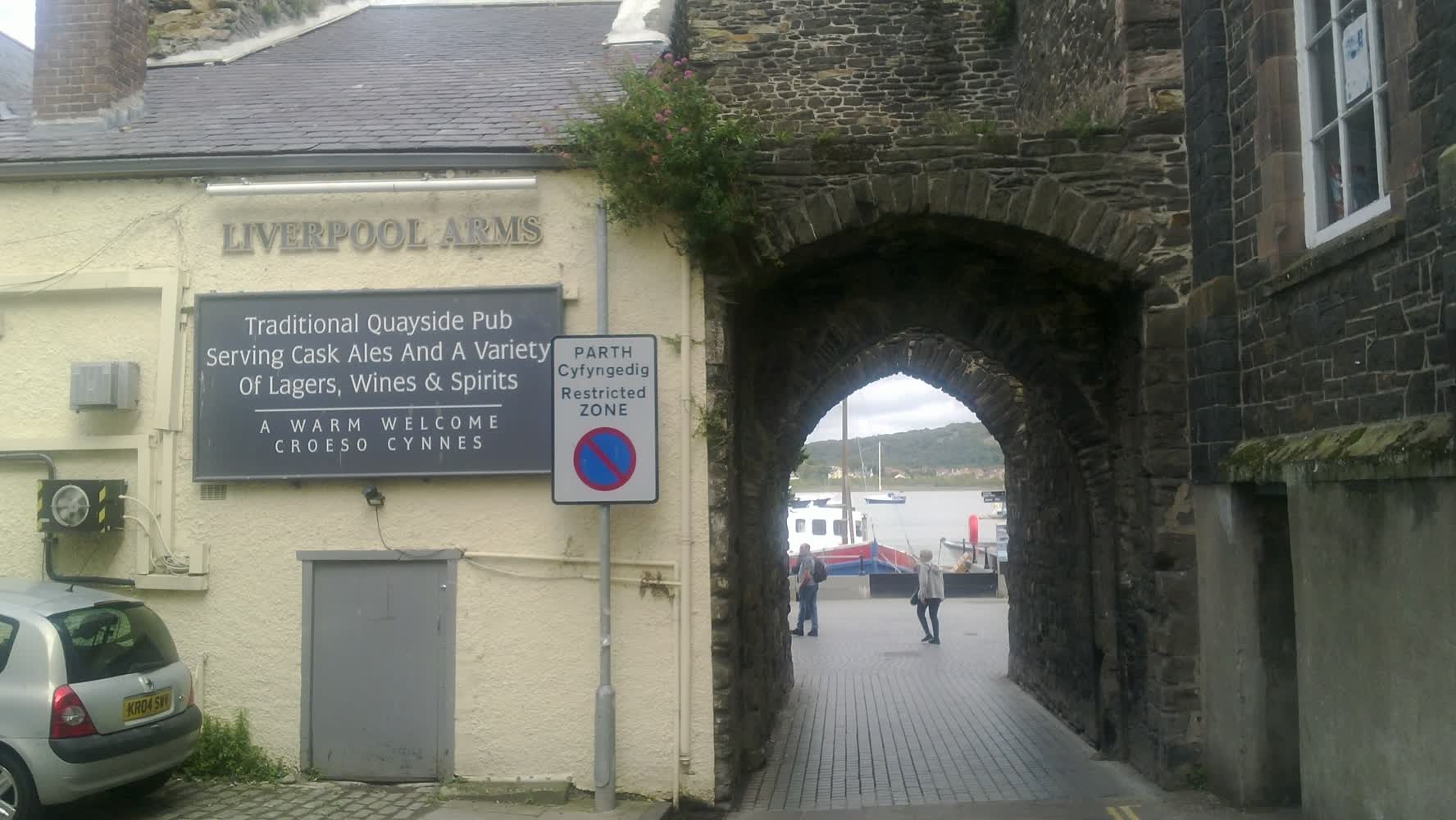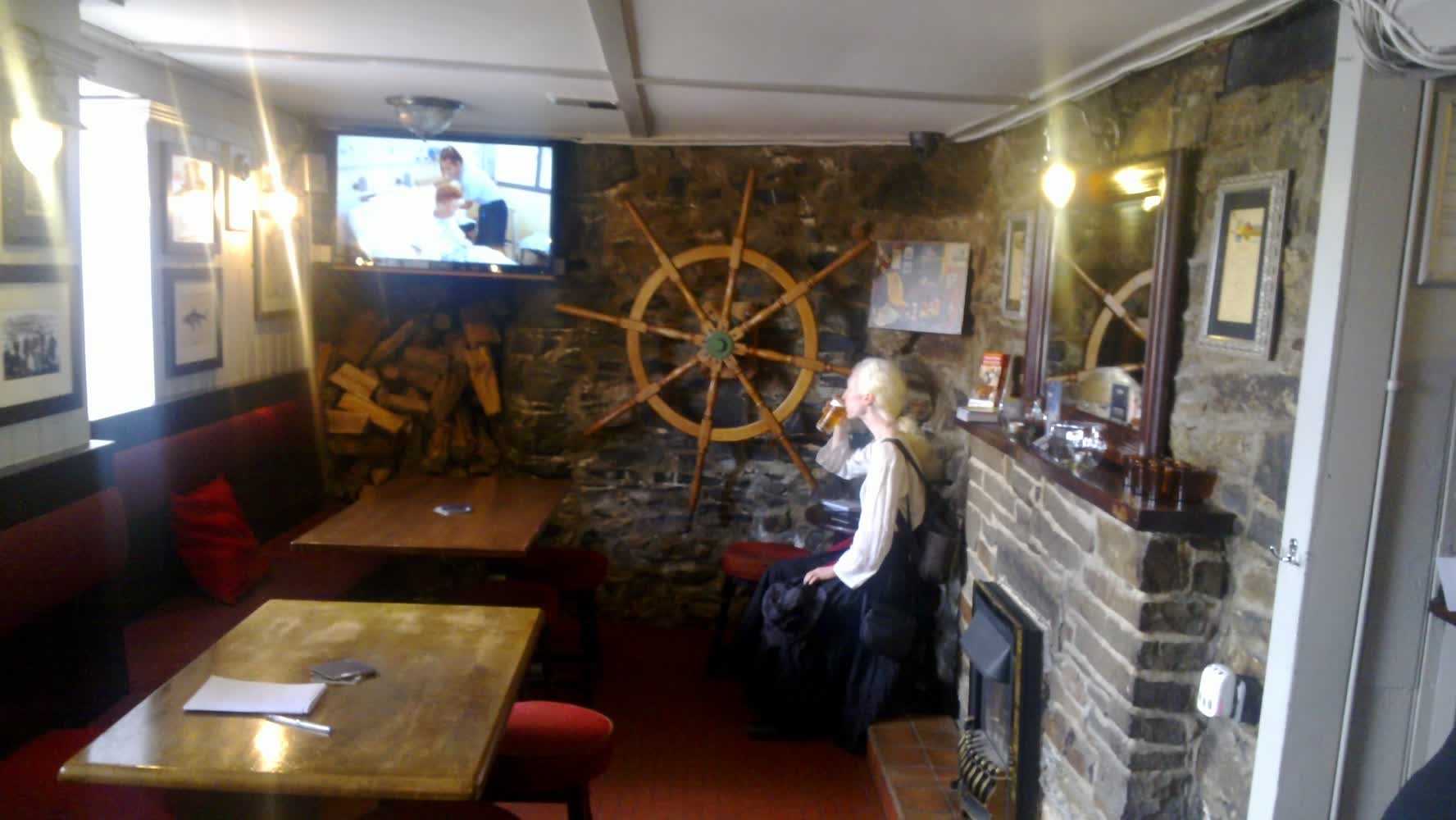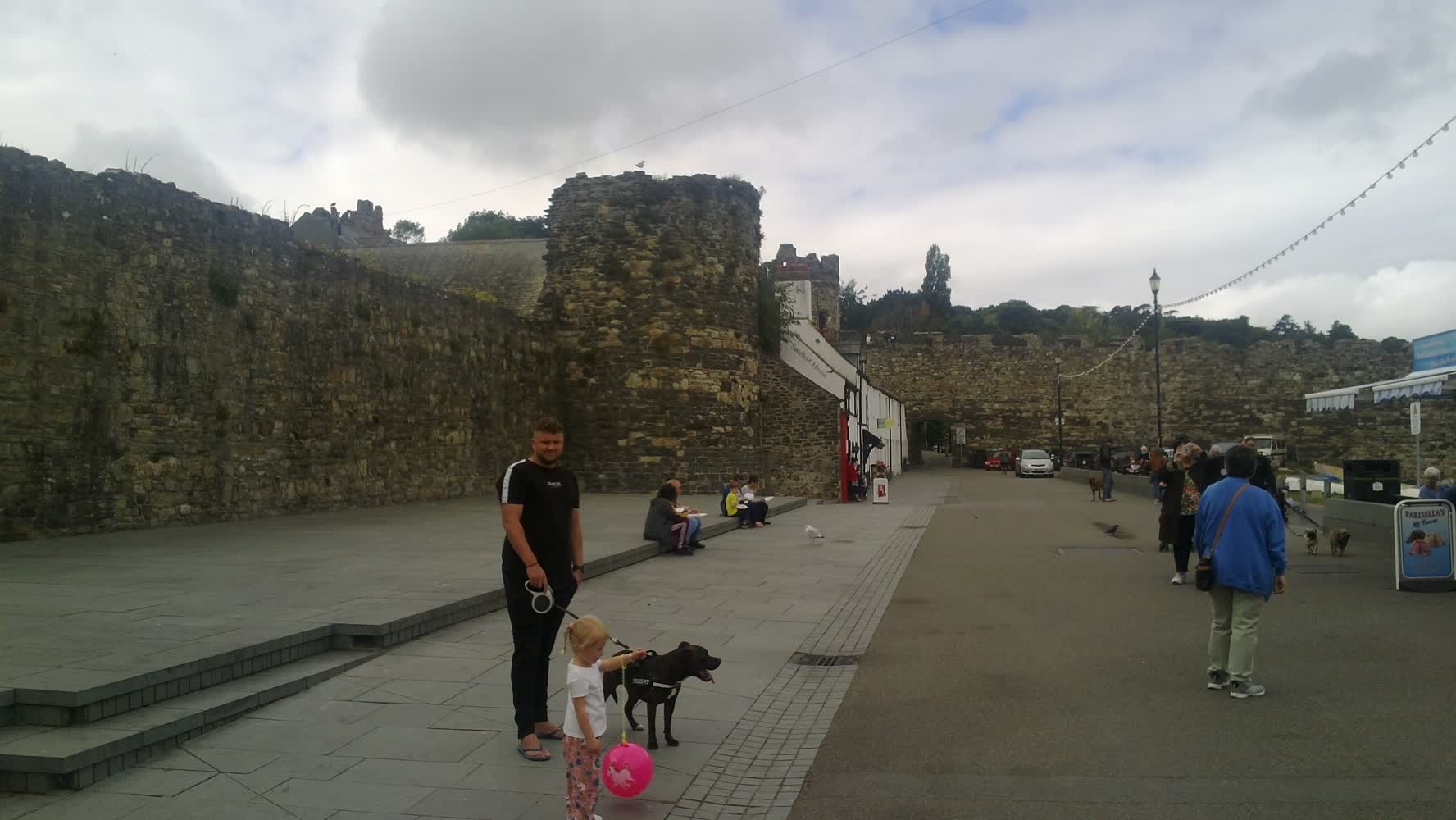 Blue Bell
Castle Street
The Blue Bell is a music-themed venue with old posters, Hendrix, etc. And we weren't the only dummies here.
A big room with plenty of windows, this has hints of subsections but remains a bit echoey. The four handpulls provided us with great beer.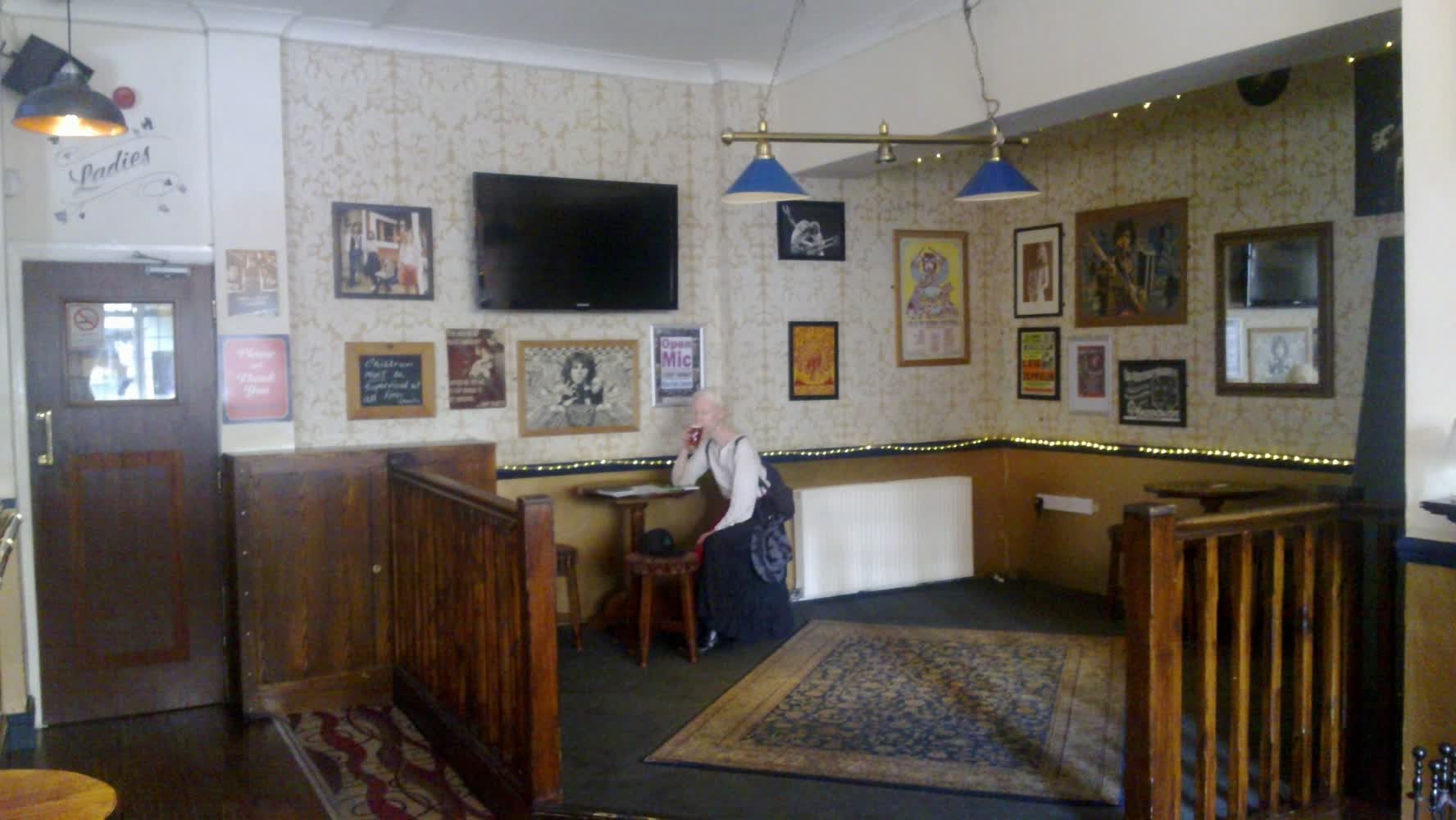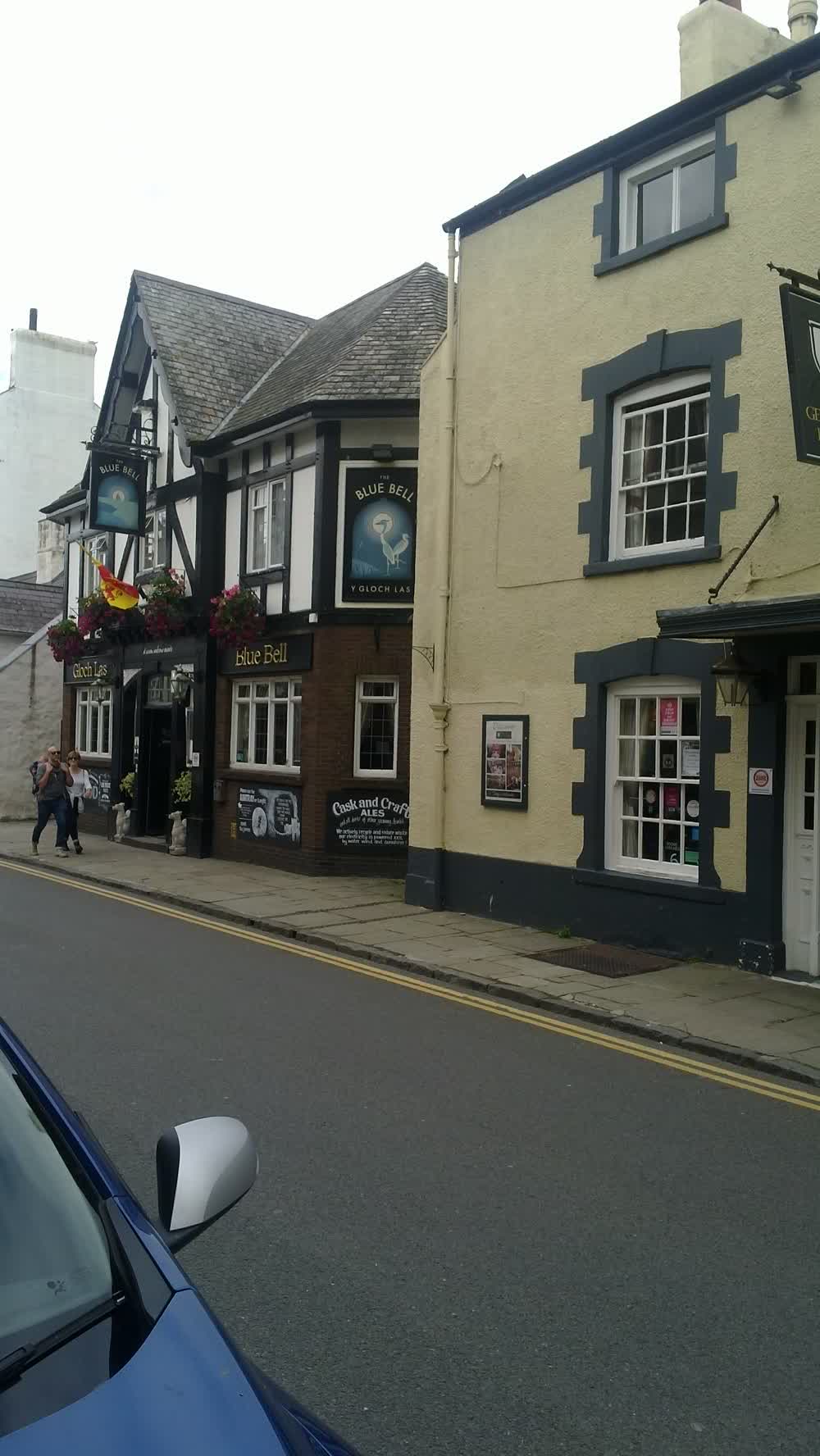 -- Llandudno:
The Palladium (JD Wetherspoons)
7 Gloddaeth Street
A huge building that is pushing the theatre theme. As have some of the other Wetherspoons in this general area, this one had a localised food menu. The staff serving from the 6+6 handpulls were proactive. As for the customers, they were a mix, and Welsh could be heard.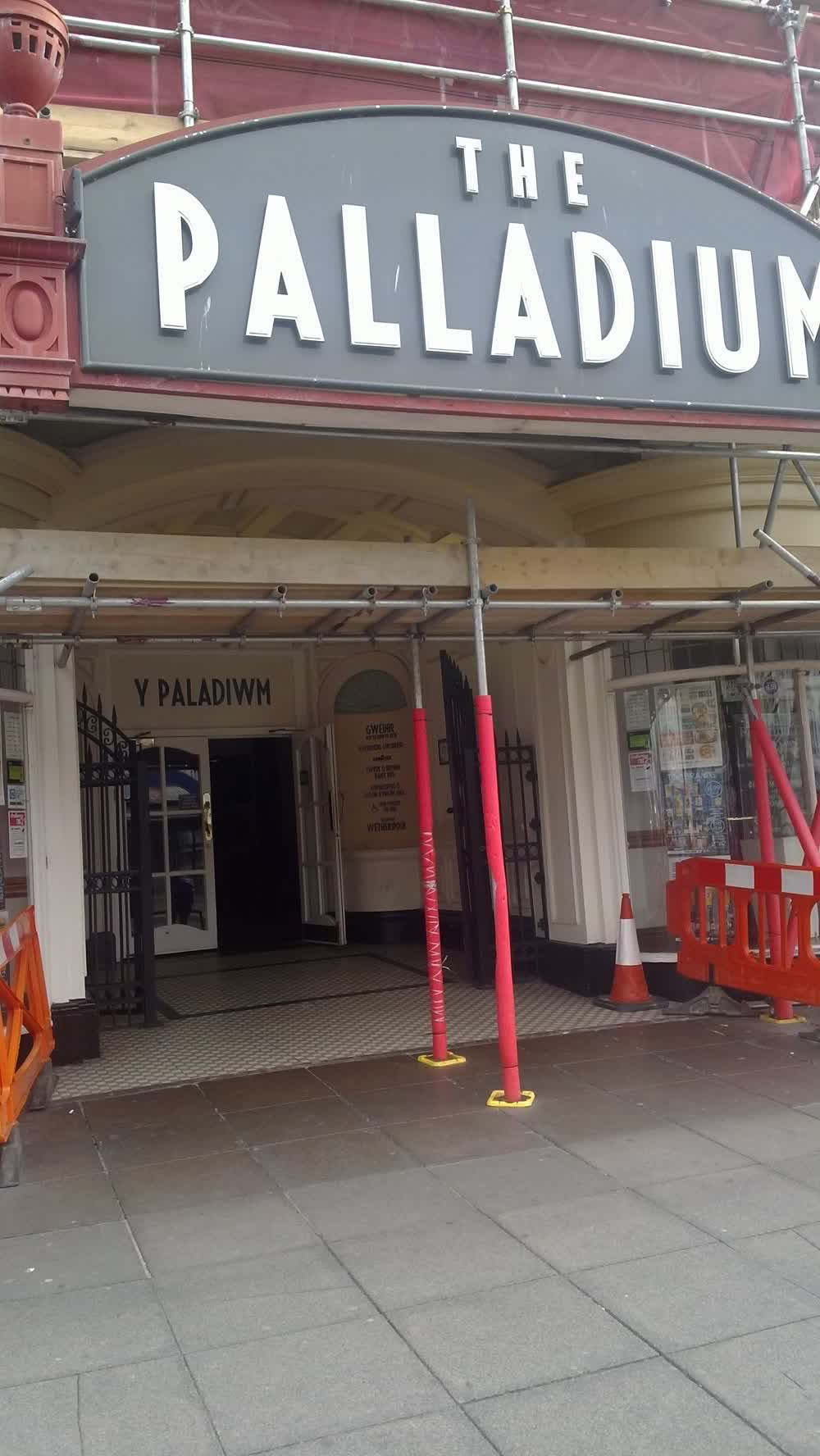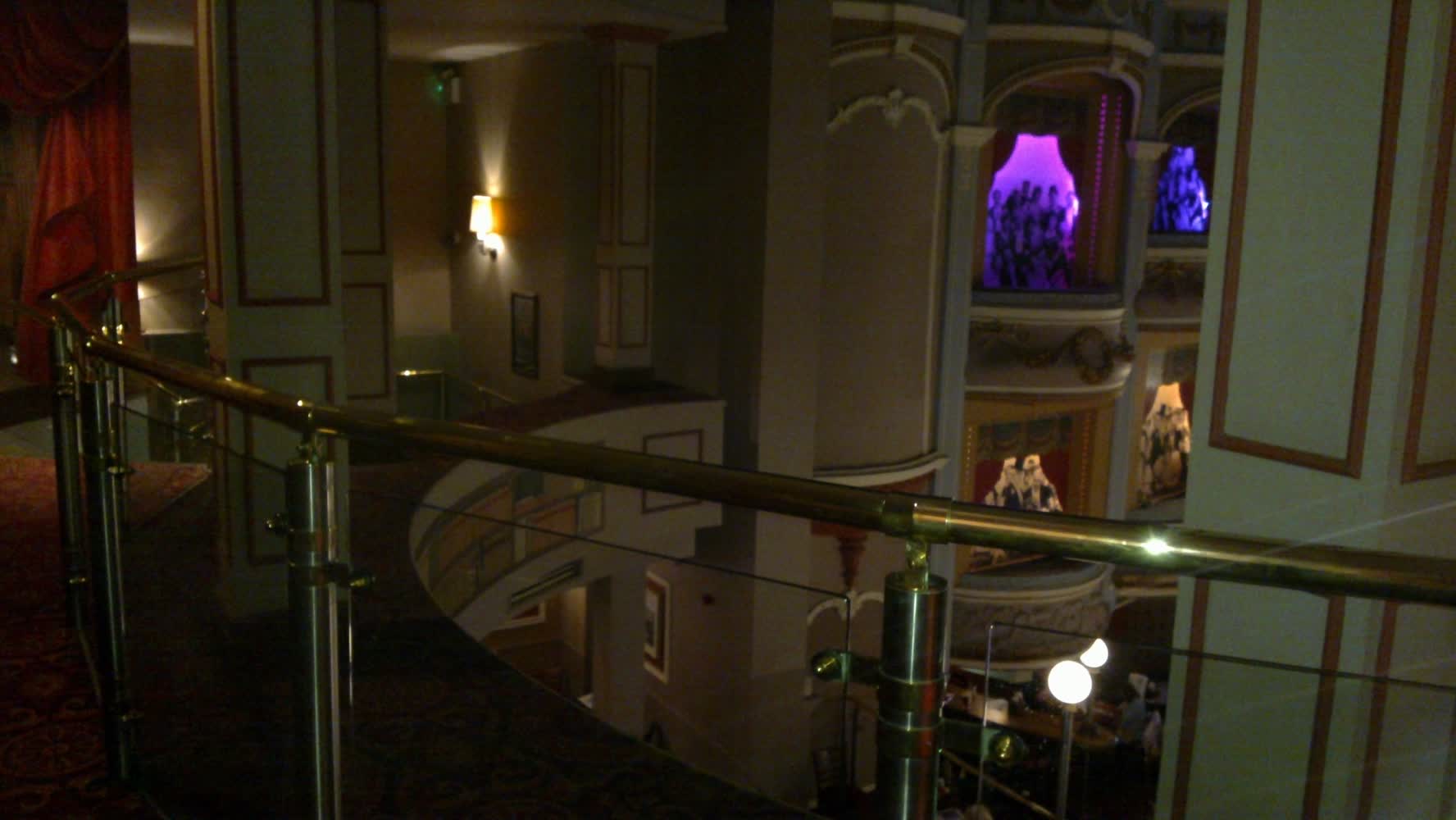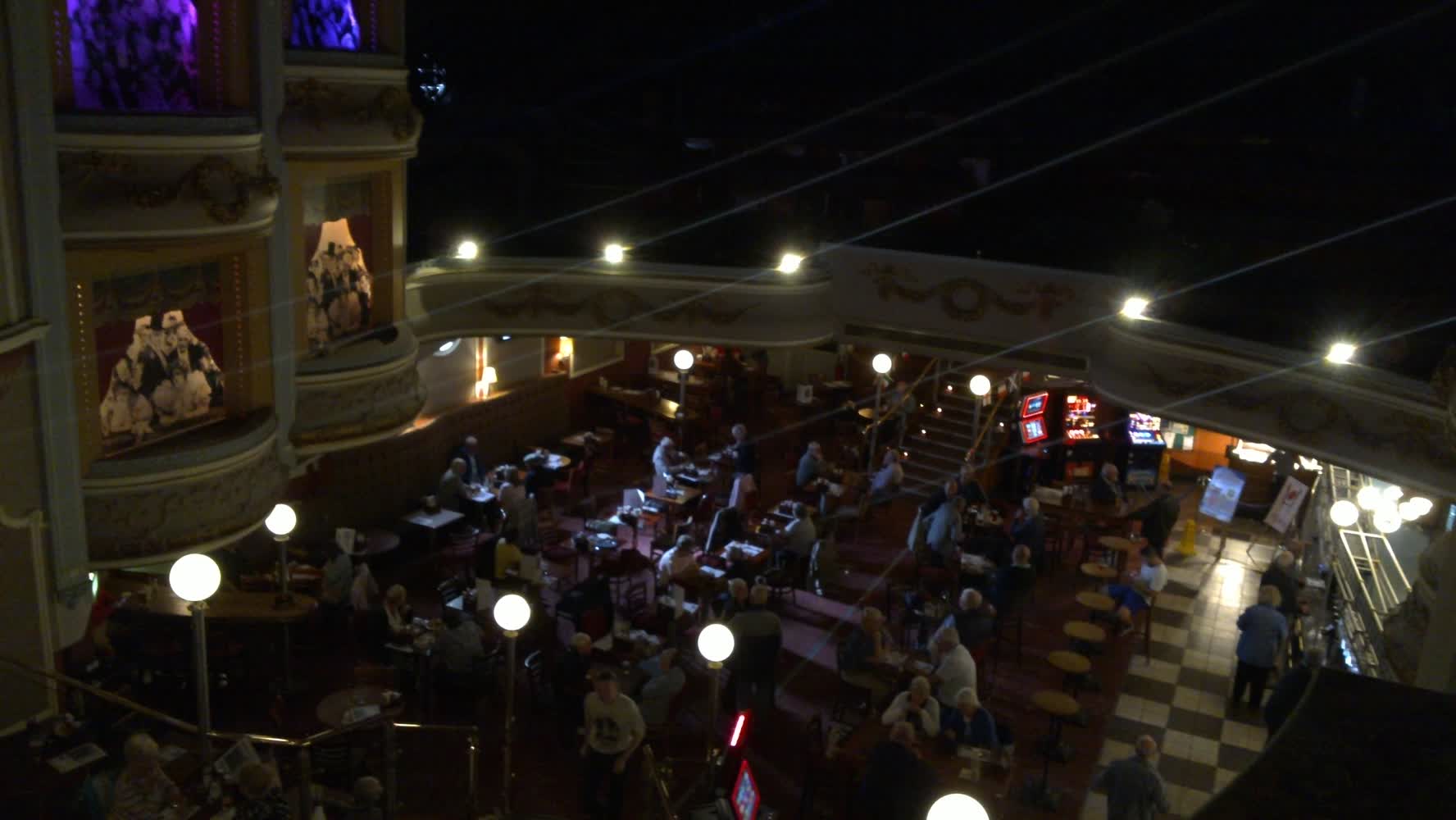 After some meanderings, including one failed attempt at finding new beers
(The King's Head, Old Road),
and then another
(The Albert, a nearly seedy-looking spot at 56 Madoc Street),
we checked out a more fruitful spot.

Snowdon
11 Tudno Street
The bar here looks bright and impressive, drawing attention. That said, there was plenty of interest to be seen in the photos on the walls too. Natural light bathed us via a bay window. Their house beer was yummy. Also, Piiigs in Spaaaaace!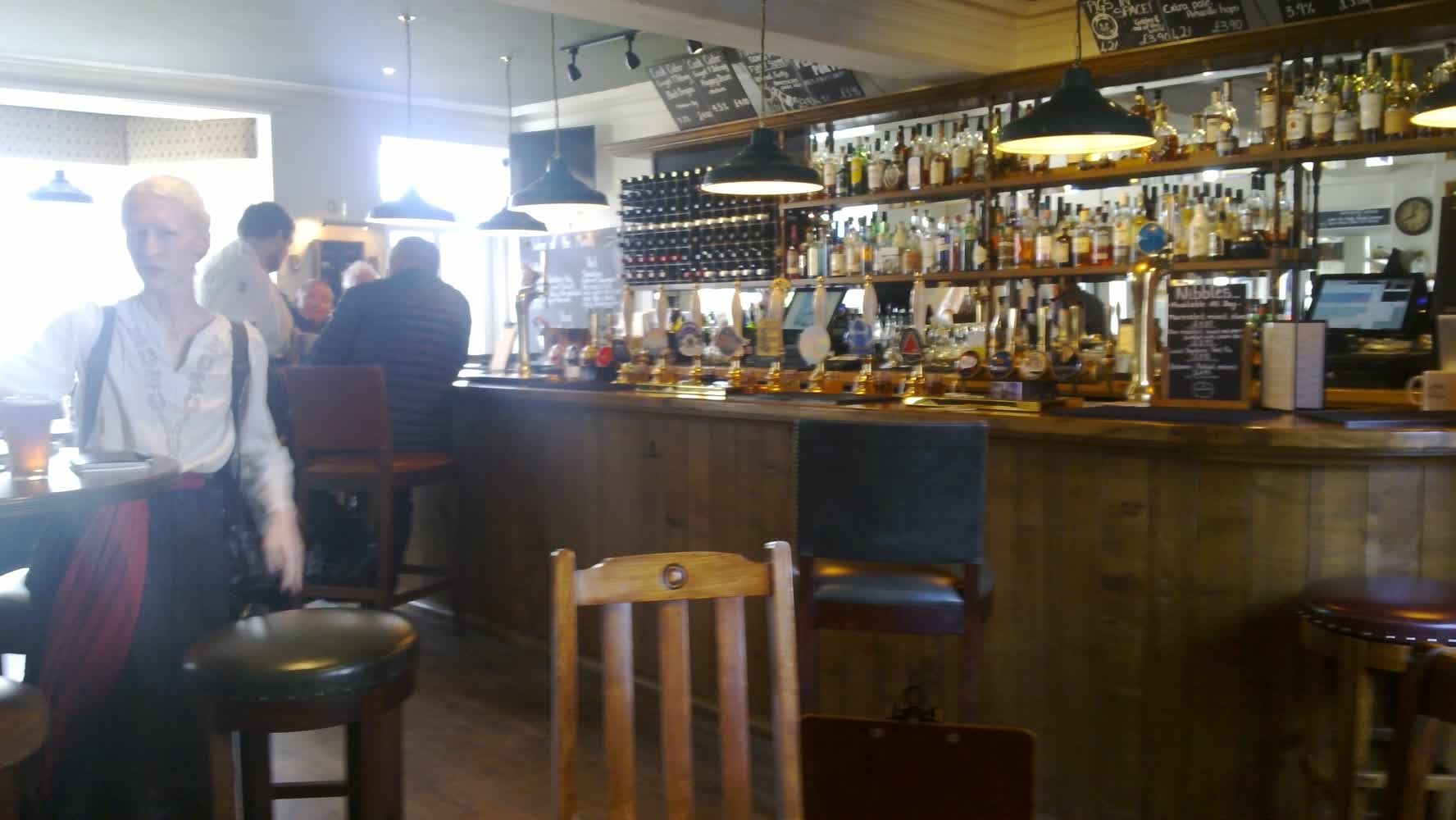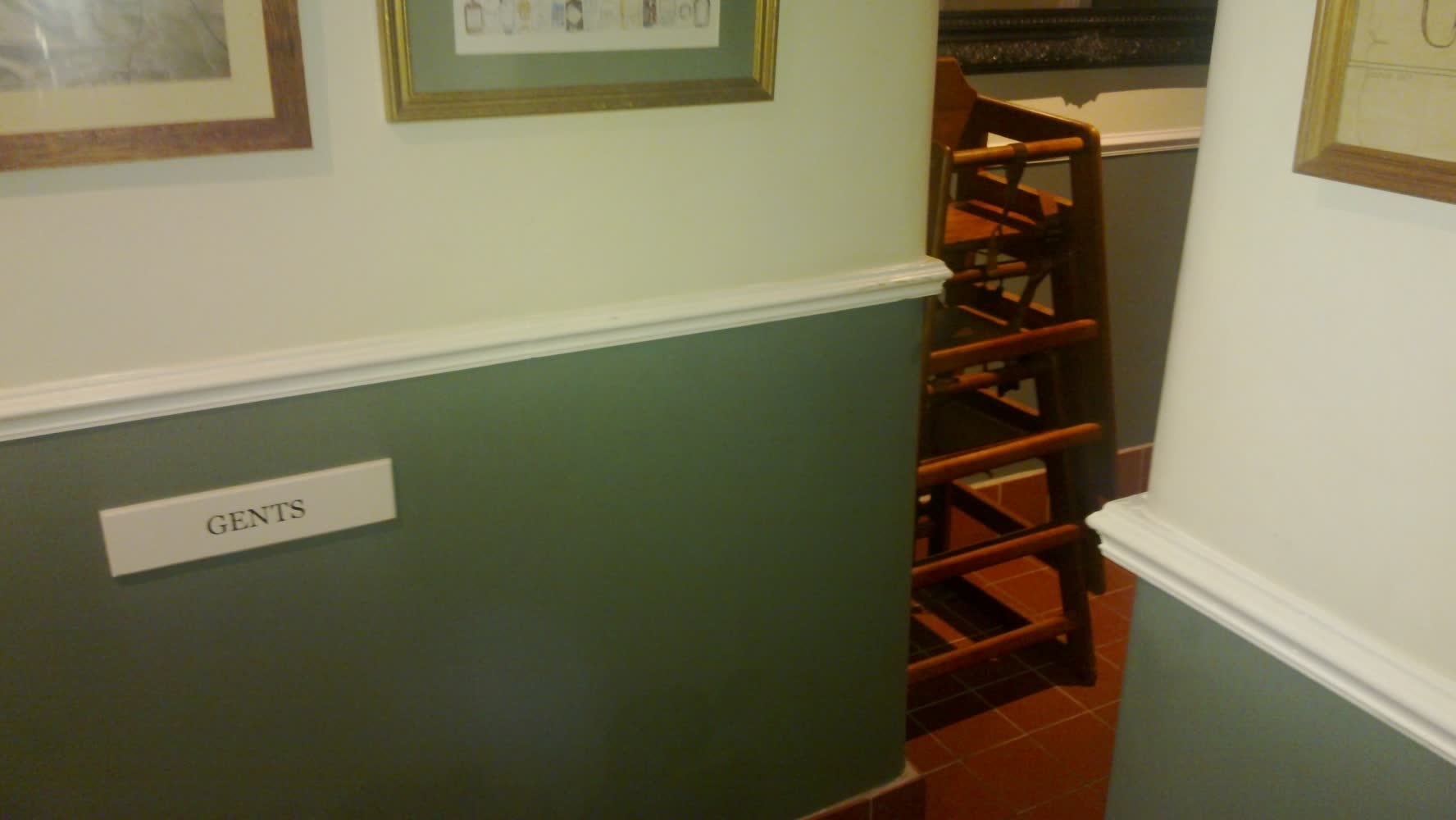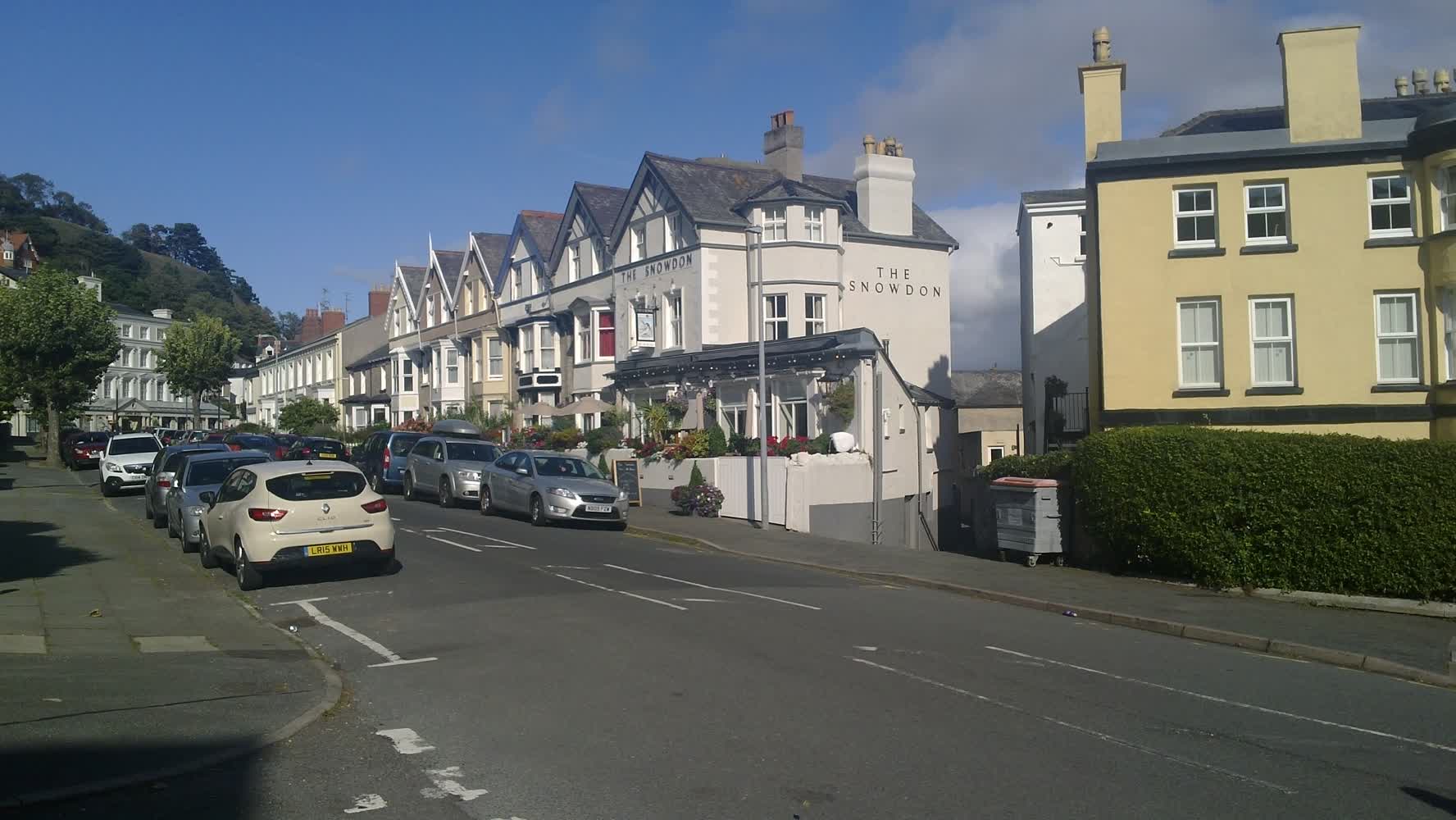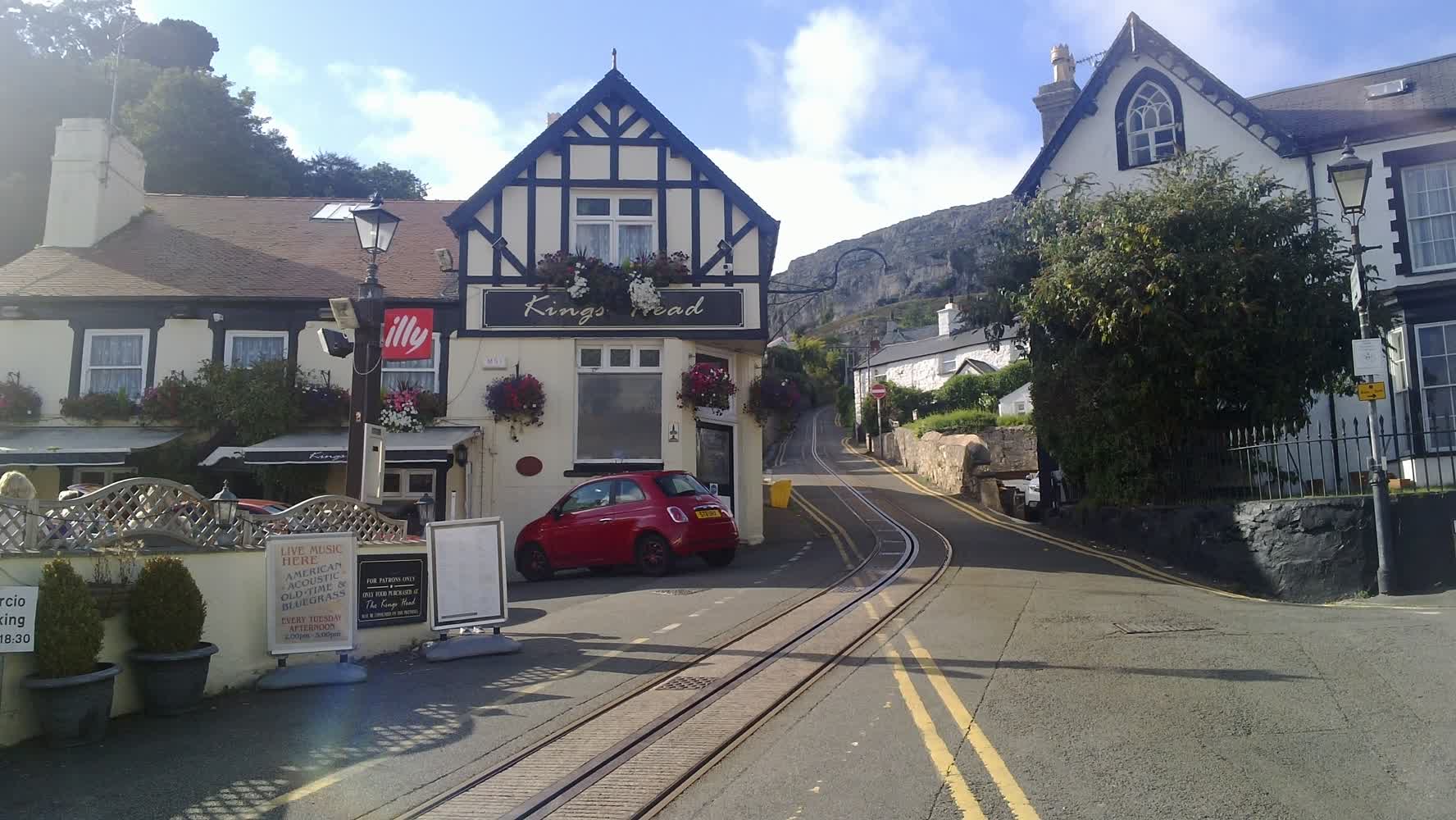 Tapps
35 Madoc Street
Our final stop was at a 'micro pub' cum bottle/can shop in a former cake shop. The staff were wonderfully communicative, volunteering information, history, and thoughts on how the best-before-sale cans were holding up over time. While there was a hipstery feel, it didn't rub us the wrong way. We also appreciated the clear differentiation between cask and keg on the lists on the boards (12 or 16 tap beers were available).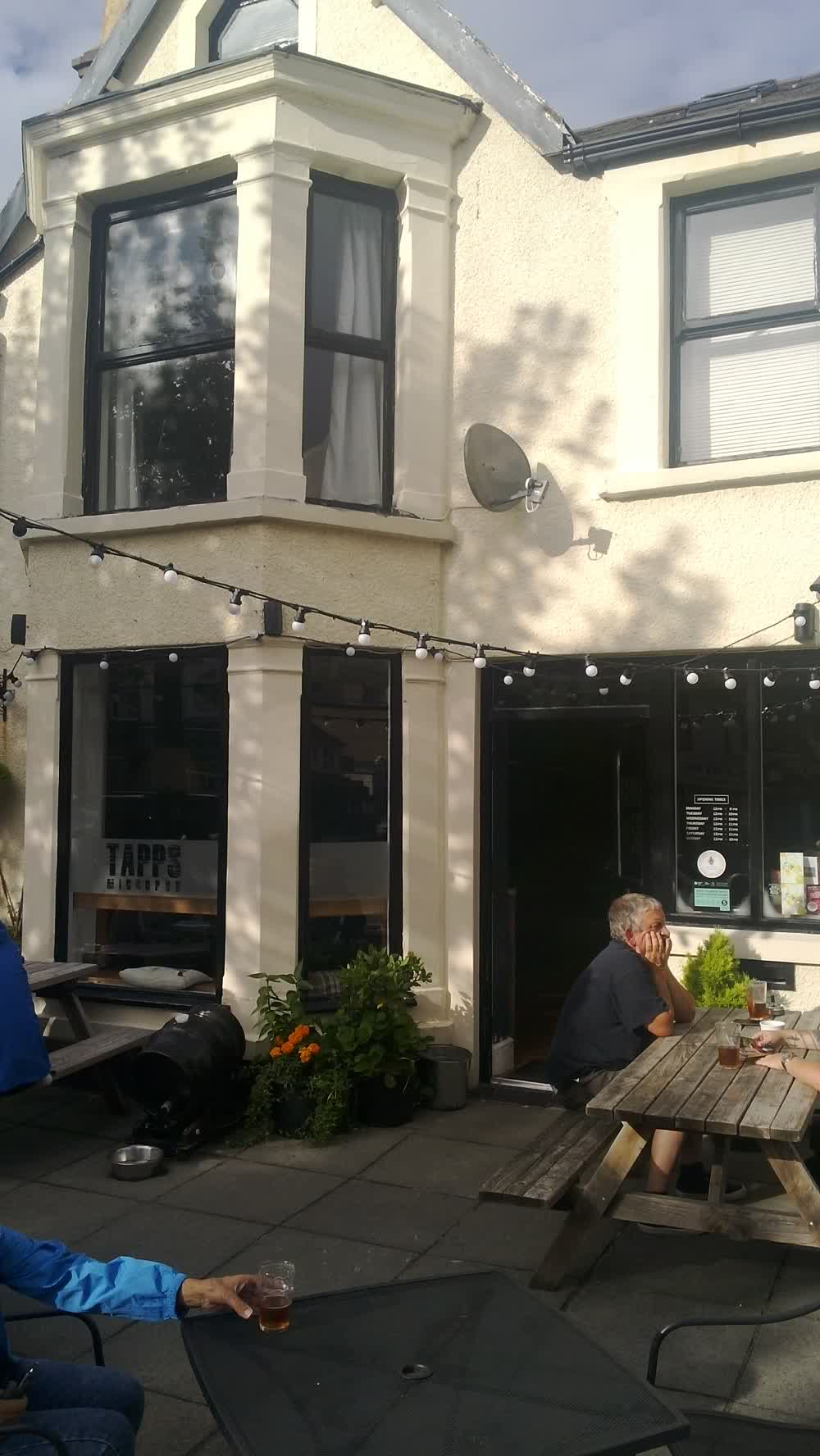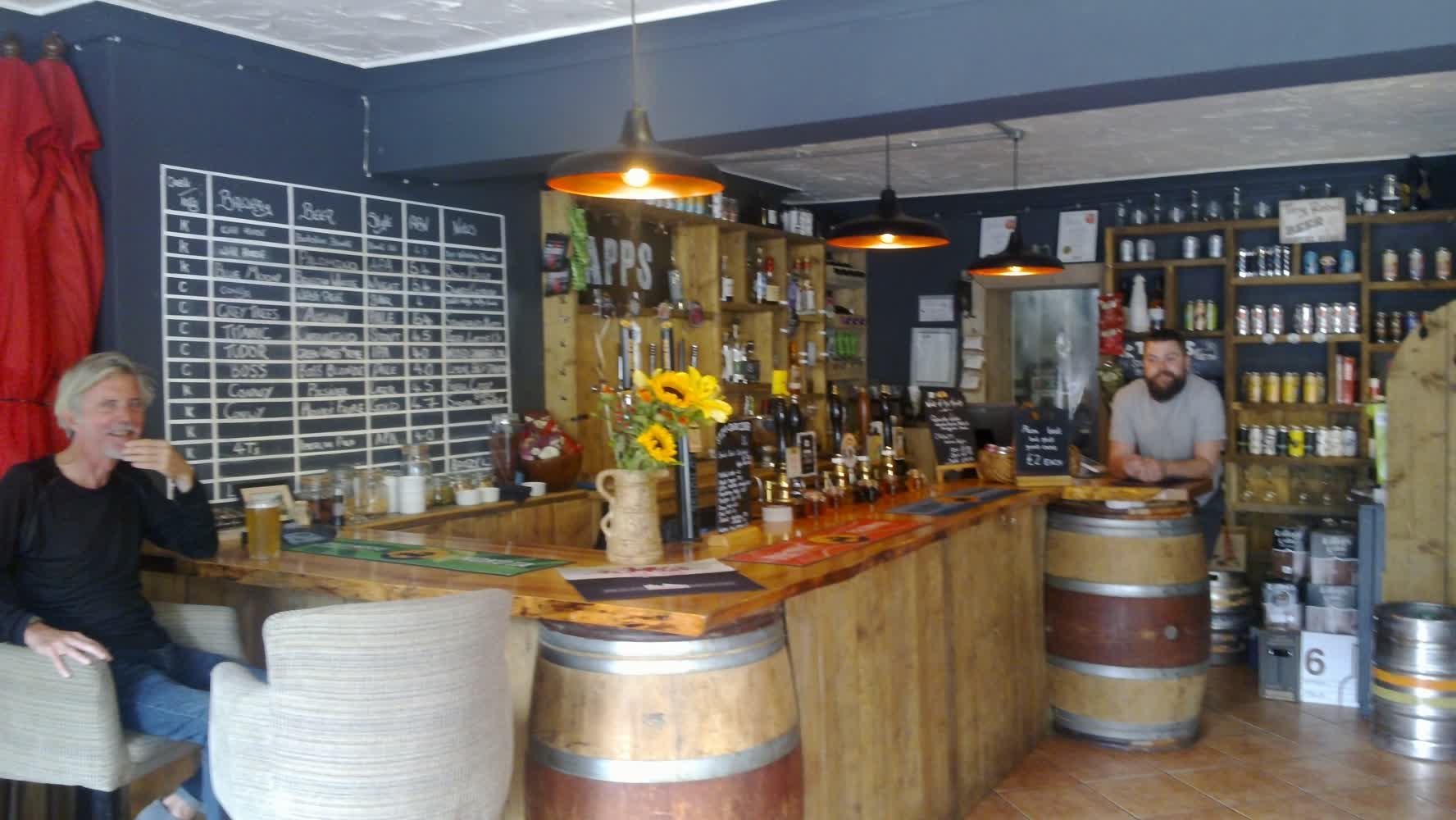 -- Back to Chester:
Once we'd consulted the timetables and made sure that an upcoming train existed (no, not that one)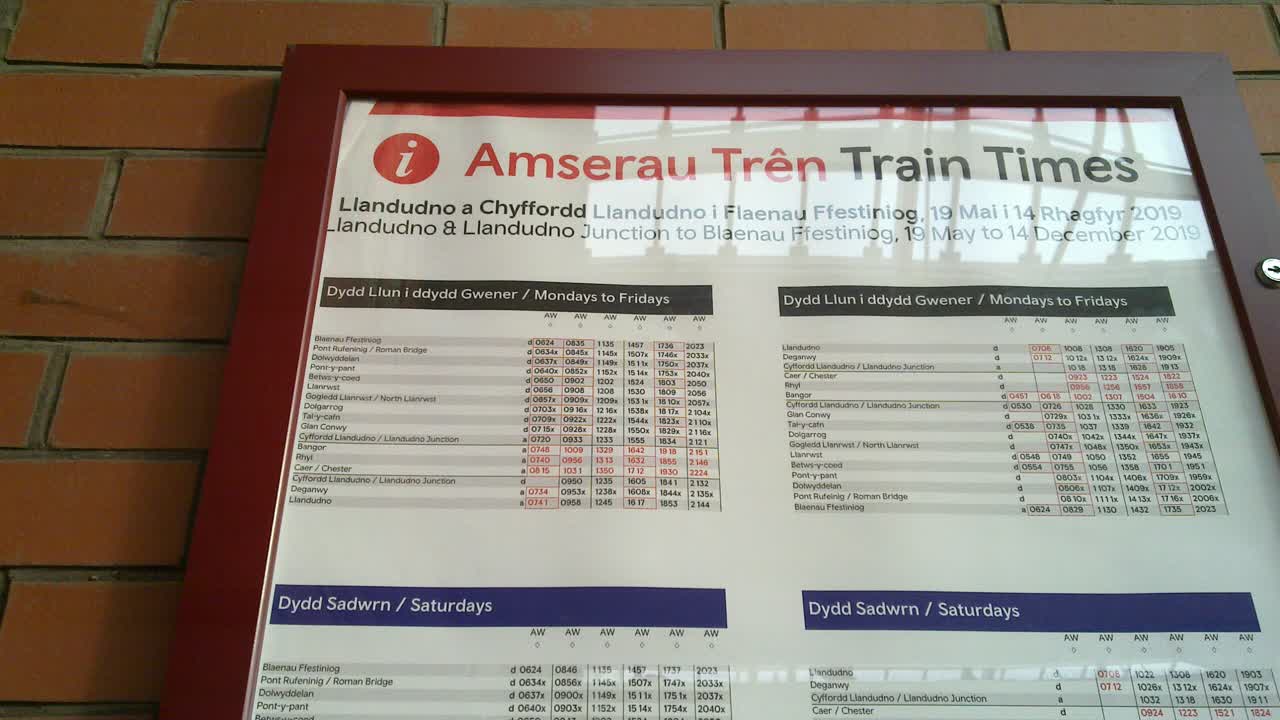 we could relax a bit. Soon we were on the rails again, however briefly, as the sights changed around us: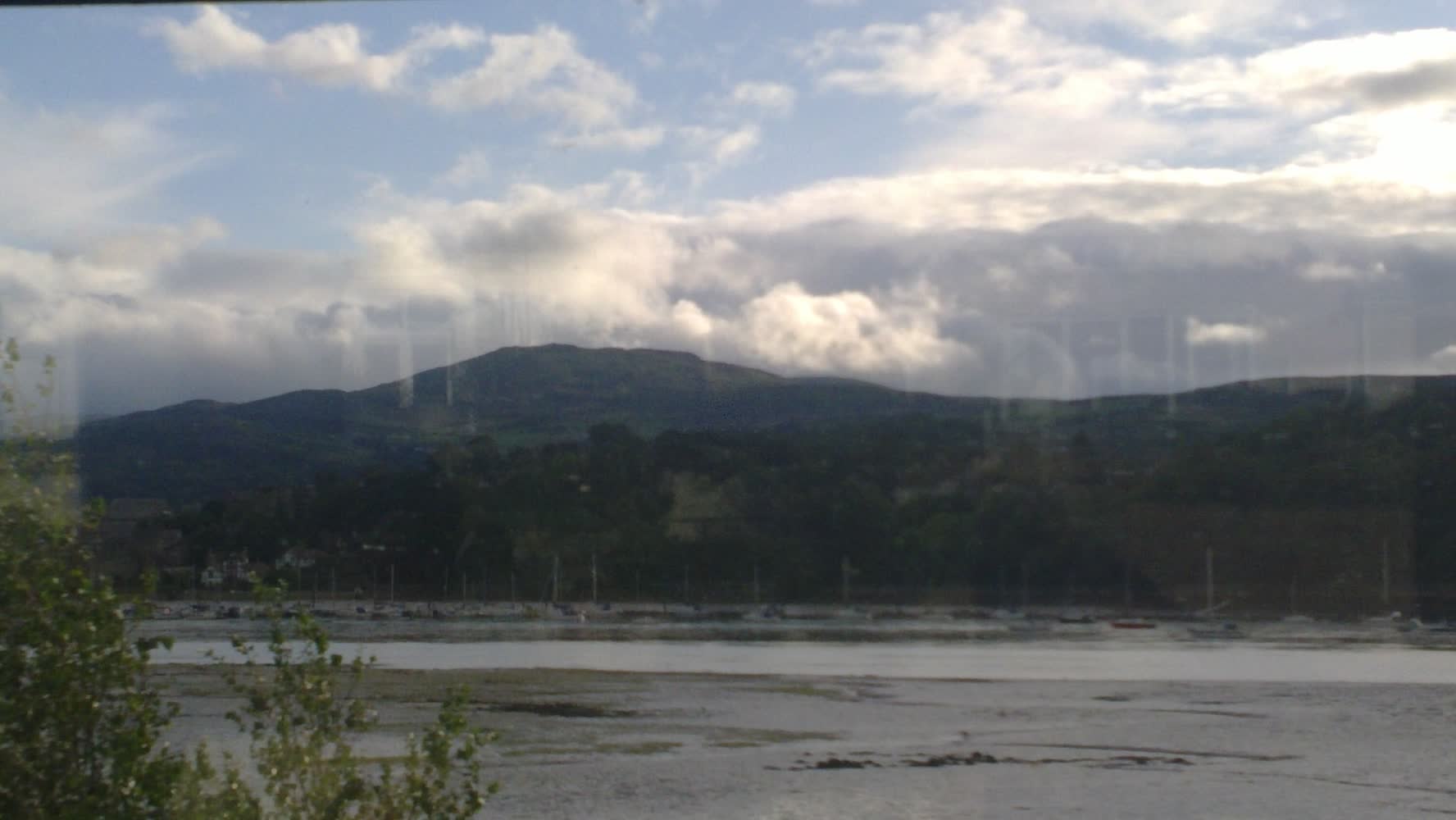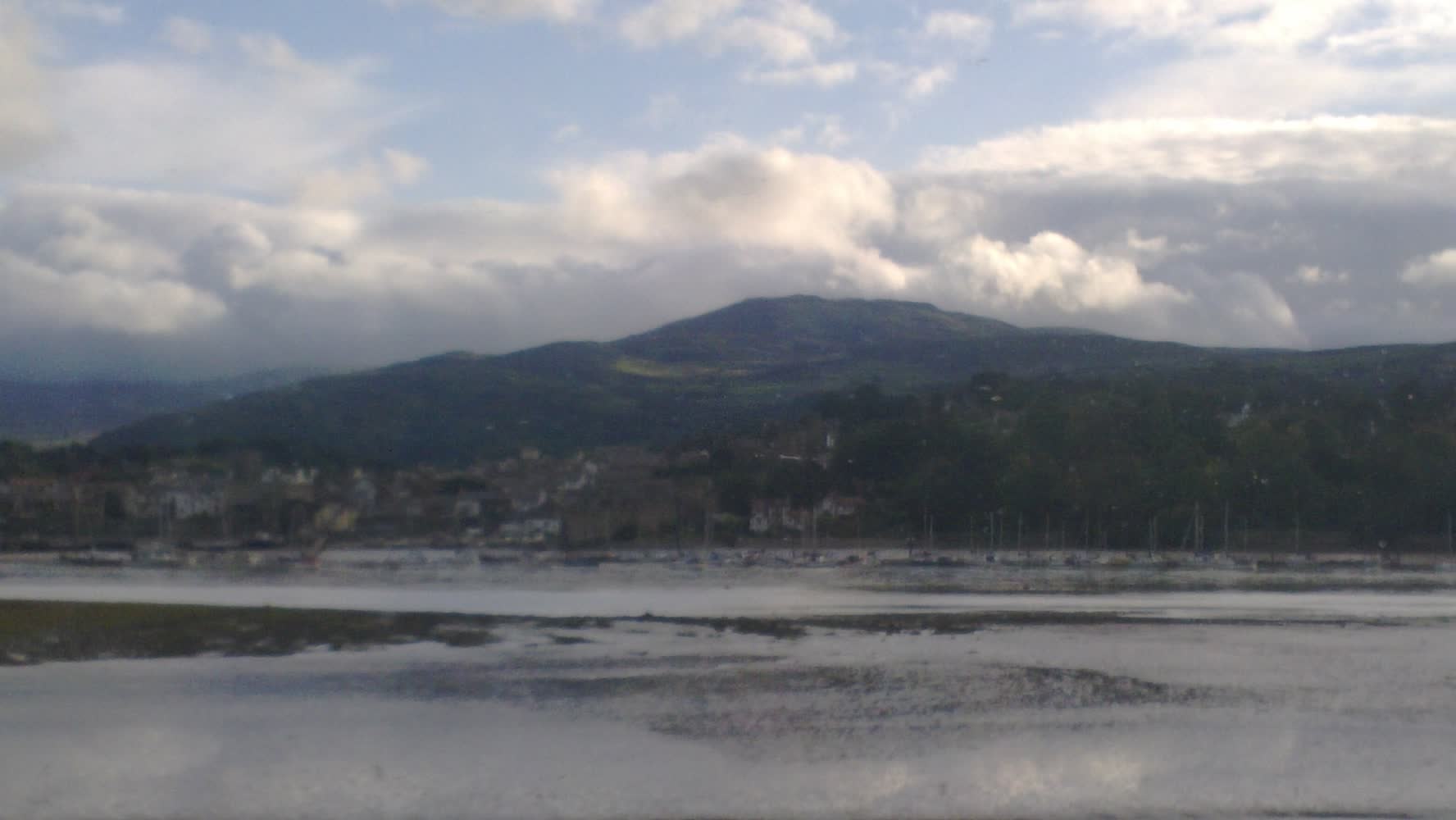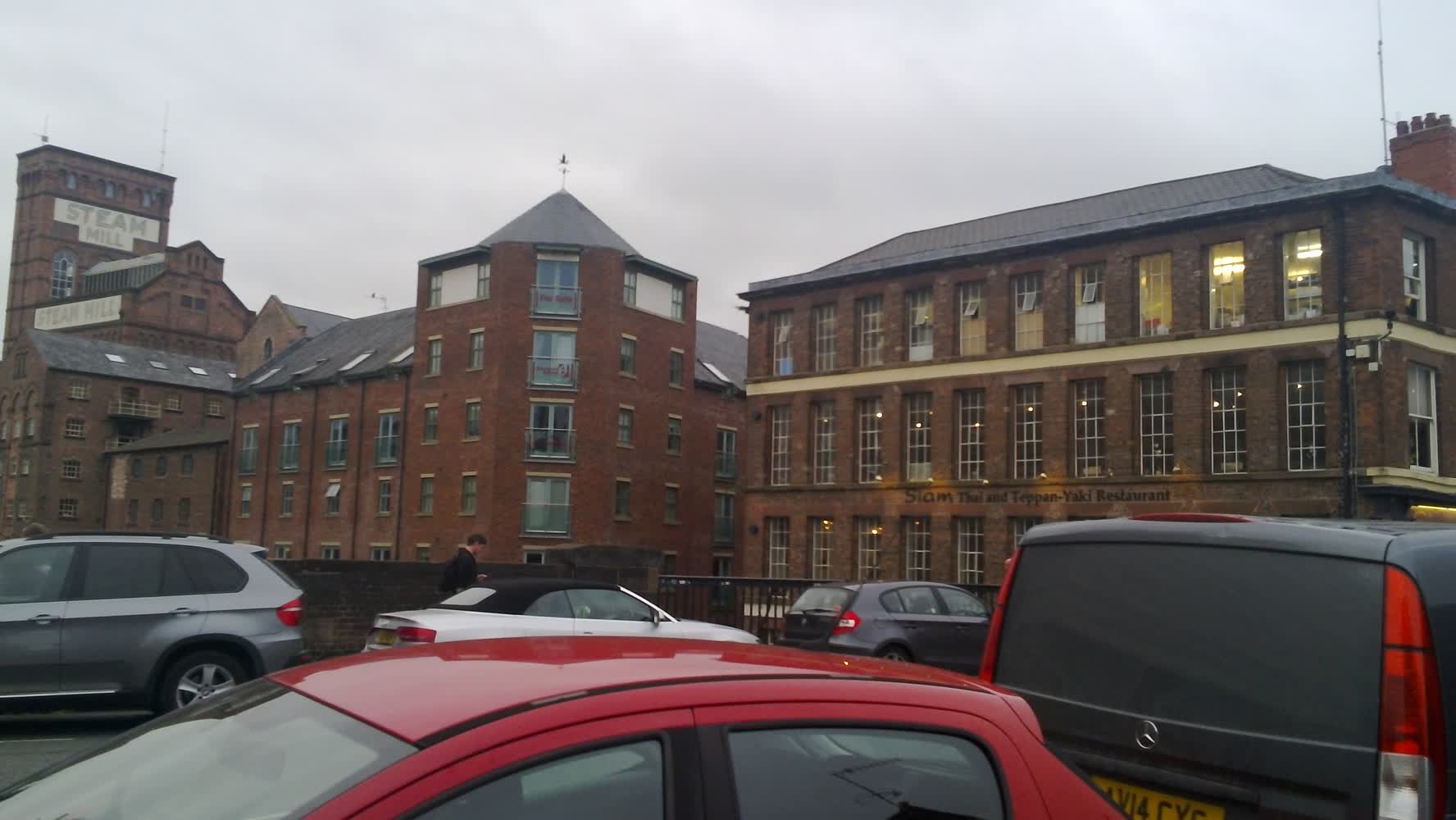 The Cellar
19-21 City Road
The Cellar had a semi-industrial feel set against brick walls and mid-grain wooden tables. A slightly dark place with Christmas lights in. This place was pretty inviting, but the beers were just a bit too 'crafty' for us even though this was one of the better places in terms of cask/keg crossover. And we moved on.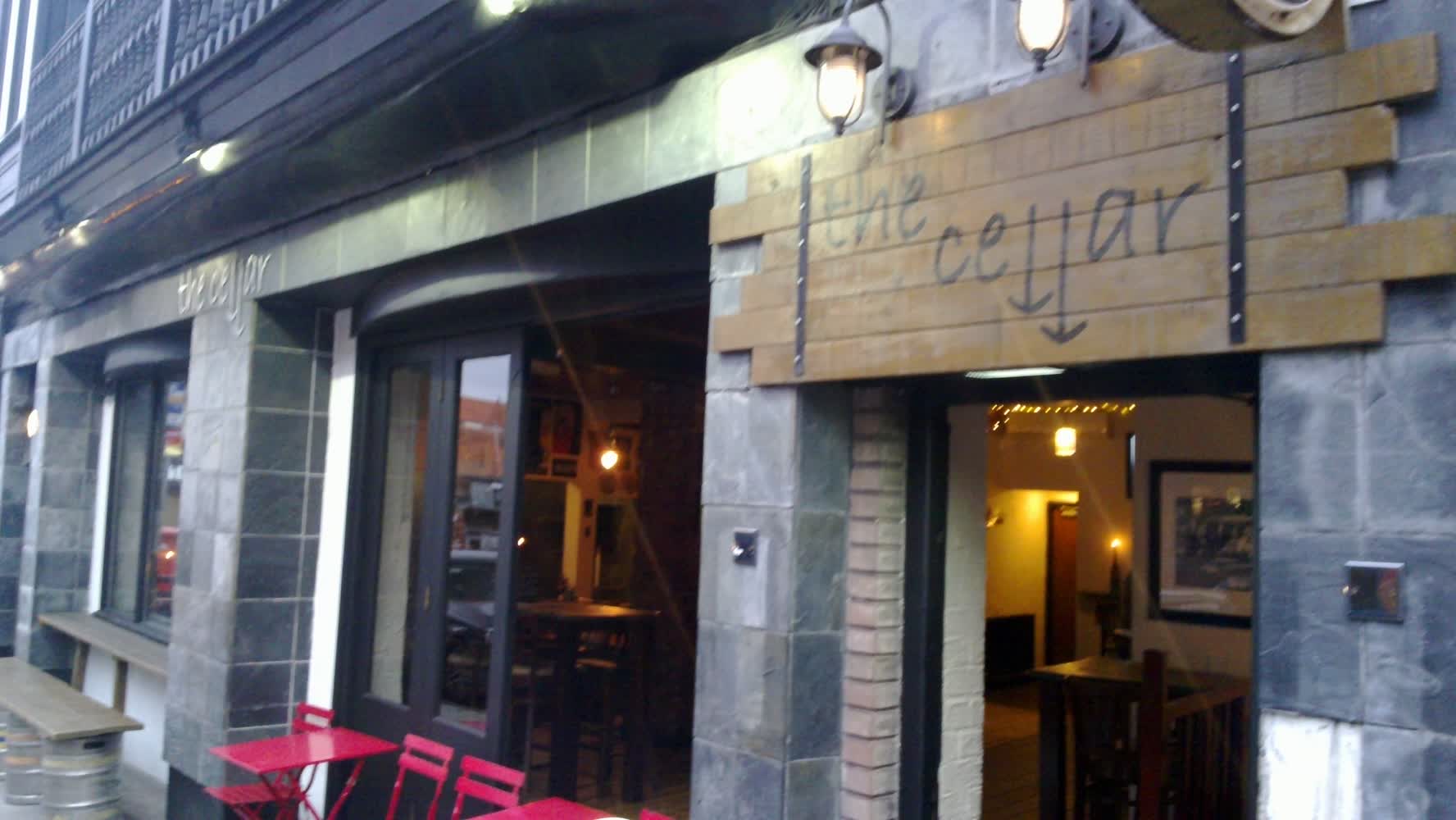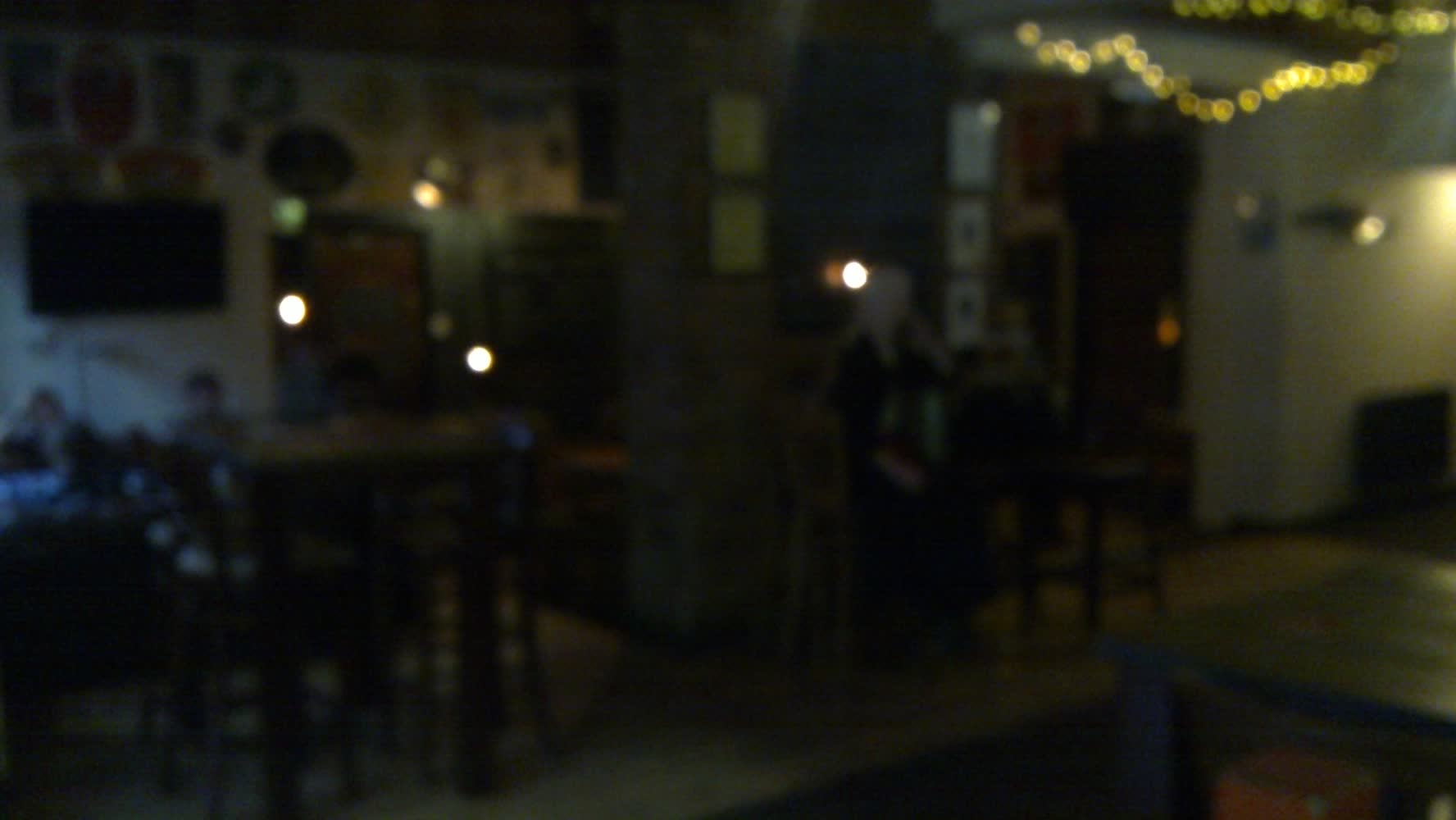 Brewhouse & Kitchen
Love Street
We had the Eagles playing in the previous pub, but the music here caught our attention more. Because it was quite loud (though not bad). A well-lit pub with several not-quite-snugs. The beers we chose were less good than those we'd had at other B&Ks on the trip.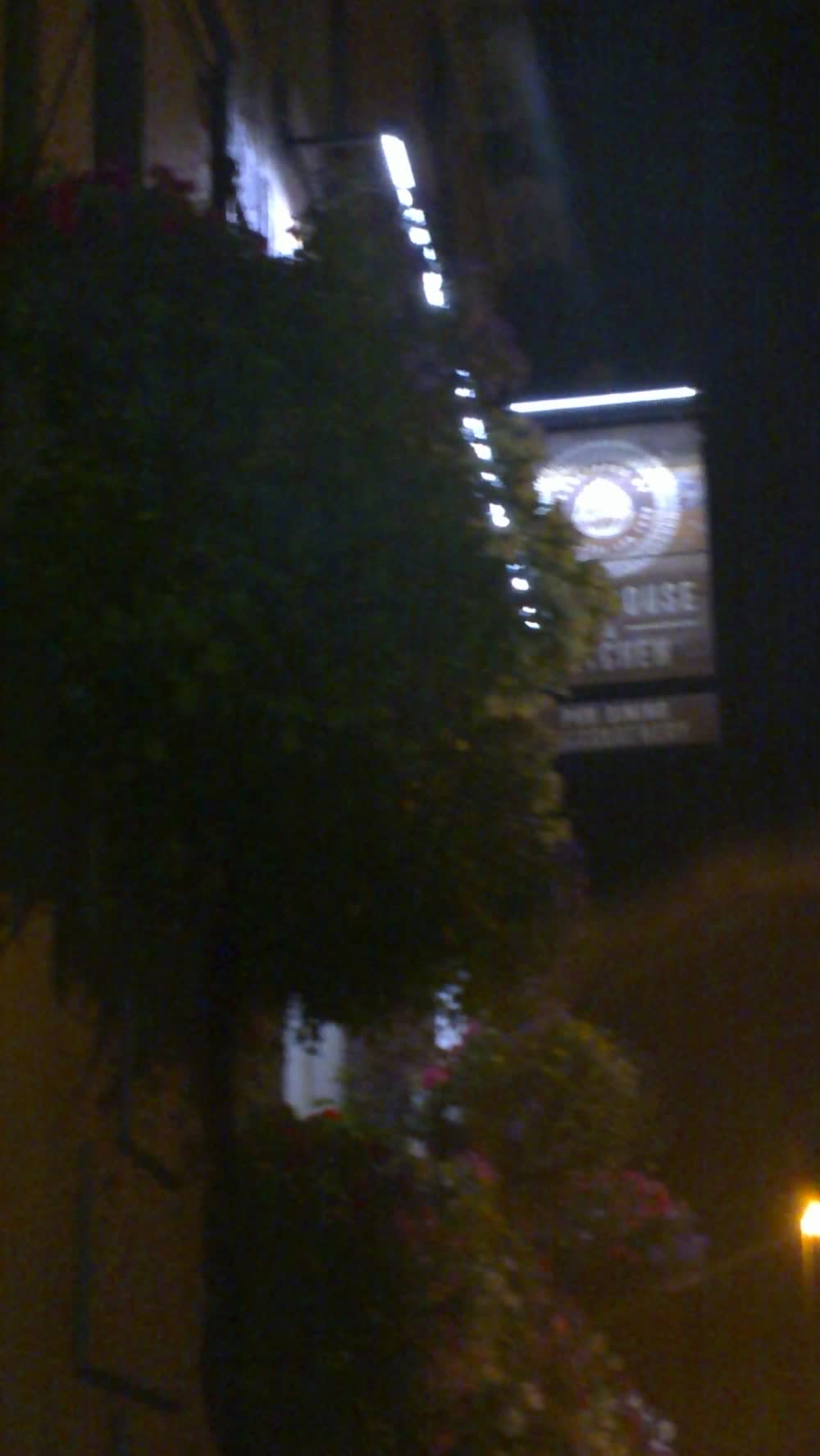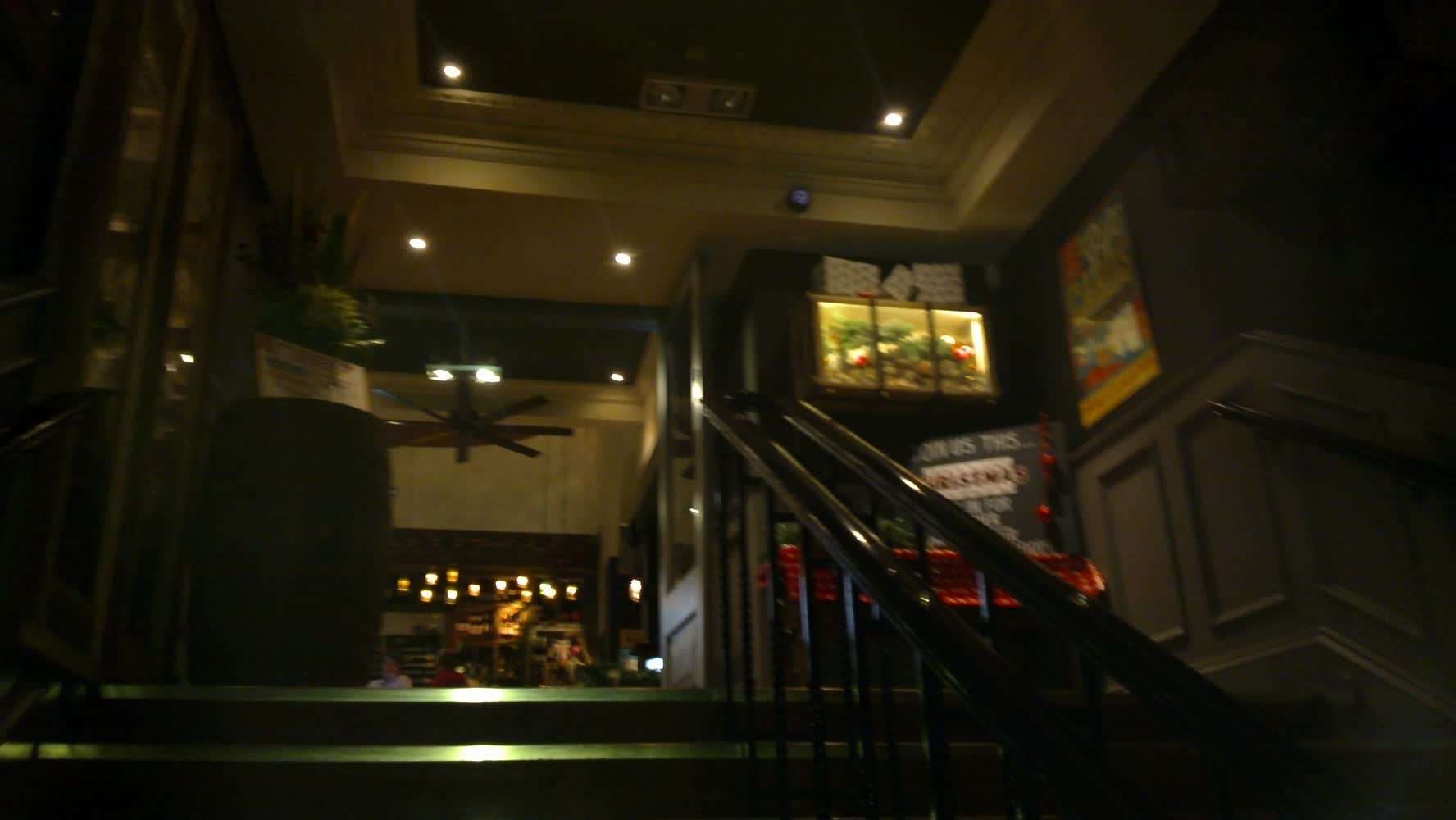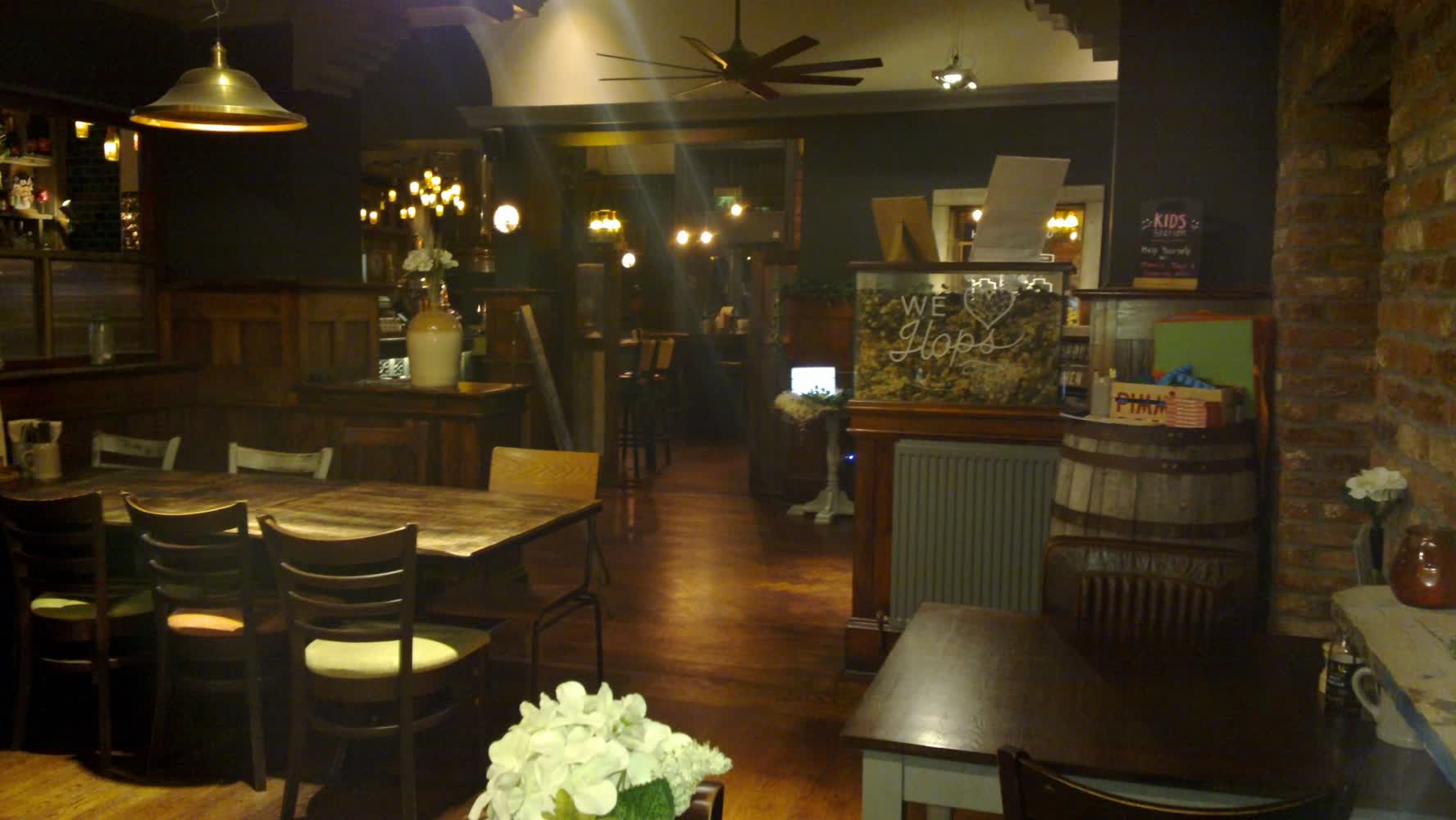 We stuck our heads in another venue briefly
(The City Tavern, 32 Frodsham Street),
a sports bar but with a few interesting local cask beers.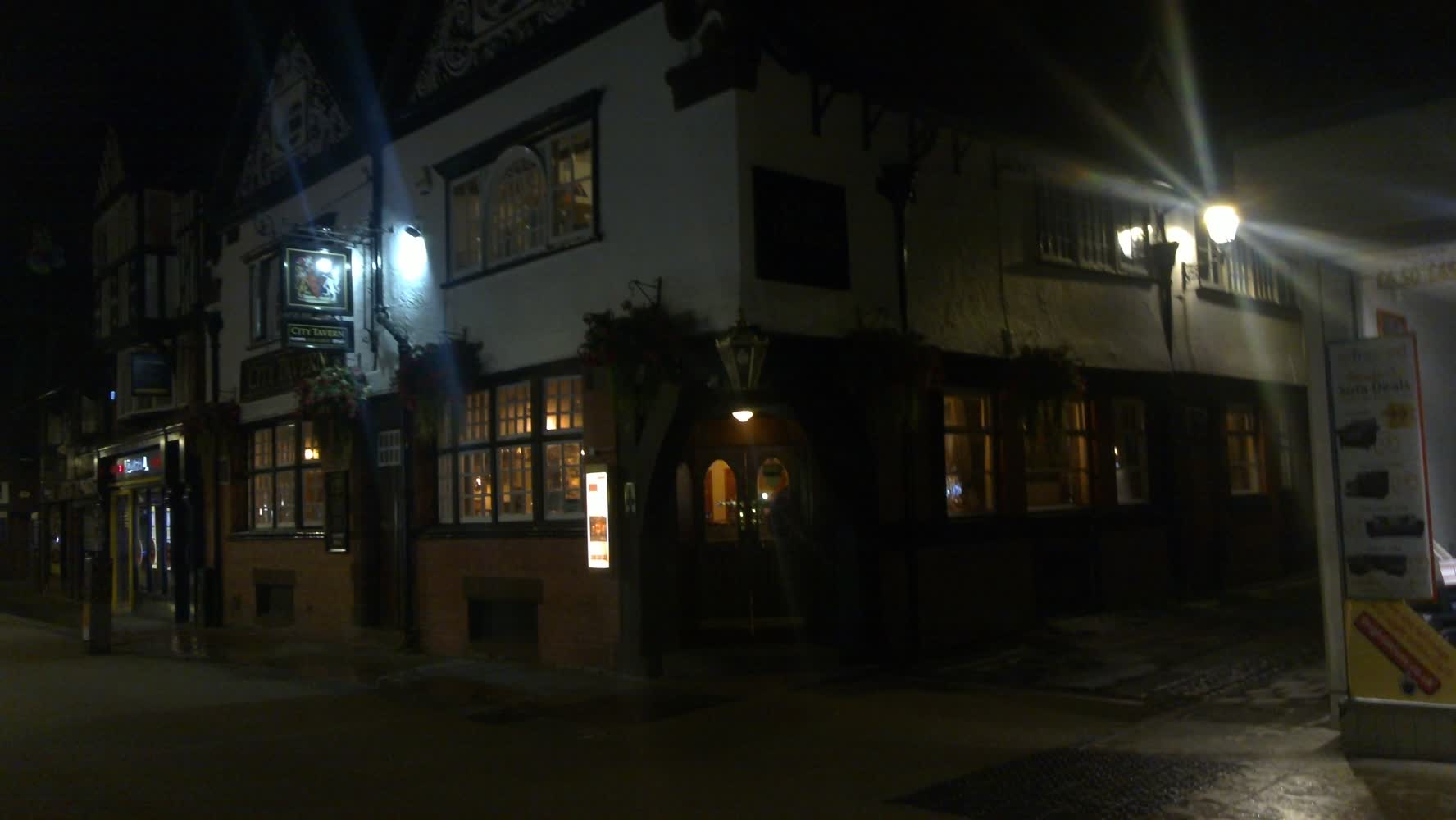 Bear & Billet
94 Lower Bridge Street
Saving nearby venues such as the bottle shop and the Ship Inn for the light of day, we headed down south along our main path back 'home' for a couple of pubs before calling it a night. Unpretentious architecture with wooden pillars in the middle greeted us., and indeed my notes say 'This is a pub' - it did the business. We were served two good local beers, one of which is an Okells (as indicated by the review in my notebook).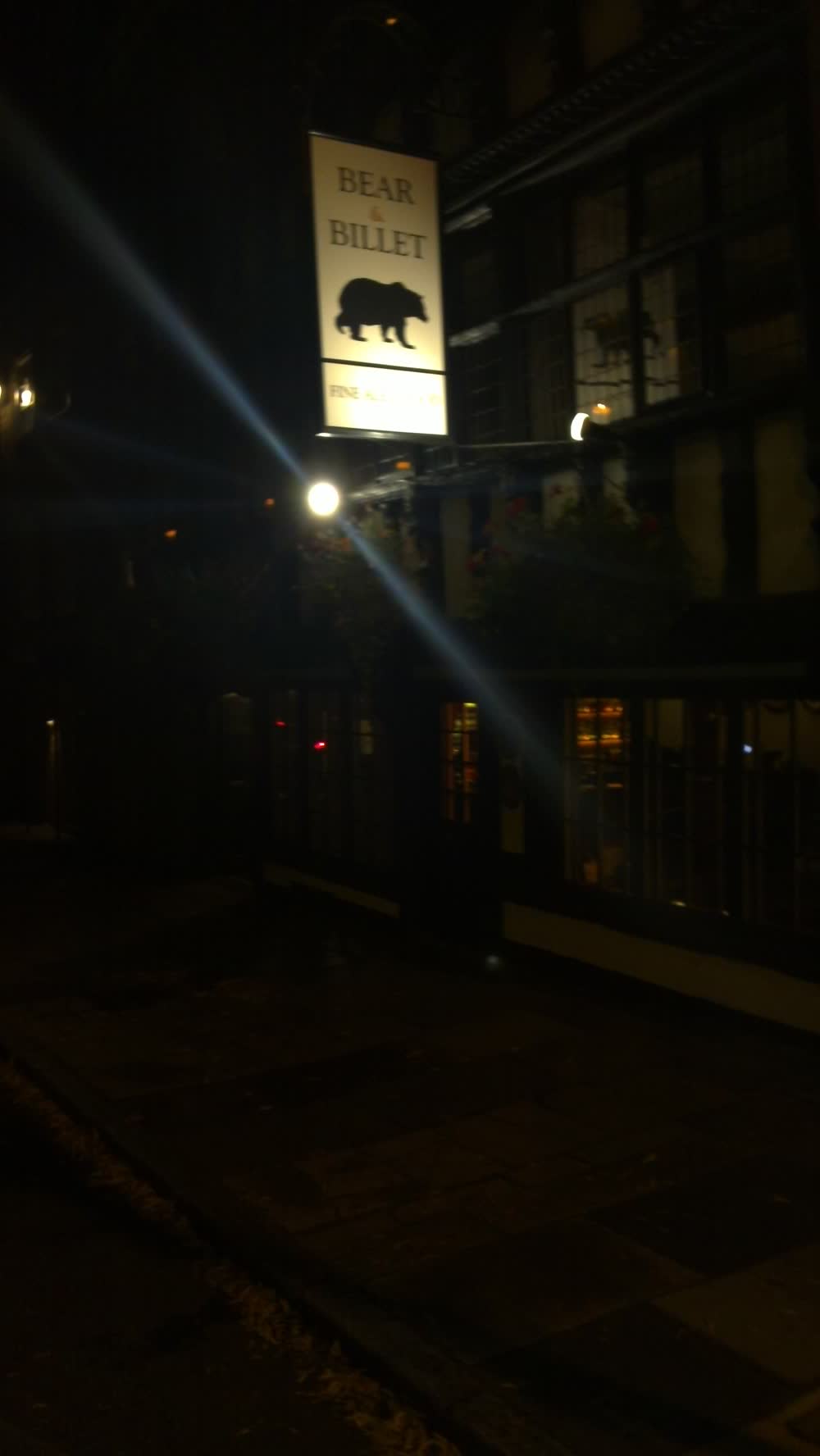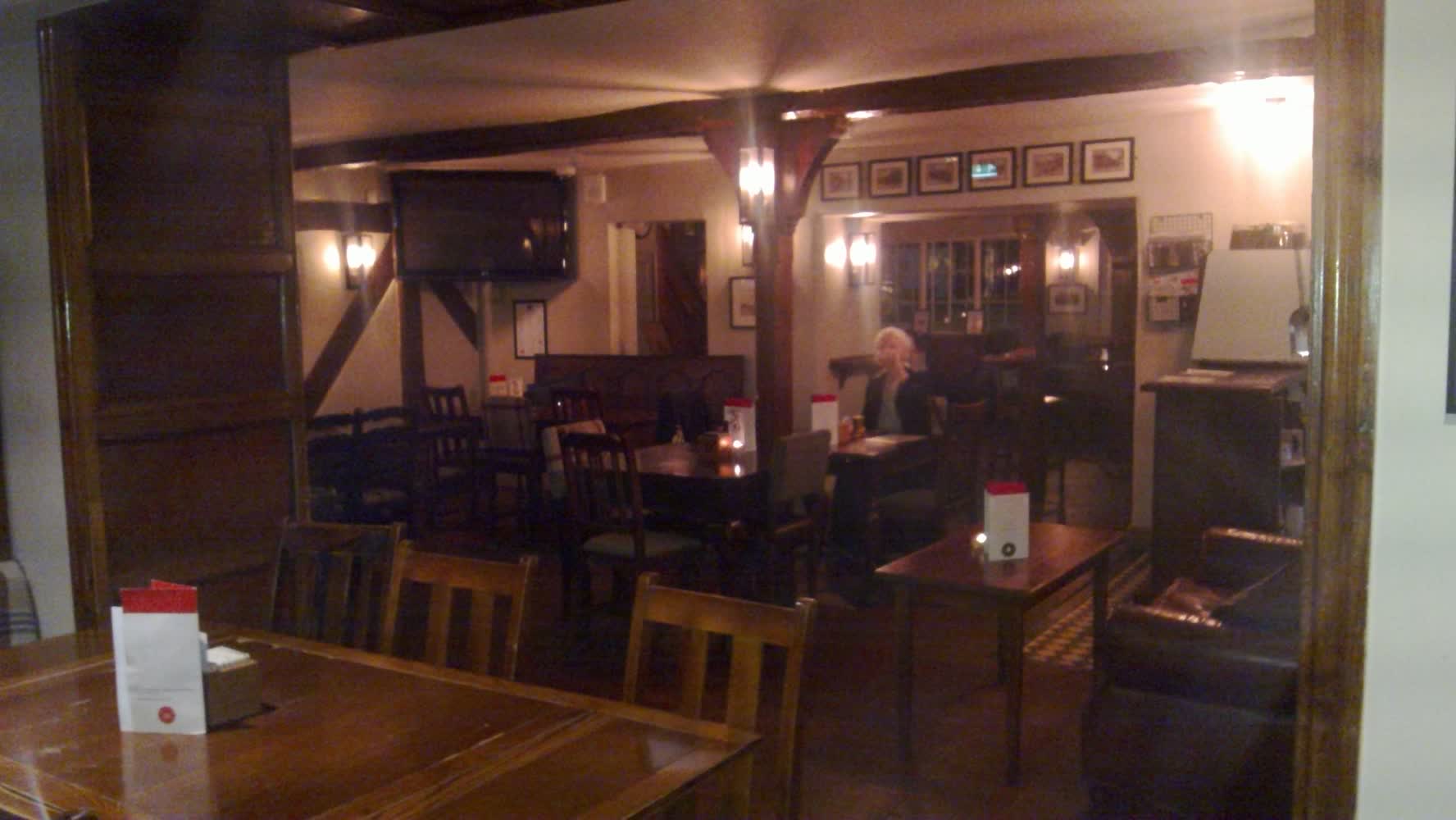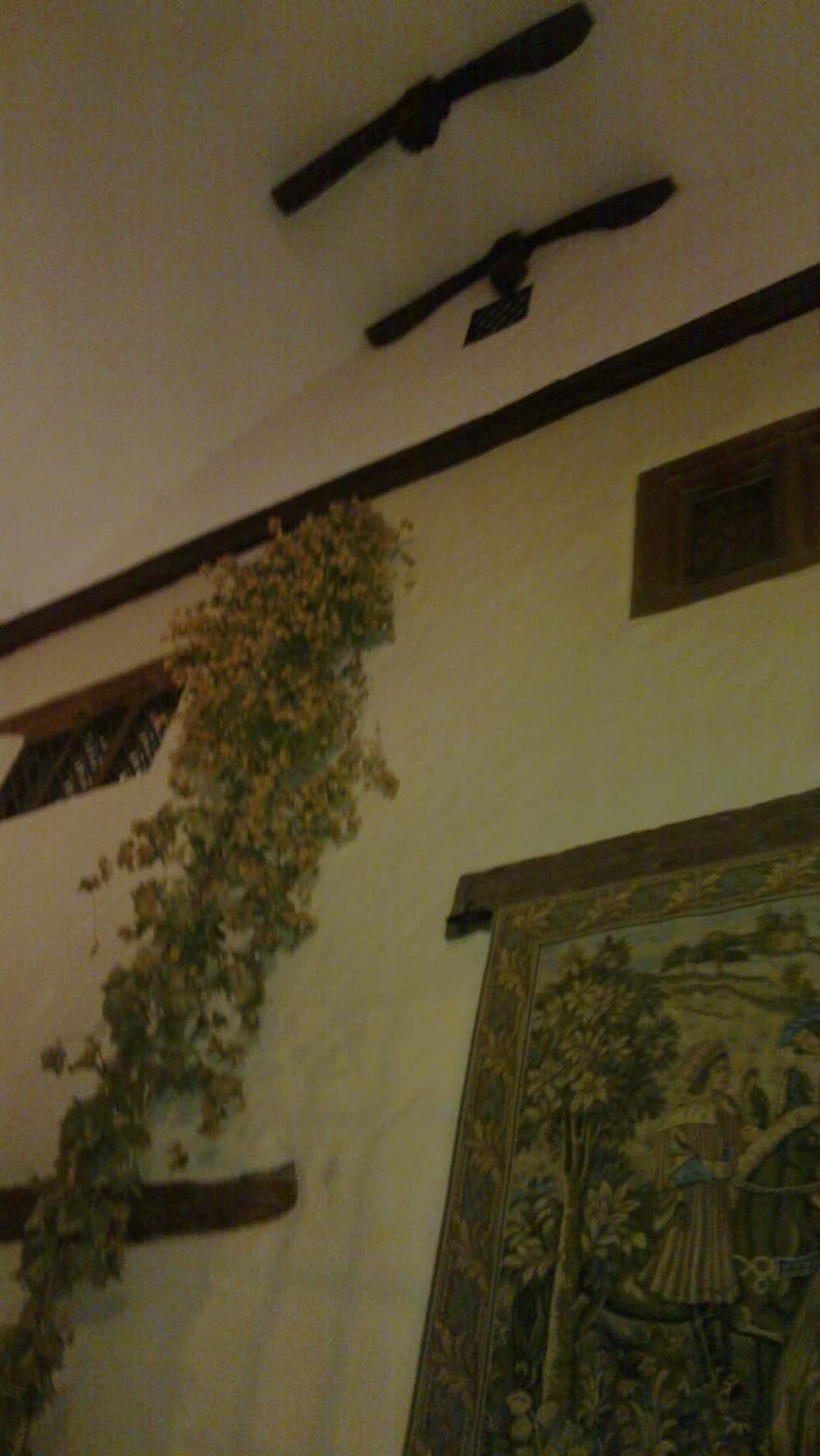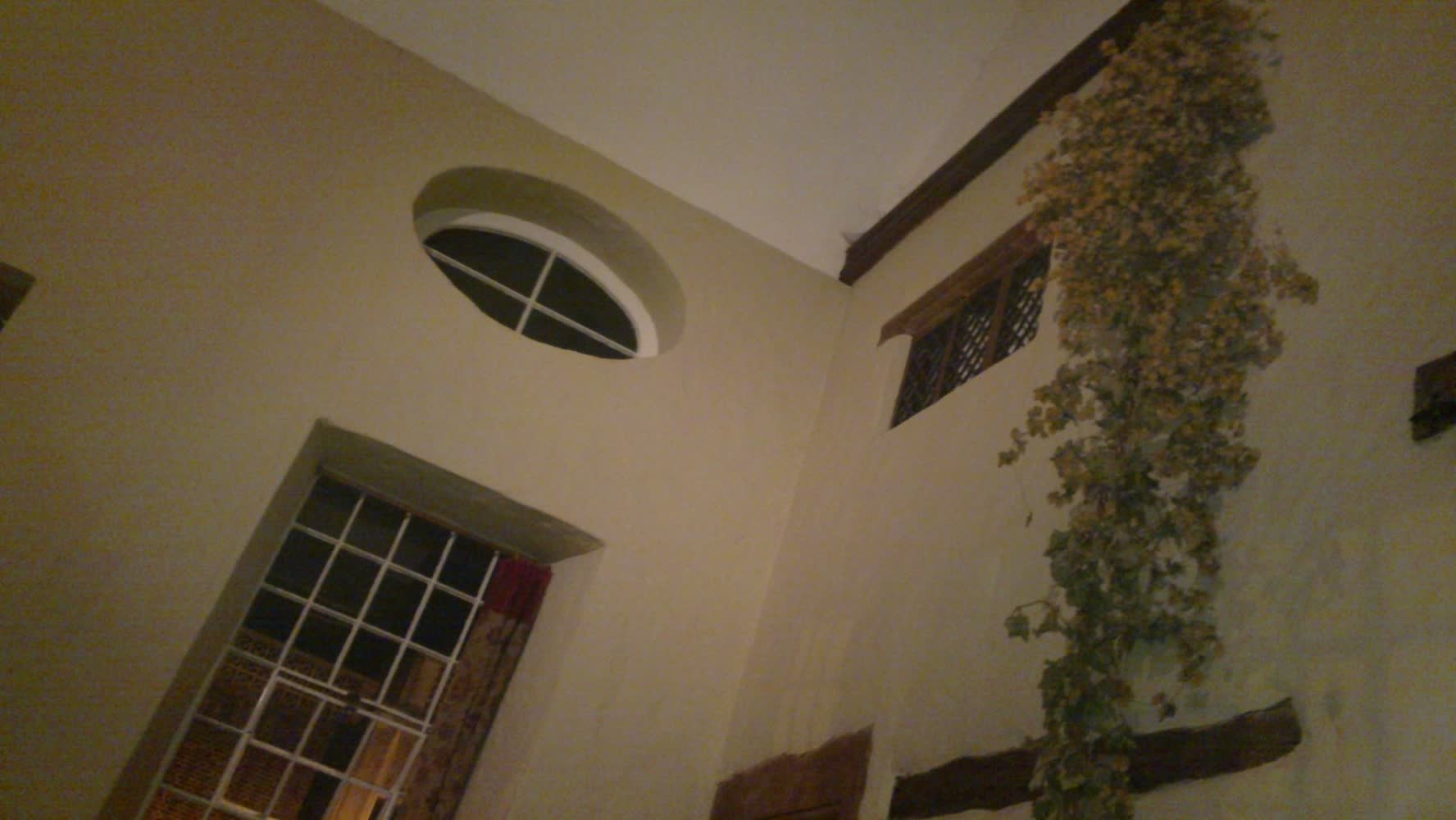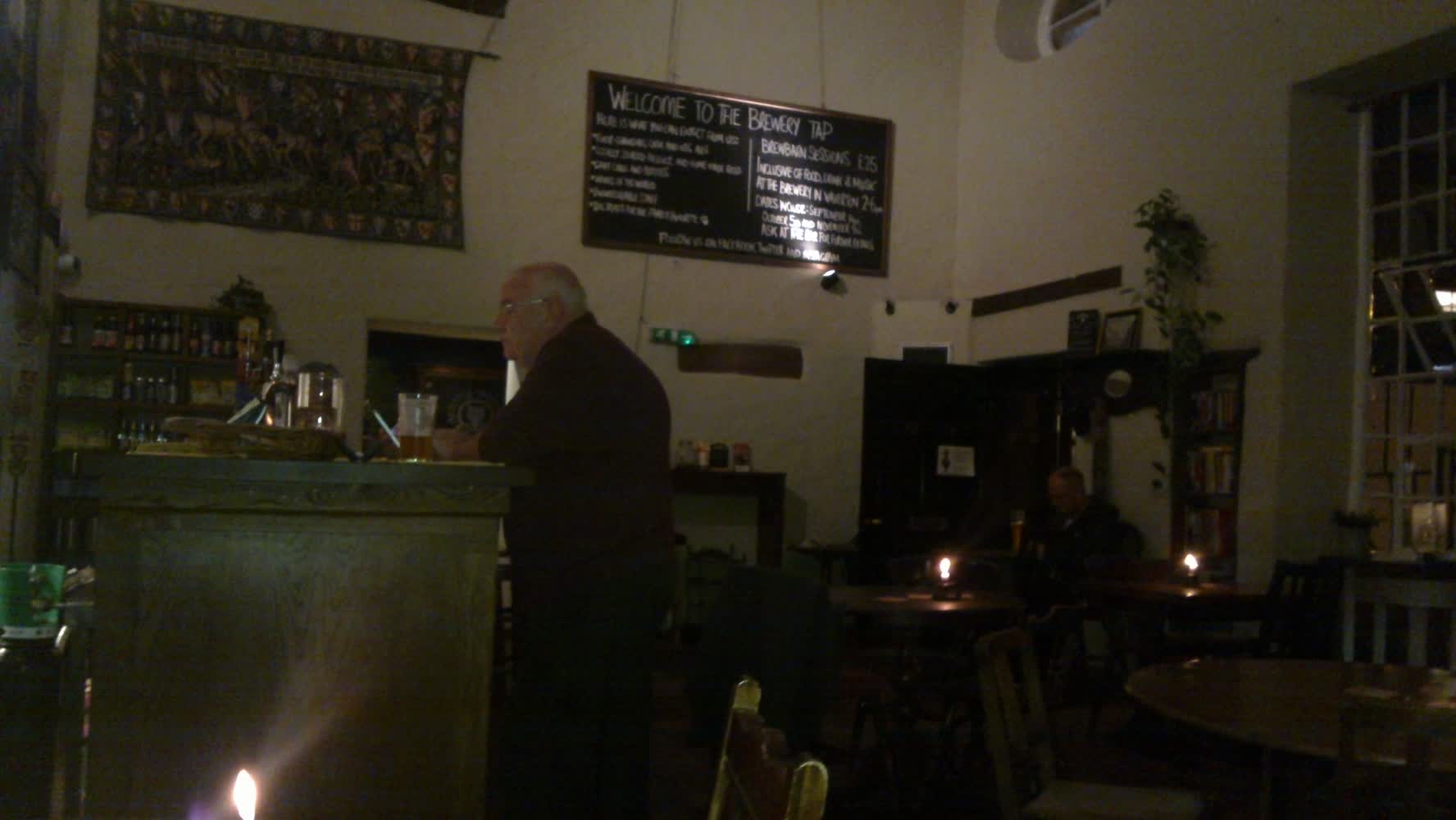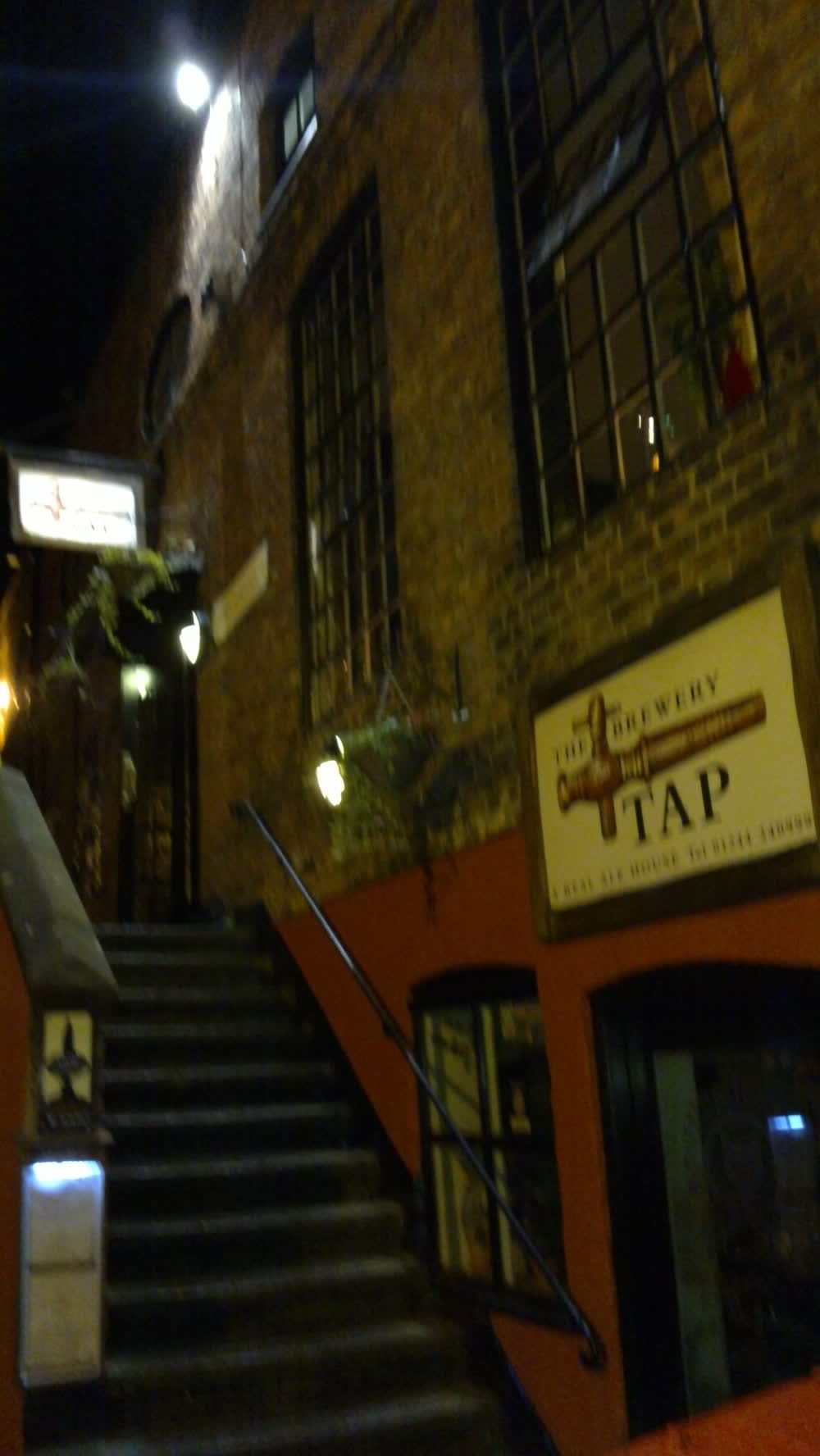 The brewery tapestry (see below)
Brewery Tap
52-54 Lower Bridge Street
The brewery tap for Spitting Feathers has 3-5 of their beers on, and they serve flights. The pub smells of cinnamon and reminds of Olde Hansa, a merchant's hall up some easily missable stairs from the main street. Very open and absolutely beautiful (overshadowing the beers a bit, in fact). Candles on the tables didn't detract from the sense that this place was a bit too quiet, though, thanks to being open and fairly empty on a Tuesday night.



WED.

Artichoke
Steam Mill Street
We walked around the area by the canal until finding this pub in a warehouse building - a solid brick affair that provided a pleasant round-tabled semi-broken-up space with a bit of a gourmet bar ambience. Because it's open early and did such tasty food (have the beef sandwich, every ingredient of which was worthy of note, even down to the freshly prepared horseradish), we decided to return here on our way to the station before catching the train on our final morning in Chester.
The beers were in good shape. So was one of the bar stools - lots of shapes, in fact (Lego ones). Also appreciated was the blurb about serving local real ales.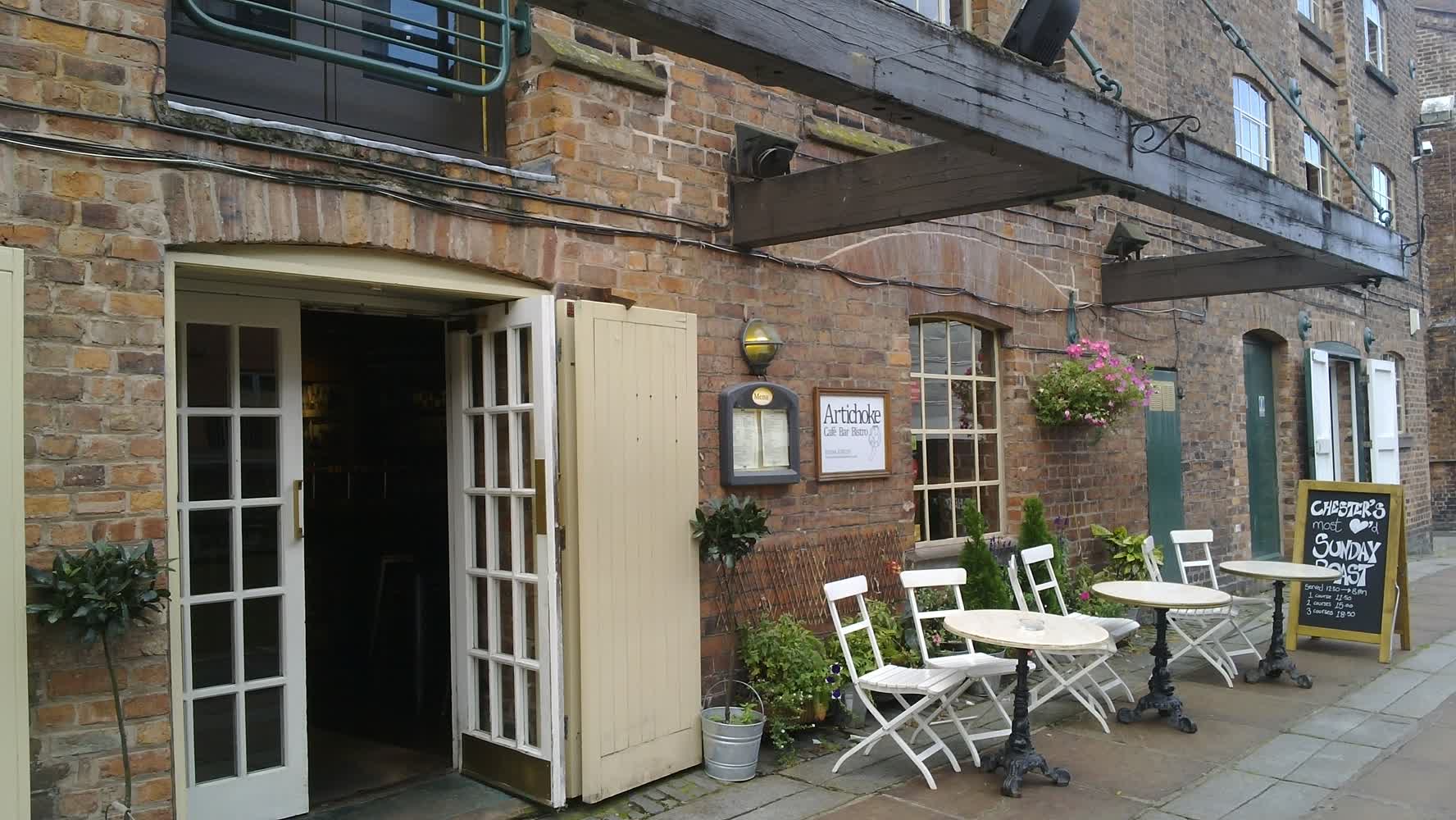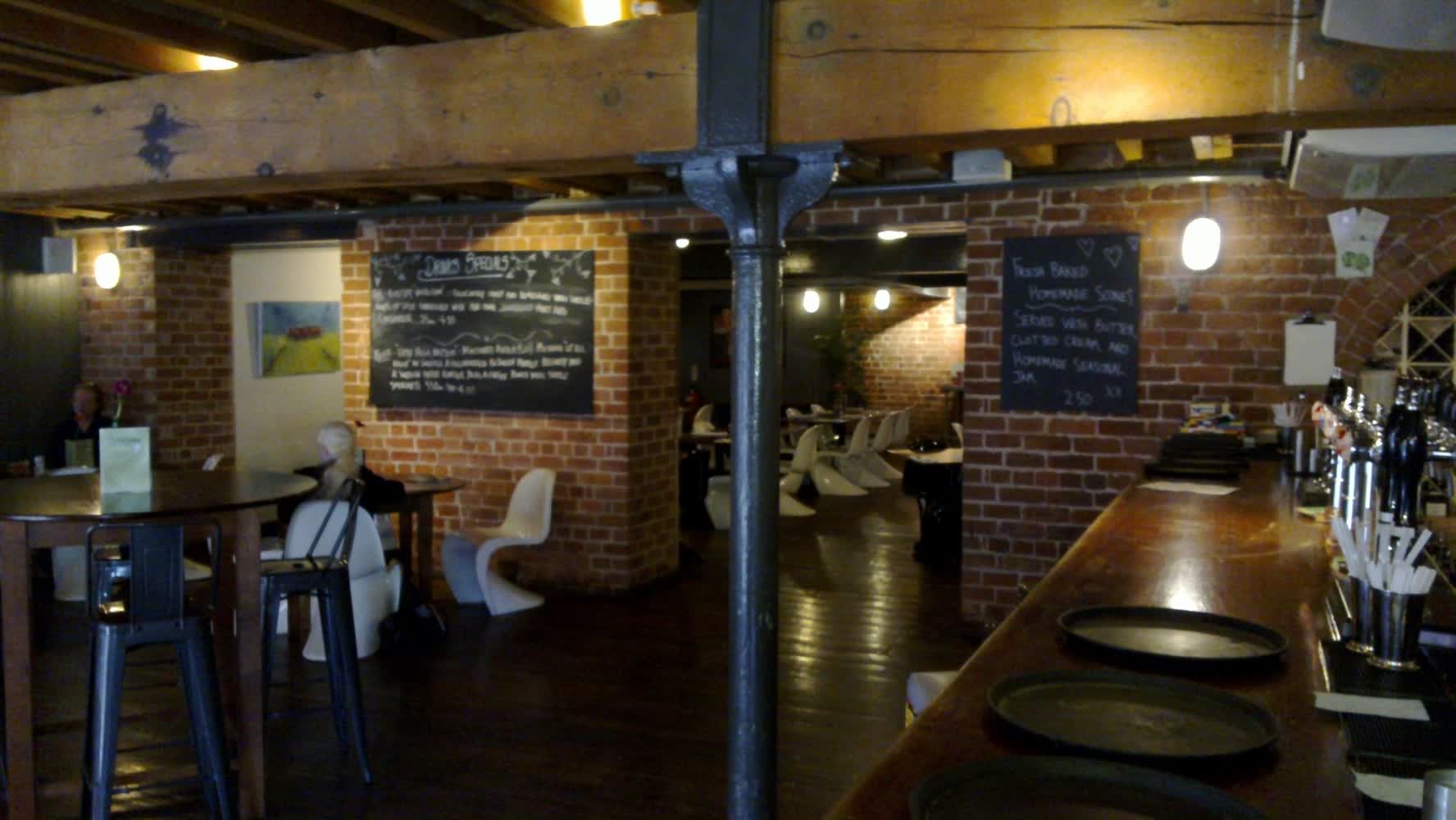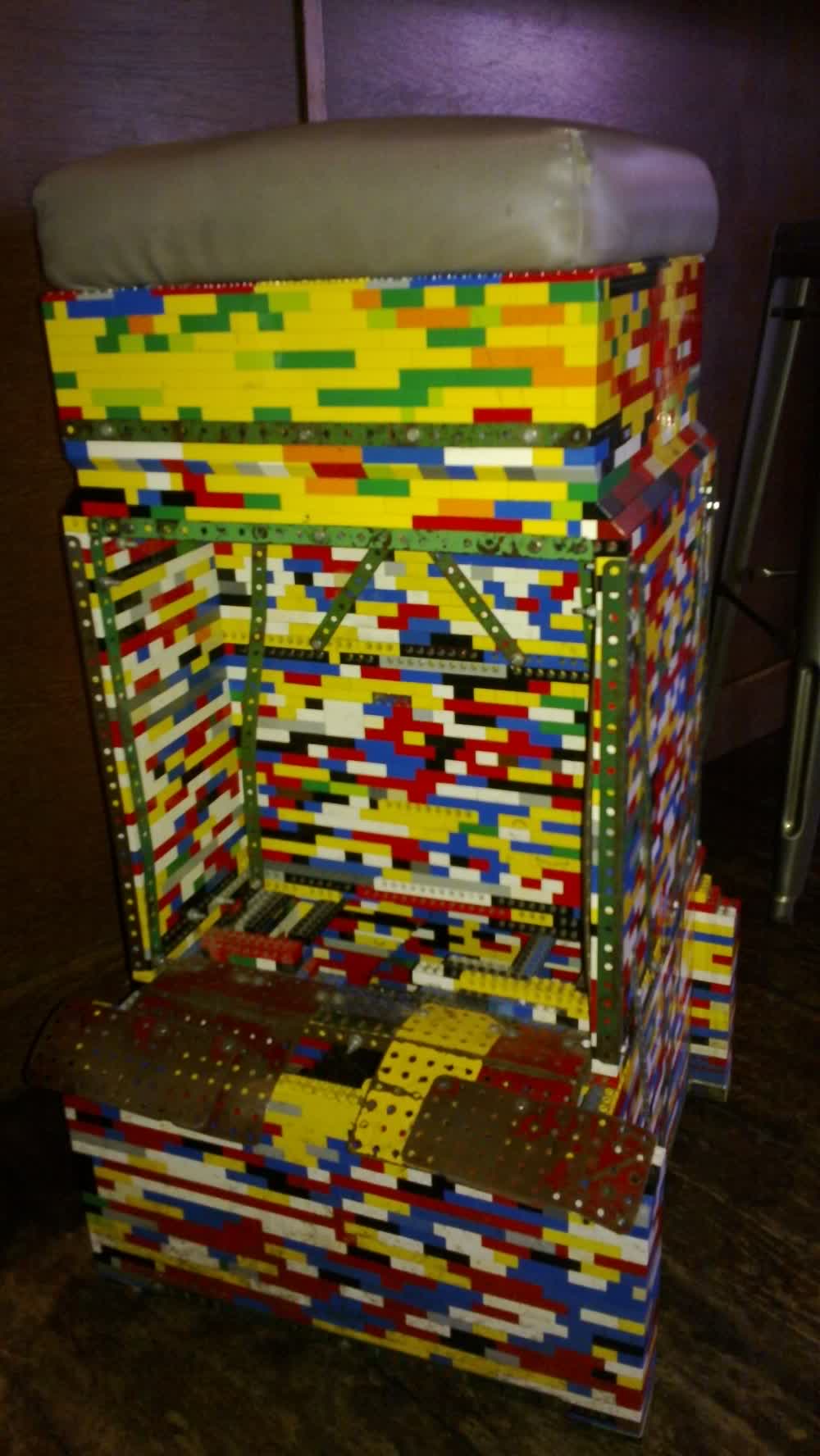 -- Liverpool:
• A pre-fab pub crawl proffered by harrisoni served as an excellent outline for our travels within a little section we carved out as doable with limited time in Liverpool.
Upon arrival in Scouseville, we walked most of the route before doing the crawl proper, and the final design ended up getting augmented with a couple of suggestions made by pub staff along the way.
Dispensary
87 Renshaw Street
At our first pub, we sat in a raised stage area (the rest of the pub is the 'smoke room', with etched-glass windows). A very traditional environment with light wood and fairly fancy light fixtures. The sparklers did seem to have affected the beers here. NB: Cards not accepted.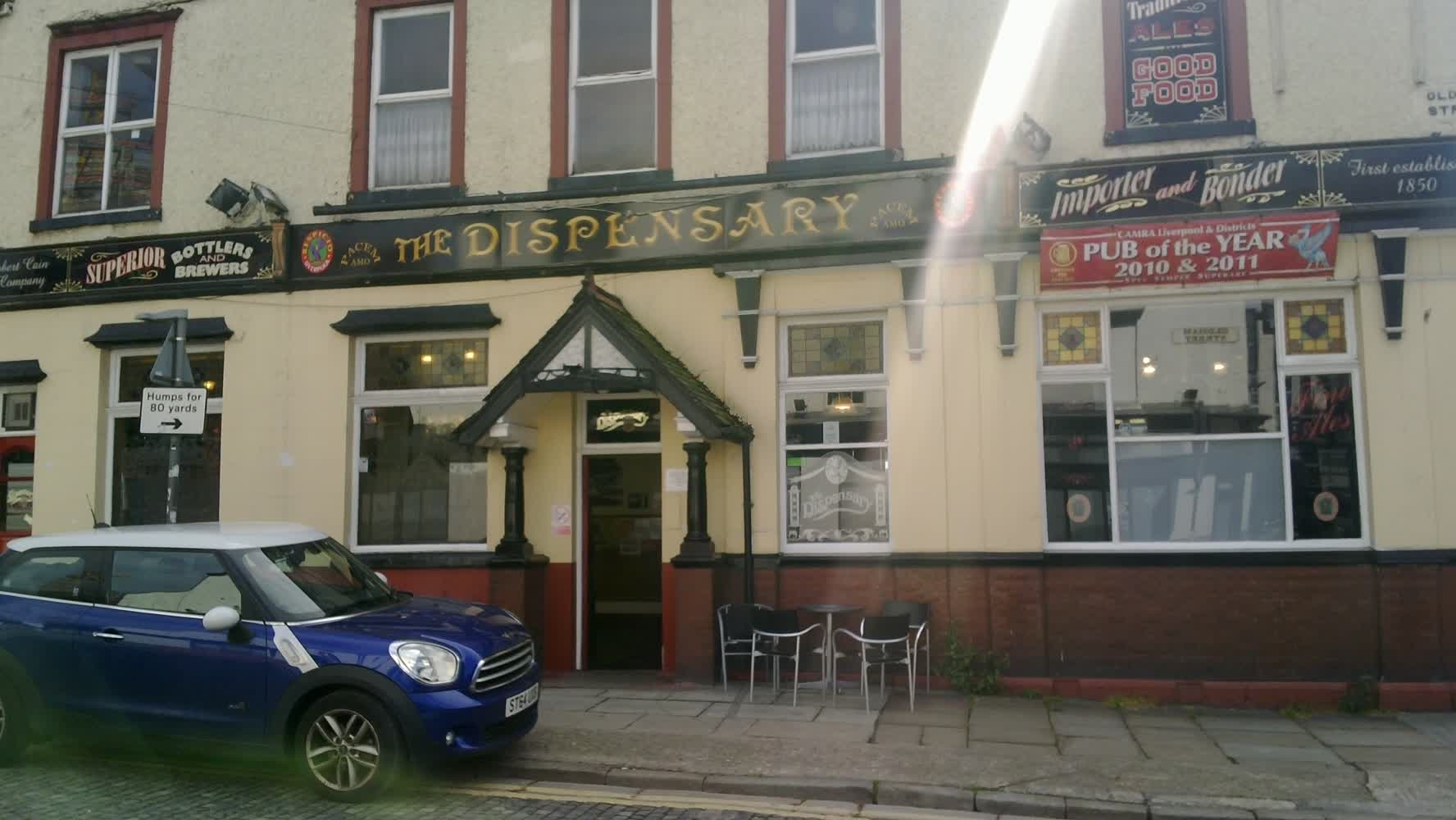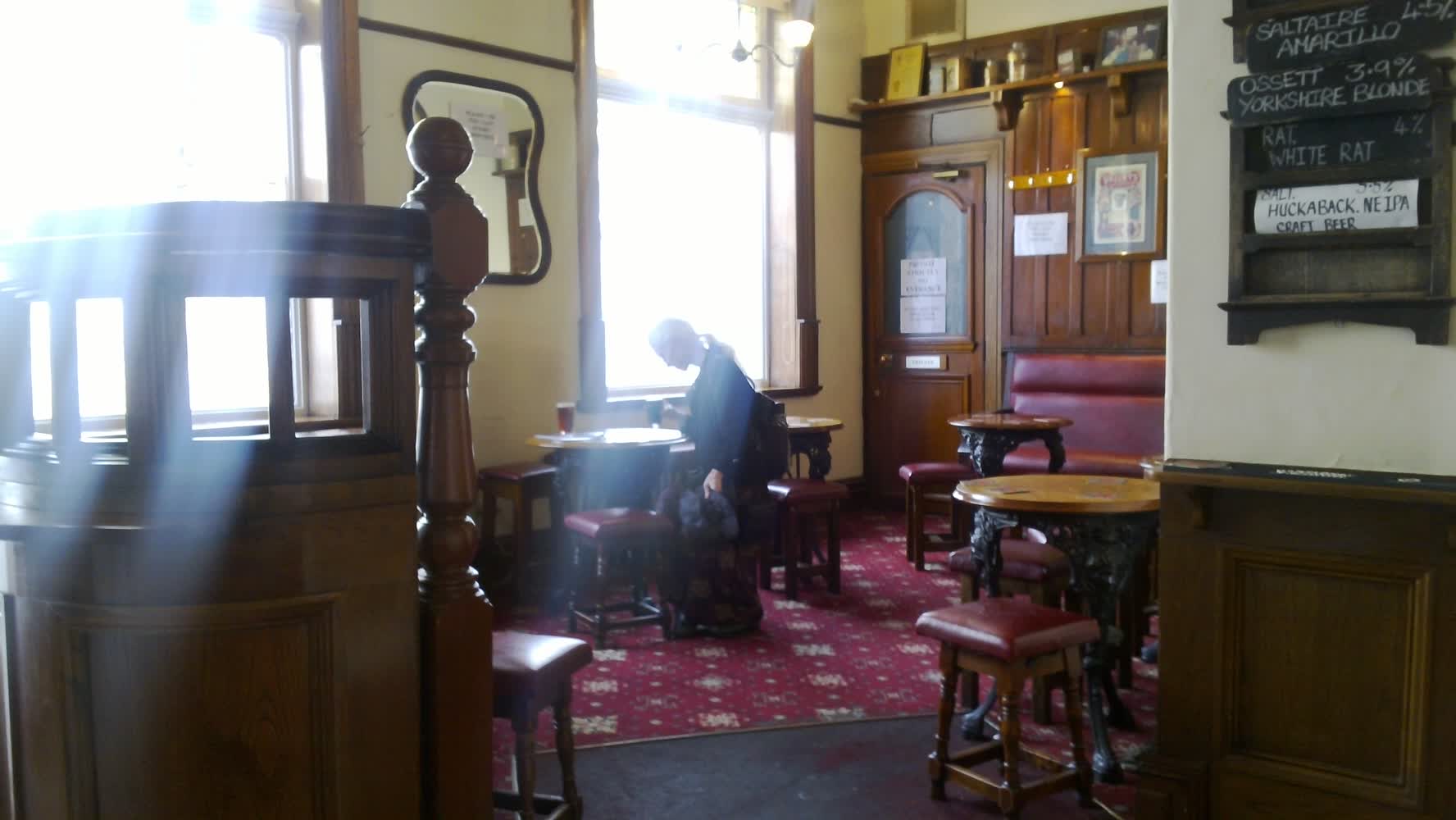 Peter Kavanagh's
2 Egerton Street
A lovely pub interior provided various items of interest: bicycles, alligator skin, photos, etc. up the walls toward an absurdly high ceiling. Very dark, brown upholstery, and rather blinding light via a single window. Lovely back room with full-height stained glass, drapes, etc.
As for the drinks, there were local beers on tap and plenty of new things for us. We didn't drink all the new-to-us beers here - since we were on a mission, we left the rest of the afternoon here to the locals in high-vis. No cards accepted here either.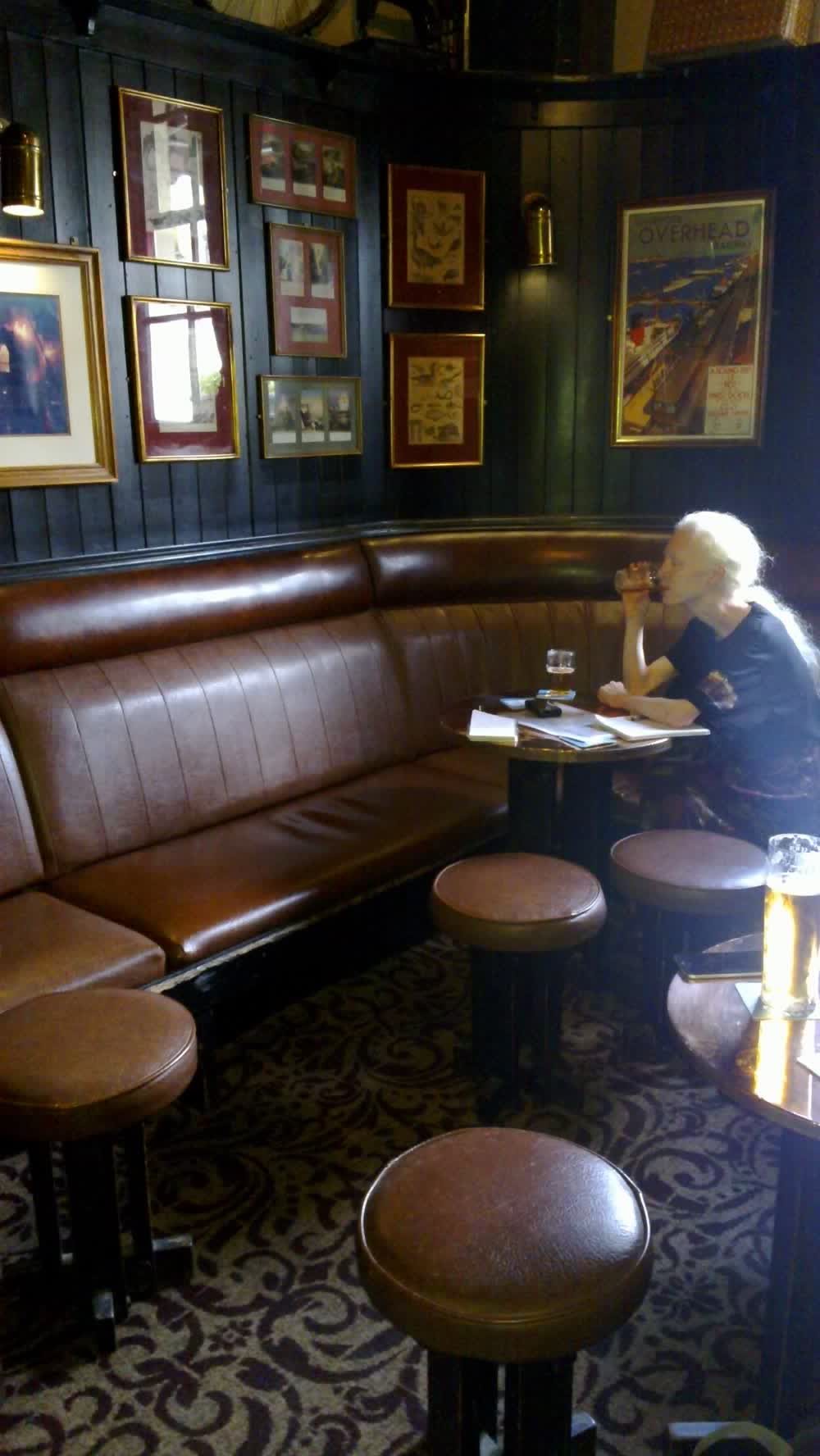 Blackburn Arms
24 Catharine Street
With its large windows, including an arched one, our next venue provided quite a contrast from the above in terms of lighting. This hotel bar wasn't on the crawl map initially, but it looked interesting. And it ended up having three new beers for us. A nook offers slightly more privacy, but this is a hotel bar (a smartish one). Much of our time was spent at the bar in any case - the barlady fetched the chef to give us ideas for pubs to check out, since he's more into cask ale!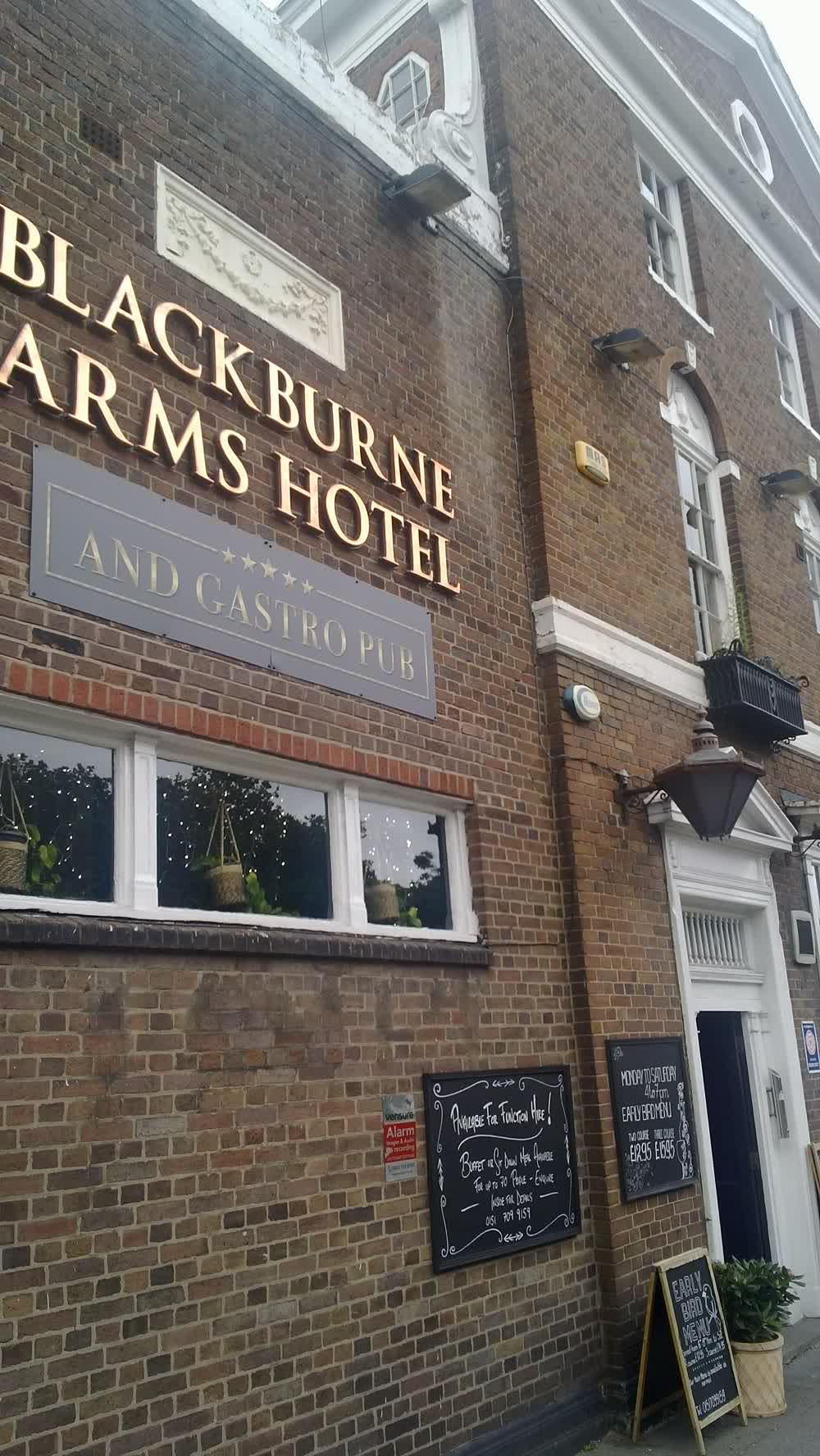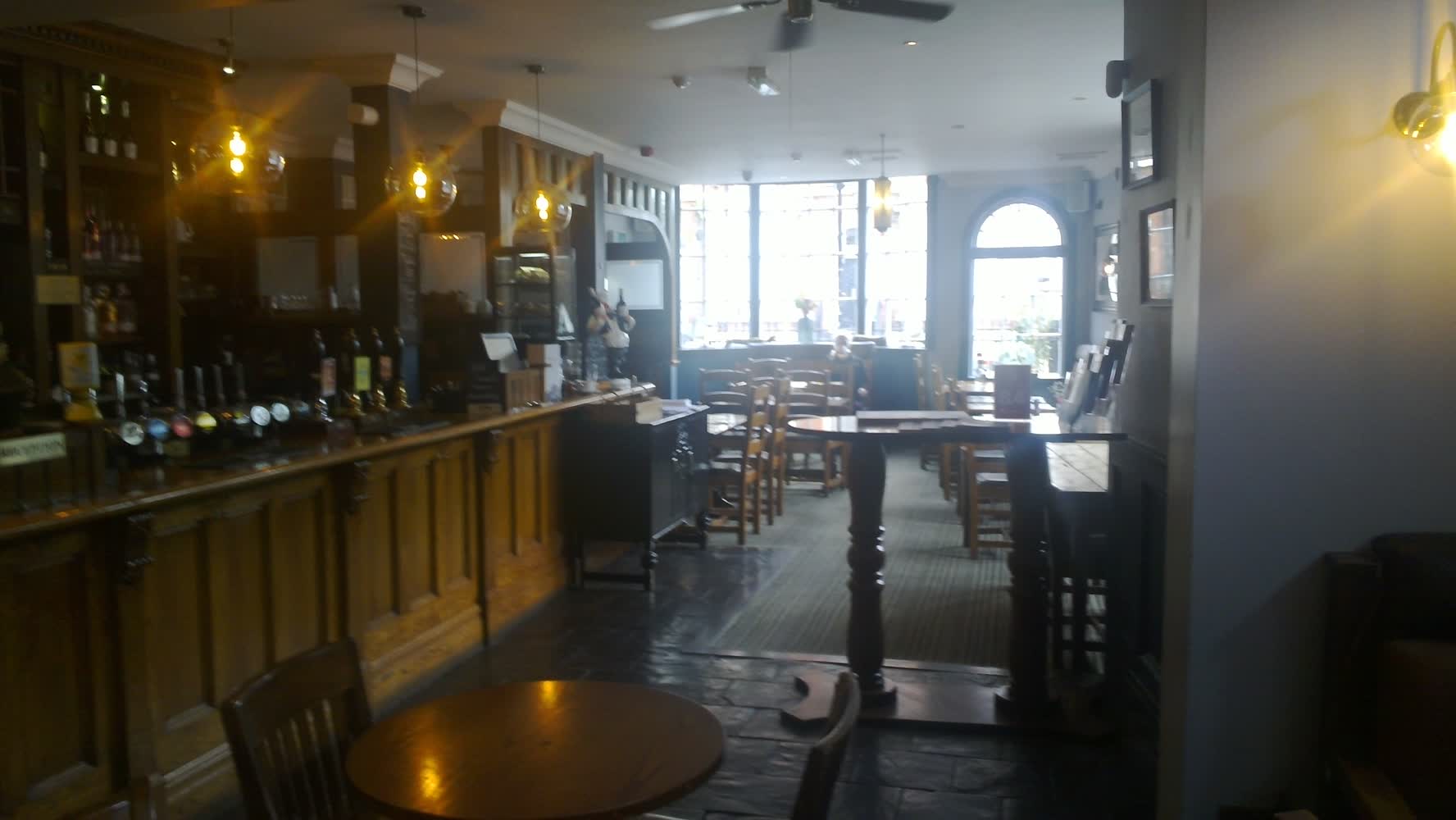 Caledonia
22 Caledonia Street
Recommended by that chef, the Caledonia had exuberant guests and obliging staff - sparklers removed! A proper boozer. This place featured an ancient jukebox, evidence that there the pub may host live music, and only one telly. Cheeky notes in the toilets (incl. the one accompanying the free tampons) support a good feel.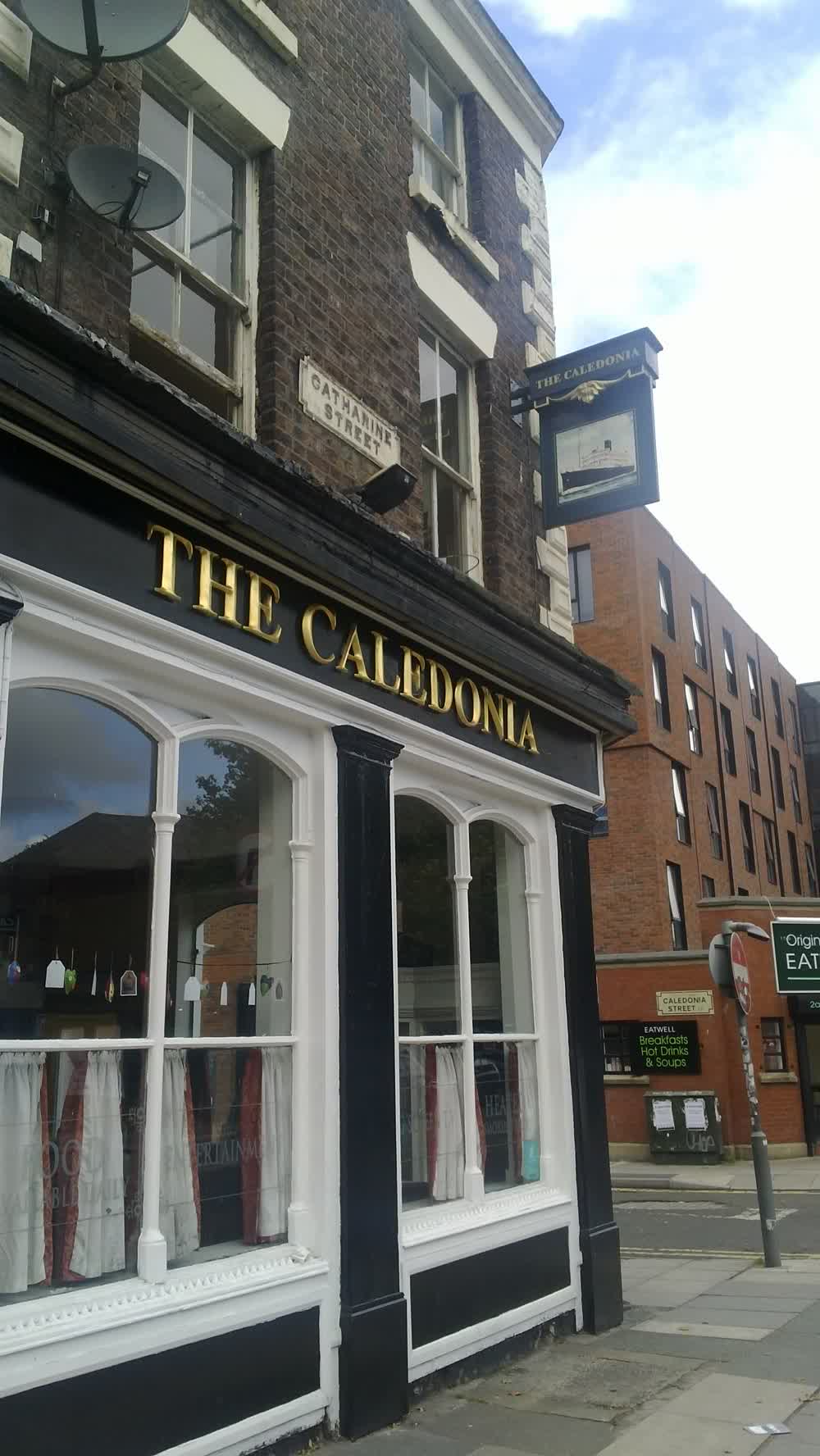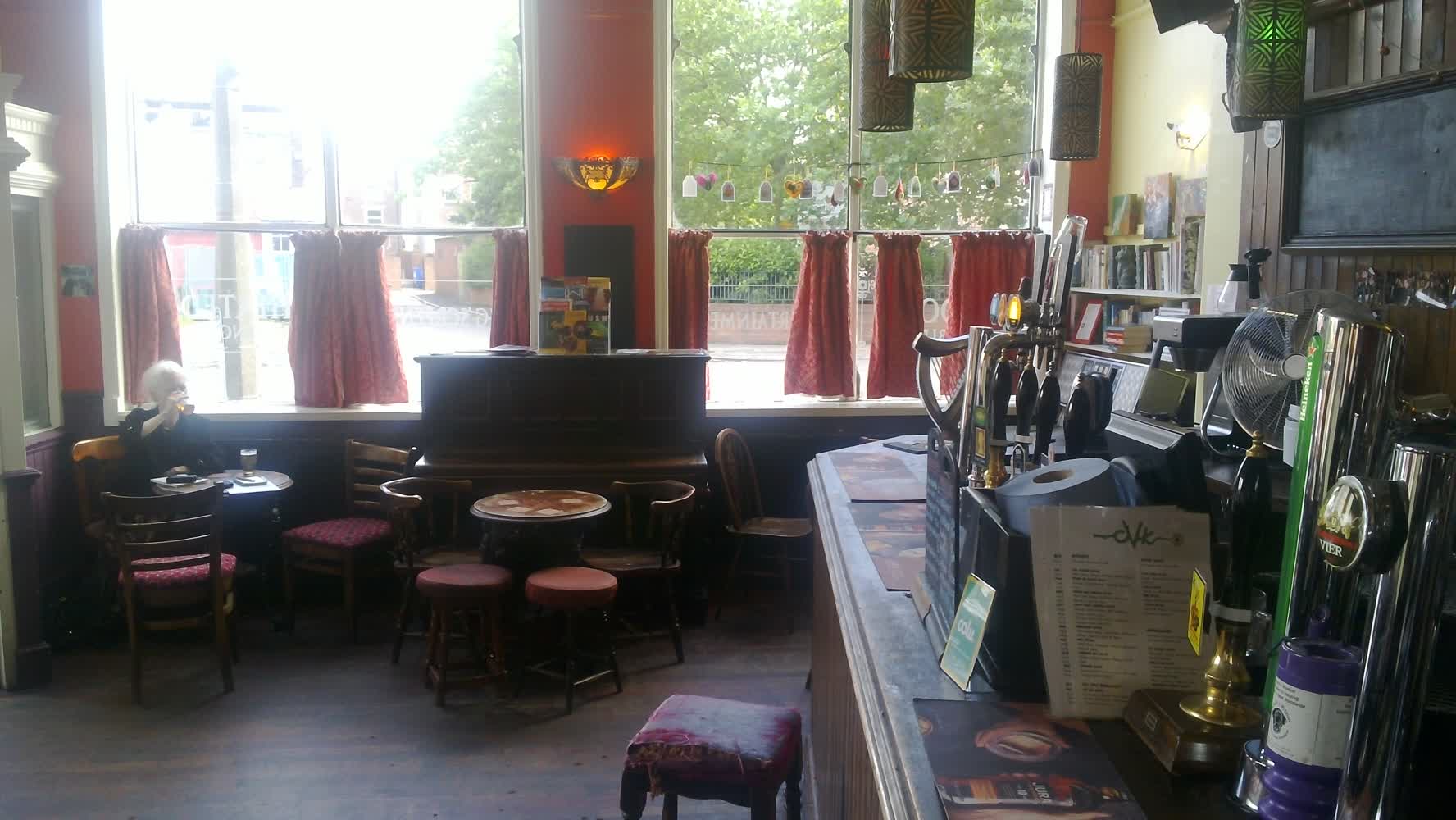 The Belvedere
5 Sugnall Street
Really local character was available in abundance at this split-bar venue. The small front area featured densely packed banter (the other area too was a small one). Beyond personality. The beers at many of the pubs thus far have had a taste that doesn't work so well for us, presumably from the minerals in the local water, but it's not all about the beers.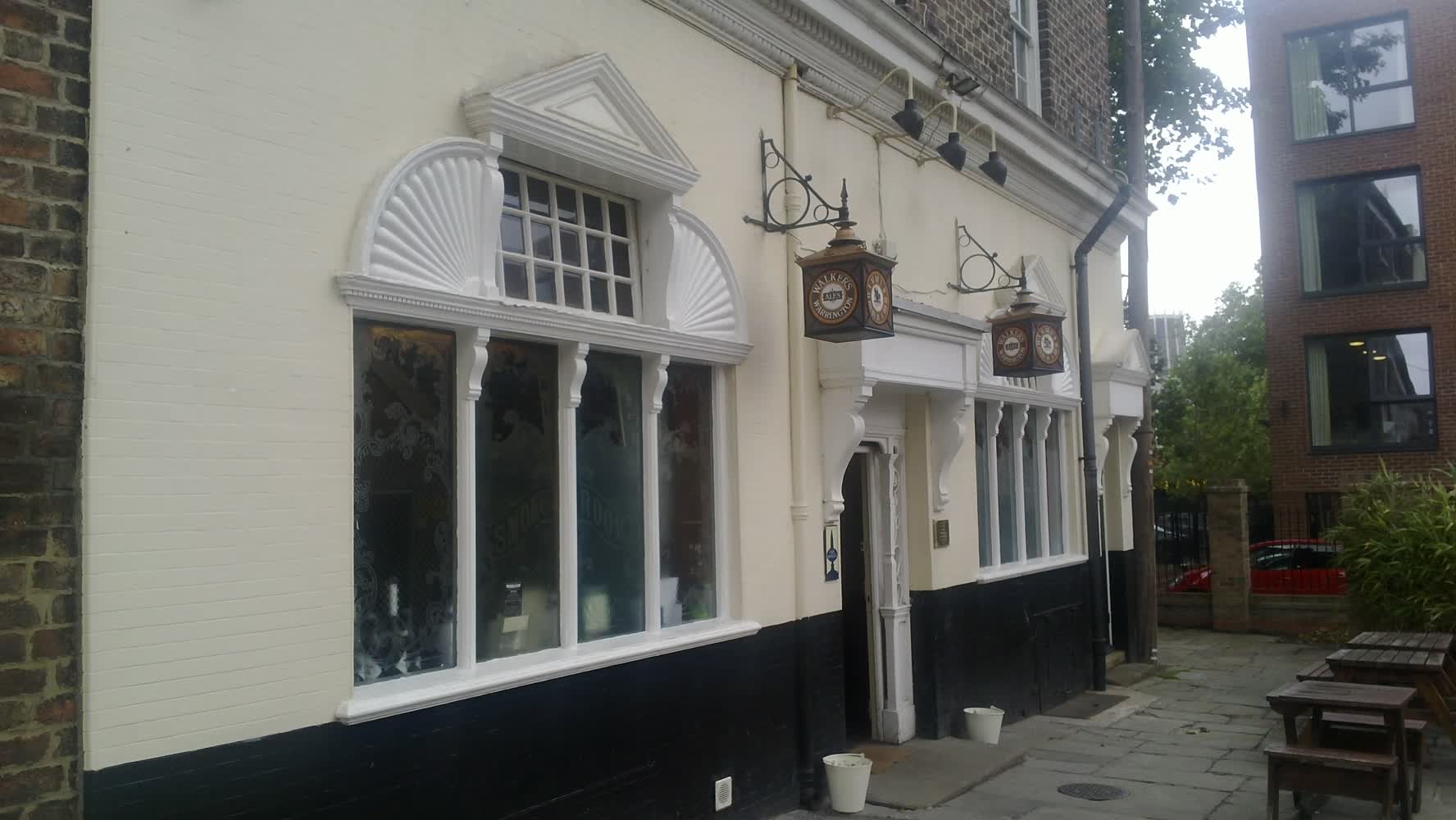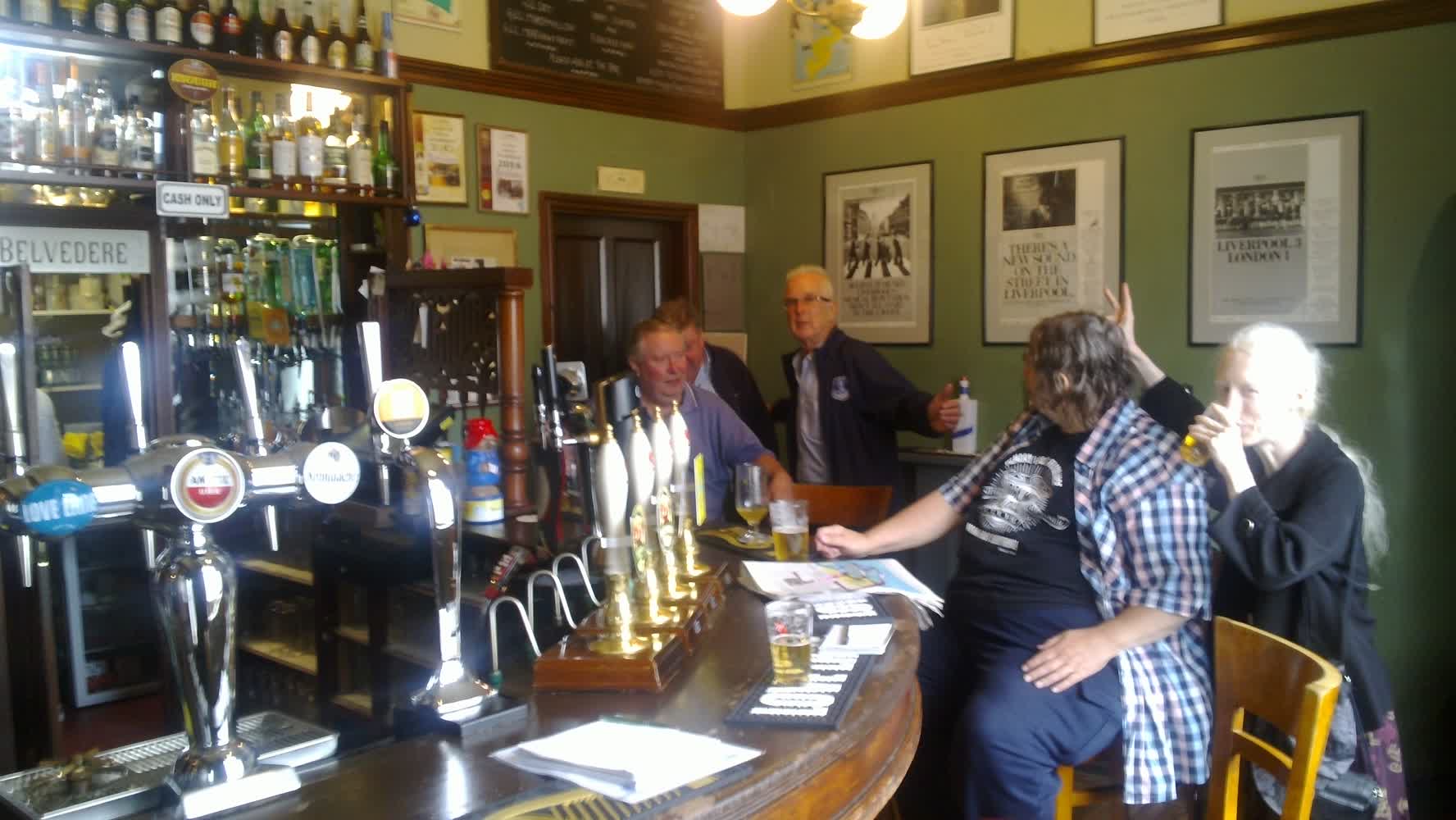 Ye Cracke
13 Rice Street
One may detect a faint aroma of wood and older people upon entering Ye Cracke. The side room has benches all around the perimeter and stools toward the middle. Photos on the walls included the Beatles, and diamond windows featured proper stained glass.
The staff opined that the Salopian beer is the best one on cask at the moment. We won't argue with that.
Others too must find this place welcoming - at 1530, it was starting to fill up, with people of all ages and the burble of conversation.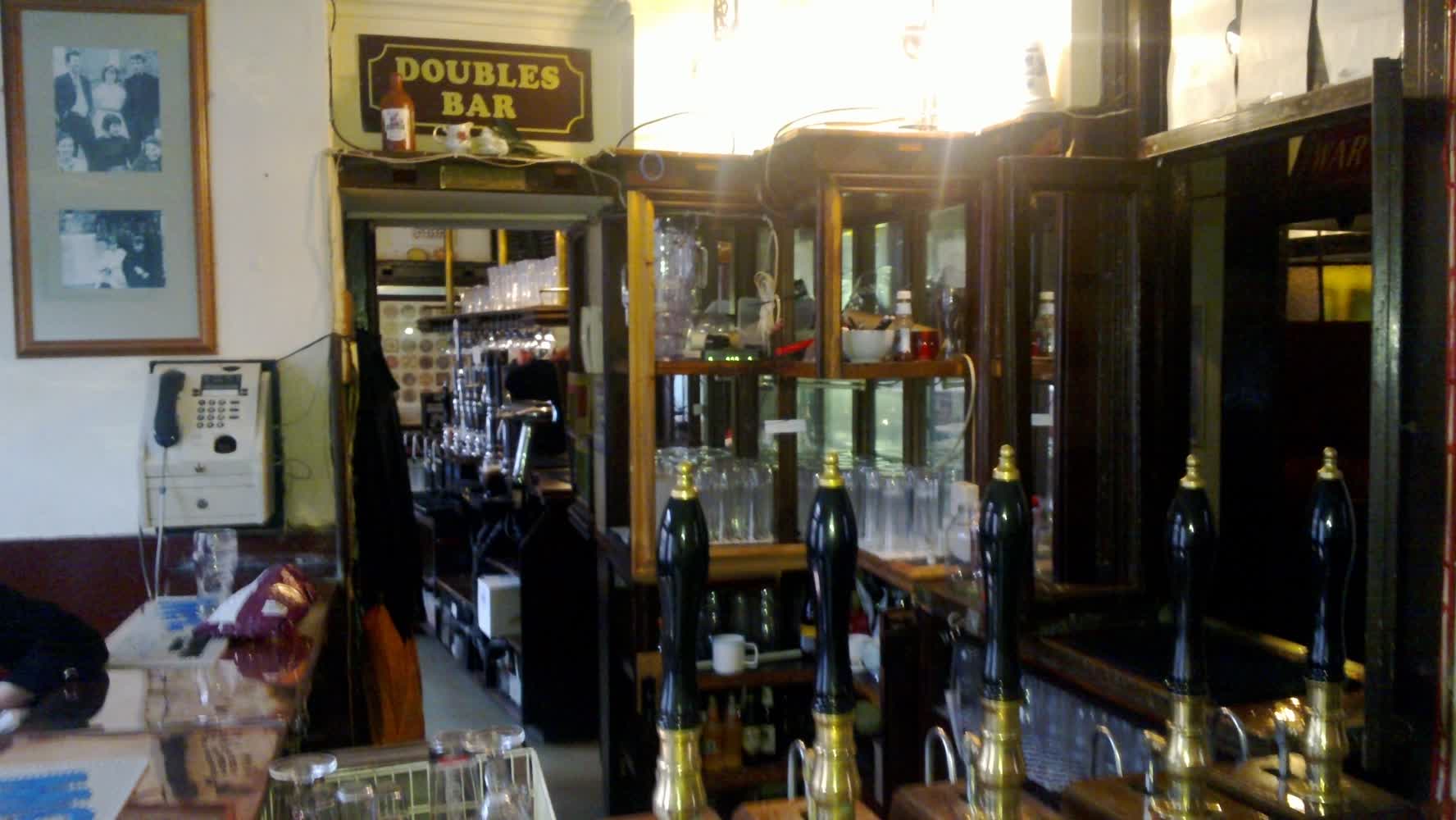 The Pilgrim
34 Pilgrim Street
The Beatles were more prominent at the next pub, a dark cellar bar where they held pride of place on the walls and featured in the piped music too - a bit much. Also noteworthy was the diner-style seating, which worked well.

The Pilgrim and its environs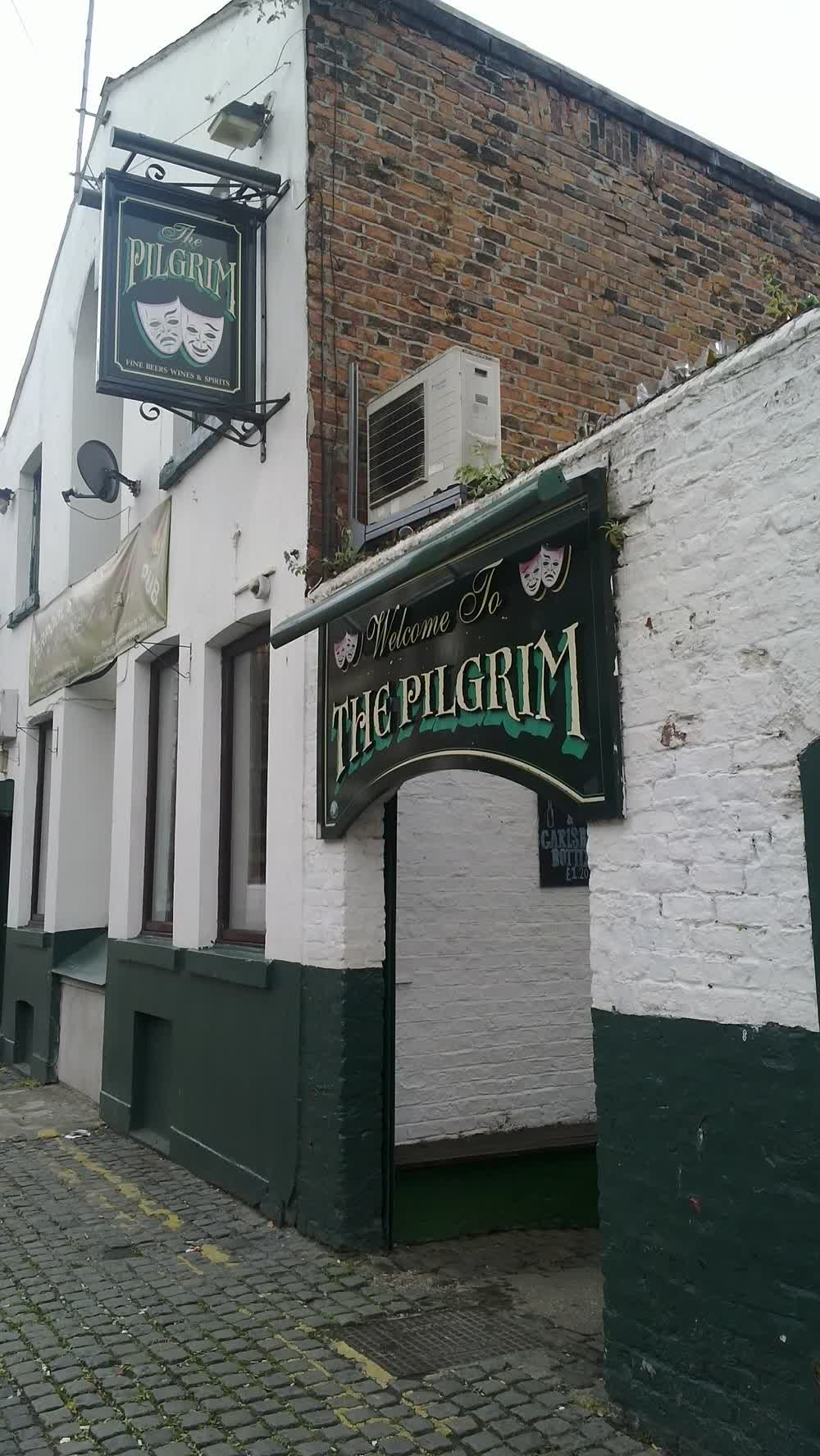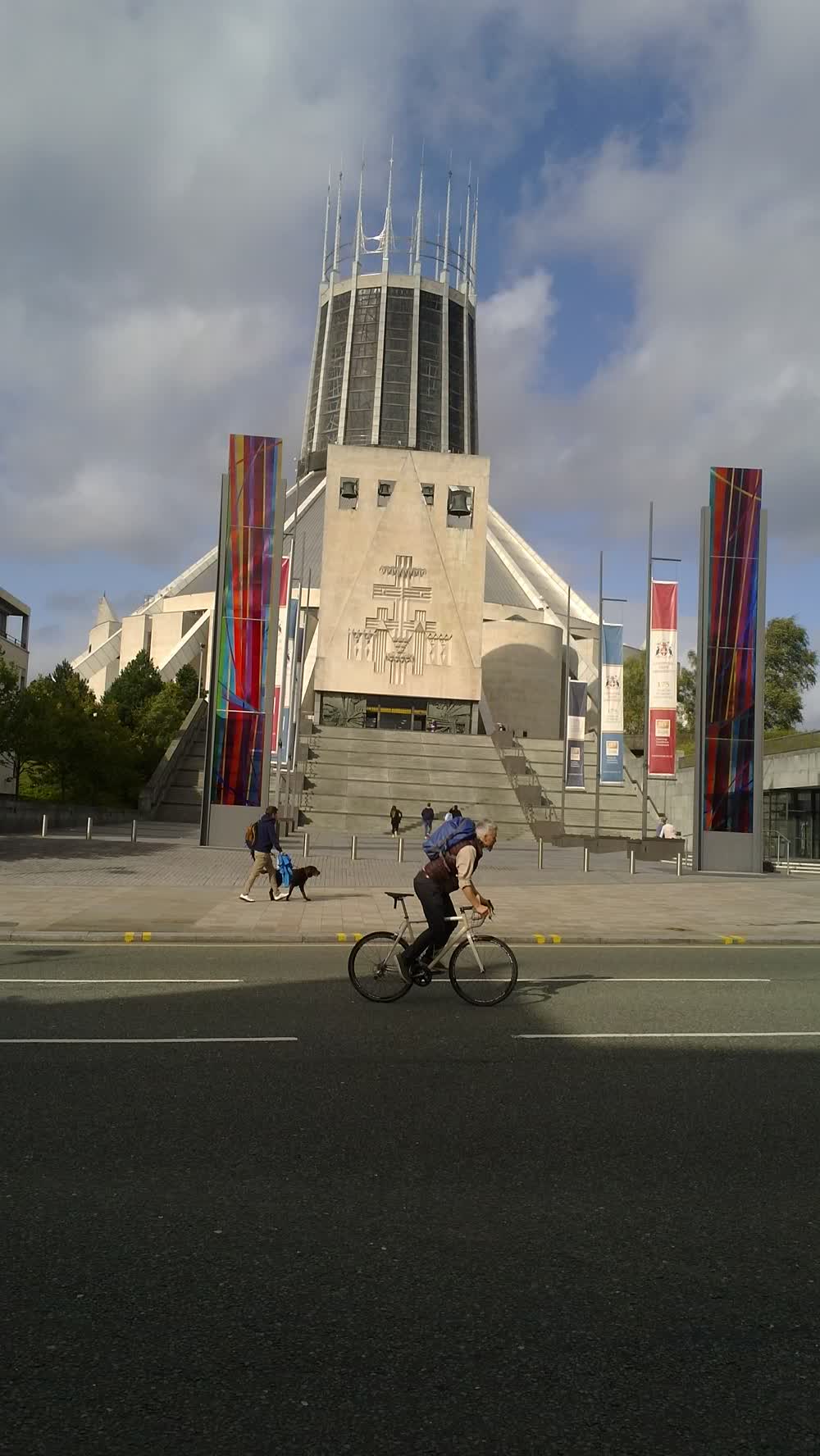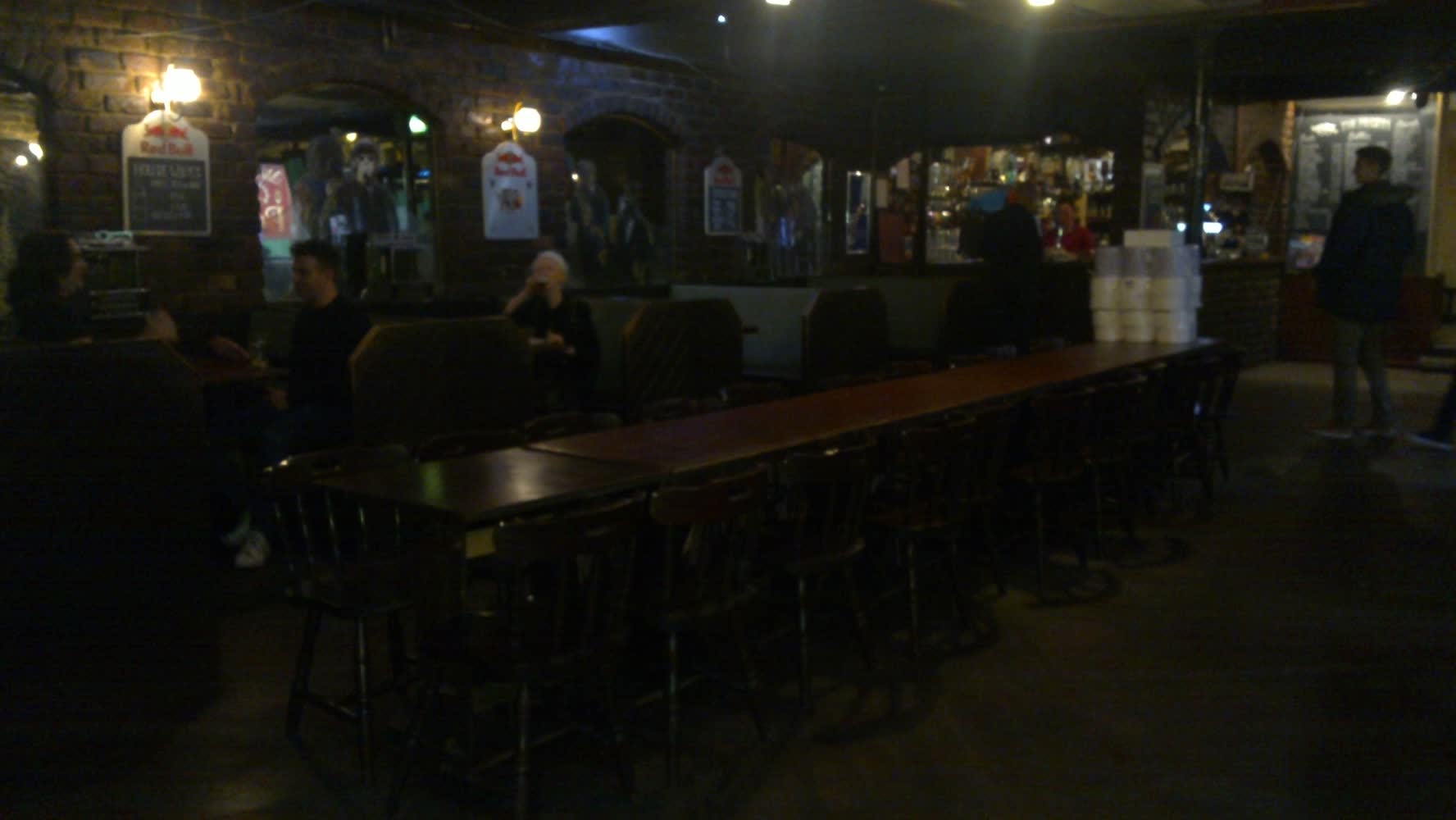 Hope & Anchor
Maryland Street
Slightly crafty in focus and design but not smug, this place didn't actually have any real ale. There were various keg offerings, served a bit cold. Points for helpful staff and for its eccentric approach to naming itself anew when the mood (or political climate change) strikes. Helpful and abundant staff.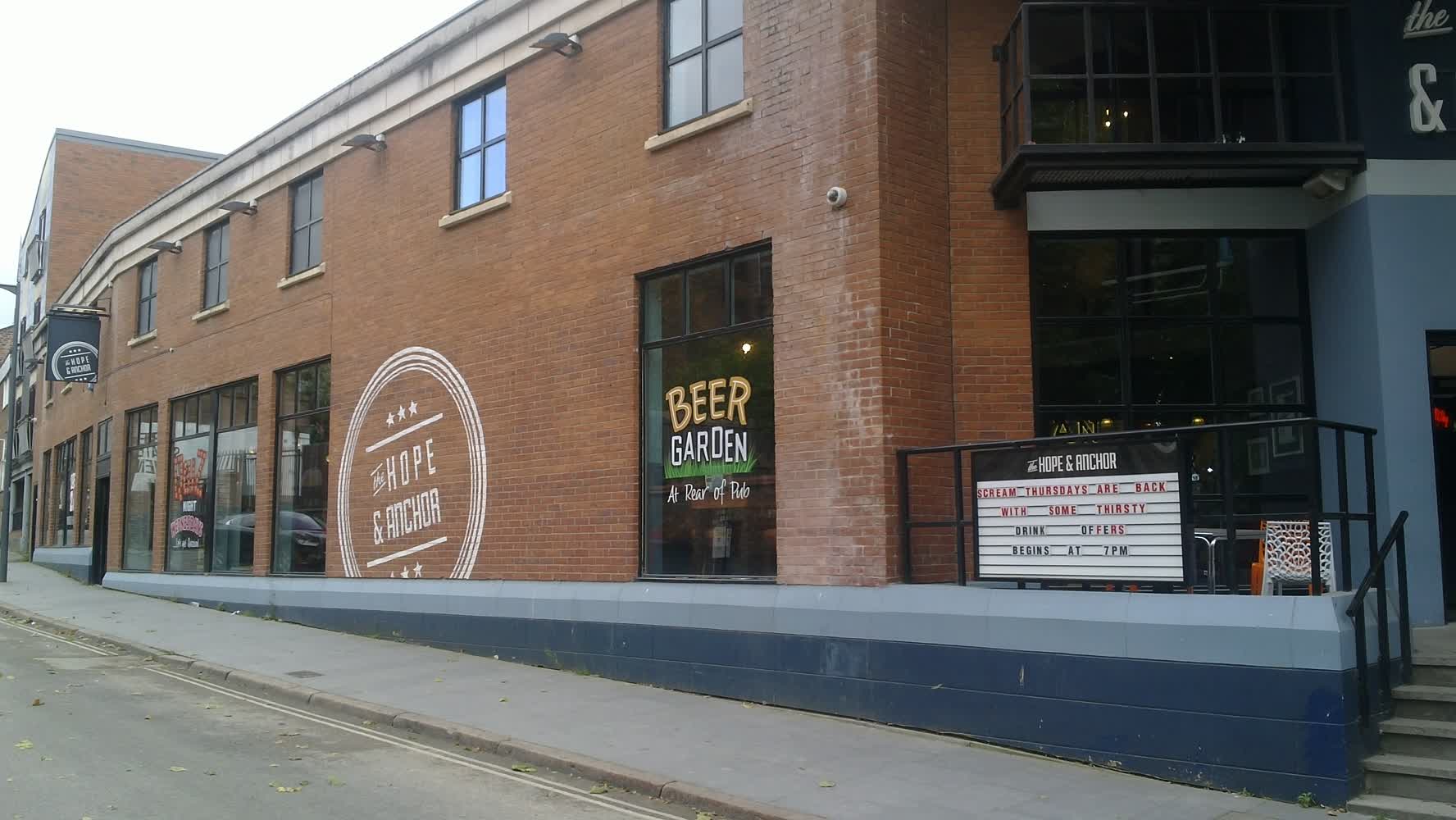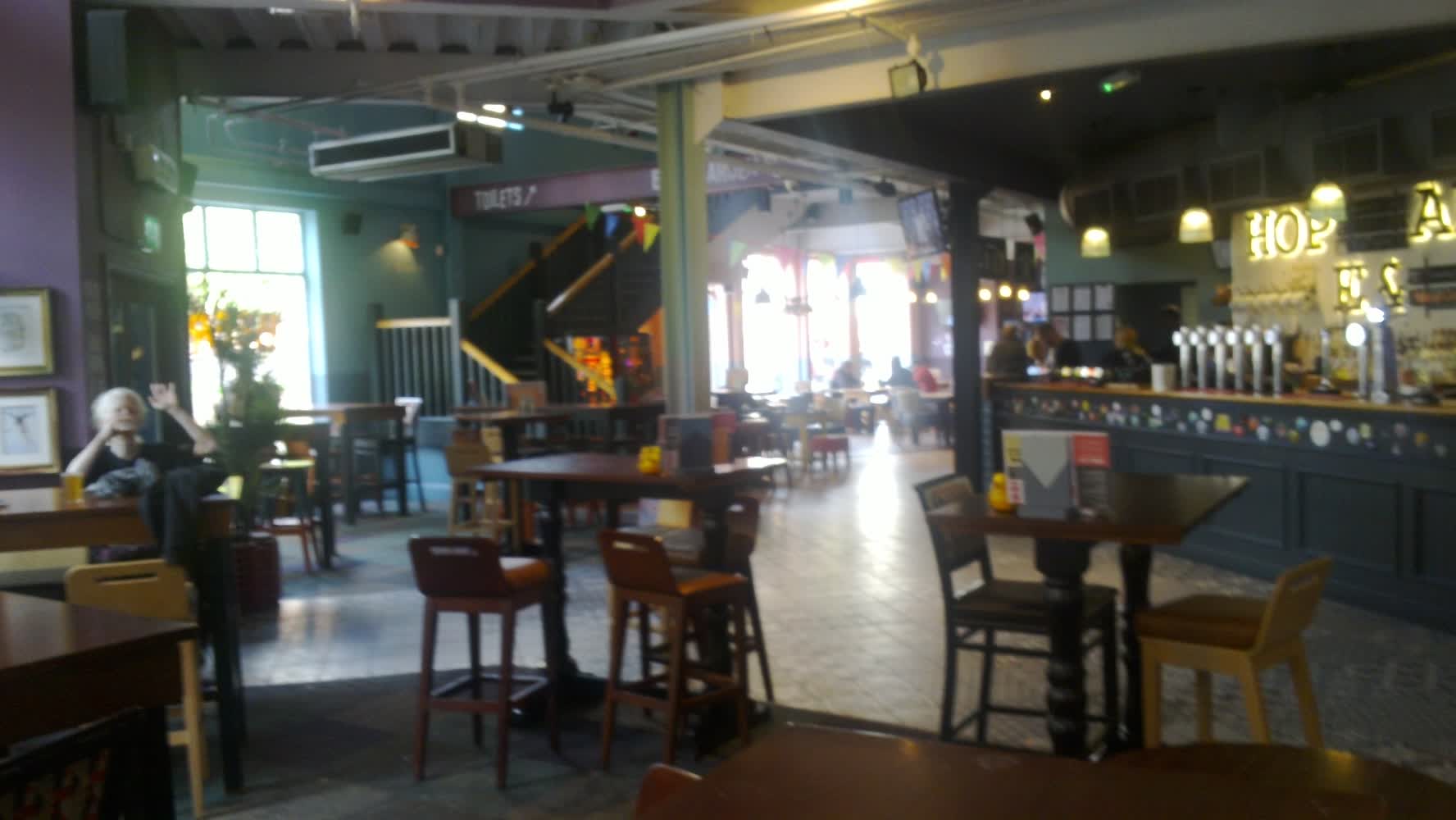 And let's scroll past this:

Philharmonic
36 Hope Street
Opposite the Philharmonic, this pub has ample luxury to match. A lush building with rooms named Liszt, Brahms, etc. - all lovely. Mosaic on the floor and the sides of the bar, ancient tiles on the wall, gorgeous ceilings, artistic etched windows, and plenty of dark wood. The atmosphere was made even better by the fact that we were able to get cash back, which enabled us to relax considerably. Our folding beer tokens had been dwindling rapidly (yes, I probably missed out at least one 'Cash Only!' note above).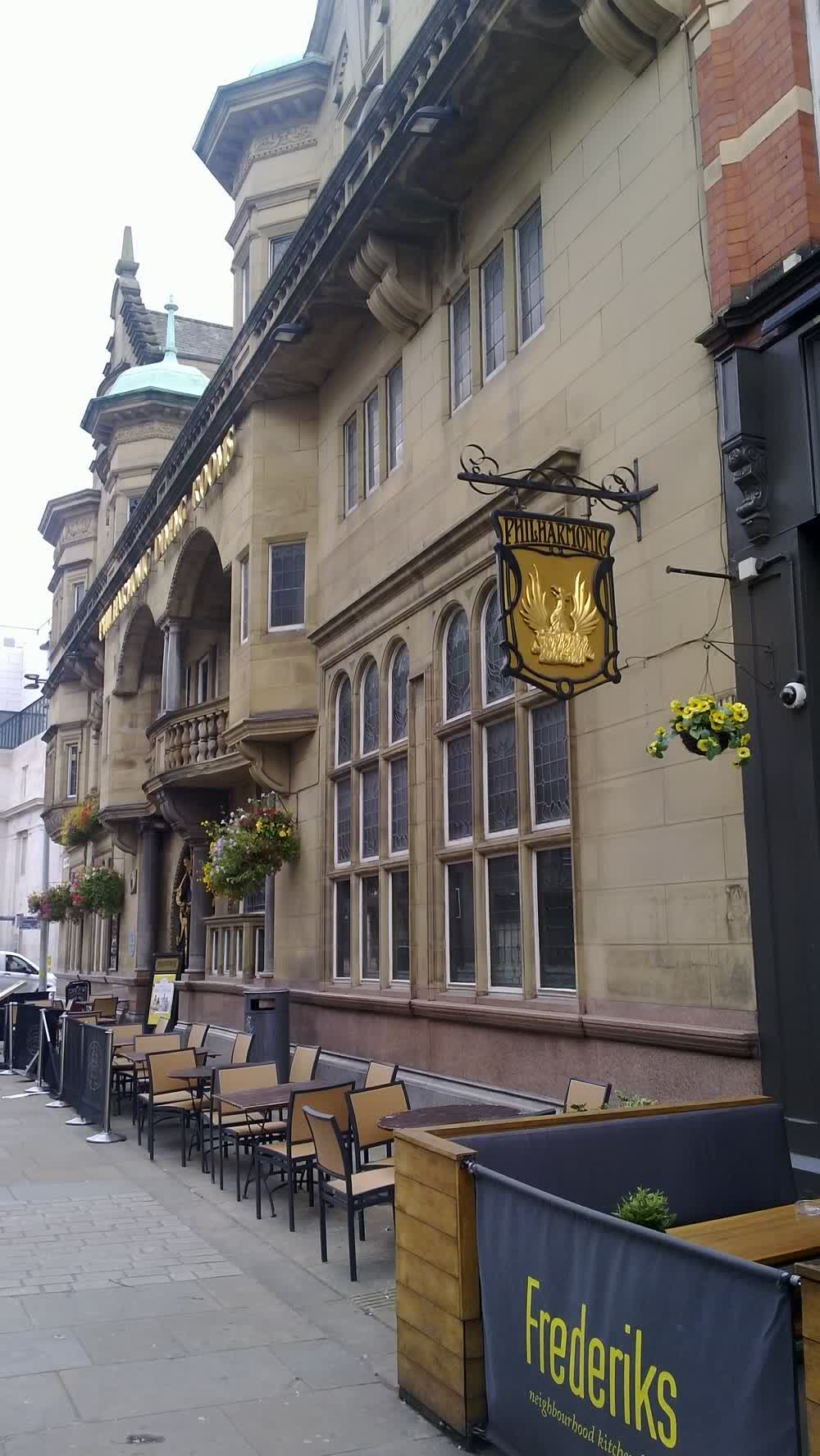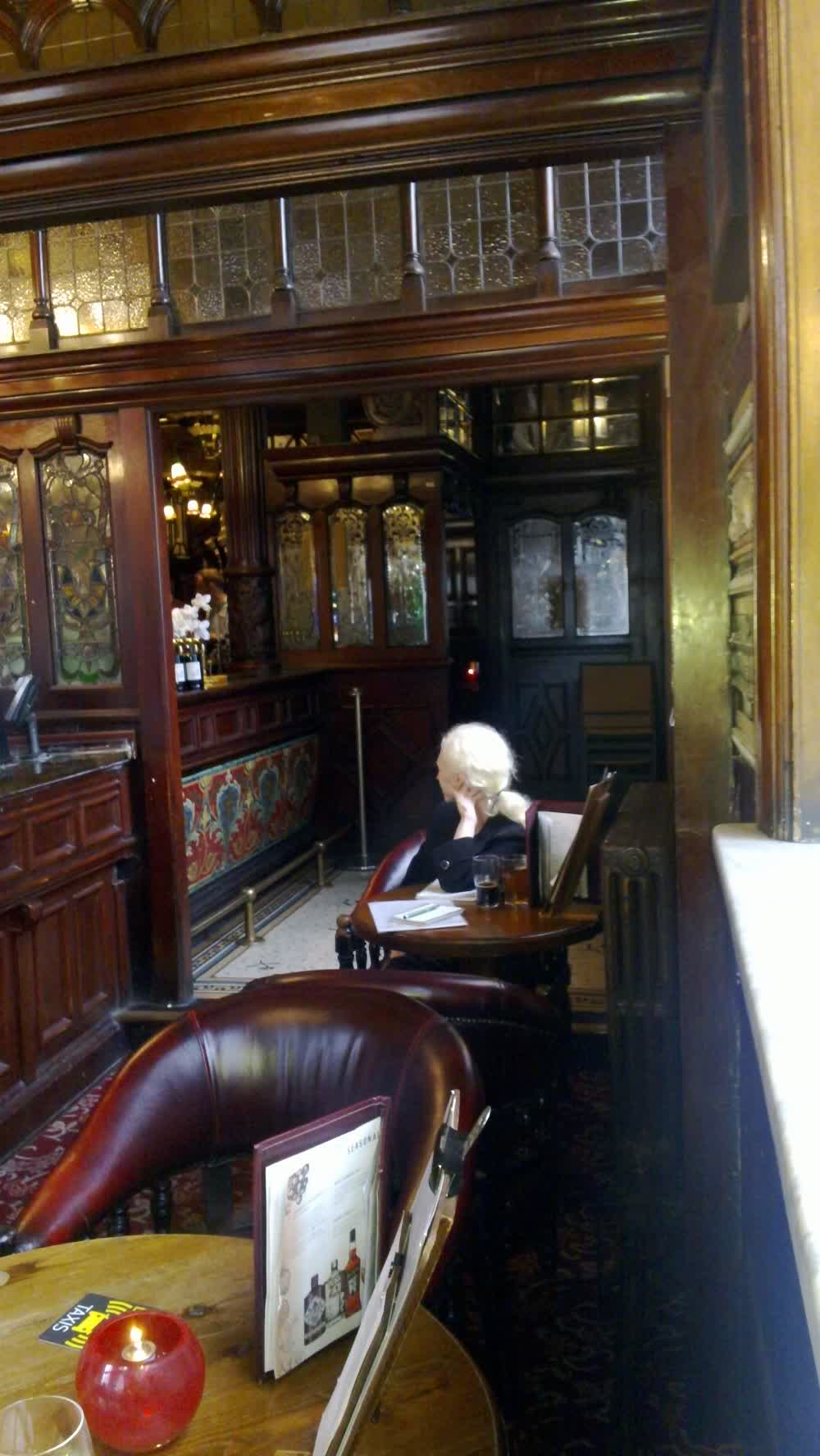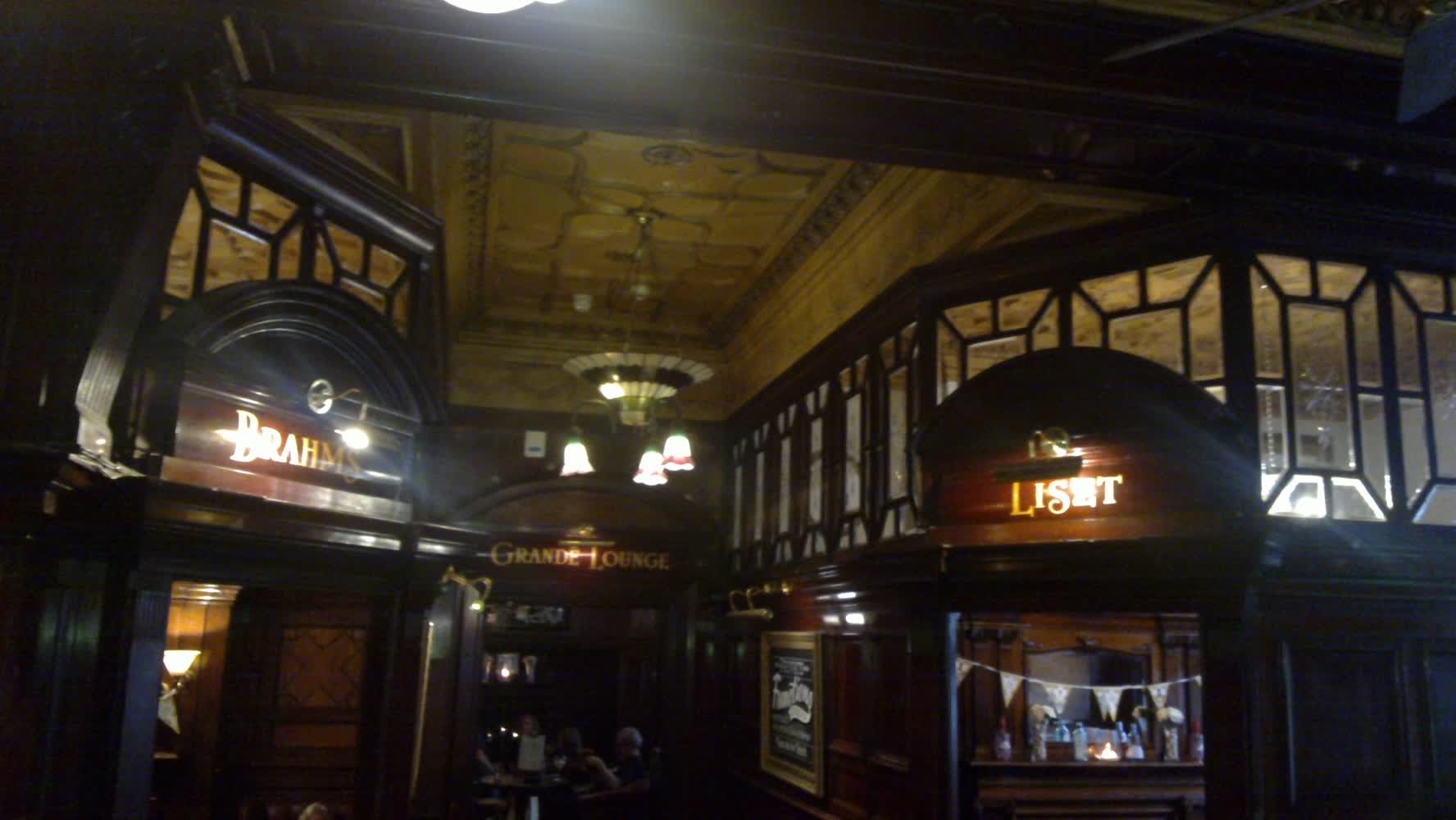 Refinery
'Josephine Butler building', Hope Street near Philharmonic
This was quite a large place, and one that we knew would be rather craft-oriented. Indeed, there were two real ales and 16 keg lines (some connected to fake handpulls - boo!), plus some bottles. This venue was a bit open and sterile, without a huge number of customers when we were there. Yellow lights. rope lampshades. Did I mention that this place is huge?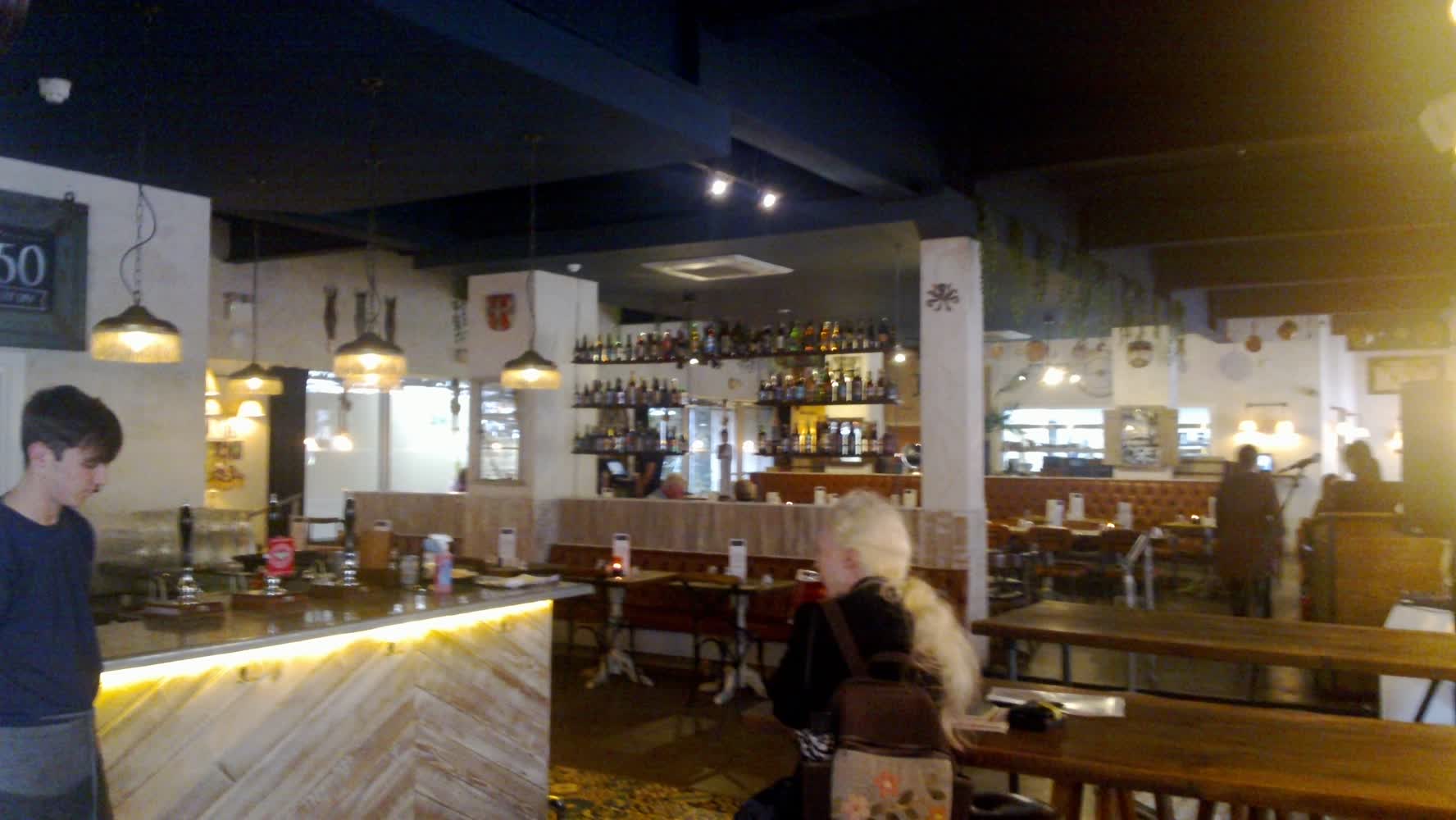 Fly in the Loaf
13 Hardman Street
There was a modern feel here too, with rather aggressive horizontal LED strip backlighting of the bar. A pleasing mosaic floor compensated somewhat. Hanging lightbulb and similar decorations befitting a craftier pub. Not a large number of customers, but people do come here (the previous customers had drinks and a packet of crisps).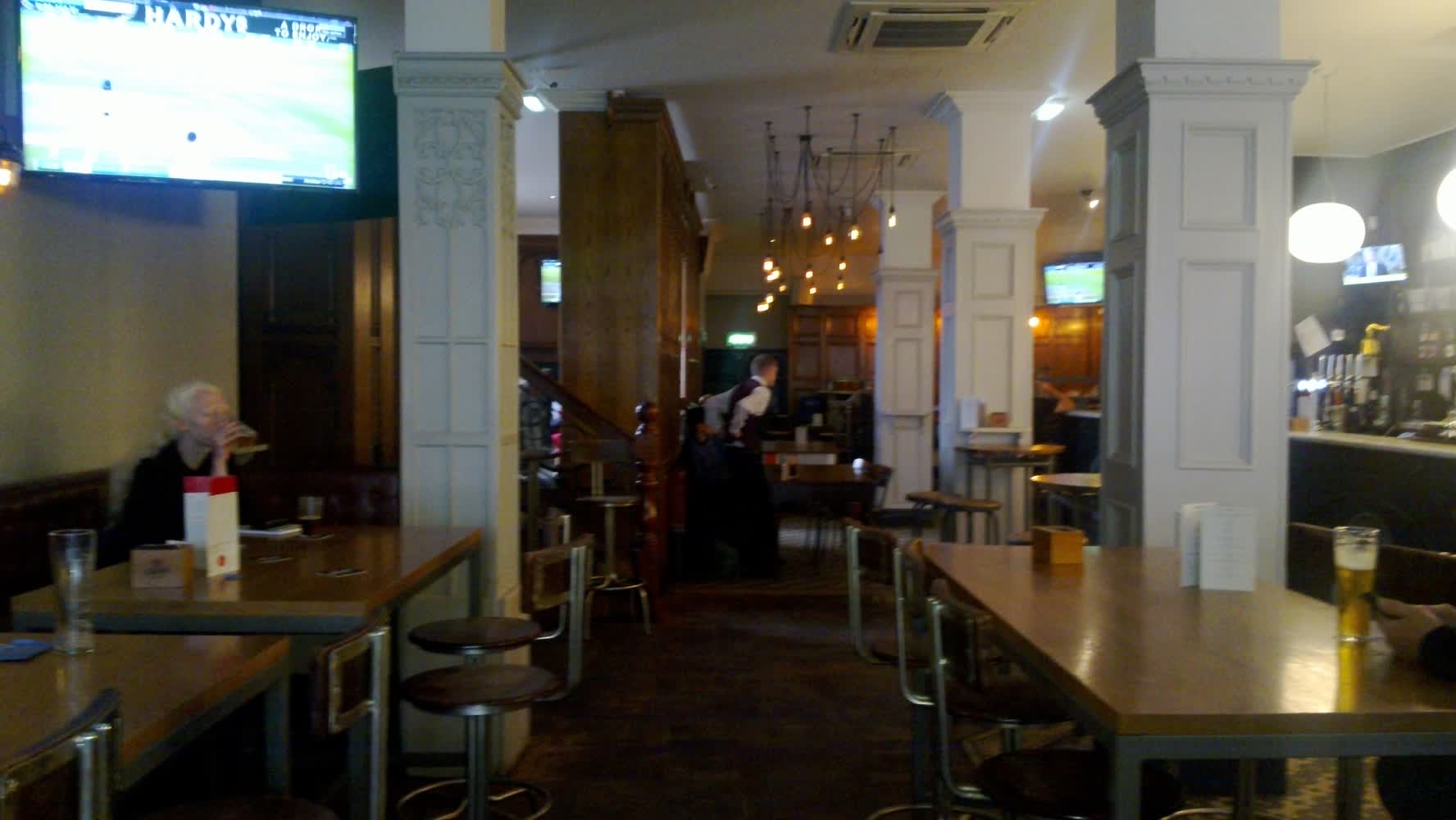 Roscoe Head
24 Roscoe Street
Our last stop in Liverpool was at the quietest pub in the universe, with the noisiest thing being its fridge. This place was silent, a reminder that a pub needn't be noisy and that one can just sit reading one's paper in a side space, with only the slightest rustling of pages. A comfy pub with mellow uplighting.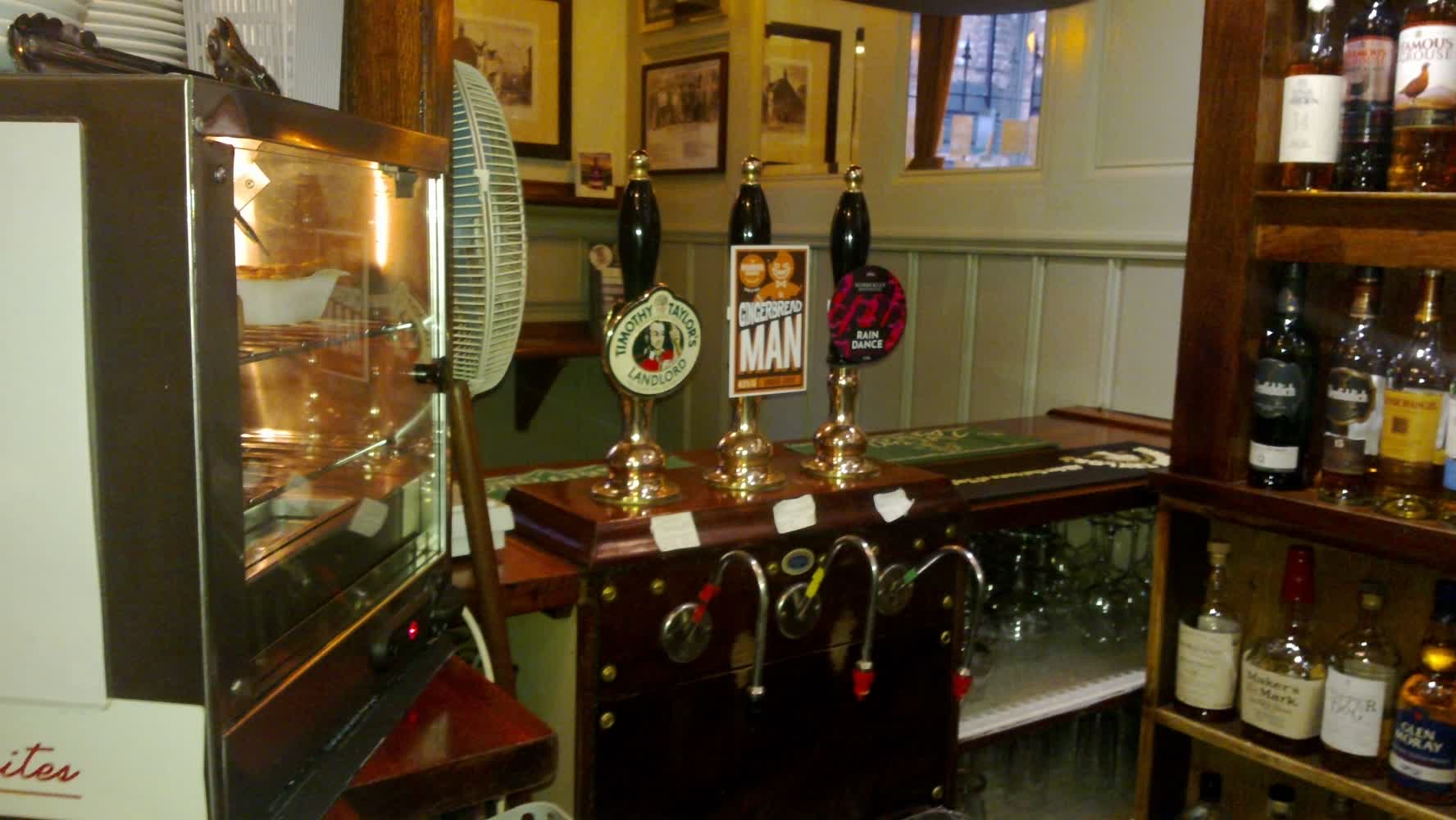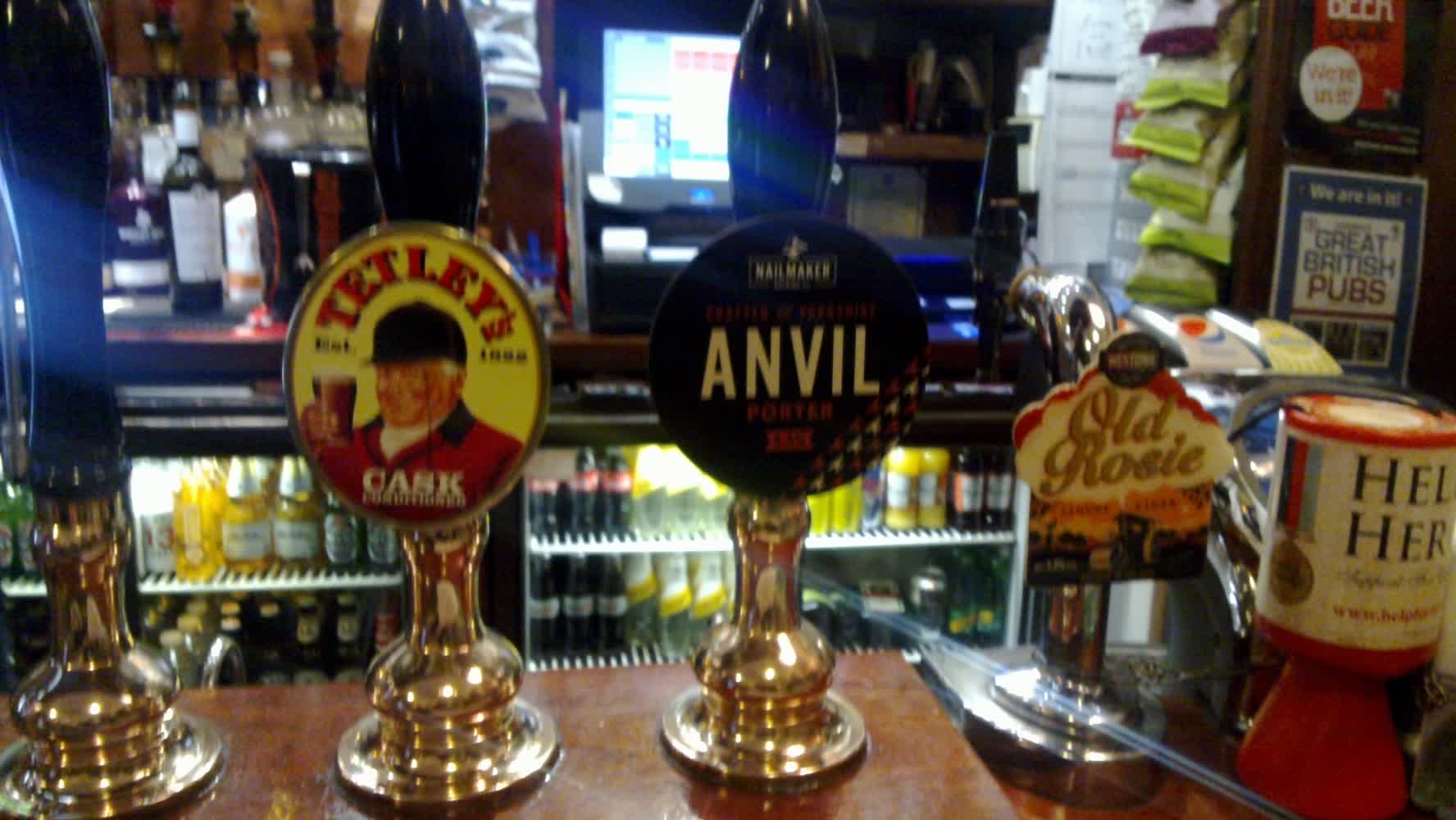 -- Then back in Chester once more: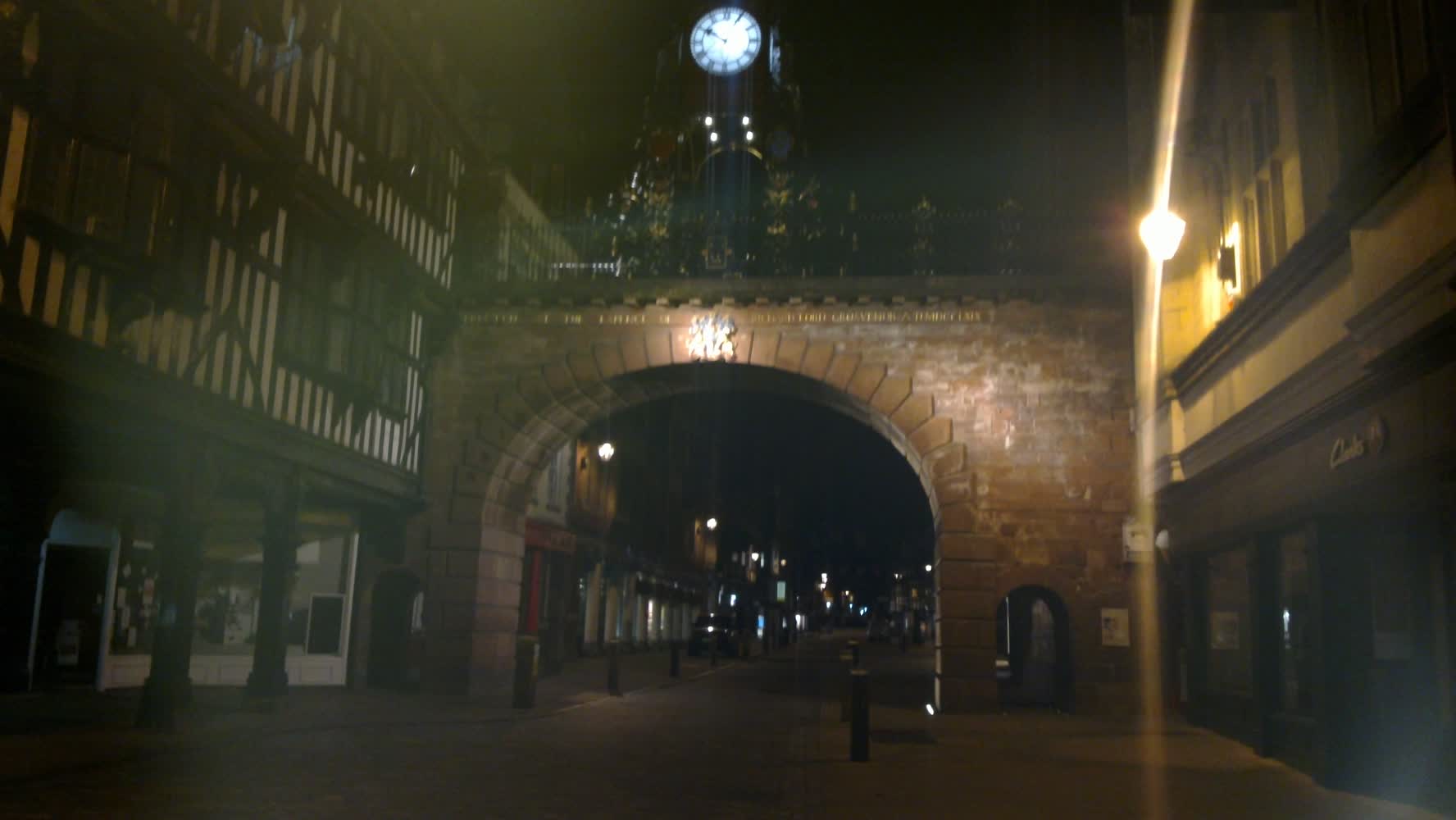 Town Crier
City Road
Our final pub of the evening, back in Chester, had the feel of a railway pub. Since it was where we stopped right after getting off the train, that might not be so surprising. A big venue that is 'probably a five pints of lager place', they had a house beer of unknown provenance, sports on the tellies, fruit machines, and the usual suspects in attendance.



THURS.
Boathouse (Lees)
21 The Groves
We hadn't had a particularly late evening, so we greeted the chance for a pleasant morning walk down to the River Dee with relish. Open bright and early, this restaurant, hotel, and pub at the end of that journey gave us a brilliant start to the day, with a view out over the water and a bar view that revealed three Lees beers that were new to us. All proved to be tasty. We were treated well also by comfy upholstery and a pleasant living room / restaurant sort of feel. The main sound here was the rustling of cutlery.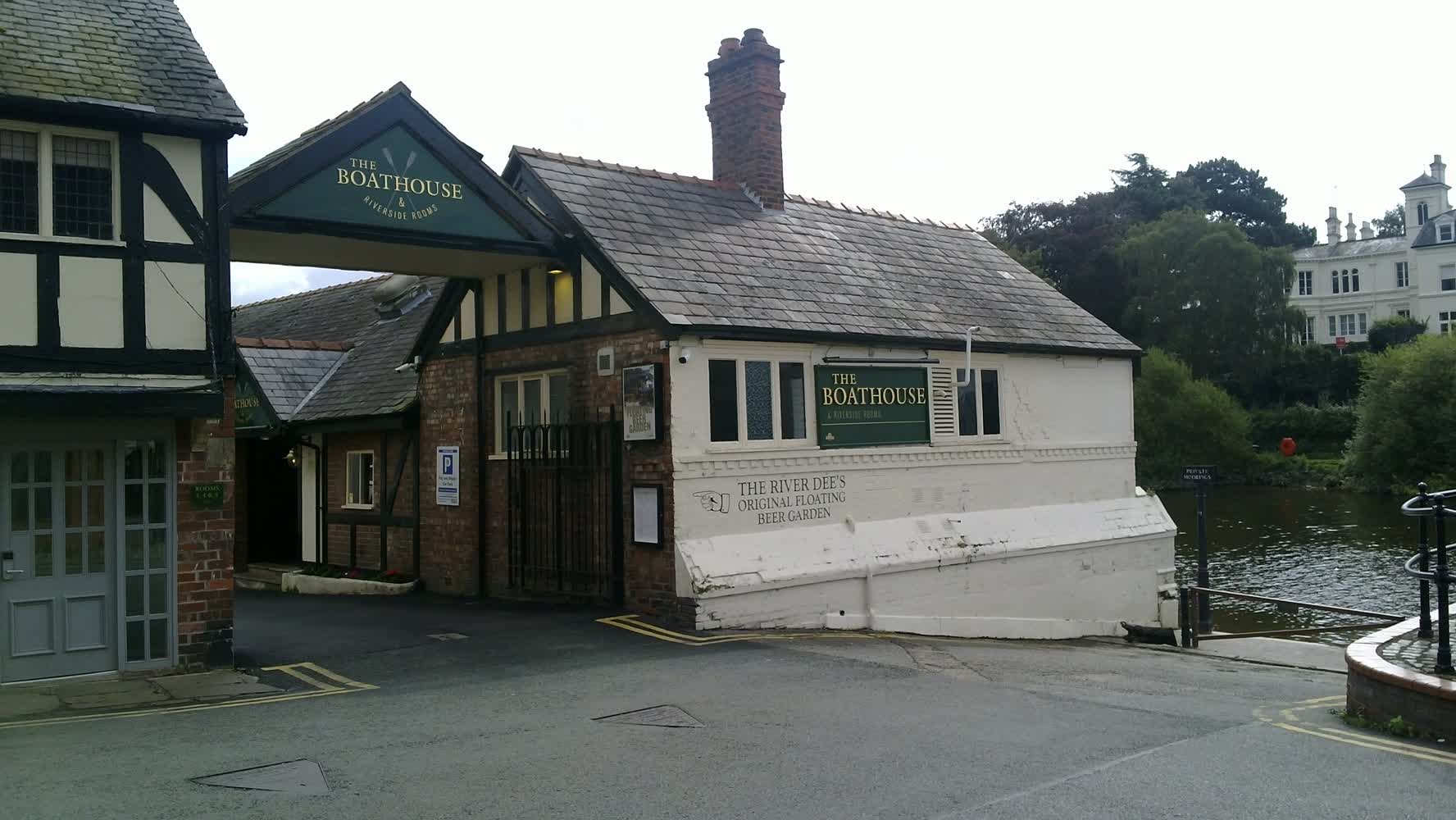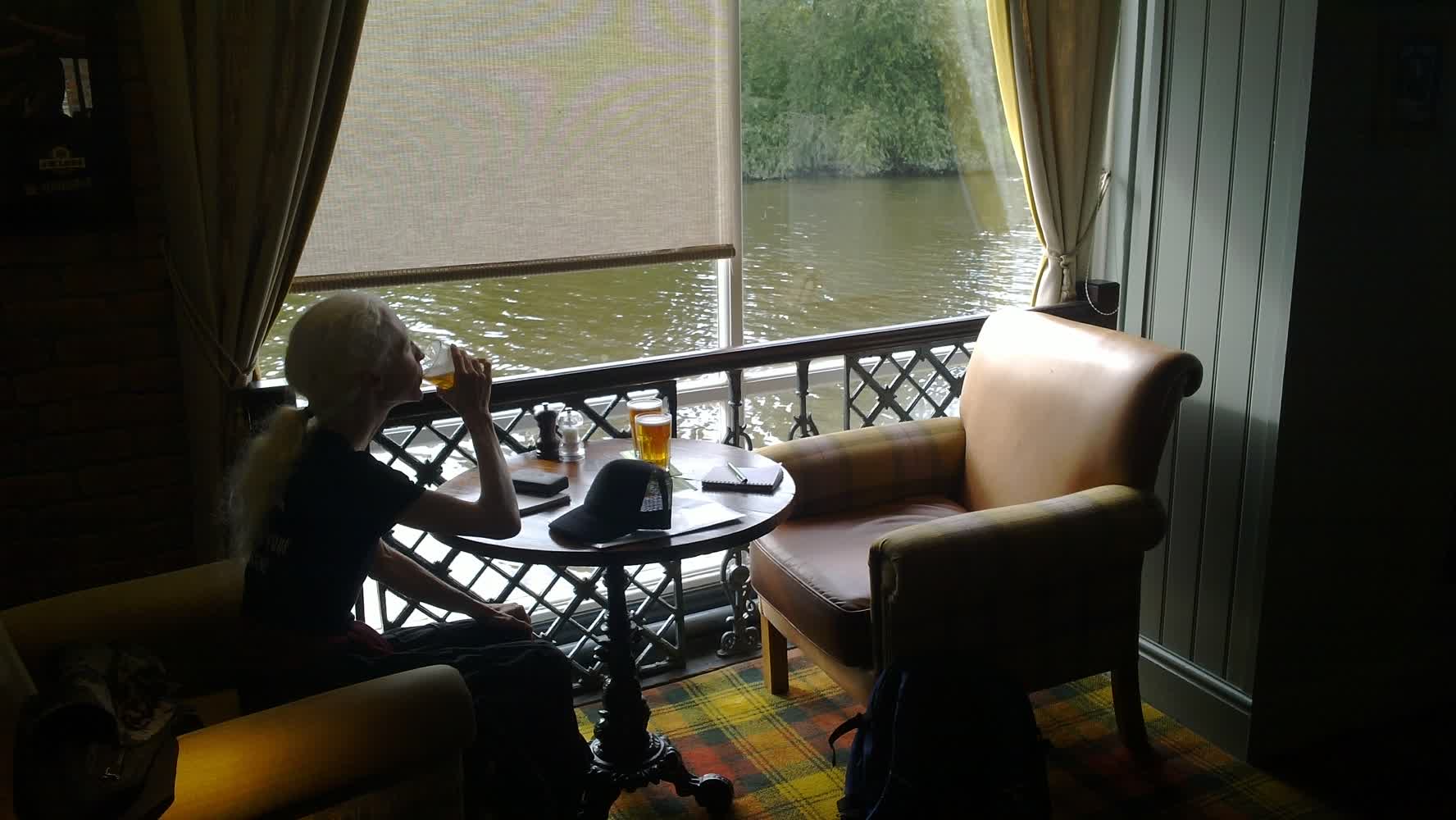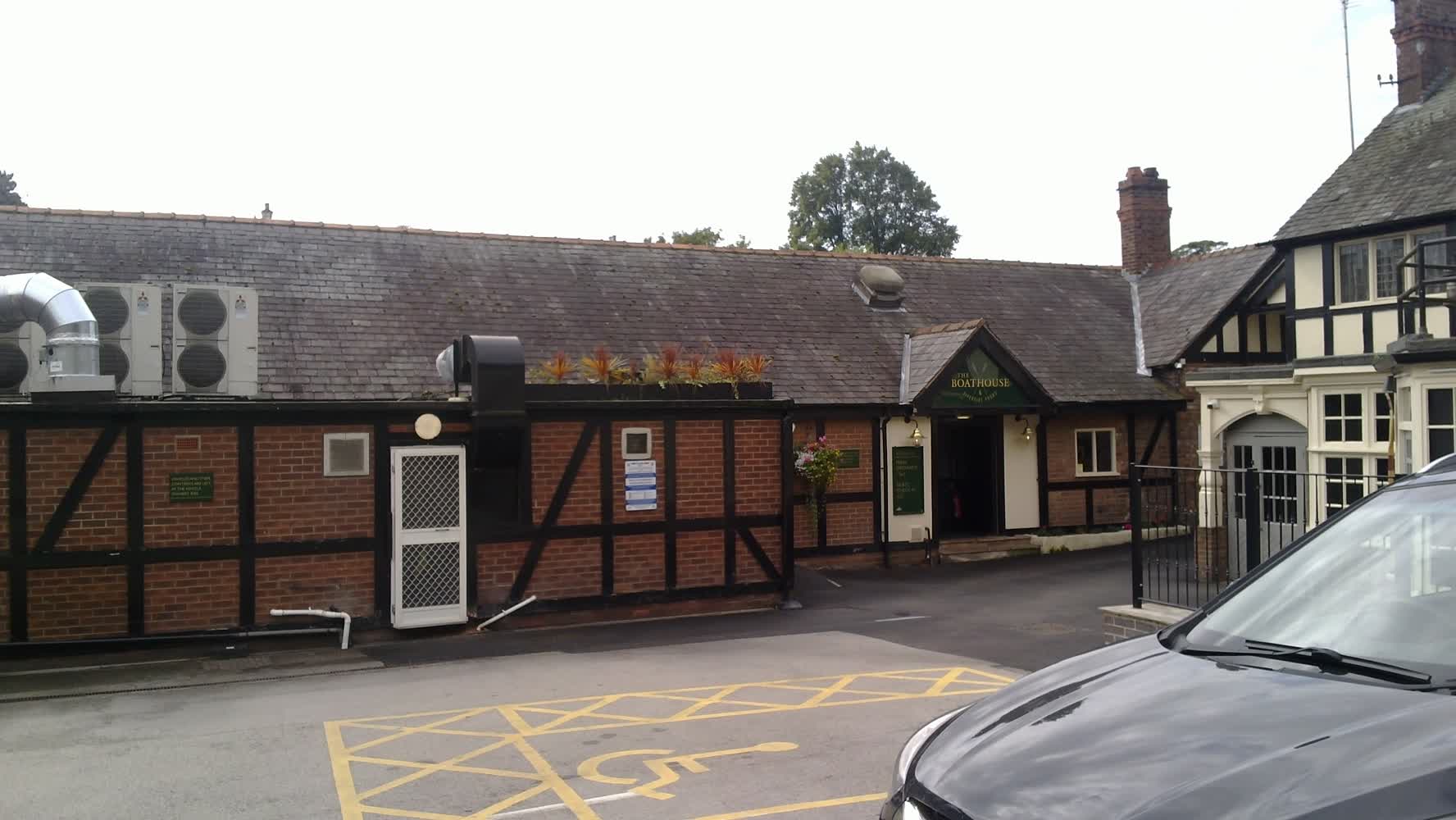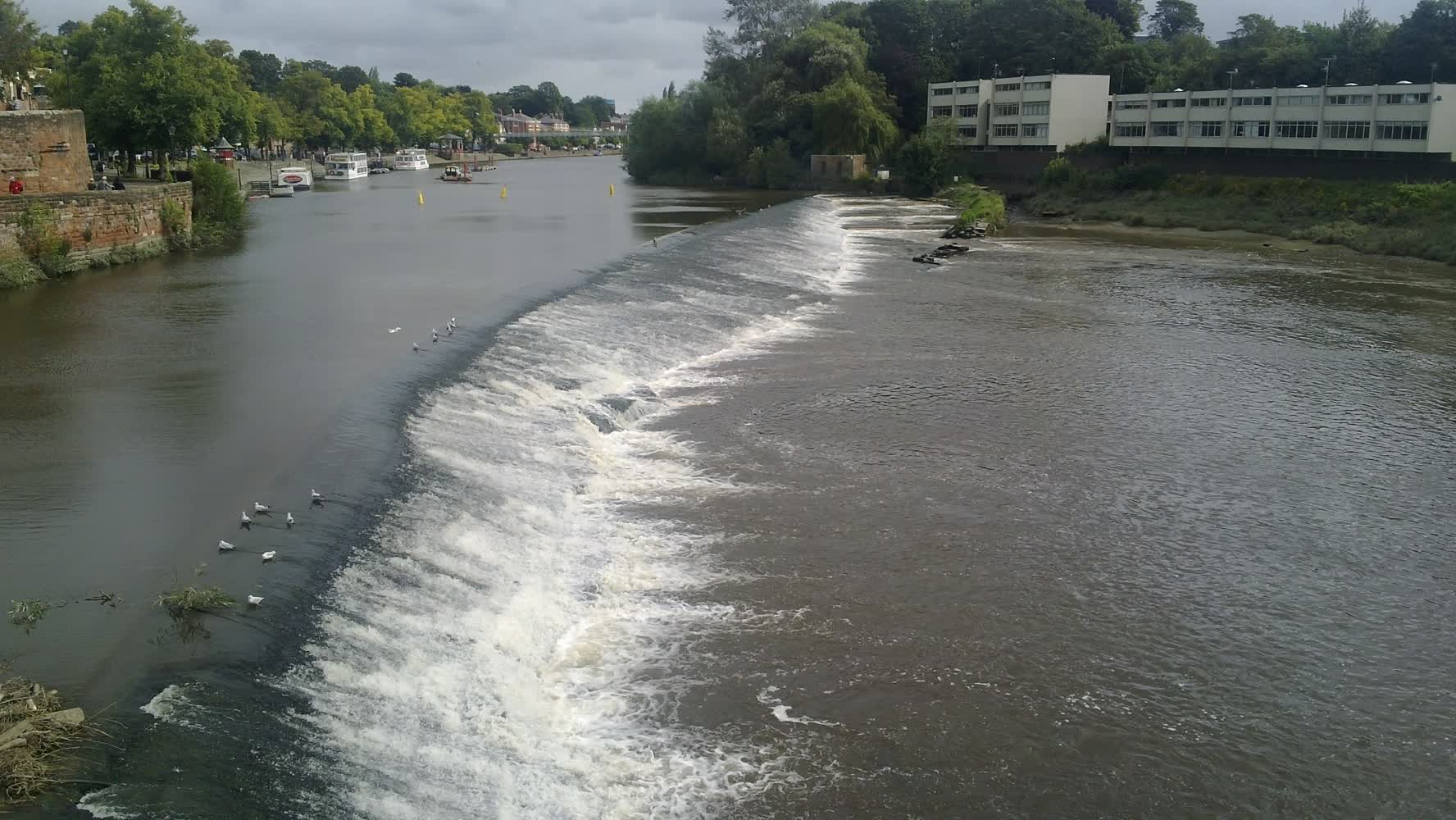 • Our path after this led us the bridge area we'd visited briefly when checking out the Bear and Billet et al.
As expected, several places here here were ready to pounce, opening at 10 or 11.


Ship Inn
18 Handbridge
Here, across the river, super-chatty staff gave us ideas of pubs to visit, thoughts about craft beer, and so on. Lots of dangling yellow lightbulbs featured in this bar. Yes, it's more a bar than a pub. and it was suited less to grumpy old men than many pubs are. Sure enough, a family arrived while we were there. Not a bad bar, though something was a bit odd/off about both beers we had here.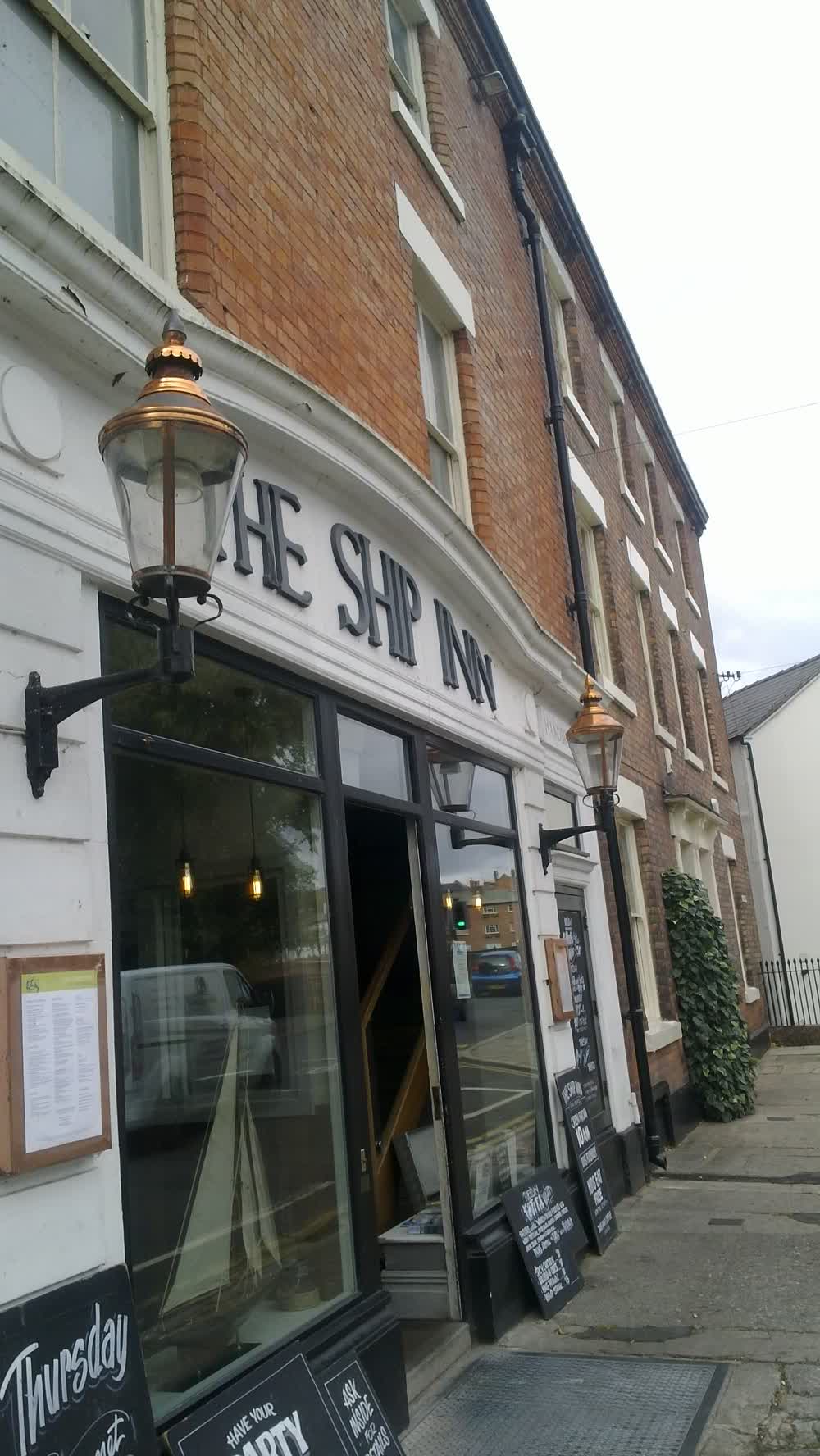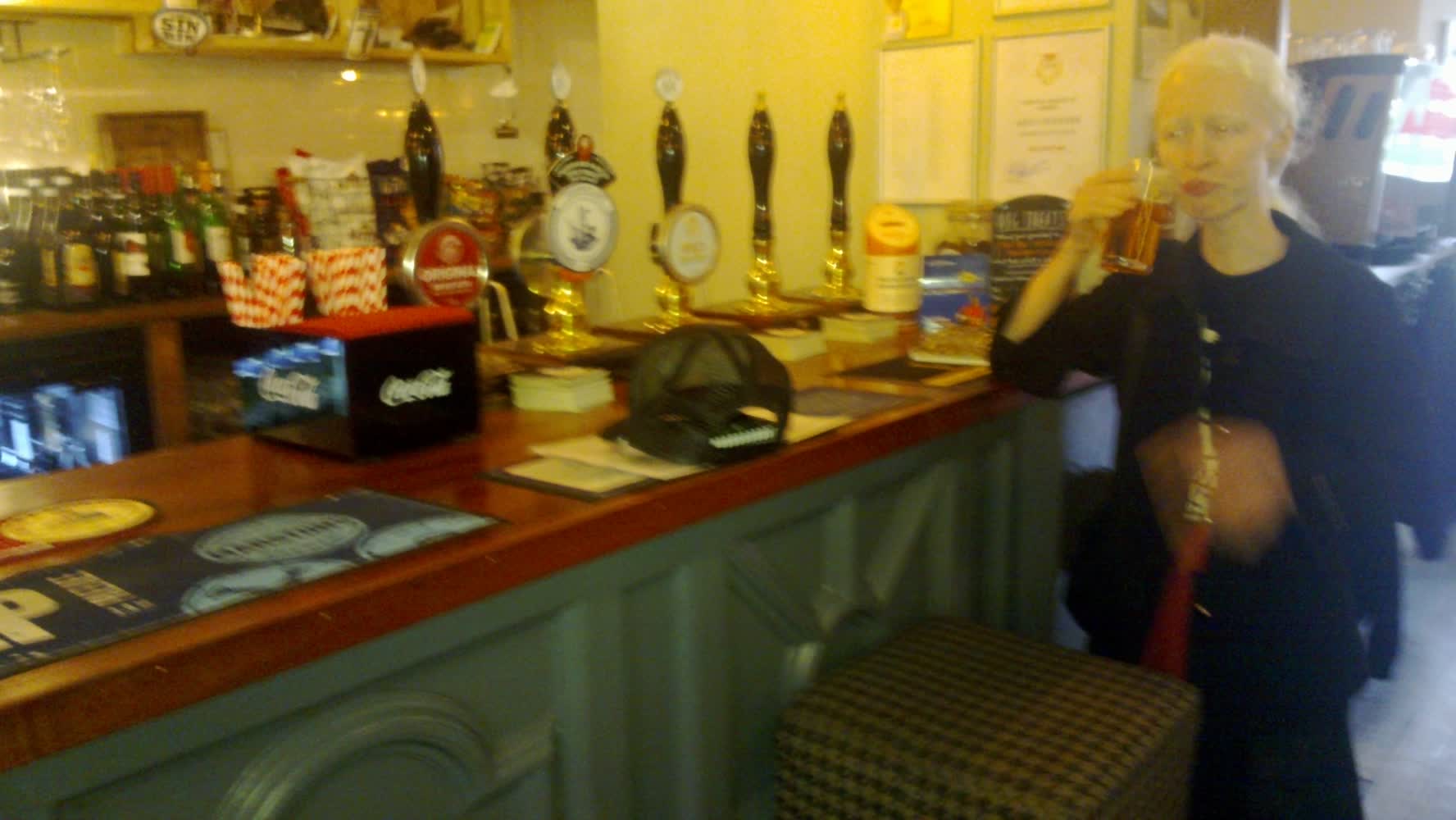 Chester Beer & Wine
20 Handbridge
Also just across the river, a few more buildings along, was a bottle shop that featured a good mix of semi-local and more widely distribued fare. They probably had a couple hundred bottles here, plus a solid whisky selection.
The staff gave us a new term for 'throw any old thing in' craft concoctions: lunchbox beers. You will hear that term again, I'm sure.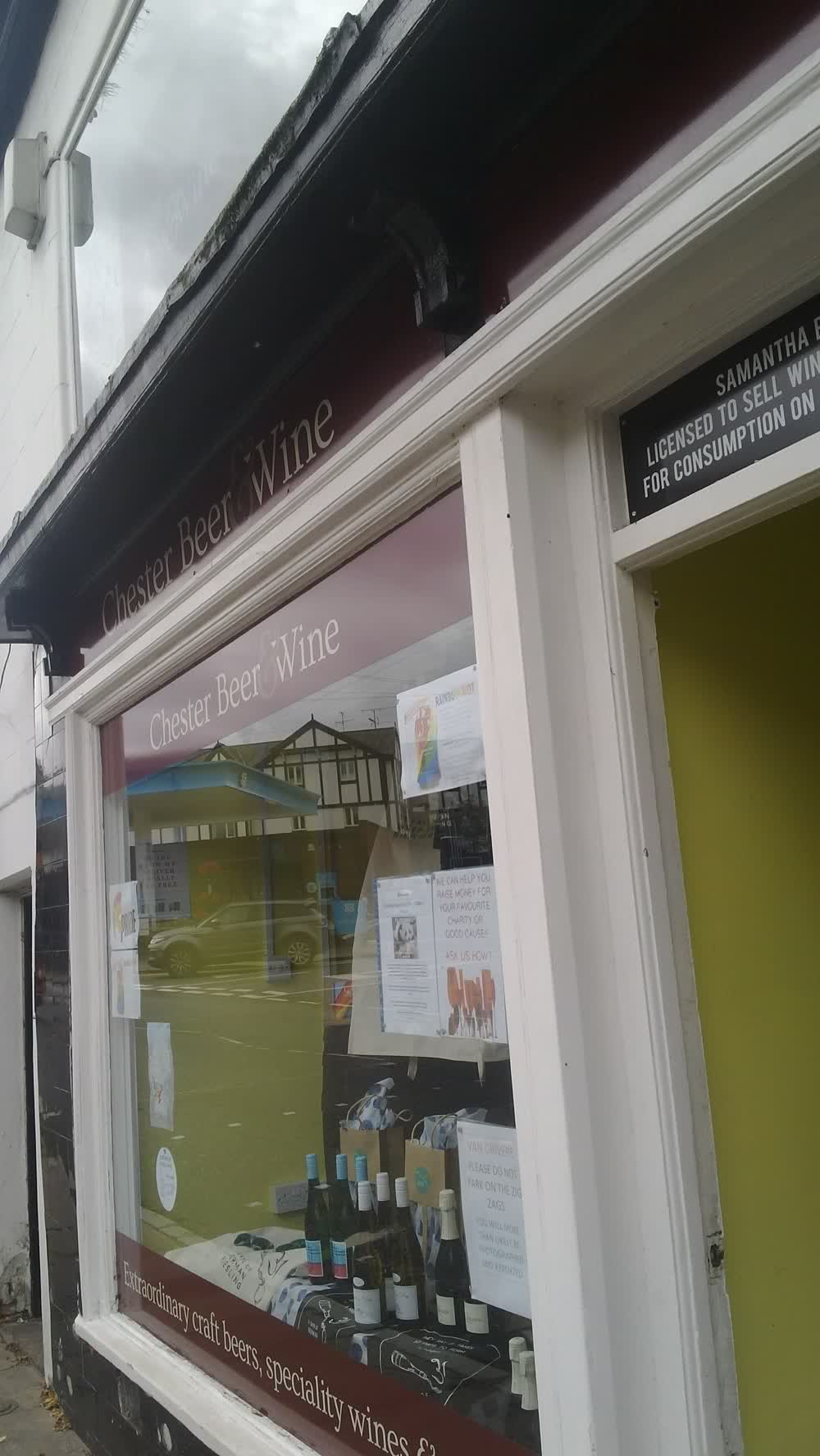 Cross Keys
2 Duke Street
Another Joules pub, which enabled us to grab a couple of things we didn't pick up at the previous one. Lovely decor, albeit slightly scuffed; stained glass; and a nook just big enough for an Anna and a Phil. A nice touch was that they list the next three upcoming beers.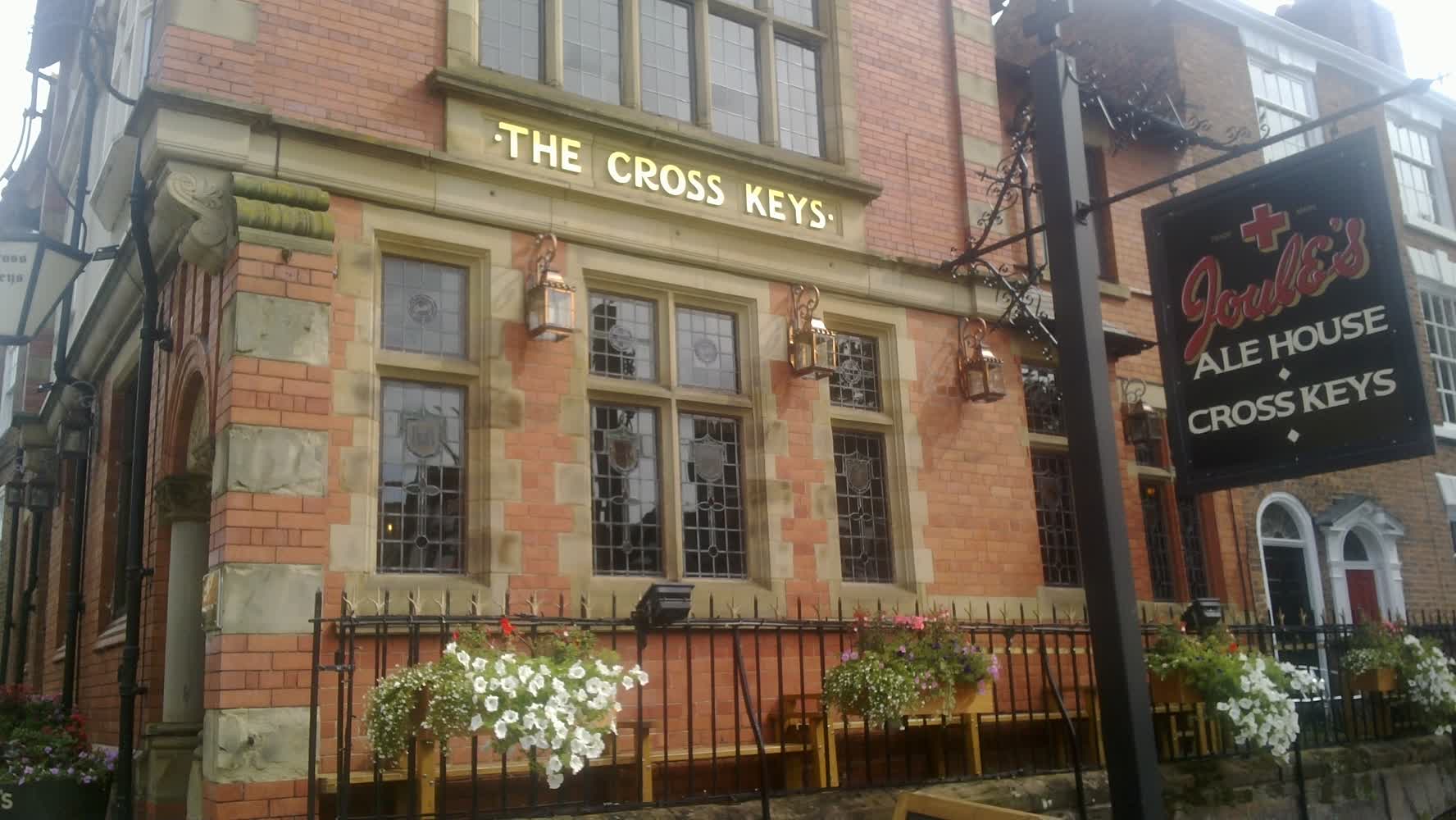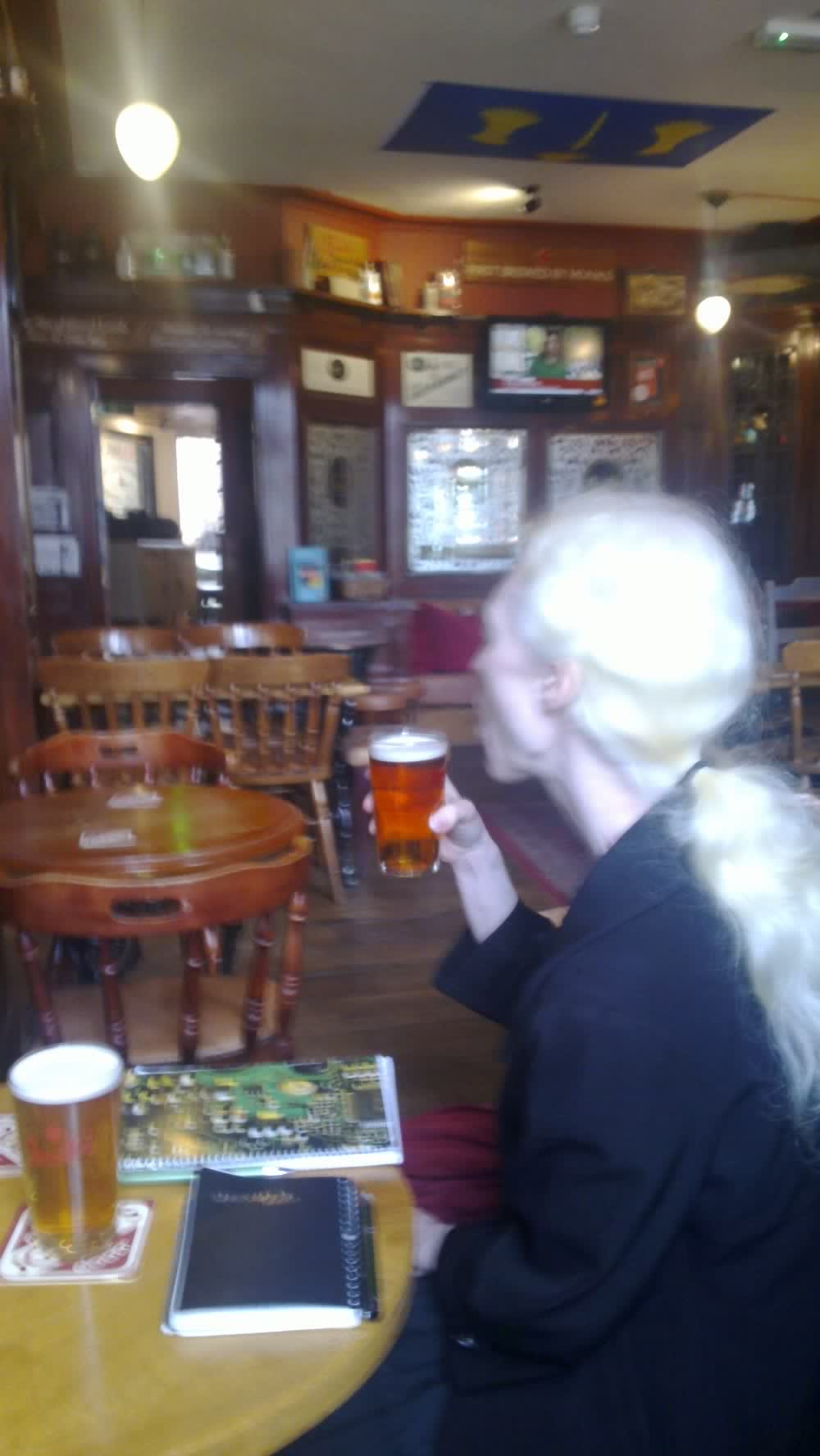 (Albion Inn, 2-4 Albion Street
While the 'No pub crawls' warning was probably aimed more at student groups than us, we didn't end up remaining at the Albion Inn - none of the four real ales were new ones for us. A quiet pub with a geezerly bent. Probably not a bad place to spend some time.

Marlborough Arms
3 St John Street
Three or four Stone House beers were available at our next opens-before-noon venue, plus eight keg ones. And oodles of joss sticks. Bare wood and barrels. One can choose to sit up at the bar or in a more relaxed sofa section. Either way, the beers had a bit too much aroma of joss sticks.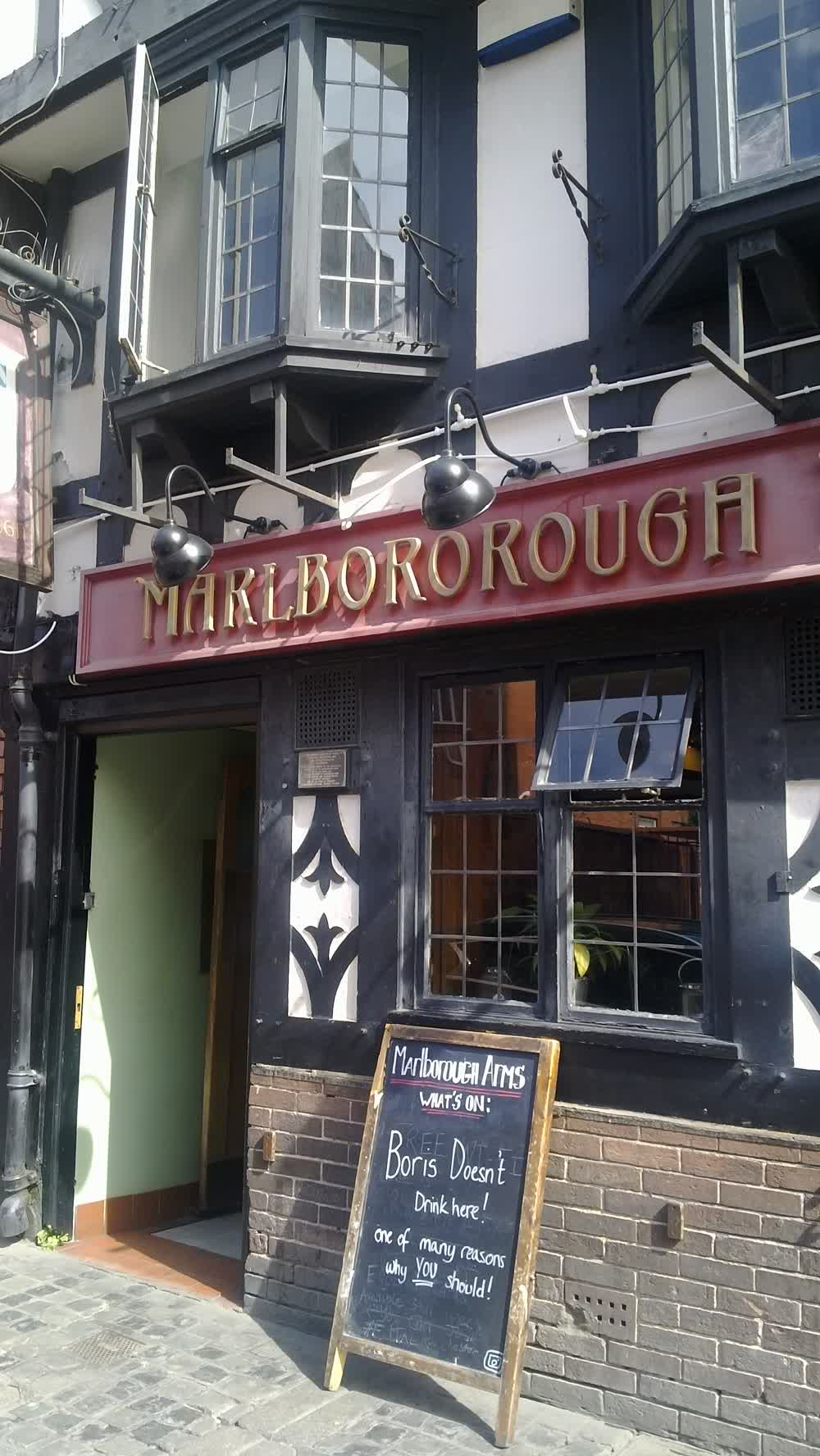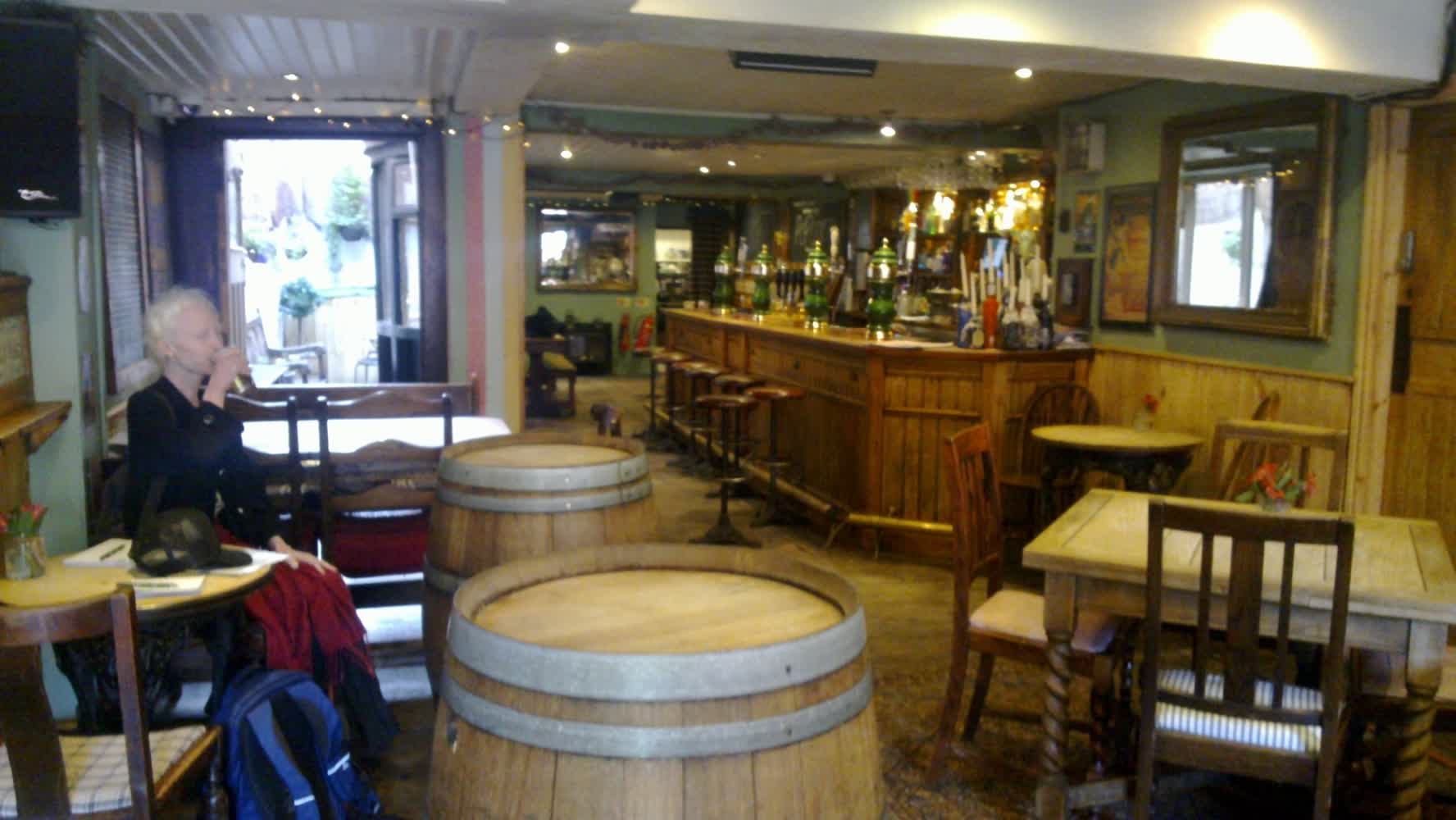 Falcon
Lower Bridge Street
We'd worked our way up to the top of the road by now, where the Falcon served as a waypoint.
Much of our time at this Sam Smith's pub was spent chatting with a friendly local lass about things such as the Northern Lights. You won't see her or the various wood-oriented zones of this pub in any of the photos, I fear, since there is a mobile phone ban in force within.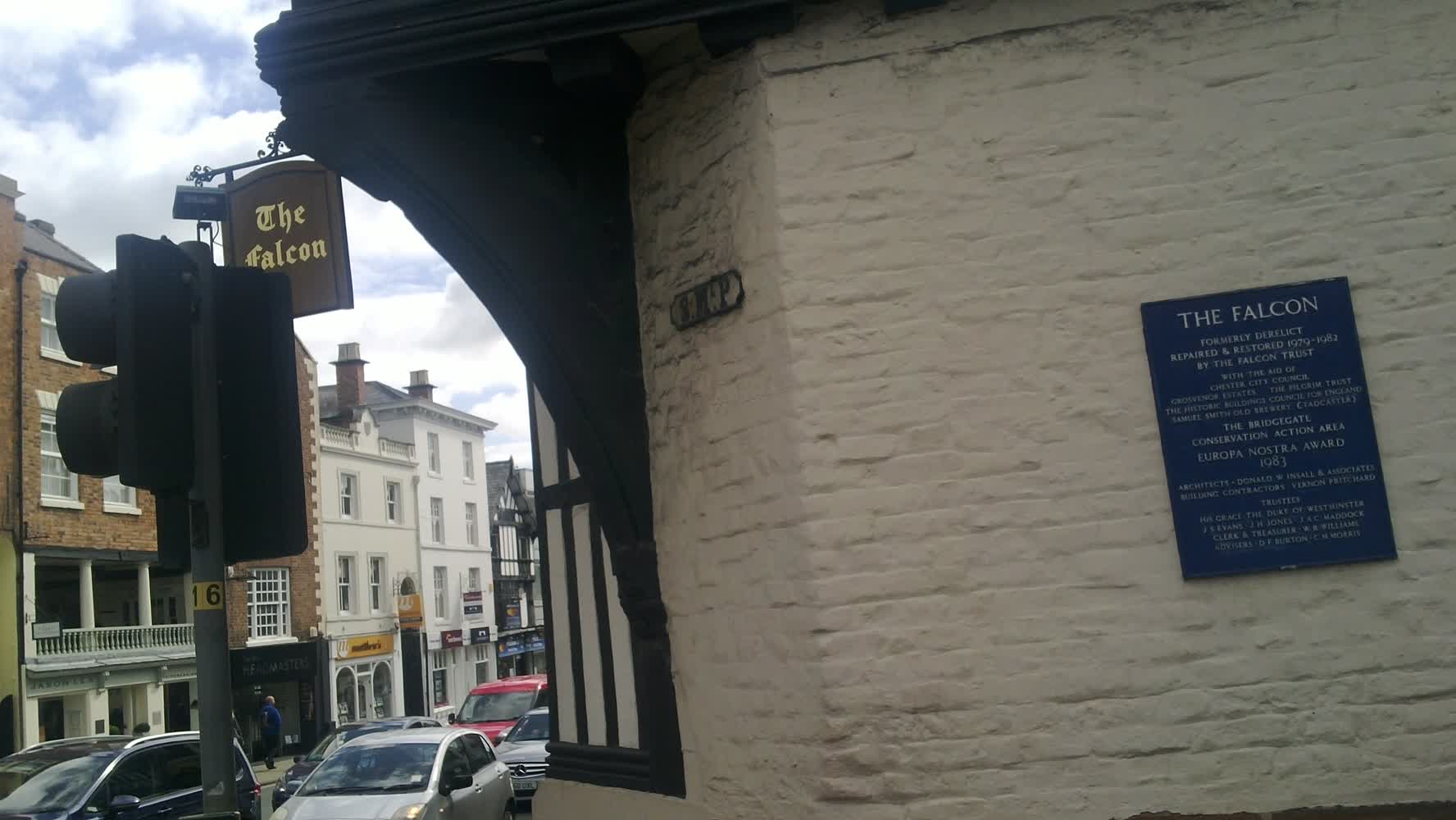 Architect
54 Nicholas Street
A large restaurant-style semi-segregated space that was a bit of a fishbowl, with big windows. Brunning and Price. The staff served makeshift third pints for us but had to charge for halves since they didn't have a marked glass. The food (gastro stylee) was expensive but good, or vice versa. Bookshelves beside our table provided conversation fodder such as J.B.S. Haldane.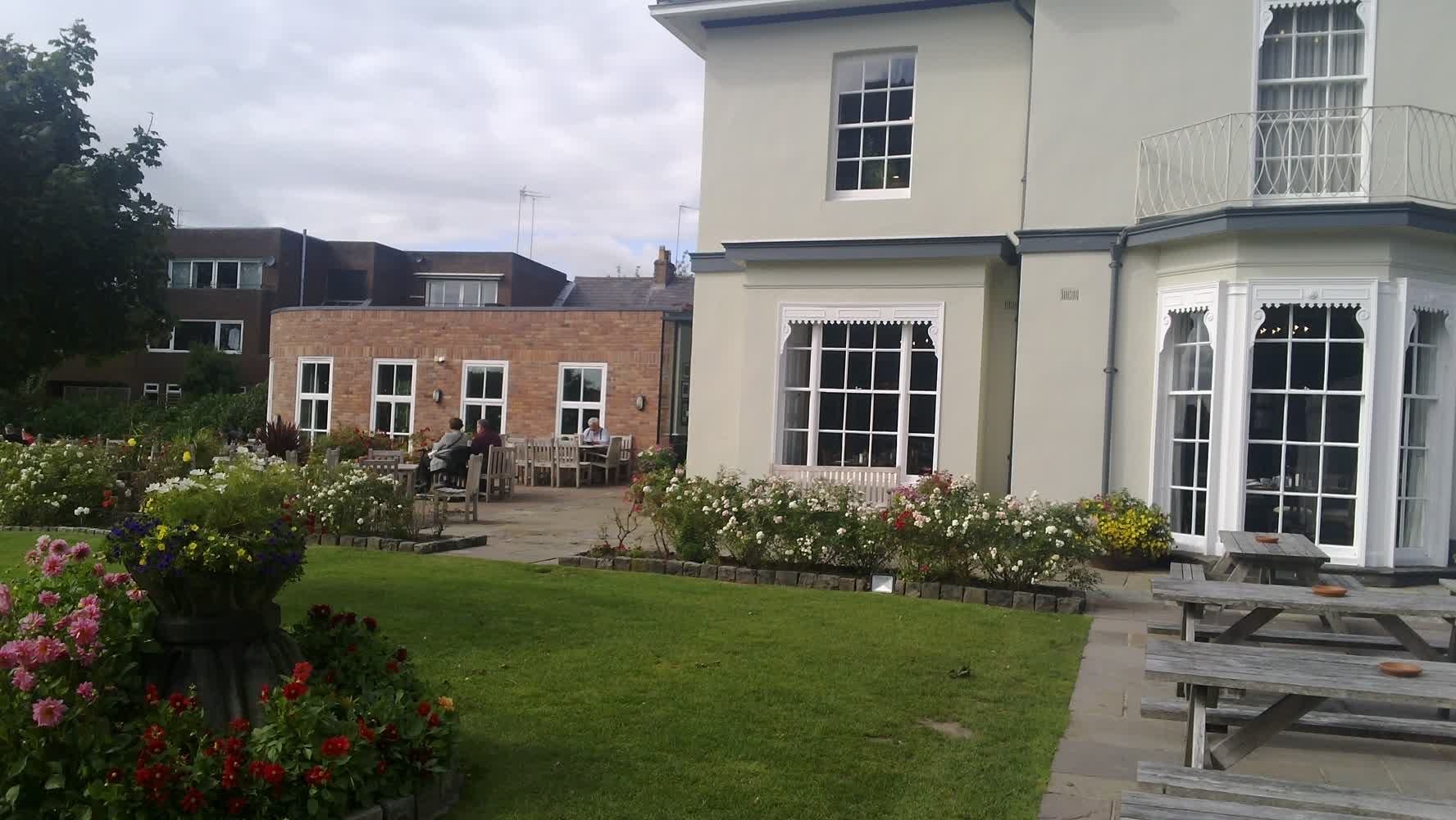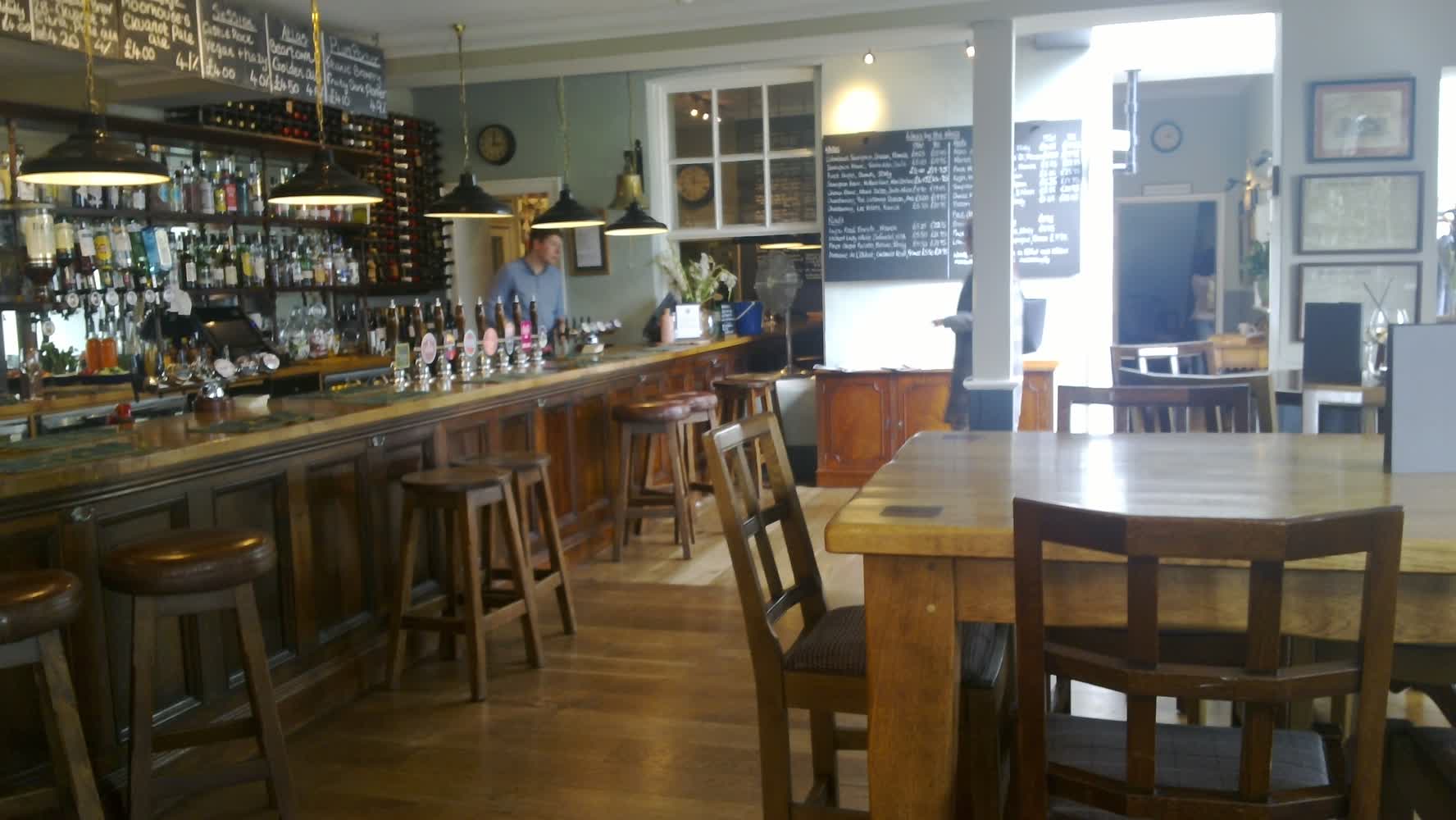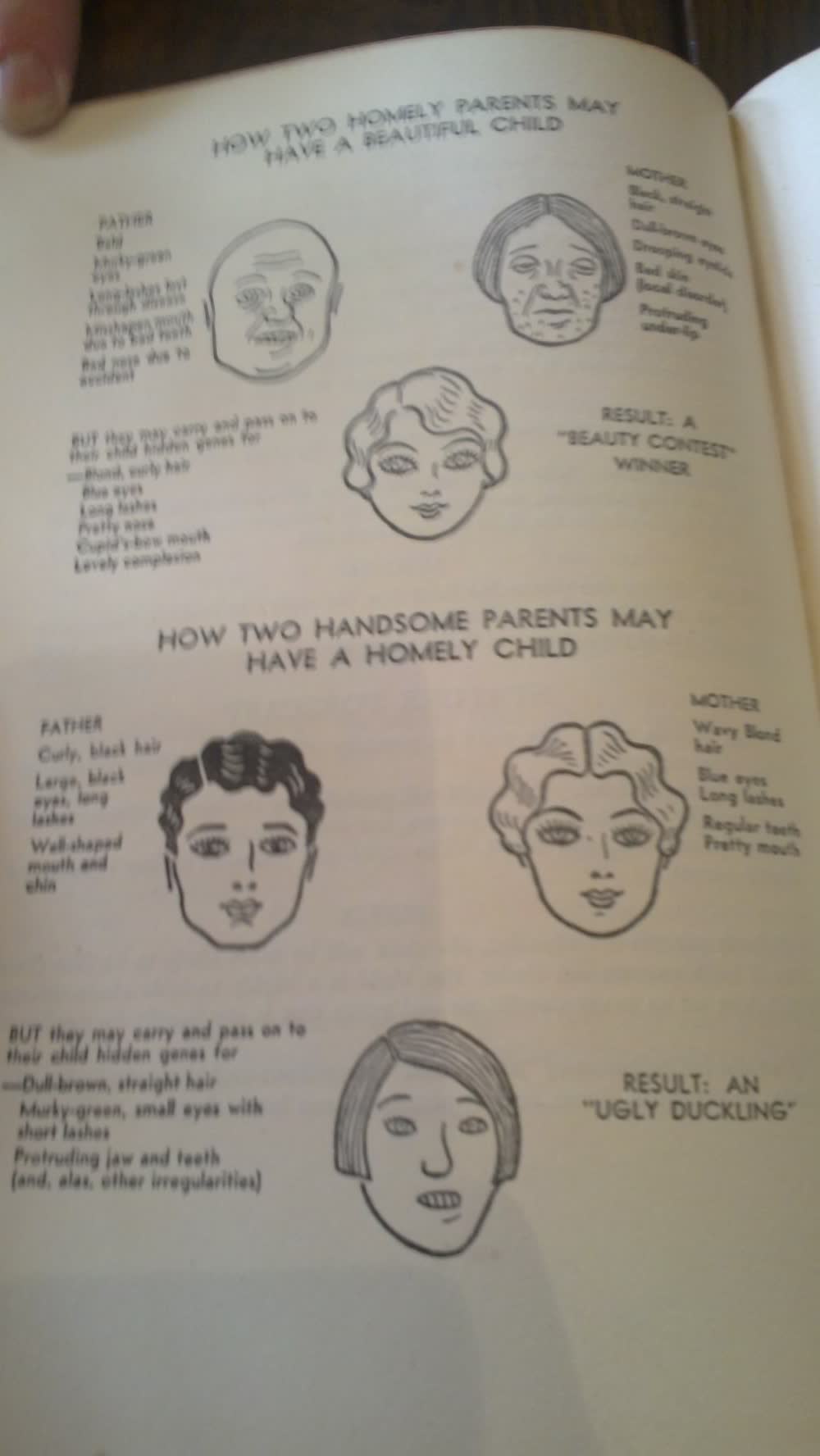 Noon had now arrived, so most places were open. One of them
(The Olde Customs House, 65-67 Watergate Street)
was a Marston's pub with a traditional pub look about it and three fairly standard Marston's beers to match.

Big Hand
85 Watergate Street
Five out of the eight real ales at the Big Hand brewery tap were on, but the venue's focus was largely on the 10 craftier items on keg. Staff came around the bar to chat.
This place has an event-oriented existence, with open-mike nights, quiz nights, etc. and an openness conducive to this sort of activity. Dog beer was available outside.
Also available was martinsh, who joined us here and would accompany us for the next few pubs.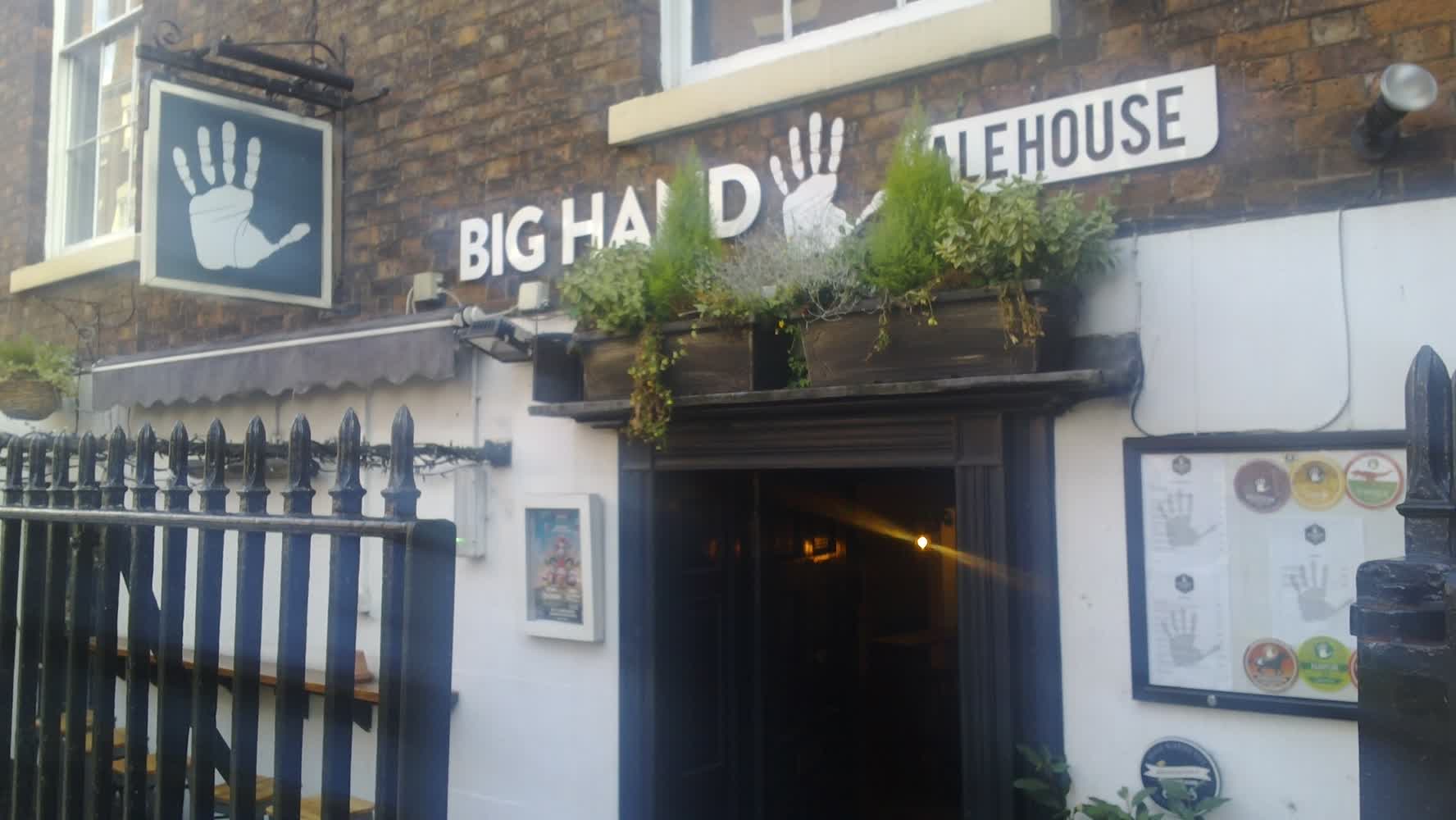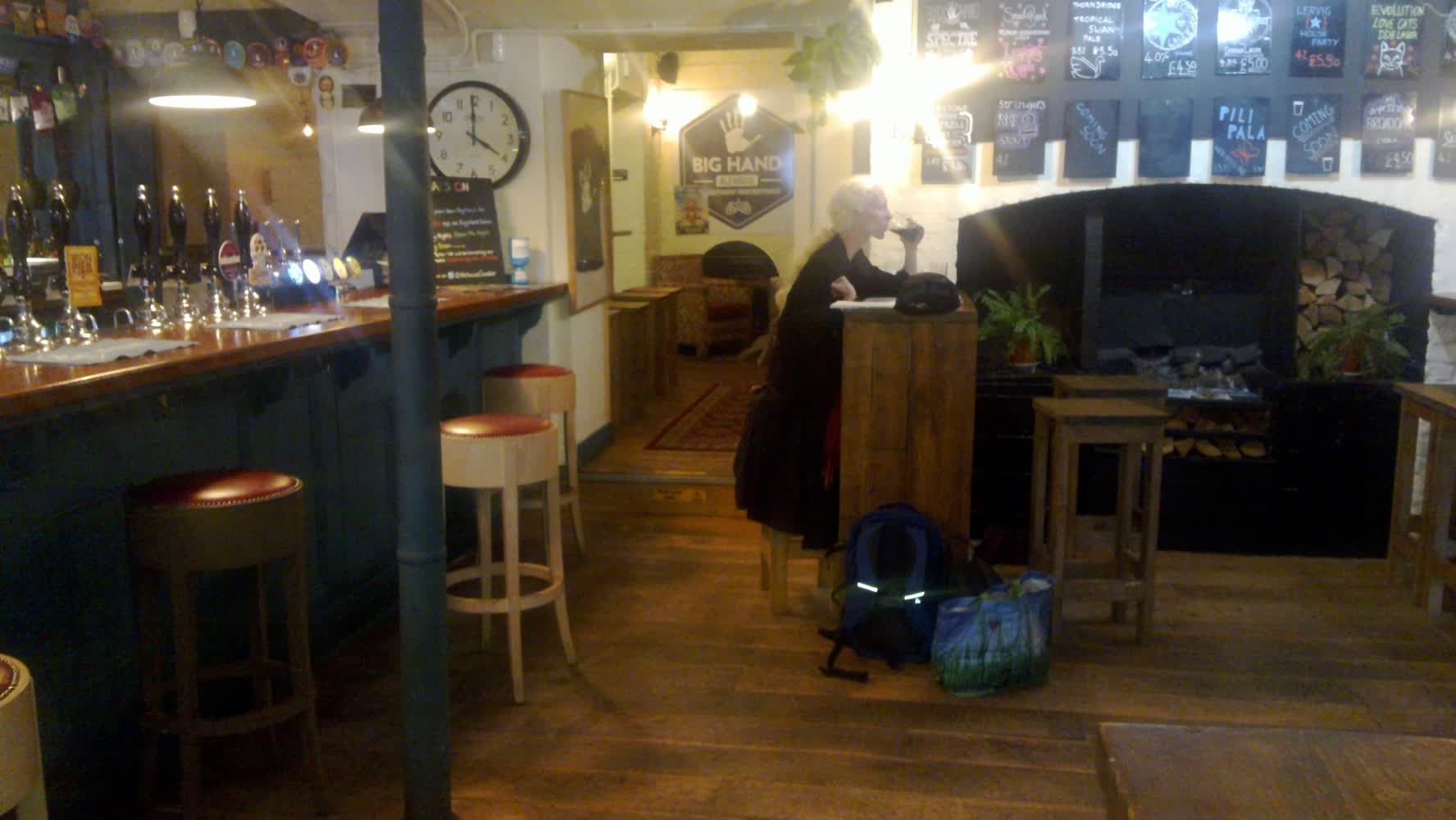 That Beer Place
Chester Market (Unit A19), 6 Princess Street
When we arrived at this market stall a day earlier, it hadn't arrived. We had better luck this time, picking up several beers on tap (they had six real ales and two real ciders) to drink at the orange tables here, along with suitcase-filling drinks from a selection that also included some oft-overlooked international classics. Staff aided in picking things out. None of us picked up the Exploding Kitten card, though.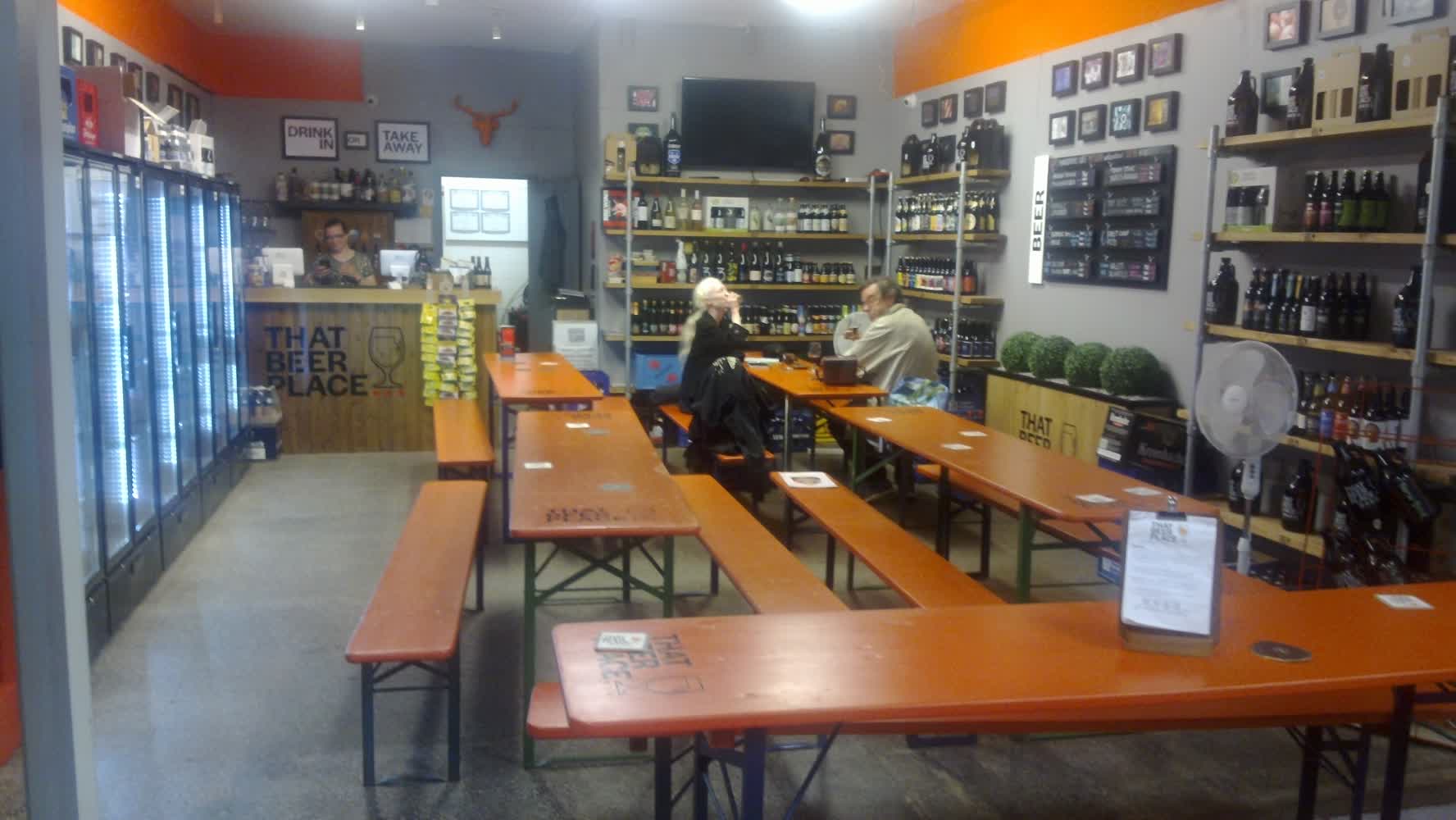 Telford's Warehouse
Tower Wharf, Raymond Street
Next was a place martinsh had recommended in advance, housed in a huge converted warehouse along the canal at the north-west tip of the city walls. It's big, but it's even bigger on the inside than on the out. This is largely a live music venue - a solid one with clearly substantial brick beams - and restaurant, with a reserved space for eats upstairs.
Doom could be played here, though that might harm the beers. And we wouldn't want that, as both beers we had here were in good shape.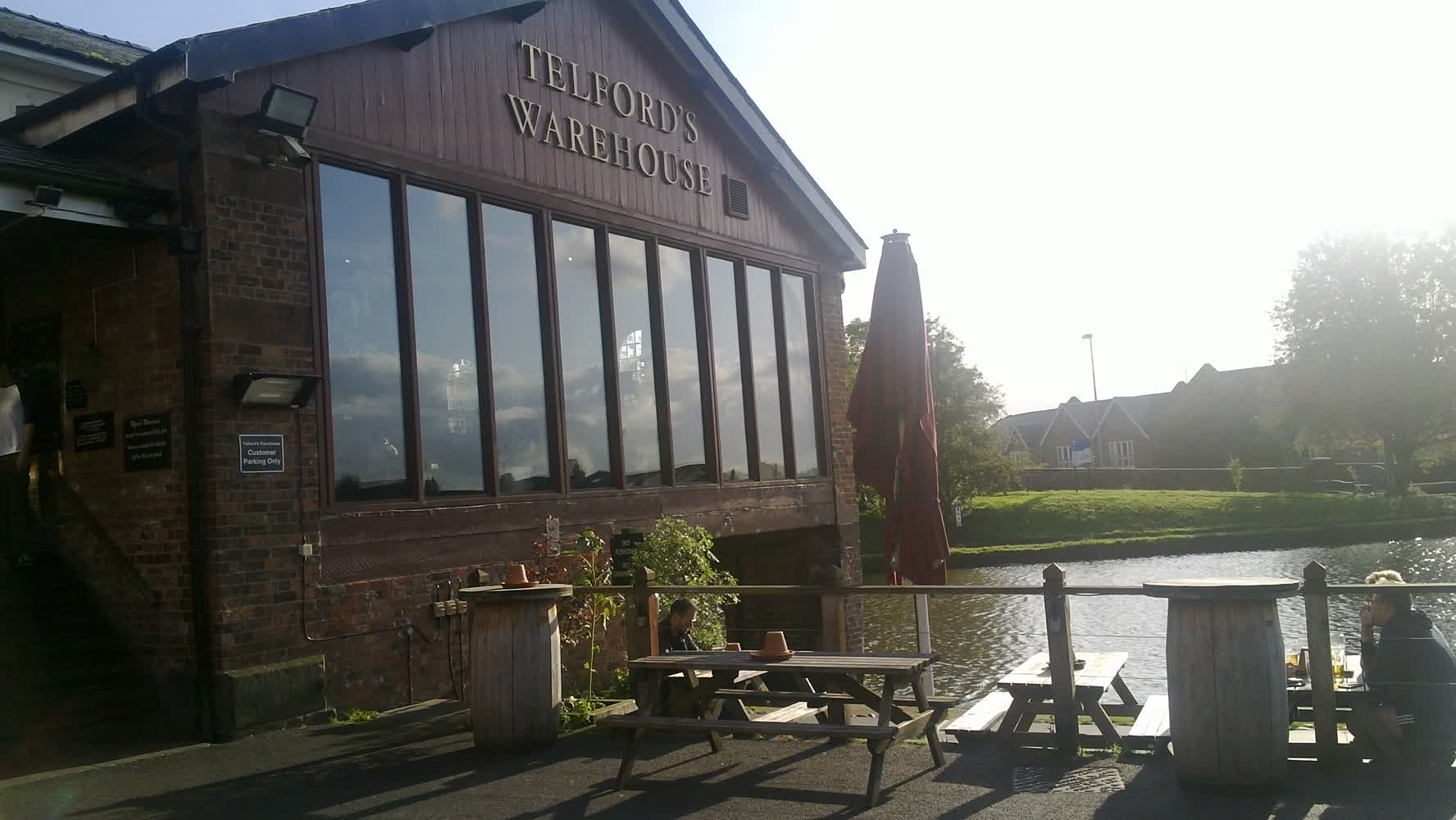 Goat & Munch
52 Garden Lane
Somewhere else of interest to martinsh and hence postponed for when he could join us was the Goat & Munch, also northerly. Of note were the beer mats on the ceiling in the front room, wafts of lemon cleaning product, a light going on and off in the background, and plenty of fun stuff on the walls, even in the side room where we were tucked away (further from the speakers: a (craft-oriented) Chester pub map, brewery adverts, Mosh Pit Tuesday, ...
Curious Gnome
61 Bridge Street Row East
We wouldn't have found this if it hadn't been for martinsh! Look for the cheese shop or the sign for the Paysan wine bar, and go inside - the Curious Gnome is upstairs through the wine bar.
A lovely big dark-wood bar. A very high ceiling, authentic-looking stained glass windows, low lighting, and candles. A Belgian influence and a gnomish influence here. Among the various fun touches were fly agaric bar stools and a giant gnome. The beer list is projected on the wall, and a big pile of Samichlaus boxes helps you know that these people care about beer. Bearing this out, our drinks were served well and at the perfect temperature, with the sparklers not seeming to do them any harm.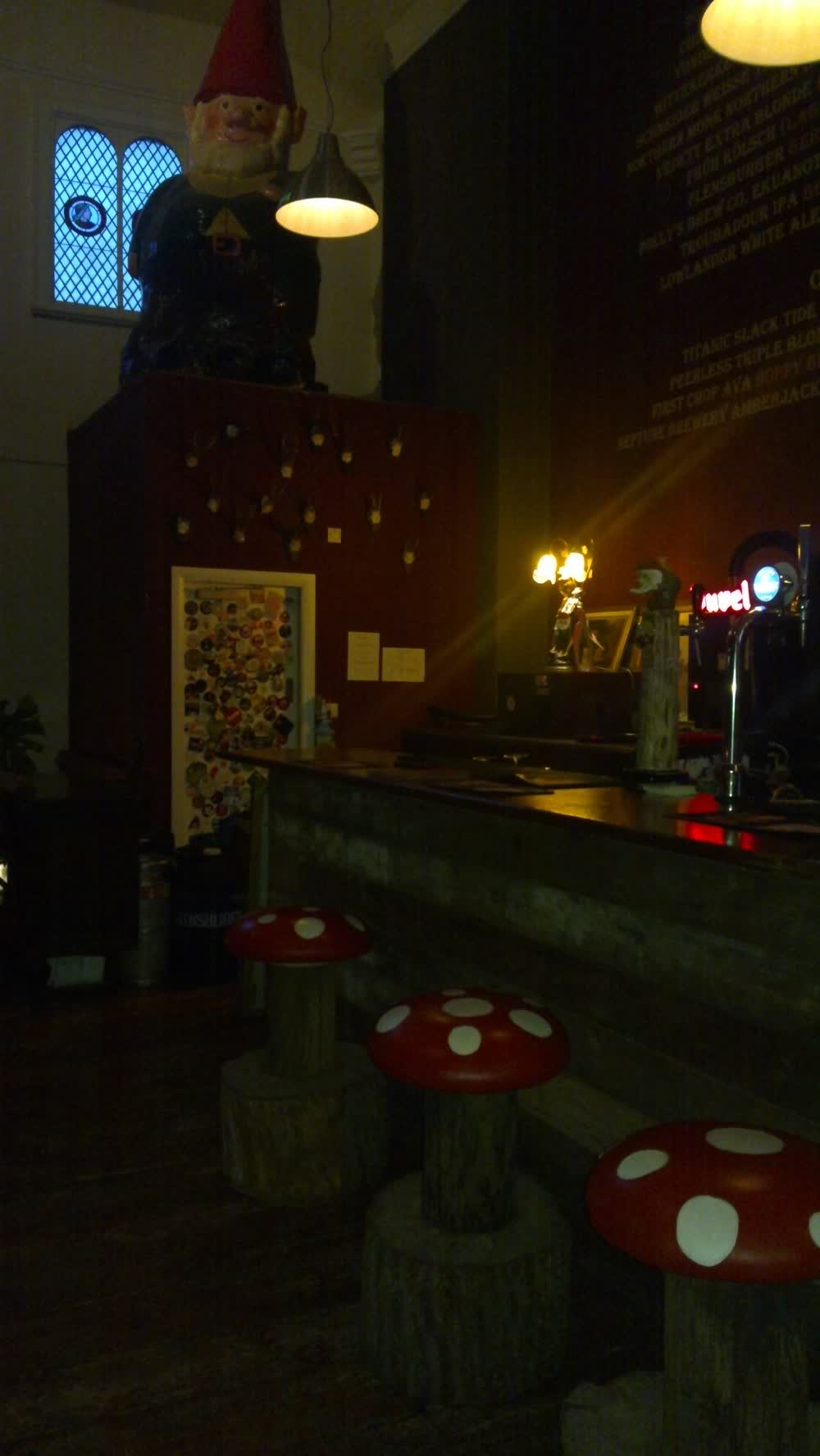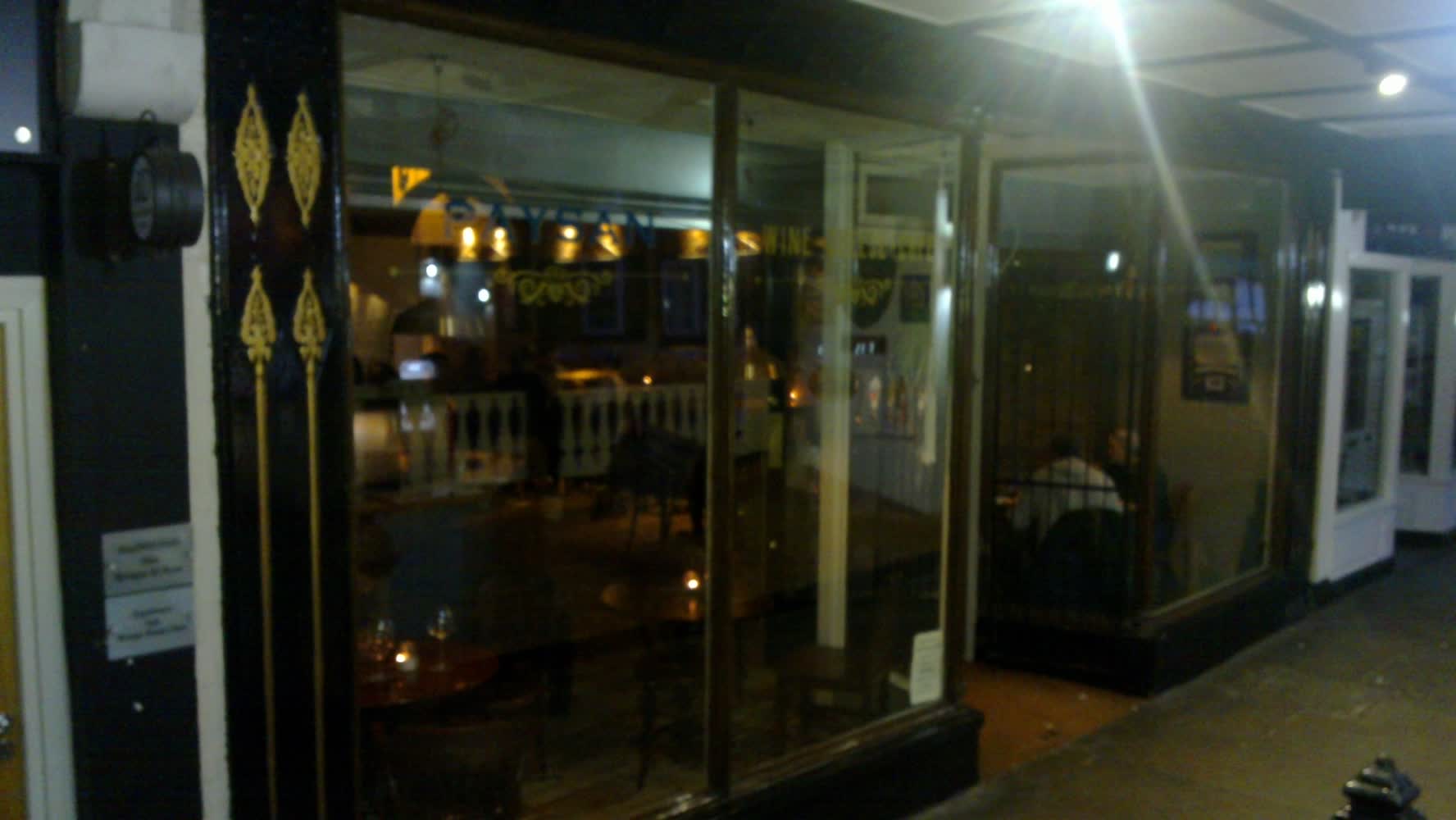 Deva Tap
121 Brook Street
This is the brewery tap for Deva Craft brewery, where the word 'craft' and the crafty names of the drinks proved to be no cause for alarm - they were certainly better than expected.
The Deva Tap was a good match for martinsh's itinerary - it's on a busy street near the station and has a fast-moving feel that ensured that he didn't get so relaxed that he'd end up missing his train. That liveliness also kept it from feeling dingy (there were people but not crowds). The lighting was low but not dim, and the music too was at a good level.
The staff were confused at one point and read out the wrong name when confirming what one of the beers was. It was a long day for all of us, though.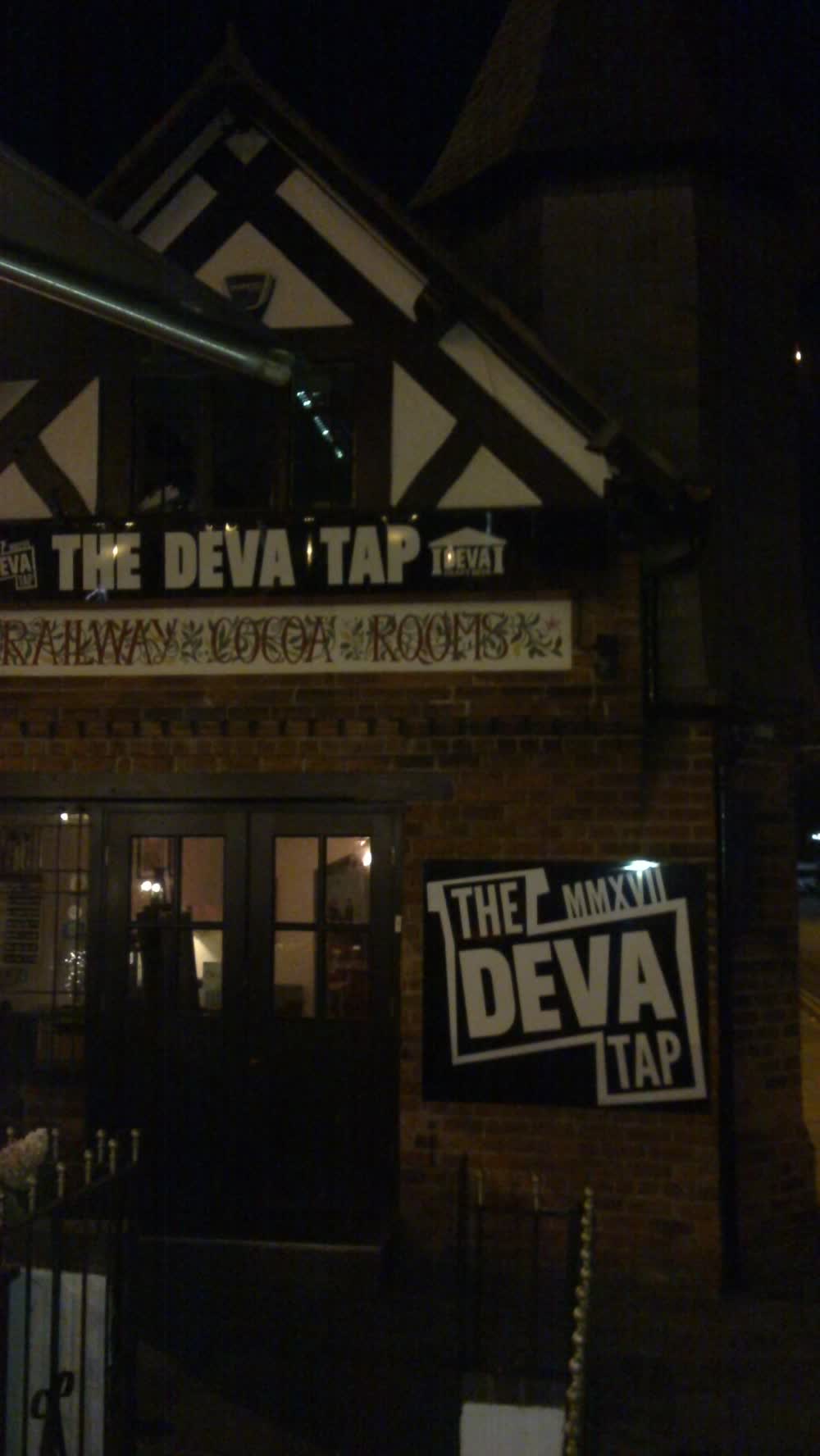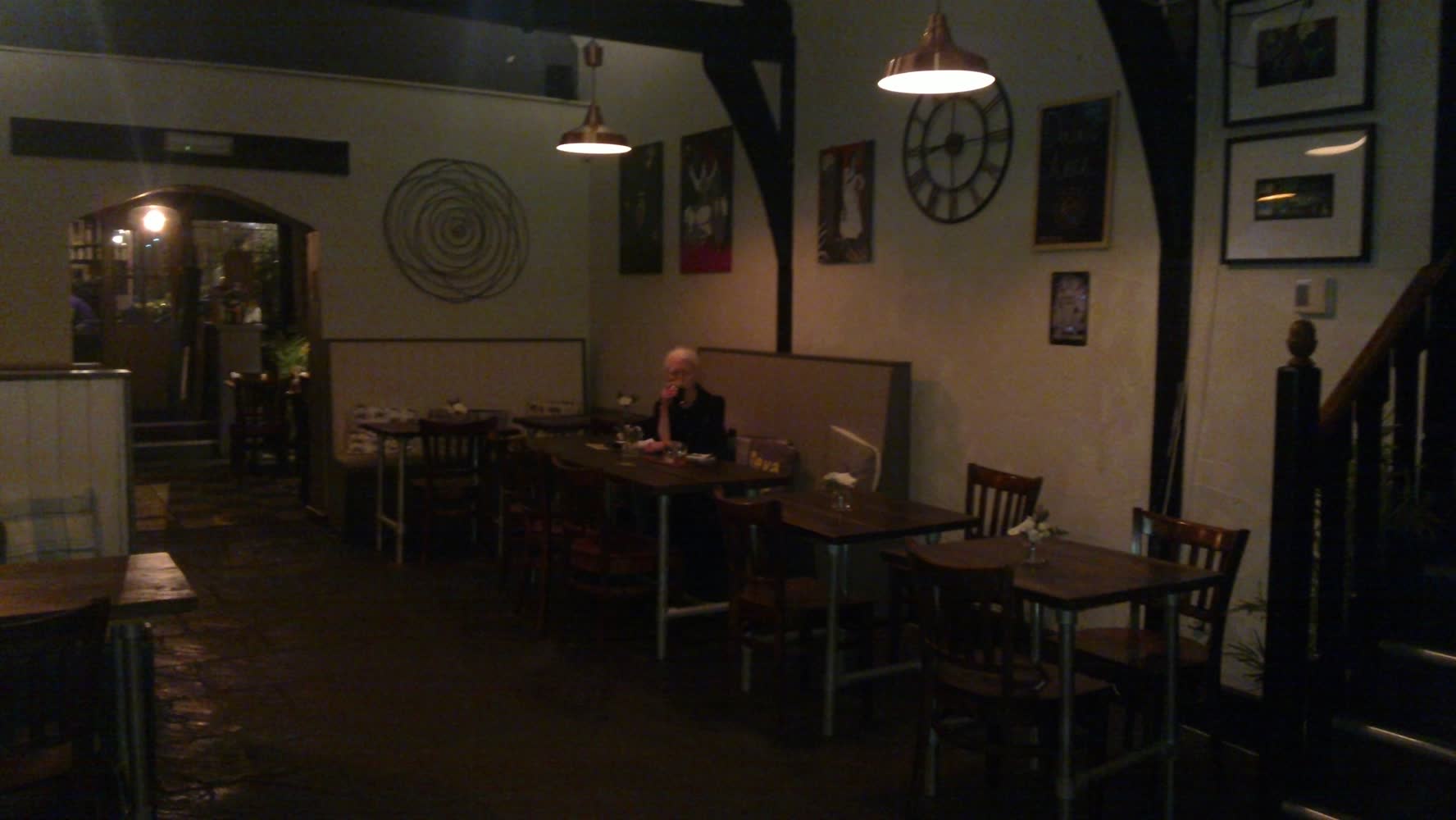 Boot Inn
9 Eastgate Row
We didn't necessarily expect a large pile of new-for-us beers at Chester's other Sam Smith's pub, a venerable venue in the rows, but we had to at least visit. Worthwhile for the environment of the rows alone, and for the feel of the pub - once we'd found its tucked-away location.
The customers were slightly older (well, non-youth anyway, of various ages) people chatting at a comfortable volume (there was no music here). Lantern-style lighting on the walls and around the bar, beams - probably original - and a low ceiling, and wood. This is mostly a front--back kind of place, but there is a mildly labyrinthine bit near the back. If you need the loo, go outside.
I'm not sure we had a new beer here, but we needed a final drink of the evening.

• We failed to have another 'Are you sure you want that hot a curry?' night but did return to the kebab place that had served us well on our first night, and it did not disappoint. That rounded out our time in Chester nicely.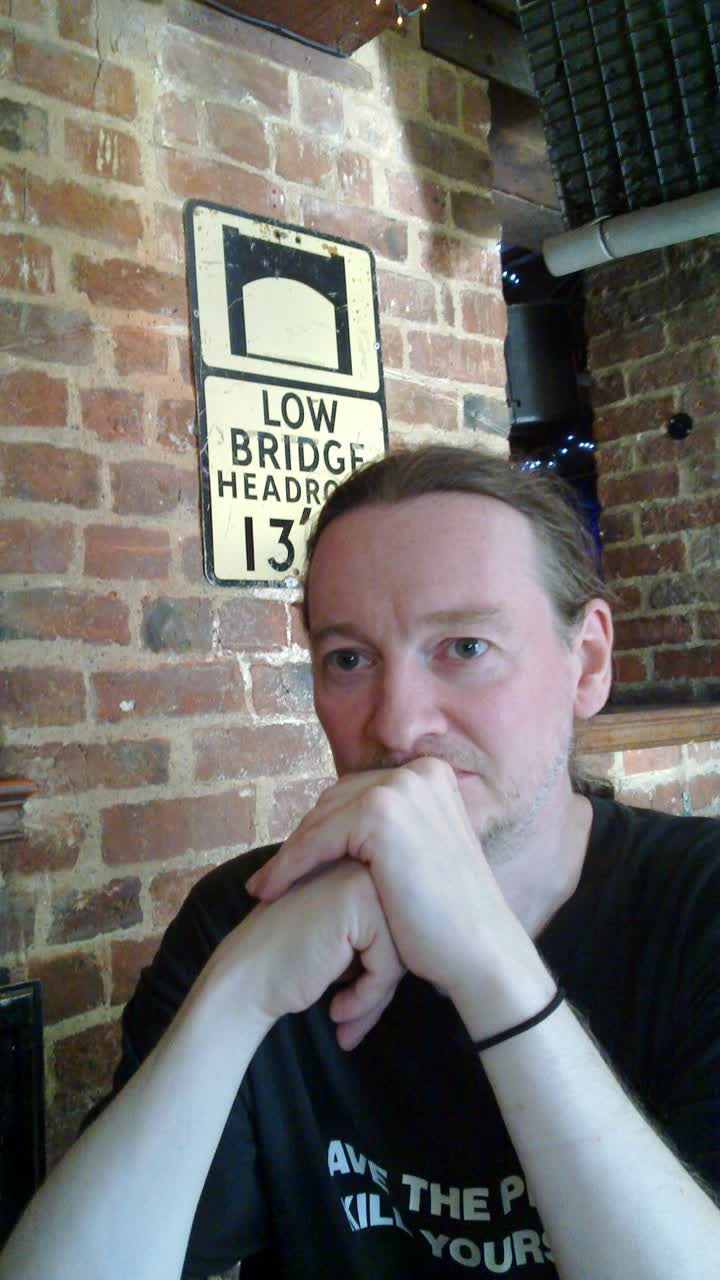 FRI.
• We did return to the Artichoke, as expected, in the morning. And then we were off for our final main town of the trip - Crewe. The ticket agent at the railway station told us some jaw-dropping prices, which nearly caused our sandwiches to drop out, but did have a solution for us - Crewe is a valid stop on the way to a more hyped and much lower-cost destination. A good hack enabled by a broken system.
Our first task in Crewe was to lug the bags through the rain to our accommodation, at a residential property with a seriously problematic means of entry that required at least four hands. Once we'd lightened our load, we did some light investigation.

-- Crewe:
Corner Bar
7 Nantwich Road
Right next to the railway station is this pub, set in a sturdy brick building that offers lodging and is mainly a live music venue. It's a Lees pub but without their expected keg range. It still did serve us a good new-to-us beer. The Cambridge parallel is the Boat Race (RIP), but the beer is significantly more inspiring here.

Borough Arms
33 Earle Street
A lovely red-carpeted pub with snugs and such, the Borough Arms gave us a pleasant environment complete with light-hearted ribbing and other banter between the staff and locals about things such as being tight-fisted. We didn't heed their warning about one of the beers, made on the premises, so Nun's Ruin was nearly our ruin. Quite a few real ales (12 taps), plus about 20 keg beers. We liked the environment and concluded that we might well return here.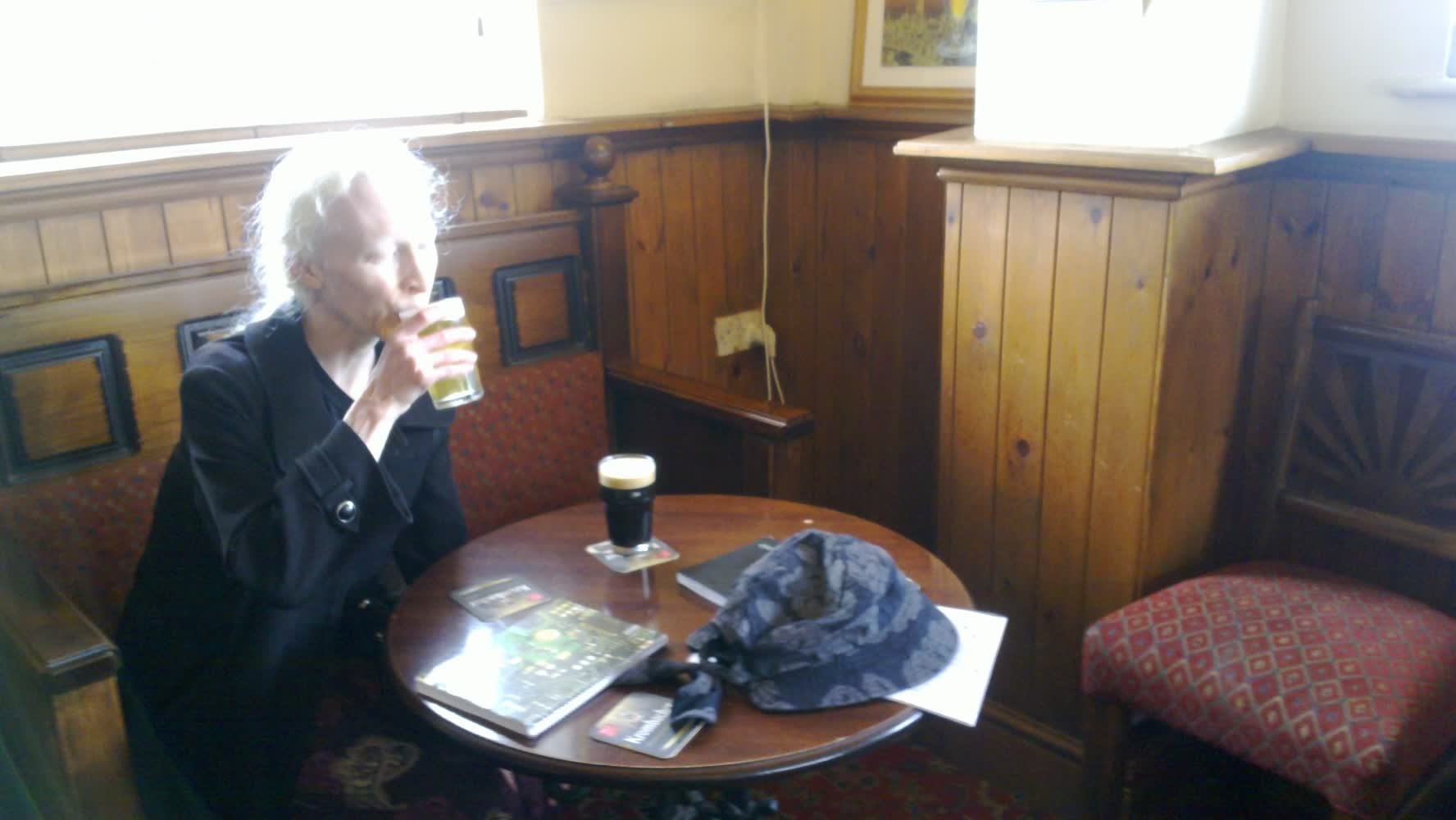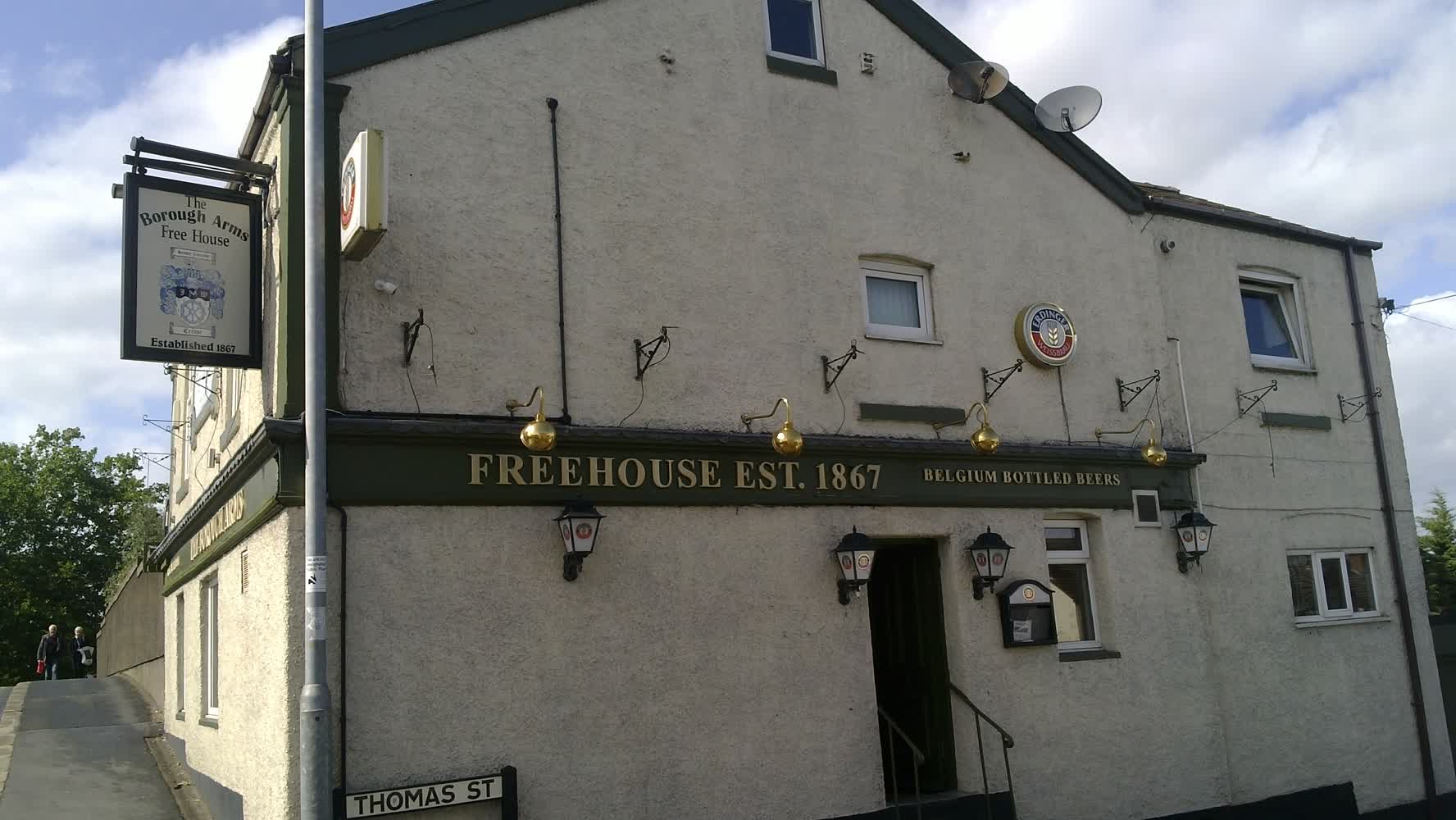 • That was enough pub-crawling for the moment. It was time to address the main reason we were in town by heading to the Crewe Railway Heritage Centre.
...The Crewe Rail Ale Festival...
was a relatively small event but one where nearly all the drinks were new for us and where lovely people made an impression on both sides of the serving counters. Tasty food also.
• Since we hadn't been to nearly enough towns on the trip, martinsh, who is local to the area and had by this point joined us for some of the 60ish beers at the festival, exhorted us to accompany him to the train station. A curry and a beer with his friends waited in nearby Nantwich, a five-minute train ride away. After said interlude, we were even kindly provided with a ride back to Crewe.

-- Nantwich:
Ebenezer's
2 Castle Street
We visited this pub with martinsh and company. The character here was craft-forward, and there was an appropriately large selection of crafty bottles in line with this. As for the ambience and architecture, bare wood predominated, and the pub had a fairly simple, down-to-earth feel.


-- Back in Crewe:
Hops
Prince Albert Street
Near the centre, Hops has the feel of a Belgian café (with a fridge to match, featuring Petrus Aged etc.) and the seating of an old church, including the slots for hymnals. The sound here featured neither hymns nor piped music, just the murmur of locals conversing. The icons on the walls were rows of beer mats from selected breweries, such as Thornbridge. Also noticeable were a pile of Good Beer Guides, sunscreen in case needed, and a well-populated beer garden. Third pints were available.

Some results of the day -
successfully emptied glasses
and revisiting of fond memories (cf. RBESG):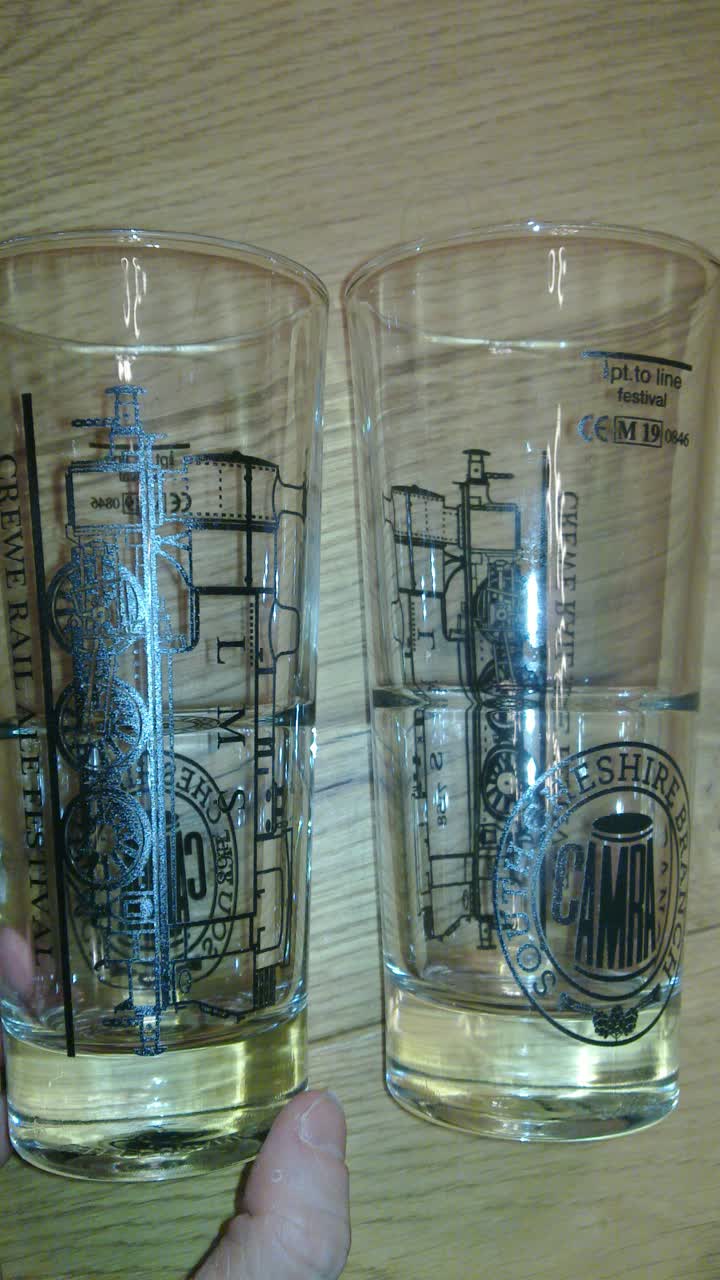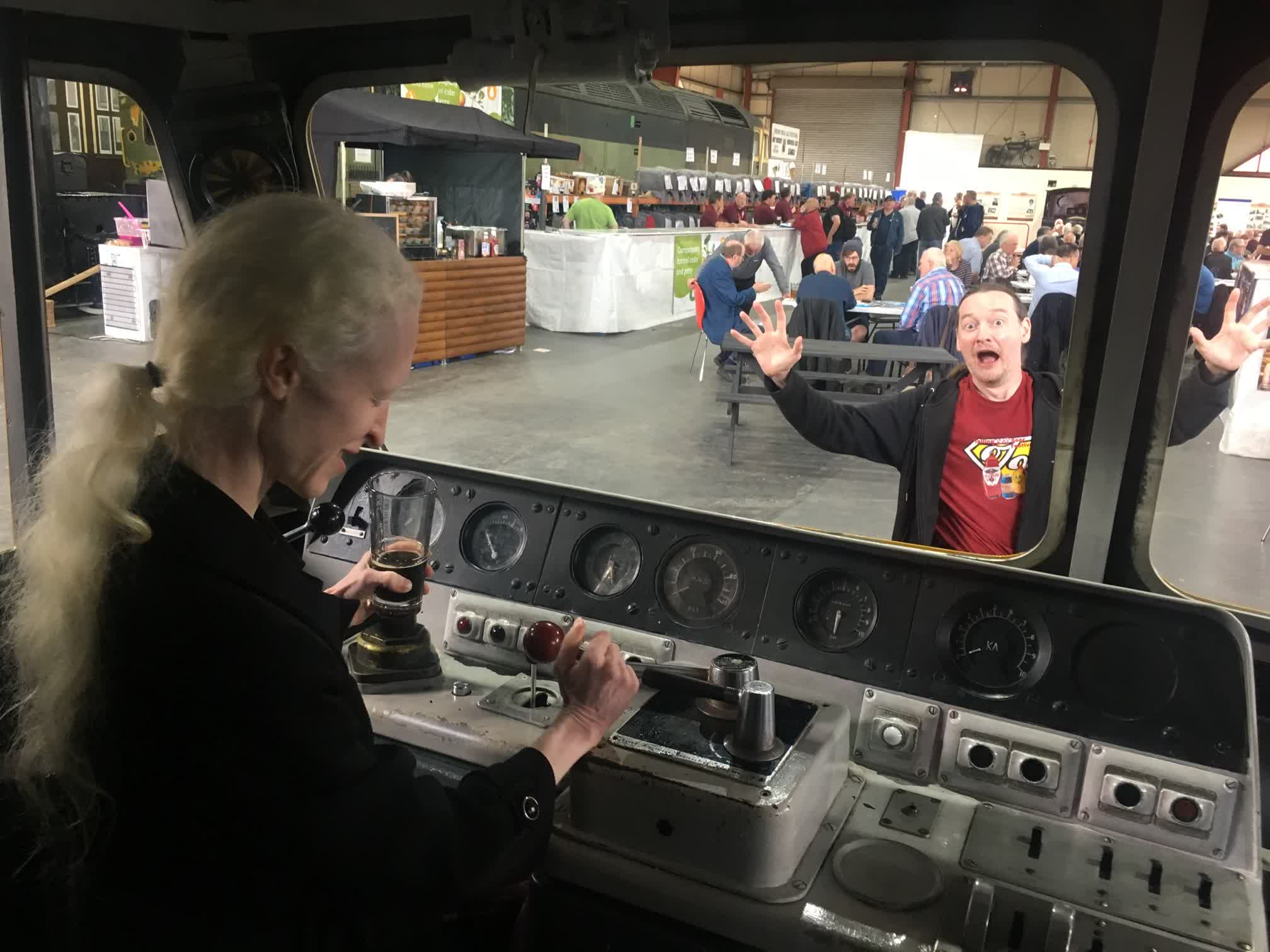 SAT.
Cheese Hall
15 Earle Street
We walked past here yesterday, when it had the feel of a busy open-plan town-centre pub with Saturday-night music to match. They don't sell cheese or any other solid food here but were open early and did have a new beer for us, for which they checked the brewery's identity and reported back while we were imbibing.
Also, food recommendations and accompanying directions were offered. Some locals brought in their own food, while others made sure to bring their vaping gear.
There were multiple sports on the tellies when we were here, and one out of the four real ales was on (alongside eight keg lines).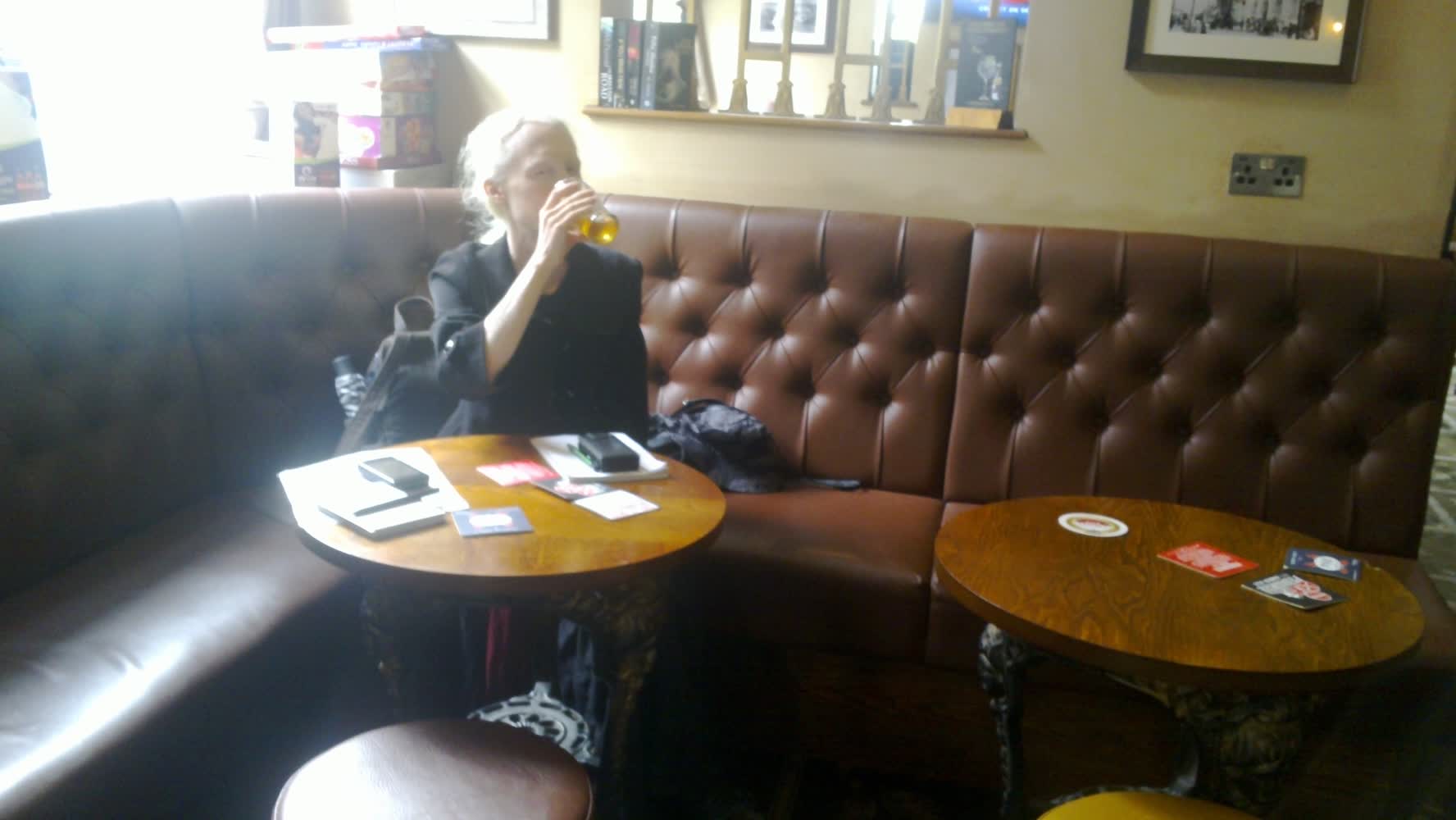 Also checked out this morning and open early were
(Albert's Corner, Prince Albert Street)
another open-plan Greene King pub;

(Off the Rails, 39 High Street)
a spot that looked a bit questionable, at least at a glance; and

(The Junction, 1 Heath Street)
a live-music-oriented venue that had no new beers for us but did offer a couple of real ales.

Beer Dock (Nantwich Road)
159 Nantwich Road
Past the railway station, Beer Dock was a bit of a walk, but not much else was open yet, so we gave it a go. And we're glad we did. There was an impressive range of bottles and cans (coming to well over 200 beers), from all over the place. Third pints and samples were available with no fuss. Ten taps, of which new beers flowed from nine. No real ales were offered here, but the quality was high (with some tasty Electric Bears etc.), and there were two real ciders, German bottles we hadn't seen before, and more.
Bench seating down the middle, a beer list readily accessible on the wall, and character added by beer mats on the wall next to the stairs up. Also, their own beer mats featured excerpts from negative reviews of Beer Dock posted online.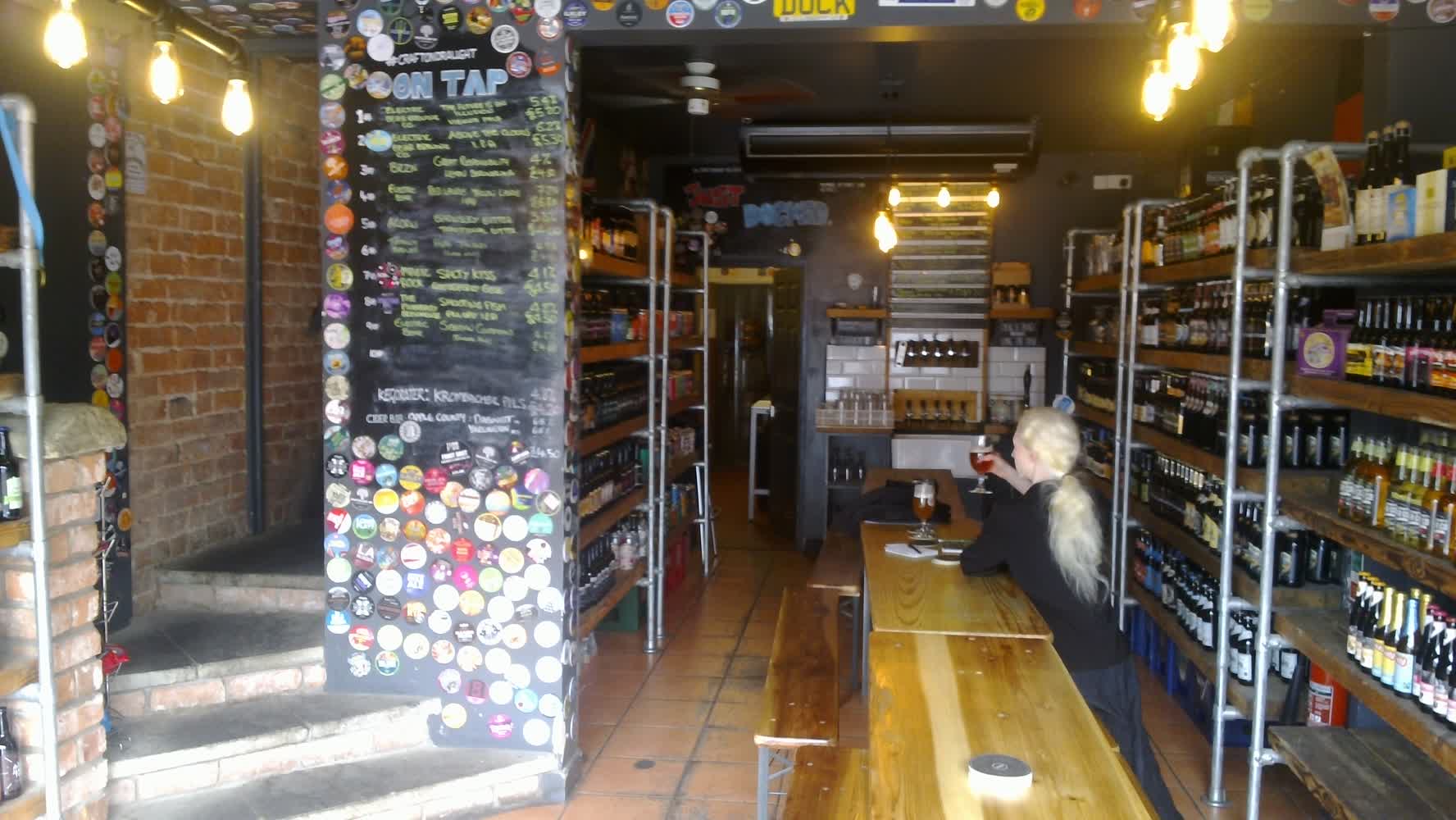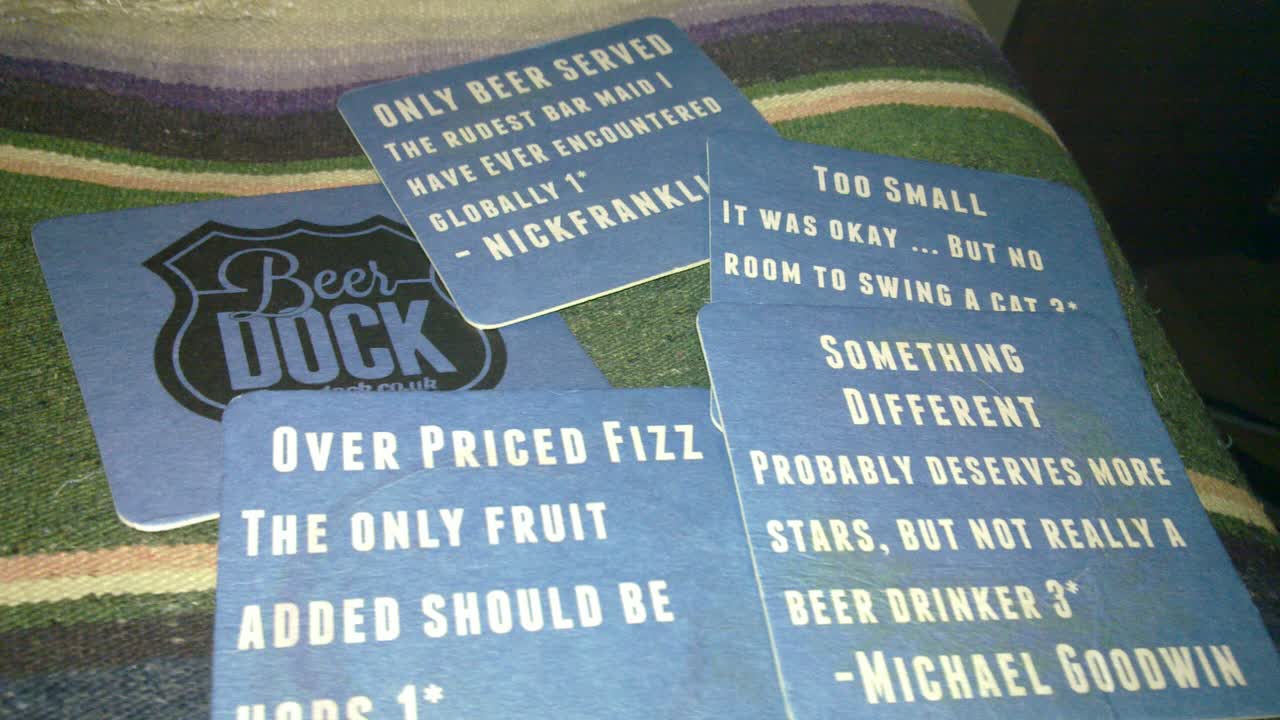 ...Crewe Rail Ale Festival...
• We then returned to yesterday's main haunt, for more of the drinks listed (at least for the moment) at https://www.southcheshire.camra.org.uk/festival.
Once we reached our target at the festival, we headed to the final places on our 'ought to visit' list.
Beer Dock Tap 40
High Street
One of them was the little sibling of the Beer Dock we'd enjoyed in the morning. This centrally located multi-tap venue, without a beer shop, had been open for not much more than a month at this point, and it hadn't grown into much of a feel yet, with a sparser design and personality - a bit echoey. Tile and a corrugated iron side to the beer, behind which were some pretty good and some actually disappointing beers, mostly key keg. A couple of these could justifiably be termed concoctions, and the less said about the 'white stout' the better.

Tom's Tap & Brewhouse
4-5 Thomas Street
The pub is in one of three units here, where live music and brewing equipment occupy the other two.
A palette-themed outside and a low-tech environment inside with a faintly dank aroma. The two real ales were both served a bit fizzy and cold, which is a shame because these guys' beers at the festival were tasty. At least 22 keg beers were available, and we could have stayed longer, but we opted to finish the evening at the Borough Arms, a warmer-feeling venue that ended up hugging us well with Sarah Hughes Ruby Mild.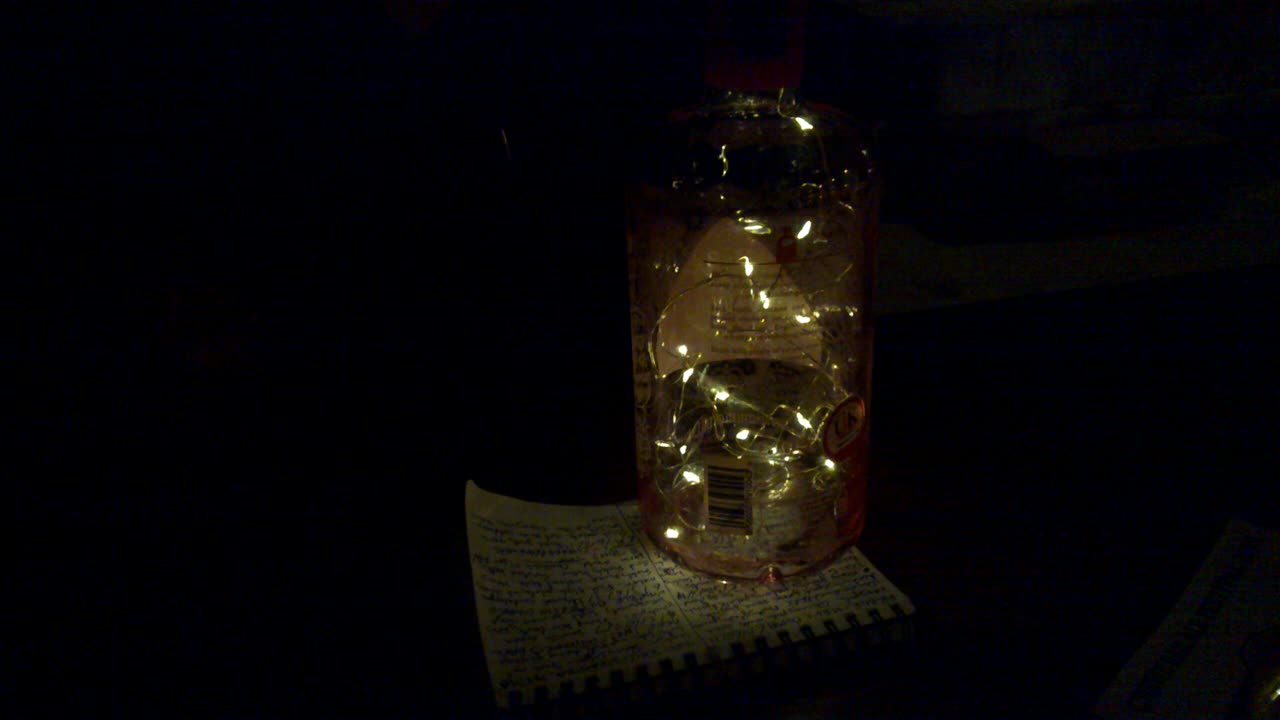 We weren't the only ones drinking the mild. Discerning folks in this place.
Smile - you're on Candid CAMRA!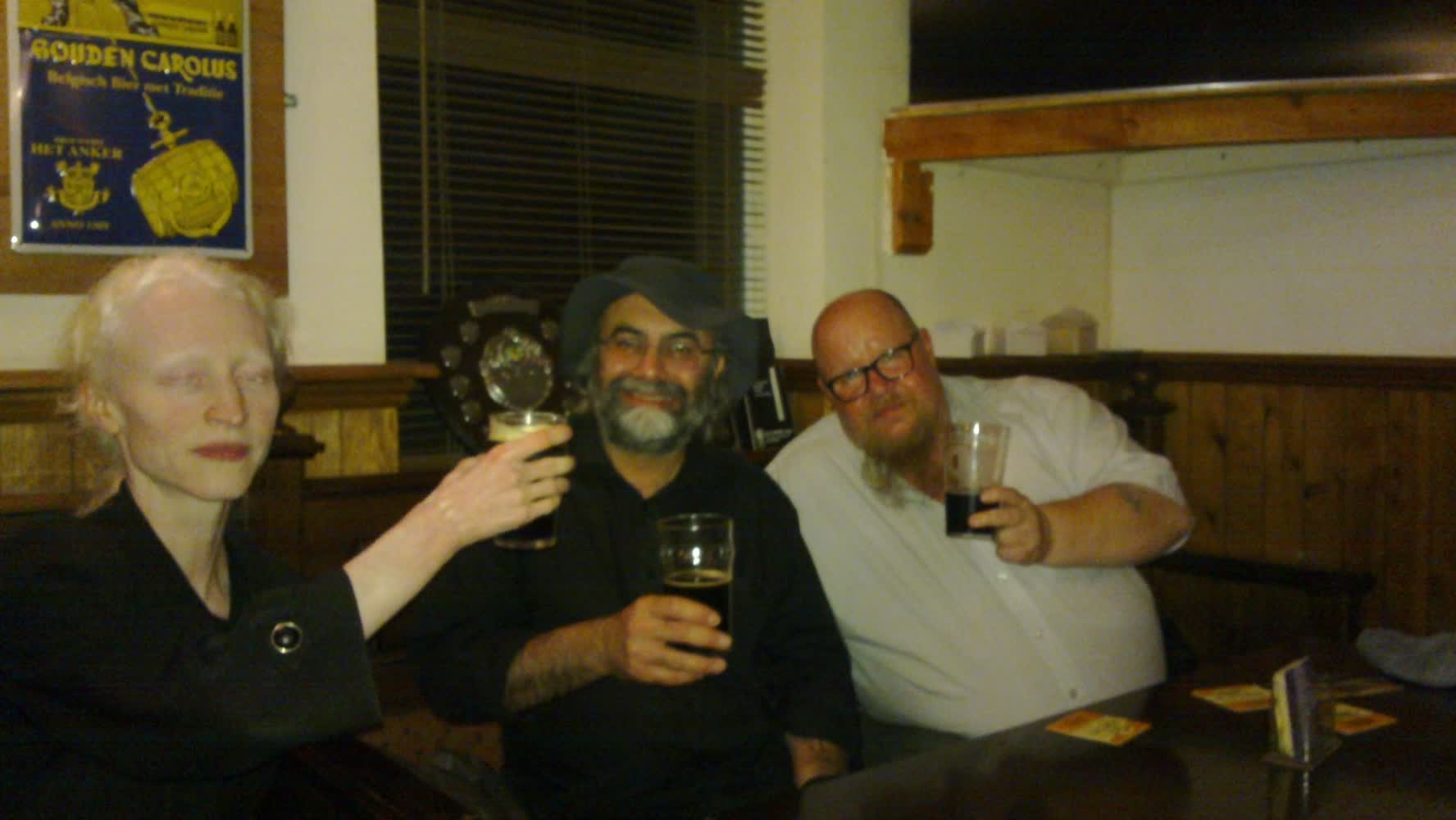 SUN.


Exeunt...

amid reminders that it was time to leave the UK: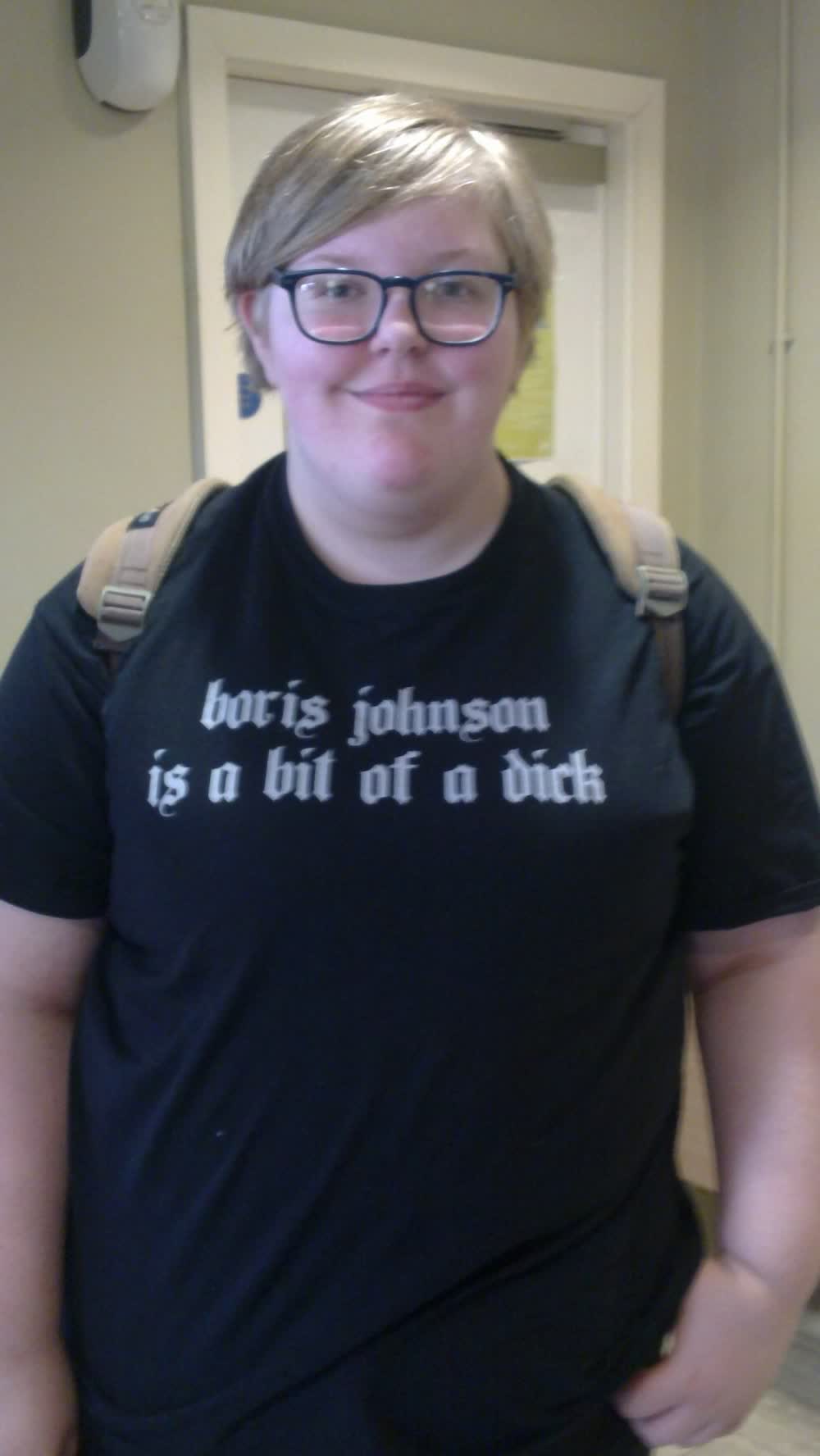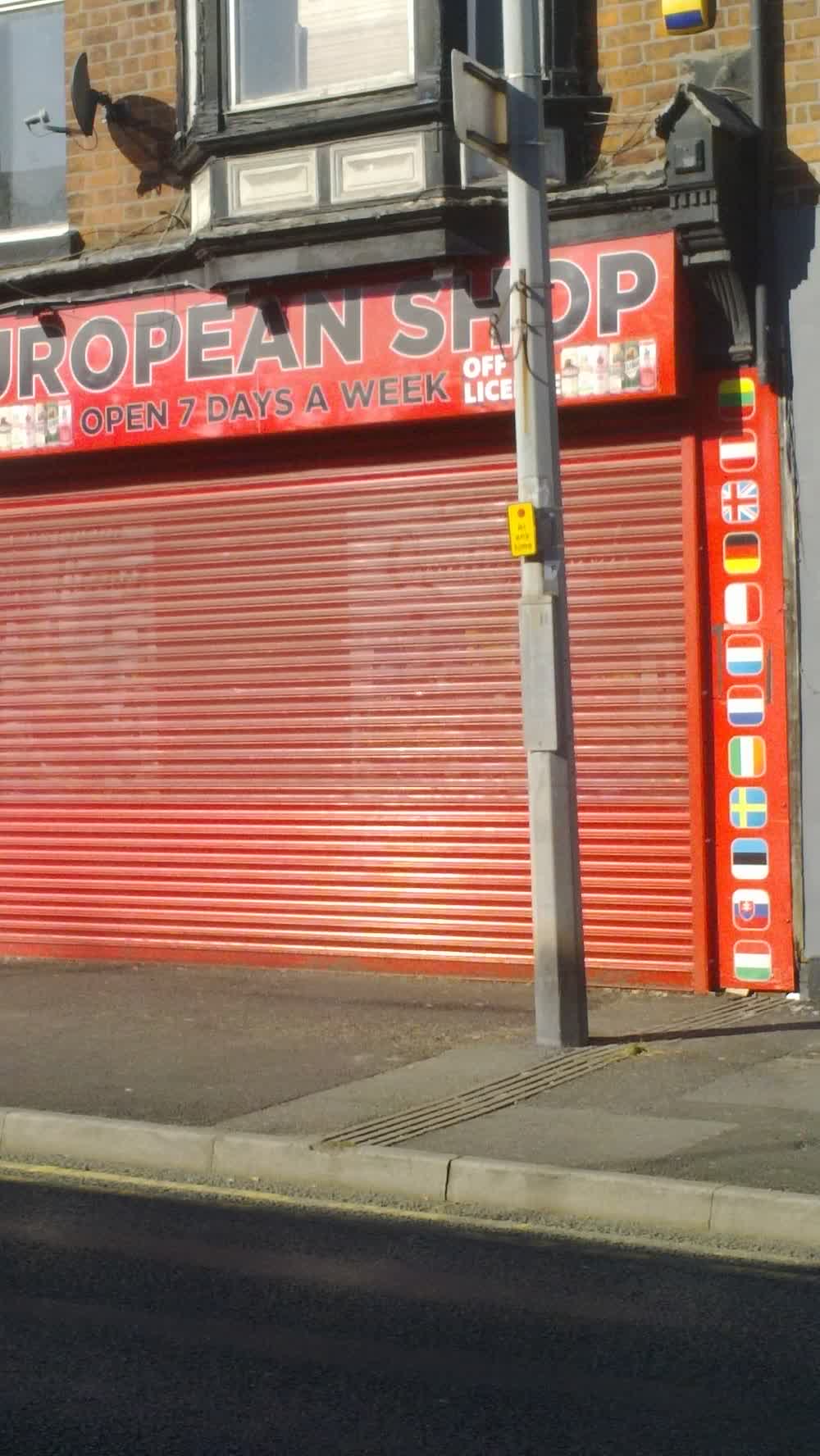 We made our way out of Great Brexin via another rendezvous with Mark and Sarah at London pubs.
Next time, they'll be visiting our neck of the woods.
• We reached Tallinn shortly after midnight.
New things on tap beckoned, but we were able to ignore them until the next day.
---
Here's a link to some other beer stuff...